1 TSX Stock to Buy and 1 to Avoid – The Motley Fool Canada
This fall looks like it will present investors with another high-potential opportunity to buy TSX stocks. With all the uncertainty lately, and the second wave of coronavirus looking like it's hitting the globe harder than the first wave, there is a serious possibility of a second financial crisis.
This is important, because it gives investors another opportunity to buy the highest-quality TSX stocks while they trade for dirt-cheap prices.
There's no question that the best time to buy stocks is during a market crash. So, investors need to be prepared for whatever comes next. That way, you can take full advantage of the opportunities that arise.
However, it will be crucial that investors can distinguish between a great deal and a value trap. With that in mind, here is a TSX stock you'll want to make sure to avoid.
TSX stock to avoid
Avoiding certain stocks is crucial for investors for a few reasons. You don't want to make a bad investment and lose money. In addition, you don't want to tie up your cash in an underperformer. You'd be missing out on other potentially massive gains.
That's why I'd caution investors to avoid Rogers (TSX:RCI.B)(NYSE:RCI) for now. There isn't anything necessarily wrong with Rogers, and a long-term investment will likely still earn you money; it's just that there are much better choices in the sector.
In fact, of the four major telecom stocks on the TSX, Rogers is the worst choice in the current environment, which is why I would avoid the stock.
In this market environment, it's crucial investors own only the best of the best. This means leaving behind companies that still have some work to do, such as Rogers.
If it's stability that you are looking for, then BCE's massive size and diversification is likely a better choice for you. If it's growth you're after, then there's no better stock to pick in the sector than Shaw Communications. Investors who are looking for a good mix of both should consider Telus.
Back in March, I'd cautioned investors to avoid the stock. Since then, it's the only telecom that's negative and, on a year-to-date basis, is underperforming its competitors.
As you can see, Rogers has clearly been outperformed by its peers, down over 15% year to date. This is evidence that the market sees more potential out of the other telecom stocks for now.
However, if Rogers does turn it around eventually, look for it to become a great undervalued opportunity. For now, though, I'd avoid the stock.
TSX stock to buy
While Rogers is a stock that's in a great long-term industry, because it's not one of the top businesses in that industry at the moment, it's not worth an investment.
Conversely, companies that may operate in a struggling industry but are leaders in that industry could be worth an investment. This all depends on what the issues are affecting the sector.
If it's a temporary headwind, such as the coronavirus pandemic, the sector is likely worth an investment. However, if it's a maturing industry, like newspapers, for example, then it would be best to forgo an investment.
One TSX stock that's a leader in its struggling industry is Canadian Tire (TSX:CTC.A). Canadian Tire is a diverse retailer in an industry that's been severely impacted by the pandemic. Even before that, however, many smaller merchandisers have been struggling with the competition from online shopping.
Canadian Tire investors don't have to worry about that, though. Not only does the company have a fantastic e-commerce platform itself, but many of the goods it sells, consumers prefer to buy in person instead.
Plus, its diverse brands and businesses all complement each other well, and it has helped the company perform relatively well so far, throughout 2020.
Canadian Tire's quality is the main reason the stock has recovered rapidly. However, if you buy today, you can still lock in its attractive 3.35% dividend, to go along with all the long-term growth potential.
Bottom line
It's just as important that investors avoid poor TSX stocks as it is to buy the best stocks. So, make sure you do your homework; you wouldn't want to invest in a dud.
Here is one TSX stocks that's sure to be a huge winner…
This Tiny TSX Stock Could Be the Next Shopify
One little-known Canadian IPO has doubled in value in a matter of months, and renowned Canadian stock picker Iain Butler sees a potential millionaire-maker in waiting…
Because he thinks this fast-growing company looks a lot like Shopify, a stock Iain officially recommended 3 years ago – before it skyrocketed by 1,211%!
Iain and his team just published a detailed report on this tiny TSX stock. Find out how you can access the NEXT Shopify today!
Fool contributor Daniel Da Costa owns shares of BCE INC. The Motley Fool recommends ROGERS COMMUNICATIONS INC. CL B NV.
Microsoft beats quarterly revenue estimates, shares rise – Investing.com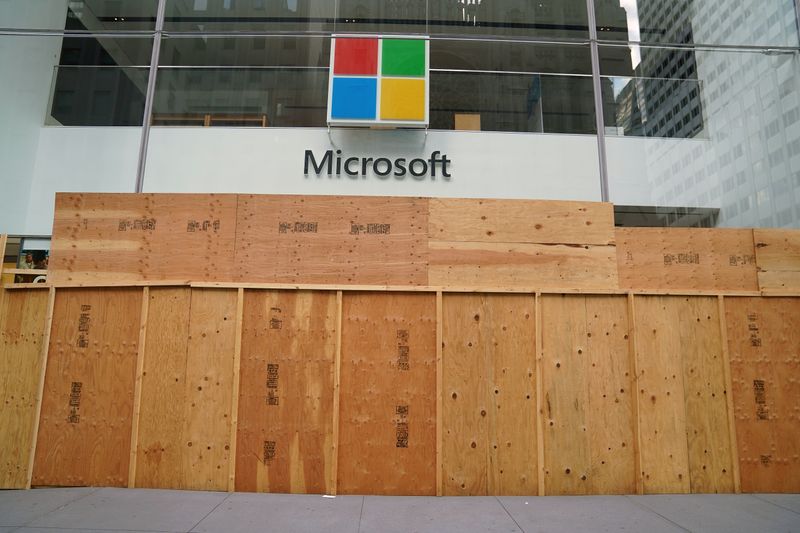 © Reuters. The Microsoft store is pictured in the Manhattan borough of New York City
By Stephen Nellis and Akanksha Rana
(Reuters) – Microsoft Corp (O:) beat Wall Street estimates for quarterly revenue and profit on Tuesday, powered by a slight uptick in growth in its flagship cloud computing business as the software maker continued to benefit from a global shift to working from home and online learning.
The pandemic has accelerated a move already under way toward cloud-based computing, helping companies such as Microsoft, Amazon.com Inc's (O:) cloud unit and Alphabet Inc's (O:) Google Cloud. For Microsoft, it has also boosted demand for its Windows operating systems for laptops and its Xbox gaming services as families work, learn and play from home, leading to profit that was about 30% above expectations.
"It was another healthy quarter, with continued demand for remote offerings continuing to power results," Microsoft Chief Financial Officer Amy Hood told Reuters in an interview.
Revenue growth for Azure, the company's flagship cloud computing business, was 48%, up from 47% in the previous quarter and ahead of Wall Street estimates of 43.45%, according to consensus data from Visible Alpha. Hood said the rise was driven by "an increase in larger, long-term Azure contracts."
GRAPHIC: Microsoft Azure revenue growth – https://graphics.reuters.com/MICROSOFT-RESULTS/xegvblbbnvq/chart.png
Microsoft has shifted to selling many of its products via recurring subscriptions, which investors like because it generates stable revenue flows. The value of Microsoft's future recurring revenue contracts with big business customers was flat from the previous quarter and its proportion of one-time deals rose slightly after two quarters of growth.
Microsoft bundles together several sets of software and services such as Office and Azure into a "commercial cloud" metric that investors watch closely to gauge the company's progress in selling to large businesses. Microsoft's commercial cloud gross margins – a measure of the profitability of its sales to large businesses – was 71%, compared with 66% a year earlier.
Hood said some of the rise was explained by a change in accounting rules for Microsoft's servers, but the better margins were also driven by sales of lucrative software such as Dynamics 365, which competes with Salesforce.com (N:).
"That Dynamics 365 revenue growth of 38% was better than we thought and quite good," Hood told Reuters.
Microsoft said 93% of commercial cloud products were sold as subscriptions, compared with 94% the quarter before. The company's remaining performance obligations – a measure of how much revenue has been booked for the future in sales contracts but not yet formally recognized as revenue – stayed flat at $107 billion in the fiscal first quarter but was up from $86 billion a year prior.
Microsoft said revenue in its "Intelligent Cloud" segment rose 20% to $13 billion in the first quarter, with 48% growth in Azure. Analysts had expected revenue of $12.7 billion, according to IBES data from Refinitiv.
Revenue from its personal computing division, which includes Windows software and Xbox gaming consoles, rose 6% to $11.8 billion.
The company's revenue rose 12% to $37.2 billion in the quarter ended Sept. 30, beating analysts' estimates of $35.72 billion.
"Microsoft's strong earnings beat shows its market share in cloud computing is expanding while its legacy software products such as Windows and Office are in great demand during the pandemic," said Haris Anwar, senior analyst at Investing.com.
Net income rose to $13.89 billion, or $1.82 per share, from $10.68 billion, or $1.38 per share, a year earlier. Analysts had expected a profit of $1.54 per share.
Microsoft shares were down 0.2% at $212.77 in after-hours trading after the results, although trading is often relatively muted until after Microsoft executives give financial guidance. The company will hold a conference call later on Tuesday.
New COVID-19 case reported in Nova Scotia – CBC.ca
Nova Scotia reported one new case of COVID-19 Tuesday, giving the province six active cases.
The province said the new case is in the Central Zone and the person had travelled outside of Atlantic Canada. The person has been self-isolating, the province said.
Nova Scotia Health Authority labs completed 610 Nova Scotia tests on Monday. So far, the province has recorded 109,462 negative test results, 1,102 positive cases and 65 deaths. No one is currently in hospital related to the virus.
The latest numbers from around the Atlantic bubble are:
P.E.I. reported no new cases and one active case Tuesday.
Newfoundland and Labrador reported no new cases and 4 active cases Tuesday.
New Brunswick reported 3 new cases and 60 active cases on Monday.
Anyone with one of the following symptoms should visit the COVID-19 self-assessment website or call 811:
Fever.
Cough or worsening of a previous cough.
Anyone with two or more of the following symptoms is also asked to visit the website or call 811:
Sore throat.
Headache.
Shortness of breath.
Runny nose.
MORE TOP STORIES
Cenovus to cut up to 25% of workforce after merger with Husky – Financial Post
Article content continued
"As with any merger of this type, there will be overlap and there will be some difficult decisions as we work to create a combined organization best positioned for the future," Husky spokeswoman Kim Guttormson said.
Cenovus spokesman Reg Curren also confirmed the cuts.
Guttormson added that many details had yet to be determined as part of the integration planning process and the transaction has not yet closed.
The $3.8 billion combination announced on Sunday, the largest Canadian oil and gas deal in nearly four years based on enterprise value, may pressure peers to get bigger or sell.
Half of the $1.2 billion in targeted savings will be achieved through job cuts and reductions in corporate overhead costs, including streamlined IT systems and procurement savings, the companies said.
Rival producer Suncor Energy Inc this month said it would cut up to 15 per cent of its workforce over the next year and a half, while Exxon Mobil Corp was expected to cut jobs soon in the United States and Canada.
© Thomson Reuters 2020