13 Artists Poised to Break Out Big in 2023, According to Naomi Beckwith, Marilyn Minter, and Other Art-World Insiders
With 2023 upon us at last, we're looking ahead at what we might expect from the year to come. If 2022 was the year of rising stars like Anna Weyant and Christina Quarles, who will be the names to know in the New Year?
To make some predictions, we asked leading critics, curators, artists, and advisors to each pick the one artist they think is poised to make break out in a major way this year.
Here's who they chose.
Naomi Beckwith, chief curator at the Guggenheim Museum,
on Caroline Kent
"After making several strong gallery and project presentations, and currently gracing MOMA's "Modern Window," Caroline Kent is now in pole position for a strong critical contextualization. Harnessing the palette and deep spatial instincts of the Bauhaus, Kent's 21st-century abstractions are imbued with a sense of embodiment, wordliness, and clue us in to the relationships between power and language."
Marilyn Minter, artist,
on Tala Madani
"She is irreverent, savage, filthy, and very funny. Plus she is a great animator and painter. I love everything she does. I've been following her work for years."
Barry Schwabsky, art critic,
on Andrea Marie Breiling
"It's inspiring to see a painter push her work forward as quickly as Andrea Marie Breiling has been doing. I didn't get to Miami to see her show 'Ribbons' at Villa Paula, timed to coincide with the Art Basel Miami fair, but from what I can tell, her spray-painted swoops and swirls have taken even more volume, depth, and drama. The spiritual aspiration of an Agnes Pelton meets the blunt physicality of a Willem de Kooning in a synthesis that's totally of the moment."
Augusto Arbizo, art advisor,
on Richard Ayodeji Ikhide
"The Nigerian-born, London-based artist Richard Ayodeji Ikhide has been creating a cosmology of archetypes celebrating object- and image-makers and creators in our society: observers, storytellers, alchemists, artists, and inventors. I discovered Richard's large-scale watercolor works through the non-profit organization V.O. Curations early in the pandemic, and it has been amazing to see him continue to expand his practice. He just completed a suite of extraordinarily beautiful and complex watercolors for a Victoria Miro Gallery online project, and I think he is definitely an artist to watch!"
Josh Baer, art advisor and founder of the Baer Faxt,
on Hiba Schahbaz
"I have been following Hiba's work for several years—in full disclosure I do not own any—and her development from works on paper to large oils on canvas is significant. Her use of the female body, particularly through the lens of Pakistani culture and a pivot away from the traditional miniature, is new ground, at to least my eyes. All she needs for her next step in the art world/market is a serious New York-based gallery to help her enter the conversation."
Allan Schwartzman, art advisor,
on Rafa Esparza
"There are three basic ways I think of an artist 'breaking out:' in their work, by recognition, or by the attentions of the market. Rafa Esparza, an artist of mature vision and healthy and growing support of museums and private collectors, is likely to become more nationally visible with upcoming exhibitions at New York's Artist's Space and the San Francisco Museum of Art. I especially admire his work for its accessibility and truthfulness, for its presence, both commanding and gentle, and for its natural, complex, and essential fusion of the personal and political, and for his propensity to 'brown the white cube.' Working in performance, painting, sculpture, and installation, while not beholden to the conventions of any idiom, his work embodies the complexity of identity through the interwoven elements of his identity, while also critiquing conventions of art and society."
Danielle So, contemporary art specialist at Phillips Hong Kong,
on Xiyao Wang
"My pick is Xiyao Wang, a Berlin-based Chinese female artist that was featured in our day sale this season. For me, she is representative of the new generation of abstract painters and you can certainly see parallels of the lyrical quality of Cy Twombly merged with inspiration from global mass culture, electronic music, and all the media that has been of influence to millennials and Gen Z. She primarily works on very large-scale paintings in which there are many gestural elements that evoke landscapes, bodies and movements."
Liz Parks, art advisor,
on Annie Morris
"I have been following Annie's work for some time, and have long admired its ability to teeter on the edge between substance and fragility, rendering the highly personal into a universal language of loss. But there is something about her relatively recent use of bronze as one of her primary mediums for her 'Stack' sculptures that I feel has elevated her practice to a new level. I loved her entire show at Chateau La Coste this summer, but it was the one outdoor work, a monumental bronze 'Stack,' that I feel emphatically declares Annie's place within contemporary art history. Standing at six meters tall in a grassy field, just across the way from an iconic Louise Bourgeois Spider, the two works seem to be in conversation with each other, the bold declarations of artists of different backgrounds and generations united in their meditations on motherhood and mourning."
Nazy Vassegh, advisor and founder of Eye of The Collector fair,
on Sara Berman
"My stand-out artist for 2023 is Sara Berman, a London-based artist who transitioned from a successful fashion career to the art world when she graduated from Slade in 2016 with an MFA in painting. Berman's background in fashion has influenced her visual arts practice through the use of various textures, layers, mathematical geometry, pattern, and materiality. In her work, Berman examines how people see and define themselves through the relationships with their clothes, belongings, and the spaces they occupy. The character in Sara Berman's work is inspired by the trope of the female Harlequin in her ascribed role of the Trickster Whore. Through this character, Berman explores space and the role of the feminine within it. I find her works relevant, powerful and evocative of the times we live in.
I first discovered her work at Kristin Hjellegjerde Gallery, where she has two solo shows coming up in 2023 and we will also be unveiling two new works especially created for Eye of the Collector in May 2023."
Jens-Peter Brask, curator, collector, and publisher,
on Nicholas Koshkosh

"The artist I predict will have an excellent 2023 is the talented contemporary Ukrainian artist Nicholas Koshkosh (b. 1995). Koshkosh lives and works in Kiev. In recent years, he has gained international recognition for his colorful, figurative, expressive paintings. Koshkosh has found his own unique expression and aesthetic language that spans a multitude of references to biblical narratives, mythical stories and—currently—interpretations of his first-hand experiences and feelings related to the ongoing war and invasion of his home country Ukraine. Old tales are combined with cultural signs from the Slavic regions, fairy tale references and contemporary pop culture elements. Koshkosh's works are often shaped by an underlying critical attitude toward ongoing political issues. I foresee a bright future for Koshkosh as an artist who artistically provides and creates a space for reflection and immersion in art."
Debi Wisch, producer of The Price of Everything and The Art of Making It,
on Michaela Yearwood-Dan

"I was at a show at the Scottsdale Museum of Contemporary Art over Thanksgiving featuring work by many of today's most headline grabbing artists and this was the painting that literally stopped me in my tracks because it is so drop-dead gorgeous, luscious, layered, seductive, and fresh. Then one of my most trusted, intrepid, influential art collector friends mentioned Michaela as someone that I need to know. I have been on a deep dive ever since. She is young, smart, talented and has a visual language that's unique—and the paintings are stunning."
Saara Pritchard, partner at Art Intelligence Global,
on Sylvia Sleigh 
"As a figurative painter who came to prominence in New York in the 1960s and '70s, Sleigh is massively undervalued and under-appreciated by the broader collecting world while maintaining a cult figure status among art world cognoscenti. It's time for people to see her incredible work and learn of her important contributions to painting and the feminist art movement."
Aaron Cezar, director of the Delfina Foundation,
on Hera Büyüktaşcıyan
"Hera Büyüktaşcıyan has been steadily rising above career milestones, mostly recently with new commissions for the New Museum's Triennial and the 2022 Biennale of Sydney. Although her works have been acquired by Tate Modern and Centre Pompidou recently, 2023 will mark her first museum solo of new works in a yet-to-be-announced presentation. Watch this space."
Architects Embrace AI Art Generator Midjourney – Bloomberg
[unable to retrieve full-text content]
Architects Embrace AI Art Generator Midjourney Bloomberg




Source link
7 Leading Curators Predict the Defining Art Trends of 2023 – Artsy
Art
Ayanna Dozier
In 2022, we witnessed a rise in neo-surrealist art, NFTs, and textile-based art practices. These were trends that were bubbling to the surface by the end of 2021, but weren't fully realized until the spring of the following year. Now, many other styles are emerging as key genres that may have their moment this year.
Artsy spoke to seven leading curators who lent their expertise and shared their insights on which styles and themes may newly emerge or continue to garner attention in 2023. Many anticipate that the sociopolitical climate will continue to inform artists' practices, with some predicting a rise in more provocative art that critiques religion and systemic oppression.
Other curators are looking to Latin American new media practices, and are excited by how artists like Castiel Vitorino Brasileiro and Xandra Ibarra use video and installation to create immersive environments that challenge the separation between the screen and the body. Meanwhile, others are intrigued by the possibilities and questions that AI will continue to raise in relation to authorship in the art world.
All the curators expressed an overall interest in artists who push the limits of their given medium, and continue to expand upon their practices in innovative ways. Overall, there is excitement and hopeful promise that 2023 will bring about a year of artistic risks.
Larry Ossei-Mensah
Independent Curator; Co-Founder, Artnoir
New York
Portrait of Larry Ossei-Mensah by Aaron Ramsey. Courtesy of Larry Ossei-Mensah.
Larry Ossei-Mensah predicts that abstraction by artists of color will become even more prominent in 2023. The genre, Ossei-Mensah believes, is essential to shifting the public's belief that artists of color should only make representational work that is immediately legible. As an example, he pointed to the divisive reaction towards Hank Willis Thomas's recently unveiled public sculpture The Embrace (2022). Ossei-Mensah also expects that abstract masters like Mo Booker, Raymond Saunders, Howardena Pindell, Emma Amos, Atta Kwami, and Barbara Chase Riboud will receive overdue recognition in 2023 as more institutions reexamine their bodies of work in relation to the younger generation they've inspired.
Ossei-Mensah anticipates that criticism by writers of color, specifically those who engage with abstract art's relationship to cultural practice, will be particularly impactful on the art world. He cited the work of Hilton Als, Robin Givhan, Folsade Ologundudu, and Doreen St. Felix as ones to watch. Additionally, he listed the 2023 solo exhibitions of artists Chase Hall, Guadalupe Maravilla, Ming Smith, Tomashi Jackson, Frank Stewart, Amoako Boafo, Kennedy Yanko, and Anoushka Mirchandani as indicative of what's to come this year.
Hans Ulrich Obrist
Artistic Director, Serpentine Galleries
London
Portrait of Hans Ulrich Obrist by Andrew Quinn. © Andrew Quinn.
Hans Ulrich Obrist is looking towards the work of Black, Indigenous, and Latinx artists who are rethinking notions of ownership, land, and the body in relation to futurity. He is particularly excited by immersive and interactive new media art, like video games. As he explained, "Video games are to the 21st century what movies were to the 20th century, and novels to the 19th century. Today, it's much easier for artists to develop their gaming environments."
Obrist referenced the work of Gabriel Massan at the Serpentine Galleries as a key example of an artist who is "uncovering new meanings on video games and phenomenology…that invites players to activate a fantastical and disorienting world populated with Massan's digital sculptures, bespoke animation, films, camerawork, and sound developed by his collaborators," he said. Obrist situates Massan within an incredible generation of artists from Brazil, including Jota Mombaça and Ventura Profana, who use technology to reexamine futurity and a sense of place while in dialogue with decolonial thought and practice.
Adrián Villa Rojas, Yinka Shonibare, and Otobong Nkanga, as Obrist noted, are similarly starting transnational dialogues that imagine a new future for us all. "As artist Ian Cheng often told me, at the heart of his art is a desire to understand what a world is," Obrist said. "Now more than ever, the dream is to be able to possess the agency to create new worlds."
Vivian Crockett
Curator, New Museum
New York
Portrait of Vivian Crockett by Ciara Elle Bryant. Courtesy of the New Museum.
Vivian Crockett is fascinated by what will emerge in the fields of new media art, film, and photography, particularly by artists of color from Latin America. In 2022, more opportunities arose for critical reflection on Latin American art and artists, as evident at the Whitney Biennial "Quiet as It's Kept," and the Focus and Platform sections of The Armory Show. This will likely continue through 2024 as Adriano Pedrosa mounts the 60th edition of the Venice Biennale's international exhibition, becoming the first Latin American curator in its 122-year history.
When approaching Latin American art, Crockett emphasized that an understanding of the continent's political landscapes is crucial. "There is an increased acknowledgement of white supremacist logic affecting Latin American countries, both historically and in the present moment, resulting in more explicit conversations around race, class, and Indigenous struggles for autonomy," she said.
Eileen Jung
Curator, Bronx Museum
New York
Portrait of Eileen Jung. Courtesy of the Bronx Museum.
Eileen Jung predicts that land art, Indigeneity, and immersive art practices will take center stage in 2023. In particular, she pointed to artists who use conceptual art to navigate history and memory, including Firelei Báez, Chloë Bass, Maria Berrio, Andrea Chung, Joana Choumali, Sean Desiree, Abigail DeVille, Anaïs Duplan, Scherezade García, Guadalupe Maravilla, Daniel Lie, and Jodie Lyn-Kee-Chow. Jung added, "Each of these artists have unique perspectives and contributions, and through their work, they've introduced a level of newness and depth to the overall artistic zeitgeist."
Jung further elaborated that artists who provide counternarratives to the dominant historical record, and push the boundaries of their medium across abstract and figurative painting as well as sculpture, will continue to set the trends. She specifically noted the practices of Derek Fordjour, Tomashi Jackson, Sara Jimenez, Anina Major, Natalia Nakazawa, Angel Otero, Kevin Quiles Bonilla, Amina Ross, Tariku Shiferaw, Jean Shin, and Saya Woolfalk. Jung added that the critical scholarship of Lisa Lowe, Anna L. Tsing, and Saidiya Hartman will continue to inform artistic pulses.
She remains excited for new rediscoveries in 2023, like how ceramics has been in recent years. "Another area that is often overlooked are those artists who are self-taught, often labeled as 'outsider artists' (e.g., those whose work does not reflect an overt influence from the mainstream art world), and are bringing a new energy to the field," Jung wrote to Artsy.
Jesse Firestone
Curator, Montclair State Galleries
Montclair, New Jersey
Portrait of Jesse Firestone by Jenna Bascom Photography, LLC's Associate Photographer Nelson. Courtesy of Montclair State Galleries.
Jesse Firestone is on the lookout for more genre-breaking art in 2023. In particular, they point to outsider art practices—like using humor or making provocative works with unconventional material and subject matter—as big trends for the year. "I think performance artists who embrace failure while taking their work seriously, but aren't self-serious, will receive a lot more attention," they said. "There is a lot to learn from this type of work and I think people are hungry to see how we can work with imperfection, messiness, and unpredictability. 2023 is a year of embracing risk."
Firestone's attention to risk comes out of crypto art's tumultuous year in 2022. The incredibly rapid rise and subsequent fall of NFTs have demonstrated that, while artists will continue to innovate art with new technology, some trends might crash as fast and they rose. Firestone believes that artists will continue to learn from the market and reflect upon the failures of these experiences in their work. Because of the NFT crash, Firestone sees physical media art, or art that embraces the body, as major for 2023. This is work they actively support as a curator: "Ultimately I like being able to provide artists with the space to stretch, take risks, and succeed in those efforts," Firestone said.
Rachel Vera Steinberg
Curator, Smack Mellon
New York
Portrait of Rachel Vera Steinberg by Inna Svyatsky. Courtesy of Smack Mellon.
Rachel Vera Steinberg is excited for a greater number of artists to further deepen the mystery of art production across sculpture and computer-generated art. She is inspired by artists who push the boundaries of the medium they are working in, as well as the space in which they exhibit. She cited the work of Emily Clayton, Tomi Faison, and Charisse Pearlina Weston as key examples. Steinberg also anticipates more conceptually driven work in relation to text- and discourse-based art, like K Allado-McDowell's recent book Amor Cringe (2022), which was co-written with AI software.
Additionally, Steinberg predicts that last year's challenges around systemic injustice will usher in artists addressing class and social equity in the art world. "One of the most impactful trends from this past year was the proliferation of AI image generators," she said. "It's hard to forecast this as a direction, but it has the potential to further call into question images as receptacles of meaning."
Separately, Steinberg believes that more artworks inspired by religion will reach the fore in 2023. "I feel like we are entering a moment of reconsidering religion, inclusive of, but also beyond, its relationship to spirituality," she explained. "I see this formally in visual symbols and materiality: For example, in the way an artist like Tammy Nguyen incorporates metal leaf to reference illuminated manuscripts, but also in other modes of production that are trending, such as a heightened interest in metal work."
Zoé Whitley
Director, Chisenhale Gallery
London
Portrait of Zoé Whitley by James Gifford-Mead. Courtesy of Zoé Whitley.
Zoé Whitley is looking to painters who are embracing unconventional materials or pushing the limits of their painting practice to render something vibrantly different and new. "The artists who currently inspire me defy genre expectations," she said.
Furthermore, Whitley is looking forward to artists collaborating more with nonprofit organizations. She hopes that these partnerships, and their accompanying resources, will support ambitious art practices and culminate into long-running exhibitions that a greater number of viewers will be able to see and experience.
These later points are greatly influenced by Tricia Hersey's manifesto Rest is Resistance (2022) and Avery Gordon's Ghostly Matters: Haunting and the Sociological Imagination (1997), which both argue for a process of slowing down with media materials to allow for their presence to be felt, haunting the audience.
Ayanna Dozier
Ayanna Dozier is Artsy's Staff Writer.
Tom Sachs Reveals New McDonald's Public Art – HYPEBEAST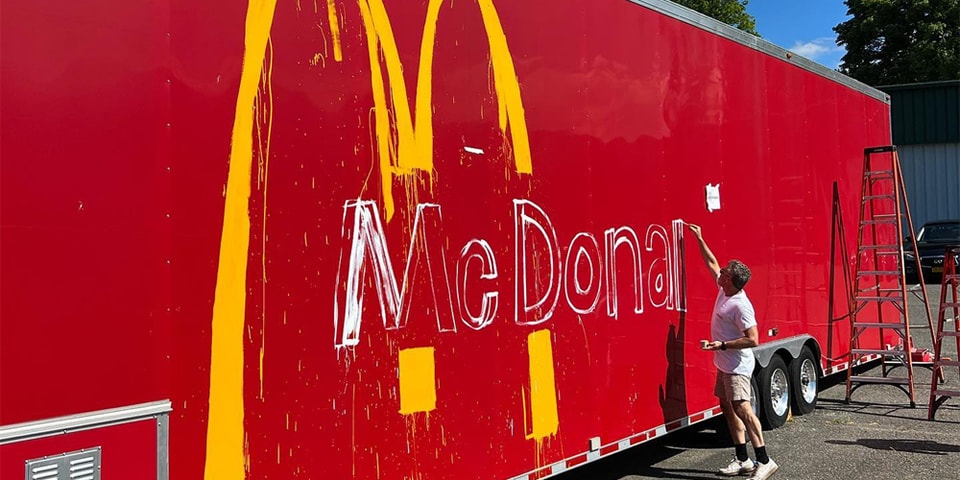 Over the weekend, contemporary visionary Tom Sachs took to Instagram to reveal a new public art piece.
Sachs is taking street art to the next level, showcasing the process of his "Enamel on Trailer" piece that he painted on the side of a red trailer in the middle of Connecticut. The post features a series of images of Sachs painting his own rendition of the McDonald's golden arches and branding. The piece includes signage on the bottom right corner of the trailer and appears to be dated in 2022. A closer look sees that Sachs finds perfection in imperfection as paint leaves streaks from the dripping.
The caption of the Instagram also showcases the dimension as well as the location of the piece — Max Power Motors in New Milford, Connecticut, and is "on display 24/7." The post also shows a Google Map zoom in on where Max Power Motors is located in the world, giving fans who might be interested or passing by, a chance to view the work.
Take a look below.
In other art news, here is an official look at Jahan Loh's Doraemon Sofubi toys.