Humboldt 'Believes' until the last Bronco comes home
HUMBOLDT, Sask. — Chris Beaudry will forever hear Broncos head coach and general manager Darcy Haugan's refrain from last season.
Whether it was November or January, the message was the same: Believe.
"He would just tell the guys all year, 'We're not a fifth-place team. You guys have gotta believe,'" Beaudry, the Broncos' assistant coach last season, said Tuesday. "He told them, 'Once you start believing, that's when we'll turn it around.'"
The message took hold on Jan. 13, just after the Saskatchewan Junior Hockey League's trade deadline. Haugan's Broncos lost to the Notre Dame Hounds the night before.
"My message to the guys was we need to start believing. Why not us? Why can't we do this?" Haugan said on March 24. "'Somebody please give me an answer, a reason, why we can't do this. We need to start believing."
Haugan found an older, yellow piece of rink kickplate laying in the bowels of Elgar Petersen Arena. He took it to his office and wrote "BELIEVE" across it. Every member of the Broncos signed it, almost a contract of sorts, to stick together and buy-in completely.
Haugan bolted the kickplate to the wall above the Broncos' dressing room door, that covenant being their last vision on the way out to the ice. The Broncos won 13 of their next 16 games and Haugan had special shirts made with "BELIEVE" printed on the front for the start of the SJHL playoffs.
"It was just engrained in our minds," said Brayden Camrud, one of two bus crash survivors who will lead the 2018-19 Broncos forward. "I think one of the reasons our team was so tight last year was we believed in one another. Anything that we believed, it would happen either way."

Believe. It's one small word that has taken on an entirely different meaning in the wake of an unthinkable April 6 tragedy that claimed the life of Haugan and 15 others on the Broncos' bus.
Two days after the accident, Beaudry was mulling around the Broncos' dressing room trying to gather his thoughts when he looked up and saw it.
The assistant coach who was somehow spared so he could help pick up the pieces, ripped the signed piece of kickplate off the wall.
"I have to take this to the hospital," Beaudry thought. "That's where this belongs.
"I said, 'It's staying here until the last boy comes home.'"
That is where the kickplate has remained, in Saskatoon at the hospital, being passed from room to room helping the Broncos recover.
Believe has become the rallying cry, the daily motto, for two Broncos who are still fighting. Layne Matechuk and Morgan Gobeil remain in Saskatoon City Hospital recovering from traumatic brain injuries. They are unable to attend Wednesday night's season opener.
"#believe is the word we are holding onto these days," the Matechuk family said in a statement this summer. "We #believe in the strength and determination that brought Layne success on the ice will bring him success in the months and years ahead. We ask that you continue to send your prayers and support to him – and think of him. And most of all, we ask that you #believe with him and us."
Both families recently provided medical updates in a statement, but requested privacy from the media.
"(Morgan) is now focused on rehabilitation where he participates in physio, occupational and speech therapies and does all this with a good demeanour," the Gobeil family wrote. "Although he knows he was in a bus accident on the way to his game in Nipawin, he does not know the extent of what has happened. And because Morgan does not yet know the gravity of the accident, he is unaware of the overwhelming support that has poured in from across the world. However, we want everyone to know that we, his family, are. We are so grateful for that."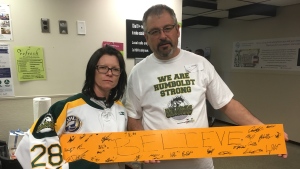 The Matechuks also indicated that their son is "still not fully aware of all that has happened with the accident but is getting closer to being able to deal with it."
Matechuk, 18, has received an occasional day pass from City Hospital in Saskatoon to spend time with his family at home. He will remain in hospital "on his journey to recovery," the statement said.
Gobeil's family said Morgan "has a long way to go and will still be in the hospital for a few more months."
The road to recovery is complex, the Gobeil family said, "but at the same time, it has been remarkable to watch his progress."
"We believe he gets better every day," the Gobeils said. "We have said that from day one."
The Broncos believe. Some have spelled it "BEL13VE" to honour the 13 survivors who all have their own battles – some seen and some unseen. They will say it, together, with Haugan's words echoing forever.
"It was just a sense of, 'Be strong.' It was easy to put that on our shirt and represent ourselves because we believed that we could win," Camrud said. "We believed that we would be the best in the league. We believed in each other until the final buzzer."
Contact Frank Seravalli on Twitter: @frank_seravalli
Blue Jays lose to Mariners (Jays 0-7 Mariners)
Mariners 7 Blue Jays 0
We were supposed to get a bunch of home runs against Mariners starter Yusei Kikuchi but we didn't get much of any type of hit against him. He allowed just 2 hits and 1 walk, with 9 strikeouts against us. We just couldn't figure him out all day.
The Mariners hit a bunch of home runs, four of them.
Our opener, Wilmer Font gave up a solo homer (just clearing the wall), plus two other hits, with 3 strikeouts in his 2 innings.
Thomas Pannone pitched 3.2, gave up 2 more home runs, 4 hits total, 3 earned, 2 walks and 2 strikeouts. He wasn't good today. One of the homers just barely cleared the wall, the other one was hit hard.
Sam Gaviglio gave up a solo shot in his his 1.1 and had a strikeout.
In Justin Shafer we finally had a picture not give up a home run. He did gave up a single and a walk with a strikeout in his inning.
Zack Godley gave up 2 more runs (without the aid of a home run) in his inning. He might have been helped out but Randal Grichuk decided to throw to second instead of throwing to the cutoff man, allowing a runner from second to score easy.
---
Kikuchi pitched a complete game shutout. Grichuk had a single and Brandon Drury (he was the only Jay to make it to second base) had a double and that was it for hitting. Cavan Biggio had 3 strikeouts.
The game was over in 2 hours and 25 minutes.
Tomorrow is an off day and then we have 3 in LA against the Dodgers.
---
No Jays of the Day.
Suckage: Pannone (-.159 WPA), and Jansen (-.095).
---
The GameThread zipped along too, only time for 162 comments. I led us to a dismal effort.
Edmonton Oilers GM Faces A Daunting Challenge
As yet another disappointing season draws to a close for the Edmonton Oilers, the focus of their long-suffering fan base shifts toward what could be a crucial offseason.
The Oilers are expected to hire a new general manager and head coach this summer. Whoever fills the GM role will have their hands full attempting to rebuild a once-proud franchise mired in mediocrity due to years of mismanagement.
As this season ends, the Oilers are composed of two superstar forwards (Connor McDavid and Leon Draisaitl), a good two-way center (Ryan Nugent-Hopkins), a couple of young defensemen (Oscar Klefbom and Darnell Nurse) who may or may not blossom into reliable top-pairing rearguards, an expensive power forward whose best seasons are well behind him (Milan Lucic) and, as the Edmonton Journal's David Staples recently observed, a bunch of fourth liners.
Quibbling over what forwards like Zack Kassian or Alex Chiasson or defensemen such as Andrej Sekera, Kris Russell or Adam Larsson bring to the ice is pointless. Whatever their qualities, they're not enough to turn the Oilers into a perennial playoff contender.
The Oilers woes have prompted some fans and pundits to suggest they're wasting McDavid's best years. The same could also be said of Draisaitl. McDavid and Draisaitl may be signed through the middle of the next decade, but they could their respective futures in Edmonton if things haven't improved before then.
For years, the complaint about the Oilers' front office was it was an old-boys network dominated by ex-Oilers who were buried too deeply within their own bubble. But now-former GM Peter Chiarelli, who built the Boston Bruins into a Stanley Cup champion in 2011, wasn't from that network when he was hired in 2015.
Either Chiarelli's decisions during his tenure in Edmonton were affected by too much meddling from higher up,  he had already lost the golden touch he once had or a combination of both. His successor must be someone who's not an Oilers alumni and still in his management prime with a proven record for turning around a struggling franchise.
The next Oilers GM could have perhaps a three-year window to turn things around. He won't have the luxury of taking a year to evaluate the roster before making significant changes.
It certainly won't be easy. For starters, he'll have to find a way to shed some salary-cap space. With over $71.7 million invested in 16 players (stick tap to Cap Friendly), the Oilers could have less than $12 million to work with this summer assuming the salary cap reaches the projected $83 million for 2019-20.
The good news is they don't face any expensive re-signings this summer. The bad news is freeing up additional cap space will be difficult
The Athletic's Allan Mitchell (subscription required) recently listed Lucic, Sekera, and Russell as three possible cost-cutting candidates, using the savings to bring in speed, skill and goaltending depth.
Buying out the remaining four years of Lucic's contract isn't a good option, leading Mitchell to suggest packaging Lucic with a prospect and pick up part of his salary in a trade. Given Lucic's decline and remaining contract tenure, that's easier said than done. Buying out the remaining two years of Sekera's contract and trading Russell appears the more likely scenarios.
Figuring out what to do with struggling Jesse Puljujarvi will be another issue. The 20-year-old winger still has the potential to blossom into a scoring winger. Surgery to repair a hip condition might also rectify his inconsistent play. So could playing for a coach with the patience to help him rediscover his scoring touch.
Bolstering the goaltending is another priority. Chiarelli may have felt Mikko Koskinen was worth a three-year, $13.5-million contract extension (with a modified no-trade clause), but he's yet to fully establish himself as their starter.
Adding another experienced netminder to share the duties with Koskinen – or even challenge him for the starter's role – without breaking the bank is a must. The market for free-agent goaltenders this summer isn't very deep but maybe someone like New York Islanders goalie Robin Lehner could be worth pursuing if he hits the open market in July.
What to do with their 2019 first-round pick is a key question. The Oilers could get lucky and win next month's draft lottery, which will likely cause a meltdown of hockey's Twitter universe. They currently have only a five percent chance of winning, but could still finish with a pick among the top-10.
It might be worthwhile seeing what that pick could fetch in the trade market, especially if it's the first-overall selection. Granted, it would take a substantial offer to pry that away from them. But if they could also package someone like Russell or Sekera in the deal, maybe they could land a quality return that would have an immediate positive impact while clearing some cap space in the process.
John Tavares hits Florida with four
The Toronto Maple Leafs continued their run of great play, but this time actually put the puck in behind their opponent, as they put up seven on the Florida Panthers in a 7-3 win that turned into a 7-5 scoreline in garbage time. Yes, I'm sticking to my guns on this. In game 76, this was essentially game one of a pseudo seven-game series to end the season. Hopefully the Leafs can use this as practice for the inevitable fight against the Boston Bruins.
John Tavares took charge of the offense in this game, putting up four goals on five shots in 19 minutes of play. Mitchell Marner put up three assists in a supporting effort, while William Nylander and Morgan Rielly each had two assists of their own. It was also a milestone night, as Zach Hyman scored his 20th goal, the first of his career. Rielly also got his 69th and 70th points on the season. He now shares the spotlight with Tomas Kaberle as the only defenseman since the Borje Salming era to put up 50 assists in one season.
First Period
1-0
Within the first two minutes, the Leafs took advantage of a defensive breakdown when the Panthers threw too many guys forward. Kasperi Kapanen carried the puck from the defensive zone into the offensive zone before handing the puck over to Nazem Kadri. As he went to the front of the net, Kadri found Patrick Marleau with a brilliant pass and the old man buried his 16th goal of the season.
The third line had been really unproductive for the Maple Leafs in recent games. The three players combined for two goals and nine assists in those games (Kadri: 4a, Kapanen: 1g, 3a, Marleau: 1g, 2a), but right off the bat, the trio that will likely get the easiest matchups in four of hopefully seven games against the Bruins all combined for a very convincing goal.
2-0
Jake Muzzin kept the pace up with a goal of his own about two more minutes later, his ninth of the season. The real breakdown for the Panthers came when Nikita Zaitsev pinched down along the boards and won the puck away from the Panthers who were attempting a rush. Andreas Johnsson was covering the point and was able to grab the puck and throw it to a lonely Muzzin on the other side of the ice.
And on that goal, Samuel Montembeault got pulled for Roberto Luongo just 4:21 on the ice. After giving up eight goals on 42 shots dating back to Saturday against the Boston Bruins — which is equivalent to a .809 save percentage — it's not a surprise this was the quickest goalie pull in Leafs history. In other news, I'm super glad the Leafs have Michael Hutchinson.
3-0
Josh Brown, who is apparently a real player, took a slashing penalty midway through the period and the Leafs promptly capitalized with the man-advantage. Auston Matthews took a shot from his usual spot at the faceoff dot and John Tavares tipped the puck in for the first goal of his hat-trick night. This was Tavares' ninth power play goal this season, which is only two behind James van Riemsdyk's 11 from the season previous. I don't think it's out of the realm of possibility that he surpasses that total and Kadri's team-leading 12 ppgs from last season. Also, JVR had 36 goals last year while Tavares ended up with 45 by the end of the night.
3-1
Jayce Hawryluk beat Hainsey to the net off a rush and tipped the puck through Freddy Andersen's pads to put the Panthers on the board late in the first period. Mike Hoffman carried the puck down the length of the ice and shot the puck for the tip. Thanks a lot, Ottawa.
4-1
At the end of a shift, William Nylander got the puck from Andreas Johnsson before he pealed to the bench. Nylander circled the offensive zone before finding Zach Hyman join the play. Hyman burst diagonally across the middle of the ice and fed Tavares in front of the net for his second goal of the night, restoring the three-goal lead less than two minutes after giving it up.
4-2
The Panthers got one back near the end of the period when Mike Matheson took a shot from the point that got through several bodies in front and Freddy. Credit to Vincent Trocheck for his work along the boards against Zaitsev and Tavares to get the puck to the point, he got a primary assist for his efforts.
After One
It was a great period offensively for the Leafs, but they gave up a little too much at the other end. At 5v5, the Leafs were ahead in shot attempts (22-19), shots (14-9), and scoring chances (12-11).
The #Leafs are on pace for the second-most 5v5 shot attempts (66) and most 5v5 shots (42) this season.

— Hardev Lad (@HardevLad) March 25, 2019
Second Period
5-2
Hat trick alert! Tavares got his third of the night on a great play by Morgan Rielly off the rush. Rielly's centering pass was his 49th of the season, and 69th point. Nylander got his second secondary assist on this play after carrying the puck out of the defensive zone en route to a line change.
Troy Brouwer ran into Freddy Andersen causing a pause in the play. Andersen looked okay to continue, and the Leafs courteously proceeded to spend the next few minutes in the offensive zone to help ease the pressure, so hopefully all is good moving forward.
After Two
The Leafs didn't let up offensively at all in the second period. They once again had over a shot attempt per minute with 18 in just over 15 5v5 minutes. Unfortunately, the Panthers kept right up with them, keeping the differentials relatively close. After two, the shot attempts were (18-17), shots were in favour of Florida (9-10), while the Leafs had the edge in scoring chances (10-7).
Third Period
6-2
At this point the game was just getting silly as Tavares scored his fourth goal of the game, matching some guy named Auston Matthews who also had four goals in a game recently. Tavares is also now the 16th Leaf since 1967 expansion to score four goals or more. Only three have five or more, including Darryl Sittler, who has six. Marner and Hyman drew the assists on this particular tally. Surprisingly, this was only the fourth time those three combined for a goal, Rielly has been getting a lot of those assists, breaking up the trio.
6-3
Jonathan Huberdeau scored a few minutes later when he batted the puck in right at the side of the net off an Aleksander Barkov shot off the rush. Zaitsev smashed his stick on the post, unhappy with how his team was unable to contain the only players worth caring about on the Panthers.
7-3
Zach "Stone hands" Hyman put up his 20th goal of the season off a great stickhandling play in front of the net. Rielly got the primary assist on this goal, his 50th assist and 70th point of the season.
At this point, the Leafs somewhat turned it off and attempted to cruise for the last 10 minutes of the game. I mean, what could possibly go wrong with a four-goal lead?
7-4
Err, Huberdeau scored his second on the power play with Marleau in the box for hooking. It was a frankly beautiful goal off the post and in for his 25th of the season.
7-5
Oh my god, please don't. After a brief skirmish between several players that resulted in a Panthers power play, Jayce Hawryluk scored his second goal of the game and seventh of the season. With more than two minutes left, could the Leafs not do stuff like this? It's really not good for my mental health.