PM in new Brexit battle after Commons vote defeat
Boris Johnson faces a new battle in the Commons after his first vote as PM saw him lose to rebel Tories and opposition MPs who object to a no-deal Brexit.
The Commons voted 328 to 301 to take control of the agenda, allowing them to bring a bill requesting a Brexit delay.
The PM is to call for a general election if he is forced to request an extension to the 31 October deadline.
MPs will now vote on the Brexit delay bill. If it passes, the vote on whether to hold an election will follow.
Wednesday in the Commons will also see Chancellor Sajid Javid outline the government's spending plans, with the health service, education and the police expected to fare well.
Speaking late on Tuesday to a packed House of Commons, the prime minister said the MPs' bill would "hand control" of Brexit negotiations to the EU and bring "more dither, more delay, more confusion".
He told MPs he had no choice but to press ahead with efforts to call an October election, adding: "The people of this country will have to choose."
The BBC understands the government intends to hold an election on 15 October, two days before a crucial EU summit in Brussels. This is a day later than the BBC was previously reporting.
Mr Johnson has tabled a motion in Parliament seeking approval for an "early general election" but has not specified a date.
Labour has said the bill taking the no-deal option completely "off the table" needs to be passed before his party would support the call for a general election.
Shadow Brexit Secretary Sir Keir Starmer told Sky News that Mr Johnson could not be "trusted" to hold the poll before the Brexit deadline despite No 10's insistence it will.
"We are not dancing to Mr Johnson's tune. He is a man who is not trusted…If he says the election will be on 15 October, most people in Parliament will not believe him."
Under the Fixed Term Parliaments Act, a prime minister must have the backing of at least two-thirds of the UK's 650 MPs before a general election can be called outside of the fixed five-year terms.
Downing Street said the 21 Tory MPs who rebelled in Tuesday's vote would have the whip removed, effectively expelling them from the parliamentary party and meaning they could not stand as Conservative candidates in the election.
The rebels include several senior Conservatives including ex-chancellor Ken Clarke – a Commons veteran of nearly five decades – who said he did not recognise his party anymore.
"It's the Brexit Party, rebadged," he told BBC Two's Newsnight programme.
The "knockabout character" of the prime minister had "the most right-wing cabinet a Conservative government has ever produced", he said.
Also among the other jettisoned rebels are Philip Hammond who – until 24 July – served as chancellor, former justice secretary David Gauke, Winston Churchill's grandson Sir Nicholas Soames, and Rory Stewart, who recently stood against Boris Johnson to be the party leader.
The former international development secretary told BBC Radio 4's Today programme he was sacked by text message, as he was being given the GQ magazine award for politician of the year.
"It was a pretty astonishing moment," he said. "It feels a little bit like something you associate with other countries – one opposes the leader, one loses the leadership race, no longer in the cabinet and now apparently thrown out of the party and one's seat too."
Mr Stewart said the decision on who should be a Conservative candidate should rest with local associations, not be made centrally. "This is not a Conservative way of behaving," he added.
Sir Nicholas said he would end his parliamentary career if a snap general election was held.
He said his decision to rebel was not taken "lightly", but he felt strongly about avoiding a no deal.
He added: "The fact is I'm satisfied that [the prime minister] himself wants a deal, but the deal he wants is not available."
Hours before the vote on Tuesday, the government had already lost its working majority when Tory MP Phillip Lee defected to the Liberal Democrats.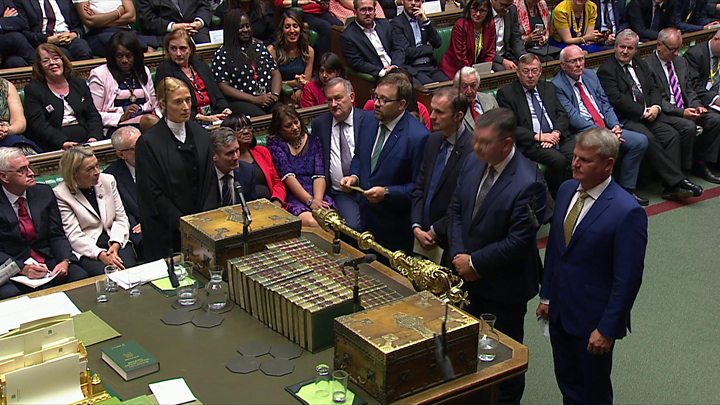 Could the Commons defeat be a benefit to PM?
It's hard to know where to start sometimes.
The pace and gravity of events in Westminster this week is both monumental and dizzying.
A prime minister has lost his wafer of a majority.
But some close to the prime minister believe that from this crisis comes an opportunity – to close the unfinished business of the referendum result in 2016, with the Tory party at last being the bearers of a crystal-clear message on Brexit.
It's a measure of how upside down the political norms are – that the prime minister losing his first vote in office is considered by some of his allies as a benefit.
---
Sébastien Proulx, quits politics
Sébastien Proulx, a longtime MNA who served as education minister under former premier Philippe Couillard, is quitting politics.
The 44-year-old said Friday he wants to spend more time with his family.
"It is now time for me to do something else," Proulx said at a news conference. Radio-Canada has learned that Proulx will begin working at Desjardins Group as early as next month.
Proulx was first elected to the Quebec City riding of Jean-Talon in 2007 as a member of the now-defunct Action démocratique du Québec.
He joined the Quebec Liberal Party in 2015.
He was education minister between 2016 and 2018, as the Liberals looked to restore investment in the province's education system after cuts earlier in Couillard's mandate.
He also served as minister responsible for families from January 2016 to October 2017.
Pierre Arcand, the Liberals' interim leader, thanked Proulx for "his dedication, for his involvement and for his passion."
Proulx had been floated as a possible candidate for the Liberal leadership. Liberal MNA Dominique Anglade is so far the only person to officially enter the race.
The party is expected to choose its new leader in the spring of 2020.
Trump defends Trudeau on Twitter
President Donald Trump took to Twitter to defend Prime Minister Justin Trudeau after a critic accused him of being 'submissive' to the president after 'trash-talking' him to the Canadian press. 
Trump and Trudeau sat down together after negotiations at the G7 summit in Biarritz, France.
The two leaders discussed the United States-Mexico-Canada Agreement and said this deal was envied by fellow diplomats at the summit.
'Quite frankly, around the table there's a number of people wanting to make trade deals with each other,' Trudeau said, according to CBC.
However, Canadian far-right commentator and activist Ezra Levant, founder of media website The Rebel Media, took to Twitter to call Trudeau two-faced for appearing 'submissive' in Trump's company while mocking him behind his back.
'Trudeau bravely trash-talks Trump to the press gallery in Canada. But whenever they actually meet, Trudeau assumes a submissive position – politically, and even physically,' Levant wrote.
'Even a child would know who is in control,' he added.  
Less than three hours later, Trump attempted to correct Levant by claiming the meeting between the two politicians was 'productive' and 'nice!'
Levant quickly responded to the President, taking another opportunity to take a jab at Trudeau by saying, 'the lad has never negotiated anything more valuable than a bag of weed.'
During Trudeau's 2015 campaign, the PM promised to legalize marijuana
Canada elections and political ads on Facebook
Facebook users in B.C. and Alberta have been bombarded with political ads supporting pipelines, while Ontario users of the social network are seeing attacks on Premier Doug Ford and his education policies, a CBC News analysis shows.
As the federal election approaches, industry groups, partisan advocates and unions have spent large sums of money to get their messages in front of Facebook users. But new political advertising rules that came into effect last month seem to have slowed down the spending spree.
CBC obtained 35,000 ads published this year on Facebook's new ad library, which the social media giant created in an effort to be more transparent and regain public trust after being accused of enabling foreign actors to interfere in elections.
The archive of ads offers a glimpse into the political messaging being crafted for Canadians in an election year.
And it shows how advertisers are making use of Facebook's ability to target audiences by location, delivering tailored messages on local issues.
In Ontario, for example, three teachers associations have been running ads critical of provincial government cuts to education. Facebook users in Alberta have been shown ads by the Canadian Taxpayers Federation urging politicians to deny equalization payments to provinces that oppose oil pipelines that would travel through their territory.
"This shows how political groups are able to use Facebook to target messages," said Stuart Soroka, a professor of political science at Michigan University who used to teach at McGill University in Montreal.
"Facebook is an extension of what we saw in the '90s, a capability to run regional TV ad campaigns thanks to technical changes."
Facebook's public ad archive expanded to Canada this year in response to Bill C-76, also known as the Elections Modernization Act. Adopted late last year, C-76 forces online companies like Facebook to disclose the political ads on their platforms and the people or groups that paid for them.
Although Facebook lets advertisers target their ads to specific audiences based on gender, age, location and interests, it doesn't disclose what groups an ad was meant for.
It does, however, disclose what kinds of users saw the ad. So by looking at ads that were shown disproportionately to one group, you can get a rough idea of the types of messages that were aimed at them.
To find ads that were targeted by location, we looked at those that had at least 95 per cent of total views in a single province. The graphic below lists the ten most frequent words in ads that were seen overwhelmingly in specific provinces.
The top two words in Alberta-targeted ads are "pipelines" and "equalization" because of a campaign from the Canadian Taxpayers Federation with the slogan, "No pipelines? No equalization!"
"Energy" and "move" were popular words in ads targeted in B.C., mostly due to ads from the Canadian Energy Pipeline Association (CEPA) promoting pipelines as a solution to climate change and as a contributor to the economy. CEPA ran more than 1,250 ads nationwide, 280 of which were seen only in B.C., making it Facebook's biggest political advertiser in the province.
The province has resisted the expansion of the Trans Mountain pipeline, which would increase the volume of Alberta crude carried to a port in Burnaby, B.C.
CEPA spokesperson Carla Minogue said the ad campaign is national in scope, and the high numbers for B.C. are not related to Trans Mountain resistance, but to reach users in Metro Vancouver. She said CEPA is also targeting users in the Greater Toronto Area.
"We want to reach people who are neutral in the pipeline issue and that's where they tend to be," she said.
In Ontario, "education," was a top word due to the nearly 200 ads run by three teacher associations: the Ontario English Catholic Teachers Association, the Elementary Teachers' Federation of Ontario and the Ontario Secondary School Teachers' Federation. All of their ads denounced the province's recent cuts to schools.
However, they were all outdone by North99, an advocacy group that used petitions and surveys in Facebook ads as a way to collect contact information from users.
The group's 300 ads were shown mostly in Ontario and were highly critical of Doug Ford's government.
But North99's output was topped by Fair Path Forward, a Facebook page run by Canadians for Clean Prosperity, an advocacy group that supports a carbon tax as a solution to climate change. It ran 450 separate ads aimed at Facebook users in Ontario, the highest total in any province so far.
"Clean Prosperity will be running ads until the election starts, and our goal is to educate Canadians about why a carbon tax is a fair, effective and affordable way to address climate change," said spokesperson Max Fawcett.
Big spenders
Facebook also discloses how much advertisers spent on ads. The biggest spender in Canada was a group called Shaping Canada's Future, which describes itself as a "free enterprise oriented" group. It gained notoriety in June when it ran TV spots critical of the federal Liberal government during game 5 of the NBA finals. The group has spent close to $190,000 this year on Faceobok ads alone.
The group ran all of its 61 ads in June, just before the new rules about political advertising kicked in. Facebook requires that ads about social issues or politics contain a disclaimer and disclose the organization that paid for them. None of the ads by Shaping Canada's Future had this disclaimer, despite being political, and were taken down by the social network.
Shaping Canada's Future has so far yet to respond to CBC's request for comment.
Unifor, Canada's largest private-sector union, spent more than $130,000 on 41 video ads since June urging Canadians to vote with workers in mind.
The federal Liberal and Conservative parties were the fourth and fifth biggest spenders, respectively.
New rules discouraging advertisers
Since the new advertising rules came into effect last month, the number of political and issue ads on Facebook dropped significantly, from roughly 14,000 in June to 9,500 in July.
Ads posted in June were not subject to third-party rules, which means the groups running those ads were not obligated to register with Elections Canada and publicly release their donors and spending.
One advertiser contacted by CBC said it decided to stop running Facebook ads following the introduction of the new rules out of caution. The Canadian Taxpayers Federation, which had run ads supporting pipelines and opposing inheritance taxes and the Liberal government's media bailout, ran 330 ads in June, but only one in July.
"Because this is the first time this is happening in Canada, we did this out of an abundance of caution," said Aaron Wudrick, national director of the federation. "We'll see how things go and we might reassess in the future."
Methodology
CBC collected data on more than 36,000 ads using Facebook's Ad Library API. We searched the API by advertiser ID numbers, which were published in Facebook's daily Ad Library Report. Major non-political advertisers (those that sell products or services and ran at least 50 ads or spent at least $30,000 in 2019) were excluded from the analysis. These advertisers were mistakenly classified as political by Facebook's algorithms because their ad texts may contain words associated with political issues like "environment," "guns" and "economy."
Data analysis was done using the Python programming language. Word frequencies were found using the Natural Language Toolkit.