Disabled passengers say new Transportation Act rules increase air travel barriers
Tracy Odell recalls with a mix of pride and pain the sunny spring day two years ago that her daughter got married in California.
Pride in the milestone. Pain at having to miss it.
Airlines, she said, effectively failed to accommodate her disability, a problem that thousands of Canadians continue to face despite new rules designed in theory to open the skies to disabled travellers.
As seating space shrank and cargo doors were often too small for customized wheelchairs, Odell cut back on the flights she once took routinely for her work with a non-profit.
"My wheelchair is part of me," said Odell, 61, who was born with spinal muscular atrophy, a genetic condition that gradually prevents forming and keeping the muscles needed to walk, balance, eat and even breathe. "I'm helpless without it."
"It's like if someone says, 'I'm sorry, you can travel but we have to unscrew your legs,' " said Odell, who last took an airplane in 2009.
Her $18,000 mobility device is not allowed in the aircraft cabin. Nor can it fit through some cargo doors without being tipped on its side, risking damage. As a result, her husband opted to stay by her side and miss their daughter's San Jose wedding too.
Odell, president of Citizens with Disabilities Ontario, is one of a number of advocates who say new rules ostensibly designed to make air travel more accessible fail to go far enough — and in some cases mark a step backward.
"It's called second-class citizenry. I've felt it all my life," said Marcia Yale, a lifelong advocate for blind Canadians.
The regulations, rolled out in June under a revised Canada Transportation Act — with most slated to take effect in June 2020 — do little to improve spotty airport service or accommodate attendants and service dogs on board international flights, she said.
"These are going backwards," Yale said, citing carriers' legal duty to accommodate. "We wanted proactive regulations that were going to raise the bar. And in some ways they've lowered it."
The new rules require travellers to notify airlines anywhere from 48 to 96 hours in advance to receive certain accommodations, such as being guided through security or receiving help transferring from a wheelchair to a smaller, cabin-compatible mobility device. There are currently no rules requiring notification that can jeopardize last-minute travel for work or emergencies.
Many passenger plane cargo doors are about 79 centimetres in height — just over two-and-a-half feet — slightly smaller than a typical power wheelchair for youth, said Terry Green, chairman of the Council of Canadians with Disabilities' transportation committee.
"These aircraft are totally restricting adults who use large mobility devices from travelling," he said, noting many wheelchairs cannot fit into cargo at all.
The Canadian Transportation Agency (CTA) says it will be "monitoring…very closely" a U.S. Federal Aviation Administration study on wheelchair anchor systems with an eye to allowing passengers to remain seated in the cabin in their mobility devices. A report is expected in the next three years.
David Lepofsky, an adjunct law professor at the University of Toronto, is reminded of the challenges facing disabled passengers by the case of a couple abandoned in their wheelchairs for 12 hours after being dropped at a service counter in the Vancouver airport en route to Edmonton from their home in Nepal earlier this year.
He can relate.
"There are times it takes me longer to get out of the airport than it took to fly here," said Lepofsky, who is blind and travels frequently for lectures.
Lepofsky says he'll often ask a passer-by to guide him to the gate rather than go through the stop-and-go relay he's experienced with airport and airline agents.
The Canadian Transportation Agency's stated goals, variously defined as "equal access" and "more accessible" service, conflict with each other, leaving levels of accommodation unclear, Lepofsky said.
The rules require an airport to provide a disabled passenger with curb-to-gate assistance, except "if the transportation provider is providing that service."
"It's good that they spell out what has to be provided; it's bad that there are so many escape clauses," Lepofsky said.
He added that the confusion might be more tolerable if airports were required to install way-finding beacons — that connect with an app on a user's smartphone via Bluetooth to offer verbal directions (Toronto's Pearson airport recently added the devices) — or kiosks with audio output, an omission he deemed "inexcusable."
The new rules come alongside a passenger bill of rights that beefs up compensation for travellers subjected to delayed flights and damaged luggage. Consumer rights advocates have said the regulations grant airlines loopholes to avoid payment, while Canadian carriers have launched a legal challenge to quash provisions they argue breach international standards.
Meanwhile the new accessibility regulations require free travel for an attendant or guide dog in an adjacent seat only on domestic flights, with taxes and fees still applicable. A second phase of the regulatory process, now underway, will consider extending the one-person-one-fare requirement to international flights, according to the CTA.
The agency has acknowledged its uneven regulatory regime, citing the "patchwork of regulations and voluntary standards, some of which are outdated and inadequate in their scope," that resulted in "inconsistent accessibility-related services and reduced access to transportation services for persons with disabilities."
The new rules codify that patchwork into a "single, robust, legally binding set of accessible transportation regulations," the CTA told The Canadian Press in an email.
Crisis in B.C. forestry industry
VANCOUVER — High log prices and dwindling timber supply are driving the crisis in British Columbia's forestry industry that has devastated communities and kneecapped the provincial economy, observers say.
Companies have announced shutdowns or curtailments in more than two dozen mills in the province, putting hundreds out of work and slashing economic growth predictions. Advocates are calling for urgent government action to stem the bleeding.
"Something needs to change immediately or these small communities that don't have other employers are going to wither and die," said Marty Gibbons, president of United Steelworkers Local 1-417, based in Kamloops, B.C.
The local represents hundreds of forestry workers who have lost jobs in Interior communities including Merritt, Clearwater, Vavenby and Clinton.
The largest driving factor is the province's complex stumpage system that results in high fees, he said.
"These are private businesses. If they can't turn a profit, there's no reason for them to run. Right now, it's not the markets that are the issue. It's the cost of the logs," he said.
Stumpage is a fee businesses pay when they harvest timber from Crown land. The B.C. government calculates stumpage annually, so the system is less responsive than in Alberta, where monthly adjustments are made, Gibbons said.
The Forests Ministry said stumpage fees are based on market demand and the current rates reflect the scarcity of timber supply that has resulted from the mountain pine beetle outbreak and been exacerbated by several severe fire seasons.
Intervention in the stumpage system would weaken the legal case in the appeals of the duties imposed by the United States on softwood lumber from Canada, the ministry said in a statement.
"It is well-known that any interference in B.C.'s market-based timber pricing system would lead to an increase in softwood lumber duties levied by the U.S.," it said.
Most of B.C.'s forest land is publicly owned, so companies have long-term tenure rights and the government charges them stumpage to harvest trees. In contrast, most land in the U.S. is private and companies face costs associated with replanting.
"That's what the stumpage fee is all about," explained Ken Peacock, chief economist of the Business Council of B.C. "It tries to equate, if it was privately owned, what the cost would be to operate and manage and reforest the land."
Peacock said the high cost of logs is the major cause of the industry's decline in B.C. He also blamed the mountain pine beetle and record-breaking 2017 and 2018 fire seasons for decimating supply.
The policies of Premier John Horgan's government are also breeding uncertainty, Peacock argued.
The government is developing a caribou habitat protection plan that the industry expects will further restrict access to northern timber, he said, and it's promised to implement the United Nations Declaration on the Rights of Indigenous Peoples without explaining how companies are meant to fulfil its requirement of "free, prior and informed consent" from First Nations.
The NDP government has also introduced Bill 22, which would control tenure transfers. Currently, a company that is scaling back or shutting down a mill can transfer its tenure to one that is operating, but the government wants oversight over these transfers to protect the "public interest," a term not defined in the legislation, Peacock said.
"The picture here in B.C. is we are a very high cost jurisdiction. It's actually less costly to operate in Alberta and companies can make a profit milling lumber and producing two-by-fours in Alberta."
On top of all that, market conditions in North America are softening, he noted.
Forestry is the no. 1 engine that drives B.C.'s economy with nearly $15 billion in annual exports, representing one-third of the province's international merchandise exports and the largest segment by far, said Peacock.
The Business Council of B.C. just trimmed its 2019 economic forecast in part because of the forestry downturn, from 2.2 to 2 per cent growth, he said. The B.C. government also just cut its forecast to 1.7 per cent, citing mill closures in part.
The Forests Ministry said the challenges the province is facing have been in the making for many years and the previous Liberal government ignored them and failed to help the sector and communities adapt.
"We have laid out a process … to bring together industry, First Nations, labour and communities to address the challenges and build a sustainable sector to protect jobs."
Opposition Liberal forestry critic John Rustad has blamed the current government's policies for "killing the industry" and resulting in more layoffs and closures.
GM 49,000 workers in U.S. set to strike at midnight
The union representing about 49,000 General Motors workers in the U.S. said they would go on strike at midnight Sunday night because contract negotiations with the automaker had broken down.
The decision came after about 200 plant-level United Auto Workers leaders, who met in Detroit on Sunday morning, voted unanimously in favour of a walkout.
The four-year contract with GM expired on Saturday, raising the possibility of a strike.
"We do not take this lightly," Terry Dittes, the UAW vice-president in charge of the union's relationship with GM, said at a news conference in downtown Detroit. "This is our last resort."
The union has framed the four plant closures in the U.S. announced by GM as a betrayal of workers who made concessions in 2009 to help the automaker through its government-led bankruptcy.
"General Motors needs to understand that we stood up for GM when they needed us," Ted Krumm, head of the union's bargaining  committee in talks with GM, said at the news conference Sunday. "These are profitable times … and we deserve a fair contract. We helped make this company what it is."
GM said in a statement that its offer to the UAW during talks included more than $7 billion in investments, 5,400 jobs — a majority of which would be new jobs — pay increases, improved benefits and a contract ratification bonus of $8,000 US.
"We have negotiated in good faith and with a sense of urgency," the automaker said.
On Saturday night, GM had said in a statement that it still held out hope for an agreement: "We are prepared to negotiate around the clock because there are thousands of GM families and their communities — and many thousands more at our dealerships and suppliers — counting on us for their livelihood. Our goal remains on building a strong future for our employees and our business."
A strike would halt GM's U.S. production, and could have an impact on vehicle production in Mexico and Canada (there are Ontario assembly plants in Oshawa, St. Catharines and Ingersoll, Ont.). Canadian workers are represented by a different union — Unifor — but the North American auto industry is integrated and Canadian operations rely on parts from the U.S.
Kristin Dziczek, vice-president of industry, labour and economics at the Ann Arbor, Mich.-based Center for Automotive Research (CAR), said a strike at GM's U.S. facilities would also shut its plants in Canada and Mexico because the automaker's supply chain is so integrated.
"That's going to have a big effect on the economy," Dziczek said.
Janitors at UAW-represented facilities walk out
While autoworkers showed up for their jobs Sunday, about 850 UAW-represented janitors at eight GM facilities in Ohio and Michigan who work for Aramark, a separate company, went on strike Sunday after working under an extended contract since March of 2018, the union said.
It appeared GM workers were crossing picket lines set up by their own union. The Detroit Free Press reported that factory workers at a pickup truck plant in Flint, Mich., reluctantly passed Aramark picketers to report for work early Sunday.
GM said in a statement that it has contingency plans for any disruptions from the Aramark strike.
UAW vice-president Terry Dittes said in a letter to GM members that, after months of bargaining, both the union and GM were far apart on issues such as wages, health care, temporary employees, job security and profit sharing.
The union's executive leaders and a larger group of plant-level officials were meeting Sunday morning to decide the union's next steps.
A letter to members and another one to GM were aimed at turning up the pressure on GM negotiators.
"While we are fighting for better wages, affordable quality health care and job security, GM refuses to put hard-working Americans ahead of their record profits," Dittes, the union's chief bargainer with GM, said in a statement Saturday night.
If there is an autoworkers strike, it would be the union's first since a two-day work stoppage at GM in 2007.
The move by the union also comes as it faces an internal struggle over a federal corruption investigation that has touched its president, Gary Jones. Some union members are calling for Jones to step down while the investigation continues. But Friday night, union leaders did not remove Jones.
Vance Pearson, head of a regional office based near St. Louis, has been charged with corruption in an alleged scheme to embezzle union money and spend cash on premium booze, golf clubs, cigars and swanky stays in California. It's the same region that Jones led before taking the union's top office last year. Jones has not been charged.
GM odd firm out: Ford, Fiat Chrysler pacts extended
On Friday, contracts with Ford and Fiat Chrysler were extended indefinitely, but the pact with General Motors was still set to expire Saturday night.
The union has picked GM, which is more profitable than Ford and Fiat Chrysler, as the target company for labour action, meaning it's the focus of bargaining and would be the first company to face a walkout. Picket-line schedules already have been posted near the entrance to one local UAW office in Detroit.
GM and union talks were tense from the start, largely because GM plans to close four U.S. factories. The union has promised to fight the closures. One Canadian assembly plant, in Oshawa, is also set to close at the end of the year.
Here are the main areas of disagreement:
GM is making big money, $8 billion last year alone, and workers want a bigger slice. The union wants annual pay raises to guard against an economic downturn, but the company wants to pay lump sums tied to earnings. Automakers don't want higher fixed costs.
The union also wants new products built in the four U.S. factories GM wants to close. The factory plans have irked some workers, although most of those who were laid off will get jobs at other GM factories. GM says it currently has too much U.S. factory capacity.
The companies want to close the labour cost gap with workers at plants run by automakers outside North America. GM's gap is the largest at $13 per hour, followed by Ford at $11 and Fiat Chrysler at $5, according to figures from the Center for Automotive Research. GM pays $63 per hour in wages and benefits compared with $50 at the foreign-owned factories.
U.S. union members have good health insurance plans but workers pay about four per cent of the cost. Employees of large firms nationwide pay about 34 per cent, according to the Kaiser Family Foundation. The companies would like to cut costs.
GM currently has healthy levels of inventory of some of its key, high-margin vehicles. Around the United States, the automaker has 12 vehicle assembly plants, 12 engine and power train facilities, and a handful of stamping plants and other facilities.
As of Sept. 1, GM had 96 days supply of its Chevrolet Silverado pickup truck, 59 days supply of its Chevrolet Equinox SUV and more than 100 days supply of the Cadillac Escalade.
Strike pay provided by the UAW, which has been building up reserves in preparation for possible industrial action, is about $250 per week — far below their normal wages.
CannTrust To Be Removed from S&P/TSX Composite
This evening S&P Dow Jones Indices released the rebalancing results for the S&P/TSX Composite Index. The changes will be effective prior to the open of trading on Monday, Sept. 23, 2019.
The S&P/TSX Composite Index is the benchmark Canadian index, representing roughly 70% of the total market capitalization on the Toronto Stock Exchange with about 250 companies included in it. It was speculated weeks ago that CannTrust was likely to lose their inclusion in the index.
This is a large blow for the Canadian License Producer who has recently had their inventory seized from Health Canada for illegally producing cannabis in unlicensed grow rooms.
In one of our favorite pieces, we reviewed former CEO Peter Aceto's book last month.
CannTrust is down approximately 85% from it's 1 year high.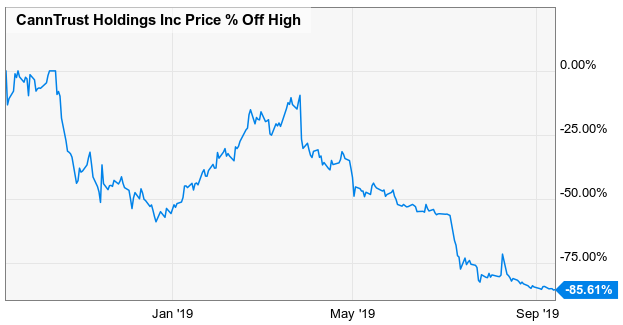 ---
Information for this briefing was found via Stock Watch. The author has no securities or affiliations related to the discussed organizations. Not a recommendation to buy or sell. Always do additional research and consult a professional before purchasing a security. The author holds no licenses.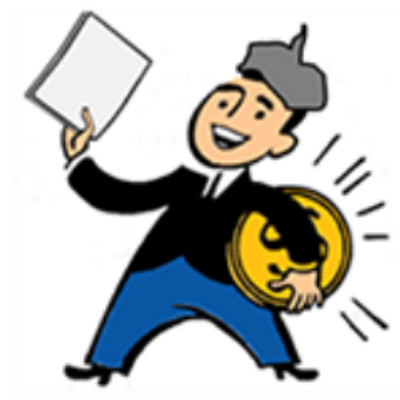 SmallCapSteve started blogging in the Winter of 2009. During that time, he was able to spot many take over candidates and pick a variety of stocks that generated returns in excess of 200%. In the time since, he has taken a heavy focus in the cannabis space with a particular affinity for multi state operators, for which he has become a known thought leader.