Marner, Matthews, Confusion
The Mitch Marner negotiations with the Toronto Maple Leafs have frustrated fans and stumped hockey insiders and commentators. Why is the Marner camp so intransigent about its demands? Can the standoff ever be resolved?
In this post, I will try to bring fans up to speed with
some of the thoughts about Marner and speculation about how the Marner
negotiations might impact other players on the team – specifically teammate
Auston Matthews.
Item One: Bob McKenzie on Marner's Contract Offers
TSN's hockey commentator Bob McKenzie is scratching his head about the continuing Marner negotiations. He's as confused as the rest of us, and it doesn't take much to read that in his twitter posts.
Related: Maple Leafs News & Rumors: Marner Trades, Contract & McDavid Report
For example, in one tweet on Sept. 11, he noted first that the Maple Leafs have made seven- and eight-year offers of about $11 million average annual value (AAV). However, because those offers are lower than the contract Matthews signed for and for a longer term, they haven't been palatable to Marner's team.
His second tweet pondered how a solution might be reached, and he noted in the end that he didn't think it could. He tweeted that the logical solution would be a three-year bridge. However, Marner wants an AAV in the $9-10 million range, with a substantially higher third-year payout that would make the resulting qualifying offer immense.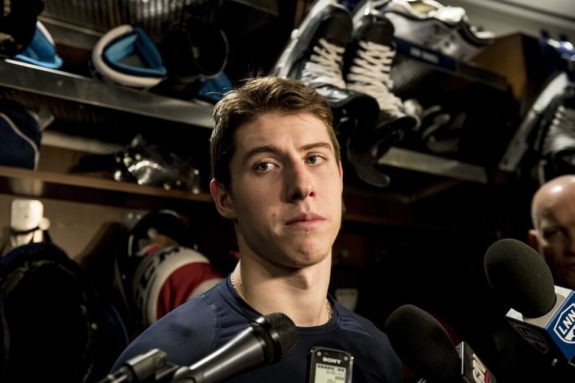 To that, McKenzie noted that Toronto would have no incentive to sign it because it was such a ridiculous (my word, not his) contract. He landed on it was "hard to see the way to a settlement…"
Maple Leafs fans I have spoken to are becoming more and more upset with Marner as his team negotiates this contract. I believe they are beginning to feel his team is needlessly dragging out the negotiations. In fact, a live poll I watched on Sportsnet TV on Wednesday evening showed that fans who voted were largely in favor of the Maple Leafs' position (30% for Marner, 70% for the Maple Leafs when I watched it). One fan I talked to saw him asking for more money than anyone else on the team and it didn't seem fair.
For myself, I don't think the solution is that difficult. As I wrote earlier in another post, I think the Maple Leafs should make a fair final offer and then – if Marner chooses not to sign it – let him play in Switzerland if he wishes. It would certainly be short-term pain, but it might also spell long-term gain for the team's future negotiations with other players.
Item Two: Proposed Solution to the Marner Dilemma
McKenzie is not the only hockey commentator confused by the Marner negotiations. In his Sept. 11 post, Jeff Williams also explored what a solution might look like.
Related: Maple Leafs News & Rumors: Marleau, Marner & Gardiner
In his post, titled "Here's a Marner article, but you're not gonna like it!!," he pointed out how successfully the Marner camp has made a trade nearly impossible for the Maple Leafs.
The protracted negotiations tell other teams that the Maple Leafs would be dealing from of a place of weakness, and the result would be that the organization would be offered far less than market value. In addition, any team willing to trade wouldn't know what they would need to pay him. And, that takes "another chunk off his value."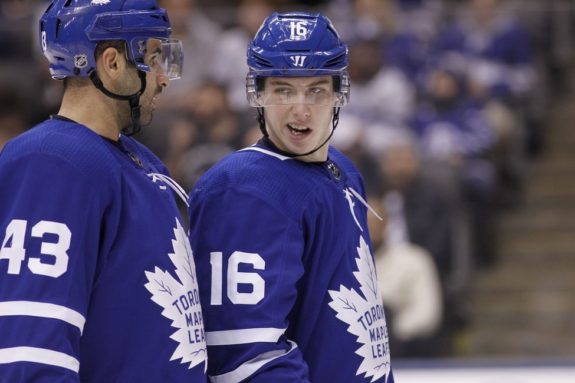 As Williams states: "Basically Mitch has
succeeded in making sure the Leafs aren't able to trade him for anything close
to what he's worth, while also making it impossible for them to sign him
because he's butt hurt and demanding more than they can give."
Williams ended his post by noting, "I have to admit, I didn't see this coming." He then suggested that the only real solution would be to give him close to what Matthews is getting – he suggests "5 years at 11.25M."
My only problem with Williams' logic is that, from what I read and hear, there's no indication that Marner's camp would accept something "close" to Matthews. Marner's agent Darren Ferris seems intransigent in his demands that his client gets exactly the same contract Matthews signed – same numbers, and same term.
Item Three: Marner a No-Show on the Golf Course
It started with a golf game, but likely won't end there. Marner will begin to miss other team functions as the negotiations move towards the beginning of the season.
The 22-year-old, unsigned, restricted free agent wasn't expected to tee it up with his teammates and team sponsors at RattleSnake Point Golf Club, and this time he didn't disappoint. The team will be starting off its preseason without him.
On Sept. 12, the rest of the team will be in St. John's, N.L., to open training camp. The golf tournament was only the beginning. How temporary Marner's absence might be is the question facing both the team and the player.
Item Four: Hesitancy to Name Matthews Captain
Sportsnet insider Chris Johnston suggested on Sept. 9 that the Maple Leafs have been hesitant to name Matthews a captain because they perceive that it might upset Marner.
About the captaincy, "I believe it's Auston Matthews," Johnston noted, because he believed Matthews was the team's centerpiece.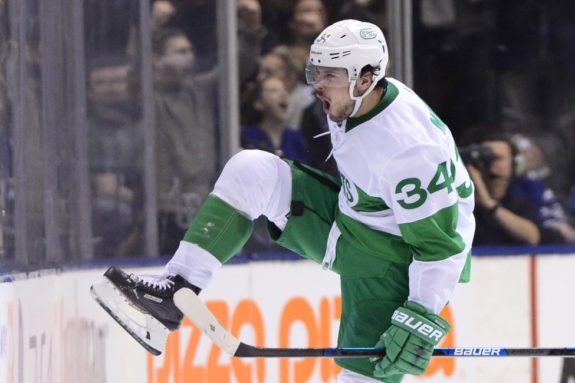 Johnston added: "I think the timing of that is tricky, especially with Marner's situation unresolved. Do they want to make that announcement before Mitch Marner signs? That might complicate some of the discussions being had on the side. So, I think it's a little bit of a delicate issue. It's one that I don't think Kyle Dubas enjoys too much…but to me this is the right time for the Leafs to have a captain."
What's Next?
When and how the contract negotiations might end is the key question facing the Maple Leafs as they begin training camp in earnest on Friday. As an old guy, my experience tells me that people don't easily switch their feelings on and off. Instead, these feelings are always tied to the circumstances they face. Specifically, I worry that the lingering contract issues will create a lasting enmity between Marner and other players in the locker room – in this case, specifically, Matthews.
We shall see.
Specialness of Raptors veterans will help replace Kawhi, Green
The Toronto Raptors didn't just lose the NBA's best two-way player, Kawhi Leonard, in the off-season, though that's all everyone seems to talk about. The defending champions also saw one of the premier two-way role players, Danny Green, head to Los Angeles
Green had a tremendous season for Toronto, shooting a scorching 45.5% on three-pointers (third in the NBA) while also garnering plenty of All-Defensive team votes.
Though he struggled in the playoffs, Green was still a huge contributor toward the success of the team, both on and off of the court.
"He's very consistent with the things that he's going to do on the floor," Marc Gasol told the Toronto Sun.
"He's very vocal. Very positive. He doesn't take things personal. He's a veteran guy who has been around but has come up also through hard times and has been coached hard in his previous years (by Gregg Popovich in San Antonio) and knows what it takes to play at the highest level. And he was very good for us," Gasol said.
"The general public doesn't really notice what the other guys (besides Leonard) do (and) Danny's one of those guys," said Fred VanVleet.
"
He's not flashy, his game isn't very sexy, but I don't know what he shot, 45% from three? Something crazy like that, at a high clip, played 80 games, played every night, guarded the best players on the other teams and he's just solid every night," VanVleet said. "You know what you're going to get … (and) just having that experience here – He didn't do a lot of preaching and teaching, he just was here and (led) by example and we'll miss that."
But life must go on. Nobody is singing a woe is me tune in Toronto.
"We don't have that luxury (to bring back the full championship roster) so we have to find a new approach and a new path to get back there," VanVleet told a few reporters in the lead-up to opening night.
"Just from a mental approach, there's no chance for a championship hangover. If we don't get it done it won't be because we relaxed … We still have a lot to prove and we want to do it again," he said.
With Leonard and Green gone there will be opportunities for everyone else to expand their games and their roles. From Pascal Siakam, to Gasol, VanVleet, Norman Powell and OG Anunoby, to Kyle Lowry likely looking more like the guy who averaged over 21 points a game from 2015-17 than the one who dropped to 14.2 a year ago, things are going to change.
"I always say it's addition by subtraction and it's great because those guys are going to bring something different than what (was lost)," Gasol said, not meaning it to be insulting in any way to Leonard or Green.
"I think the biggest thing is seeing how we key in offensively without those two guys," VanVleet said. "Defensively I feel very comfortable … but offensively it can be a little tricky," he said.
"It'll take some time to figure it out, but I think having those two guys out is going to be a little bit more opportunity and also a chance to spread it around a little bit."
Head coach Nick Nurse seems extremely confident with the group that he's got for a number of reasons.
"I think there's a specialness to some of these guys. And maybe it's because they won or whatever, or maybe it's just who they are," Nurse said.
"To me, Marc Gasol is a really special player. Like, really special. Kyle Lowry, really special. Fred VanVleet, Pascal Siakam. I mean, there's a lot of guys. There's IQ, toughness, competitiveness, skill, fight, that are at levels that, well as a coach you kind of dream about having guys like that," he said.
"And it shows when the group of them goes out together you see a level of smart basketball. A level of competitiveness and a toughness and those are important things."
Bianca Andreescu makes Canadian history by reaching No. 4 in rankings
Bianca Andreescu has become the highest-ranked Canadian tennis player in WTA Tour history.
The 19-year-old from Mississauga, Ont., jumped one spot to No. 4 in the rankings on Monday following a week off.
That pushes her one spot ahead of her career-best No. 5 ranking, which tied a Canadian record set by Eugenie Bouchard in 2014.
Ranked outside the top 150 entering the season, Andreescu rocketed up the rankings with tournament wins at Indian Wells, Calif., and Toronto followed by her first Grand Slam win at the U.S. Open in New York last month.
Andreescu had a 17-match win streak snapped when she lost a quarterfinal match to Naomi Osaka at the China Open earlier this month.
The Canadian is scheduled to return to action at the WTA Finals, which begin on Sunday in Shenzhen, China.
Milos Raonic reached No. 3 in the men's rankings in 2016, the best ranking achieved by a Canadian man.
On the men's side, Denis Shapovalov of Richmond Hill, Ont., jumped seven spots to No. 27 after capturing the Stockholm Open on Sunday for his first career ATP Tour title.
Montreal's Felix Auger-Aliassime is the top Canadian at No. 18.
Raonic has dropped to No. 32.
Shapovalov, Auger-Aliassime and Raonic all are entered in the Erste Bank Open this week in Vienna, Austria.
This report by The Canadian Press was first published Oct. 21, 2019.
Mike Babcock out coached the Bruins
At the beginning of the Maple Leafs 4-3 OT win over the Boston Bruins, I thought it was odd that Mike Babcock had switched Mitch Marner and William Nylander. I worried about how the Leafs were going to keep up with Boston's depth and not lose out because of it. If only one line was able to produce, and it went up against the Bergeron line, the team wasn't going to succeed.
Babcock's solution was much more complicated than rolling four lines and it was brilliant.
Babcock said Leafs settled on lines strategy v Bruins two days ago

Matthews-Nylander – Offensive zone
Matthews-Marner – Match-up situation v Bergeron
4th line – Match-up v Bergeron in D-zone

"I wasn't going to explain all that to ya (smiles) would've been a waste of time"

— Mark Masters (@markhmasters) October 20, 2019
Babcock and his coaching staff get an A+ for their effort and creativity last night because they were able to have their best matchup line (Matthews and Marner), while also maximizing Nylander's time with the top line. Alex Kerfoot was a man on a mission and showed us that he's much better at driving play than we thought he was. That goal he scored was fully deserved.
Jason Spezza wasn't used much, but Frederik Gauthier and his mates killed it last night, they were super impressive. They beat the Bergeron line when they needed to, gave the Leafs positive and energetic minutes against the depth, and allowed Babcock to be super creative with his top-eight forwards.
That careful management and line matching honestly gave the Leafs the win. Without John Tavares — and for half the game Andreas Johnsson — they would not have beaten the Bruins in a normal game.
I'm less worried about the playoffs on Sunday than I was on Saturday.
Oh, and Mike Babcock (and all of you yelling at me) were right about Dmytro Timashov. I was wrong. He's a fun little bugger.
Auston Matthews played 23 minutes and 12 seconds tonight in the Leafs first game without John Tavares. He's only played more once in his NHL career.

— Jonas Siegel (@jonassiegel) October 20, 2019
The Branches
Here is the recap from the game I just talked about. It's from Seldo so proceed with caution.
During the intermission, Nic Petan was brought up by Elliotte Friedman. The Leafs might be looking for a trade partner here. Gosh, I hope no one has any opinions about this in the comments.
From our friend-enemies at MLHS, the difference between reasonable and ridiculous takes and why you're at fault for it.
For those who like to "hate watch" things, have fun with O-Dog's ridiculous takes on… John Tavares?
Update on Andreas Johnsson: nothing broken, but he won't practice tomorrow. Leafs play the Columbus Blue Jackets and the Bruins again on Monday and Tuesday this week.
Mike Babcock on Andreas Johnsson, who missed the third period with a leg injury: "I think he's going to be fine. The X rays were negative, we'll see in the morning. He might not practice tomorrow but he'll be back in."

— Kristen Shilton (@kristen_shilton) October 20, 2019
From the Marlies, Kasimir Kaskisuo recorded his first shutout of the season in a 2-0 win over the Cleveland Monsters. Darren Archibald got his first as a Marlie and Egor Korshkov scored his fifth goal in five games. The Marlies are 5-0-0 to start the season and remain *perfect* on the penalty kill to start the season.
Captain Morgan?
Just kidding. Freddy Gauthier for Captain.
Branches Around the League
The Tampa Bay Lightning got trampled by three minutes of the Colorado Avalanche, in case you still want to say the Leafs are doomed.
Billie-Jean King is a QUEEN!