Bill Clinton White House Impeachment Playbook
Comments or questions? Send us an email anytime. Were you forwarded this email? Sign yourself up here.

We appreciate your continued support for our journalism.
---
Today in Politics
A scandal-plagued president facing impeachment. A besieged administration. An angry public. I'm talking, of course, about the Clinton administration.
Two decades before President Donald Trump was put through the impeachment-inquiry wringer, the Monica Lewinsky scandal threw dynamite at the Clinton presidency. What followed was a drawn out political fight, public airing of the president's dirty laundry, and endless awkward attempts to explain the ordeal to American children.
President Trump's counter-impeachment strategy is playing out in plain view, my colleague David Frum argues—his administration doesn't seem to really have one. While Bill Clinton tried to win over Americans who didn't approve of him, Trump appears to be leaning on his base again, with Twitter tirades targeting just about everyone.
So how did Clinton's team handle impeachment, such that he emerged at the end of it without being removed from office, and with higher poll numbers?
We have two retrospective pieces that give the full picture of what went down:
David Graham and Cullen Murphy's interviewed people close to the Clinton impeachment.
And Todd Purdum interviewed former Clinton staffers on how the beleaguered machinery of the White House managed to keep the administration going.
A few recollections, from Clinton staffers themselves:
Doug Sosnick, Clinton's senior adviser: "I remember telling Clinton at one point, 'The Republicans are never going to remove you from office; it's the Democrats who can.' Jihad against the enemy is kind of the easy part. The hard part is managing your friends."
Mark Penn, Clinton's pollster: "If you can keep it operating, if you can make decisions and prove to people that you can supply the product or function, then even if you're guilty on some of it, it's okay."
Julian Epstein, chief Democratic counsel for the House Judiciary Committee: "All this stuff about cigars and all the other gratuitous sexual things were absurd. The foolishness of Starr and the Republicans not to see how the sexual material in the report would backfire was just jaw-dropping to us."
—Saahil Desai
---
What Else We're Watching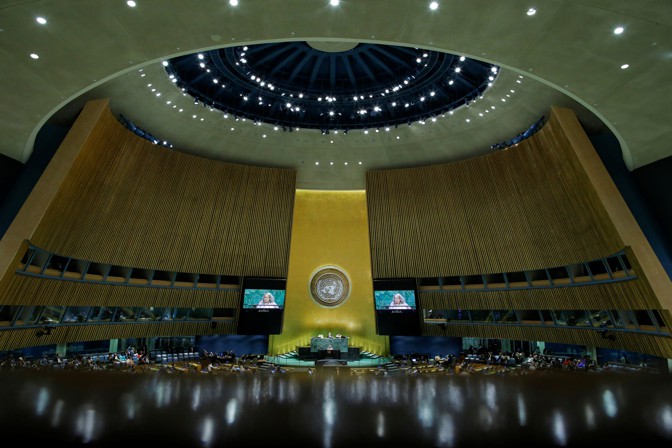 (Eduardo Munoz / Reuters)
The future of peace negotiations in Afghanistan is troubled. After a year of failed U.S.-led negotiations with the Taliban, the Afghan National Security Adviser says he wants his government to handle a new peace deal, a process that might be complicated by an election year. Kathy Gilsinan spoke with Hamdullah Mohib, shortly after his United Nations speech last week.
Congress to Court: If the White House tries to stonewall House committees now, Congress should go to court, Garrett Epps argues: "A president, his congressional opponents, foreign leaders, and the U.S. Supreme Court first tangled over executive privilege toward the end of George Washington's first term. They are almost certainly headed for a collision again in 2019."
---
Snapshot
(Mike Blake / Reuters)
America's first cannabis cafe opened in West Hollywood, California, today.
---
Featured Read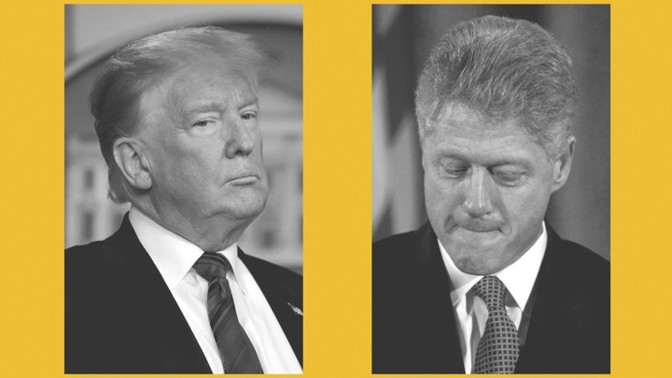 (J. SCOTT APPLEWHITE / AP / CARLOS BARRIA / REUTERS / THE ATLANTIC)
While the number of kid-focused publications covering politics has dwindled since the Clinton-impeachment era, existing ones must still embark on journalistic endeavors that require a bit of finessing.
When [Andrea] Delbanco and a few of Time for Kids' other high-level editors gathered to write the piece, they debated how much detail to include about the allegations of wrongdoing against Joe Biden and his son. In their discussions, they also nixed an infographic format that would have framed the impeachment as a sort of flowchart or choose-your-own-adventure scenario. ("Too many confusing possibilities," Delbanco said.)
What's easier to explain to kids, sex acts or extortion? Read the rest here.
Doctored video shows Trump violently attacking media figures
Issued on: 14/10/2019 – 13:20Modified: 14/10/2019 – 13:31
A video showing a doctored image of US President Donald Trump shooting and assaulting members of the media and political opponents was shown at an event for his supporters last week at Mar-a-Lago, The New York Times reported.
In the internet meme entitled "The Trumpsman", the US president's head is superimposed on an image of a man attacking people whose faces have been replaced with the logos of media outlets including CNN, The Washington Post, NBC and the BBC. The video has been taken from a scene in the film "Kingsman: The Secret Service".
[embedded content]
As the rampage continues inside the "Church of Fake News", the Trump character strikes late senator John McCain on the back of the neck and torches the head of Senator Bernie Sanders, a 2020 Democratic presidential rival.
He throws former Republican senator Mitt Romney to the ground and strikes former president Barack Obama in the back before slamming him against a wall.
The video also depicts Trump attacking people including his 2016 presidential opponent Hillary Clinton; former president Bill Clinton; Congressman Adam Schiff, the Democratic chairman of the House intelligence committee who is leading the impeachment inquiry into Trump; actor Rosie O'Donnell; and financier George Soros, who is often a target of alt-right conspiracy theories. Trump is also shown attacking someone whose head has been superimposed with the Black Lives Matter logo.
The organiser of last week's "American Priority" event – which was held at Trump's Mar-a-Lago resort in Miami – said the clip was part of a "meme exhibit". Speakers at the conference included the president's son Donald Trump Jr and former White House spokesperson Sarah Huckabee Sanders.
"American Priority rejects all political violence and aims to promote a healthy dialogue about the preservation of free speech," Alex Phillips told The New York Times.
'Enemies of the people'
The White House Correspondents Association said in a statement that it was "horrified" by the video and that "all Americans should condemn this depiction of violence directed towards journalists and [Trump's] political opponents".
CNN wrote on Twitter: "This is not the first time that supporters of the President have promoted violence against the media in a video they apparently find entertaining, but it is by far and away the worst."
Trump, the White House and his campaign must denounce the clip, the channel said, adding that "anything less equates to a tacit endorsement of violence".
Tim Murtaugh, a spokesman for Trump's 2020 election campaign, told the Times the "video was not produced by the campaign, and we do not condone violence".
Media organisations have come under regular verbal attack from Trump and his supporters.
At rallies, the US president repeatedly encourages the crowd to boo and heckle journalists covering the event, calling them "fake news" and "enemies of the people".
Trump has previously tweeted a roughly edited video clip of him attacking a wrestler whose head had been superimposed with a CNN logo.
Everything you Need to know About Maxime Bernier
Maxime Bernier PC MP (born January 18, 1963) is a Canadian businessman, lawyer and politician serving as the Member of Parliament (MP) for the riding of Beauce since 2006. He is the founder and current leader of the People's Party of Canada (PPC).
Prior to entering politics, Bernier held positions in the fields of law, finance and banking. First elected to the Canadian House of Commons as a Conservative, Bernier served as Minister of Industry, Minister of Foreign Affairs, Minister of State for Small Business and Tourism, which later became the Minister of State for Small Business and Tourism and Agriculture in the cabinet of then-Prime Minister Stephen Harper. Following the Conservatives' defeat in the 2015 election, he served as opposition critic for Innovation, Science and Economic Development in the shadow cabinets of Rona Ambrose and Andrew Scheer, until June 12, 2018.
Bernier ran for the Conservative Party leadership in the 2017 leadership election, and came in a close second with over 49% of the vote in the 13th round, after leading the eventual winner, Andrew Scheer, in the first 12 rounds. Fifteen months later, in August 2018, Bernier resigned from the Conservative Party to create his own party, citing disagreements with Scheer's leadership.[1] His new party was named the People's Party of Canada in September 2018.
He has been a separatist, a Conservative cabinet minister, even ran for the leadership of the Conservative Party. So how did Maxime Bernier wind up leading a brand new party in this election campaign?
And when did some of his more controversial positions take hold?
In the sixth and final Canadian leadership profile, Jayme Poisson speaks to the CBC's Jonathan Montpetit about Maxime Bernier, the controversial head of the People's Party of Canada. 28:05
Everything you Need to Know About Yves-François Blanchet
Yves-François Blanchet (born April 16, 1965) is a Canadian politician serving as Leader of the Bloc Québécois since 2019.
He is a graduate from the Université de Montréal where he obtained a bachelor's degree in history and anthropology in 1987. He later worked as a teacher and was a founder of an artist, disc and concert management firm, YFB Inc. while being the president of the ADISQ from 2003 to 2006. He was named the local business personality of the year by the Drummondville Chamber of Commerce, while he and associated artists received 10 Félix Awards.
Blanchet was elected to represent the riding of Drummond in the National Assembly of Quebec in the 2008 provincial election. In the 2012 election, he was reelected, this time in Johnson electoral district. He was defeated by CAQ candidate André Lamontagne in the 2014 Quebec election. A member of the Parti Québécois (PQ), Blanchet was Minister of Sustainable Development, Environment, Wildlife and Parks from 2012 until 2014.[2] He was also a member of the Youth National Committee of the Parti Québécois in 1988 as well as a regional director of the PQ.
On November 26, 2018, Blanchet announced his candidacy for the leadership of the Bloc Québécois (BQ). As no other candidate had entered the race by the time nominations closed on January 15, 2019, Blanchet was officially acclaimed leader on January 17, 2019.
He's definitely not as familiar outside of Quebec as he is in his home province. But the Bloc Québécois has been the official opposition in the past and so it's important to know what Yves-François Blanchet stands for and what he would fight for on behalf of Quebec.
If nothing else, listen to learn Blanchet's nickname — and how he earned it.
The Bloc Québécois was once a powerful federal political party, forming the official opposition in 1993 and holding around fifty seats in the House in the mid to late 2000's. But the last two elections have nearly wiped the Bloc from existence, and the party has had a revolving door of leaders. This year, Yves-François Blanchet took over the reins. Today on Front Burner, as part of our series on the federal party leaders, we take a look at who Blanchet is and what he stands for with Martin Patriquin, a freelance political journalist based in Montreal. 21:28