British artist Ryan Gander's vending machine sells art for $600 a pop – CNN
British artist Ryan Gander's vending machine sells art for $600 a pop
arts
Published 4th October 2019
Would you try your luck with a vending machine that dispenses random artworks for a £500 fee (about $640)?
British artist Ryan Gander's latest art installation is on display at London's Taro Nasu gallery as part of Frieze, an annual arts fair taking place in the city's Regent's Park.
Banksy's 'Devolved Parliament' sells at auction for $12.2 million
The machine contains a total of 125 items, including stones that Gander has collected with his children, as well as cast versions of some of the most widely used and affordable digital watches. The watches aren't real, but sculptures of the originals made with jesmonite (a composite material that can replicate any finish or texture). Other items include cast rolls of cash and a key card for a hotel room at the London hotel where Gander is staying for the duration of the Frieze fair.
The machine, which accepts card payments and has an elegant matte black finish, is part of an installation titled "Time Well Spent."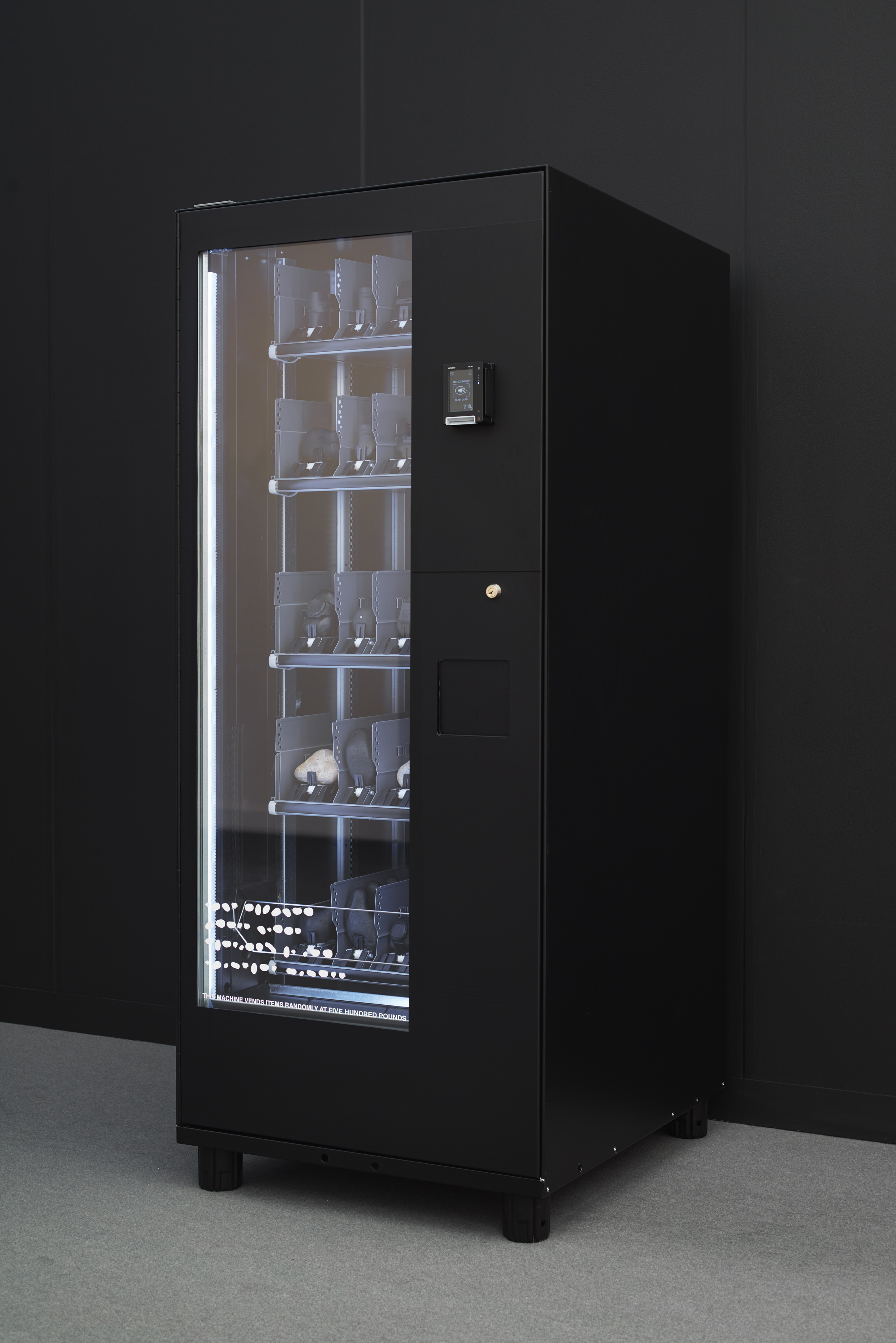 The machine is stocked with 125 items. Credit: Thierry Bal
"That's because it's about the economics of time," explained Gander during a phone interview. "I'm very interested in the way that we understand time, and the way the world is changing around us has redefined our understanding of time."
"There's that old quote that time is money, which is completely incorrect and a bit futile now, because time isn't money. Our attention is money. There is an information abundance and an attention shortage. I recognized very rapidly over the last five years that time and our attention is our greatest asset."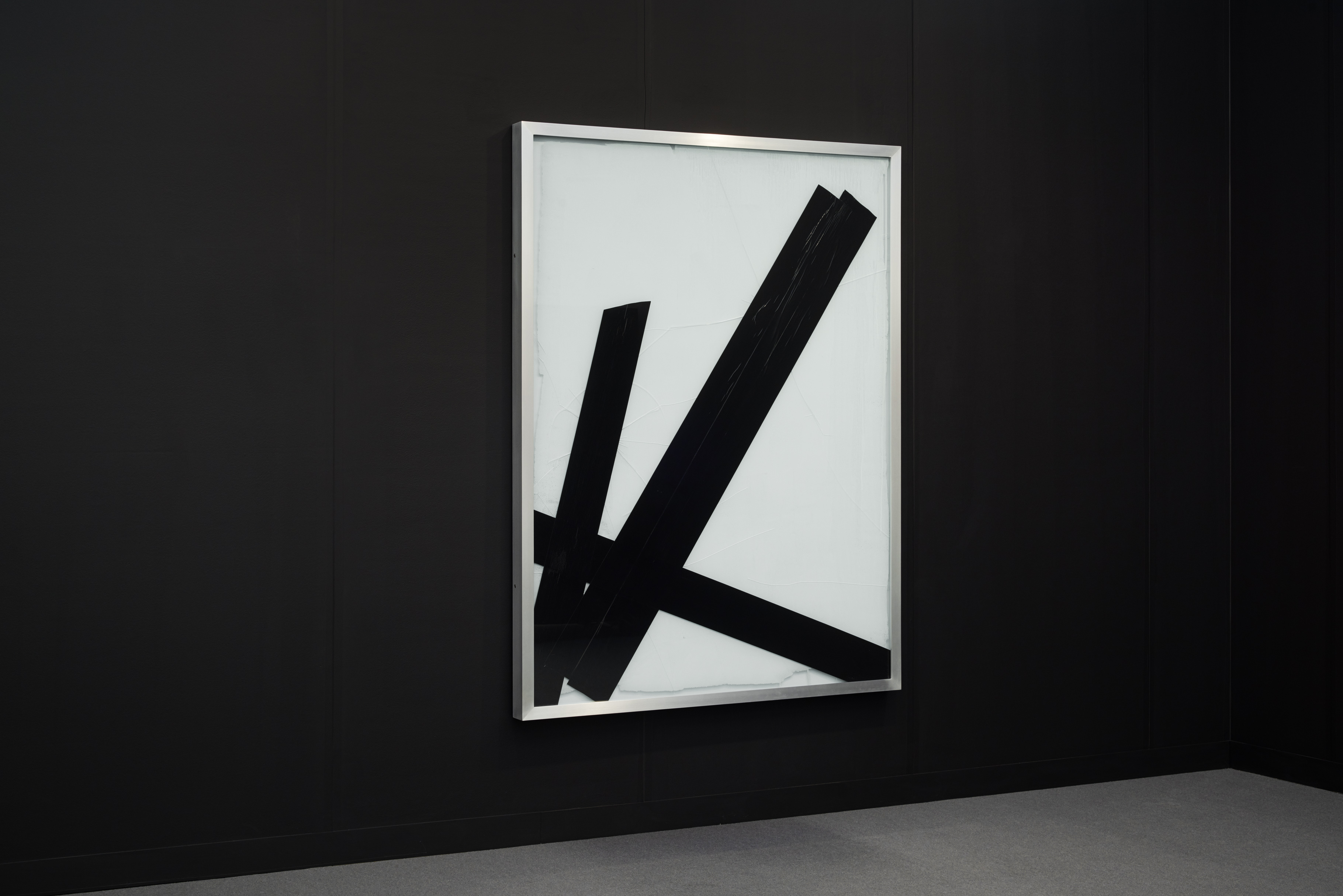 The paintings are pages from Italo Calvino's book "If on a winter's night a traveler." Credit: Thierry Bal
The rest of the installation includes paintings and a book, which is a version "If on a Winter's Night a Traveler," a 1979 novel by Italian writer Italo Calvino, that Gander has re-typed using a typeface of his own invention that no one can read, in which the letters are replaced by shapes of stones — the same stones that can be obtained from the vending machine.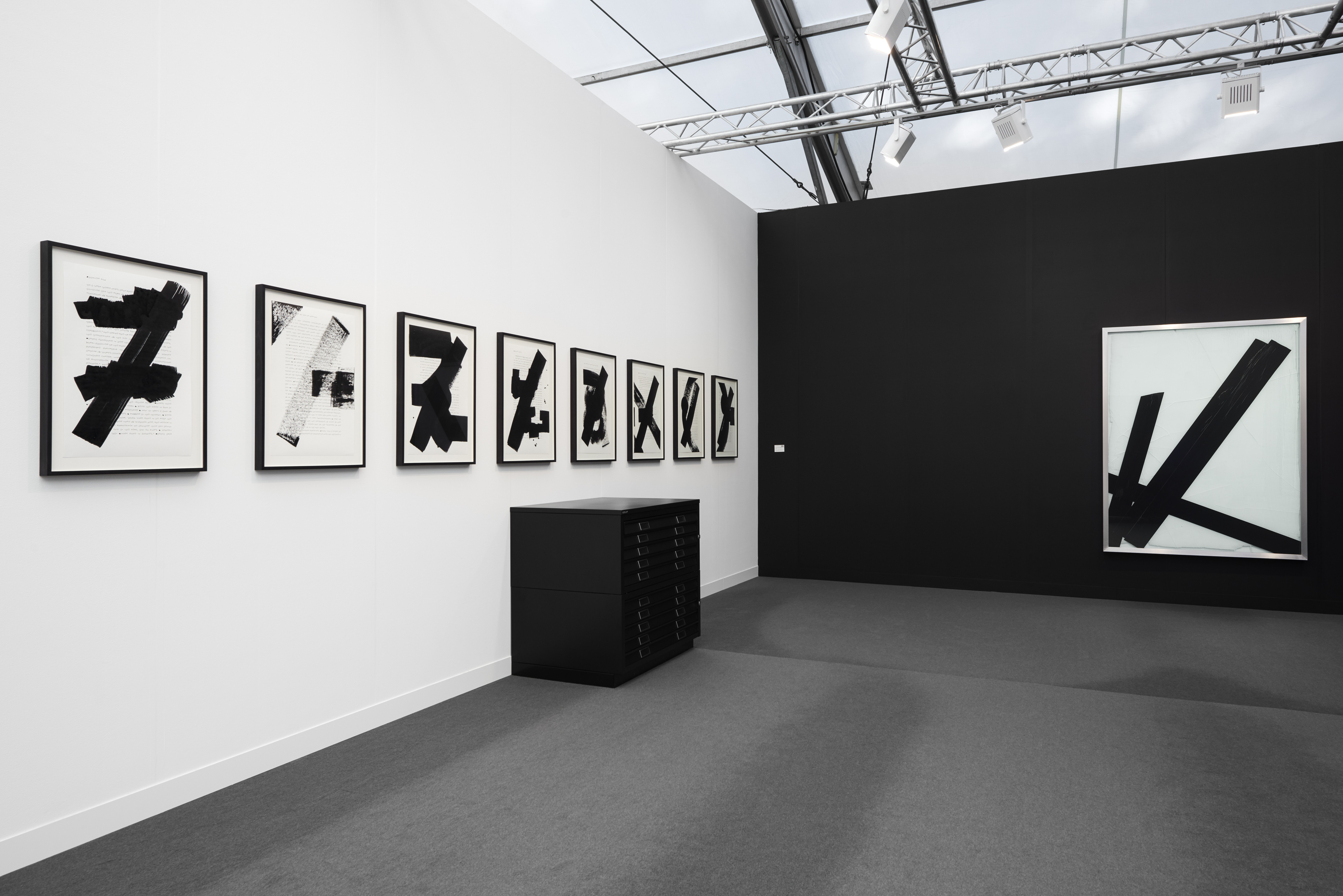 The installation is titled "Time Well Spent." Credit: Thierry Bal
"These stones are millions of years old and each one is different from the other. I collected them from a beach with my children, then we designed a typeface using the stone shapes. I was teaching them about the way that language is just people agreeing on, you know, something," he said.
Genderless voice, Uber bikes and New York's The Shed shortlisted for Beazley Designs of the Year
The paintings are enlarged pages from the book, printed using the illegible stone typeface, then annotated over by the artist with black ink. "I repeated the annotations over them with a large calligraphy brush. They become a form of censorship, it makes them illegible in a way. But through that process they become an abstract, expressionist motif of what art is," he said.
"The book is published. We will distribute these unreadable books in hospitals, prisons, hotels, lighthouses — places that have time abundance and attention abundance," he continued, adding that he's replaced the bible in the hotel room up for grabs with a copy of the book.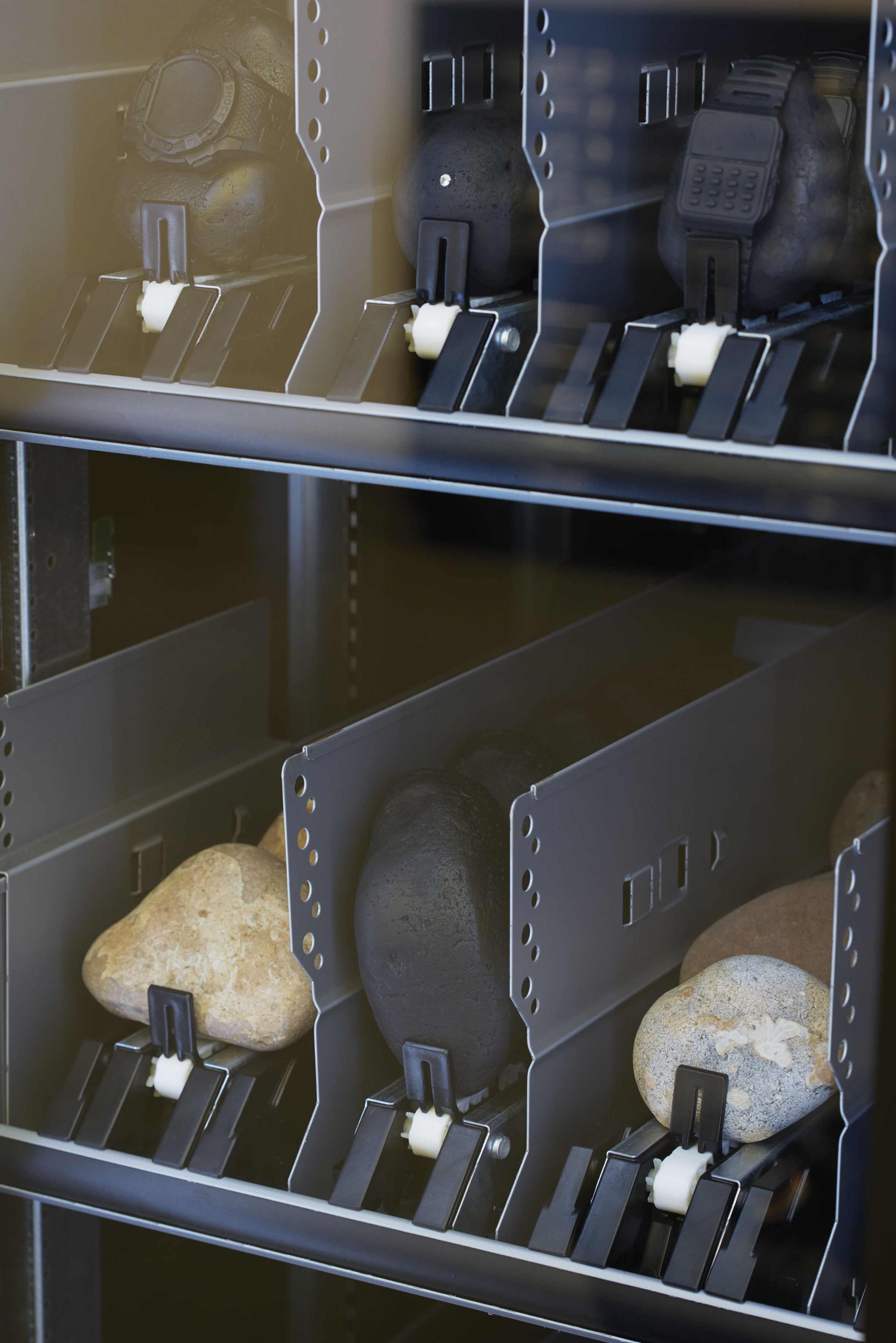 Among the itmes on offer is a diamond. Credit: Thierry Bal
One of the stones in the machine contains a diamond, although Gander refrained from calling it the most valuable item: "It depends on how you define value, and what your perspective is," he said.
"You could say that someone will be interested in the diamond. A completely different person will be interested in a unique stone that took 500 million years to make. Someone else would be interested in a cast of a watch as one piece around the stone, because formally it looks the most like art. Someone would be interested in the key card, because they want an experience," he said.
"This is not made to attract a single type of person. It's one of those things that starts in one place and explodes and ends up in a million places, which in my opinion is the objective of good artworks."
"Time Well Spent" is on display at London's Taro Nasu gallery until Oct. 6, 2019.
Read more
Edmonton autistic artist remembered for achieving 'improbable territory' – CBC.ca
Colleagues, family and friends are mourning the death of Matthew Wong, an Edmonton artist diagnosed with autism who was recognized internationally for his landscape paintings.
Wong, 35, died on Oct. 2. Family and friends confirmed he died by suicide.
"I am in total shock," said Monita Cheng, Wong's mother.
"He's an extremely talented person. He's a lovely son. He's extremely kind. He cares about people; he loves to help people," she said.
"He was voracious in everything that he did in life," said Brendan Dugan, the owner of Karma, a gallery in New York City that represented Wong.
"He accomplished more in the short time he was painting and making work than most people probably do in their whole lives," he said.
'Instant recognition of his talent'
According to Dugan, Wong wasn't trained as a painter; his artwork started from poetry and then translated into photography. He taught himself how to paint.
Wong earned a bachelor of arts degree in cultural anthropology from the University of Michigan in Ann Arbor in 2007. In 2013, he completed a masters of fine arts in photography at City University of Hong Kong.
"Matthew was very unusual in a lot of ways, his presence was kind of uncanny," Dugan said.
He first met Wong through Outside, a group art show hosted by Karma on Sept. 3, 2016.
"Once Matthew was included in this group show, there was kind of an immediate and instant recognition of his talent," Dugan said.
"There was always this kind of layering of symbolism and poetry, within the idea of a landscape or nature."
'Improbable territory for a young artist'
By 35, Wong had three solo exhibitions — two in Hong Kong and one in New York City. He has one more with Karma that's forthcoming. Wong was also featured in 13 group exhibitions and two publications.
David Moos, the owner of David Moos Art Advisory, said he came across Wong's work at Karma.
Moos was also the modern and contemporary curator for the Art Gallery of Ontario from 2004 to 2011.
"Painting is an extremely challenging medium. It's a demanding and difficult medium today to make meaningful and relevant paintings, and I think Matthew accomplished that at the very highest level which is remarkable for a person his age," Moos said.
"I think he brought his life experience to bear on what is improbable territory for a young artist to to tackle."
Moos said Wong's paintings allow people to "step aside from our everyday realm."
"To look to Van Gogh is almost anecdotal at this point," he said. "It is utterly contemporary. There's there's a plain spoken beauty in his work that I think is genuine and earnest."
Mental health struggles
Wong was born in Toronto on March 8, 1984, though he and his family moved frequently between Hong Kong and Toronto.
According to Cheng, Wong struggled with depression while growing up.
He was diagnosed with autism as a child and, by 14, he was diagnosed with depression and prescribed anti-depressants.
Wong began seeing a psychiatrist at four years old.
He also saw child psychologists to help him with his social skills, Cheng said, adding it was difficult for Wong to make friends because they moved often.
By 16, doctors diagnosed Wong with Tourette syndrome, a brain condition causing people to make involuntary sounds and movements.
"He'd try different jobs and he says it's not possible for him because he always had problems. His interpersonal skills were very, very poor," Cheng said.
Cheng said her son loved North America and disliked Hong Kong, but he continued to live there because collectors there supported his paintings.
In 2016, Wong relocated to Edmonton with his parents. They lived closed to the High Level Bridge.
"Even when we were travelling, he would have have a sketchbook, he would sit down by Starbucks, get coffee [and] he would just sketch and draw," Cheng said. "He said he loved Edmonton."
It was in Edmonton that Wong met Matthew Higgs, director of White Columns, a gallery in New York City, which later featured Wong's art.
'He felt that he's very lucky'
Cheng said despite her son's struggles, he knew he was "lucky."
"Even though he suffers a lot because of the mental issues, he felt that he's very lucky," she said. "I think Matthew really wanted to be recognized as a great Canadian artist."
"Me and my husband, we are extremely proud of our son. He had a lot of struggle, but he also has a very strong mind.
He's like rock solid, you know."
Wong's family and colleagues are holding a memorial service at the Connelly-McKinley Funeral Home, at 100th Avenue and 114th Street on Oct. 21 at 1 p.m.
The Karma gallery in New York City will also host an exhibit featuring Wong's work, planned before Wong's death. The exhibit is called Blue and runs from Nov. 8 to Dec. 22.
Saskatoon tattoo artist has year-long wait list – Global News
Tattoo artist Jesse Zabos' schedule is full for the next year.
"I will be opening my books in January and we will see how things go," he told Global News.
Appointments for Zabos and the four other artists who work at his tattoo shop, Art Sharks Tattoo, are scarce because of the demand for their unique designs.
"For inspiration we will take what the client wants, like what their ideas are, and then we will go from there," he said.
"As artists we do a lot of custom stuff, so we create everything mostly from what's inside our heads."
He said designing something the client likes enough to carry with them for the rest of their life involves discussions, which can get very personal.
"I have done a few like memorial pieces and stuff that's really kind of touched the customer," he said.
"I think it's good to help them heal through sometimes a tattoo as well."
Darla Lindbjerg, CEO of the Saskatoon Chamber of Commerce, said the success makes sense, given the quality of the tattoo.
"If people are having a good experience and you are offering a great quality product, people will come back," she said.
Zabos said part of the reward is knowing his art has such intense meaning for those who wear it.
"Sometimes it gets a little emotional when you finish the tattoo, just to have that closure for some people depending on what the situation of the tattoo is," he said.
"But it's really satisfying to make them happy and (know) they can enjoy it for the rest of their lives."
© 2019 Global News, a division of Corus Entertainment Inc.
Artist looking to make Waterloo Region more 'WorldRooted' – KitchenerToday.com
It's a movement drawing community together in a positive place, and it's coming to the Region.
'WorldRooted: the Art Project for People' founder Bethany Ann Davidson from Goderich, says they have been organizing art shows and cultural events to provide a space for people to develop their networks and find support.
"We're really just looking to help people find their voice, to support charities both locally and around the world, shine a light on the good and let people connect." says Davidson.
Davidson says she began WorldRooted in 2018, after learning that a friend and her family were experiencing survivor's guilt after they had moved to Canada from Syria.
She says her friend and her husband were sending everything they could back to their families who had nothing.
"I really wanted them to know that I felt for them, so I made a painting and when I sold it, I gave all of the money to them." says Davidson, "And it's been kind of like that ever since."
On October 26th, WorldRooted will be in Waterloo to hold an art event at the Seven Shores Community Cafe.
The solo art show gives residents the opportunity to check out Davidson's latest work and will offer food and beverages for purchase.
According to Davidson, the location for this event was chosen because of her relationship with co-owners of the cafe and the community built around Seven Shores Cafe.
"My friends Steve and Deb Tulloch, who co-own Seven Shores Cafe, they really had a large impact on me on what it means to love and to live well." says Davidson, "So when I said 'Hey, I would love to have an artisan at your cafe,' they said 'Hey, that would be awesome!' "
"We're just going to get together, those of us who are available that night." says Davidson, "There will be live music, and we're just going to have a really nice time."
Davidson says because of the Tulloch's involvement with the International Association for Refugees Canada, and their relationship with Adventure4Change owner Jeremy Horne, she decided to donate 25 per cent of all proceeds on October 26th to these charities, and Reception House Waterloo Region.
Davidson says her display hanging at the cafe focuses on food like chickpeas, coffee plants and sugar cane, plants that are grown in different countries but are used everyday by Canadians.
"A lot of Canadians have seen these pieces and not known what the plant was that was in the art," says Davidson, "And that's because they didn't grown up growing coffee plants, or sugar cane or whatever else."
"It's meant to help us see more of our global village, and help then to also recognize that there are people in our community who do recognize these plants and do have a past that is closely connected to this flora."
Davidson says with her work and WorldRooted, she hopes to inspire conversation between people to foster better understanding each other.
"I believe that artists make art because they have something that needs to come out." says Davidson, "I'm just putting it out there for people to see, and hopefully people want to buy and take it home, and it becomes a conversation starter for the rest of their lives."
To learn more about the event, click here.