2021 British Open: Lee Westwood on Verge of Setting 0-For Major Record – Golf Channel
Lee Westwood could make history this week at The Open Championship.
Just not the kind of history he'd like.
If he doesn't win at Royal St. George's in what is his 88th career major championship appearance, Westwood will have the most major starts all-time without a victory, breaking out of a tie with Jay Haas.
Both players have had their chances over the years: Haas posted nine top-5 major finishes in his career, while Westwood's nine top-3s is more than any player without a victory.
---
149th Open Championship: Full-field tee times | Full coverage
---
Now 49, Westwood said he doesn't view the would-be record as bittersweet.
"That's nice, that record," he said Wednesday ahead of The Open. "It shows I've been a good player for a long, long time. There's not many people who have played in as many major championships as me."
Westwood has enjoyed a resurgent stretch, capturing the Race to Dubai last fall before nearly winning twice this spring on the PGA Tour's Florida swing. He's been quiet of late, though last week at the Scottish Open he held the lead with 26 holes to go before stalling out down the stretch, ultimately dropping into a tie for 35th.
Westwood has missed the cut in each of his two appearances at Royal St. George's, in 2003 and '11. If that trend continues this week, or if Westwood falls short on Sunday, a reporter reminded the former world No. 1 that he'd still go down as one of the best players never to win a major.
"Another accolade, yeah," he said. "I love it. Thank you."
Tokyo Olympics: Michael Woods was milliseconds away from podium finish in thrilling road race – The Globe and Mail
Latest Olympic updates
OLYMPIC EVENTS FOR JULY 24
OFF THE FIELD
Refugees: Three athletes competing for the Refugee Olympic team will attend Sheridan College in Ontario this fall as part of the first cohort of a new athletic stream of the Student Refugee Program. Rose Nathike Likonyen, Paulo Amotun Lokoro and James Nyang Chiengjiek fled South Sudan as children and grew up in the Kakuma refugee camp in Kenya where they currently live.
Dressage: "He's definitely here with us," Jamie Kellock said of her late brother, Jonathan. Jamie is attending the Tokyo Olympics as a groom while her sister Lindsay makes her Team Canada debut in dressage. Their brother died of a brain tumour just seven months ago. He was a ski racer and coach in Whistler, B.C. before he passed away at 29.
New parents: Officials from the Tokyo Olympics said they have tried to find solutions for new parents who want to bring their young children to Tokyo while they compete. The issue was raised when Spanish synchronized swimmer Ona Carbonell announced on Instagram that she had to travel to Tokyo without her husband and breastfeeding infant son because they would not have been allowed to quarantine together in the Olympic village.
Get the Olympic highlights in your inbox every day with our newsletter, or follow @globeandmail on Twitter for breaking news.
Situation in Tokyo, by numbers
WHAT IS THE OLYMPIC MEDAL TALLY IN TOKYO SO FAR?
So far, China has the most gold medals, two, followed by Japan, Korea, Thailand, Iran, Ecuador, Kosovo, Italy with one gold each. Canada has no medals yet.
JAPAN'S LATEST COVID-19 DATA
WHAT TIME IS IT IN TOKYO RIGHT NOW?
Olympic highlights for July 24
Canadian athletes at Tokyo Olympics in photos
Opinion: At the Tokyo Olympics, Michael Woods was a hair's breadth away from being the stuff of national lore
Michael Woods came milliseconds away from the podium during the men's road race, and milliseconds away from forever capturing the hearts and minds of Canadians. Despite the near miss, Woods' performance was captivating. Columnist Cathal Kelly writes, "When he is up in the saddle and headed to vertical, Woods is something to watch. He's like a piston with arms."
Penny Oleksiak, women's swimming team face Olympic-sized expectations in Tokyo
The Canadian women's swimming team won big at the 2016 Rio Olympic Games, bringing home six medals. They surprised Canada, the world, and even themselves. Fast forward to today's Tokyo Olympic Games, and Canada wants them to do it all over again. At the centre of the team is Penny Oleksiak, who spearheaded Rio's medal captures despite being just 16 at the time. She arrives in Tokyo with massive expectations on her shoulders.
Taiwan competes as 'Chinese Taipei', broadcaster jumps through hoops to appease China
Nathan VanderKlippe, currently reporting from Tokyo, shares musings about the geopolitics present at the Olympic Games. The International Olympic Committee does not allow Taiwan – a self-governed nation – to compete under its own name, instead appearing as Chinese Taipei under a special flag. Online streaming service Tencent interrupted its coverage of the opening ceremony to ensure Chinese viewers didn't have to see the Taiwanese athletes participate in the parade.
Tokyo Olympic events to watch tomorrow, July 25
Swimming: Keep an eye out for Kylie Masse in the women's 100-metre backstroke and 14-year-old Summer McIntosh of Toronto in the women's 400-metre freestyle events.
Judo: Elimination rounds are scheduled for 10 p.m. (ET) for the women's 57-kilogram, the weight category for Jessica Klimkait of Team Canada.
Diving: Canada will compete in the women's three-metre synchronized springboard, represented by the veteran Olympian Jennifer Abel alongside Melissa Citrini-Beaulieu, who is making her Olympic debut this year.
Taekwondo: In the women's 57-kilogram weight class, Skylar Park is hoping to bring home Canada's first medal in taekwondo since the 20018 Beijing Olympics. She topped the podium in the sport at the Pan Am Games this year.
Cycling: Leah Kirchmann of Winnipeg, Karol-Ann Canuel of Amos, Que., and Alison Jackson of Vermilion, Alta are competing in the women's road race alongside 64 other competitors. The race kicks off in Tokyo and brings the cyclists 137 kilometres to the foothills of Mount Fuji.
Check the full Olympic schedule for the latest event times and competitors.
The Tokyo Olympics: Essential reads
What athletes and teams should Canadians look out for? Consult our guide.
How did Canada's swimmers use data to get stronger? Grant Robertson explains.
2021 NHL Draft Tracker: Round 1 picks, notes; Results for Rounds 2-7 – NHL
The 2021 NHL Draft began as expected: with the Sabres selecting Owen Power first overall. From there, we saw surprises, including one that required a team statement.
With Round 1 complete on Friday, follow along on PHT for results from Rounds 2-7.
2021 NHL Draft
Round 1
1. Buffalo Sabres — Owen Power, D, Michigan (NCAA)
"In truth, he is a unique player, combining amazing size, strong skating, a big shot, great vision, the ability (if not necessarily the proclivity) to play a dominating physical game." Ryan Wagman, McKeen's Hockey
Read more about the Sabres selecting Power first overall here.
2. Seattle Kraken — Matthew Beniers, C, Michigan (NCAA)
It's probably not fair to compare Beniers to Ron Francis, the Kraken GM who drafted him. That will be tough to avoid, though, because Beniers brings the sort of two-way game that's expected to translate smoothly to the NHL.
Want more on Beniers, and the Kraken making their first-ever draft pick at No. 2? Click here.
3. Anaheim Ducks — Mason McTavish, C, Peterborough (OHL)
"The Ducks desperately need offensive players, and in McTavish they get high-end skill blended with size and strength through the middle. And McTavish was an impact player during his time in the Swiss League, playing with and against older, more physically developed competition." — NHL.com's Adam Kimelman.
4. New Jersey Devils — Luke Hughes, D, USA U-18 (USNTDP)
Doesn't get much better than keeping brothers together, does it? Jack Hughes certainly looked elated that the Devils drafted Luke Hughes fourth overall, that's for sure.
The @NJDevils take Luke Hughes with the No. 4 pick and his brother couldn't be happier! #NHLDraft pic.twitter.com/hTEbBXcaYt

— NHL GIFs (@NHLGIFs) July 24, 2021
5. Columbus Blue Jackets — Kent Johnson, C, Michigan (NCAA)
"His puck skills are sublime, even if he needs to simplify his game to manage his risk taking better." Ryan Wagman, McKeen's Hockey
A historic night:
Picks
No. 1
No. 2
No. 4
No. 5

FOUR of the first FIVE picks of the @NHL Draft are Michigan Wolverines! https://t.co/rLjCxHUpqx | #GoBlue 〽️ pic.twitter.com/M2sHWBCCBH

— Michigan Athletics 〽️ (@UMichAthletics) July 24, 2021
6. Detroit Red Wings — Simon Edvinsson, D, Frolunda (SHL)
Edvinsson ranks as one of the 2021 NHL Draft's most interesting prospects, as he was projected to fall in many spots. No doubt, size is a big selling point for the big Swedish defenseman.
" (Edvinsson) … combines incredible skating and puck skills in a supersized frame, a talent the likes of which this team has nothing like. He is raw, and likely needs at least two more years of development, but the upside is a star," Ryan Wagman, McKeen's Hockey
7. San Jose Sharks — William Eklund, LW, Djurgarden (SHL)
People started to clamor for Eklund pretty quickly.
We've reached the point of the draft where every pick from this point forward that is not William Eklund will be met with a large scoff from me.

— Jesse Marshall (@jmarshfof) July 24, 2021
Well, the fall didn't last too long? Depends upon who you ask, perhaps. (Ryan Wagman mock-drafted Eklund at seven.)
8. Los Angeles Kings – Brandt Clarke, D, Barrie (OHL)
" … In a sentence, Clarke projects as a second or third defenseman who can be on a top NHL power-play unit but may not be able to face top opponents defensively." – Corey Pronman, The Athletic (sub required).
9. Arizona Coyotes (from VAN) — Dylan Guenther, RW, Edmonton (WHL)
" … He becomes a massive component of Arizona's next rebuild. I see a lot about his game that translates to the pros and you can see him finishing plays from Clayton Keller, Barrett Hayton and Victor Soderstrom for many years, and driving a line with his great two-way play. He was my No. 2 ranked prospect," – Corey Pronman, The Athletic (sub required).
10. Ottawa Senators — Tyler Boucher, RW, USA U-18 (USNTDP)
"In a sentence, Boucher projects as a bottom-six NHL winger who will be one of the most physical players in a game." Corey Pronman, The Athletic (sub required).
*11. Forfeited pick*
12. Columbus Blue Jackets (from CHI) — Cole Sillinger, C, Sioux Falls (USHL)
"Sillinger stands out for his high-end hockey IQ, excellent vision, playmaking ability, an NHL-ready shot and the ability to control the game with the puck on his stick." – NHL.com's Adam Kimelman.
13. Calgary Flames — Matthew Coronato, RW, Chicago (USHL)
"Coronato is a dominant offensive force who blends top-end goal scoring, strong skating and a physical approach, similar to United States Hockey Hall of Fame forward John LeClair. He was nicknamed "Bison" because of the way he goes hard to the net in the offensive zone." – NHL.com's Adam Kimelman.
14. Buffalo Sabres (from PHI) — Isak Rosen, RW, Leksands IF (SHL)
"Isak Rosen has a full toolshed of high-end offensive elements. Being forced to play in the SHL after the Swedish junior leagues were cancelled didn't help his stat page, but was a great learning experience, which his seven goals in seven games at the U18s illustrated." – Ryan Wagman, McKeen's Hockey
15. Detroit Red Wings (from DAL) — Sebastian Cossa, G, Edmonton (WHL)
Heading into the 2021 NHL Draft, people wondered if as many as two goalies could go in the top 10. There was also debate between Cossa or Jesper Wallstedt as the first goalie to go in the 2021 NHL Draft. Ultimately, the Red Wings traded up to land a big goalie. They've been aggressive attempting to improve at net, as Cossa is the prospect to pair with prime-age goalie Alex Nedeljkovic.
16. NY Rangers — Brennan Othmann, LW, Flint (OHL)
17. St. Louis Blues — Zachary Bolduc, C, Rimouski (QMJHL)
18. Winnipeg Jets – Chaz Lucius, C, USA U-18 (USNTDP)
19. Nashville Predators — Fedor Svechkov, C, Togliatti (VHL)
20. Minnesota Wild (from EDM) – Jesper Wallstedt, G, Lulea (SHL)
Jesper Wallstedt was a league-average goalie who played 22 games in the SHL, one of the best leagues in the world. As a draft-eligible player.

That's unprecedented this century for a 17-year-old.

Getting him for the cost of a 3rd in a weak draft is nice work by Judd Brackett

— Tony of the USS 10KRinks.com (@OhHiTony) July 24, 2021
21. Boston Bruins — Fabian Lysell, RW, Lulea (SHL)
The Bruins inject some much-needed skill in their prospect pool with a guy like Fabian Lysell. His highlight reel is … fun to watch: pic.twitter.com/ySovl7mxbu

— Conor Ryan (@ConorRyan_93) July 24, 2021
22. Edmonton Oilers (from MIN) — Xavier Bourgault, C, Shawinigan (QMJHL)
23. Dallas Stars (Detroit; WSH) — Wyatt Johnston, C, Windsor (OHL)
24. Florida Panthers — Mackie Samoskevich, RW, Chicago (USHL)
25. Columbus Blue Jackets (from TOR) — Corson Ceulemans, D, Brooks (AJHL)
26. Minnesota Wild (from PIT) — Carson Lambos, D, Winnipeg (WHL)
27. Nashville Predators (from CAR) — Zachary L'Heureux, LW, Halifax (QMJHL)
28. Colorado Avalanche — Oskar Olausson, RW, HV71 (SHL)
29. New Jersey Devils (from NYI) — Chase Stillman, RW, Sudbury (OHL)
30. Vegas Golden Knights — Zach Dean, C, Gatineau (QMJHL)
31. Montreal Canadiens — Logan Mailloux, D, London (OHL)
32. Chicago Blackhawks (from TBL via CBJ) — Nolan Allan, D, Prince Albert (WHL)
Pick 11 – The NHL directed the forfeiture of this pick in sanctions against the Arizona Coyotes announced Aug. 26, 2020.
Also, here's the complete 2021 NHL Draft order for rounds 2-7:
Round 2
33. Buffalo Sabres: Prokhor Poltapov, LW, CSKA-2 (MHL)
34. Anaheim Ducks: Olen Zellweger, D, Everett (WHL)
35. Seattle Kraken: Ryker Evans, D, Regina (WHL)
36. Detroit Red Wings: Shai Buium, D, Sioux City (USHL)
37. Arizona Coyotes: Josh Doan, RW, Chicago (USHL)
38. Vegas Golden Knights: Daniil Chayka, D, CSKA (Russia)
39. Ottawa Senators: Zack Ostapchuk, C, Vancouver (WHL)
40. Carolina Hurricanes: Scott Morrow, D, Shattuck St. Mary's (High MN)
41. Vancouver Canucks: Danila Klimovich, RW, Minsk Zubry (Belarus 2)
42. Los Angeles Kings: Francesco Pinelli, C, Kitchener (OHL)
43. Arizona Coyotes: Ilya Fedotov, LW, Nizhny Novgorod 2 (Russia Jr.)
44. Columbus (from CHI)
45. Calgary
46. Philadelphia
47. Dallas
48. Detroit (from NYR)
49. Los Angeles (from STL via BUF and VGK)
50. Winnipeg
51. Nashville
52. NY Islanders (from DET via EDM)
53. Buffalo (from BOS)
54. Minnesota
55. Washington
56. Florida
57. Toronto
58. Pittsburgh
59. Carolina
60. Arizona (from NYI via COL)
61. Colorado (from NJD via NYI)
62. Chicago (from VGK)
63. Montreal
64. Montreal (from TBL)
Round 3
65. NY Rangers (from BUF)
66. Anaheim
67. Seattle
68. New Jersey
69. Columbus
70. Detroit
71. San Jose
72. Los Angeles
73. Dallas (from VAN)
74. Ottawa
75. Washington (from ARI via NJD)
76. Montreal (from CHI)
77. Calgary
78. Philadelphia
79. Dallas
80. NY Rangers
81. St. Louis
82. Winnipeg
83. Nashville
84. Calgary (from EDM)
85. Boston
86. Minnesota
87. Montreal (from WSH via SJS)
88. Buffalo (from FLA)
89. Los Angeles (from TOR)
90. Minnesota (from PIT via SJS)
91. Carolina
92. Colorado
93. NY Islanders
94. Carolina (from DET via VGK)
95. Buffalo (from MTL)
96. Tampa Bay
Round 4
97. Buffalo
98. Anaheim
99. Seattle
100. New Jersey
101. Columbus
102. Detroit
103. San Jose
104. NY Rangers (from LAK)
105. Chicago (from VAN)
106. NY Rangers (from OTT)
107. Arizona
108. Chicago
109. Los Angeles (from CGY)
110. Philadelphia
111. Dallas
112. NY Rangers
113. Montreal (from STL)
114. Vegas (from WPG)
115. Nashville
116. Edmonton
117. Boston
118. Minnesota
119. Washington
120. Florida
121. San Jose (from TOR)
122. Arizona (from PIT)
123. Carolina
124. Nashville (from COL via OTT)
125. NY Islanders
126. Montreal (from VGK)
127. Montreal
128. Detroit (from TBL)
Round 5
129. New Jersey (from BUF)
130. Anaheim
131. Seattle
132. Columbus (from NJD)
133. Columbus
134. Detroit
135. San Jose
136. Los Angeles
137. Vancouver
138. Detroit (from OTT via MTL)
139. Arizona
140. Vancouver (from CHI)
141. Calgary
142. Montreal (from PHI)
143. Dallas
144. NY Rangers
145. St. Louis
146. Winnipeg
147. Nashville
148. Anaheim (from EDM via OTT)
149. Boston
150. Minnesota
151. Washington
152. Florida
153. Toronto
154. Pittsburgh
155. Vegas (from CAR)
156. San Jose (from COL)
157. NY Islanders
158. Philadelphia (from VGK via WSH)
159. Buffalo (from MTL)
160. Tampa Bay
Round 6
161. Buffalo
162. Anaheim
163. Seattle
164. New Jersey
165. Columbus
166. Detroit
167. San Jose
168. Los Angeles
169. Vancouver
170. Ottawa
171. Arizona
172. Chicago
173. Calgary
174. Philadelphia
175. Dallas
176. NY Rangers
177. St. Louis
178. Vancouver (from WPG)
179. Nashville
180. Edmonton
181. Boston
182. Minnesota
183. Washington
184. Florida
185. Toronto
186. Edmonton (from PIT)
187. Carolina
188. Buffalo (from COL)
189. NY Islanders
190. Vegas
191. Montreal
192. Tampa Bay
Round 7
193. Buffalo
194. Pittsburgh (from ANA)
195. Seattle
196. Tampa Bay (from NJD)
197. Columbus
198. St. Louis (from DET)
199. San Jose
200. Carolina (from LAK)
201. Vancouver
202. Ottawa
203. New Jersey (from ARI)
204. Chicago
205. Calgary
206. Philadelphia
207. Dallas
208. NY Rangers
209. Carolina (from STL)
210. Florida (from WPG)
211. Tampa Bay (from NSH)
212. Edmonton
213. Boston
214. Minnesota
215. Pittsburgh (from WSH)
216. Chicago (from FLA)
217. Boston (from TOR)
218. Pittsburgh
219. Carolina
220. Colorado
221. NY Islanders
222. Vegas
223. Montreal
224. Tampa Bay
Gender disparities still vex Tokyo Olympic Games – BBC News
At the first Olympic Games of the modern era, Athens 1896, International Olympic Committee (IOC) founder Baron Pierre de Coubertin barred women from competing.
In Paris four years later, 22 female athletes were invited in five ladies sports, while nearly 1,000 men took on the rest of the events.
This year, the Games have nearly reached gender parity.
Of the almost 11,000 Olympic athletes in Tokyo almost 49% are women, according to the IOC, marking the first "gender-balanced" games in its history.
At the Paralympics, at least 40.5% of athletes will be women, the IOC said, with about 100 more female athletes than in Rio de Janiero in 2016.
But 125 years after the first Olympics, the games are still clouded by missteps and hasty corrections relating to gender, underscoring the distance left to go.
Here's a look at some of the challenges faced by female Olympians, before they can even go for the gold. Representatives of the IOC did not respond to a request for comment.
Post-partum disqualification
Mandy Bujold, 33, is one of the best female flyweight boxers in the world.
An 11-time Canadian national champion with two Pan-American Games titles, she was ranked eighth in the world in 2018 when she took a break from boxing to give birth to her daughter, Kate Olympia – or KO.
She planned her comeback for Tokyo – a plan that was derailed by the Covid-19 pandemic. Boxing's qualifying events were cancelled and the IOC's boxing task force turned instead to three tournaments in 2018 and 2019, when Ms Bujold was pregnant or postpartum and not competing.
Ms Bujold was forced to fight for her spot outside the ring, taking on boxing's international body in court.
Weeks before the games began, Ms Bujold won with a ruling from the Court of Arbitration for Sport, an international body in Switzerland, that said accommodation must be made for women who are pregnant or postpartum during the qualifying period.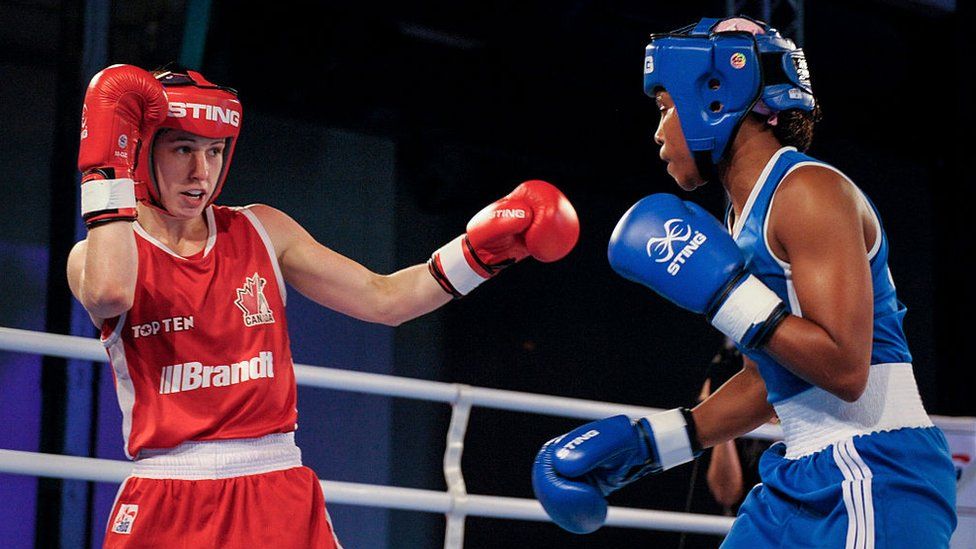 "My Olympic dream is still intact," she said. "It was one of the biggest fights of my career, but also the fight with the most meaning."
However, advocates say Ms Bujold's pre-Olympic fight is clear evidence of the gender gap.
"Sport has been built, designed and organised for male participants," said Cheryl Cooky, a professor of gender studies at Purdue University and editor of Sociology of Sport Journal.
When exceptions are made, "it's considered a 'special' accommodation" – another way of saying that women's sports are "less" than men's, she said.
A back-and-forth on breastfeeding
As part of the Games' Covid-19 safeguards, the IOC barred all athletes' family members from traveling to Tokyo.
For Kim Gaucher, a Canadian basketball player, the rule meant a choice between her third Olympic Games and her infant daughter.
"Right now I'm being forced to decide between being a breastfeeding mom and an Olympic athlete, I can't have them both," Ms Gaucher said in a video posted to Instagram in June.
The IOC initially denied Gaucher's formal appeals, saying it was unlikely that any "unaccredited people from overseas" would be allowed to attend.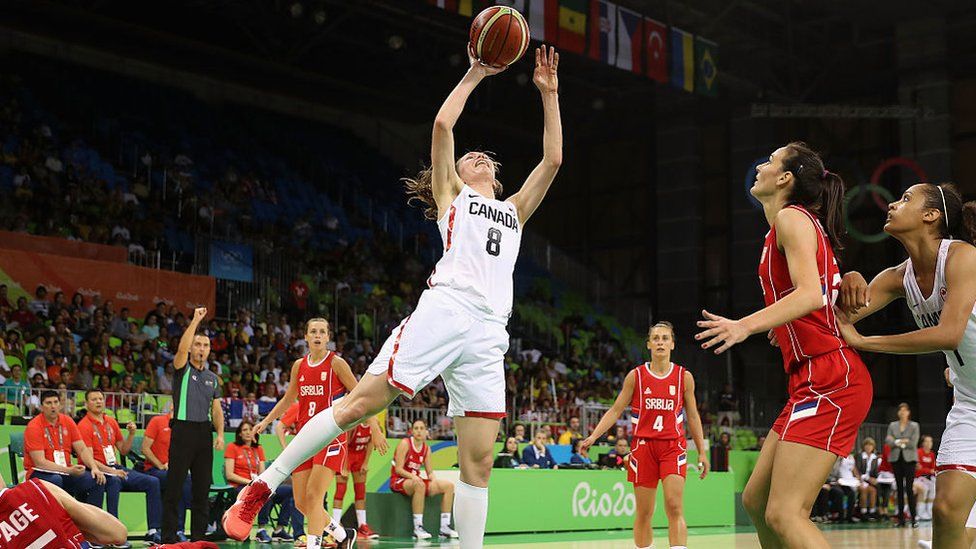 Tokyo's organisers reversed themselves three weeks ahead of the Games following Gaucher's video plea and mounting public pressure.
"That is not acceptable. Infants are not fans, they're not 'unaccredited persons', they're children with needs," said Nicole M LaVoi, the director of the Tucker Center for Research on Girls and Women in Sport at the University of Minnesota. "You can't claim to value and respect women and give that lip service and then have a misstep like this."
And both Ms LaVoi and Ms Cooky said that incidents like this place an asterisk alongside women's sports, reinforcing the idea that the field is not really meant for them.
The IOC's gender imbalance
While IOC has made gender parity a priority for Olympic athletes, that standard has not been applied the IOC itself.
Women make up 33.3% of its executive board, and 37.5% of committee members overall are female.
"We've never had a woman as the president of the IOC, ever," Ms LaVoi said. "That's telling."
And in recent months, some of the men in charged have undermined the IOC's message of commitment to gender equality.
In February, the president of the Tokyo Olympics Organising Committee was replaced after remarking publicly that women speak too much in meetings. One month later, the creative director of the Games' opening ceremony stepped down after it was revealed he had mocked a plus-size fashion designer for her appearance.
This week, the Australian Olympic Committee president John Coates sparked criticism following a bizarre exchange with the premier of Queensland Annastacia Palaszuck, in which Mr Coates ordered Ms Palaszuck to attend the opening ceremony.
Advocates say that as long as the IOC remains male-dominated – "a good old boys club", said Ms LaVoi – female athletes will be left at a disadvantage.
In the meantime, gender progress at the Olympics will be spotty – marred by the types of challenges faced by Mandy Bujold and Kim Gaucher.
"Would these even be controversies if the people in the room weren't majority men?" Ms Cooky said. "I don't think so."