23 charts to watch on inflation and the economy in 2022 – Maclean's
For Maclean's eighth annual chartstravaganza, we've once again asked dozens of economists and analysts to ponder the year to come, and choose one chart that will help define Canada's economy in 2022 and beyond, and explain this outlook in their own words.
This year, we've decided to release the charts over several days, making this more of a Chart Week than a one-day data binge. We'll also cover jobs and income, COVID, energy and—yes, don't worry—real-estate outlooks.
---
The things that divide us
Beata Caranci, chief economist, TD Economics
Canadians often identify with economic narratives to the south. But, when it comes to inflation, Americans are more exposed to bottlenecks than Canadians because of their high tendency to "spend more on things." These products are more linked into international supply chains that compound the impact from supply chain dislocations. Canadians import their exposure due to the high trade relationship, but it isn't the primary domestic area of concern.
In contrast, Canadians "spend more on homes" and this embeds greater interest-rate sensitivity than our American counterparts. Nuances between countries create a different transmission of risks depending on their origin. So when people note that the pandemic is pressing on inflation, it assumes there's not a precondition or, if so, it carries minimal influence. But, not all dynamics can be blamed on the pandemic. For instance, the U.S. trucker shortage predates the pandemic and is not going to suddenly resolve in the next six months as pandemic risks recede. "Normalization" for the U.S. doesn't alter the fact that Americans maintain higher spending on things relative to other countries, even in a normal environment. The risks stemming from supply and logistics tensions will be hard to solve in the absence of a resetting of demand into a much slower (but sustainable) growth pattern.
---
Eating into our paycheques
Sylvain Charlebois, director, Agri-Food Analytics Lab, Dalhousie University @FoodProfessor
According to the UN's Global Food Security Index, Canada now ranks 24th in the world when food affordability is measured. In 2020, Canada was 18th. Food inflation reached new heights in 2021 and will likely continue to be an issue for Canadian families. Meanwhile, salaries have barely increased since the start of 2021. Unlike the "great resignation" we are seeing in the United States in recent months, Canada is experiencing its own "great protest". Food inflation is not necessarily an issue unless it outpaces average wage increases. And this is what happened this year. Despite the fact that we are expecting higher food prices again in 2022, wages need to go up to give Canadian families a fighting chance.
---
When will inflation return to target?
Christopher Ragan, director, Max Bell School of Public Policy, McGill University @ctsragan
In the years leading up to the pandemic, Canadian inflation was relatively stable and close to its formal target of two per cent. With the onset of COVID-19, however, the economy entered an enormous recession and inflation fell, with the average throughout 2020 being below one per cent. But by March 2021, the year-on-year percentage change in the monthly CPI exceeded two per cent and has been rising ever since.
In early 2021, the central explanation for inflation's rise was mostly a quirk of the data—that measured inflation was catching up from the very weak price behaviour seen during the early months of the pandemic. By this logic, the uptick in inflation would be very short-lived. By the summer and fall, however, it was evident that the inflationary pressures were stronger and more fundamental, coming from the combination of widespread disruptions in global supply chains and the pent-up consumer demand that accompanied a re-opening of the economy made possible by widespread vaccinations.
What will happen next? If the supply-chain disruptions and pent-up demand are truly transitory phenomena, as argued by the Bank of Canada, then inflation may return to the two-per-cent target sometime in 2022 or 2023. But even if these phenomena disappear relatively soon, there is another, more important danger. The Bank of Canada has provided a massive amount of monetary stimulus to the economy over the past 18 months. As the economy makes its way back to its full productive potential, this stimulus will need to be pulled back in a timely manner to prevent classic "demand-push" inflation. Rising interest rates will almost certainly be a part of our near future.
---
Will COVID's economic damage linger?
Trevor Tombe, professor, Department of Economics, University of Calgary
The pandemic was not only a public-health crisis but also the source of the sharpest economic contraction in Canadian history. The pace of recovery since those dark early months, however, has been nothing short of remarkable. By September 2021, the fraction of individuals employed was nearly back at pre-COVID rates and overall GDP nearly was. But challenges remain. Future growth may, unfortunately, be lower for longer. The Bank of Canada recently cut its forecast of "potential output" growth to approximately 1.6 per cent — down from prior forecasts and our pre-COVID trend. By Q3 2021, Canada was 5.8 per cent below its pre-pandemic trend (equivalent to $145 billion per year). Has COVID permanently damaged Canada's economy? Or will workplace innovations (like remote work) and policy responses (like expanded childcare) boost productivity growth above its prior trend? Where our economy goes in 2022 will give early indications about which of these two possibilities may be likely. Our GDP relative to pre-COVID trends is therefore an important chart to watch.
---
Goods news for people who love bad news
Jimmy Jean, chief economist, Desjardins Group
For inflation forecasters, the year 2021 could be as much of a year to forget as a year that will be forever remembered, depending on how one chooses to look at it. During the first half of the year, the pressure was clearly concentrated in goods, whereas, with a services sector still held back by lockdowns in the first half, services inflation was still below the average of the last cycle. The consensus narrative for the second half of 2021 contended that goods inflation would start cooling off, whereas the reopening would nudge services higher. The problem is that only the second part of that narrative proved correct.
So the question for 2022 is: where will the convergence take place? The transitory view has argued that it would occur on the way down, as inflation in goods eventually reverts to the mean. This scenario remains plausible, but we still lack clarity on the time horizon over which the reversion to mean should be taking place. Meanwhile, we have come to better appreciate the multitude of impediments that could impede supply further in 2022.
Meanwhile, in services, recovering demand as well as the high costs that businesses are facing on many fronts are skewing inflation risks to the upside. Pricing-power sentiment has rarely been stronger; as per the Bank of Canada, in Q3 2021, 37 per cent of businesses expected to increase their prices significantly over a 12-month period, up from only 11 per cent at the end of 2019. The intensification of this kind of inflationary psychology would imply more persistence than expected and could force the Bank of Canada into taking drastic steps—for better or worse.
---
Household balance sheets and COVID-19
Kevin Page, president and CEO; and Aimeric Atsin, senior analyst, Institute of Fiscal Studies and Democracy, University of Ottawa
In these unusual times, there are many indicators to watch to better understand which way the economy may turn. Watch the evolution of household balance sheets. Net savings have been boosted by fiscal supports and some reduction of spending during the pandemic lockdowns. Going into the fourth quarter of 2021, net savings are up more than $100 billion. That is a lot of money in a $2.5-trillion economy and a recovery driven by consumption.
---
Low Canada
David Williams, vice-president of policy; and Jock Finlayson, senior policy advisor, Business Council of British Columbia
Ottawa's economic growth strategy rests on four shaky pillars: accommodative monetary policy to support interest-sensitive sectors of the economy like credit, housing investment and durable goods consumption; expansive fiscal policy; record immigration levels; and a national child-care policy to expand the labour supply. The political class appears disinterested in raising productivity through higher business investment per worker, faster innovation adoption or scaling companies.
A recent OECD report offers sobering findings about whether Canadians can look forward to meaningful gains in average living standards. It predicts Canada can at best achieve real per capita GDP growth of only 0.7 per cent per year between 2020 and 2030, placing us last among advanced countries. Our prospects are poor because of feeble expected growth in output per hour worked (labour productivity) and a slight drag from hours worked per head of population (labour utilization).
The next decade is not an aberration. The same OECD report projects Canada will also post the worst economic performance among the advanced countries from 2030 to 2060, with per capita GDP increasing by just 0.8 per cent per year.
Past generations of Canadians entering the workforce could look forward to favourable tailwinds lifting real incomes over their working lives. That's no longer the case. It is time for our governments to rethink their priorities and take steps to create the conditions to support a more productive economy.
---
Behind the headline inflation rate
Mostafa Askari, chief economist, Institute of Fiscal Studies and Democracy, University of Ottawa
The current high inflation is partly due to the rise in oil and natural gas prices globally; partly to the pandemic-related supply chain issues and partly due to the fact that, last year, prices declined (the so-called base effect). This chart shows that when we compare the level of the Consumer Price Index of November 2021 to that of November 2019, the average inflation is only about 2.8 per cent annually rather than the 4.7 per cent headline rate. Moreover, underlying the current headline rate of 4.7 per cent inflation is about 44 per cent an increase in gasoline prices, totally because of the substantial increase in global oil prices.
---
U.S. is buying. What will it cost us?
Karl Schamotta, chief market strategist, Cambridge Global Payments @vsualst
By putting trillions of dollars directly into household pockets over the last two years, the U.S. government reshaped the global economy. Flush with cash but unable to spend in person, American consumers splurged on tangible goods—from electronics to building materials—and put unprecedented pressure on pandemic-disrupted global supply chains.
The implications are profound. If the Bank of Canada raises rates, it could crush domestic demand without impacting the factors driving inflation. If U.S. consumers run down their savings and shift spending back to services, supply chains could suddenly become too full. And if political pressures limit the scope for further government stimulus, our re-engineered—and increasingly goods-focused—economy could struggle to adapt.
---
Falling further behind
David Doyle, head of North America strategy and economics, Macquarie Group
During the pandemic, Canada's real gross domestic product has disappointed relative to the United States. This underperformance is even more severe when depicted on a per capita basis, reflecting the average standard of living in each country.
It continues a trend that has been in place for the past six years. Over this time period, U.S. real GDP per capita has risen by nearly eight per cent, while Canada's has trended sideways. Put simply, Canada is falling further behind, as competitiveness has suffered due to meandering productivity growth.
Until recently, many households have felt insulated from these trends due to the wealth effect emanating from rising house prices. This period may now be coming to an end. Higher interest rates should slow house price gains, potentially significantly. Moreover, negative real-wage growth resulting from elevated inflation is likely to put household budgets under even greater pressure.
---
Inflated expectations
Sohaib Shahid, director of economic innovation, Conference Board of Canada
Canada's inflation expectations are on the rise. The Conference Board of Canada's latest index of business confidence shows that more than 50 per cent of businesses expect inflation to be five per cent or more six months from now. Moreover, a recent consumer survey by the Conference Board shows that almost 40 per cent of Canadians expect inflation to be five per cent or higher two years from now. We are closely monitoring inflation expectations because actual inflation partly depends on what people expect it to be. Higher expectations risk more inflation embedding into wage expectations and future prices. If an increasing number of people expect prices to rise in the future, higher inflation could become a self-fulfilling prophecy. And that would make the Bank of Canada's job of keeping inflation within the one-to-three per cent target range even more difficult.
---
Inflation's climb Stateside
Philip Smith, economist and statistician @philsmith26
Canada's CPI inflation rate was depressed in the pandemic months following February 2020 by a cumulative 1.7 percentage points. In the United States, the corresponding impact was 1.2 points. Since early 2021, the recovery has boosted inflation in Canada by 1.2 percentage points, while in the United States the positive impact has been 2.1 points. As of November 2021, then, the pandemic has had a net negative (-1.7 + 1.2 = -0.5) effect on cumulative inflation in Canada and a net positive effect (-1.2 + 2.1 = 0.9) in the United States.
Canadians benefited from lower inflation when the pandemic began in 2020 and the economy sagged due to the shutdowns. Inflation then became higher in 2021 when vaccines were available and the coronavirus waned somewhat, allowing the economy to rebound. How long will inflation continue to run above the Bank of Canada's one-to-three per cent target range and what will be the cumulative impact on the price level once inflation comes back down to a more normal rate? This is a vital question for 2022.
---
Will Ontario avoid another post-recession debt binge?
Ben Eisen, senior fellow; and Steve Lafleur, senior policy analyst, Fraser Institute

When it comes to public finances, Ontario finds itself at a crucial juncture. In the recent past, Ontario's recessions have been followed by extended periods of debt growth. Given that the province's finances are already unsustainable, the big question is whether history will repeat itself.
The story of Ontario's debt accumulation pre-pandemic is a tale of two recessions. In 1991, Ontario's debt-to-GDP ratio stood at 13.4 per cent. In the following years, the province endured a severe recession. Provincial debt climbed quickly both during the recession and in the years that immediately followed.
The 2008 recession marked another era of rapid debt-to-GDP growth during the recession and over the following half decade. This indicator proved a one-way ratchet, and held steady in the following years rather than dropping back down to pre-recession levels.
It remains to be seen whether Ontario will experience another big run-up in debt following the COVID-19 recession. The Ford government is optimistic, forecasting no further debt-to-GDP growth in the years ahead.
Given Ontario's unsustainable debt load, budget watchers will be paying close attention to whether these optimistic forecasts come to pass, or whether Ontario will once again see its debt burden climb as it did in the 1990s and 2010s.
---
Stalling on Main Street
Simon Gaudreault, vice-president of national research, Canadian Federation of Independent Businesses
Source: Canadian Federation of Independent Business, smallbusinesseveryday.ca/dashboard/
Note: data above is from the November 23, 2021 update, see online dashboard for most recent version.
Two-thirds of Canada's private sector active enterprises are microbusinesses (businesses with fewer than five employees) and one in three working Canadians owns or works in a small business (businesses with fewer than 20 employees). So, to know where our economic recovery is headed, it's important to look at how our independent, local businesses are doing.
CFIB's Small Business Recovery Dashboard has been doing just that in the past couple of years, tracking recovery on a regular basis by asking businesses if they consider they are fully open, fully staffed or making normal sales, compared to a pre-pandemic year. At this moment, only about three quarters are fully open, about one half have normal staffing and about one third are making regular revenues. Unfortunately, these shares have been relatively stable for the past several months, so the recovery on Main Street is now both far from completed, and is stalled.
There is still a long way to go before we can call this a full economic recovery. In the months ahead, many businesses will continue to require all the support they can get from customers and the government.
---
Watch the Baltic tides
Sebastien Lavoie, chief economist, Laurentian Bank
Corporate profit squeeze, erosion in purchasing power for the holiday shopping season, and easy tax grabs for governments were a big part of 2021. Many central bankers wrote "inflation cooling" on their Christmas list, but the Grinch may ruin their wish in 2022. We cannot pick one single indicator to watch in 2022 as the two-decade-high Canadian consumer price index rate comes from several forces. The global Baltic dry shipping index started to fall with logistic improvements, supportive of a slow rate of increase in the price of goods in early 2022. The supply response in commodities including oil, lumber and copper is also encouraging. Unfortunately, it is easier for retailers to change prices when input costs are soaring than declining.
This deliberate asymmetric price-fixing may slow the return of inflation closer to the two per cent Bank of Canada target. In addition, geopolitical leaders, sometimes more naughty than nice, could drive idiosyncratic price spikes. Also unpredictable are climate shocks increasing the cost of doing business, as experienced with cotton, lumber and agricultural products in 2021. Otherwise, Santa's bag of electronics gifts gets bigger every year. This structural uptrend for microprocessor demand suggests no end in sight for the current shortage. The decarbonization transition also comes with an expensive price tag. Productivity gains and new habits including substitution favoring cheaper items could help. On the services side of CPI, the speed and magnitude of withdrawal of excess savings will be key. Economists wish you lower inflation for the New Year.
---
For many businesses, the comeback hasn't come
Stephen Tapp, chief economist, Canadian Chamber of Commerce
Canada's economic recovery gained momentum in 2021, but it remains incomplete and highly unequal. While high-tech online activity has made huge gains during the pandemic, bricks-and-mortar small businesses have been hit hard—particularly those in high-contact services. That's why a key indicator I'll be monitoring in 2022 is the number of Canadian companies whose sales remain below pre-pandemic levels. Statistics Canada's latest Canadian Survey on Business Conditions puts this number at around 307,000, and finds that for 137,000 of these struggling companies (that's 13 per cent of businesses) a full sales recovery is either "unlikely" or has an "unknown" timeline.
My chart shows that many companies (one in three) still have depressed sales. The share jumps to almost 60 per cent in the heavily disrupted sectors of accommodation and food services; and arts, entertainment and recreation. Small businesses and those owned by visible minorities are also disproportionately impacted. Many of these companies report an inability to take on more debt, and foresee challenges in repaying government supports. In the near term, profit margins are expected to shrink due to a combination of rising input costs, labour shortages and supply chain disruptions. This leaves better sales as the key lifeline. So looking to 2022, as monetary policy and government supports for businesses pull back, sales must pick up for these companies for the recovery to truly be broadly shared. Having come this far through the pandemic storm, we can't let thousands of businesses drown 50 feet from shore.
---
And $248 billion later…
Kevin Milligan, professor, Vancouver School of Economics, University of British Columbia @kevinmilligan
From April 2020 to September 2021, the Government of Canada spent $248 billion on the Canada Emergency Wage Subsidy (CEWS), the Canada Emergency Response Benefit/Recovery Benefit (CERB/CRB), and Employment Insurance (EI). The emergency benefits ended on October 23 of this year, but the impact of Canada's massive emergency fiscal response will continue to shape our economy for years to come.
---
Scaling the tax wall
Jack Mintz, president's fellow, School of Public Policy, University of Calgary @jackmintz
Analysts often focus on the corporate tax impacting small businesses, but personal taxes are even more important. This figure shows the tax wall faced by a growing small business in Canada. For a capital investment of $1 million, the effective tax rate on marginal investment (METR) for the small-business owner is 19.1 per cent. As the business grows, the METR rises as the income from the business is taxed at a higher personal progressive rate. At $3 million in assets, the METR jumps to over 23.7 per cent, due to a higher personal income tax rate. It then jumps to close to 26.4 per cent at $9 million in assets and takes a further jump to 34 per cent when assets pass the small business deduction threshold at $11 million. The highest METR is 45.9 per cent when the firm reaches $39 million in assets (and the owner is in the top personal tax bracket).
The tax wall is of interest for three reasons:
Distortions: The tax wall provides an indication of economic distortions. When small firms are taxed at low effective tax rates compared to larger firms, the tax system encourages companies to break up to reduce their tax burden. This can be a loss in productivity.
Growth: Companies that become larger lose tax benefits aimed at small firms—a steeper wall suggests that the tax penalty on growth is greater.
Tax competitiveness: Canada has the steepest tax wall of all G7 countries due to rising personal and corporate tax rates. The tax wall provides information on tax competitiveness for small businesses at different investment levels. A recent study suggests that migration is particularly sensitive to personal income, payroll and consumption taxes, especially for high-income individuals, inventors and sports and entertainment professionals. The authors also found that a one-point increase in the top personal tax rate results in a percentage loss of 1.6 immigrants, based on an analysis of a Danish tax scheme providing partial tax exemptions for immigrants with incomes above a certain threshold.
---
The piggy banks of a nation
Sal Guatieri, senior economist, BMO Capital Markets
Despite a near 18 per cent annualized surge in spending in the third quarter, Canadian households still managed to save a tonne of money by pre-pandemic standards. At 11 per cent, the savings rate is more than three times higher than the two-decade median. Total excess savings, over and above the 2019 rate, of nearly $300 billion during the pandemic are equivalent to 20 per cent of disposable income. That's enough to fuel several years of consumer spending gains, though a good chunk will also be used for investments and debt repayment.
---
The red-ink tsunami
Franco Terrazano, federal director, Canadian Taxpayers Federation
Based on the 2021-22 federal budget, the Parliamentary Budget Officer's data projects that the federal government will run deficits until 2070. If these five decades of deficits come to fruition, the federal government will have added another $2.7 trillion to its debt tab. That's in addition to the current $1-trillion debt. Right now, each Canadian's share of the federal debt is about $30,000. Under this scenario, federal debt per person will reach $67,000 in 2070. The federal government will incur about $3.8 trillion in debt interest charges over those five decades, which is money that can't go to health care or lower taxes. The projections assume the effective interest rate will eventually settle in at 2.84 per cent, which would be lower than it was at any time between 1991 and 2014.
Once the feds finally do balance the budget in 2070, it will take at least another two decades to pay off the debt, according to the PBO's data. Of course, these are only projections. There is nothing technically stopping the federal government from balancing the budget long before 2070. However, the Liberal Party, Conservative Party and New Democratic Party just spent the last election promising to spend $78 billion, $51 billion and $214 billion, respectively—more than in budget 2021-22.
22 things you need to know about B.C. business and the economy in 2022 – BCBusiness
Credit: iStock
From inflation and supply chains to climate change and housing prices, we explore how things could unfold, with help from an expert panel
Well, that wasn't always so fun. As they put 2021 behind them, with the COVID-19 pandemic still very much alive, business decision makers face another challenging year. What's coming our way in 2022? To tease out some key themes for B.C. organizations of all sizes, we assembled a panel of seven experts.
Of course, it wouldn't be a business and economic outlook without a big disclaimer. Several of the interviews with our panel took place before the floods that brought so much destruction, as well as the arrival of the Omicron variant. Here's hoping for a better 2022.
Our panel of experts
(Left to right): Ryan Berlin, John Davis, Fiona Famulak, Alex Hemingway, Ken Peacock, Bryan Yu, David Williams
Ryan Berlin, senior economist and director of intelligence, Rennie Intelligence
John Davis, senior vice-president and regional manager, commercial banking, B.C. region, Wells Fargo
Fiona Famulak, president and CEO, BC Chamber of Commerce
Alex Hemingway, senior economist and public finance policy analyst, Canadian Centre for Policy Alternatives
Ken Peacock, chief economist and senior vice-president, Business Council of British Columbia
David Williams, vice-president of policy, Business Council of British Columbia
Bryan Yu, chief economist, Central 1 Credit Union
22 things you need to know about B.C. business and the economy in 2022
1.

The big picture is mixed

Several forces are converging to deny B.C. and the rest of the world a smooth COVID recovery. "The economy is improving because the pandemic is ebbing and the economy is reopening," says David Williams of the Business Council of B.C. "But we are running into some headwinds and difficulties with supply chains and global supply." So the outlook for global and Canadian economic growth has been downgraded for 2022, with some of that expansion pushed back to 2023. "At the same time, inflation has ended up being far higher, broader and more sustained than many central banks had projected."
2.

An economic rebound hides fundamental flaws

As of December, the BCBC forecast the province's real GDP growth at 5 percent for 2021 and 4 percent this year, versus 4.3 percent for Canada as a whole. Still, the economic fundamentals are much softer than those relatively strong numbers suggest, Ken Peacock stresses. "If you look across different industry sectors, for nine of the 16 broad industry categories, employment levels are still below pre-pandemic levels," he says of B.C. "So more than half the industries have not seen jobs recover to where they were, and we're almost two years out now."
3.

Inflation looks like it

'

s here to stay

Anyone convinced that the current wave of inflation is a passing phase could be disappointed. After the Bank of Canada upgraded its year-average inflation forecast by a full percentage point, Williams says, the Consumer Price Index (CPI) rose 4.7 percent year-over-year in October. "So these are very difficult times for Team Transitory."

With inflation not expected to return to 2-percent levels until 2024, Peacock holds out hope that higher prices will ease somewhat. "But if we see 5-, 5.5-, 6-percent inflation stick around for two or three or four years, purchasing power is going to be severely eroded," he says. "Households will fall behind. And this, I think, is a potential problem for this provincial government, which, from the day it was elected, has been very interested in raising well-being and prosperity for households, personal incomes."
Sources: Statistics Canada, BC Stats, Business Council of B.C.
4.

Interest rates have nowhere to go but up

Uncomfortably high inflation means that businesses should plan for rising interest rates, says Central 1's Bryan Yu. He thinks the market's call for three rate increases this year and two in 2023 is aggressive, though, given that the economy isn't fully healed. "It's heading in the right direction, but whether that warrants three hikes is debatable."

In real terms after inflation, Williams notes, Canada's policy interest rate is –4.5 percent. "Interest rates affect the economy with a lag of about two quarters to six quarters," he says. "So you've got to ask whether a real policy rate of –4.5 percent is what the economy really needs in six to 18 months. It doesn't look like it needs that kind of stimulus."

With real interest rates at an all-time low, the Bank of Canada has promised not to change the policy rate until the second half of 2022. "With inflation now at 4.7 percent, it's very difficult to believe that the central bank will leave interest rates on hold for that period of time," says Williams, who points out that the BoC recently hinted at a second- or third-quarter hike. "But that still seems an awfully long time to leave interest rates, in real terms, being very significantly negative." If real rates quickly move closer to zero, "that would be a very contractionary effect on the economy, and I don't think the economy is all that strong and robust."
5.

Fintech could help save small business

The pandemic hasn't been kind to smaller companies in need of financing. "Access to capital when you're Jimmy Pattison is very different than if you're some small business," says Wells Fargo's John Davis, whose firm typically provides loans and other services to companies with annual revenue north of $350 million. "And small businesses fell through the cracks a little bit here because they don't have the access to capital that big companies have."

As interest rates rise and labour constraints continue, those smaller outfits will face challenges in 2022, he predicts. Because the big Canadian banks have always had trouble figuring out that space, credit unions and other smaller financial institutions have tried to fill the gap, he says. But they want to move upmarket, too, because such loans don't yield much of a return. "I'm wondering if some of the fintechs or non-bank solutions might be the ultimate credit providers and service providers to smaller businesses."
READ MORE: Leadership 2021: Jim Pattison reveals the secret of his success, shares his eco-friendly agenda and explains why he keeps on working
6.

Labour supply pains will

continue, with a twist

"Without a doubt, the severe skilled labour shortage B.C. is experiencing is our biggest challenge in the next year," the BC Chamber's Fiona Famulak says. "There are jobs out there but not enough people to fill them. This is already impacting businesses and communities both large and small. In addition, the increasing cost of doing business and supply chain challenges are adding to the issues that small and medium-sized businesses are trying to manage."

On the labour front, Davis has watched forest products companies hold job fairs to find mill workers. "One of our biggest clients is a hotel operator," he says. "Getting people to do that kind of work is incredibly hard." Davis attributes some of the shortage to the Canada Emergency Response Benefit (CERB), which made it relatively easy for workers with low-paying jobs to stay home. "It's not just new people," he says of the labour shortage. "It's the people that have left and trying to get them to come back."

At the same time, there's still plenty of slack in the labour market, says Ryan Berlin of Rennie Intelligence. Before COVID, Metro Vancouver was home to 70,000 people looking for work—a number that has since grown to 100,000. "So there's an excess of 30,000 people above what we had seen pre-pandemic who are wanting to work but can't."

Given that surplus, you'd think employers would have their pick, Berlin says. But even with Canada's job vacancy rate at a record high, "they're struggling to connect the skills and people out there to the needs that they have."
iStock
7.

Employment levels aren

'

t what they

'

re cracked up to be

Climbing out of what Peacock describes as a big hole, B.C. saw a 7-percent increase in jobs from January through October 2021, putting it ahead of the rest of the country. But distorting that picture is public sector employment growth, which spiked by about 16 percent, he notes.

And remember, employment throughout the province fell significantly in 2019, Peacock says. "So we went into the pandemic at a lower level of employment, which has made it much easier for B.C. to regain that pre-pandemic level of February 2020 that everybody's been focused on."

Peacock sees reason for concern about relatively muted hiring conditions in the private sector. "When I look at some of the additional costs that are being heaped on employers, going back to the employer health tax and then all these costs associated with managing the pandemic, some difficulties and challenges in hiring people and then sick-pay costs added on, one does wonder to what degree we'll see stronger private sector hiring activity over the next couple of years."
8.

Expect supply chain woes to stretch on…and on

For B.C. businesses in a wide range of industries, global supply chain disruptions keep making it tough to serve their customers. "The view that they'll soon sort themselves out seems a fairly optimistic assumption at this point," Williams says of those troubles. "They look like they're going to be around for quite some time."

Just ask one of Wells Fargo's biggest manufacturing clients, which recently announced that because it can't get all the parts to fill its orders, it needs at least 18 months' relief from the banks. "This is the market leader in North America for what they do, and they're worried about that," Davis says. Besides absorbing the cost of borrowing capital, the publicly traded company could see its market capitalization shrink, which makes it harder to borrow, he explains. Also, frustrated customers might look elsewhere—and a rival could step into the void. "That's terrifying."
9.

Business investment is flagging—but there

'

s hope

As the saying goes, you have to spend money to make money. But in Canada, business investment per worker has been falling for several years, according to recent research by the Toronto-based C.D. Howe Institute. "So we are becoming less industrialized—we have less capital equipment, less technology, less innovation, less research and development per worker than we did the previous year or five years ago," Williams says.

Lately, with help from deep-pocketed foreign investors, several B.C. businesses have reached unicorn status. "But what matters for the country and what matters for real incomes across the country is what's happening at the average firm," Williams says. "At the average firm, there's less investment per worker going on over time, and the capital stock is actually shrinking on a per-worker basis."

Yu expects the tide to turn in B.C. "As businesses get more certainty in the market—they understand where the demand is, things are reopening and they're not going to close—they are going to move back into reinvesting in their operations," he says. Yu also thinks that given labour shortages, some companies will look at software and equipment to boost productivity. "Possibly they'll have less of a need for as many employees."
10.
Either way, climate change will cost us
If there was ever any doubt, last year's raging forest fires and catastrophic floods made it clear that climate change is a major threat to B.C. But not everyone is happy about our policy responses to this existential crisis. For his part, Peacock sees the provincial carbon tax adding to already soaring energy costs. "At the end of the day, the carbon tax in B.C. is going to hit consumers' pockets, and it's going to hit businesses as well."
Companies with a domestic customer base can pass on those extra costs, Peacock adds. For exporters, though, there's no such option. "Most of our big exporters, the ones that really matter, are not in a position to adjust their prices," Peacock says.
Among jurisdictions with a price on carbon, B.C. is one of the few without a cap-and-trade system or other mechanisms to shield exporters, he explains. "Over time, what this means is a less productive export sector, and companies are going to be less willing to deploy capital and make investments in B.C., unless the policy framework is realigned," Peacock says. "I think that weighs on the export sector over the next three, five, seven years here in B.C."
For the CCPA's Alex Hemingway, high oil prices are yet another reason to move to renewables. "One of the issues that's happening in terms of the lagging climate progress is the power of the fossil fuel industry," he says, also citing lobbying efforts against employer-paid sick says and a wealth tax. "It gets at the power of these lobby groups to shape the policy agenda and throw some dirt in the gears when there's a fear that it's going to affect their interests."
11.

Like the rest of the world, we'll keep an eye on China

To put economic pressure on other countries, an increasingly assertive China doesn't hesitate to slow or halt imports, whether that's Canadian canola or Australian coal. How vulnerable is B.C., given frostier-than-ever relations between Ottawa and Beijing?

In Wells Fargo's local client base, the biggest single industry is forest products, which Davis calls the best example of a B.C. sector tied to China. "We've yet to hear—I'm touching wood as I say this—any concerns with that," he says. "Are they going to be looking for that lumber supply from Russia? Are they going to be looking for it from Scandinavia? Maybe it's too early for us to really see it, but I haven't seen any fallout from that yet."
Sources: Statistics Canada and BC Stats; Business Council of B.C. forecasts
12.

As government supports wind down, businesses must find ways to add value

"Overall, pretty good," the BC Chamber's Famulak says when asked how we're doing with government supports for businesses still navigating the pandemic. "But let me be clear: the federal and provincial governments need to look at ways they can continue supporting businesses that include easing tax burdens and slowing down the layering-on of costs as we have seen over the last few years. We need to deal with our skilled labour shortage, and governments need to explore all channels available to them, from enhancing immigration policy to essential skills training."

Peacock suspects that many companies have been sustaining themselves on government programs. "When they're wound down, we probably are going to see more businesses fail," he says. "If these were struggling businesses, maybe shifting to another industry or sector or line of work will in the long term, in the medium term, be an improvement. But there's pain associated with this turnover process."

Williams suggests that businesses think about how to add value. "If they're able to offer higher-value-added goods and services for their customers, they should do pretty well," he says. "But the businesses that are in low-value-added sectors where they're dependent on a low cost of labour and easy access to pools of low-cost labour, clearly that's going to be more difficult."
13.

Land-based industries keep taking a hit

Peacock makes a distinction between the province's tech sector, which is concentrated in Metro Vancouver and parts of Vancouver Island and the Interior, and land-based industries such as forestry and mining. For those businesses, the regulatory climate, Indigenous issues and the carbon tax make life complicated, he says.

Peacock singles out the provincial government's recent announcement that it plans to defer logging on as much as 2.6 million hectares of old-growth forest. That policy decision could prompt the closing of 10 to 14 sawmills, plus a couple of pulp mills, he says. "This is going to lead to the shuttering and loss of high-value-added jobs."
14.

Indigenous economic reconciliation faces roadblocks

With the province and many businesses committed to economic reconciliation with Indigenous Peoples, what can we expect in 2022? "It's mixed, because I think the reconciliation and economic development and First Nations' involvement in economic projects is clearly a positive," Peacock says. "And I think businesses have for many years been keen, as long as they know the rules and the relationship and who owns the land, to get on with doing business."

But events like the blockade of the Coastal GasLink pipeline by a Wet'suwet'en Nation clan pose challenges, Peacock maintains. "I think it's prompting companies to take a closer look at deploying hundreds of millions of dollars or half a billion dollars in the province and wondering what that investment return might be over a decade or two, given some of the complexities related to the land base."
Source: Central 1 Credit Union
15.

Dwindling choices spell more housing crisis

One of the biggest pandemic stories is the red-hot provincial housing market. With help from low interest rates, B.C. home sales remain well above pre-pandemic levels, Yu says. But for 2022, Central 1 forecasts a 21-percent drop.

Don't expect prices to follow suit, though. "The pricing conditions are going to remain very strong because there's no supply," Yu says. "There's not a lot of choice or options for a lot of buyers right now, so they're kind of rushing toward the market."

To tackle its shelter shortage, B.C. needs to massively increase not just public and not-for-profit housing but also the overall supply, the CCPA's Hemingway contends. "Every time we make a gain in another area—if people's wages rise a little or if their costs go down for child-care investment—it can still quickly get eaten up by increased rents."
READ MORE: Pandemic helps push Metro Vancouver home sales to record high in 2021
16.

The

COVID

immigration boom could turn out to be a blessing

Rennie Intelligence's Berlin was one of many observers left puzzled by the federal government's pandemic immigration moves. At first, he was shocked to see Canada boost its target in the midst of COVID, given that it would inevitably result in a surplus of workers. The feds, who have set a quota of 1.2 million immigrants for 2021-23, welcomed some 220,000 during the first eight months of last year. So the year-end total could be an all-time high of 370,000.

For B.C., which gets about 14 percent of national immigration, that's good news, Berlin maintains. Besides potential labour, he says, immigrants bring diverse cultures and perspectives. "So I think that bodes well for setting us up as we turn the corner and put COVID in our rear-view mirror."

B.C. also stands to benefit from robust interprovincial migration, Berlin says. From April 2020 through last June, we attracted a net 43,000 new residents from other parts of the country while most other provinces lost people. "If you look at it from, again, a labour supply perspective, to me, that's a good thing."

With that population growth comes demand for new housing, Berlin adds. "Over the next six months, we're not out of this, but I think there's some tailwinds for our part of the world in particular that will put us in a pretty good position to begin to actually grow in the next year."
iStock
17.

For some, taxes remain a steep price to pay

Peacock doesn't mince words about provincial taxes on people and businesses. "Top marginal tax rates are at a high for individuals," he says. "Effective marginal tax rates on investment in B.C. are among the highest, if not the highest, in Canada. So it's starting to shape up like the investment climate is pretty good for some industries, but it's pretty bad for land-based operators and maybe some manufacturers here in B.C."
18.

Taxing the rich calls for getting creative

In Hemingway's view, this is a good time to do something about growing economic disparity: "The public appetite for action in terms of reducing inequality, including taxing the rich, seems to be higher than at any point I can remember." He cites a recent national survey by Ottawa-based Abacus Data in which 89 percent of respondents backed a 1-percent tax on the wealthiest Canadians to support pandemic recovery.

At the provincial level, Hemingway sees a big opportunity to redistribute wealth by taxing property, whose value in B.C. has climbed by more than $1 trillion since the mid-2000s. Today, property tax applies to individual parcels of land. "But now that we have the beneficial ownership registry online, what you could do is apply the tax to the total holdings of any specific landowner above a given value," Hemingway says, suggesting that the provincial government use different brackets.
READ MORE: Tax the rich—well, the richest of them, anyway: report
19.

Cities and the climate need more public transit

Post-pandemic and in an era of rising inequality and climate change, there's a growing recognition the government must play a bigger role in several areas, Hemingway says. For example, B.C. needs to "massively and much more quickly invest in public transportation," he argues. "We've been moving at a pace of maybe building about one SkyTrain line a decade in Metro Vancouver. If we're serious about this climate thing and we're also serious about city-building, we need to be looking at ramping that up considerably."
20.

Watch for a retail reconfiguration

At Central 1, Yu expects a B.C. retail slowdown this year, for two reasons. "No. 1, the sales numbers are being boosted by higher prices," he says. The second factor: as the economy fully reopens, much of the demand related to housing should rotate back into services. "So we'll see that in the GDP, but the retail numbers will suffer."

During COVID, the property class that Wells Fargo has been most worried about is retail, Davis says. It remains a concern as shoppers keep moving online. Davis flags what he calls the barbell effect: big-box stores like Costco and Walmart are doing well, along with luxury retailers. "But if you're in the middle category—if you're the Gap or Old Navy or whatever it is—you're getting slaughtered."

However, experiences still matter, Davis says. Take Vancouver's Robson Street, which now has less typical retail and more Asian-style service businesses such as tea shops and dessert spots. "I think you're going to see a reconfiguration of retail in a big way."
21.
Natural resources have a big role to play in the recovery
Tech may grab all the headlines, but Williams contends that other sectors are better equipped to deliver us from the pandemic. "You really need your big economic engines to pull you out of this, and our big economic engines are the natural resources industries," he says. "For every hour worked in the natural resources sector across Canada, we get $330 of value added." In unconventional oil and gas, that number is $1,300—23 times the national average of $56.
Given their broader economic benefits, it doesn't make sense to replace such industries with those that generate only $30 to $90 per hour worked, Williams says. "So it's a really delicate balance, I think, for policy makers to address our carbon challenges but at the same time recognize Canada's comparative advantages on international trade."
22.
As the economy rebounds, slow and steady might win the race
"We're entering into a very delicate time in the economic recovery," Williams says. "And so I think it's important for the federal government, for central banks, also for the provincial government, to avoid any more policy mistakes," he argues. "Change the game." Although some government interventions in the economy were necessary, they might not be appropriate now, he adds. "And so we need to be a bit more nimble, I think."
Still, Peacock believes B.C. will enjoy solid growth this year, noting that the pandemic recession was especially unusual in one way. In a typical downturn, spending on goods such as cars and appliances drop off while services remain fairly stable. But during 2020, services fell 7 percent while sales of goods grew.
"I don't think that's been regained or even half regained in 2021 because of the ongoing closures," Peacock says. "So that lift does stretch out into 2022, along with the getting back of some international tourism. I don't think it's going to be a huge surge but rather a slow, steady grind. And that's going to help provide a boost."
Economic outlook: 'They say it's not, but it's hot!' – Export Development Canada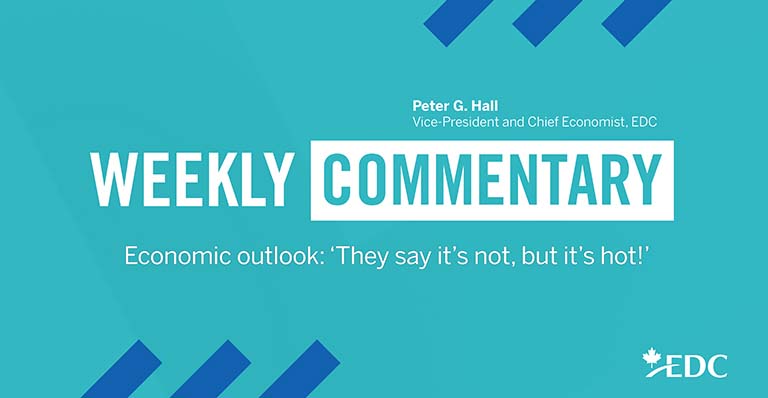 Prices are rising at a faster rate than we've seen in almost 40 years. Waved off at first as a temporary problem, central banks are tackling this head-on with tighter monetary policy. Expectations are now aligned around the fast tapering of quantitative easing programs, earlier and more rapid interest rate increases, and possible balance sheet reductions. This has financial markets and consumers braced for imminently tighter access to financing. A risk to the outlook is that current demand-led price growth moves into wage and other contract settlements, which will be harder for central banks to neutralize or reverse without more stringent monetary action.
Fiscal policy is also likely to become more stringent. This won't be just in Canada; almost every Organisation for Economic Co-operation and Development (OECD) nation will be in the same fix. Pandemic stimulus has caused debt to balloon well beyond previously acceptable limits and governments everywhere will be under pressure to roll back stimulus and get their finances on a more sustainable trajectory before higher interest costs exacerbate the problem. Thankfully, they'll be able to do this at a moment of economic strength, which will at least help on the revenue side.
International trade is generally benefiting from a strong world economy and consequently, Canada experienced surging growth in the dying months of 2021. Pent-up demand will power trade activity through 2022 and 2023, especially as supply chain constraints begin to diminish toward mid-year. Protectionism, in its many overt and more subtle forms, is expected to gradually give way to strong demand conditions. There's definitely enough activity for everyone for at least the next two to three years.
This all adds up to impressive forecast numbers. Developed markets are projected to grow well above their long-term trend, collectively rising by 4.1% this year and by 3% in 2023. Likewise, emerging markets will see impressive growth in the wake of last year's rebound, together expanding by 5.3% in 2022 and a further 5% next year. This puts 2022 global growth at a robust 4.8%, which will then moderate to a still-high 4.3% for 2023.
Demand conditions will keep commodity prices higher than initially expected and definitely higher than sustainable levels in the long term. The price of West Texas Intermediate crude oil is projected to average US$71 this year and US$65 in 2023. Gas prices will follow the same pattern, coming off current highs as Western European supplies are replenished. Copper prices will face continued upward pressure owing to immediate supply constraints, and increased structural demand as a result of higher global resolve to shift from fossil fuels to cleaner, copper-intensive forms of energy generation and transportation. Copper prices are projected to average US$8,997 this year, edging down slightly to US$8,287 in 2023.
Higher commodity prices are putting upward pressure on the Canadian dollar, although that's being offset somewhat by shifts in expectations for monetary policy movements here and elsewhere. The Bank of Canada was initially more hawkish in its policy actions, boosting the loonie's value against the U.S. dollar and the euro. But with the Federal Reserve and the European Central Bank now messaging tighter monetary actions, the Canadian dollar has eased back and is now expected to average US$0.79 this year and US$0.80 in 2023.
The bottom line?
Pandemic-fuelled uncertainty created broad expectations of a sluggish recovery. In contrast, growth is booming. Caught by surprise, global business is scrambling to ramp up production to meet demand. Supply chains, normally fine-tuned to perfection, are a mess, but will soon pull themselves back together. Inflation, perhaps the clearest signal of the economy's strength, will moderate as central banks swing into action. At the same time, the effects of the Omicron variant threaten to delay the economy's progress—and perhaps create space to better prepare for the inevitable upswing in activity. It's all a bit chaotic, but the core story is a good one: There are clear rewards for those who are more prepared to deliver the goods over the next two years. Check out EDC Economics' latest Global Economic Outlook and discover more valuable insights.
Launching Zero Waste Economic Transformation Lab – guelph.ca
Co-operators contributes $350,000 to fund lab start-up and first project
Guelph, Ont., January 20, 2022 – Today, representatives from Co-operators, the City of Guelph, Wellington County and the Guelph Smart Cities Office launched the Zero Waste Economic Transformation Lab, a new initiative under the Circular Opportunity Innovation Launchpad (COIL).
The lab will apply circular economy theories to develop and test new opportunities to reduce or redirect waste. As the lab's founding corporate supporter, Co-operators is pledging a $350,000 investment to establish the lab and fund its first project to divert construction and demolition materials from landfill. Ongoing operations will be funded through public and private grants and corporate investments.
The commitment from Co-operators represents a unique local public-private sector collaboration to tackle factors contributing to climate change. It will also help extend the range of tools and innovation infrastructure developed by COIL and Our Food Future since 2019, adapting them to the construction and demolition sector as well as others in the future.
"Co-operators is committed to embedding sustainability into all areas of our business. We are especially excited that through COIL, we can help to sustainably divert materials away from landfills and keep them in the local economy," says Chad Park, vice president of Sustainability and Citizenship at Co-operators. "Through this collaborative effort, we can reduce the environmental, social, and financial costs to governments, businesses and Canadian communities, while making them more sustainable and resilient."
"We know that 45 per cent of global carbon emissions are generated when we manufacture new products, and construction materials are particularly resource intensive," says Barbara Swartzentruber, executive director of the Smart Cities Office. "Redesigning systems to recycle and extend the life of materials is an essential part of fighting climate change and aligns with Guelph's climate change objectives."
The lab's projects will bring together researchers, industry stakeholders, entrepreneurs and government to reduce waste in specific material sectors, including salvaged materials from properties following insurance claims.
As with Our Food Future, another Smart Cities initiative, COIL's lab will focus on designing scalable systems-level solutions that create new social, economic and environmental benefits.
"Our comprehensive circular economy approach considers not only the reuse, recovery and recycling of materials that were previously wasted, it addresses processes and decisions that prevent waste generation across an entire value chain," says David Messer, manager, COIL.
The Zero Waste Economic Transformation Lab's projects will follow a process that can be replicated and applied across all waste streams in industries such as textiles, plastics and electronics. The lab will work with other cities, labs and circular economy innovation organizations across Canada to share best practices, advise on future strategies and collectively advance sector transformation using the circular economy approach.
The lab's current national collaborators and advisors include:
Quotes
"This is an incredible example of public-private sector collaboration. It's fantastic to see a major local employer stepping up and working together with the City of Guelph and County of Wellington to tackle this global issue."
Cam Guthrie, Mayor, City of Guelph
"This program will also help the County come closer to achieving our sustainability objectives, environmental visioning and economic growth plans by creating jobs and helping businesses with their waste challenges."
Jana Burns, Wellington Place Administrator, Museum, Archives and Economic Development, Wellington County
"More broadly, however, this program will play an important role in supporting several key priorities within Guelph's Strategic Plan as well as wider city priorities. It will accelerate partnerships and innovations in our economy. And it will further integrate businesses into our community and cultural fabric."
Scott Stewart, Chief Administrative Officer, City of Guelph
About COIL
Launched in April 2021 with $5 million in funding from the Federal Economic Development Agency for Southern Ontario (FedDev Ontario), COIL is an innovation platform and activation network aimed at creating, proving and scaling transformative solutions across the food and environment sectors in southern Ontario that will move Canada toward a more sustainable, circular economy.
COIL builds on the Our Food Future Smart Cities initiative which is close to meeting its goal of creating 50 new circular businesses and collaborations.
Funding for COIL program participants is provided in collaboration with 10C's Harvest Impact Fund, a community social finance fund developer with Our Food Future aimed at supporting impactful projects to strengthen the Guelph and Wellington communities.
About Co-operators
Co-operators is a leading Canadian financial services co-operative, offering multi-line insurance and investment products, services, and personalized advice to help Canadians build their financial strength and security. The company has more than $61.5 billion in assets under administration. Co-operators has been providing trusted guidance to Canadians for the past 76 years. The organization is well known for its community involvement and its commitment to sustainability. Achieving carbon neutral equivalency in 2020, the organization is committed to net-zero emissions in its operations and investments by 2040, and 2050, respectively. Co-operators is also ranked as a Corporate Knights' Best 50 Corporate Citizen in Canada and is listed among the Best Employers in Canada by Kincentric.
About Our Food Future
Inspired by the planet's natural cycles, a circular food economy reimagines and regenerates the systems that feed us, eliminating waste, sharing economic prosperity and nourishing our communities. In Guelph-Wellington, we are working to build a regional circular food economy that will achieve a 50 per cent increase in access to affordable nutritious food, 50 new circular economy businesses and collaborations, and a 50 per cent increase in circular economic benefit by unlocking the value of waste.
Our Food Future is one of the ways the City of Guelph and Wellington County are contributing to a sustainable, creative and smart local economy that is connected to regional and global markets and supports shared prosperity for everyone.
Resources
[embedded content]
Media contacts
David Messer, Manager, COIL
Smart Cities Office, Office of the Chief Administrative Officer
City of Guelph
519-822-1260 extension 3661
[email protected]
Co-operators
[email protected]