25 Things You Should Never Do on Social Media – Search Engine Journal
Social media has the power to grow your brand into a massive empire.
But if you aren't careful, it can do just the opposite.
Take Snapchat, for example.
In 2018, Snapchat ran an ad game called "Would You Rather?"
One of the questions asked was if users would rather "Slap Rihanna" or "Punch Chris Brown."
The result?
Worldwide outrage and an $800 million loss for Snapchat.
Sure, the ad's bad taste is pretty obvious. No one wants to play a game based on domestic violence.
But did you know there are other less-noticeable social media blunders that lead to a bad reputation and failure to grow your brand?
Here are some you should never do.
25 Social Media Blunders You Should Stay Away From
Stay away from these 25 mistakes, and your social media campaign will flourish.
1. Not Being Up-to-Date with Current Trends
In 2016, Wendy's posted a meme of Pepe the Frog dressed up as their mascot.
What they didn't know was that the cute cartoon frog had recently become an image of racism and white supremacy.
It's not hard to imagine the response.
To avoid a mistake like Wendy's, do a little research before posting anything on social media.
2. Posting Insensitive Content
Be humorous, but stay away from insensitive jokes.
We all remember the Yanny vs. Laurel audio clip that tore the web apart.
To jump into this trend, the U.S. Air Force's Twitter manager posted this social media gaffe.
Just. No.
3. Confusing Your Business Account with Your Personal Account
It's important to be entertaining and engaging, but don't forget to distinguish between business posts and personal posts.
For instance, don't post a photo of what you had for lunch on your business account (unless you run an organic diet-in-a-box food service).
4. Getting Angry When You Get Negative Comments
As your brand grows, you'll get both positive and negative comments.
Remember, negative comments are there to help you improve.
Deal with them open-mindedly and try to solve the problem instead of lashing back.
Here's an example from a buyer who complained at Toblerone's Facebook Page.
Toblerone's response?
When you put genuine effort into helping customers with their problems, you both appease customers and gain input for your brand's improvement.
5. Skipping the Editing Process
Before posting anything on social media, edit it viciously.
Typos and grammar mistakes will be noticed, and they won't do your brand any good.
6. Failing to Address Mistakes
No matter how strict you are with your rules and guidelines, mistakes will pop up now and then (because we're all human, right?).
When they do, address them tactfully. You can even be a little humorous.
Take this example from The Red Cross addressing their social media specialist Gloria Huang's mistake as inspiration.
7. Posting Only When Inspiration Strikes
On your personal social media account, you can post any time the mood strikes you. Or not at all.
Not so with your business account. In fact, the more you post, the more exposure you'll gain.
Here's a quick guideline from Volusion on how often to post on different social media platforms.
Facebook and Instagram: Once or twice daily.
Twitter: 5-10 tweets daily.
Pinterest: 5-30 pins daily.
Linkedin: 20 posts a month.
8. Forgetting Your Mission to Enrich Your Followers' Lives
Starting a business isn't all about boosting your earning potential. It's about developing a product or service that'll enrich people's lives.
So when you take to social media, make it your goal to reflect that mission.
Share content that's useful, relevant, and helpful to people. Enrich their lives.
Look how Great Escape Publishing does it on their Facebook page.
9. Sounding Too Salesy
While it's a good practice to promote new products on social media, don't overdo it.
No one will keep following a brand that constantly pushes them to buy something.
10. Ignoring Comments on Your Posts
Engagement is of top priority on social media. So when your followers comment on your posts, comment back.
Here are some tips on responding to comments:
Be friendly but professional.
Absorb what people are saying and write an appropriate response. Don't simply reply with "Thanks for your comment!"
Be helpful. Your goal should be to leave users feeling satisfied.
11. Limiting Yourself to One Social Media Platform
Facebook is today's largest social network, with more than 2 billion users.
While you should be active on Facebook, don't leave out other popular social networks that cater to audiences beyond Facebook.
Some of these include Linkedin (660 million members) for business users and Pinterest (322 million users) for creatives.
12. Being Active on All Social Networks
Don't limit yourself to Facebook, but don't go overboard with activity across all social networks.
The key is to find which networks your potential customers are most active in.
For instance, if you're marketing to business people, focus on LinkedIn.
If your customers are mostly Gen Z, pour your efforts into Snapchat.
13. Buying Followers
Although it's tempting to grow your followers list fast, buying followers is a bad idea.
Numbers aren't everything.
A single person who engages with your brand is better than a hundred who ignore it.
14. Leaving Out Photos & Video
Photos and videos, done right, are attention-grabbers.
For instance, this beautiful photo from the Emirates Facebook Page got more than 7,000 reacts.
15. Forgetting Your Target Audience
If your target market is the business world, leave out sharing Kylie Jenner's latest tweet, or Taylor Swift on Jimmy Fallon laughing about her embarrassing post-laser-surgery video.
16. Being Satisfied with the Generic
Find a way to make everything you post unique.
Here are some ideas that work:
Interview a satisfied customer.
Share a personal story.
Answer a question customers in your niche usually ask.
17. Not Making Use of Hashtags
Hashtags give social media users a roadmap to finding what's relevant to them online.
Using the right ones will leverage your brand and get you more attention.
Look at this example of smart hashtag usage from Foyles Bookshop's Twitter page.
18. Putting Up an Impersonal Front
Social media is all about connections.
Users want to talk to humans, not robots.
So make your posts relatable, friendly, and fun.
For instance, check out this engaging and humorous post from Taco Bell on Twitter.
19. Leaving Out Healthy Competition
Run contests on social media whenever you can!
You don't have to offer a trip to Italy or a million dollars.
Sometimes, an Xbox Game Pass is enough to boost brand engagement.
20. Doing Everything Yourself
How do you manage 2 Facebook posts, 1 Instagram story, 30 pins, and 10 tweets in one day?
If you do everything yourself, your quality will deteriorate.
The answer?
Hire a tech-savvy, witty, experienced social media manager.
21. Not Using Influencers
Influencer marketing is a powerful strategy that promises a huge ROI.
For instance, how many of us have heard of Proactiv because of Kendall Jenner's ambassadorship?
When choosing an influencer, don't go for any random celebrity or expert who'll pose with your product for money.
Jenner was a good choice for Proactiv because of her well-known acne issues.
22. Being too Casual
Leave out the slang, acronyms, and shortcuts.
"You are beautiful" works better than "U R GORG" every single time.
23. Not Getting Help from Ads
Posts from users' family, friends, and favorite pages can easily drown your brand's content on social media.
In this case, it's a good idea to boost your marketing with paid ads.
24. Always Posting Your Own Content
Sharing content from other users related to your niche is helpful to your followers.
Also, it allows you to leverage your brand by identifying with well-known personalities and businesses.
25. Forgetting to Listen
The bigger your brand grows, the more it'll be talked about.
Be sure you listen. Use tools like Hootsuite and Google Alerts to help you.
How to Avoid Social Media Blunders That Will Cost Your Marketing Campaign
You want your social media campaign to bring you up instead of down.
What it boils down to is knowing where to draw the line between good and bad marketing practices.
Be friendly but not unprofessional.
Be outspoken but not insensitive.
Be personal but not too casual.
Post your own content, but not too much of it.
Promote your products, but don't be salesy.
Once you find the right balance for every aspect of your campaign, you'll be on your way to success!
More Resources:
---
Image Credits
All screenshots taken by author, November 2019
Media Advisory: Minister Pam Parsons to Speak at Vigil to Coincide with National Day of Remembrance and Action on Violence Against Women – News Releases – Government of Newfoundland and Labrador
The Honourable Pam Parsons, Minister Responsible for Women and Gender Equality, will share remarks at a vigil to coincide with the National Day of Remembrance and Action on Violence Against Women tomorrow (December 6).
The event will commemorate the 14 women who were killed due to gender-based violence at L'École Polytechnique in Montréal, Quebec, on December 6, 1989.
The event starts at 6:00 p.m. in the main lecture theatre (EN-2006) of the Memorial University Engineering Building, 240 Prince Phillip Drive, St. John's.
-30-
4 Tools For Developing Critical Media Literacy Skills From NAMLE – Forbes
With Twitter announcing a few days ago that, under Elon Musk's leadership, it will stop policing Covid misinformation, the wide-ranging and rampant spread of falsehoods about elections and vaccines across all social media channels, and other known attempts at mass deception, it has become more important than ever that people learn to question and investigate the sources of any information they find online. Media literacy has emerged as a critical issue in the 21st century.
The National Association for Media Literacy Education (NAMLE) is devoted to convening experts, promoting media education, and teaching people – especially children – to be savvy consumers of all forms of media. Executive Director Michelle Ciulla Lipkin speaks frequently to the press about how media literacy is an essential life skill in today's world, and how media literacy education can combat misinformation, give people confidence in their decisions, and protect democracy.
By uniting a community of educators, practitioners, and researchers, NAMLE develops resources to develop the vital skills of media literacy. With 82 organizational partners, over 7,000 individual members, and an educator reach of 300,000, NAMLE empowers leaders and educators with the knowledge necessary to help students navigate the most complex media ecosystem that has ever existed.
During the run-up to the U.S. midterm elections on November 8, 2022, for example, NAMLE organized Media Literacy Weeks, a series of events and programs that took place across the country. NAMLE partnered with organizations such as PBS, The National Media Literacy Alliance, Lego, Sesame Workshop, and Roblox to offer sessions on topics including how to teach media literacy in classrooms for kids ages elementary through high school and the impact of media on civic engagement. The organization has also enjoyed a long-standing partnership with Reuters.
"Being media literate means asking questions, being curious and skeptical about all media messages all the time," says Lipkin. To get started on your media literacy journey, she suggests asking these questions:
● Who made this?
● Why was it made?
● How does this make me feel?
● How might different people understand this issue differently?
● What is left out that might be important to know?
NAMLE's core principles teach people that:
1. Media messages are produced for particular purposes – whether it be to entertain, sell something, inspire us, make us laugh, or even manipulate us to act and feel a certain way. Understanding the intent behind a media message is key to being media literate.
2. All media messages contain embedded values and points of view. No media message is neutral. Everything has an agenda and is created by humans who have different perspectives. Think about what the values and points of view are of the creator of the content when analyzing media.
3. People use their individual skills, beliefs and experiences to construct their own meanings from media messages. Each individual perceives the world and the media they both consume and create differently. Recognizing those differences allows for a more nuanced understanding of each other.
4. Media and media messages can influence beliefs, attitudes, values, behaviors, and the democratic process. Media are powerful and they impact almost every aspect of our lives.
Lipkin developed a passion for media literacy for very personal reasons. On December 21, 1988, when she was 17 years old, her father was coming home from a business trip in London when the plane he was on, Pan Am flight 103, exploded over Lockerbie, Scotland. Experts later determined that a bomb had been placed on board by terrorists.
This was before cell phones and the internet, so Lipkin and her family actually learned of the terrible tragedy through a breaking news story. They had to watch the television news to get all their information about the crash, its cause, the other families impacted, and even – that first night – to learn that there were no survivors.
"It was a life-defining moment," says Lipkin, "an incident that would forever change the person I was. It changed the way I thought about the world, the way I saw myself, the way I understood everything. It also shaped my relationship with the media – in profound and powerful ways."
Three and a half years later, Lipkin and her family set out to investigate the Lockerbie disaster for themselves. That decision, she said, changed everything. "I had believed that what I was seeing on the news was my father's story. I hadn't even realized that there were questions I should have been asking. Answers I should have been demanding." In the 30 years since, she has made endless media appearances regarding her father's death.
Furthermore, what she discovered led Lipkin directly into a lifelong career of media production and media literacy education. "I have found the perfect cause for me to keep fighting for," Lipkin says. "I feel very proud of the work that I do and the growth of NAMLE and the media literacy movement. It is valuable work that makes a real difference in people's lives."
That said, Lipkin faces numerous challenges in running a non-profit, including fundraising and capacity issues around whether they can bring on the staff they need. In addition, Lipkin says, the media literacy community is large and diverse, meaning that people have many different ways to approach it. Finally, she feels that "the movement to save our country from falling into a disinformation abyss is a 24/7 job. It's on my mind all the time."
With the Covid pandemic, the rapid spread of misinformation became about more than just democracy; it became a life-or-death situation. And so, Lipkin feels more motivated than ever to continue her work with NAMLE. "Our services have never been in more demand. Our work has never been more important."
Lipkin has an original take on connecting with your life purpose. "I always prefer to be the least intelligent person in the room," she says. "I love learning from others. I am curious about other people's expertise and perspective. My advice: surround yourself with people who are smarter than you and have different skills than you. This can inspire you to take yourself to the next level."
What Western media got wrong by claiming Iran abolished its morality police
Over the weekend, news spread in numerous reputable media outlets that the Islamic Republic of Iran had dismantled its controversial morality police.
Wikipedia even changed its entry, with the edited text suggesting the force had officially been disbanded.
But these reports all rested on a vague statement made by one Iranian official, one who in the same breath said his department is not responsible for the morality police.
Not only is it unconfirmed that the morality police have been disbanded, but statements by officials since have made it clear that sharia law — and its restrictions on women's dress — will continue to be enforced.
The morality police came under the scrutiny of Western media as of Sept. 16, the day 22-year-old Iranian-Kurdish woman Mahsa Amini died after being detained by officers for not wearing her hijab properly.
The circumstances of Amini's death, and the force's involvement, have since triggered protests against the police and the Iranian regime that have swept across the country and the world.
What did media outlets claim? 
On Sunday, multiple credible media outlets, including the New York Times and the Wall Street Journal, led with the headline that the morality police had officially been abolished.
The New York Times for instance, reported it as being an "apparent victory for feminists."
Who did the claim come from?
The original claim came from a vague comment made by one regime official — someone who is not in charge of Iran's morality police.
At a press conference, Iranian Attorney General Mohammad Jafar Montazeri was asked why the morality police, which in Persian is called Gasht-e-ershad, has not been seen on the streets in recent days.
Montazeri said the following: "The morality police has nothing to do with the judiciary system. The same source that created it in the past — from that same source it has been shut down. Of course, the judiciary system will continue its surveillance of social behaviours across society."
While reports suggest the morality police is not seen prominently on the streets, the regime has continued its violent crackdown on Iranian protesters. It has employed multiple military forces, including members of the country's Islamic Revolutionary Guard Corps (IRGC) and its plainclothes agents, to brutally crack down on protesters. According to one human rights group, 500 Iranians have been killed, including at least 60 children — and more than 18,000 people have been detained.
What does that tell us?
The top prosecutor's comments include a few important points the media should have taken into consideration.
Firstly, the attorney general admitted the morality police does not fall under the purview of the country's judiciary. And he also did not specify who exactly allegedly shut down the morality police — or when and how it was shut down. Instead, his comments were "vague and non-transparent," as BBC Persian reported early on.
Notably, Montazeri said the enforcement of the country's Islamic sharia laws would continue by means of "social surveillance" — demonstrating that whether the morality police exists or not, Iranian women will still be subjected to the same punitive legal system dictating the Islamic dress code.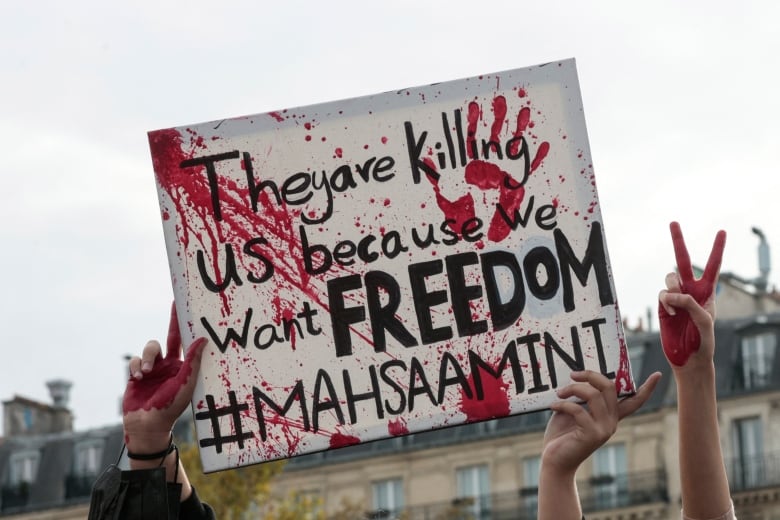 Has the regime made false claims about the morality police before? 
Yes. Late in 2017, IRGC Brig. Gen. Hossein Rahimi, who also heads the Greater Tehran police, claimed that Iranian women would no longer be jailed for not wearing the hijab. Rahimi said women would instead receive lessons to "reform their behaviour."
But in 2018, police in Tehran arrested 29 women for taking part in the "White Wednesdays" campaign, where women across Iran protested the mandatory hijab by climbing onto telecom boxes, taking off their headscarves and waving them on a stick.
A number of these women and their mothers are still imprisoned.
And while the morality police is the arms-length body that physically enforces the Islamic dress code, the country's strict mandatory hijab law — which came into effect in 1979 — remains in place.
What has the Islamic Republic said since the press conference?
Iranian state media forcefully pushed back on the top prosecutor's comments, insisting it is the Ministry of Interior that oversees the morality police — not the judiciary.
Montazeri was also quoted in Iranian state media rebuking reporting by the international media, saying that "no official authority in the Islamic Republic of Iran has confirmed the closure of the morality police."
Three more anti-government protesters have been sentenced to death in Iran, bringing the total to five. It's a toll human rights groups fear the regime will now expand to quell the movement.
Why did media outlets mischaracterize this vague claim?
Iranians on social media quickly expressed their dismay at the way international media reported the news, many suggesting it stems from an inherent misunderstanding of what the protests in Iran stand for.
"I think it simply underscores that the global community wants a neat resolution to this story and is not realizing that the Iranian people want a full overhaul of the system — not just the morality police,"  Gissou Nia, an Iranian-American human rights lawyer at the Atlantic Council told CBC News.
And Western institutions, including the media, have had a poor understanding of the Iranian regime for a long time, said Iranian-Canadian human rights activist and lawyer Kaveh Shahrooz.
"Instead of listening to democracy and human rights activists, these institutions mistakenly listened to analysts who told them that Iran's regime is basically normal and can be trusted," Shahrooz said.
"Iran's regime is not normal; its official statements are often lies designed to mislead the world. Our media should not take them at their word and must exercise extra caution when reporting on Iran."
Why some Iranians say this is a diversion
Iran has seen an unprecedented wave of anti-regime protests for almost three months, beginning after Amini's death in custody.
This week, protesters organized strikes across different cities in the country.
Many activists argued on social media that Montazeri's comments were a form of misinformation and, in fact, a tactic employed by the Iranian regime to stop the ongoing protests in Iran.
"International media outlets must learn that when dictatorships like the Islamic Republic are in trouble, they spread propaganda, as the Iranian regime did in 2017 and as they did today," prominent Iranian-American activist Masih Alinejad said on Twitter. "This is their modus operandi."