4 Art Gallery Shows to See Right Now – The New York Times
Ficre Ghebreyesus
Through Oct. 24. Galerie Lelong & Co., 528 West 26th Street, Manhattan; 212-315-0470, galerielelong.com.
The painter Ficre Ghebreyesus (1962-2012), who makes his New York solo debut with the show "Gate to the Blue," traveled a long way in his cut-short life. He was born in Eritrea, East Africa, and left at 16 to escape the country's brutal war of independence with Ethiopia. He traveled on foot to Sudan and lived as a refugee in Italy and Germany. In 1981, he settled in the United States, where he studied painting at the Art Students League in New York and at the Yale School of Art and supported himself for years as a restaurant chef in New Haven, Conn.
During these years in exile, he became fluent in multiple languages, spoken and visual. In a mural-size painting on unstretched canvas titled "Zememesh Berhe's Magic Garden," an enclosing "wall" of Eritrean-style geometric patterning serves as backdrop for an African-American bottle tree. And much of his work — semiabstract, opaquely autobiographical — has a dreamlike cast. In "Mangia Libro," titled for a nickname — "book-eater" — that his family gave him as a child, he depicts his younger self absorbed in reading as he walks away from what looks like a line of monumental buildings toward a subaqueous realm of fantastic fish and plants, all done in colors Matisse would have relished.
And large histories, beyond the personal, are ever-present in his art. These include repeated references to the Middle Passage of the trans-Atlantic slave trade. In a few cases the subject of exile is directly named, yet it can be read obliquely everywhere in the show. Taken together, two small pictures, one of an unmanned boat, the other of a soaring seabird, might be asking: What is the difference between being cut adrift and flying free?
Mr. Ghebreyesus's appetitive colors makes his art instantly magnetic, but it is his images — boats, animals, musical instruments, angels — that write stories in the mind. Visual poetry is a phrase overused and underdefined. But you know it when you find it, and you find it here.
HOLLAND COTTER
---
Steve Mumford
Through Oct. 31. Postmasters, 54 Franklin Street, Manhattan; 212-727-3323, postmastersart.com.
During the early years of U.S. military involvement in Iraq and Afghanistan, the New York painter Steve Mumford traveled numerous times to those war-torn countries as an embedded artist with American troops and made drawings he would often turn into oil paintings.
"Drawings From America's Front Lines" at Postmasters finds Mr. Mumford back in the combat zone — only this time the scenes are shockingly local and recent: New York in the midst of the coronavirus crisis, Black Lives Matter protests and campaign rallies for Donald Trump. A field hospital set up in Central Park for Covid-19 patients brings home the warlike trauma of dealing with the virus, as does a drawing like "Photojournalists Outside Wyckoff Medical Center, Brooklyn, NY, Apr. 7, 2020," an ink and watercolor work on paper depicting a scene of a virus hot spot. Other works, like "Anarchists Campsite, Lownsdale Square, Portland, OR, Jul. 25, 2020," and several drawings and watercolors of Trump rallies and supporters capture the tumult of our time.
Rendered in pencil, ink and watercolor Mr. Mumford's drawings — including texts from overheard conversations — are reports from the field, but also vividly expressionistic. (He also works from photos taken with his iPhone.) Thousands of photographs of these events are circulating on the internet, but Mr. Mumford's drawings show what it means for an artist — expert draftsman and commentator — to bear witness and document history.
MARTHA SCHWENDENER
---
Manal Kara
Through Oct. 25. Interstate Projects, 66 Knickerbocker Avenue, Brooklyn; interstateprojects.org.
The wall-mounted works that make up most of Manal Kara's exhibition at Interstate Projects offer an enjoyable kind of sensory overload. The arched ceramic frames are textured and bulky, evoking old stone windows, but with modern, often cryptic images and texts embedded in them. They enclose photographs printed on cotton and held in place with string looped through grommets, recalling the D.I.Y. aesthetic of camping gear. Those pictures have other, smaller fabric photos pinned to them.
The meaning of the pieces is hard to decipher; they seem diaristic and observational, structured by their own logic. They create the effect of a mood board: Your eye doesn't quite know where to land.
Kara, a self-taught artist and poet who uses the pronoun "they," includes many photos of wildlife. Often, they seem to be drawing connections between the natural and man-made worlds, as in "cherry grape blueberry (syntax error system shutdown)" (2020), where the coiled form of a snake echoes an image of a tire. The phrase "yesterday was here today" is written on the frame like a koan — but maybe also a clever advertisement. After all, the tire image is part of a commercial sign.
One conceptual key may be in the show's title, "The Viewing-Room vs. the Adoring-Gaze," and the news release, which comes from the artist's dream journal. It's a surreal, parodic script for an infomercial, narrating a journey from a series of clinical spaces, called "viewing rooms," to a field filled with cows "gazing intently with their huge beautiful fringed eyes." This exhibition is a product of Kara's own adoring gaze. The artist is modeling a way to look.
JILLIAN STEINHAUER
---
Cheyenne Julien
Through Oct. 10. Chapter NY, 249 East Houston Street, Manhattan; 646-850-7486, chapter-ny.com.
You have just a day or two left to catch Cheyenne Julien in her New York solo debut, "Phantom Gates and Falling Homes," at Chapter Gallery. (The online viewing room remains live through the end of the month.) I've been trying for weeks to articulate what's so exciting about how this young painter from the Bronx handles color, and her knack for including drips and unfinished but patently purposeful brush strokes. And my mind keeps coming back to a line I recently overheard in a children's cartoon: "A rainbow only comes out when it's rainy and sunny at the same time."
The line goes especially well with a small painting called "Treading Water." When Ms. Julien began the piece, according to the gallerist Nicole Russo, it showed an apartment window filled with hand-drawn thank-you signs for essential workers. Later, in response to news of police officers destroying water bottles and other supplies at Black Lives Matter protests in Asheville, N.C., Julien overlaid the window with the arm of a heavily uniformed man stabbing plastic bottles with a knife. You can still see a rainbow on one of the signs, part of it through the officer's forearm. But the painting's two subjects don't synthesize: They're simply both happening at once.
It's an honest way to confront an overwhelming moment, and while simple enough on its face, it's hardly easy to do so adeptly. But what's most striking is seeing Ms. Julien use the same confident iridescence to take in the complexities of memory, race and her native city in more straightforwardly personal views. In "Master of House," the artist's father rests one bare foot on a copy of Marvin Gaye's album "What's Going On"; in "Black Out," Ms. Julien recalls, with children playing at an open hydrant, a moment of joy during New York's 2003 blackout.
WILL HEINRICH
Del Mar unveils five new pieces of public art – Del Mar Times
The city of Del Mar's temporary outdoor sculpture program has opened with five new works in downtown Del Mar, along a one-mile art stroll.
The Del Mar Foundation is providing approximately $15,000 in funding for the program over the first two years and the pieces will remain on display for up to 23 months.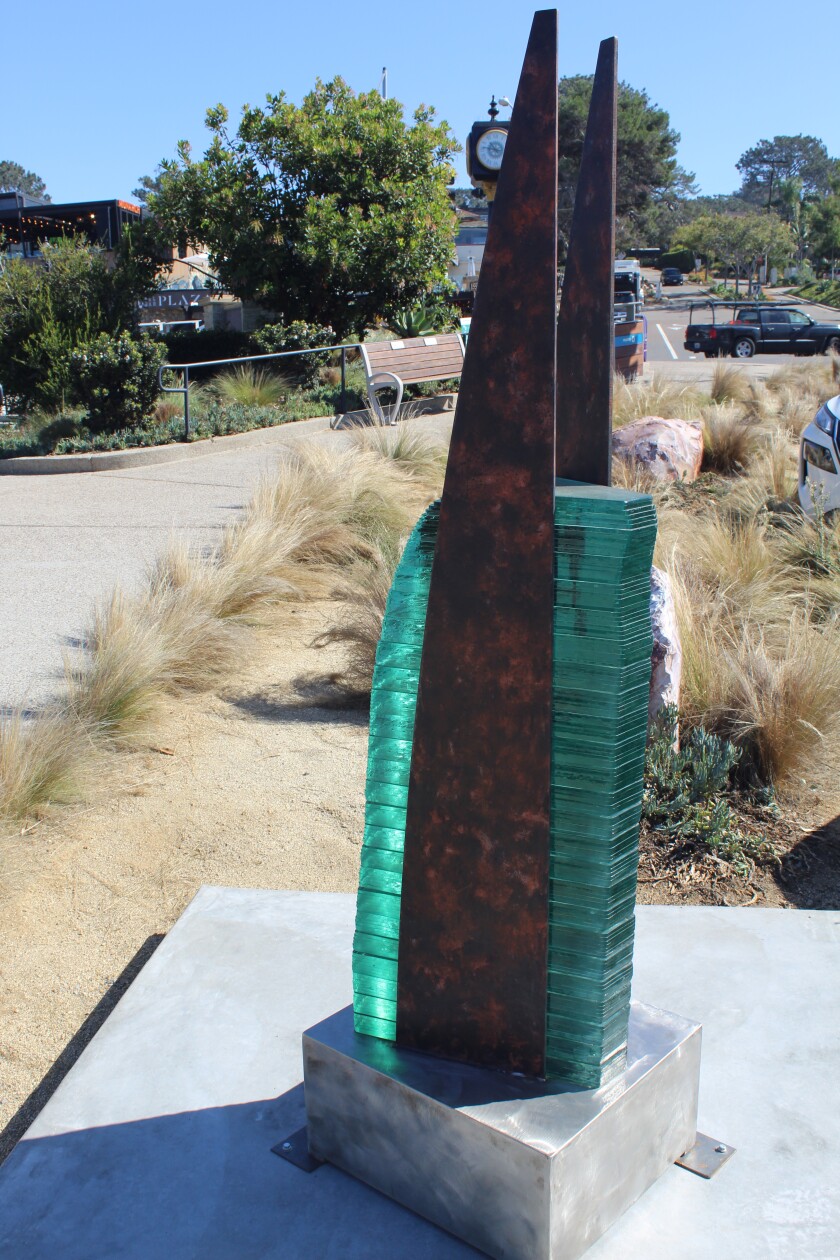 Take the Del Mar art walk:
Hanging Out by Maidy Morhous at 15th Street and Stratford Court
Birds Eye View by Petrello and Graham at the southeast corner of 14th Street and Camino del Mar
Terpsichore by David Beck Brown at the southeast corner of 12th Street and Camino del Mar
Moonshadow by Jeffery Laudenslager and Deanne Sabeck at the northeast corner of 9th Street and Camino del Mar
Pasaje a lo Infinito by Hugo Heredia at 5th Street and Camino del Mar
Before There Were Pockets: A Métis Youth Art Series – Métis Nation of Ontario – Metis Nation of Ontario
Before There Were Pockets
A Métis Youth Art Series
Part 1 – TOBACCO BAG
Thursday, November 18, 6-9 PM ET
Thursday, December 16, 6-9 PM ET
Part 2 – SASH BAG
Thursday, January 13, 6-9 PM ET
Thursday, February 10, 6-9 PM ET
Thursday, March 10, 6-9 PM ET
The Métis Nation of Ontario is excited to be hosting Before There Were Pockets- Métis Youth Arts Series this year across the province virtually through the Zoom platform.
This will be a once a month gathering of youth to learn a variety of traditional arts through the construction of a sash bag and tobacco bag. It is an informal opportunity for youth to connect with each other and work one-on-one with knowledge holders and staff. It will also be an opportunity to bring in special guests to speak about their artwork and journey. These workshops will allow participants to explore different skills and gain a deeper understanding of their Métis heritage. In order to receive the supplies for their session, all forms must be completed and participants are expected to attend all sessions. Access to technology and reliable internet is required to participate in the camp.
Space is limited, so please register and complete the application as soon as possible. Participants can access the Metis Nation of Ontario Application Portal at metisnation.smapply.io/.
Before there were pockets Poster ENG
Before there were pockets Poster FR
Vancouver Island art councils work together on regional impact study – Parksville Qualicum Beach News – Parksville Qualicum Beach News
The Arts Council of Ladysmith is leading the way on a project that aims to get arts recognized as a significant industry on Vancouver Island and the Gulf Islands. With funding from the Canada Council for the Arts, it partnered with other councils in the region to conduct an impact study to show the value art brings to communities.
"Itis larger than many industries, like the lumber industry and the fishing industry in our community and it's probably not recognized because many of them are individuals," said Kathy Holmes, president of the Arts Council of Ladysmith and District. "People don't think of them as a business and really, artists are their own business."
The arts council partnered with the Digital Innovation Group (DIG), a collective of island arts councils, to bring together nearly 1500 artists and art supporters in the spring to assess the economic, social, cultural and health impacts of arts in the region.
"No other art council has even attempted to do this. It's been a huge project, we are exhausted and what's coming out now is really important," Holmes said.
DIG will present the study's findings at this year's Vancouver Island Economic Alliance Summit this month. The study found one in 20 people in the region is an artist and over 90 per cent of respondents felt arts are foundational to economic, community and individual wellness, according to DIG's summary of findings.
"We were looking for meaningful data to quantify the contribution of the arts sector to our region and are thrilled to learn that there are over 35,000 artists and that our sector generates almost one billion dollars in direct economic outputs," said Ora Steyn, vice president of the Ladysmith Arts Council.
The Ladysmith Waterfront Gallery has been operating out of the old school on Parkhill Terrace for the last two years and Holmes said it has had a large impact on the volume of visitors.
"The Membership is still being very faithful. We worked very hard at keeping them but the public is not coming in droves so we are trying to build that capacity again but it took us a long time to get to 13,000 people a year," Holmes said.
The gallery will be hosting Yael Wand, a Salt Spring Island musician on Friday (Oct. 22.) Tickets are on sale now on the art council's website.
---
@_hay_tyler
editor@ladysmithchronicle.com
Like us on Facebook and follow us on Twitter.