44th annual Penticton Art Auction set for early December – Penticton Western News – Penticton Western News
After almost two years of adjusting on the fly and being forced to reschedule events, the Penticton Art Gallery is set to go ahead with the 44th annual art auction on Dec. 5.
The gallery is giving people the opportunity for a sneak peek on the evening of Dec. 3 so that they can explore all the art that is being sold.
The weekend-long event doesn't have to wait though. Online pre-bidding opened on July 26 and is set to end 24 hours prior to the start of the live auction.
This year's event will be conducted both in-person and virtually, via Zoom, and anyone attending the live auction at the gallery will be required to show proof of vaccination.
"If you don't have a vaccine passport and would like to arrange a private viewing, please contact the gallery and we can make alternative arrangements," said Penticton Art Gallery Director Paul Crawford.
Among the items available for auction include Andy Warhol pieces from his "Marilyn" series. The opening bid for the Warhol items was $1,500, with an estimated value of $5,000. After Marilyn Monroe's death in 1967, the artist began to work on his now-famous series.
This year's auction at the gallery will contain no shortage of historic items available for sale. James Irwin's NASA flight suit is also up for auction, with an opening bid of $4,500 and an estimated value that the gallery calls "priceless."
A woolly mammoth tusk rounds out the gallery's list of "priceless" items but in this case, the piece had an opening bid of $1,750.
To view the complete list of available items, the gallery asks that you visit pentictonartgallery.com/annual-art-auction.
"The Penticton Art Gallery champions the transformative power of the Arts through an annual program of thought-provoking exhibitions," said the gallery's director.
Crawford said in the latest bi-monthly gallery newsletter that they've seen a 60 per cent reduction in revenue over the last 18 months that they had previously earned through a number of fundraising programs, amid the COVID-19 pandemic.
Despite that, he told the Penticton Western News on Thursday that even though he doesn't know what to expect out of this year's auction, he's excited about the gallery's immediate future.
"As we come to the end of the year, I hope you can help support the Gallery through the purchase of one of our Soup Bowl packages, a work from our Under $500 Exhibition + Sale, Annual Art Auction, the purchase of a membership, early bird tickets to the 2022 Ignite the Arts Festival, or a charitable donation this year," he wrote in the letter.
Successful bidders will be notified via email within 48 hours of the auction's closing.
The live auction begins on Dec. 5 at 1 p.m., with the deadline for registration coming on Dec. 4 at 4 p.m.
As of Nov. 25, the auction has raised $8,295, which is 33 per cent of the gallery's goal for the event.
To register for the live auction, email info@pentictonartgallery.com.
In addition, to get in on the pre-bidding festivities virtually, you can visit 32auctions.com/PAG2021.
---
@lgllockhart
logan.lockhart@pentictonwesternnews.com
Like us on Facebook and follow us on Twitter.
Arts and cultureOkanaganPenticton
New interactive art installation in front of Ackland Art Museum engages community – The Daily Tar Heel
The Ackland Art Museum installed a new interactive art piece, or "spatial gesture," on its terrace that features magenta arches and iridescent glass– inviting Chapel Hill community members to stop and look.
The eye-catching art features several arches that extend from the ground and frame reflective panels that change color based on light and movement. When backlit by red, green and blue lights, the panels capture shadows of those standing in front of them.
White platforms at each end of the arches allow visitors to sit, perform, eat or just talk with friends.
The Urban Conga, a design studio based in Brooklyn, N.Y., created the installation, called pARC, as an open-ended space for the Chapel Hill community. It was installed on June 18 and will remain there until July 2024.
Maeghann Coleman is a designer on the Urban Conga team and helped create the installation. An artist and architect, she has been there since its start in 2013.
She said her team tried to work together to mesh the concepts of both the arches and seating elements with the shadow play.
"We're taking art off the pedestal and giving people the opportunity to interact in the way that they would want to," Coleman said.
Coleman said she hopes the piece will be used by visitors and help them create new relationships with people who they don't normally interact with.
Ryan Swanson, who serves as The Urban Conga studio's founder and creative director, mirrored Coleman's desire for the installation to foster community.
"Within the space, we tried to create multiple tools that people could kind of use to create, inspire and really learn and listen to each other and really become this communal space," Swanson said.
According to The Urban Conga's website, the art should invite people off the street and into the museum and University. The goal of the installation is to attract passersby to the museum to view, relax, laugh and — most importantly — play.
"We really focus on sparking community interaction and social activity through open-ended play," Swanson said. "So through our work, we see play as a tool to bring people together within the public space."
The Ackland Art Museum is hosting a sunset celebration at the pARC this Friday at 5 p.m. where attendees can make their own pARC-inspired iridescent suncatchers, relax with friends and family and explore the museum's galleries.
On Sunday, July 24, the museum is hosting "Ackland F.A.M.: Play at the pARC". From 1 p.m. to 5 p.m., families can grab an activity kit and take a summery scavenger hunt through the galleries. In the evening, there will be a pARC-inspired movement workshop led by choreographer Killian Manning and will feature special musical guest Dan Levine on cello.
Katie Ziglar, the director of the Ackland Art Museum, said the exhibit is meant for all age groups to enjoy.
"We have our values as a museum," says Ziglar. "We have three they are rigor, playfulness and responsiveness. This is right up our alley, our playful ally."
She said pARC is the third installation in a series of interactive installations.
"The first was some beautiful turning, spinning that people could ride around on with different colors made by a Mexican design group," Ziglar said.
The second was an "installation based on ancient Arabian water vessel in our collection," according to Ziglar.
She said that she hopes the new installation brings new audiences to the Ackland, and that it inspires people to want to learn more about the museum and what it can offer the public.
"I think the biggest thing is showcasing the value of play and how it can be used in different ways in different spaces to people together," Swanson said. "And that's really the true essence of our work, is highlighting that play is a valuable tool."
To get the day's news and headlines in your inbox each morning, sign up for our email newsletters.
Art exhibition with references to famous movies coming to Strathcona County – FortSaskOnline.com
This summer, Strathcona County will have an art exhibition saturated with popular culture references.
Red Deer artist Jason Frizzell will be showcasing his miniature sculpture pieces called "We'll Build a Palace Upon the Ruins" at Gallery@501, Strathcona County's only public art gallery.
From July 8 to Aug. 20, the exhibition will be on display for all to enjoy.
It will showcase close to 60 small-scale sculptures that continue a thematic exploration of transition, identity, denial and discovery. It will also take viewers through different time periods and eras as they explore the showcase.
"Jason has created a really interesting journey of discovery for our visitors when they enter the gallery space," said Kris Miller, the curator for Gallery@501.
Some pop culture references viewers will see include Mad Max, The Wizard of Oz, Planet of the Apes, The Flintstones and Stephen King.
To go along with the art itself, Gallery@501 also partially recreated Frizzell's studio space within the gallery.
"Being that he is working in a miniature format, it is really interesting to see these sculptural pieces. The content, stories, narratives that he is sharing with us for this artwork really struck a chord for us."
Gallery@501 is also adding a sensory-friendly feature to the exhibition so the art can be explored through touch and iPads for larger viewing.
The public is also invited to an opening reception and exhibition walk-through with Jason Frizzell on July 14 at 7 p.m.
Gallery@501 is located at #120, 501 Festival Avenue, Sherwood Park. It is always free to visit.
Idea Exchange welcomes new Cambridge Art Galleries director – CambridgeToday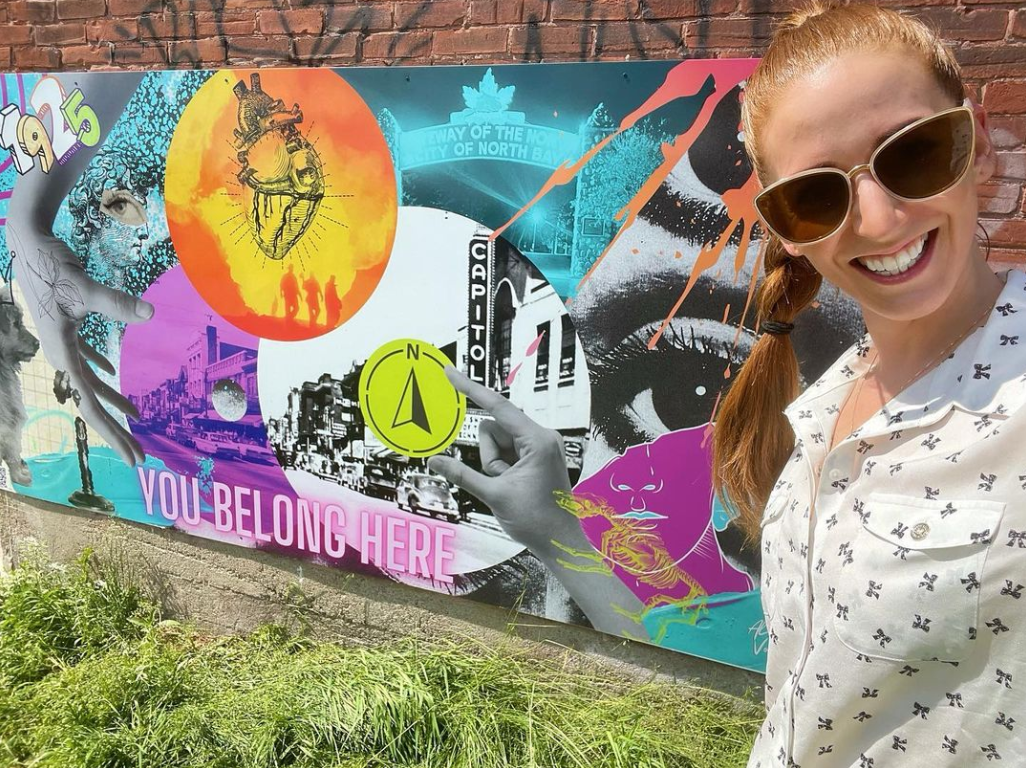 The Idea Exchange is ready to welcome Alix Voz as the new Gallery Director/Curator of Cambridge Art Galleries. Alix will be starting in the position Wednesday, says a release from the city.
"We are thrilled to have Alix joining us in Cambridge," said Idea Exchange CEO Helen Kelly in a press release. "Her enthusiasm for presenting art exhibitions that are engaging and accessible for the broader community is infectious. We look forward to many dynamic public art projects and programs under her leadership."
For the past four years, Vos has been working as the director/curator at the WKP Kennedy Gallery in North Bay.
She holds a master of arts in interdisciplinary Studies with a specialization in Art History and Fine Arts, Geography, Communication and Culture, from York University and a Bachelor of Fine Arts from Nipissing University, says the release. She is an adjunct faculty member at Nipissing University where she teaches art courses in the Bachelor of Fine Arts Program. She is also an instructor in the Visual and Creative Arts Advanced Program at Sheridan College.
An active community member, Vos served as the vice-chair of the public art policy committee for the City of North Bay.
Vos has her own contemporary art practice and has had her work exhibited at the Art Gallery of Sudbury, the Living Arts Centre in Mississauga, and the Red Head Gallery in Toronto. Her artistic practice includes drawing, having recently published her illustrations in a children's book. She is currently working on an art-history-inspired children's illustration book series.
With a love of literature and a passion for art, Vos says she's excited about the opportunities for community engagement at Idea Exchange.
The community will have an opportunity to meet the new curator/director during the virtual opening reception of Fibreworks 2022 on July 21 at 7 p.m., registration is required to attend.