46000-year-old Ice Age bird has been found in Siberian permafrost – The Weather Network
Researchers are remarking at the newly discovered remains of an Ice Age bird that has been identified as a horned lark and is estimated to be 46,000-years-old.
A recently published study says that the bird was buried and frozen within the permafrost in near the village of Belaya Gora that is located in northeastern Siberia. The bird still had many of its feathers and the researchers state that it is "exceptionally well-preserved."
Experts from the Swedish Museum of Natural History tested the bird's feathers and say that there is a chance it could be an ancestor to two subspecies of lark that are alive today.
"This finding implies that the climatic changes that took place at the end of the last Ice Age led to the formation of new subspecies," said Dr. Love Dalén during an interview with CNN.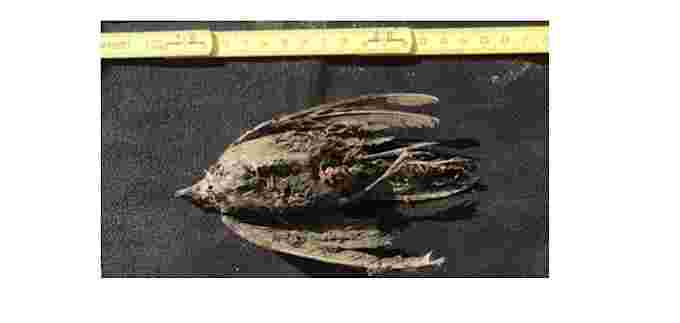 The bird carcass that was found in Siberian permafrost. Credit: Love Dalén
The study says that it is a significant finding for this body of research because it is a rare opportunity to learn more about past ecosystems and what the climatic conditions at that period of time were like. The researchers state that learning about this species habitat and their response to the changing climate will enable a better understanding of how species, populations, and communities could respond to present-day climate change.
Interestingly, the bird was found at the same site as an 18,000-year-old frozen puppy called "Dogor," which researchers are still trying to determine if the specimen is a wolf or dog. The dog was found in nearly perfect condition within the permafrost and some scientists think that this could be the oldest dog ever found.
Another SpaceX Starship prototype bites the dust during pressure testing – CNET
Cue the David Bowie and Queen soundtrack. SpaceX's Starship prototypes have had a rough time being under pressure lately, but that's the price of progress.
The shiny stainless steel SN3 (short for "Serial Number 3") prototype went through a cryogenic pressure test late Thursday night at SpaceX's Texas facility. It didn't make it out the other side. Time-lapse footage from SpaceX-watcher LabPadre shows SN3 crumpling.
Starship carries SpaceX's big dreams of one day reaching the moon and Mars with humans on board.
LabPadre tweeted out a morning view of the aftermath where SN3 looks like a busted can.
The pressure test involved pumping liquid nitrogen into the vehicle. Space news website NASASpaceflight also shared a vivid video of the event.
Spaceflight innovation is challenging work and testing failures are common during development. SpaceX founder Elon Musk tweeted a possible explanation for the latest incident: "We will see what data review says in the morning, but this may have been a test configuration mistake."
SpaceX didn't immediately respond to a request for comment.
Earlier prototype Starships met similar fates recently. The Mk1 blew up in November and SN1 failed in February. It hasn't all been bad news. A Starship SN2 test tank passed a pressure test in March, and SpaceX has been rapidly building its prototypes. Another one will be along shortly.
Musk had hoped to use the SN3 version of Starship for a short test flight, but SpaceX will have to look to the SN4 iteration now.
Space fans dreaming of taking a Starship ride can pass the time perusing SpaceX's recently released Users Guide, which promises a future full of satellite payloads and human exploration off this rock.
SpaceX will need to shepherd its Starship prototypes all the way through the testing process before we all start booking tickets. At the rate it's building vehicles, it may not be that far off in the future.
Want to Buy Flights on Starship? Here's the New SpaceX Payload User's Guide, no Prices, Unfortunately – Universe Today
The development of the Starship – SpaceX's super-heavy launch system that will take cargo and crews to orbit, the Moon, and even Mars – has been fraught with setbacks and frustration. But Musk has no intention of stopping and is even planning ahead for the day when the Starship and Super Heavy are making regular flights.
In keeping with this, SpaceX recently released a Payload User's Guide for consumers that lays out what kind of services the launch system will provide – once it's up and running. While no price points have been established yet, the guide provides a good summary of the Starship's technical specifications and capabilities.
These are summarized early in the guide, where it states that "Starship has the capability to transport satellites, payloads, crew, and cargo to a variety of orbits and Earth, Lunar, or Martian landing sites… The uncrewed Starship allows for the transport of satellites, large observatories, cargo, refueling tanks or other unmanned assets."
What follows is a detailed treatment of the Starship's payload fairing's interface. The fairing is described as a "clamshell structure" that contains an integrator and remains closed until the time of deployment. Measuring 9 meters (29.5 ft) in diameter from the outside, SpaceX claims their fairing is "the largest usable payload volume of any current or in development launcher."
The guide goes on to say that the geometry of the Starship allows for a 22 m (72 ft) extended payload volume, which can facilitate of novel payloads, rideshare opportunities, and the deployment of entire constellations of satellites (such as SpaceX's Starlink internet satellites) in a single launch.
The spacecraft also takes a page from NASA's Space Shuttle, offering the option of placing trunnion-style interfaces on the surface of the interior to accommodate more cargo. Attention is also given to how the launch system will also accommodate standard payload interface systems and electrical interfaces.
The guide then goes on to describe the payload environment in terms of its ability to handle axial and lateral accelerations (which will range from -2 g to 6 g axially and -2 g to 2 g laterally) as well as acoustics and shocks.
In this respect, SpaceX is relying on industry standards and their own experience with the Falcon family of rockets (particularly the Falcon Heavy):
"Utilizing strong heritage and lessons learned from the development of the Falcon 1, Falcon 9 and Falcon Heavy launch systems, SpaceX is designing Starship and Super Heavy to provide as benign of a payload environment as possible."
What follows, predictably, is a rundown of the launch system's mass-to-orbit capabilities, based on the absence and presence of parking orbit refueling (POR). To Low Earth Orbit (LEO), which they define as a circular orbit of up to 500 km (310 mi), which in both cases would exceed 100 metric tons (110 US tons).
To Geostationary Transfer Orbit (GTO), the system will be able to send 21 metric tons (23 US tons) without POR and over 100 with it. Potential landing sites are also specified for missions that require payload returns. They include SpaceX's existing facilities at the Kennedy Space Center in Florida and Boca Chica, Texas.
As for payload deliveries to the Moon and Mars, they indicate that "Starship was designed from the onset to be able to carry more than 100 tons of cargo to Mars and the Moon."
As for crewed missions, that's where things get especially interesting. In keeping with SpaceX's vision of making life "multi-planetary," the Starship crew configuration emphasizes moving people in style. As they wrote:
"Drawing on experience from the development of Dragon for the Commercial Crew Program, the Starship crew configuration can transport up to 100 people from Earth into LEO and on to the Moon and Mars. The crew configuration of Starship includes private cabins, large common areas, centralized storage, solar storm shelters and a viewing gallery."
No price information is available yet, but since the launch system is intended to be entirely-reusable, one has to assume it will be competitive with other launch services (and even SpaceX's previous launch vehicles). What's more, cost-effectiveness is something that is written right into SpaceX's mission statement.
At present, it remains unknown when the Starship and Super-Heavy will begin making commercial flights. With the issues they've been experiencing testing the Starship prototypes, it is clear that the 2022 deadline for missions to the Moon may not happen. However, Musk is known for being optimistic about his timelines, not to mention his tenacity and perseverance in the face of setbacks.
Further Reading: SpaceX
SpaceX's Third Starship Prototype Collapsed Last Night – Universe Today
Top Image Credit: LabPadre w/ Maria Pointer
SpaceX just cannot catch a break! Last night, during the same cryogenic proof test that killed the previous two prototypes, SpaceX's SN3 prototype experienced a structural failure. On-site video footage provided by famed NASASpaceFlight member BocaChicaGal shows the SN3 experiencing what appears to be a leak, followed by the fuselage collapsing.
The cryogenic proof test consists of the vehicle's fuel tanks being filled to capacity with nitrogen (and sometimes oxygen) that is cooled to cryogenic temperatures. This test is carried out after an ambient pressure test, where the vehicle is filled with gas at room temperature to see if it can handle the kinds of pressure conditions it will experience during flight.
The test began late on Thursday (April 2nd) and continued into the morning until the SN3 suffered a rupture during what appeared to be the end of the test. This comes a little over a month after the second prototype (SN1) exploded on the Boca Chica facility's launch pad on the evening of Feb. 28th, 2020, during a similar cryogenic proof test.
During that test, the liquid oxygen tanks blew out the bulkhead, which sent the vehicle's fuselage to collapse inward and jump several meters into the air. The wrecked prototype then fell to the landing pad on its side, followed shortly thereafter by the methane tanks exploding out of the top bulkhead and flying 150 to 300 meters (500 – 1000 ft) from the pad.
The previous failure (also experienced during the cryogenic proof test) happened on November 20th, 2019. At this time, the Mk. 1 prototype suffered a failure that caused its top bulkhead to explode (and the nose cone to be hurled beyond the facility) followed by a secondary explosion from the bottom bulkhead.
In response to both incidents, Musk responded by saying that these types of failures are expected during load tests and would provide information vital to the construction of future prototypes. In fact, the design of the SN3 (Serial incorporated lessons learned from these two previous vehicles and took advantage of improved manufacturing techniques, where each ring consisted of a single welded piece of steel.
Another notable feature on the SN3 was the new, internally mounted deployable leg design, which was visible in photos shared by Musk via Twitter on March 30th. These legs were included to accommodate the short hop test flights that the SN3 would have conducted. Musk noted at the time that the legs would be longer with the SN4 and subsequent prototypes since they would be making higher flights.
Responding to this latest setback, Musks tweeted, "We will see what data review says in the morning, but this may have been a test configuration mistake." This was posted to his official Twitter account in the early morning hours of April. 3rd. About ten hours prior, he related how the SN3 passed its ambient temperature pressure test the night before and that they were proceeding to the cryogenic test.
Four hours after that, he tweeted, "Some valves leaked at cryo temp. Fixing & will retest soon." These tests took place just a week after the SN3 underwent final assembly and was delivered to the test facility in Boca Chica, events that were shared by Musk and LabPadre via Twitter. LabPadre was also on hand to witness the rupture experienced by SN3 and captured it on video (shown below).
At the time, it was clear that Musk intended to move ahead with testing as quickly as possible. Had things gone as planned and the SN3 passed the cryogenic proof test, Musk and his teams of engineers at Boca Chica would have proceeded with a static fire test, followed by a hop test that would see the prototype fly to an altitude of 150 m (500 ft), the same height achieved by the Starship Hopper.
These were originally scheduled to take place between April 1st and April 3rd (static fire test) and April 6 to April 8 for the flight test. However, those timelines were contingent on the successful completion of the cryogenic proof test. As he did after the previous failures, Musk has stated that rather than attempt to salvage the wrecked prototype, his company will be proceeding with the construction of the next vehicle (SN4).
This prototype has already begun construction at Boca Chica and was visible during the ambient temperature pressure test on Thursday, April 2nd. It is unclear right now when it will be assembled and put through its paces, but it seems likely at this point that the 150-m flight tests SpaceX hoped to make with SN3 will now be performed by SN4.
Of course, we should remind ourselves that test likes these happen for a reason. In short, they ensure that failure does not take place during a crucial point – like a crewed mission! In the meantime, onwards and upwards for the Starship and SpaceX!
Further Reading: NASA SpaceFlight