5 Art Accounts to Follow on Instagram Now – The New York Times
As the pandemic continues to devastate countries around the world, natural disasters bear down and Election Day draws nearer, I find myself struggling with opposite impulses: I want to keep up with the news, and I want to escape into pleasure and imagination. Instagram offers both. Some accounts help me process current events, others provide aesthetic wonder, and still others manage the two at once. This list covers all the points on that spectrum. Consider it a creative coping mechanism for staying engaged during a trying time.
Piotr Szyhalski/Labor Camp
@laborcamp
Many artists who started projects while on lockdown in March have stopped posting about them on Instagram, but Piotr Szyhalski is still going strong with his "Daily Covid-19 "Labor Camp Reports." ("Labor Camp" is the framework within which Mr. Szyhalski has made art since 1998.) The series consists of black-and-white drawings that use the style and language of propaganda posters to capture the pain and absurdity of the pandemic, with heavy doses of sarcasm and rage at the federal government's response. Some are direct, like one with a hand pointed at the viewer that implores "You! (Do Something)"; others are more abstract, like a sparse drawing of silhouetted birds above the words "Limitless Melancholy." Either way, the works are meticulous but piercing, like a carefully released primal scream.
The work of Patience Zalanga, a freelance photojournalist who often covers the Movement for Black Lives, has a gripping, quiet intensity. She tends to forgo the drama of big action for the intimacy of portraits and smaller moments. For instance, a photo of young men inside a ransacked Office Depot seems to hit pause on the scene, as a hooded figure stops to check his phone; through that mundane gesture, Ms. Zalanga creates a feeling of familiarity, even tenderness. There's also a welcome honesty to her captions, which include a mix of information about the images, personal comments and thoughts on the ethics of documentary photography. Ms. Zalanga, whose work has been featured in The Guardian, Minnesota Public Radio and Time, among other places, and who got her start in Ferguson, Mo., after the killing of Michael Brown, doesn't pretend to be an all-knowing, objective observer, but lets her followers in on her process and works in community.
If Ms. Zalanga's images speak to an experience of being Black in the United States, Jamie Lee Curtis Taete's showcase a culture of whiteness. The Los Angeles–based photographer has an eye for distinctly American forms of consumerism and, and over the past few months he's brought it to bear on events like pro-Trump rallies and coronavirus lockdown protests. Many of his pictures carry a tension between the ironic distance of the viewer and the subjects' earnestness, encapsulated by a proudly carried sign or boldly emblazoned T-shirt. In one of my favorites, a yelling blond woman holds an American flag and a poster reading "Give me liberty or give me death," while standing outside a Baskin Robbins. The intensity of her crusade of victimhood is palpable. As with so many of Mr. Taete's photographs, I'm not sure whether to laugh or cry.
Part of what I love about the artist Tiffany Jaeyeon Shin's account is that when I come upon her posts, I don't necessarily know what I'm looking at. Maybe it's an almost abstract image of bubbles, or maybe a pair of hands holding dirt, but I'm still wondering: Why this dirt? What's she doing with it? Such murkiness is appropriate, since Ms. Shin is interested in processes we can't see, like brewing, fermentation and the cultivation of mold, and how they reflect the complexities of society. It's a delight to come across one of her photographs and be awed by the extent of the natural, and largely invisible, world. Her captions offer limited explanations — the dirt contained hyphae nuggets, which she brought home to feed — but just as quickly generate new questions, like what are hyphae? (The answer: parts of fungi.)
What does an exhibition look like when it doesn't comprise objects in a gallery? The pandemic has prompted a variety of answers to this question, from bland online viewing rooms to printable PDF shows. The Flag Art Foundation's inventive response has been to post "impossible exhibitions" on Instagram. Each one takes the form of a slide show, with a title, curatorial statement and checklist. What makes them "impossible" is that they can include anything available in image form, even if it no longer exists or is physically inaccessible. Eliminating the logistical aspect of curating has freed up people's imaginations in intriguing ways. The miniature shows are cross-cultural, richly associative and sometimes deeply evocative. The curator Amy Smith-Stewart's "In this short Life," for example, is titled after an Emily Dickinson poem and in just nine slides evokes a spiritual sense of the fleetingness of life.
White House on defensive over Hunter Biden art sales – FRANCE 24
Issued on: 24/07/2021 – 01:08
Washington (AFP)
The White House assured Friday that necessary ethical precautions would be taken around any exhibitions and sale of artwork by President Joe Biden's son, whose personal life and professional career have been peppered with controversy.
Asked by reporters about upcoming exhibitions of Hunter Biden's artwork in New York's Georges Berges Gallery, White House Press Secretary Jen Psaki said the president's son would be "attending gallery events."
The discussions about sales "will be happening with the gallerist" and not Hunter Biden, she said.
"That is different than meeting with prospective buyers."
Psaki had announced July 9 that a system had been established allowing Hunter Biden to practice his profession "within appropriate safeguards," including the confidentiality of any transactions and no contact with buyers.
At exhibits of Hunter's work, "the selling of his art will all happen through the gallerist and the names and individuals will be kept confidential," she said.
When pressed that a buyer could simply tell the artist that he or she is purchasing his work, Psaki stressed that a strict rules structure will be in place.
"He will not know, we will not know who purchases his art," she said.
Contacted by AFP, the gallery did not immediately provide any comment or details.
The Biden administration, which seeks to present itself as ethically unblemished, has been repeatedly questioned about the artistic career of the 51-year-old lawyer and businessman-turned-painter.
US media point out the obvious risks of businessmen or others purchasing the artwork with the sole aim of winning access to or influence with the White House.
Press reports have said the paintings by Biden, who has had no formal training, could sell for up to half a million dollars.
Hunter Biden is one of former president Donald Trump's favorite targets.
During the 2020 presidential campaign Trump and his supporters regularly criticized Hunter Biden for his economic interests in Ukraine and China when his father was vice president under Barack Obama.
Hunter is also the target of a federal investigation into possible tax crimes.
In a memoir published earlier this year, the president's youngest son recounted his struggle with addiction to cocaine and alcohol.
© 2021 AFP
Art exhibits return to Callander's Alex Dufresne gallery – BayToday.ca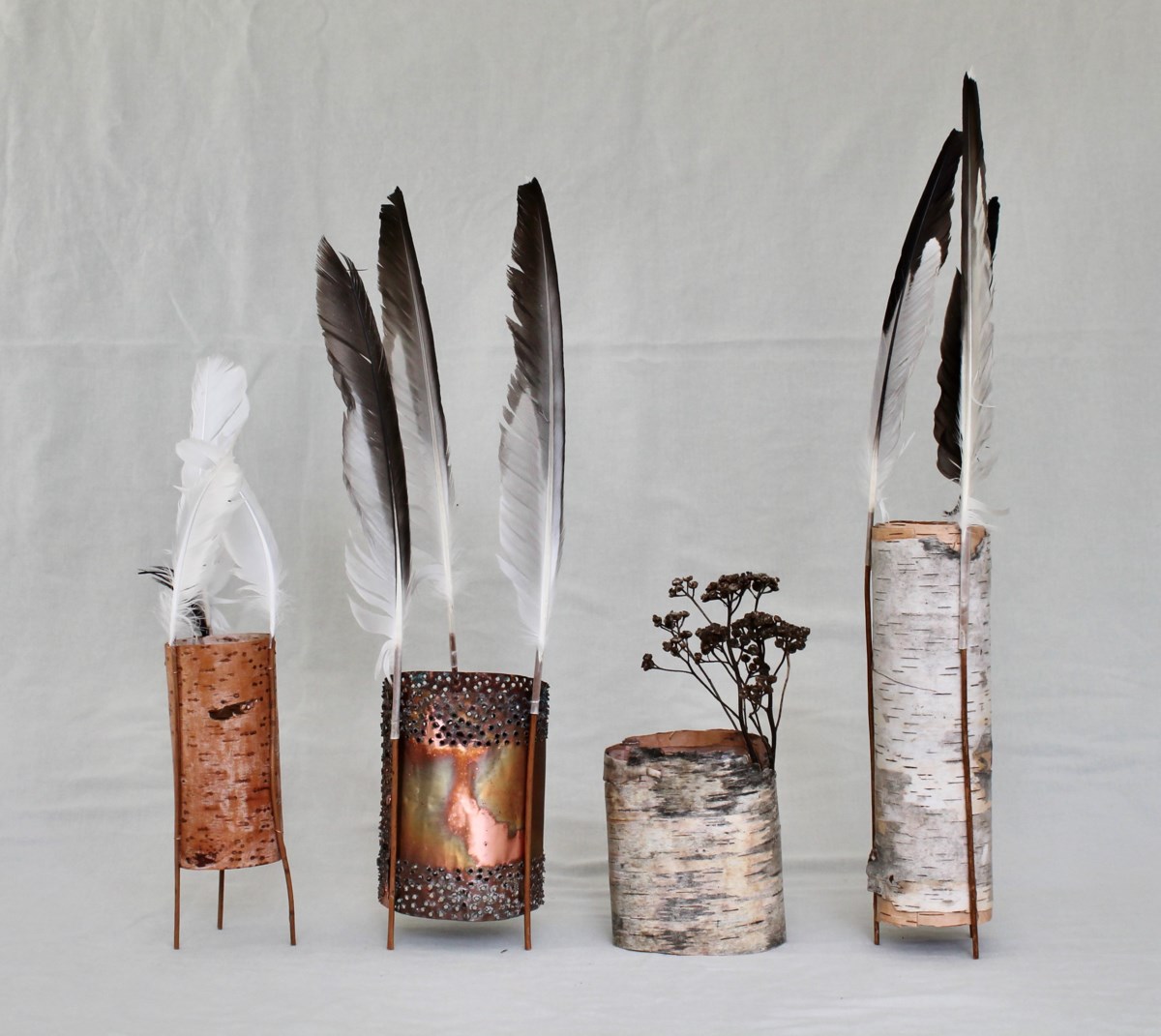 After a long hiatus, art shows are returning to the Alex Dufresne Gallery at the Callander Bay Heritage Museum this Saturday.
The works of Carole Davidson and Sara Carlin-Ball are highlighted in an exhibit entitled "Journeys to a Conversation with Nature."
In a release promoting the show, Davidson and Carlin-Ball explain the "works display a felt presence of our natural environment in unexpected materials and surprising subjects."
Their goal in selecting the pieces for the exhibit is to capture "the luscious spectacular that is Nature, Muse, Essence," and emphasize how these "inspire the audience to revision their place – their gratitude and responsibility – on this Earth."
See: Callander museum reopens from COVID with new art show
"It feels absolutely wonderful to have art back on the walls," said Natasha Wiatr, the gallery's curator.
The last show was this past April but did not last long before Covid regulations closed the event. Since then, "the walls have been empty."
"We haven't consistently had shows in what feels like so long," she said, and is pleased to launch what will hopefully be a long stretch of exhibits.
Currently, the gallery is booked until 2023, "and we've added two more shows per year," Wiatr explained.
"We see ourselves as a community-based gallery," she said, and as such, strive to present as many local artists as possible.
See: White Water Gallery has a new executive director
The Museum and Art Gallery are open Tuesday to Saturday from 10:00 – 5:00 p.m.
The gallery can hold 14 people at once, and walk-ins are welcome. Appointments can also be booked ahead of time at www.mycallander.ca/gallery.
Staff remind to you please wear a mask when you visit and maintain social distance.
Admission to the museum is $5 for seniors and students, $4.50 for kids 6-12, free for children under 6 and adults pay $5.50. Family rate for 4 is $15. Entrance to the gallery is by donation.
See: Mattawa museum celebrates reopening with Community exhibit
Callander museum reopens with art show – The North Bay Nugget
Article content
The art show Journeys to a Conversation with Nature will reopen the Callander Museum and Alex Dufresne Gallery Saturday.
Article content
The works of Carole Davidson and Sarah Carlin-Ball will remain on display to Aug. 20.
"There is an essential longing for life that erupts in a luscious spectacular that we call Nature," the artists said in a statement.
"The human animal is a part of this longing for life that some might call a Muse – a Muse for artists of every passion and discipline. Artists are at the mercy of their muse and transcribe whatever is whispered to them about life, people, and the compelling natural environment they belong to.
"One may be a studied artist haphazardly trained while another may be an experimental soul, interpreting the ever-changing environment around her."
Influenced by the gifts of their lives and the natural offerings around them, each artist interprets what touches her soul. Each piece of art tells a portion of her journey, calling to the viewer to look more closely at what life has to teach us.
Carlin-Ball's muse slumbered as she was raising her children and working. As soon as she could make time, there was an explosion of experimentation driven by her mantra 'What would happen if…?'
Mistakes happily romped with successes. Now, her careful, unique presentations interpret life and nature, and challenge one's imagination.
As she learned of the melting of the muskeg and the possibility that Canada will soon lose that habitat and vibrant spring bloom, Carlin-Bell felt the compulsion to replicate that vital image with unexpected media: patinated and fired copper was punched and threaded through with fibre knotted to create the blooms and surface stems.
Article content
Eventually, the vibrant muskeg spring emerged.
For Davidson, nature was a refuge she quietly celebrated with natural and cultivated talent for art and writing. A busy and brief career in graphic design took over until disabling MS symptoms forced (or allowed) her to slow down.
She began a meditation practice to cope with symptoms and immediately began painting again.
Her creative work parallels her spiritual path and the subjects of her study get smaller and smaller as she has the opportunity to stop and notice. She finds joy in a yellow spider on a sunflower or a nest full of baby robins.
Together, their works display a felt presence of our natural environment in unexpected materials and surprising subjects.
The Museum and Art Gallery are open Tuesday to Saturday from 10 a.m. to 5 p.m. Appointments can be booked ahead of time at www.mycallander.ca/gallery and the museum and gallery also welcome same-day walk-ins.
Those visiting are asked to wear a mask and social distance.
The museum and art gallery are located at 107 Lansdowne St. E., Callander.