57 new cases of COVID-19 in Interior Health – Williams Lake Tribune – Williams Lake Tribune
Interior Health (IH) is reporting 57 new cases of COVID-19 on Wednesday, Dec. 30.
The new cases of the virus bring the region's case-count to 3,806 since testing began.
A total of 636 cases remain active and 36 people are in hospital. Six of those people are in intensive care.
The region remains at a total death toll of 28.
The Big White cluster currently remains at 111 cases, with the next update expected Jan. 5.
Update on IH outbreaks:
Noric House long-term care in Vernon remains at six cases: five residents and one staff.
Heritage Square long-term care in Vernon has 19 cases: 12 residents and seven staff.
Heritage Retirement Residence in West Kelowna remains at 30 cases: 25 residents and five staff, with one death connected to this outbreak.
Teck mining operations remains at 16 IH cases linked to the outbreak.
McKinney Place long-term care in Oliver remains at 75 cases: 54 residents and 21 staff, with 12 deaths connected to this outbreak.
Village by the Station long-term care in Penticton remains at nine cases: five residents and four staff with one death connected to this outbreak.
Mountainview Village long-term care in Kelowna remains at 16 cases: eight residents and eight staff, with two deaths connected to this outbreak.
Across the province, health officials reported 11 deaths and 485 new cases of the virus Wednesday, as a new one-day health order was announced cutting off liquor sales at 8 p.m. provincewide for New Year's Eve.
The order applies to restaurants, pubs and retail stores that sell liquor. As of 9 a.m. Saturday, the earlier order goes back into effect, allowing sales until 10 p.m.
B.C.'s daily cases have declined in recent days, with 382 diagnosed cases reported Tuesday, 441 on Monday, 424 on Sunday, 447 on Saturday and 512 cases last Friday, Christmas Day. Daily reported tests results also declined during the holidays, down to 4,675 on Tuesday after reaching highs of as much as 15,000 tests a day during November and early December.
Do you have something to add to this story, or something else we should report on? Email: michael.rodriguez@kelownacapnews.com
---
@michaelrdrguez
Like us on Facebook and follow us on Twitter.
How to see the upcoming full 'Wolf Moon' – CTV News
TORONTO —
Sky watchers can expect to catch a glimpse of 2021's first full moon, known as the "Wolf Moon," as it lights up the nighttime from dusk till dawn beginning Thursday.
According to NASA, the "Wolf Moon" will be at its fullest on Jan. 28, appearing opposite the sun at 2:16 p.m. EST. However, astronomers say the moon will only be visible to the naked eye after the sun sets around 5:30 p.m. EST, and will remain full into the early hours of Friday morning.
To see the "Wolf Moon," York University astronomy professor Paul Delaney says skywatchers need only look to the eastern horizon. He added that, even if skies aren't completely clear, the brightness of the moon will still shine through.
"It will be up all night so literally impossible to miss if you're watching the eastern horizon," Delaney said in a telephone interview with CTVNews.ca on Tuesday.
"Of course [the moon] will appear bigger on the horizon — that's what we call the moon illusion — as it sort of wanders past trees and houses, but it will climb into the sky, and will be up all night and of course be very, very bright," he said.
If you're an earlier riser, Delaney suggests Canadians look to the western sky during the early hours to catch a glimpse of the moon before sunrise. He also recommends anyone hoping for a photo of the event to turn off their camera flash.
Delaney said the brightness of the "Wolf Moon" will make it easily visible with the naked eye, but says binoculars will reveal more.
"No optical aid is needed to see the moon. Binoculars or a telescope, they improve what you see in terms of detail so you'll actually be able to begin to see some of the craters more clearly," he explained.
While the "Wolf Moon" may seem extra bright, Delaney said there is "no danger to looking at a full moon." He says the worst that may happen is a bit of "sky brightness blindness."
"Because you've been looking at such a bright object, your pupil has dilated down. When you're no longer looking at that bright object, everything around you looks dark. That's just your eye responding to the brightness, it's not dangerous at all," Delaney said.
Delaney says the "Wolf Moon" is the most common name for January's full moon, but it also has plenty of other names given to it by various cultures including "Spirit Moon," "Goose Moon" and "Ice Moon," among others.
"Every month has a full moon… and there are names that have been attached to each of those full moons in each of those months. Literally every Indigenous culture on the planet has got a name for the full moon," Delaney said.
According to the Old Farmer's Almanac, several tribes named the January full moon as the "Wolf Moon" after hearing wolf howls more often during this winter period than in other seasons, likely due to a lack of food sources.
"'Wolf Moon' is something of a historical name and, as the name suggests, is associated with wolves that are of course nocturnal animals, so they're out a lot including in the wintertime," Delaney said.
According to NASA, a full moon happens roughly every 29.5 days, which is the length of one lunar cycle. The next full moon, dubbed the "Snow Moon," will be seen on Feb. 27.
Axiom sends first fully private crew to the ISS in 2022 – SpaceWatch.Global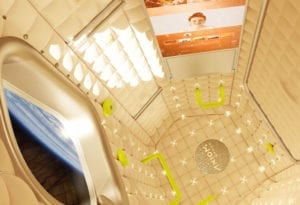 Luxembourg, 27 January 2021. – Pretty starck: The start-up Axiom Space wants to send the first fully private crew to the International Space Station (ISS) on its upcoming AX-1/ SpaceX mission next year, the firm announced.
Michael López-Alegría, a former NASA astronaut and Axiom Vice President, will command the flight, joined by the former Israeli fighter pilot Eytan Stibbe and two private investors, the U.S. real estate entrepreneur Larry Connor and the Canadian investor and philanthropist Mark Pathy, the Houston-based space start-up Axiom said.
The AX-1 mission is scheduled for January 2022. According to media reports and industry sources, the mission costs $55 million per person.
Axiom Space wants to replace the ISS and launch the first private outpost into Low Earth Orbit, as a "commercial laboratory and residential infrastructure in space that will serve as a home to microgravity experiments, critical space-environment materials testing, and private and professional astronauts alike", as the firm says.
Philippe Starck designed the station's interieur, the "Axiom crew accommodations", an egg-like structure symbolizing "nest-like comfort" with "unobstructed views of our home planet", Axiom says.
First ever baby T-rex fossils found in Alberta | News – Daily Hive
For the first time ever, the fossils of a baby Tyrannosaurus Rex have been discovered.
Researchers were able to find a small toe claw in Morrin, Alberta, and a jawbone in Montana.
The findings were published in a study, led by Greg Funston, on Monday, January 25, in the Canadian Journal of Earth and Sciences.
When the team first began their dig, it wasn't even the T. Rex they were searching for.
"Our research in Morrin, Alberta, was looking for troodontid (raptor dinosaurs) material, and investigating potential reasons for why a couple [of] sites had an abundance of their teeth while being rare in other locations," Mark Powers, a University of Alberta Ph.D. student, and the second author on the study told Daily Hive. "It wasn't even on our radar," he added.
During their dig, they discovered the small claw and began the careful process of collecting it from the ground.
"It involved taking bags of sediment from the site and then breaking it down with water while sifting through the material. Once it was collected, it became a test of our hypothesis that it was a tyrannosaur," said Powers.
"To do this, we looked at as many fossils of animals that existed in the same rocks and time, to see if we could falsify our diagnosis. This process is important in order to give as accurate an identification as possible. It is also one of the most fun processes! You basically get to be a detective examining all the clues you have available," Powers added.
There have been thousands of isolated T-Rex bones found, but never at an embryonic stage. There are many factors why finding these fossils at such a young age is incredibly rare.
"Tyrannosaurs grew rapidly, so even at 3 years of age, they were already wolf-sized or bigger," said Powers. "Small animals are thought to break apart or become lost or destroyed before they can preserve. This makes it challenging to find specimens that are either embryonic or freshly hatched. The delicate skeletons were likely broken up by running water or scavenging from predators before they settled in a position where they could fossilize."
While there are already dozens of Tyrannosaur skeletons, finding the fossils of one so young will provide more understanding of the carnivorous dinosaur.
"This gives us a starting point for the ontogeny (growth) of tyrannosaurs. It will allow for more comprehensive studies of their growth and provide a slough of additional avenues of research," said Powers.
The baby rex won't have a name, but could possibly be given one once the specimen is on display. Unofficially, Mark Powers has already given the little dinosaur a placeholder name.
"As of right now, I would give it the title of Tiny Tyrannical Tyke. Alliterative titles are always catchy," said Powers.