$59000 awarded to 27 recipients in second 2022 round of funding for Windsor Arts, Culture & Heritage Fund – City Of Windsor
Forty-seven local artists and creators applied to the City of Windsor's second round of ACHF funding this year. Of these, twenty-seven applicants – twenty-one individuals and six organizations – will receive support for arts, culture and heritage projects in the community.
The funding requests totalled about $180,000. With $59,000 available in this round, the competition was high and the jury had to make difficult decisions. The jury was pleased to see seventeen of the submissions come from first-time applicants, and excited to be able to select fourteen of those to receive funding. The jury selected a strong mix of projects across genres including the visual arts, performing arts, film, music, literary arts and storytelling, and podcasts; and some important projects supporting diversity, inclusivity, heritage and the celebration of humanity in the city of Windsor.
Since the launch of this program in 2014:
750 applications have been submitted for consideration for funding

393 individual projects have received funding

$832,000 has been awarded in project funding to local arts, culture and heritage initiatives benefitting our community.
The City extends congratulations to the following 2022 Round 2 recipients:
Louise Paquette. $5,000. Contemporary Dance Master Classes. Funding for artist fees for dance workshops and classes.
Elliott Hale. $4,000. Falling Through a Dream. Funding for artist fees, venue rentals, and production costs to create a short film.
Jillian Goyeau. $3,750. Talking Violet Music Video Cycle. Funding for artist fees for four music videos.
Tracey Atin. $3,500. Flutter Opera – Phase 2. Funding for artist fees for musicians and singers creating an original opera.
Gavin Booth. $3,500. Sunset Junkies. Funding for artist fees, production and post-production costs for an original dramatic short film.
Frank Varga. $3,000. Dolores Goes Downtown. Funding for artist fees for production costs for a short film.
Jaclyn Meloche. $3,000. Cars & Curves. Funding for artist fees, sculpture material costs, and finishing costs for four large-scale artworks.
Bangladesh-Canada Association Windsor-Essex. $3,000. International Mother Language Festival 2023. Funding for artist fees for Indigenous drummers, multi-discipline artists, dancers and more as part of a community culture and heritage festival.
Kristina Bradt. $2,500. Tiny Art Vending Machine – Phase 2. Funding for artist fees and documentation of an interactive visual arts project.
Paul Murray. $2,500. Music 'n Arts Aid Live! Funding for artist fees and promotion of a multi-genre arts event.
Kamryn Cusumano. $2,350. Uma Loft Sessions. Funding for artist fees, video production and technical fees for an online video series highlighting local artists.
Windsor Classic Chorale. $2,300. Windsor Choral Festival. Funding for artist fees for a music festival.
Brodie MacPhail and Andrew Pardy. $2,000. Drawslaw. Funding for artist fees for an online artist spotlight series.
Filipino Community Centre of Windsor Essex County, Inc. $2,000. Funding for artist and performer fees for a culture, heritage and art festival celebrating diversity and inclusion.
Ashley Crawford. $2,000. Community Concert Series. Funding for artist fees and promotion of a community concert showcasing local artists.
Jamie Greer. $2,000. The History of Pro Wrestling in Windsor, Ontario. Funding for artist fees, photo and artifact licensing for creation of a book on local history.
Mike Hargreaves. $2,000. Mike Hargreaves 2023 EP. Funding for artist fees, session musicians, mixing and mastering, photography, production and video content for creation of an album of original music.
Rami Alsharak. $1,500. ClosetMetics. Funding for artist fees, production costs, editing, and materials for a storytelling project connected to the 2SLGBTQIA+ community.
Windsor Feminist Theatre / Waawiiyaatanong Feminist Theatre. $1,450. Untitled Edele Winnie Play. Funding for artist fees and set design for a theatre production of an original play.
Michael Grainger Harris. $1,200. Huron Lines 'Live in Windsor' Performance Film Project. Funding for artist fees, film and audio production costs for a film project merging music and film across Windsor.
Jacob McLean. $1,200. Mellowdraw. Funding for artist fees, production and promotion of an original music video from an upcoming album.
Trans Wellness Ontario. $1,050. Queer and Trans Community Poetry Project. Funding for artist fees and printing costs for poetry workshops and corresponding chapbook sharing stories of the queer and trans communities in Windsor.
Walter Sviatoslav Petricyn. $1,000. Ojibway. Funding for artist fees, cinematography, sound, score, festival fees and more to begin work on a feature-length documentary on the company town of Ojibway.
Karen Morand. $900. Art Kitchen. Funding for artist fees, production and post-production costs for a podcast focusing on local music and poetry.
The Greater Windsor Concert Band. $800. Funding for venue rental for a special anniversary concert.
Laura Becker. $750. Compendium. Funding for gallery rental, material costs and promotion of a visual art exhibition.
Sarah Jane Baggio. $750. Noctuary Retrograde. Funding for materials and costs associated with creating and exhibiting a new series of paintings.
Of their collective experience working as part of the ACHF Jury for the 2022 funding year, the jurors said:
"I feel so honoured and proud to have been a part of the 2022 ACHF jury. Each round of funding provides us with a clear illustration of the importance and need for arts and culture in our community. Being able to play a role in giving both emerging and established artists the opportunity to continue to work in Windsor is a wonderful feeling and a great way to give back to our community."
"Being a juror on the ACHF was an exciting learning opportunity. Hearing the other jurors' thoughts broadened my own understanding of grant applications, and reviewing the applications reminded me of how much talent and diversity there is in Windsor's arts community."
"I'm so grateful to have been provided the opportunity to sit on the jury of ACHF. It's been a great learning experience about the breadth and quality of the arts, cultural and heritage imagination in Windsor. As Albert Einstein once said, 'Imagination is everything. It is the preview of life's coming attractions.' And I truly believe that we enable many 'coming attractions' through this fund."
The City extends thanks to the ACHF jury members who participated in the evaluation of the 2022 ACHF funding rounds. The jury consisted of the following:
David Burrows – returning juror; theatre and performing artist, arts board member, and teacher.

Kaitlyn Karns – returning juror; former administrative and outreach coordinator (Arts Council Windsor & Region), arts educator, community artist, dance/movement artist, musician, theatre and performing artist, arts administrator, arts board member, and arts programmer.

Madelyn Della Valle – Museum Windsor Curator with extensive experience in heritage and literature; administrator, programmer, educator, community board member; connected to many local heritage and cultural communities including the French and Italian communities.

Moya McAlister – arts education, community arts, media arts, theatre/performing arts, cultural activist, administrator, arts board member, programmer, educator, community board member, works closely with artists and creatives identifying as Black Indigenous and People of Colour.

Alexei Ungurenaşu – Windsor's current Youth Poet Laureate; visual artist, arts administrator, integrated arts, curator, programmer, cultural activist; identifies closely with the LGBTQ2S+ community around gender expression and arts expression.
The ACHF, approved by City Council, awards grants to individuals and cultural organizations to help stimulate creative and economic growth. Each project could be funded to a maximum of $5,000 in a given round. $118,000 in project funding is available each year, administered through two rounds of $59,000 each.
Quotes:
"Since the launch of the City's ACHF grant program, close to four hundred innovative projects have received nearly $850,000 in funding. This program has a significant impact on the creative community while helping to celebrate and share the best of Windsor's arts, culture and heritage sectors with the broader community. I am proud of Council's recent increase to the available funding in the program, which helps us to continue investing in Windsor's quality of life through arts, culture and heritage initiatives."
– Mayor Drew Dilkens
"We remain proud of the ACHF program, and grateful for Council's ongoing support and investment into this important initiative for our creative community. We are grateful to our volunteer jurors who step up to help us support arts, culture and heritage projects through this fund, and we are so very excited to see this latest batch of projects come to life in our community."
– Michelle Staadegaard, Manager of Culture & Events, City of Windsor
Further details on the program guidelines and objectives, application process, eligibility requirements, success stories from previous recipients, and deadline dates for funding rounds as available are posted at www.ACHFWindsor.ca online.
To learn more about arts, culture and heritage services at the City of Windsor, visit www.CityWindsor.ca or call 311.
Is AI Art a 'Toy' or a 'Weapon'? – The Atlantic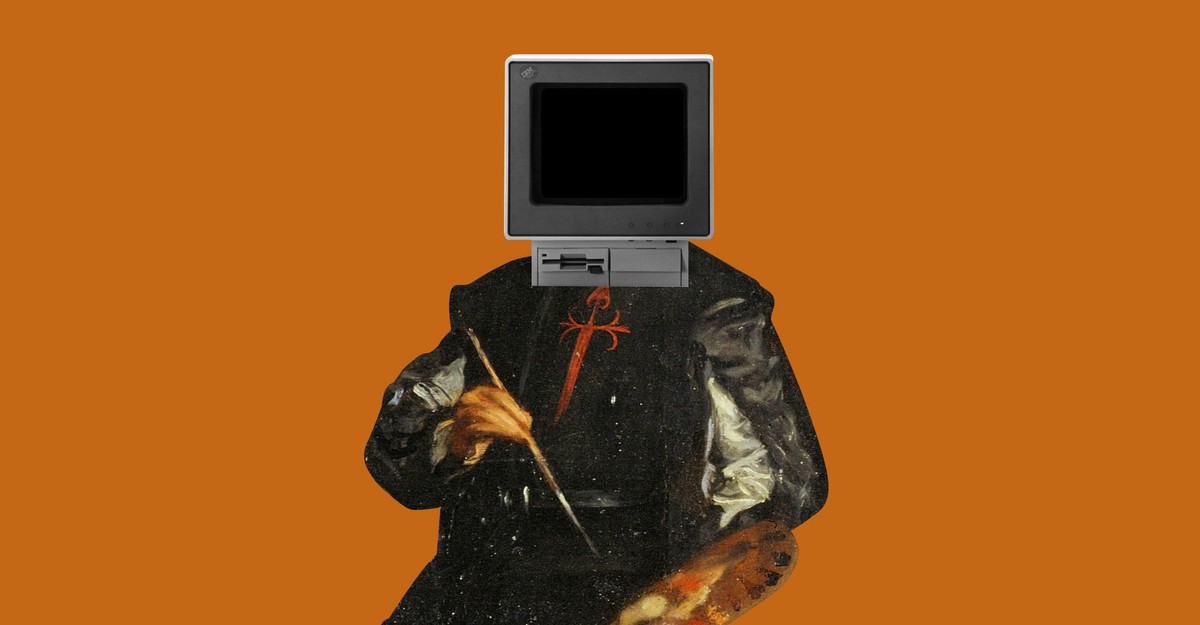 Earlier this year, the technology company OpenAI released a program called DALL-E 2, which uses artificial intelligence to transform text into visual art. People enter prompts ("plasticine nerd working on a 1980s computer") and the software returns images that showcase humanlike vision and execution, veer into the bizarre, and might even tease creativity. The results were good enough for Cosmopolitan, which published the first-ever AI-generated magazine cover in June—an image of an astronaut swaggering over the surface of Mars—and they were good enough for the Colorado State Fair, which awarded an AI artwork first place in a fine-art competition.
OpenAI gave more and more people access to its program, and those who remained locked out turned to alternatives like Craiyon and Midjourney. Soon, AI artwork seemed to be everywhere, and people started to worry about its impacts. Trained on hundreds of millions of image-text pairs, these programs' technical details are opaque to the general public—more black boxes in a tech ecosystem that's full of them. Some worry they might threaten the livelihoods of artists, provide new and relatively easy ways to generate propaganda and deepfakes, and perpetuate biases.
Yet Jason Scott, an archivist at the Internet Archive, prolific explorer of AI art programs, and traditional artist himself, says he is "no more scared of this than I am of the fill tool"—a reference to the feature in computer paint programs that allows a user to flood a space with color or patterns. In a conversation at The Atlantic Festival with Adrienne LaFrance, The Atlantic's executive editor, Scott discussed his quest to understand how these programs "see." He called them "toys" and "parlor game[s]," and did a live demonstration of DALL-E 2, testing prompts such as "the moment the dinosaurs went extinct illustrated in Art Nouveau style" or "Chewbacca on the cover of The Atlantic magazine in the style of a Renaissance painting" (the latter of which resulted in images that looked more canine than Wookiee). Scott isn't naive about the greater issues at play—"Everything has a potential to be used as a weapon"—but at least for a moment, he showed us that the tech need not be apocalyptic.
Their conversation has been edited and condensed for clarity.
Watch: Atlantic executive editor Adrienne LaFrance in conversation with Jason Scott
---
Adrienne LaFrance: When we talk about AI art, what do we even mean? How does it work?
Jason Scott: So what we're calling "AI art"—by the way, they're now calling it "synthetic media"—it's the idea of using analysis of deep ranges of images, not just looking at them as patterns or samples, but actually connecting their captions and their contexts up against pictures of all sorts, and then synthesizing new versions from all that.
LaFrance: So basically a giant database of images that can be drawn from to call to mind the thing that you prompt it to make.
Scott: Right.
LaFrance: And why is it exploding now? It seems like various forms of machine learning and AI have really accelerated in recent years.
Scott: They let it out of the lab and let regular people play with the toys. Across the companies that are doing this, some are taking the model of We'll let everyone play with it now—it's part of the world.
LaFrance: When you think about the implications for this sort of technology, give us an overview of how this is going to change the way we interact with art, or whatever other industries come to mind. For instance, at The Atlantic we have human artists making art. I'm sure they might have strong feelings about the idea of machines making art. What other industries would be potentially affected?
Scott: Machines are becoming more and more capable of doing analysis against images, text, music, movies. There are experimental search engines out there that you can play with and say things like "I need to see three people around a laptop." And previously it would have to be three people in the laptop, but it actually is starting to make matches where there's three people in the room. And the weirder and more creative you get with this toy, the more fun it gets. I see a future where you'll be able to say, "Could I read a book from the 1930s where it's got a happy ending and it takes place in Boston?" Or, "Can I have something where they fell in love but they're not in love at the end?"
LaFrance: I have more questions, but I think now it'd be a good time to start showing people what we mean. Do you have some examples?
Scott: I have some examples of things that I did. So this is "detailed blueprints on how to build a beagle."
"Detailed blueprints on how to construct a beagle" pic.twitter.com/blZSVJyMXd

— Jason Scott (@textfiles) July 15, 2022
LaFrance: So these are prompts that you gave the model, and this is what came out of it?
Scott: Yes. For the people who don't know how this whole game works, it's pretty weird. You usually type in some sort of a line to say, "I'm looking for something like this," and then it creates that, and then people get more and more detailed, because they're trying to push it. Think of it less as programming than saying to somebody, "Could you go out there and dance like you're happy and your kid was just born?" And you'll watch what happens. So it's kind of amorphous. This is a lion using a laptop in the style of an old tapestry. This is Santa Claus riding a motorcycle in the style of 1970s Kodachrome. This is Godzilla at the signing of the Declaration of Independence. This is a crayon drawing of a labor action. These are bears doing podcasts. This is GoPro footage of the D-Day landing.
I'm always playing with it, and the reason you're hearing all those strange prompts from me is because I want to understand: What are these systems seeing? What are they doing? It's so easy as a parlor game to say, "Draw a cellphone as if it was done as a Greco-Roman statue." But what about doing a bittersweet sky, or trying to draw a concerned highway? What does it see?
LaFrance: What does this suggest to you about the nature of art? This gets to be sort of an existential question, but is it still human-made art in the way that we think of it, and should we be bothered by that? I mean, we use all sorts of tools to make art.
Scott: Everyone is super entitled to their own opinion. All I can say is, I did drawings in a zine in my teens; I was a street caricaturist; my mother was a painter; my father does painting; my brother's a landscape artist. And coming from that point of view, I am no more scared of this than I am of the fill tool or the clone brush [in Photoshop]. Everything has a potential to be used as a weapon—imagery, words, music, text. But we also see an opportunity here for people who never knew that they had access to art. I can almost hear the gears crack and start moving again when I go to somebody and I'm like, "Could you give me something to draw?" And they do it and they see how it goes. I can't get angry at that particular toy. But I won't pretend that this toy will stay in its own way neutral, or even is neutral now.
LaFrance: I was talking to a colleague about these sorts of tools the other week, and we were really compelled by the idea of being able to visualize dreams. What other sorts of things—fiction comes to mind—can we imagine but don't normally get to visualize?
Scott: I love telling these AIs to draw "exquisite lattice work"—using phrases like exquisite or rare—or give me "leather with gold inlay on a toaster," and watching it move into that world and design things in seconds that aren't perfect, but are fun.
LaFrance: We're going to experiment, which is always dangerous. You're never supposed to do stuff in real time. But I have some prompts for you.
Scott: This is DALL-E. There are many others. Think of it just like early web servers or early web browsers. There's a bunch of companies with various people funding them or doing things their own way.
[Scott now leads LaFrance through a demonstration of DALL-E 2: It's included in the video embedded above.]
Scott: We see the ability to do everything from intricate pen-and-ink drawings to cartoons. People are using it now to make all sorts of textures for video games; they are making art along a theme that they need to cover an entire wall of a coffee shop; they're using it to illustrate their works. People are trying all sorts of things with this technology and are excited by it.
Tribune's Ruth Lloyd winner of 2022 Downtown Williams Lake Art Walk grand prize draw – Williams Lake Tribune – Williams Lake Tribune
The 2022 Downtown Williams Lake Art Walk grand prize draw winner was the Tribune's own Ruth Lloyd.
Those who walked around to local businesses to view the art on display were able to get a stamp for their "passport" at each business, and after 15 stops were able to enter into the draw for prizes, and after 30 participants were elligible for two entries.
Lloyd managed to make it through the entire 30 artists on display in 30 businesses in the downtown core over the weeks of art walk, taking in a few at a time on her lunch breaks.
When called and told she was the winner of the grand prize draw for a $500 gift certificate for art with her favourite artist she asked, "How can I pick just one?"
Instead, she asked to split the $500 between two artists, and settled on Lesley Lloyd, a ceramics artist, and Maureen LeBourdais, textile artist.
She then posed for photos with each artist and someone from the business which hosted the artist during art walk, Tammy French of Lo's Florist and Hope Tallen of Kit and Kaboodle.
---

ruth.lloyd@wltribune.com
Like us on Facebook and follow us on Twitter
Arts and cultureArts and EntertainmentLocal BusinessVisual ArtsWilliams Lake
Look Inside the $1 Billion Sale of Paul Allen's Art Collection – BNN Bloomberg
(Bloomberg) — The details of what could be the most expensive single-owner auction in history are starting to take shape.
On Wednesday evening, Christie's announced highlights from the late Microsoft co-founder Paul Allen's estate, whose roughly 150 artworks are anticipated to bring in more than $1 billion. Allen died in 2018.
Topping the list is a Cézanne landscape which carries an estimate "in excess of" $120 million. A Van Gogh landscape and a Seurat interior are both estimated at $100 million. Together, estimates for the top 10 paintings announced by the auction house total $765 million.
The sale, whose proceeds will go to charity, will possibly be the most extreme test of the art market ever, but it comes at a time of deep uncertainty in the the global financial markets. The quality and rarity of Allen's artworks are unquestionable; the prices, however, are steep enough to give even billionaires pause.
The auction will take place in New York in two parts—an evening sale on November 9, and a morning sale on November 10. Check out some of the highlights and estimates (all of which are listed "in excess of") below.
$120 Million for ​​La montagne Sainte-Victoire (1888-1890) by Paul Cézanne
$100 Million for Verger avec Cyprès (1888) by Vincent Van Gogh
$100 Million for Les Poseuses, Ensemble (Petite version) (1888) by Georges Seurat
$90 Million for Birch Forest (1903) by Gustav Klimt
$90 Million for Maternité II (1899) by Paul Gauguin
$75 Million for Large Interior, W11 (after Watteau) (1981-1983) by Lucian Freud
$60 Million for Waterloo Bridge, Soleil Voilé (1899-1903) by Claude Monet
$50 Million for Le Grand Canal à Venise (1874) by Edouard Manet
$50 Million for Small False Start (1960) by Jasper Johns
$28 Million for Concarneau, calme du matin (Opus no. 219, larghetto) (1891) by Paul Signac
$25 Million for Three Studies for Self-Portrait (1979) by Francis Bacon
©2022 Bloomberg L.P.