5G alone won't be enough to justify buying an iPhone this year – The Verge
This week, Apple will announce this year's new iPhones. We're expecting there to be four of them: the iPhone 12 Pro, iPhone 12 Pro Max, iPhone 12, and a smaller one that might be called the iPhone 12 mini. Apple's invitation for its Tuesday event included the catchphrase "Hi, Speed." Weird capitalization decisions aside, the "speed" hint embedded in the tagline lines up with the rumors: these will be the first 5G-enabled iPhones.
If you're looking to buy a new iPhone this year, even before I see these phones I can provide this simple piece of advice: don't buy one just because it has 5G.
That's been my advice for every single 5G-enabled Android phone that's been released thus far, and unless Apple has some reality-defying modem that enables 5G speeds in more places, it's my advice for the upcoming iPhone as well.
The problem with 5G is that it's not good yet. In a comprehensive, US-wide test of 5G speeds, PC Mag found them seriously lacking. In many cases 5G speeds were actually slower than 4G speeds. And the study also found that the other hyped-up reason for 5G, low latency, also isn't here yet.
That all lines up with my experience using 5G on T-Mobile in the Bay Area. When it's faster, it's only nominally different. Often it's slower and just as often it seems to have a sharper dropoff to no data at all than 4G LTE. After a year of testing 5G Android phones, I have yet to believe that 5G is the most important part of any of them.
The reason for these speed and latency issues comes down to some complicated spectrum limitations. Which means that in the future the carriers will be able to unlock faster speeds for 5G, but it's not going to happen overnight. Here's how PC Mag's Sascha Segan characterizes the current state of 5G play:
AT&T, T-Mobile, and Verizon take very different approaches to 5G. To make a long story short, AT&T 5G right now appears to be essentially worthless. T-Mobile 5G can be a big boost over 4G, but its speeds are only what we'd expect from a good 4G network—it isn't a new experience. Verizon's 5G is often mind-blowing, but very difficult to find.
As you've likely heard by now, there are really two different kinds of 5G for phones, each operating in different parts of the radio spectrum. There's what's called "sub-6" 5G that's similar to LTE in how it can travel longer distances and penetrate buildings. Then there's mmWave 5G, which is what Verizon has been deploying so far. It does provide blisteringly fast speeds, but only if you can find it.
I often joke that mmWave is great if you're wiling to park in one spot outside next to a specific Verizon tower in a specific city — but it's not really a joke. Verizon's 5G is so difficult to find and use that I'm legitimately baffled as to why anybody would want to spend the extra money to build it into a phone. I'm doubly baffled that many phones cost $100 or more extra for mmWave compatibility.
Except I'm not baffled, not really. The last few years have seen the growth of the 5G Hype Industrial Complex. US carriers, Qualcomm, and phone manufacturers have all collaborated (one might say colluded) to drive a huge cycle of hype for 5G. They've promised streaming games, telemedicine, self-driving cars, and rural broadband for all. Some of those promises will come to pass, but the plain trust is that the networks aren't anywhere close to ready, and these 5G phones are the clearest evidence of the gap between hype and reality.
We always give the same advice when reviewing a phone: don't buy something today in the hopes of future updates making it better. Usually this advice applies to software, because so many promises that bugs will be truly addressed come to nothing.
For 5G, that advice still holds — but there is some nuance to it. I don't think you should buy a phone because it has 5G, but if the phone you already were looking at has 5G, go for it.
Phone upgrade cycles are slowing. More people are keeping their phone for longer. I think this is a great thing: it means phones are good enough to last multiple years, it means less waste, and it saves consumers money. But given a timespan of two or three or more years, getting a 5G phone could make some sense, even if it's not yet something to seek out.
Buying a 5G phone this year is insurance against the future more than it is an immediate benefit today. Some upgrades are big enough to push an upgrade cycle even if you weren't planning on it. 5G isn't that kind of upgrade this year, but it doesn't hurt to have if you were planning on upgrading anyway.
To bring it back to the new iPhones, my fear is that Apple is going to become part of that 5G Hype Industrial Complex. It's disingenuous to promise immediate benefits from 5G — at least in the US — and I hope Apple doesn't succumb to the temptation to do so.
The new iPhones ought to have other big reasons to update: a new design, better cameras, intriguing AR features, or other things I haven't thought of. Any of those things could be a great reason to buy a new iPhone this year. Just getting 5G is not one of them.
League of Legends: Wild Rift cinematic trailer revealed – Dot Esports
To coincide with League of Legends: Wild Rift's move into regional open beta the team at Riot Games has released an impressive cinematic trailer for the mobile game.
The trailer showcases many of the champions available in Wild Rift as they face off against each other to the tune of a remixed version of The Kinks hit song "You Really Got Me".
Players who reside in Regions currently serviced in the closed beta testing will now have unrestricted access to the beta, allowing new players to download and participate without being approved.
Both IOS and Android app stores will have the game available for their users to download in the included regions with more regions to come later in 2020 and into 2021.
Wid Rift offers mobile players a similar experience to that available on the League of Legends computer game with slight alterations to help the game function better on a mobile device. These include changes to champions kits that work better with the controls scheme as well as changes to gameplay that will see game times drastically lower than players' experience on the PC counterpart.
With COVID causing setbacks in Wild Rift's development and release, players in America will have to wait into 2021 before they are able to finally get their hands on the game.
iPhone 12 boasts latent reverse wireless charging feature, FCC filing suggests – AppleInsider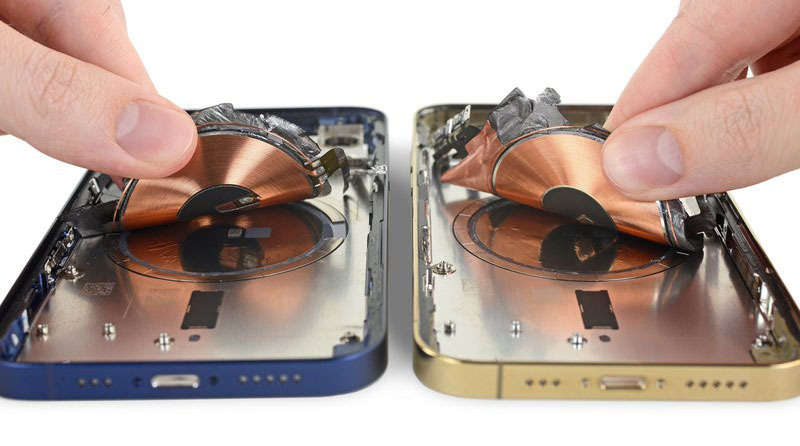 A Federal Communications Commission filing hints at a latent iPhone 12 feature that could one day allow the handset to wirelessly charge other accessories.
Apple's iPhone 12 series could be hiding a major feature that was rumored to debut with last year's iPhone 11 devices. Known as reverse wireless charging or "bilateral" wireless charging, the functionality enables smartphones to use their inductive charging coil to juice up smaller accessories or even other phones.
Evidence that Apple's new iPhone range might support the feature showed up in a recent regulatory filing detailing the company's 2020 handsets. Discovered by VentureBeat's Jeremy Horwitz, the document seemingly references the new MagSafe protocol that debuted alongside iPhone 12 this month.
"In addition to being able to be charged by a desktop WPT charger (puck), 2020 iPhone models also support WPT charging function at 360 kHz to charge accessories [including] an external potential apple accessory in future," the filing reads, according to Horwitz.
While mere speculation, the feature as described could enable charging of attached MagSafe accessories, including unannounced devices like a next-generation AirPods product. Just yesterday, Bloomberg reported that Apple will deliver new AirPods models, including a second-generation AirPods Pro, in early 2021.
Apple was previously rumored to bring reverse charging to iPhone in early 2019. At the time, TF Securities analyst Ming-Chi Kuo predicted that year's iPhone — what would become iPhone 11 — to feature "bilateral" wireless charging. The report was later seconded by supply chain sources, though Apple ultimately nixed those plans.
Today's discovery suggests Apple continued work on the charging feature and integrated functionality into its MagSafe protocol. In theory, reverse wireless charging could be activated via a software update, but it remains unclear if and when Apple intends to do so.
iPhone 12 Models Might Support Reverse Charging of Future Apple Accessories According to FCC Filing – MacRumors
Arun Maini today shared a new side-by-side iPhone battery life video test on his YouTube channel Mrwhosetheboss, timing how long the new iPhone 12 and iPhone 12 Pro models last on a single charge compared to older models, with equal brightness, settings, battery health, and usage. All of the devices are running iOS 14 without a SIM card inserted.
In the test, the iPhone 11 Pro outlasted both …