6 big storylines to watch in NHL's Canadian division – Sportsnet.ca
Though we don't know just yet how many cities in Canada are set to host NHL hockey in 2021, we have official word the league's seven Canadian squads will face nobody but each other while competing in the North Division.
Hockey heads who reside above the 49th parallel are understandably excited about this unique situation. But is grouping the seven teams that reside in provinces as opposed to states actually going to shortchange some Canadian fans?
If this were a normal season with the Canadian clubs spread throughout the NHL's four divisions, six of the seven squads — the rebuilding Ottawa Senators are off to the side for now — would be massively disappointed with missing the playoffs. Under the format we face in 2021, where there will be no crossover seeds to snatch, no more than four Canadian teams will reach the post-season. That leaves two organizations with high hopes on the outside looking in. The flipside, mind you, is we're guaranteed to have one Canadian team in the Stanley Cup semifinals.
It might be a stretch to say five people would produce five distinct power rankings of these clubs, but there's no debating they're a tightly bunched pack. The gap between the best team and the sixth-best outfit is much closer in size to Prince Edward Island than Saskatchewan.
Rather than taking a stab at who will come out on top, we thought it prudent to drill down on some dynamics of this one-off division. With that in mind, here are six all-Canadian considerations for the coming year.
While high hopes exist across the country, this was a relatively easy answer. If Toronto makes the playoffs — which, it's worth remembering, was no slam dunk when play halted last March — and fails to advance past Round 1, that will make it a half-decade of playoff one-and-dones since Auston, Mitch and Willy rolled into town. They've spent the money; they're tinkering with toughness; they've endured the gut-punches — it's time to grow up and make good on the potential.
That scraping sound you heard in early fall was GM Marc Bergevin scratching item after item from his to-do list. The Canadiens added a top-flight backup in Jake Allen, proven scoring in Tyler Toffoli and a mobile big man on the blue line in Joel Edmundson. If Josh Anderson — acquired in the trade that sent Max Domi to Columbus — is the six-foot-three scoring threat they envision and young centres Nick Suzuki and Jesperi Kotkaniemi take appreciable steps, the Canadiens will be much better than the club that wasn't going to sniff the playoffs last year.
Big Changes Could Be Coming Team: Calgary Flames
While the Leafs have the most to prove, the fallout from a Toronto failure still seems like it could exist on the fringe of the core. If things go sideways in Southern Alberta, watch out. Captain Mark Giordano is 37 years old; GM Brad Treliving has been on the job since 2015, taken some huge swings and has yet to see his vision come to fruition; point-producing Johnny Gaudreau can become a UFA in 18 months and may be the best player in the league who often sees his name in trade speculation.
Treliving made a strong win-now move by signing goalie Jacob Markstrom away from the Vancouver Canucks. If Calgary shows poorly this season, everything will be on the table.
Yamamoto made his season debut on New Year's Eve last season and spent the next two-plus months looking like a top-six star. Playing on the second line with Leon Draisaitl and Ryan Nugent-Hopkins, the tiny right-winger netted 11 goals and 15 assists for 26 points in 27 games. If the slick 22-year-old — who has played just 53 total NHL games over the course of three seasons — can continue that kind of production, it will give Edmonton's top two lines the balance the Oilers have been searching for ever since No. 97 entered the league.
If you're looking for a breakout candidate with even less of a track record than Yamamoto, zero in on Flames defenceman Juuso Valimaki. After missing all of last season and the playoffs with a knee injury sustained during summer training in 2019, Valimaki was the best defenceman in Finland's top league this fall. He could go from playing exactly zero games with Calgary last year to a vital member of the D-corps in a hurry.
Biggest X-Factor: Vancouver's Goalies
Markstrom provided the Canucks with some of the league's steadiest goaltending over the past five years and kicked it up to another level last season, finishing fourth in Vezina Trophy voting. Now he plays for a team in Calgary that's a division rival even when there isn't a global pandemic.
Markstrom's departure creates a question mark on the Pacific coast, but not necessarily a problem. Thatcher Demko has size, pedigree and an unbelievable playoff showing from last summer to hang his hat on. His battery mate, newcomer Braden Holtby, was an integral piece of a Cup winner just two-and-a-half years ago. Holtby's numbers have not been flattering the past couple seasons and Demko has a grand total of 25 starts in his career. If they can both show their best sides, though, the crease should remain a strength for the Canucks. If not, all that bright future talk will get a little cloudier.
Not long after being drafted third overall by the Ottawa Senators in early October, Stuetzle broke his hand during training with the Mannheim Eagles. He's back on the ice now and will be part of Germany's entry at the world junior hockey championship. That competition should have him hit the ground running when he joins the Senators at training camp. The six-foot-four Stuetzle can play centre or wing and has all the abilities required to step in and make an immediate impact against the big boys.
The 22-year-old Valimaki actually remains Calder eligible because he played just 24 NHL games in 2018-19, so he has to be mentioned here. The Canadiens organization is also tap-dancing over the potential of Russian blueliner Alexander Romanov, while Nick Robertson will have the attention of Leafs fans everywhere.
Aaron Rodgers laments Packers uncertain future: 'Myself included' – TSN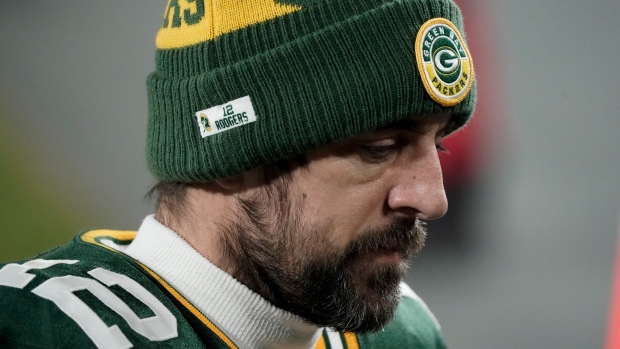 Aaron Rodgers was lamenting the sudden end of a remarkable season he'll treasure long after he's retired, running through a list of Green Bay Packers teammates he's grown the closest to.
"There's a lot of guys' futures that are uncertain, myself included," Rodgers said, managing a slight laugh as if to momentarily soften this harsh reality in the immediate aftermath of the loss to the Tampa Bay Buccaneers in the NFC championship game. "That's what sad about it most."
The 37-year-old produced by most measures in 2020 the finest performance of his brilliant career, making him a leading contender for a third NFL MVP award.
The Packers went 13-3 for the top seed in the NFC, cruising past the Los Angeles Rams in the divisional round and finally giving Rodgers a home game to play for a spot in the Super Bowl. His other four shots at it as the starter, including the win at Chicago (2010 season) that preceded his only championship, were on the road. They lost in the semifinals at San Francisco (2019), Atlanta (2016) and Seattle (2014).
Ten years and counting since the Packers won it all with Rodgers, this 31-26 loss to Brady and the Bucs will sting for awhile. Especially considering what happened last spring, when Green Bay drafted quarterback Jordan Love in the first round. Rodgers is signed through 2023, but that sure doesn't guarantee in this league that he'll stay that long — or that he'd want to.
"I'm going to have to take some time away for sure and clear my head and just kind of see what's going on with everything, but it's pretty tough right now," Rodgers said. He later added: "It's a grind to get to this point, and that makes the finality of it all kind of hit you like a ton of bricks."
Rodgers went 33 for 48 for 346 yards and three touchdowns, but this wasn't exactly his best. He had one interception that Tampa Bay used to set up a last-second touchdown before halftime and completed only two of nine attempts on goal-to-go situations. He also took five sacks.
Both of his goal-to-go completions went for scores, though, and coach Matt LaFleur twice took away a fourth-down chance to finish a drive in the end zone by settling for short field goals.
The fourth-and-8 decision with an eight-point deficit and 2:09 left — after Rodgers left the pocket and threw an incompletion to Davante Adams, eschewing the alternative of running for the pylon — was the surprisingly safe choice that Packers fans will have to chew on for years. Rodgers didn't agree with it, though he used his words carefully.
"I understand the thinking, above two minutes with all of our timeouts, but it wasn't my decision," Rodgers said.
He was frustrated, of course, by the consecutive three-and-outs in the fourth quarter after the defence came up with interceptions No. 2 and No. 3 of Brady. He was mad about the pass interference call on Kevin King that allowed the Bucs to extend their drive with 1:41 left and salt the game away.
Mostly, though, Rodgers sounded sad about what he won't get to do anymore this season — play with a Packers team that he enjoyed as much as any of his career.
There's no telling that Love would actually be ready, if the conclusion were to be reached, mutually or not, that the Rodgers era in Green Bay has ended. Throughout his video news conference with reporters from the basement of Lambeau Field, however, Rodgers sure sounded a lot like a guy saying goodbye.
Will he be back in green and gold?
"I certainly hope so," LaFleur said. "The guy is the MVP of this league. He's the heart and soul of this football team. Hell yeah, he better be back here. He's our leader. Just so appreciative of him buying into what we're trying to get done around here and believing in that group. I feel for him to be in this situation and for us not to get it done. It hurts."
___
More AP NFL coverage: https://apnews.com/NFL and https://twitter.com/AP_NFL
Player grades: Jesse Puljujarvi has game of his life as Edmonton Oilers beat Winnipeg Jets in a thriller – Edmonton Journal
Article content continued
Josh Archibald, 4. Quiet game, too quiet for a forward.
Ethan Bear, 7. His game is back in sync. He got beat by Scheifele on a rush to the Edmonton net in the second. He and Nurse failed to shut down a nasty one-handed tip off the rush by Ehlers in the third. But overall played well in tough situations.
Darnell Nurse, 7.Has played like a No. 1 d-man these last three games, a real No. 1 d-man. Not a perfect game, but a super solid one. He turned over a puck in the second leading to an iffy moment in his own zone, but quickly recovered by deflecting a pass out of danger, then throwing. a forearm shiver to bash a Jet attacker into the boards. Made a solid block on a pass on a Jets power play in the second. The power play finally looked good when he took over from Barrie.
Adam Larsson, 7. He had a strong, hard and effective stick on defence all game. Made a strong play to cut out an Ehlers centering pass late in the first. Not one major mistake on a Grade A chance against at even strength all game, even as the team was often under heavy pressure when he was out there.
Slater Koekkoek. 6. He's become a Steady Eddie of the Oil's blueline. He made a fantastic sliding blocked shot on Perreault in the slot in the second.
Kris Russell. 6. Solid, smart defensive play the whole game. Had a bad luck deflection in the slot fly into his own net. That's gotta hurt.
Tyson Barrie. 4. He made four major mistakes on Grade A chances against at even strength, so not his sharpest game back there. On the power play in the first he hit Draisaitl in the skates on a pass, part of the disconnect we're seeing on the power play. He failed to cover his man, Mason Appleton, on a dangerous, dangerous, dangerous shot in the second.
Mikko Koskinen, 6. He was a bit too slow getting across the net on Winnipeg's first goal. He came up with a huge save off Josh Morrissey later in the first after Ennis and Kassian's rancid line change. He wasn't tested much in the second, but came up with a whale of a save off Mason Appleton. I can't fault him on either third period goal. Played well enough for Oilers to win.
Patrick Mahomes, Kansas City Chiefs dominate Buffalo Bills to earn 2nd straight trip to Super Bowl – TSN
KANSAS CITY, Mo. — It took the Kansas City Chiefs five frustrating decades to make their third Super Bowl appearance.
Now, the defending champs are headed there for the second straight year.
Showing no lingering effects from his concussion, Patrick Mahomes sliced up Buffalo's secondary with ruthless efficiency Sunday night, helping the Chiefs roll to a 38-24 victory over Josh Allen and the Bills in the AFC championship game.
The reigning Super Bowl MVP finished with 325 yards passing and three touchdowns, most of it to favourite targets Travis Kelce and Tyreek Hill, who complemented their star quarterback with a record-setting night of their own.
The Chiefs will face a familiar foe — Tom Brady — and the NFC champ Buccaneers in two weeks in Tampa, Florida.
"It was just trusting each other. The best thing about this team is we believe in each other," said Mahomes, who was also dealing with a toe injury. "But the job's not finished. We're going to Tampa; we're trying to run it back."
Kelce finished with 13 catches for 118 yards and two touchdowns, and Hill added nine catches for 172 yards, becoming the first duo in NFL history with consecutive games of at least 100 yards receiving each in a single post-season.
Clyde Edwards-Helaire and Darrel Williams added short TD runs for the Chiefs, who will try to become the eighth franchise and first team since the Brady-led New England Patriots in 2003 and '04 to defend the Lombardi Trophy.
"So glad to get to do it again," said Chiefs chairman Clark Hunt, whose father Lamar founded the franchise. "Thought a lot about my dad tonight, thought about my family and how excited my father would have been that we got to do it again in Arrowhead Stadium. That's what he would have liked the most about it."
Allen, who had his worst game of the season in a Week 6 loss to the Chiefs, again struggled against the blitzing Kansas City defence. He finished with 287 yards passing with two touchdowns and an interception, but a big chunk of his numbers came as the Bills tried to rally from a 38-15 deficit in the final minutes.
Their frustration boiled over with 3:19 to go, when Allen was getting sacked by Tanoh Kpassagnon. Alex Okafor finished off the tackle, and Allen pitched the ball in his face in resentment. Offensive linemen Jon Feliciano and Dion Dawkins rushed in and levelled Okafor, resulting in a flood of offsetting personal foul penalties.
"Obviously a lot of emotion," Allen said. "Any time you don't finish the season with a win, that's the type of emotion you're going to have. The way it ended doesn't sit right with me with how chippy and ticky-tack it got. I'm disappointed in myself. I let my emotions get to me there. That's not how you're supposed to play football."
It capped a bitter night for the Bills, who had reached their first AFC title game since beating Kansas City at home on Jan. 1, 1994. They had won 11 of 12 since their loss to the Chiefs earlier this season — in fact, they hadn't trailed in the second half since Week 8 — and were riding a wave of confidence that this might finally be their championship year.
Instead, after finally conquering the Patriots in the AFC East, the Bills have a new roadblock to the Super Bowl.
"It stings to get this far," said Bills coach Sean McDermott, who once worked under Chiefs counterpart Andy Reid in Philadelphia. "Sometimes the further you go, the harder it is to lose. It's a learning experience for us as an organization."
The Chiefs actually spotted the Bills a 9-0 lead, thanks in large part to Mecole Hardman's muffed punt inside their 5 that gifted Buffalo a touchdown. But the reigning champs were hardly rattled; the Chiefs, after all, rallied from double-digits in each of their post-season wins last season, including their Super Bowl triumph over San Francisco.
Mahomes and Kelce soon found their groove. And the rest of the Chiefs offence followed suit.
They surgically took apart Buffalo's defence on a 14-play, 80-yard drive that ended with a short TD throw to Hardman — no hard feelings over that fumble. Then, the Chiefs cruised 82 yards in just five plays, the big one Hardman's 50-yard end-around that set up Williams' touchdown tumble. Finally, they made it three TDs in three possessions when Edwards-Helaire — in his first game back from an ankle injury — capped a 77-yard drive with a short plunge.
The only answer from Buffalo was Tyler Bass's chip-shot field goal that made it 21-12 at the break.
You don't beat Kansas City by kicking field goals from the 3-yard line, though. Or from the 9, where the Bills settled for another one to close within 24-15 late in the third quarter.
That became painfully clear on the ensuing drive. Mahomes hit Hill in stride and the All-Pro wide receiver promptly made the Bills secondary look downright foolish. Weaving in and out of woebegone defenders, Hill was finally caught inside the 5-yard line after a 71-yard gain, ultimately setting up Kelce's short TD catch a few plays later.
"You watch him on film, you see what he's doing. It's like he's running at a different speed compared to everybody else," Bills safety Micah Hyde said. "And tonight, we saw first-hand for the second time. He's fast."
Any hopes the Bills had of a comeback were dashed when Rashad Fenton picked off a tipped pass deep in Kansas City territory. The Chiefs breezily marched the other direction, and Mahomes and Kelce kicked off the celebration of another trip to the Super Bowl when they connected for their second score of the game.
"I'm proud of these guys," said Reid, who moved into a tie with Joe Gibbs for fourth on the career list with his 17th playoff win. "They did a phenomenal job, and hats off to the Buffalo Bills and the great job they did all year, and most of all, listen, we have the Lamar Hunt Trophy back in Kansas City.
"Now we have to get the big one."
INJURIES
Chiefs: RG Andrew Wylie hurt his knee early in the second half and LT Eric Fisher limped off in the fourth quarter with an injury to his Achilles' tendon. … CB L'Jarius Sneed and SS Armani Watts were evaluated for concussions.
UP NEXT
The Chiefs and Buccaneers have only played 13 times, and Kansas City had lost five straight before a 27-24 win in Tampa on Nov. 29 — a game that wasn't as close as the final score. Brady is 5-5 in his career against the Chiefs, including an overtime victory with the Patriots in the AFC title game at Arrowhead Stadium two years ago.
___
More AP NFL: https://apnews.com/NFL and https://twitter.com/AP_NFL