7 weird phones you probably entirely missed in 2020 – TechRadar
2020 has been some year – and it's totally understandable if you missed a few phone launches amid the chaos and headline-grabbing events. That turmoil certainly reached the smartphone industry, but somehow, phones still came out, and some are even weirder than usual.
2019 might have been the year that the foldable debuted, but in 2020 we got a rollable phone on our minds (courtesy of TCL) and a swivel phone in our hands (thank you, LG). Of course, we got our first clamshell foldables, too, with the Motorola Razr bringing the iconic flip phone to the modern age – and Samsung hot on its heels with its own Galaxy Z Flip.
We also got our first look at the next hot thing in smartphones – goodbye notches and punch-holes, hello under-display selfie cameras. And finally, not all advances are next-gen tech – sometimes all it takes is the inclusion of old features, like styluses, in the most unlikely of places.
So here's our favorite weird phones that debuted in 2020, roughly in the order they appeared – some of which we held in our hands, and others that are still too futuristic to hit the market.
OnePlus Concept One
The OnePlus Concept One was by far the most exciting phone at CES 2020 all the way back in January. While it was quickly clear the experimental handset would never be sold in stores, the Concept One was a cool approach to fixing something phone makers had yet to consider a problem: hiding the rear lenses on phones using dimming glass.
OnePlus referenced sportscar windows as inspiration for the glass; run a current through it, and it goes from translucent to deeply shaded. The Concept One does this switch automatically when you open the camera app, and the glass strip over the rear cameras subtly transitions from opaque to clear.
You'd wonder why OnePlus isn't rushing this into all its phones, but there are some design considerations – namely whether the glass strip would occlude the cameras if it gets scratched or the mechanism fails. We barely had time to hold the phone and try the (very functional) effect for ourselves, but couldn't say whether this tech is ready for mass market. We hope so: phone design is too stagnant.
Motorola Razr
While we first got our hands on the Motorola Razr in late 2019, delays pushed its release to early 2020 – and while the clamshell foldable captured the public's imagination, it didn't seem like it sold too well.
Which is a shame given the design innovation it took to get the Razr to work: a hinge that bends the plastic display in such an esoteric way to keep it from creasing, while also integrating micro-brushes to automatically sweep away particles so they don't gum up the works. And, yes, the Razr did manage to get a fully-functional smartphone to fold into a form factor that's half the size of a typical phone's footprint.
Sadly, it's significantly pricier than flagship phones without offering more functionality – even being able to snap the Razr closed to end a phone call doesn't justify the price hike.
Some design flaws were ironed out in the Motorola Razr 2020 refinement released later in 2020, but even that doesn't quite top the only other clamshell foldable released this year, the Samsung Galaxy Z Flip. But the Razr was first on the market and in our hearts.
Plus, taking a selfie with a phone folded up to the size of a mint tin is so, so cool.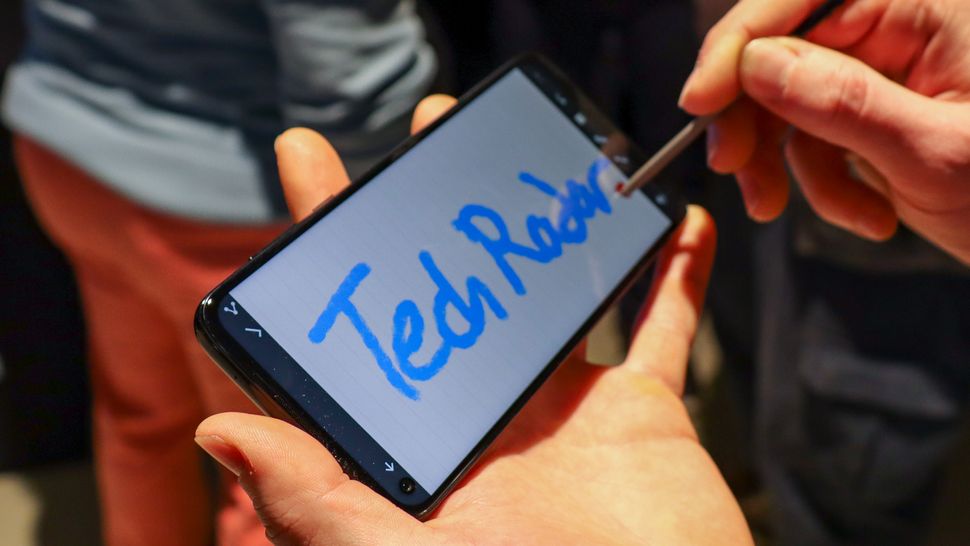 Moto G Stylus
Motorola has been releasing admirable budget G-series phones for years – often four or more models at once that slightly differ in specs and price. But in 2020, the latest generation released something new – or rather, something old, as the Moto G Stylus includes one of the oldest features in mobile computing.
The LG Stylo series has carried the budget-phone-with-a-stylus torch for years, but the introduction of the Moto G Stylus makes this a trend. No longer limited to pricey flagship Samsung Galaxy Note phones, the G Stylus is a powerhouse of its own with decent specs and a stylus that's surprisingly responsive given it's unpowered.
While that means it doesn't have the advanced connectivity features of Samsung's S Pen (like gesture control or a shutter button), it's still got stylus functionality at a bargain price.
LG Wing 5G
One of our favorite phones this year is the LG Wing 5G, which is also one of the strangest. Remember the old Sidekick phones that swiveled out? This is the modern version – though instead of revealing a keyboard, the LG Wing's top screen swivels out to reveal… another, smaller screen.
This is cool, actually: in concept, you can watch something on the large screen while chatting or doing unrelated tasks on the small display. Ever needed to do a simple search or look up directions, but didn't want to switch away from the video or show you're watching? The LG Wing offers more discrete real estate than traditional smartphones, and all with an addicting swivel motion.
You'll get more screen area from a true foldable, but in recent LG fashion, the Wing is cheaper, with a price tag equal to top-tier flagships… but half the cost of a Samsung Galaxy Z Fold 2, for instance.
The execution isn't without its issues, and it takes some work to switch between apps on the small and large display. But for the value and sheer 'wow' factor, the LG Wing 5G is a weird treasure we didn't expect in 2020.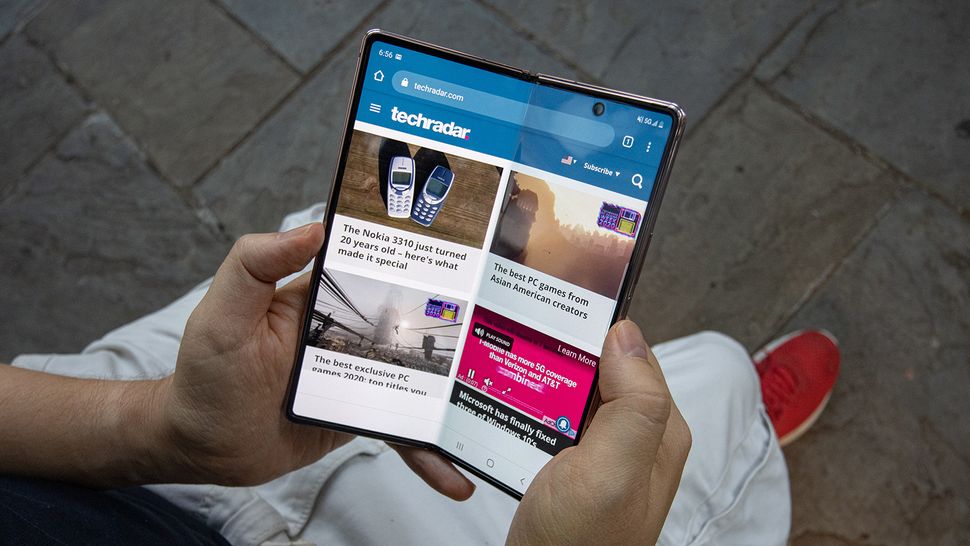 Samsung Galaxy Z Fold 2
'But wait, didn't the original Galaxy Fold come out in 2019, and isn't this just an iteration?' Yes, the Galaxy Z Fold 2 doesn't mess with the formula of its jaw-dropping predecessor, but there is one improvement worth highlighting: the external display has been expanded to go from edge to edge.
The Z Fold 2 functions like a full smartphone, and then when it's unfolded, works like a small tablet. More importantly, it means three-fourths of the phone's surface is a touch display. This is pretty wild to achieve; it doesn't feel like it would take much more innovation to do the same for the glass rear cover, extending touch functionality to every inch of the foldable's surface.
The Huawei Mate Xs and other 'outie' foldables more or less already do this, since their single large external display wraps front to back when the device is folded in half. But if we can get to making both sides touch-functional, we could have very strange and very responsive devices. Then we'd have to figure out what to do with all that extra screen area we're not watching but can still be touching.
ZTE Axon 20 5G
We've seen several concept phones pose a new solution to the problem of notches and punch-holes: instead of putting the selfie camera in a cut-out in the screen or a pop-up section, just put it under the display.
Of course, it would have to be a particular display to allow the camera to shoot through the screen – and the ZTE Axon 20 5G is the first we've gotten in our hands that pulls this solution off.
Haven't heard of it? The ZTE Axon 20 5G was announced in China back in September and just came out in the UK, but it's not clear when (or if) it will reach other countries.
We're eager to test out how well the 32MP front-facing camera takes photos from under the display; otherwise, it's shaped up to be a decent upper mid-range/cheaper flagship phone with a Snapdragon 765G chipset, up to 8GB of RAM and 256GB of storage, and a quad rear camera.
Oppo's odd foldables… and rollables
No list of weird phones would be complete without the devices we saw (or heard about) that won't come out for years – if at all. Some of them are radically different from conventional phones, and perhaps far too bizarre to appeal to consumers. Consider the Oppo concept designed in partnership with the Japanese design studio, Nendo – a foldable with a triple-hinge.
Today, we're showcasing two new design concepts produced in collaboration with leading Japanese design studio, nendo. First, is the 'slide-phone', which features a triple-hinge foldable screen system. #OPPOxnendo pic.twitter.com/r6YNrc2EmPDecember 14, 2020
That's not the only oddball non-traditional phone to get teased this year. Rumors of a TCL rollable phone have been cropping up all year, most recently in an alleged leaked video that showed a working prototype of a phone with a screen that slides out sideways.
Oppo had also showed off a design for a rollable phone, and may be closer to introducing a usable device: the company showed off the Oppo X 2021 in late 2020, though the company clarified that it's a concept phone, and likely won't be sold as-is on the market.
Even so, it's promising, as Oppo showed off a functional design: a 6.7-inch OLED display to start, but the phone's body slides laterally to expand the screen to 7.4 inches.
And although we've not seen it, we've also heard of the LG Rollable – a rumored rollable phone which if leaks are to be believed could cost $2,359 (roughly £1,775, AU$3,130).
Weekly poll: are you getting a Galaxy S21, S21+, S21 Ultra or are you sitting this one out? – GSMArena.com news – GSMArena.com
Pre-orders for Samsung's Galaxy S21 trio went live this Friday. You can check this article for the prices of the three flagships in the US, Europe and India. Keep in mind that pre-orders get freebies and if you don't want a TWS headset and a smart tag, you can wait a bit after sales start for the prices to drop. Or maybe you're no going to buy an S21 at all, that's what we want to ask you today.
The Samsung Galaxy S21 Ultra 5G feels is definitely the one that got the most upgrades. It has an improved 108MP sensor, a longer 10x periscope and a 3x telephoto lens for mid-range zoom, plus Samsung enabled 4K 60fps recording on all cameras.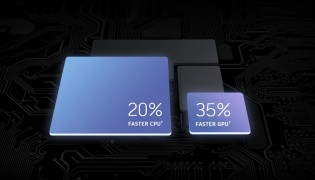 Advanced quad camera on the S21 Ultra • New chipsets promise faster CPU and GPU performance
Some will love the new S Pen support, others won't care – it's completely optional, anyway. But everyone will get a bright 6.8" display to enjoy with 1440p+ resolution and an adaptive 120Hz refresh rate (which can go down to 10Hz).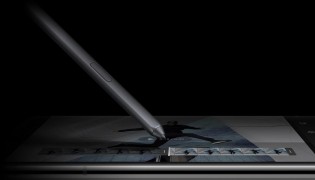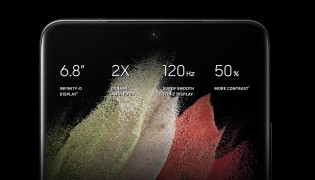 Galaxy S21 Ultra: S Pen support • Brighter 6.8″ 1440p+ display with 120 Hz adaptive refresh rate
There's no battery upgrade, it stays at 5,000 mAh capacity and even drops the 45W charging support. Samsung dropped the charger too as well as the microSD slot, which will probably irritate many.
The Samsung Galaxy S21 5G fared the worst of the three – its display is down to 1080p+ resolution, its back is made of "glasstic", which is mostly a fancy marketing terms for plastic, while the battery capacity remains the same. That said, we have a feeling that it will be more popular than the Plus.
For one, it's smaller – at 6.2" it's not exactly compact, but most flagships these days have at least 6.5" displays, some go to 6.7" and higher. And it's the cheapest of the three, those $100/€100 saved can make a big difference. Also, it's not like the Plus has better cameras or more storage.
Indeed, the larger Samsung Galaxy S21+ 5G has the same triple camera as the S21. The same as the S20, actually, though the new sensors and image processing may improve image quality over the 2020 generation. And this phone does get a battery upgrade, gaining 300 mAh for a total of 4,800 mAh.
You can have only 8GB of RAM and 128GB or 256GB storage on the S21 and S21+. The Ultra is better on both fronts as it starts with 12GB of RAM and the top configuration is 16/512GB.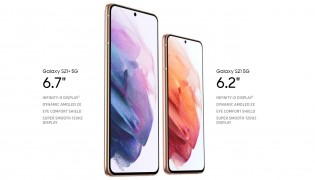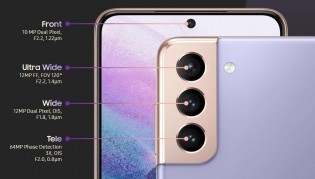 Galaxy S21 and S21+: different size • same cameras
As for chipsets, there are two versions of each model, one powered by the Snapdragon 888 and one by the Exynos 2100, divided geographically as usual. This year the two chips are pretty close, but we may see a difference in power efficiency and GPU performance.
We'll naturally review the phones in detail soon, including testing the chipsets, but until then we have only leaked benchmarks to look at. By the way, there are no 4G models this year, only 5G.
You can check out our coverage wrap-up for more details on the phones. We've also prepared Pros and Cons lists for the S21 trio and for the S21 vs. S20 models, which can serve as quick reminders about the best (and not that great) features. There's also a video that covers the key features.
Signal faces global outage due to massive influx of users – The News Minute
Signal said that it is still working as quickly as possible to bring additional capacity online to handle peak traffic levels.
The users of highly-encrypted Signal app faced trouble sending messages and the company said on Saturday that it was still working to bring additional capacity online to handle peak traffic levels. The problem started late Friday and the company first acknowledged it may be due to technical difficulties.
Signal allows for secure and encrypted video, voice and text communication, but users were unable to send any messages.
"We have been adding new servers and extra capacity at a record pace every single day this week nonstop, but today exceeded even our most optimistic projections. Millions upon millions of new users are sending a message that privacy matters. We appreciate your patience," it said in a series of tweets.
Signal is experiencing technical difficulties. We are working hard to restore service as quickly as possible.

— Signal (@signalapp) January 15, 2021
As WhatsApp started sending notifications to its users asking them to either accept its new policy or see their accounts removed from February 8, it came as a blessing in disguise for its rivals as Signal as it saw a massive flow of new users.
The rush led to extra burden on Signal servers.
"We are making progress towards getting the service back online. Privacy is our top priority, but adding capacity is a close second right now," it said.
"We are still working as quickly as possible to bring additional capacity online to handle peak traffic levels".
The encrypted messaging service has climbed to the top spot in the free apps category of the App Store in multiple countries, including India. On just January 12, the number of downloads on Google Play skyrocketed from over 10 million to over 50 million downloads.
This came after WhatsApp updated its privacy policy earlier this month where it said it would now be sharing data with Facebook.
However, with intense backlash over the new policy, WhatsApp has pushed the last date to agree to terms and the implementation of the policy to May 13.
Watch:
[embedded content]
Samsung Galaxy S21 preorders are open: Price, release date, deals, freebies, more – CNET
This story is part of CES, where our editors will bring you the latest news and the hottest gadgets of the entirely virtual CES 2021.
Samsung on Thursday announced a trio of smartphones — the Galaxy S21, Galaxy S21 Plus and S21 Ultra. All three phones have new designs, with a new, metal-framed camera array on the back and improved camera features. If you opt for the high-end Ultra, you can use an S Pen stylus to write or draw on the screen, just as you can on one of Samsung's Note models (but the stylus won't come with it).
This year, all three Galaxy S21 models offer full 5G, and now you don't have to pick between a smoother scrolling experience or the display's high resolution — you can now have both at the same time.
Preorders are open right now, and all three Galaxy S21 models are expected to start showing up in a couple of weeks, on Friday, Jan. 29. Everything you need to know about getting Samsung's latest and greatest can be found below.
Galaxy S2, S21 Plus, S21 Ultra US pricing
| | 128GB | 256GB | 512GB |
| --- | --- | --- | --- |
| Galaxy S21 | $799 | $849 | N/A |
| Galaxy S21 Plus | $999 | $1,049 | N/A |
| Galaxy S21 Ultra | $1,199 | $1,249 | $1,399 |
When will my new Galaxy S21 arrive?
Preorders for all three models are open right now. Orders will begin to arrive on Jan. 29.
Are there any deals or gifts if I preorder a Galaxy S21?
Samsung is giving those who preorder any of the three Galaxy S21 models a free Samsung Galaxy SmartTag Bluetooth tracker, along with a credit that can be used in the Samsung store. The credit is either $100, $150 or $200, depending on whether you buy the S21, S21 Plus or S21 Ultra, respectively.
Which colors will the Galaxy S21, S21 Plus and S21 Ultra come in?
As is usually the case for Samsung, your color options depend on the model.
Galaxy S21: Phantom violet, phantom gray, phantom pink and phantom white. The 256GB version is only available in phantom gray.
Galaxy S21 Plus: Phantom violet, phantom silver and phantom black. The 256GB version is only available in phantom black.
Galaxy S21 Ultra: Phantom silver or phantom black. The 256GB and 512GB models will only come in phantom black.
How much will the Galaxy S21 cost me?
The cost for each phone will vary based on storage amount. Below are the US prices we currently know for each model.
Galaxy S21
Order from: Samsung | Verizon | AT&T | T-Mobile | Walmart | Best Buy | Spectrum | Visible | Altice Mobile
Galaxy S21 Plus
128GB: $999
256GB: $1,049
Order from: Samsung | Verizon | AT&T | T-Mobile | Walmart | Best Buy | Spectrum | Visible | Altice Mobile
Galaxy S21 Ultra
128GB: $1,199
256GB: $1,249
512GB: $1,399
Order from: Samsung | Verizon | AT&T | T-Mobile | Walmart | Best Buy | Spectrum | Visible | Altice Mobile
Manufacturers and retailers
Samsung is taking preorders on its website, offering carrier versions along with an unlocked variant. If you order from Samsung, you'll get a $100 credit for ordering the Galaxy S21, $150 for ordering the S21 Plus or $200 for an S21 Ultra. The credit can be used to buy another item or accessories for your phone through Samsung. Preorders will also receive one of Samsung's new SmartTag Bluetooth trackers for free.
For a limited time, Samsung is giving up to $700 off the cost of any S21 model with an eligible trade-in.
The retail giant is taking preorders of all three S21 models, however, you'll need to be a Verizon or AT&T customer (or be willing to switch to either carrier).
You can find almost every configuration of the S21 lineup on Best Buy's site, available to preorder right now. The only model that's marked as coming soon, so you can't order it, is the unlocked version of all three S21 models.
Carriers
Verizon is taking preorders for all three models, and is offering a free Galaxy S21 Plus with a qualified trade-in and when you sign up for "select" unlimited plans.
You can preorder any of the new models through AT&T. The carrier is offering deals that range from 50% off the new Galaxy Buds Pro to a free Galaxy S21 with a trade-in and installment plan.
Preorder any of the three Galaxy S21 models from T-Mobile. You can get a Galaxy S21 for free with a qualified trade-in. You aren't required to add a line for this deal. There's also a buy-one-get-one promotion.
Preorders for Spectrum customers are now open. If you switch to the carrier, you'll get $100 with an eligible trade-in.
Visible isn't doing preorders, but will instead start selling the S21 and S21 Plus on launch day, Jan. 29. The prepaid carrier is taking a little bit off the price of both models, with the S21 starting at $792 and the S21 Plus starting at $984.
Starting Friday, Jan. 15, Altice Mobile started taking preorders for the Galaxy S21, S21 Plus and S21 Ultra. Customers can get up to $200 in Samsung credit for preordering.
We will update this section as retailers and carriers announce preorder plans.