7th case of COVID-19 diagnosed in B.C., bringing number of cases to 11 in Canada – CFJC Today Kamloops
The sixth case involves a woman in her 30s whose diagnosis was confirmed last week after she returned from Iran.
Cases of COVID-19 diagnosed at the BC Centre for Disease Control no longer require confirmation at the National Microbiology Laboratory in Winnipeg because the province's testing has been validated, Henry said.
She said health officials are hoping the new coronavirus will be similar to influenza and other respiratory viruses that circulate during winter and typically wane in early spring.
"But we are not out of the woods yet, and really that buys us time," she said.
If the virus can't be contained and eradicated from human transmission, Henry said it might arise next influenza season, by which time anti-viral medications and a vaccine could be developed.
Screening people at airports is challenging and limited, so countries like Iran, which has an increasing number of COVID-19 cases, should not allow people with symptoms to fly elsewhere, Henry said.
"They've (Iran) been putting screening measures in place, I understand, and South Korea has actively been doing that," she said.
"We do ask everybody that's coming here to ensure that they monitor carefully for symptoms. We will be stepping up our advice on that."
Anyone with symptoms should limit their contact with others and contact their primary care provider, local public health office or call the 811 healthline to reduce the possibility of passing the virus on to others, Henry said.
Many more Canadians who were outside of the country have tested positive for the new coronavirus.
They include 129 people who were aboard the Diamond Princess cruise ship, which was docked in Yokohama, Japan, since early February, being repatriated to Cornwall, Ont., on Friday. They will be is isolation for 14 days.
"We are watching very carefully," Henry said. "Although there is widespread transmission of some areas of the world we are not in that position yet but we are preparing for that, we are preparing for all of the possibilities that we might see over the coming weeks."
Of the seven cases, the first has fully recovered, Henry said. The other six patients remain in self-isolation at home and under the care of public health teams.
A fourth case of the virus was confirmed in Ontario on Sunday, with the previous three cases cleared of the illness.
This report by The Canadian Press was first published Feb. 24, 2020.
The Canadian Press
Public health officials taking stock of supplies, equipment to prepare for possible coronavirus pandemic – CBC.ca
Canada's top public health officer says federal and provincial officials are now taking stock of the medical supplies and equipment they'd need to respond to a coronavirus pandemic — but the responsibility for ensuring those inventories are adequate lies with the provinces.
During a briefing call with reporters Thursday, Chief Public Health Officer Theresa Tam said the Public Health Agency of Canada serves a national coordination role for planning and preparing for health emergencies, and can do bulk purchasing on the provinces' behalf. While there is a federal stockpile of some medical supplies, it's normally reserved for rare, "high-impact" biological or radiological events.
Tam said that in those cases, the federal government can top up provincial and territorial supplies in the event they run short.
"As a result of the changing landscape because of COVID-19, we are pulling together that kind of information right now," she said.
"Of course, we have to adapt to … the evolution of the outbreak in order to fine-tune some of these estimates. But that's the kind of exercise that's being undertaken right now. But the granularity of the system's preparedness is, of course, left to the provinces and territories."
Tam noted that there are now more cases of COVID-19 — the respiratory illness caused by the novel coronavirus — being reported outside China than inside the country where the outbreak started. About 50 countries are now affected — some with isolated travel-related cases and others with outbreaks of their own, such as South Korea, Italy and Iran.
Seven countries — Brazil, Georgia, Greece, Macedonia, Norway, Pakistan and Romania — have only recently reported cases for the first time, World Health Organization (WHO) director general Tedros Adhanom Ghebreyesus told reporters at a daily briefing Thursday.
"This virus does not respect borders," he said.
No pandemic call by WHO
WHO has declared the epidemic a global health emergency but has not called it a pandemic.
To date, there have been 13 cases confirmed in Canada, but no reports of transmission through communities.
Tam said Canadian health authorities are in close contact with their counterparts in the U.S. — which only recently confirmed a case of the virus that does not appear to be linked to international travel.
The Trump administration has requested an additional $2.5 billion to respond to the coronavirus, even as the president expressed confidence there would not be a widespread outbreak in the U.S.
CBC News has asked if the federal government is earmarking extra funds for a response, but has not yet received an answer.
On Wednesday, Health Minister Patty Hajdu said it would be prudent for Canadians to prepare for a possible illness in their households by setting aside a week's supply of medicine and food.
Tam repeated that advice today, suggesting Canadians prepare by ensuring medication supplies and making back-up child care arrangements.
Coronavirus: More new cases outside China than in — WHO – Axios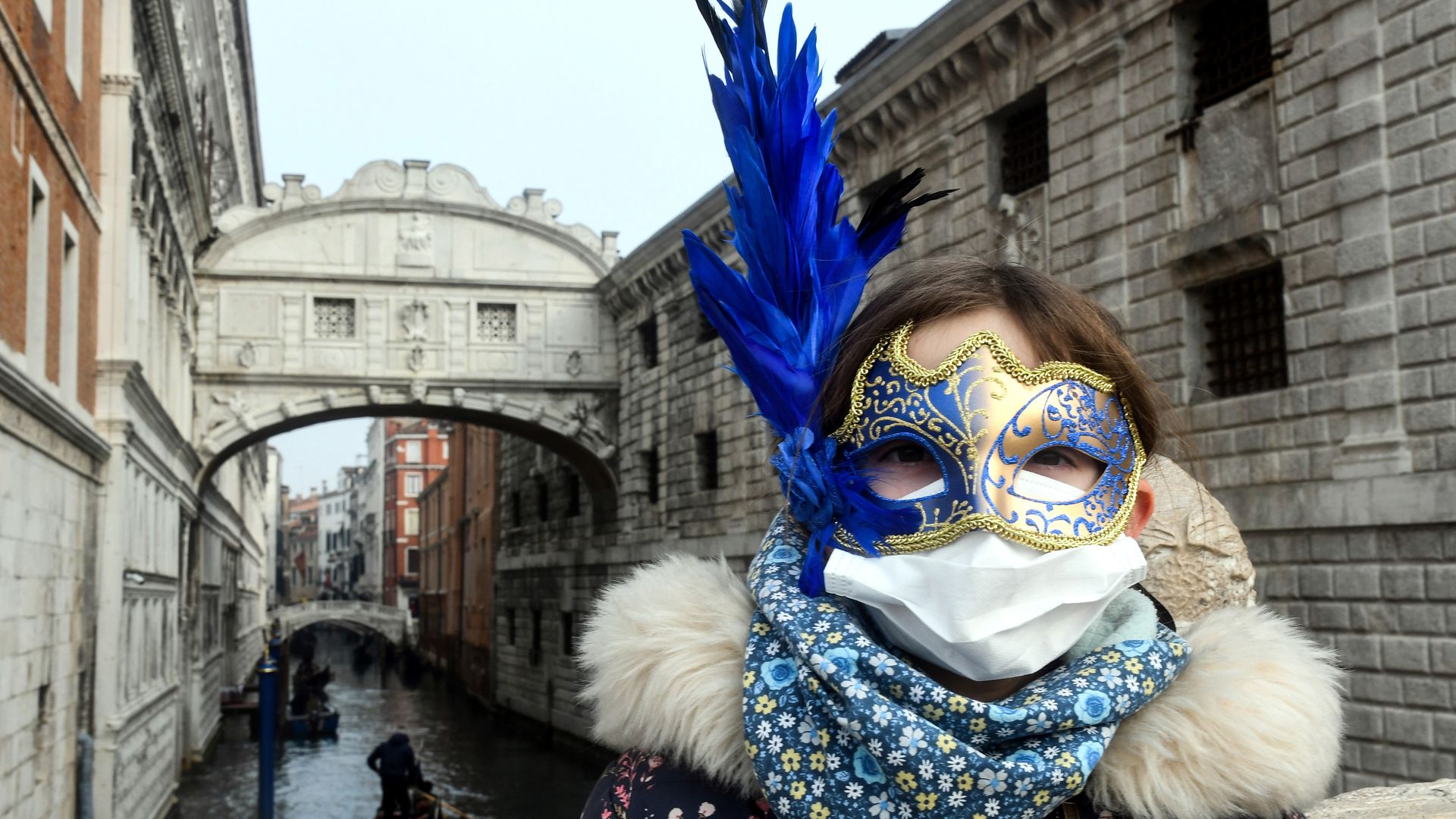 A tourist wearing a medical facemask in Venice, Italy. Photo: Andrea Pattaro/AFP via Getty Images
The number of new cases of the novel coronavirus reported outside China has exceeded those inside the country for the first time, the World Health Organization director-general Tedros Adhanom Ghebreyesus told a briefing on Wednesday.
Details: Tedros called the sudden increase in cases in South Korea (1,595), Italy (453) and Iran (141) "deeply concerning."
The big picture: Some 20 countries have reported their first cases in the past week, many in Europe — including Spain, Greece, Croatia, North Macedonia, Switzerland, Austria, Norway, Denmark, Romania and Estonia.
The first cases in the Middle East include Israel, Lebanon, Oman, Afghanistan, Bahrain and Kuwait.
Georgia, at the crossroads of Europe and Asia, has also reported its first case, as has Pakistan and Algeria.
Brazil became the first place in South America to confirm an infection. The virus spread to Brazil by a 61-year-old man who traveled from Italy, the epicenter of Europe's outbreak. The country is tracking 20 suspected virus cases.
Tedros noted that new cases in Algeria, Austria, Croatia, Germany, Spain and Switzerland were also linked to Italy, while infections in Bahrain, Iraq, Kuwait and Oman had connections with Iran.
What they're saying: Germany's health minister said Thursday the country was "at the beginning of an epidemic," per AP, as cases surged to 27.
Australian Prime Minister Scott Morrison said in a news conference his country was preparing for a pandemic, as 23 cases were confirmed.
"The risk of a global pandemic is very much upon us," he said.
Yes, but: The WHO has yet to declare the outbreak a pandemic.
"Using the word pandemic carelessly has no tangible benefit, but it does have significant risk in terms of amplifying unnecessary and unjustified fear and stigma, and paralyzing systems," Tedros said.
"It may also signal that we can no longer contain the virus, which is not true. We are in a fight that can be won if we do the right things."
Go deeper:
First US coronavirus case of unknown origin marks 'turning point' – Al Jazeera English
Officials in California expressed frustration on Thursday over access to coronavirus testing kits after the first case of the respiratory disease of unknown origin was diagnosed in the United States, prompting fears of "community spread".
On Wednesday, the US Centers for Disease Control and Prevent (CDC) announced that a California patient who contracted COVID-19 did not have relevant travel history or exposure to another individual with the virus.
The case in California's Solano County brought the total number of COVID-19 cases in the US to 60, including 45 cases among those who were repatriated, the CDC said.
More:
While the US has seen a relatively few number of cases, health experts say the latest development marks a possible turning point, with fears the virus could spread further.
"I expect that we are going to start seeing some community-level transmission, in pockets across the country," said Peter Jay Hotez, professor and dean at the National School of Tropical Medicine, in Houston, Texas.
"Whether or not it expands beyond that and becomes pervasive across the nation, that's the unknown," he told Al Jazeera.
The coronavirus outbreak, which originated in China, has spread to 44 countries around the world, affected markets, suspended flights and shuttered schools in a dozen countries. It has infected more than 82,000 people and killed over 3,000 – mostly in China.
Hotez says faster confirmation of coronavirus infection is crucial to a rapid response by local health authorities and to ensure the safety of both patients and healthcare workers.
"Preparedness is primarily done at the local level, many people think the CDC is in charge of preparedness, but in fact, it is done throughout the various counties and local health departments," he said.
Testing delayed for four days
Officials say testing was previously done by the CDC in their headquarters in Atlanta, Georgia, which was delaying the diagnosis process by at least a day.
In the recent California case, the patient was brought to UC Davis Medical Center on February 19, but testing was delayed for four days, because the CDC said the patient "did not fit the existing CDC criteria" for the virus, according to a hospital press release.
"We need to start testing in our communities and we need to fix our testing issues, and we need to do this now," California Representative Ami Bera said during US House of Representatives committee hearing dedicated to addressing coronavirus.
California Governor Gavin Newsom said on Thursday the state currently had about 200 test kits, an "inadequate" number, but that he is in contact with federal agencies who have promised to send more kits in the coming days.
Health and Human Services Secretary Alex Azar told a US House of Representatives committee on Thursday that at least 40 public health labs were now able to test specimens for coronavirus, a number that could double by Friday.
But funding to confront the pandemic has turned into a political issue in the US, which will hold presidential elections in November. Trump, a Republican, asked Congress for $2.5bn, but Democrats said the amount is insufficient and have called for $8.5bn.
Amid a stock market slump over fears of the virus's spread, Trump on Wednesday sought to quell concerns.
"I don't think it's inevitable," Trump told reporters when asked about the possibility of a larger outbreak in the US.
"It probably will. It possibly will. It could be at a very small level or it could be at a larger level," he added as he announced that Vice President Mike Pence would oversee the federal government's effort to contain the virus. "Whatever happens, we're totally prepared."
But health officials say that preparing for the possibility of community spread of the virus may prove difficult.
"We do not have a secret pathway to protect people. Most of the protections that we are using fall into the category of non-pharmaceutical intervention: personal, community and environmental," Michael Wilkes, Professor of Medicine and Global Health at UC Davis told Al Jazeera.
Personal intervention, Wilkes said, involves individuals taking precautions to protect themselves from contracting the virus, as well as ensuring they do not infect others, by seeking medical attention and isolating themselves if they suspect they have symptoms.
Community measures include cancelling large gatherings of people such as sporting and music events. While environmental involves sanitisation of public spaces.
The virus can cause fever, coughing, wheezing and pneumonia. Health officials say, like the flu, it spreads mainly from droplets when an infected person coughs or sneezes, and affects people in different ways.
Wilkes says not everyone who gets coronavirus will suffer from severe illness and evidence shows that four out of five people infected suffer from relatively minor illness. He adds that although the spread of the virus poses a serious risk to public health, he also worries about the effect it may have on society.
"We are following the evidence and we are doing what needs to get done medically, but the biggest battle we have is fear," Wilkes said.
As for the Solano County, California, case, officials say they are attempting to locate anyone who may have come into contact with the patient. The county also declared a state of emergency.
California Governor Newsom, who expressed frustration over access to testing kits, declined to declare a statewide emergency, and said: "People should go about their day-to-day lives with common sense. I don't want to instil any sense of new anxiety."
With additional reporting by William Roberts in Washington, DC.