8 Women Artists Using Ceramics to Subvert Art Traditions
Magdalena Suarez Frimkess, Untitled, 2021. Photo by Greg Carideo. Courtesy of the artist and kaufmann repetto Milan / New York.
The field of ceramics is evolving. In recent years, the medium has garnered new mainstream interest and acclaim. Meanwhile, women artists are seeing long-overdue engagement with their work. As their medium evolves, female artists, both emerging and established, are exploring the versatility of clay.
Here, we focus on eight artists who criticize the hierarchies that delegate female ceramicists and their work to the periphery. Ceramics have been regularly sidelined in the history of contemporary art. In 1941, critic Clement Greenberg introduced his concept of "the decorative," which carried negative associations with femininity and craftwork—the opposite of the ideal modernist aesthetic. And, as Louise Bourgeois noted in 1979, "When you work in the school of abstraction, you have to avoid…the decorative." Today, female artists are working to bridge the barrier between the nonfunctional sculptural object and the functional craft object. Their vessels are often warped, asymmetrical, and uncanny—even, sometimes, creating imitations of the mundane.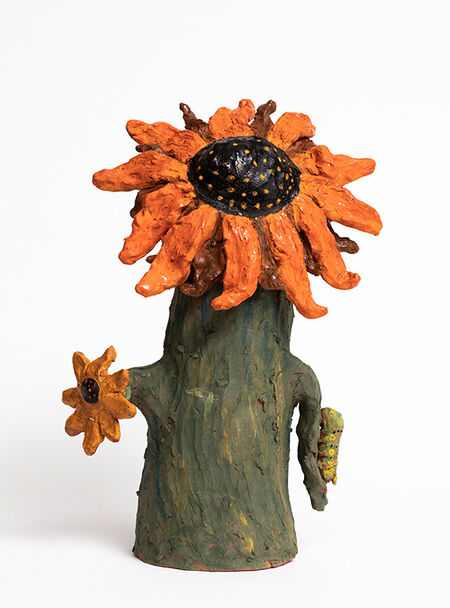 The hyper-tactile vessels made by these women rail against aesthetic perfection, debating the traditional role of women in the art world as mere objects of visual admiration. Paralleling emerging trends toward figuration in contemporary painting, artists place a faux-naïf style in dialogue with the grotesque to depict the female form. The grotesque, as outlined by art historian Frances Connelly in "The Grotesque in Western Art and Culture" (2012), can "spring from its maker's free imagination, unfettered by rules of design or canons of beauty." Clay, a craft material on the outskirts of fine art, is an apt medium for artists intending to transgress boundaries.
Recent exhibitions have drawn attention to this trend for craft figuration and the imperfect in contemporary ceramics. Last year, "Strange Clay" at the Hayward Gallery highlighted the medium's growing plasticity, while the current exhibition "Funk You Too!" at the Museum of Art and Design (MAD) in New York traces the growing trend for what curator Angelik Vizcarrondo-Laboy calls the "aesthetic of optimism."
Today, the beguiling medium of oddball ceramics offers a starting point for those looking for something more than the perfunctory vessel.
B. 1970, San Francisco. Lives and works in Los Angeles.
In Ruby Neri's work, the human body is a harbinger of desire and repulsion. Her work features in "Funk You Too!", a reinterpretation of a 1967 exhibit in which her father, Manuel Neri, also participated. Ruby Neri is a forerunner of what MAD's deputy director Elissa Auther labeled as a new generation of Funk ceramic artists.
Untitled (2018), for example, speaks to the artist's nontraditional technique. A misshaped ceramic vase is anthropomorphised into the naked figures of two women, their lips and nipples rouged, akin to a Schiele nude. By applying spray-based glazes onto her pieces, Neri combines the effervescent effect of watercolor with the solidity of a decorative vessel.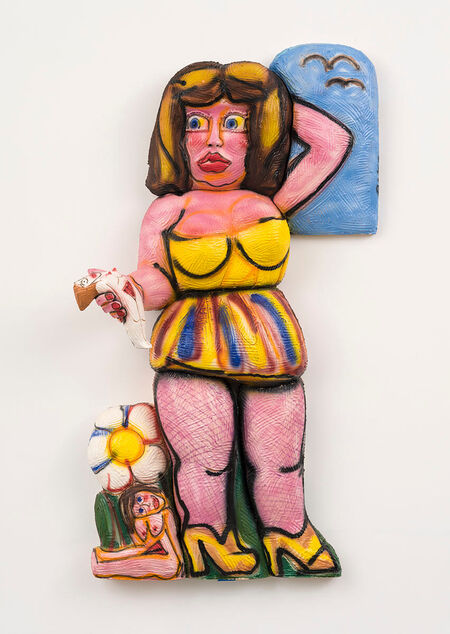 Neri is increasingly known for large, floor-based vases and wall-mounted ceramic sculptures, like Past Present Future (2022) and Mamma (2021), which equally reference 1980s riot grrrl bawdiness and prehistorical representations of the female body. These works accentuate anatomical zones—visually paralleling handheld female statuettes and fertility charms, such as the Venus of Willendorf. Neri's work is singular, using ceramic to build the monumentally feminine while retaining the tactile associations of craftwork.
B. 1946, Albany, New York. Lives and works in Germantown, New York.
Sally Saul, Bewildered, 2022. Courtesy of Venus Over Manhattan.
Sally Saul, Bewildered, 2022. Courtesy of Venus Over Manhattan.
Artist Sally Saul had been working in ceramics for over 30 years without critical recognition before recently experiencing a reappraisal from the contemporary art market. "Sally Saul: Knit of Identity" at Rachel Uffner Gallery in 2017, the artist's first solo show in New York, received wide acclaim. In 2022, she was added to the roster of Venus Over Manhattan. Originally turning toward clay via San Francisco's Funk movement, Saul refrains from showy ostentation in her work, with presidents, saints, and the natural world all depicted with the same equitable honesty.
Sally Saul, Sultry Day, 2022. Courtesy of Venus Over Manhattan.
Sally Saul, Sultry Day, 2022. Courtesy of Venus Over Manhattan.
Regarding the pieces featured in "Knit of Identity," Saul wrote: "Memory, or an editing of memory, informs several of my pieces…fragments that evoke a time and place, refuge, physicality, and act as a talisman." In Bewildered and Sultry Day (both 2022), Saul creates Botero-esque silhouettes, employing a faux-naïf figuration to depict the human form. Saul's most recent ceramic figurines are melancholic, reflective of the environmental destruction described in Rachel Carson's Silent Spring (1962). Often open-mouthed and animated, the works are active guides through Saul's constructed world.
B.1982, Southern California. Lives and works in New York.
Brie Ruais, Intertwining Bodies, Roots, Hair (130lbs times three), 2022. Courtesy of the artist and Cooper Cole, Toronto.
Brie Ruais's work expands the notion of corporeally oriented ceramics. ''The sculptures tap into the body's knowledge as opposed to the mind. I let the body and clay lead," Ruais said in the press release for "Some Things I Know About Being In A Body", her 2021 solo show at Albertz Benda. This tenet is expressed best in Intertwining Bodies, Roots, Hair (130lbs times three) (2022), which was featured in the Hayward Gallery's exhibition "Strange Clay."
The tactile imprints which form the limbs of Ruais's sculpture deliberately recall the artist's movements while mining for materials in a clay quarry, recorded in the triumphal video art piece Diggin in, Digging Out (2021). Engaging, embedding, and emerging from the wet, raw earth, the artist then repeats these excavation marks in the studio, impressing her exact body weight into foraged clay. The marks of the artist's clawing hands are then fired and painted, as in Spreading Outward from Center, Blue Eye (2022). These intensely expressionistic, wall-mounted pieces portray the future and cross-medium potentiality of clay work.
B. 1993, Los Angeles. Lives and works in Los Angeles.
Alake Shilling, installation view of "A Bug's Life" at Jeffrey Deitch Los Angeles, 2023. Photo by Joshua White. Courtesy of Jeffrey Deitch.
Alake Shilling has stated she hopes the viewer of her works will become an "accessory of comfort." In her reinterpretation of plush toys, Shilling invokes memories of a simpler time. Childhood has always been a source of creative inspiration for the artist—yet Shilling's works are never saccharine. Instead, they conjure a sense of displacement in the viewer.
In the book Alake Shilling: The Hippest Trip in America—By Land, Air and Sea (2023), the artist displays images of her relatable source material: Disney cartoons, children's animations, and memes. Works like Jolly Bear (2021) are uncanny: totally monochromatic versions of their original inspiration. On a recent podcast, the artist said that she intends for her sculptures to create a universal experience, striving to capture both pleasure and pain.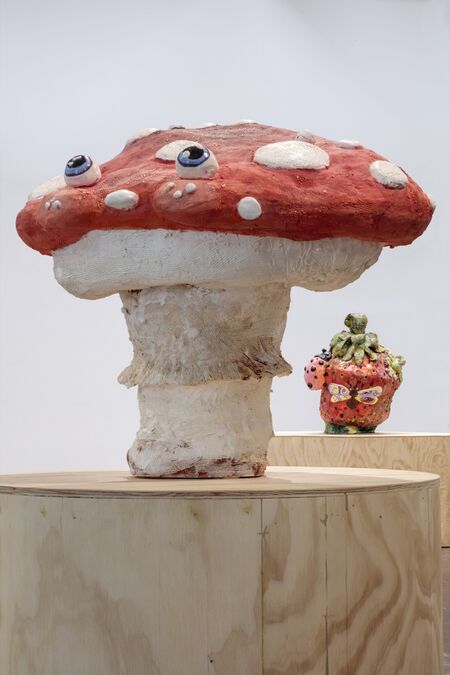 Alake Shilling, installation view of "A Bug's Life" at Jeffrey Deitch Los Angeles, 2023. Photo by Joshua White. Courtesy of the artist and Jeffrey Deitch.
Alake Shilling, installation view of "A Bug's Life" at Jeffrey Deitch Los Angeles, 2023. Photo by Joshua White. Courtesy of the artist and Jeffrey Deitch.
A solo show at Jeffrey Deitch's Los Angeles space, "A Bug's Life," debuts a new series of Shilling's works. The artist cites inspiration from animal totems in the traditional mythology of Yoruba culture, combined with an aesthetic influence from the stationery brand Lisa Frank. Works like Snelly Boop (2019) are animistic, grotesque explorations of this ultra-positive commodified reverie.
B. 1929, Caracas, Venezuela. Lives and works in Venice, California.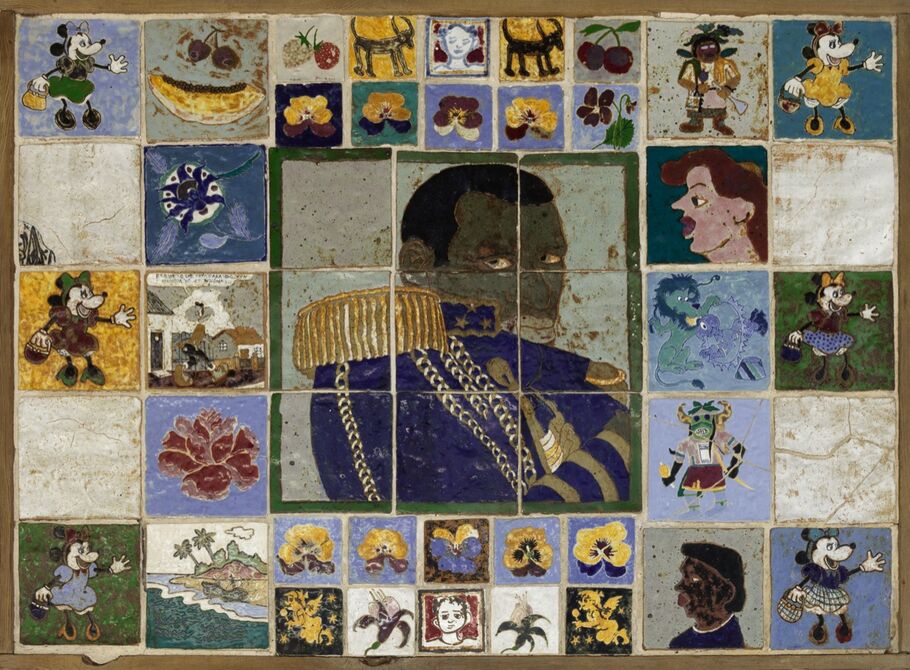 Magdalena Suarez Frimkess, Tile Table, c. 1990. Photo by Fredrik Nilsen. Courtesy of the artist and kaufmann repetto Milan / New York.
Magdalena Suarez Frimkess's unusual objects recycle mass-produced images. Having worked in clay since the 1970s, the artist draws upon many influences, from Peter Voulkos to Toulouse-Lautrec, Zuni patterns, and Betty Boop. In her tile pieces, she transposes episodic elements from comic strips, using the stylised patterns of Hispano-Moresque tiles. Frimkess is as likely to use a delft blue pigment, traditional in Northern European pottery, as she is to mimic a vessel representing a Mesoamerican deity.
Throughout her life, Frimkess has continually returned to the comic folklore figure of Condorito. The Chilean comic book hero exposed society's hypocrisies and made its popular debut in 1949, the same year Frimkess relocated to Santiago. "I tell everyone he's my philosopher," the artist said in a 2020 interview with Michael Ned Holte for Mousse Magazine.
Magdalena Suarez Frimkess, Untitled, 1970. Courtesy of the artist and kaufmann repetto Milan / New York.
Frimkess's skill is her ability to conjoin modern folklore in wry, politically conscious picaresque narratives, as in Cup in Spanish (2010). Distorted figurines of Mickey and Minnie Mouse, depicted as wary and a little bewildered, are Frimkess's most famed works. In 2024, the artist's work will be the subject of a major retrospective at LACMA.
B. 1991, London. Lives and works in London.
Christabel MacGreevy's objects are imbued with ritual. In "Sexing the Cherry," a dual show with Rafaela de Ascanio at Tristan Hoare, asymmetrical vases contain literary and historical references. Works like Witch Bottle (White Hellebore for the Humours) and Witch Bottle (Adonis Vernalis & Pheasant's Eye) (both 2023) critique the historical mystification of female healing practices.
Women folk healers were, as Silvia Federici wrote in Caliban and the Witch (2004), subject to persecution as witches with the advent of early-modern capitalism. MacGreevy depicts these forgotten subjects alongside other decisive female figures, such as Salome I (2023), who is shown in graphic applique carrying the head of John the Baptist. In works like Ace of Hearts (2023), a figure wraps around a vase, fluid and nonconforming.
B. 1987, London. Lives and works in Margate, England.
Lindsey Mendick's 2022 debut show at Carl Freedman Gallery, "Off With Her Head," introduced the artist's Rabelais-esque artistic method. In fully immersive installations, Mendick's ceramic pieces are not merely exhibited, but rather, they perform. In I Drink To You Tracey (2022), Tracey Emin's piece Exorcism of the Last Painting I Ever Made (1996) is portrayed as tableaux, presented to the viewer within a box.
Meanwhile, in I Drink To You Europa (2022), the mythological tale of rape is subverted. Presented as a camp, ceramic candelabra flickering in the darkened gallery, the sculpture is both functional and nonfunctional. Mendick depicts Europa in a moment of rapture, receiving oral sex from Zeus disguised as a bull.
The artist's brilliance is similar in her more abstract works. In Bursting at the Seams (2021), bulging eyeballs protrude unexpectedly from the delicate, reflective surface of the glazed ceramic—a playful, grotesque interpretation of the traditional vessel.
B. 1992, Los Angeles. Lives and works in Los Angeles.
Diana Yesenia Alvarado, Orejas, 2019. Photo by Jeff Mclane. Courtesy of the artist and The Pit.
The past year has been eventful for ceramic artist Diana Yesenia Alvarado. Her work Lista Para Volar (2022) was part of "Funk You Too!" and the artist is in residence at Cerámica Suro in Guadalajara, Mexico.
Alvarado's sculptures function as mnemonic devices, devised to capture the sounds, smells, colors, and overall sensations of a predominantly Latinx neighborhood in Los Angeles, where the artist was raised. These sculptures are vibrant and psychedelic, creating a cinema of sensation. In Mezkalita (2020) and Cometa Verde, Caterpillar ser (2021), colors bleed and meld, a product of the artist's desire to allow her materials a life of their own.
Art therapy space gutted in 'terrible' Montreal heritage building fire – Montreal Gazette
Article content
The mission of Les Impatients, established in 1992, is to help people with mental health problems through the vehicle of artistic expression. The Monastère du Bon-Pasteur building, a multi-purpose building on Sherbrooke St. E., had been home to Les Impatients since 1999.
"A lot of people are in shock," Frédéric Palardy said of participants. "It's almost like a home for them. Some come twice a week."
They participate in art workshops and, as well, some are in music and dance workshops and a choir — all organized by Les Impatients.
"The main thing is that everyone is safe and no one was hurt," Palardy said. "My thoughts are for our neighbours."
The multi-purpose building housed a seniors' residence and a housing co-operative, Heritage Montreal, a daycare centre, condos and a chapel that served as a concert hall.
"I know a lot of people in the residence and the co-op," he said.
But the fire "is terrible for us, too."
Les Impatients was on the top floor and among the building's most severely affected by the blaze, said Palardy. Although it is not yet known for sure, the fire is believed to have started in the roof.
Article content
The space the organization occupied included its downtown workshop space, offices, gallery space and a boutique. Also lost in the fire were the organization's archives, its musical instruments and about 10 per cent of its artworks.
With about 30,000 works, Les Impatients has what is believed to be North America's largest collection of outsider art, Palardy said. The term describes art that has a naïve quality and was often produced by people without formal training as artists.
Les Impatients had insurance, but it was primarily for theft, Palardy said.
"We have to start from scratch," he said, adding that the organization is working on an appeal.
Meanwhile, Palardy said the organization has received countless emails and messages of support, including a text Sunday from deputy health minister Lionel Carmant and messages from representatives of the City of Montreal's culture department.
Article content
"A part of the soul of Les Impatients has gone up in smoke," the organization said in a communiqué. "The emotion and the sadness are vivid but the priority for the organization is to continue its mission, through this chaos, to serve its community well."

An interim location for Les Impatients administrative offices has been found, Palardy said Sunday, but the activities of the downtown section, which were held in the former monastery building, are suspended for now. That location normally serves about 130 people five days and three evenings every week through its workshops and the organization is already at work to find a new location, Palardy said.
The former monastery location is the largest and most well-established of Les Impatients' 25 locations elsewhere in Montreal and across Quebec which, together, serve more than 900 people. The other locations will continue to function, he said.
The Parle-moi d'Amour event, the biggest fundraiser of the year for Les Impatients, is set for September. Sadly, Palardy said, some of the works that were to be included were lost in the fire.
Remembering a pioneer of local Indigenous art – Sault Ste. Marie News – SooToday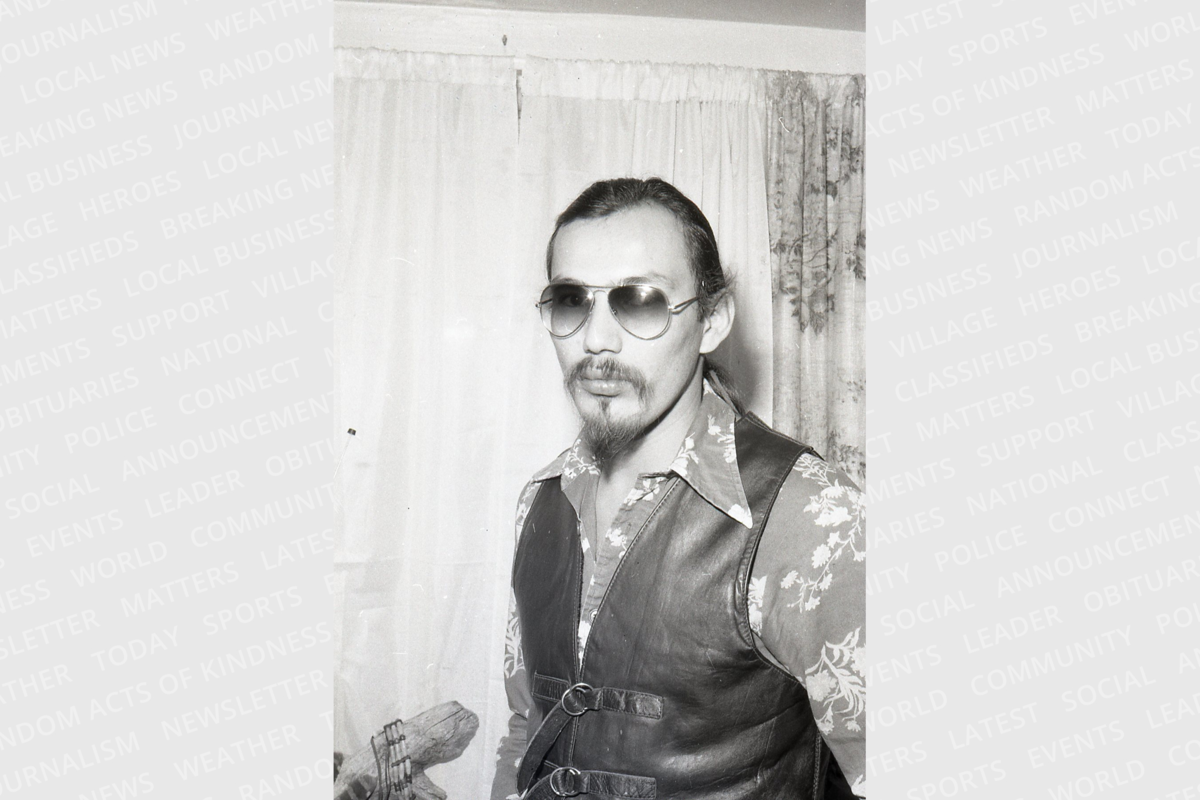 From the archives of the Sault Ste. Marie Public Library:
John Laford was a prominent Sault Ste. Marie artist, who was born in 1955 on an Indigenous reserve in the West Bay area of Manitoulin Island.
Leaving his home at the age of 15, he eventually made his way to Sault Ste. Marie by his early 20s.
He felt that he had been painting for as long as he could remember. He always enjoyed art, design and doodling after he finished school but with no formal training, he was largely self-taught.
Laford travelled throughout Europe, Canada and the United States, studying and learning from various artists along the way.
"I would only paint to get enough money to continue along the way," he said.
By 1969, Laford began painting full-time. In 1977, at the age of 22, he had his work exhibited at the Centennial Room at the Sault Ste. Marie Public Library. He used his work to show his Ojibway legends and spiritual beliefs. His spiritual beliefs and Ojibway legends were central not just to his artistic career but to his personal life as well.
Laford went on to be a vocal critic of the Children's Aid Society (CAS).
As a child, he played with a young boy who lived next to him. In a 1978 Sault Star article he explained, it was not until he was 12 that he realized that the boy was his older brother.
When he was one year old, his father died. His mother took his four sisters and two brothers and moved back to her reserve. She did not receive any financial assistance to care for her children and CAS took over.
"CAS saw my mother had too many kids and just took them away," Laford said. "To me, it seemed they just wanted to scatter the family. I wasn't adopted into a native family and the Children's Aid paid for my care but no one ever bothered to tell me about my real parents and brothers and sisters."
The foster family cared for four of them for a while which he described as very strict but fairly good people which he says helped him.
At the age of 15, he ran away from home with his older brother and travelled to Toronto in an attempt to find their mother.
"I quit school. Things weren't too good on the reserve. I was drinking a lot," he said.
When they arrived in Toronto it took them a week to find their mother. He spent three years with her getting to know her and the rest of his family.
"What I'm saying is my opinion, just my own ideas about the things I went through with Children's Aid. I would have liked to have grown up with my mother, stayed with my real mother, but it didn't happen that way. You could look at it (CAS) as destroying Indian families but they're trying to do something good," he said near the end of the Sault Star article.
Laford and two other Indigenous artists Cecil Youngfox and Peter Migwans formed a group called "Artists of the Northern Sun." They hoped it would "form the nucleus of the Indian community in Sault Ste. Marie."
The three artists created the group around 1977 when Laford moved to Sault Ste. Marie. They planned on organizing events that would bring Indigenous and Non-Indigenous Canadians together. The three wanted to create a higher profile and take on a leadership role in the community.
By 1980 Laford had become a well-established artist in his own right whose work was included in the McMichael Canadian Art Collection. His work had been exhibited in Hamilton, Toronto, and Montreal and in 1980 his work was part of the Manitoulin Island artist's show at the Royal Ontario Museum (ROM). In 1990 his work was once again featured in Sault Ste. Marie at the Art Gallery of Algoma.
Laford passed away in 2021 at the age of 67. He left a lasting mark and legacy in the
Indigenous community. He used his spirituality and culture's legends to create works of art that are enjoyed and viewed by Canadians and the world alike.
Each week, the Sault Ste. Marie Public Library and its Archives provide SooToday readers with a glimpse of the city's past.
Find out more of what the Public Library has to offer at www.ssmpl.ca and look for more "Remember This?" columns here.
Indigenous art market comes to downtown Kitchener – CTV News Kitchener
A celebration of Indigenous culture is in downtown Kitchener for the weekend.
The "I Am Kitchener: Indigenous Art Market" has taken over the Gaukel block, with everything from clothes, to art, to beadwork.
The two-day event is a showcase for artists across Southwestern Ontario, but also a welcoming to the wider community.
"I think it's really important for folks in the region to really come out and support events like this," said co-organizers Maddie Resmer. "It's a huge step forwards. What it means to connect with Indigenous community members in the region, in Kitchener, and for folks in the area to get to know some of the Indigenous artists that live here and are close to these territories, that's how we celebrate ourselves, right?
"We highlight the positive and brilliant people who come from our culture."
The Indigenous art market wraps up Sunday.