A 1,000-Piece Contemporary Art Collection Is Coming to Auction
(Bloomberg) — Just a months after putting their Westchester sculpture park on the market, top art collectors Sherry and Joel Mallin have announced that they're selling nearly all of their thousand-plus-piece art collection. "We're basically selling everything," says Joel in an interview. "It eliminates, to some extent, worrying: 'Should we sell this one or that one?'"
The art—by volume, one of the largest collections to go to auction—will be sold at Sotheby's with an overall estimate exceeding $50 million. The pieces will be spread across multiple auctions in London and New York this year; further sales, including a dedicated auction of monumental sculptures, will take place in 2023 and 2024.
The couple has been a major force in the contemporary art scene for decades, slowly accumulating formidable 20th century and 21st century artworks for display at their estate, Buckhorn Sculpture Park, in Pound Ridge, NY.
In addition to the property's 70-odd outdoor sculptures, the Mallins exhibited their extensive collection in a 9,200-square-foot museum-quality space they called an "art barn." The barn was rehung every two years "from top to bottom," says Sherry. "So we've had the experience of things being taken down."
How to Sell 1,000 Artworks
The decision to sell their collection, Sherry says, is one of practicality. They have donated many works to museums over the years, but don't like the idea of donating the entire collection to a museum, where "it will go into a basement and no one will see the artists' work," Sherry says.
They considered turning their sculpture park into a foundation, but "there were many factors against that," she says. "One is that you have to endow it extremely heavily for the town to even consider it—but in our case, most of our wealth is in our art." So, she continues, "in order to endow it, we'd have to sell the art, and then we'd have nothing to endow anymore. So that didn't seem like a good idea."
They decided to simply sell it, using former auction house veteran Francis Outred as an adviser. "He approached both Christie's and Sotheby's, and each made remarkable presentations," says Sherry. "Each was interesting and very commendable, and I guess we decided on the one who approached it with the most comprehensive business point of view, in terms of taking care of the whole collection from beginning to end over a long period of time."
It wasn't that they were concerned about their most expensive lots. "Every auction house knows how to handle the best pieces," Sherry says. "That's not hard; the best pieces handle themselves. It's what do you do with the rest of the collection, which is really nice but not outstanding."
Top Lots
So what do they think of Sotheby's valuations?
"All of it was too little," Sherry says, half-joking. "Every one of my children is perfect, and every one of my art pieces is fantastic."
Her theory will be tested very soon. The first tranche of works will go on sale during Sotheby's contemporary art sales in London this month. Thomas Schütte's Bronzefrau Nr.11 (Bronze Woman No. 11), from 2002, carries an estimate of £2 million to £3 million ($2.3 million to $3.4 million) and will hit the auction block on Oct. 14.
The same day, the couple's totemic sculpture by Louise Bourgeois, Listening One from 1981, will go to sale with an estimate of £1.3 million to £1.8 million. Other top lots include an Infinity Net painting by Yayoi Kusama from 2010, which carries an estimate of £1.8 million to £2.5 million; Sean Scully's paintingWall of Light Red, from 1998, estimated from £800,000 to £1.1 million; and a collection of work by the group known as YBAs (Young British Artists), including pieces by Damien Hirst and Ron Mueck.
Next month in the marquee contemporary evening auctions in New York, they'll sell a work by Robert Gober from 1993-94, which carries an estimate of $6 million to $8 million, and a piece by Robert Irwin from 1965–67, part of his suite of works known as "The Discs," which carries an estimate of $3 million to $4 million.
Wait and See
Despite these heady prices, Joel has a word of warning for anyone buying art purely for financial gain. "Don't view art as an investment," he says. "It's probably the worst investment you could make."
Sherry interjects that she would "like to edit that statement." It's not the worst investment, she says; it's just "not a sound investment or a sure investment, ever. Nobody knows, 50 years from now, which artists today are going to bring the most money."
The art that's going to the London auctions has already been taken off the walls, but the couple remains relatively sanguine. They plan to attend the New York sales in November. "I think it will be bittersweet," says Sherry.
Joel, for his part, is withholding judgment. "I don't think I'm going to know how I feel about it until after the sale," he says.
'Art Hiding In Paris' A Perfect Companion For Exploring The City Of Light – Forbes
No city has more artwork than Paris and no city is more artwork than Paris. Ornamental building façades enliven every surface in every direction. Uncountable statues and memorials and fountains creating the world's largest outdoor sculpture park. Eiffel's dramatic, soaring, Modernist spire.
There's so much art in Paris–much of it right out in the open–many visitors don't even realize the masterpieces they bypass on their way to the museum or café.
Following the success of 2020's "Art Hiding in New York," Lori Zimmer returns with "Art Hiding in Paris" (November 29, 2022; Running Press), another insightful, bouncy tour of parks, cafés, side streets, churches, cemeteries, train stations, hotel lobbies and, in this case, cabarets, calling attention to compelling artworks typically overlooked across Paris.
Like a pair of massive spheres–each 20-feet across–commissioned by Louis the XIV.
A mural renovated in 2020 revealing, for the first time since Nazi occupation, Charlie Chaplin.
A sundial from Salvador Dalí.
Zimmer, a New Yorker, began spending large portions of each summer in Paris in 2017, a ritual she has continued through this year, 2020 being an exception. As soon as France began allowing U.S. tourists to return in June 2021, she was on one of the first flights back, her final push of researching and writing for this book.
Through all those previous summers and trips in between, however, Zimmer had been subtly preparing for "Art Hiding in Paris."
"I would go to all this stuff anyway, that's how I vacation, so it just made sense, if I'm (in Paris) and reading up on it anyway, I might as well start keeping tabs and writing about it just in case," she told Forbes.com.
Tidy, easily fit into a backpack or large purse, "Art Hiding in Paris" serves as a travel companion for exploring the city, each entry including which arrondissement–neighborhood–artworks can be found in along with their addresses. A map and index help visitors stack multiple sites into single excursions. Zimmer has also put together a series of self-guided walking itineraries–"Left Bank Lunch," "Montmartre Morning"–for travelers to make the most of their limited time.
Also returning from "Art Hiding in New York" for "Art Hiding in Paris" is Zimmer's childhood friend, Maria Krasinski, whose watercolor illustrations of featured locales again add spirited whimsey and personality to the book, making it an artwork of its own.
Picasso Sat Here
In Woody Allen's delightful homage to the city, "Midnight in Paris," a time-traveling Owen Wilson finds himself in 1920s Paris partying with Scott and Zelda Fitzgerald, discussing literature with Ernest Hemingway, competing for a lover with Pablo Picasso and having his novel reviewed by Gertrude Stein. Paris is about art, true, but there is no art without artists.
In addition to pointing out artworks around the city, "Art Hiding in Paris" shares with readers places where they can commune with cultural icons from the past.
The art supply shop frequented by Monet, Renoir, Cézanne and Van Gogh still furnishing brushes and paint. The cabaret where Loie Fuller and Josephine Baker danced. The historic square where Yoko Ono spread a handful of Keith Haring's ashes. The studio where Picasso painted Guernica. The flat Theo van Gogh shared with his brother.
"Art Hiding in Paris" and the yearning it creates to visit the city hit high gear when detailing Paris' numerous cafés, bars, restaurants and their legendary former patrons. An entire chapter is devoted to "Dining with the Masters."
The bistro Henri de Toulouse-Lautrec invited Vincent van Gogh to join him in sipping absinthe. The brasserie where Diego Rivera, Hemingway and Amadeo Modigliani were regulars. Picasso's studio was just nearby. The dance hall and open-air restaurant immortalized in one of Renoir's greatest paintings.
Picasso, Modigliani, Hemingway, Man Ray, Max Ernest and their contemporaries frequented multiple establishments around town, "Art Hiding in Paris" points them out.
"I was inspired going to even the crappiest little café; I love that the 'historic' ones are still open, and they love their traditions," Zimmer said. "They want (visitors) to connect to the past, and you're also eating your meal, so it's not just like going to the museum, it's functional, but with the bonus of learning something and being able to transport to another time."
"Midnight in Paris" for the rest of us.
Birthplace of the Flâneur
A flâneur is a dandy. A fancy gentleman who walks–saunters–the city streets, typically alone, observing its people and rituals. An urban explorer. Parisian Édouard Manet was a classic Flâneur.
Modern-day flâneurs will cherish "Art Hiding in Paris" for how it privileges pedestrians, Zimmer, after all, is one.
"I love to walk around and just be by myself sometimes," she says. "More than New York even, for some reason, when I'm in Paris, I rarely take the train and I'll look at the directions and think, 'Oh, it's only an hour and a half walk.' In my head I think that's totally fine where anywhere else (that's crazy)."
Hemingway's "A Movable Feast" was written about Paris and the adage remains true today. A never-ending feast for the eyes and ears and nose and mouth when experienced at street level, the sights and sounds and smells and tastes rich and intimate as only they can be on foot.
"Art Hiding in Paris" doesn't work from the window of a tour bus–not at full capacity, anyway–this is a book for the pavement pounder, the curious, the slow traveler, the sidewalk savant, the look-arounder the flaneur.
City of Light
"Most of the streetlights cast that kind of yellowish glow and it was the perfect lighting to write to," Zimmer recalls of the book's production. "I would walk like 10 miles in the morning checking everything and then write all night to that light–it was cinematic."
Zimmer's writing is concise and unpretentious, with a dash of humor. Take her description of the Paris opera house as, "dripping with sculpture, gilding, crystals and ornate sumptuousness… a temple of antiquated opulence."
With art everywhere, her greatest challenge was editing.
"It was so hard to decide what to not include, that was the hardest part," Zimmer said. "I tried to make it a mix of some recognizable (landmarks) and some that no one would know anything about."
Marc Chagall's resplendent and familiar fresco on the ceiling of the before-mentioned opera house is admired and photographed by tens of thousands annually; in "Art Hiding in Paris" it is preceded by a doorway carving sharing a medieval love story few ever notice.
"Paris has such a range," Zimmer said of the city's public artworks. "For the historical aspects of '(Art Hiding in) New York,' that all happened basically after or during World War II, whereas Paris had a bunch of different periods like the Belle Époque and in between the two wars was when the Bohemian dream happened. The Paris book is more well-rounded."
As for the most difficult question: New York or Paris?
"Because I've been in New York for 17 years, I'm ready for Paris because I feel like I've mastered New York and I haven't mastered Paris and I love unfamiliarity," Zimmer said. "There's no place like New York, but Paris is a wonderful place to be alone, to research and work, and that's the cycle I'm in in my life right now."
New Yorkers, don't despair, if you can't get enough of Zimmer's commentary on the Big Apple, she has written short essays about an empty NYC during the pandemic for a different book, this one from her significant other, Logan Hicks–himself an artist–and his new book, "Still New York." It features over 100 photos of Hicks' observations of an eerily empty New York during the lockdown.
For an "Art Hiding in Paris" Easter Egg from Krasinski, you'll find an illustration of Zimmer, Hicks and a beloved pet cat on page 230.
Zimmer always intended for Paris to follow "Art Hiding in New York," and while she'll take a break from the series to work next on a completely unrelated title, she does hope to return to "Art Hiding" in the future. Where to next?
London.
Find unique local artwork for the holiday season at December's First Friday Peterborough – kawarthaNOW.com


This month's First Friday Peterborough art crawl, taking place on December 2, provides a wealth of opportunities to find unique locally made artwork for everyone on your gift list this holiday season while also supporting local artists. art organizations, and locally owned small businesses.
The free, self-guided, family-friendly art crawl takes place at various galleries, businesses, venues, and artist studios, with most exhibits located in the downtown core — including several at the Commerce Building at 129 1/2 Hunter Street West — and running from 6 to 10 p.m.
December's art crawl also includes a fine art and craft show just across the Hunter Street Bridge in East City. "8 at the Guild" takes place from 3 to 9 p.m. at the Peterborough Theatre Guild (364 Rogers St.) and features functional ceramics by Thomas Aitken and Kate Hyde, glass works by Christy Haldane, one-of-a-kind cards by painter Bea Quarrie, scratchboard originals by Lisa Martini-Dunk, glass works by Susan Rankin, original paintings and prints by David Smith, glass jewellery by Kira Robertson, and original paintings by Diana Collins Wilkes.
Advertisement – story continues below
Also new to First Friday Peterborough this December is an outdoor winter market running from 6 to 8 p.m. in the Commerce Building Square (29 1/2 Hunter St. W.). The market features poetry, live music, hot beverages and treats, and artworks and gifts. Vendors include Kit Coffee, Jeff Macklin of Jackson Creek Press, Third Circle Ceramics, Cheek, Juli Sage, Bethany Davis, Miguel Hernandez Autorino, and Marcia Watt.
Studio 5 at Heather Doughty Photography (129 1/2 Hunter St. W.) is hosting a pop-up art show from 6 to 9:30 p.m. featuring landscape and abstract art by Andrew Zahorouski and Donna Bolam, live storytelling by Hermione Rivison, and selected unframed prints from photographers showcased in past SPARK Photo Festival themed juried exhibits. The SPARK print sale accepts cash and onsite e-transfer only, with all proceeds supporting SPARK programming.
Along with the pop-up art show, you can also browse the current exhibit at Studio 5: a collection of fine art in oils, acrylics, watercolours, charcoal, pastels, and photography by
Arne Roosman, James Matheson, Hannah Spinney, Nancy Simmons Smith, Anita Murphy, Heather Doughty, Freddie Towe, Henry Gordon, Leilah Ward, and John Maris.
Artspace (3-378 Aylmer St. N.) is hosting its first annual holiday market from 6 to 9 p.m. on First Friday. Vendor artists and artisans include Linda Patterson of Arts of Delight (dolls), The Fanciful Hooker (textiles), DawnMoon Studio (earrings), Cedarlilie Beads (beadwork), Timothy Laurin (sculptural jewellery), Kathryn Durst (illustration), and Elizabeth Popham (acrylics and photographic decoupage). Other participating vendor artists and artisans include Rob Niezen, Haille Dockery, Summer Roads, Bethany LeBlonc, Kelly King Mosaics, Walnuts and Wonders, and Fairy Island Fibres.
As the holiday market is also a fundraiser for low-barrier arts programming in Artspace's new Maker Space, entry is by donation ($3 recommended). Artspace will also be selling raffle tickets for a basket filled with local art and handcrafted goodies. If you can't make it to First Friday, the market continues from 10 a.m. to 4 p.m. on Saturday, which also will feature a free art-making workshop from 12 to 4 p.m. in the new Maker Space. Drop in and make an ornament with facilitators from Creating Space Peterborough.
Note that masks are mandatory for all vendors, volunteers, and patrons during the holiday market.
Advertisement – story continues below
The Art School of Peterborough (178A Charlotte St.) is also hosting a holiday art market from 6 to 9 p.m. on First Friday, featuring works by various local artists. If you can't make it to First Friday, the market continues from 10 a.m. to 4 p.m. on Saturday.
If you're interested in body art, you'll want to drop by Riverside Tattoo & Skate Shop (127 Simcoe St.) on First Friday to check out the gallery of tattoo flash, paintings, prints, custom goods, and clothing featuring six artists from Riverside Tattoo (Stephen Shaw, Olivia Chessman, Cole Curtis, Kris Manbeck, Jesse Owen, and Emma Thompson), three artists Kent Street Tattoo in Lindsay (Corrie Worden, Danielle Poir, and Ainsley Worsley) and two artists from Take Care Tattoo in Port Perry (Jennifer Lawes and Jessica Channer).
Here are some of the other shows and exhibits taking place during First Friday Peterborough: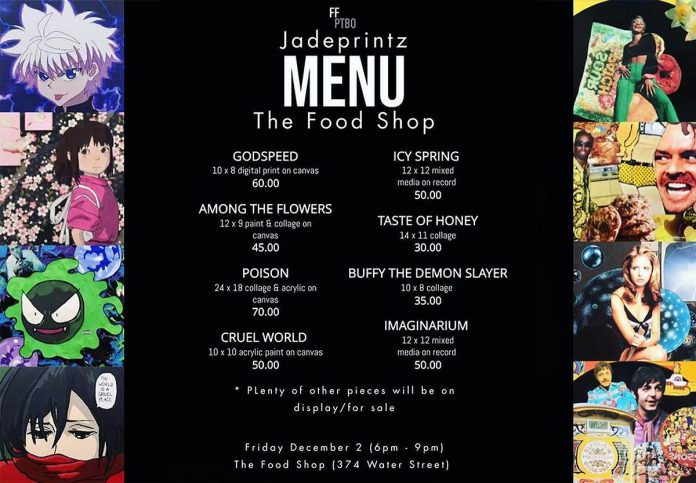 A framed arts show featuring a variety of local artists at Watson & Lou (383 Water St.)
"Winter Wonderland" by Kelly Albin at Blue Frogs Legs (393 Water St., 3rd Floor, Studio 7)
"Snow and Monsters" with augmented reality, animation, and interactive art by Kim Beavis Sanderson at Francey Studio (129 1/2 Hunter St. W., Studio 3)
Works by nature artist Jenn Baici at the Gallery in the Lounge in Revive Hair Lounge (73 Hunter St. E.)
Functional pottery including ceramic tableware and serving ware by Brenda Lee at East City Knife Co. (376 Water St.)
"Winter Wonderland" by Madi Day and Jessica KH at Turner & Pooch (142 Simcoe St.)
4th Annual Winter's Market featuring works by various Peterborough artists at Ludmila Gallery (129 1/2 Hunter St. W. 2nd Floor). The exhibit opens from 6 to 10 p.m. on Friday Friday and continues on Fridays, Saturdays, and Sundays from noon to 5 p.m. until December 23.
Collage, mixed media, and anime art by Jade Wallace at The Food Shop (372 Water St.)
A one-year anniversary group show by the Peterborough Arts Collective and "Psychedelic Holidaze," a collection of projected festive visual art by digital artist Ashley Hall, at Jason Wilkins Factory (188 Hunter St. W. #7).
"Imagination & Art" by Lily Frampton at Tragically Dipped Donut (386 Water St.). This is Lily's first art show, days before her 11th birthday.
Acrylic painter Kate "Gissy" Grightmire and cosmetic tattoo artist Emily Poisson at EJP Studio (395 Water St.).
For more information about First Friday Peterborough, visit firstfridayptbo.com.
How Viola Desmond's salon space has been reimagined through art – CBC.ca
Those walking along Gottingen Street in Halifax can now step into an art space created to honour civil rights activist Viola Desmond.
The Viola Desmond Experience was created by artist Marven Nelligan and was unveiled last week.
It is part of the Viola Desmond Legacy Art Project committee, created a few years ago to commemorate Desmond's life before she became known for her activism.
Desmond, a Black beautician and businesswoman, was arrested in 1946 while watching a movie in the whites-only section of the theatre in New Glasgow, N.S.
The exhibit is located right between The Braiding Lounge and Blue Collar Barbershop. Onlookers are often seen stopping and taking photos.
The space has a large mirror on the wall facing the street. The floor has an adhesive covering that looks like wood.
The wall has a picture of Desmond looking on while women chat, get their hair washed, and read The Clarion, Nova Scotia's first and only Black newspaper.
A dresser painted on the wall has a photo of Desmond and her sister, Wanda Robson, who championed her sister's legacy.
There is a salon chair in the middle of the exhibit. Visitors are welcome to take a seat.
"A lot of people don't really know the achievements of Viola Desmond and the things that she accomplished through her career long before she was a civil rights icon," said Nelligan.
Virtual experience in the works
He said the group is also working to add a virtual component to the exhibit. Participants will be able to scan a QR code and see a lookalike of Desmond behind them sharing her story.
"She was an entrepreneur, she was a businesswoman, she was a Black businesswoman, she made products, she was a manufacturer, she was an educator," said Tara Taylor, who owns The Braiding Lounge and is on the art project committee.
"So, she not only learned her craft, she taught her craft to other Black women in the community. And that's what we want people to remember her for."
Taylor said she was proud to see the space open right beside her business. Desmond's original salon was nearby.
"I'm extremely inspired by what she did in her community at the time," said Taylor.
"Back then she was pretty much considered almost a millionaire. And so I just want to embody all of the things that she meant to her community."
Taylor said the committee plans to share the virtual experience with New Glasgow.
For more stories about the experiences of Black Canadians — from anti-Black racism to success stories within the Black community — check out Being Black in Canada, a CBC project Black Canadians can be proud of. You can read more stories here.
MORE TOP STORIES