A grim milestone and update on pandemic-plagued economy. : In The News for Oct. 28 – Humboldt Journal
In The News is a roundup of stories from The Canadian Press designed to kickstart your day. Here is what's on the radar of our editors for the morning of Oct. 28 …
What we are watching in Canada …
Canada reached a grim and worrying milestone in the COVID-19 pandemic, surpassing 10,000 novel coronavirus deaths.
Alberta reported two deaths Tuesday from COVID-19 to lift the national tally to 10,001.
COVID-19 case counts slowed across the country through the summer, but have taken a big jump in many areas this fall, with new daily highs regularly being set through Central and Western Canada.
Canada crossed the threshold of 5,000 deaths on May 12, a little over two months after the first one was reported.
Health Canada recently forecast 10,100 COVID-19 deaths in Canada by Nov. 1 as a worst-case scenario and now that number is close, Winnipeg epidemiologist Cynthia Carr said.
Carr said the increased spread of COVID-19 will result in more opportunities for the virus to infect the elderly and other vulnerable people.
But she said she doesn't believe imposing further lockdowns on peoples economic and social well-being are the answer.
"We're sabotaging those businesses and people that are paying the price because they are the ones that have been targeted as part of the solution to stop the spread.," she said.
Prime Minister Justin Trudeau admitted today that the COVID-19 pandemic "really sucks" but added that a vaccine is coming.
—
Also this …
OTTAWA — The Bank of Canada will release its updated outlook for the country's pandemic-plagued economy.
The central bank in July said it believed the country had been spared from a worst-case scenario envisioned in April, but warned things could change.
Governor Tiff Macklem has said a severe second wave of the pandemic, health restrictions that extend beyond December and the timing of a vaccine or other effective treatment could all shift the country's economic course.
This morning the central bank will provide a more detailed analysis of its forecast for the domestic economy as the country marches through a second wave of COVID-19.
Macklem has said the central bank will keep its key policy rate as low at it can go at 0.25 per cent until the economy has recovered and inflation is back at the bank's two-per-cent target.
That means experts don't expect the central bank to change the rate from near-zero when the bank makes its announcement later this morning.
—
What we are watching in the U.S. …
PHILADELPHIA — The lawyer for the family of a Black man killed by Philadelphia police officers in a shooting caught on video says the family had called for an ambulance to get him help with a mental health crisis, not for police intervention.
Police say 27-year-old Walter Wallace Jr. was wielding a knife and ignored orders to drop the weapon before officers fired shots Monday afternoon.
Following a second night of arrests and reports of theft in sections of Philadelphia, a White House statement asserted that the unrest was another consequence of what it called "Liberal Democrats' war against the police."
—
What we are watching in the rest of the world …
Satellite photos show Iran has begun construction at its Natanz nuclear facility.
That's after the head of the UN's nuclear agency acknowledged Tehran is building an underground advanced centrifuge assembly plant after its last one exploded in a reported sabotage attack last summer.
Since August, the satellite photos show Iran has built a new or regraded road to the south of Natanz toward what analysts believe is a former firing range for security forces at the enrichment facility.
Analysts from the James Martin Center for Nonproliferation Studies at the Middlebury Institute of International Studies say they believe that site is undergoing excavation.
—
On this day in 2008 …
Barenaked Ladies frontman Steven Page avoided jail time on drug possession charges provided he seek substance abuse treatment and stay clean for the next six months. Page was charged with drug possession in July after police found cocaine at a Fayetteville, N.Y. apartment. He complied with his probation conditions and the charges were eventually dropped.
—
In health news …
The Canadian Medical Association says ongoing surgical and diagnostic backlogs will only worsen without immediate government help to address a strained health-care system.
The CMA found average wait-times increased by one-to-two months for the most common procedures in the first wave and it would take $1.3 billion in additional funds to tackle procedures sidelined from January to June because they were deemed non-essential during the pandemic.
A study ordered by the organization looked at the six most commonly delayed procedures: CT and MRI scans, hip and knee replacements, cataract surgeries and coronary artery bypass grafts, which all plummeted in April, when almost no cataract or knee replacements took place.
Although procedures gradually began to rebound in June, the report found more than 270,000 people had their MRI scans — which can detect serious disease or injury — delayed by a national average of nearly eight months, more than seven weeks longer than before the pandemic. Those waiting for knee replacement surgeries had to wait an average of 14 months, about two months longer than before the pandemic.
"The impact on wait times is just going to be the worst-ever in our system," CMA president Dr. Ann Collins says.
"It's going to have serious consequences the longer this pandemic goes on."
—
ICYMI …
An original member of the Jamaican bobsled team featured in the 1993 movie "Cool Runnings" is imploring whoever stole the nose cone from a sled that appeared in the film to return it to a Calgary bar.
Devon Harris, who is also chairman of the Jamaican Bobsled Federation, says he's not going to lose sleep over the missing bobsled shell, but is disappointed over the news.
"It's gone too far now," Harris says. '"Just bring it back."
Police say the shell was last seen at Ranchman's country bar last week as it hung outside below the roof of the building. The sled was a gift to to the business by the movie's production crew after some scenes were filmed there. The bar closed last month.
"Cool Runnings" is loosely based on the true story of the national Jamaican bobsled team's debut at the 1988 Winter Olympics in Calgary.
Harris, who lives in New York, says he saw a friend from Calgary post on Facebook about the stolen black bobsled shell with the Jamaican flag colours — black, green and gold — and immediately rolled his eyes.
He says the sled was a gift from a Canadian bobsled team and was later painted for the movie.
"It's kind of like this work of art that somebody go hide in a basement and they are the only ones who have the opportunities to enjoy it."
—
This report by The Canadian Press was first published Oct. 28, 2020
Unchanged from early estimate, US economy grew 33.1% in Q3 – OrilliaMatters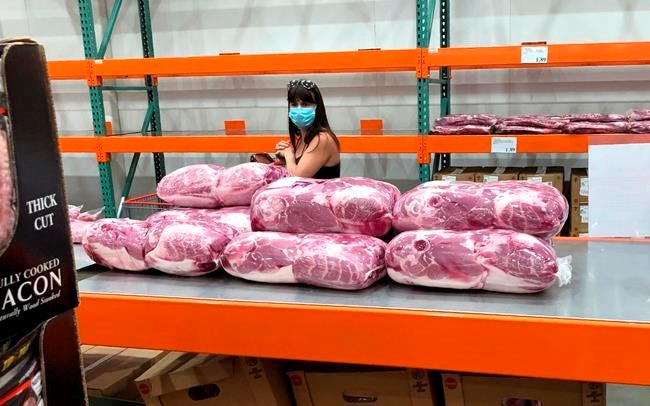 WASHINGTON — The second of three estimates on U.S. growth for the July-September quarter was unchanged at a record pace of 33.1%. But a resurgence in the coronavirus is expected to slow growth sharply in the current quarter with some economists even raising the spectre of a double-dip recession.
While the overall increase in the country's total output of goods and services was static, the Commerce Department reported Wednesday, some components were revised.
Bigger gains in business investment, housing and exports were offset by downward revisions to state and local government spending, business inventories and consumer spending.
The 33.1% gain was the largest quarterly gain on records going back to 1947 and surpassed the old mark of a 16.7% surge in 1950.
Still, the economy has not fully recovered from output lost in the first six months of the year when GDP suffered a record-shattering drop of 31.4% in the second quarter. That followed a slide at an annual rate of 5% in the first quarter as when the pandemic shut down much of the economy and triggered millions of layoffs.
Economists are concerned that growth has slowed sharply in the current October-December and there are fears that GDP could dip back into negative territory in the first three months of next year.
Mark Zandi, chief economist at Moody's Analytics, said he had forecast GDP growth of around 2% in the fourth quarter, with the real possibility of GDP turning negative in the first quarter of next year.
Economists at JPMorgan Chase have trimmed their forecast for the first quarter to a negative 1% GDP rate. "This winter will be grim and we believe the economy will contract again in the first quarter," the JPMorgan economists wrote in a research note.
"The economy is going to be very uncomfortable between now and when we get the next fiscal rescue package," Zandi said. "If lawmakers can't get it together, it will be very difficult for the economy to avoid going back into a recession."
While lawmakers have returned for a lame-duck session, there has been no progress so far in narrowing the differences between Democrats who are pushing for a big package of $1 trillion or more, and Senate Republicans who are refusing to approve anything above approximately $500 billion.
More than 9 million people will lose their unemployment benefits at the end of the year when two jobless benefit programs are set to expire unless Congress extends them.
At the same time virus cases are surging, triggering a number of states to re-impose business limits such as earlier closing times for bars and restaurants and stricter limits on the number of in-store shoppers.
Martin Crutsinger, The Associated Press
World economy risks buckling into 2021 despite vaccine nearing – BNN
The surging coronavirus is stoking fears of a fresh downturn for the world economy, heaping pressure on central banks and governments to lay aside other concerns and do more to spur demand.
Hopes are mounting that COVID-19 vaccines will become available as soon as December, but widespread delivery will take months and infections are rising again in many large economies. Authorities are responding with more restrictions to limit the virus's spread at the price of weaker economic activity.
Wall Street economists now say that it wouldn't take much for the U.S., euro area and Japan to each contract again either this quarter or next, just months after they bounced from the deepest recession in generations. Bloomberg Economics guages of high-frequency data point to a double-dip downturn, with European factory indexes on Monday justifying that worry, though a U.S. measure of business activity was upbeat.
That leaves policy makers hearing calls for more stimulus, even when central banks are already stretched and starting to worry about froth in financial markets. Meantime, politicians from the U.S. to Europe are clashing over just how much they can and should do with fiscal policy.
"While there is much excitement over the progress of vaccine development, it will not be the quick fix that many expect it to be," Singapore's Trade & Industry Minister Chan Chun Sing told reporters on Monday. "Manufacturing enough doses, then distributing and vaccinating a significant population of the world, will take many months, if not years."
Against such a backdrop, the European Central Bank is set to ease monetary policy again next month, while the Federal Reserve could concentrate more of its bond purchases on longer-term securities to push down interest rates.
But there are concerns the central banks have run out of room to act decisively and that even easier financial conditions won't translate into an economic boost. The International Monetary Fund is among those also warning elevated asset prices potentially point to a disconnect from the real economy and so may pose a financial stability threat.
"There is a glut of savings and a shortage of investment," which is the core problem facing developed economies, former Fed Chair Janet Yellen, who is set to be nominated for Treasury Secretary by President-elect Joe Biden, told Bloomberg's New Economy Forum last week. "We have to have fiscal policy, structural policy other than just relying on central banks to achieve healthy growth."
The problem is fiscal policy in the U.S. and Europe isn't racing to the rescue. Lawmakers in the U.S. are at loggerheads over how much more to spend as Biden prepares to take office. President Donald Trump's Treasury Department last week reduced the Fed's ability to aid some credit markets.
In Europe, US$2 trillion in aid is being held up by a fight over political control.
"Exactly at the time central banks everywhere are acknowledging the centrality of fiscal policy in dealing with the economic consequences of the pandemic, governments are facing difficulties in implementing the next leg of their stimulus," said Gilles Moec, chief economist at AXA SA.
What Bloomberg Economics Says...
"Our base case is a contraction of 4.1 per cent in global output in 2020, followed by a rebound to 4.9 per cent growth in 2021. Uncertainty on the course of the virus, extent of stimulus, and timing of a vaccine mean the range of possible outcomes remains unusually wide."
— Tom Orlik
For the U.S., the pace of infections prompted JPMorgan Chase & Co. analysts to forecast an economic shrinkage next quarter as various states impose social distancing curbs and some government benefits expire. Recent data show more people filing for unemployment benefits and fewer dining out at restaurants.
"It is possible we could have negative growth if this resurgence gets bad enough and mobility falls off enough," Dallas Fed President Robert Kaplan told Bloomberg Television last week.
In Europe, further evidence arrived on Monday that a double-dip recession is on the way, with a survey of purchasing managers dropping sharply.
Japan's manufacturing and service sectors worsened at a faster pace in November, early purchasing managers' indexes showed, adding to concern over the strength of the recovery. Prime Minister Yoshihide Suga has called for a third extra budget to keep the economy on a growth path.
Both the International Monetary Fund and the Group of 20 — which comprises the world's richest nations — warned during the G20's meetings last weekend that the recovery is at risk of derailing despite positive news around vaccines buoying global stocks.
China is the world's only major economy tipped to grow in 2020 as the government's early control of the virus allowed lockdowns to be eased months ago. While its trade-led recovery is offering a boost to global commerce for now, even it's vulnerable to the global outlook.
Reality Check
Fed Chair Jerome Powell and ECB President Christine Lagarde are among the central bankers warning against exuberance on news of successful vaccine trials.
The main reason for caution is the time needed to roll out shots for the world population to an extent enabling an end to growth-sapping movement restrictions. The announcement of a vaccine itself may drive market optimism, but doesn't re-open economies for now.
"The vaccine gives more of a vision for what may be late next year, and what 2022 will look like, but not for the next six months," ECB chief economist Philip Lane said in an interview with Les Echos. "The situation will not materially improve in the last weeks of 2020."
The ECB's downbeat tone on the immediate outlook is the backdrop to the likely arrival of a boost to the central bank's 1.35 trillion-euro (US$1.6 trillion) emergency bond-buying program and its cheap bank loans. Policy makers meet on Dec. 10.
The worst affected sectors continue to shed jobs as companies warn on profits. Boeing Co. is almost doubling its planned job cuts while Adidas AG became one of the first consumer-goods companies in Europe to warn that renewed lockdowns will weigh on its earnings again and bring a swift end to a recent sales rebound.
The JPMorgan analysts are though hopeful that a vaccine and another round of fiscal support totaling US$1 trillion in the U.S. will be enough to deliver average growth of more than five per cent in the middle quarters of 2021. Even then, the virus's legacies of record debt and elevated unemployment will endure.
Economists at ABN Amro Group NV however see mobility restrictions around the world lasting well into 2022.
"Only then can the global economy break into a growth spurt to make up the lost output versus trend growth," analysts including chief economist Sandra Phlippen wrote in a report on Monday. "The vaccine is tantalizingly close, but still out of reach."
National child-care system would boost women's job numbers and economy, report says – CP24 Toronto's Breaking News
Jordan Press, The Canadian Press

Published Wednesday, November 25, 2020 7:31AM EST

OTTAWA – A new report estimates that hundreds of thousands of women could get back into the labour force if the Liberals follow through on a pledge to create a national child care system.
The paper to be released Wednesday makes the case that federal spending to create a national program would "pay for itself" in the form of extra income tax, extra spending and reduced social costs as more parents entered the workforce.
There is also the potential for tens of thousands of construction jobs as new centres and spaces are built, along with an employment boost in the child-care sector as it expands.
Report author and economist Jim Stanford says the lack of accessible and affordable daycare is a key reason why fewer women in their 30s and 40s are in the workforce than men the same age.
He estimates that between 363,000 and 726,000 women in the "prime parenting age cohort" between 25 and 50 could join the labour force over a 10-year period as a national child-care program is developed.
Among them would be up to 250,000 women moving into full-time jobs.
Stanford's paper builds on previous research into the economic spinoffs of Quebec's publicly funded daycare system, but develops estimates based on how a national system might look.
The Liberals have promised to make a long-term spending commitment to create a national child-care system, seeing it as a key avenue to help women harder hit during the pandemic in what has been dubbed a "she-cession."
"Economists have agreed for years that child care has huge economic benefits, but we just can't seem to get the ball over the line in Canada," says Stanford, director of the Centre for Future Work.
"I finally think the ducks are being lined up here and we can actually make this happen," he adds.
"This really is the moment when we can finally move forward, and it is a moment when Canada's economy needs every job that it can get."
A recent report by RBC economists Dawn Desjardins and Carrie Freestone calculated that 20,600 women fell out of the labour force between February and October even as 68,000 more men joined it.
The situation was most acute for women ages 20 to 24, and 35 to 39; one of the reasons the duo cited for the sharper drop was the pandemic-caused closure of child-care centres.
Child-care centres, which often run on tight margins and rely on steep parental fees, couldn't keep up with costs during spring shutdowns and shed about 35,000 jobs between February and July. Some centres have closed for good.
The worry Stanford notes is that many of the job losses will become permanent and more centres will close without financial assistance from governments.
Scotiabank economists Jean-Francois Perrault and Rebekah Young suggested in September that creating nationally what Quebec has provincially would cost $11.5 billion a year.
Their analysis also suggested federal coffers could reap billions in new tax revenue as women in particular would get into the workforce in greater numbers, offsetting some of the overall cost.
Stanford's estimate is for a boost to government revenues of between $18 billion and $30 billion per year, split between federal and provincial governments.
"This literally is a social program that pays for itself," Stanford says.
"The economic benefits of giving this first-class care to early-age children, and getting their mothers in the labour market working to their full potential, are enormous."
He argues that provinces, mired in a fiscal quagmire worse than the federal government's, shouldn't stand in the way of "reasonable demands" from the federal government to create a national system.
Provinces have responsibility for child-care delivery. Stanford says they cannot afford to look this gift horse of new revenues in the mouth given the federal government would foot most of the bill.
This report by The Canadian Press was first published Nov. 25, 2020.