A Minnesota University Is Under Fire for Dismissing an Art History Professor Who Showed Medieval Paintings of depicting the Prophet Muhammad
In a controversial move, an adjunct professor at Hamline University in St. Paul, Minnesota, has lost her job after showing her class Medieval paintings depicting the Prophet Muhammad, founder of the Islamic religion.
The school's decision not to renew the professor's contract for the current semester has sparked debates over free speech, including a Change.org petition in support of the teacher, signed by at least 2,500 scholars and students of Islamic studies and art history, and a condemnation from PEN America of the "egregious violation" of academic freedom.
Though it is not mentioned in the Koran, many Muslims believe it is idolatrous to show Muhammad's face. Most mosques instead are decorated with geometric designs and calligraphy featuring passages from the Koran, and Islamic figurative art is now rare.
But there is also a tradition of painting Muhammad, often in miniature, especially in Persia, Turkey, and India. Examples can be found in the collections of museums such as the Louvre, the Metropolitan Museum of Art, and the Asian Art Museum of San Francisco. It was a selection of two of those artworks shown to the class that cost the professor her job.
The teacher, identified by the Art Newspaper as Erika Lopez Prater, is said to have displayed the images during on online lecture on October 6, 2022. There was a two-minute content warning prior to the artworks' appearance, to allow students to opt out of viewing the potentially offensive imagery should they feel it was against their faith.
"I am showing you this image for a reason," Prater said before changing the slide, as reported by the university's student paper, the Oracle. "And that is that there is this common thinking that Islam completely forbids, outright, any figurative depictions or any depictions of holy personages. While many Islamic cultures do strongly frown on this practice, I would like to remind you there is no one, monothetic Islamic culture."
One of the artworks was an illustration of the archangel Gabriel delivering his revelations to Muhammad from a 14th-century manuscript by Rashīd al-Dīn called the Compendium of Chronicles, while the other was a 16th-century work by Mustafa ibn Vali showing the prophet with a veil and halo.
Aram Wedatalla, a student in the class and the president of the university's Muslim Student Association, complained to the professor afterward. Prater apologized in an email, but Wedatalla elevated the issue to university administrators, arguing that the lesson was disrespectful to Muslim students.
In response, the dean of students sent an email to the student body condemning the incident as "undeniably inconsiderate, disrespectful, and Islamophobic."
On December 6, two articles on the incident were published in the Oracle—one a news report in which the university's associate vice president of inclusive excellence David Everett said that "it was decided it was best that this faculty member was no longer part of the Hamline community."
"My perspective and actions have been lamentably mischaracterized, my opportunities for due process have been thwarted, and Dr. Everett's all-employee email accusation that 'undeniably… Islamophobic' actions undertaken in my class on Oct. 6 have been misapplied," Prater told the student paper.
The other Oracle article was a letter to the editor from Mark Berkson, the university's department of religion chair and a professor of Asian religions, Islam, and comparative religion.
"In the context of an art history classroom, showing an Islamic representation of the Prophet Muhammad, a painting that was done to honor Muhammad and depict an important historical moment, is not an example of Islamophobia," he wrote. "Labeling it this way is not only inaccurate but also takes our attention off of real examples of bigotry and hate."
The Oracle editorial board removed the article from its website just two days after its publication. (Berkson's text is currently available on the libertarian magazine Reason, along with both emails from administrators to the university community.)
"Those in our community have expressed that a letter we published has caused them harm," the Oracle wrote in explanation of the decision. "Our publication will not participate in conversations where a person must defend their lived experience and trauma as topics of discussion or debate."
The following day, a second university-wide email went out, from Everett and university president Fayneese Miller. It said that "respect for the observant Muslim students in that classroom should have superseded academic freedom."
"Displaying an image of Muhammad may similarly be deeply offensive to some, but because it was pedagogically relevant to the course at issue, it is protected by basic tenets of academic freedom," Sabrina Conza, the program officer of the Foundation for Individual Rights and Expression (FIRE), countered in an open letter to Miller, expressing the organization's concern about the incident and calling for Prater to be reinstated.
The university had held a 33-person meeting about the incident on November 10, with Everett and other administrators such as the dean of students, the interim provost, the assistant director of social justice programs, and the university chaplain among those in attendance, as well as a number of students.
"Of all of the conversations that were held between the MSA and the administration about what to do about the situation, the faculty member was excluded and not a single scholarly voice was ever included," Berkson told Hyperallergic. "So nobody in the room actually knew anything about these images."
"These images are a part of Islamic artistic tradition, and it is very important for us to appreciate and study. That's what art historians do," Berkson added. "If specific students don't want to look at it, that is an important right. I think we should have a protocol to ensure that no student's religious prohibitions are violated. But their prohibition cannot be imposed on everyone else."
Representatives for Hamline University did not respond to a request for comment.
To address concerns among the university's Muslim community, Hamline reportedly invited Jaylani Hussein, executive director of Minnesota's chapter of the Council on American-Islamic Relations, to the school to lead a conversation about Islamophobia in December.
"Many of the Muslim students on campus, after they heard of this incident, it impacted them. It impacted their grades, it impacted them finishing off the semester. They obviously were hurt. At the same time, they're appreciative of the institution doing the right thing," Hussein told Twin Cities Pioneer Press last month. "For us Muslims, it is blasphemy."
News of the professor's termination was first reported outside the university in New Lines Magazine by Christiane Gruber, an art historian who specializes in depictions of Muhammad.
"Hamline administrators have labeled this corpus of Islamic depictions of Muhammad, along with their teaching, as hateful, intolerant, and Islamophobic. And yet the visual evidence proves contrary: The images were made, almost without exception, by Muslim artists for Muslim patrons in respect for, and in exaltation of, Muhammad and the Quran," Gruber wrote.
"Through conflation or confusion, Hamline has privileged an ultraconservative Muslim view on the subject that happens to coincide with the age-old Western cliche that Muslims are banned from viewing images of the prophet," she added, noting that this "muzzles all other voices while potentially endangering rare and precious works of Islamic art."
"If these reports are accurate, Hamline University has committed one of the most egregious violations of academic freedom in recent memory," Jeremy Young, senior manager of free expression and education at PEN America, said in a statement.
"Not only is an art history professor well within their rights to show medieval and Renaissance Islamic artworks in class," he added, "but the professor apparently took added care to create a positive pedagogical experience for students—placing the images in historical context, allowing students to opt out of viewing them, and thoughtfully exploring the history and diversity of Islamic art and thought."
The Academic Freedom Alliance also published a letter in support of Prater, calling for her immediate reinstatement.
"If a professor of art history cannot show college students significant works of art for fear that offended students or members of the community could get that professor fired for doing so, then there simply is no serious commitment to academic freedom at that institution—and indeed no serious commitment to higher education," Keith Whittington, a member of the alliance's academic committee and a professor of politics at Princeton University, wrote in the letter.
In another email to the Hamline community on December 31, the university president continued to defend the decision not to renew Prater's contract.
"It was important that our Muslim students, as well as all other students, feel safe, supported, and respected both in and out of our classrooms," Miller wrote, according to Pioneer Press. "It is also important that we clarify that the adjunct instructor was teaching for the first time at Hamline, received an appointment letter for the fall semester, and taught the course until the end of the term."
In response, FIRE filed a complaint with the Higher Learning Commission on January 4, asking that the organization hold the university accountable for violating accreditation standards regarding academic freedom.
"We gave Hamline plenty of time to reverse course, but it's clear they're not planning to deliver on their academic freedom promises," FIRE attorney Alex Morey, who wrote the complaint, said in a statement.
"Hamline has no right to dismiss an art history instructor for teaching art history," Conza added. "Hamline clearly doesn't understand what academic freedom means, even though it explicitly promises faculty this core right."
Rubbish fashion: street art costumes of Kinshasa – in pictures – The Guardian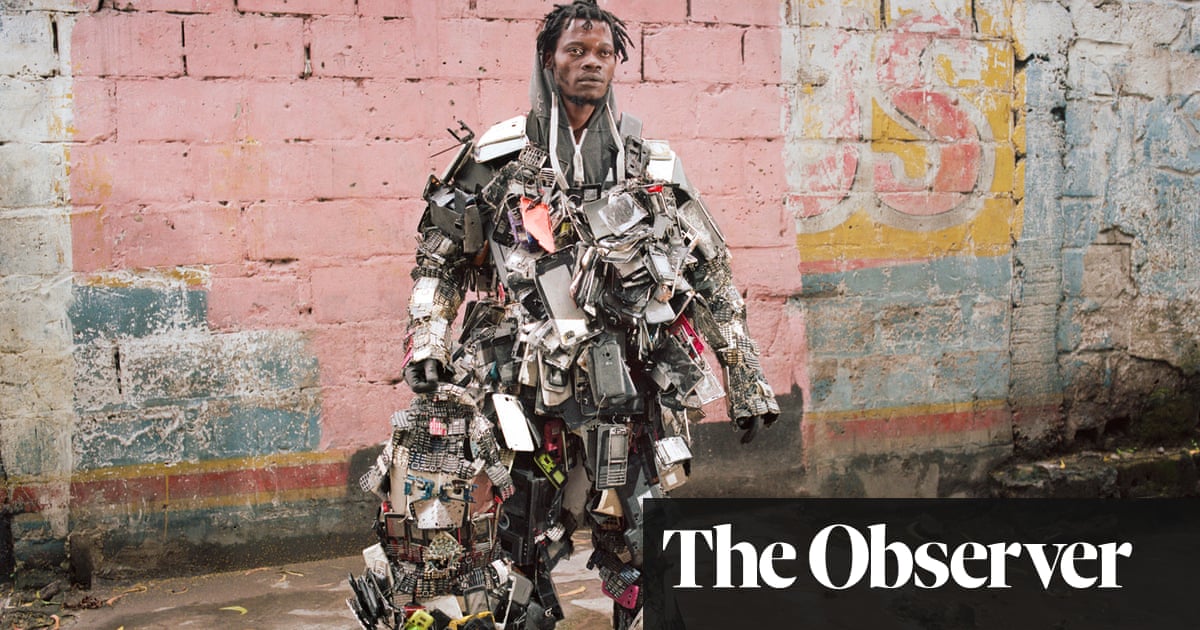 Falonne Mambu posing in her electric wires costume in Limete district, Kinshasa. As a performing artist, she raises issues about social development in her own country. The Democratic Republic of the Congo is potentially the biggest electricity provider in sub-Saharan Africa. Unfortunately, decay and corruption have crippled the national Inga dam, which only works to the minimum of its capacity. Nowadays, only 19% of Congolese people have access to electricity.
Montreal artist won't change puppet that community groups say looks like blackface
MONTREAL — A theatre performance for children featuring a puppet that has been described as racist is continuing in the Montreal area.
Several Black community organizations have criticized the puppet as being reminiscent of blackface minstrel shows — racist performances during which white people portrayed exaggerated stereotypes of Black people for laughs.
But the show's creator — Franck Sylvestre, who is Black — has no plans to change the puppet, which he said is a caricature of his own features. Sylvestre said in an interview he can't accept the idea that he's not allowed to create a caricature of someone who is Black because racists created caricatures of Black people in the past.
"That's unheard of for an artist," he said.
The play, called L'incroyable secret de barbe noire — French for The Incredible Secret of Blackbeard — first drew controversy in February.
A performance at a municipal theatre in the Montreal suburb of Beaconsfield, Que., was cancelled after complaints by Black community organizations. The neighbouring community of Pointe-Claire, meanwhile, removed the play from its official Black History Month programming but allowed the performance to go ahead.
Sylvestre, who wrote the one-man show in 2009 aimed at kids aged five to nine years old, said he had never received a complaint about his show before February.
A series of performances of the play, which combines theatre, storytelling, masks and puppetry, begins Sunday in Laval, Que., he said, before he takes it to France for 30 performances.
Sylvestre said the play tells the story of a young man who travels from Montreal to Martinique — the Caribbean island where Sylvestre's parents are from — at the request of his dying grandfather, who is haunted by his discovery of a mysterious wooden chest with a connection to the pirate Blackbeard.
Max Stanley Bazin, president of the Black Coalition of Quebec, describes the puppet's appearance as "very, very, very ugly" and said he worries that seeing a Black person presented in such a way could cause emotional damage to young audiences.
"It will have an impact on them, it will have an impact on the mind of the young people who see this puppet, and that's what we should think about," he said in an interview.
People are more likely to speak out about racism now than they were in 2009, Bazin said, adding that he thinks Sylvestre should listen to community members and replace the puppet with a less controversial creation.
"If there are people in society who have said this isn't right, you have to react," he said.
Philip Howard, a professor in the department of integrated studies in education at McGill University, said he's not sure the puppet is an example of blackface — but he said that's beside the point.
"There is still very much the matter of representation and the potential use of monstrous and grotesque representations of Black people as a source of entertainment and even humour," said Howard, who has studied contemporary blackface.
Howard said the intentions of the artist are less important than the impact of the performance on an audience.
"Here we have, in this particular instance, a whole community of folks that are responding and saying, 'Wait a minute, we don't love this, we don't think this is OK and we're particularly disturbed about it during Black History Month,'" he said.
Dismissing the opinions of Black people who have a problem with the performance demonstrates anti-Black racism, he said.
Sylvestre said he thinks much of the criticism comes from people who haven't seen the play.
"It's the job of the community to see what purpose these caricatures serve; are they, like blackface, denigrating Black people, or, as in my case, are they being elevated?" he said. "This character, he's a strong character for me personally, and when I made it, I was inspired by myself."
He said the puppet, named Max, is "like a great sage," whose interventions lead to the play's happy ending.
"Max, he was the voice of reason, he was the one who advised us, who mocked me when I made a bad decision, who was above me," he said.
Prof. Cheryl Thompson, who teaches performance at Toronto Metropolitan University, said she didn't like the puppet when she viewed a trailer for the play.
"I was extremely shocked," she said. "I just couldn't believe what I was seeing."
While blackface minstrel shows are primarily associated with the United States, Thompson's research has shown that blackface performances took place in Canada, with shows in Montreal as recently as the 1950s.
Even though blackface originated with white performers, Black actors in the 1800s would also don the exaggerated makeup and participate in the racist performances for white audiences.
"It actually didn't matter if it was a white actor in blackface or a Black actor in blackface, it was the caricature that audiences thought was funny," she said.
Thompson said there's room for theatre performances to be provocative. But performers, she said, need to engage with audiences and be willing to discuss artistic choices — especially when artists are performing for audiences whose histories might be different than their own.
"Why wouldn't this person at least try to hear the voices of people who maybe have a different experience to him?" she said.
She said she wouldn't take a child to see the show, especially during Black History Month.
"I just don't see the uplifting messaging," Thompson said. "I don't see the messaging of 'you matter,' I just don't see that celebration of life. I just see something that is steeped in a history of racial caricature and mimicry."
This report by The Canadian Press was first published March 25, 2023.
Jacob Serebrin, The Canadian Press
Vancouver to remove unsanctioned spider art creeping-out transit riders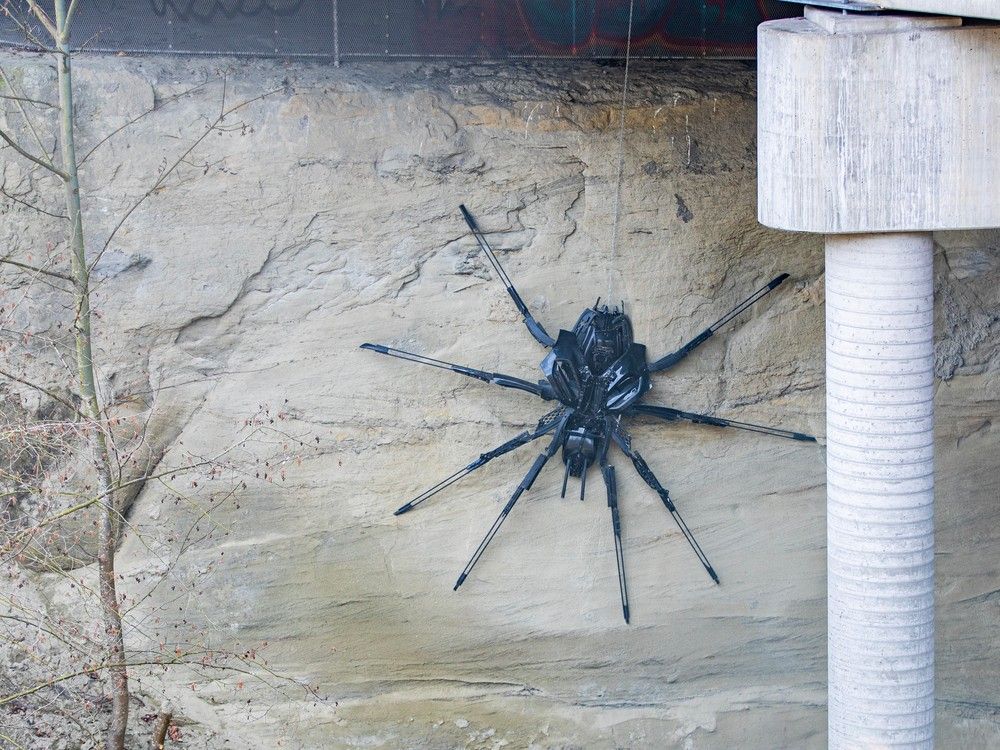 City staff are looking into how to remove a large metallic spider from under a high-traffic bridge on Commercial Drive in Vancouver.
The artwork, which startled some arachnophobic SkyTrain riders when it was installed earlier this month, was created by pop artist Junko Playtime.
In an email to Postmedia News on Friday, city staff say they were made aware of the unsanctioned spider artwork located in a corridor for SkyTrain and CN/BNSF Rail.
The installation wasn't done in consultation with the city or the rail corridor partners, city staff said. They're trying to figure out the best way to remove the artwork so there is no damage to the bridge structure or rail lines.
Staff said the artist will have the ability to claim the work through the city's impoundment process.
According to Playtime's Instagram page, the eight-foot-diameter spider was installed at night recently on the north bank below the bridge between North Grandview Highway and Broadway.
Playtime, from Montreal, has gained a reputation over the past two years for installing very large and far-out insect like futuristic sculptures from scrap metal and household items.
The artist called this latest spider creation "Phobia 2023. Time to face our fears."
— With files from David Carrigg