A New Media Startup Treats Reporters Like Social Media Influencers – BNN
(Bloomberg) — Julia Ioffe was finishing up a book earlier this year when she decided it was time to get a full-time job. As a veteran of The New Yorker, The Atlantic and New Republic, she had plenty offers. But after more than two decades of working for other people, Ioffe decided to make a bet on herself.
Ioffe is one of the first writers at Puck News, a new media company that aims to cover the four centers of power in the U.S.: Silicon Valley, Hollywood, Washington and Wall Street. Founded by veterans of New York media, Puck News is led by Chief Executive Officer Joe Purzycki and editor-in-chief Jon Kelly. But Kelly and Purzycki stress the company isn't about a charismatic founder like Vice's Shane Smith, but its star talent.
Kelly has recruited a handful of influential writers to write newsletters and serve as founding partners in his new venture. Matt Belloni dishes on clashing egos in Hollywood. Teddy Schleifer explores the soft power of Silicon Valley billionaires. Ioffe examines the depressing state of contemporary politics. William Cohan writes about finance. Puck's contributors include Baratunde Thurston, Peter Hamby, Dylan Byers and Tina Nguyen, and the company plans to add a few more names before the end of the year.
For the past few months, the only way to read any of them was via email. But on Monday, the company will unveil its website that will publish fresh stories every day. Later this month, Puck will introduce a podcast featuring several of its writers. It will also erect a paywall, requiring readers of most of its newsletters to pay for access to stories, live events and personal time with their favorite writers.
The whole venture is a bet on two concepts gaining a lot of currency in media circles: that journalism shouldn't be free, and that journalists need to be more like social media influencers.
"There is an elite group of journalists who want to be long-form writers, column writers, newsletters writers and want to have a direct connection with the large audiences they've amassed on social channels," Kelly said. "We wanted to create a platform and company that offers the best of all these worlds to the type of creators who value it most."
By the time she started talking to Puck, Ioffe said she was already getting most of her news from newsletters or NPR. "Why not put my money where my mouth is and produce the kind of content I consume?"
Kelly started his career in the magazine business under Graydon Carter, the legendary editor of Vanity Fair. Glossy magazines were raking in cash, and Carter had assembled a stable of writers such as Christopher Hitchens and Dominick Dunne. But over the past decade, Kelly watched as the magazine business withered. Marketers shifted advertising dollars from print to Google and Facebook. Consumers canceled subscriptions and opted for free news sites. Journalists left the profession to work in public relations or Hollywood. (Kelly had a stint at Bloomberg Businessweek along the way.)
Kelly left publishing for a beat to serve as an executive-in-residence at TPG, the private equity firm. While working there, he met a few other media emigres who shared a similar view of the future.
The last wave of journalism startups on the internet gave away stories for free and tried to reach as many people as possible. BuzzFeed, Gawker, Vox Media and Vice all claimed to understand the web in a way that legacy outlets couldn't. That scale looked great when raising money, but it left them vulnerable to the slightest algorithm change by Facebook and Google.
While those web publishers struggled to live up to their once-lofty valuations, the New York Times, Wall Street Journal and Washington Post began signing up paying customers in droves. At the same time, social media had enabled podcasters and journalists to build direct relationships with readers, giving birth to a new catchphrase: the creator economy.
Those two developments produced a new breed of publishers like The Information and The Athletic that charged readers passionate about a specific area like technology or sports. (Max Tcheyan, an early employee at The Athletic, is a Puck co-founder, as is Liz Gough, who last worked at Conde Nast.) It's also fueled the rise of Substack, a newsletter platform where writers such a Heather Cox Richardson and Andrew Sullivan charge their readers for a personal email.
Puck has bridged those worlds, creating the infrastructure of a news organization while also subsuming its brand to those of individual writers like Belloni or Ioffe. Each of the founding partners owns a piece of the business and is paid a bonus based on how many subscriptions and advertising sales they generate. A $100 annual fee entitles subscribers to personal emails from the authors and all the newsletters, features and breaking news; moving up to $250 brings all that plus access to conference calls with the authors, Q&As with the staff and invitations to events.
"We really focused on economics to talent," Purzycki said. "This is their company." This is where we should note that it is and it isn't. The company declined to state how much of the company its writers own and has raised about $7 million from private equity firm TPG, which declined to comment for the story, as well as 40 North Media, the media investment arm of Standard Industries.
Puck's pitch has resonated with a number of veteran journalists, who tired of working at conservative, bloated publishers but were reluctant to start a new business entirely on their own. (Thurston, a best-selling author, former editor at The Onion and producer of "The Daily Show with Trevor Noah," is a rare exception in that he has a vibrant business of his own.)
"I spent a lot of years building up value and content for others, and I see where the economics of the industry are going," Belloni said. "To be able to be an owner of that destiny sounds cheesy, but it's totally true." Belloni's newsletter about Hollywood has been a big hit since it debuted, attracting more than 12,000 free subscribers and securing advertisements from major media companies.
Time will tell how many of those customers will pay for a Puck subscription. The number of people willing to pay $100 or $250 a year for a dozen or so newsletters may be small, especially when they already pay for a lot of subscriptions, be it Netflix, Disney+, Spotify or Amazon Prime. That is one of many reasons to be skeptical. Publishing is a shrinking business, and podcasting is a growing but still industry. Even with subscriptions, it's hard to make money in journalism. Only a handful of news outlets and individuals have broken through.
And yet society is getting more and more comfortable with paying to read writers they like, such as Cox Richardson and Judd Legum. Puck is targeting a specific audience: the movers and shakers in halls of power.
For Kelly, the idea is to have credibility with newsmakers themselves. For Thurston, it's personal in a different way.
"I've ranted a lot in my tech criticism life about having people work for free to support platforms," Thurston said. "Having some ownership feels overdue.''
©2021 Bloomberg L.P.
Five Thoughts on Negotiating Through the Media, PTOs, Player Personalities & More – Silver Seven
On Changing Expectations
Last offseason, if you'll recall, the Ottawa Senators made some veteran acquisitions. They added the likes of Erik Gudbranson, Derek Stepan and Austin Watson, while also bringing in Alex Galchenyuk and Cedric Paquette. Effectively, Pierre Dorion "ruined" any opportunity a prospect had to make the roster out of camp by filling it with players who DJ Smith would almost certainly opt to play over someone with little to no NHL experience.
Fans were, understandably, frustrated.
Why add replacement level (or worse) players instead of giving Erik Brännström, Logan Brown and/or Alex Formenton a chance to cement a role on the roster from the start?
This offseason, interestingly, the Senators haven't done much of anything. Yes, they brought in Nick Holden and Michael Del Zotto but, for a team claiming to be stepping in to the next phase of the rebuild, that doesn't amount to much of an impact. After talk of looking to add a first line centre and a top four defender – of which, it's very possible Dorion believes he accomplished with the aforementioned additions – the offseason has been pretty quiet.
Fans are, understandably, frustrated.
Why not make additions to the team that ended last year with a 9-2-1 record in their final 12 games? Why not take this group to the extra level by spending the abundance of assets in the cupboard on someone who can do so.
Funny how things change, isn't it? This time last year we were clamouring for the Brännström's, Brown's and Formenton's of the lineup to get a shot at cracking the roster but this year, many fans have expressed some frustration that Ottawa hasn't done much. If they had, players like Egor Sokolov, Ridly Greig and Jacob Bernard-Docker wouldn't have a spot to fight for.
As we see the future of the Ottawa Senators hitting the ice this week for development and rookie camps, with reports of players like Sokolov, Grieg and Angus Crookshank standing out, you can sense a cool down from Sens fans across Twitter on their desire for incoming additions.
A long offseason is finally coming to an end, the anxiety around the roster is slowing down, let's get to it.
On Negotiation Through the Media
Over the past four seasons, after plenty of public messes in the realm of player negotiations, Dorion's most used phrase might now officially be "we don't negotiate through the media." While it can be frustrating as fans, particularly when we're all waiting not-at-all-patiently for news of a long term extension for Brady Tkachuk, it's in the best interest of the organization to ensure as much of this stuff happens behind closed doors as possible. After all, a team like the Senators can't afford any more negative media attention than they tend to generate for themselves outside of contract negotiations.
On this topic, however, there has appeared to be plenty of negotiation through the media – just not by Dorion himself. Over the last few weeks, TSN's Shawn Simpson and PostMedia's Bruce Garrioch have essentially been reporting one-sided updates – Simpson from Tkachuk's side, Garrioch from Ottawa's. The question is, how much of this is each camp trying to leak some information to tip the scales on their favour and how much of it is just genuine reporting of what each journalist has heard?
It's incredibly possible that Simpson doesn't report too much from the Sens side simply because he doesn't have a deep, trustworthy source to keep him in the know. Similarly, it's possible (read: incredibly likely) Garrioch's information comes directly from the team and he doesn't have much in the way of a network within the NHL Agents community.
It's hard to ignore, though, how regularly these two indirectly spar on Twitter. For every Garrioch article, there tends to be a Simpson subtweet. For example, Garrioch recently penned a piece updating on the Tkachuk contract negotiations, claiming Tkachuk not being at camp on day one would have an impact on his chances of making the Olympic team. The next morning, Simpson tweeted this:
Tkachuk wanting to play in the Olympics is less than zero leverage for the Sens. Not even on the radar at this point. If it's November 1st maybe it turns up the heat.

As @TSNHammer looked up, Matthew signed in the middle of camp in 2019.

— Shawn Simpson (@TSNSimmer) September 14, 2021
At the end of the day, I like that Dorion tries to keep things under wraps as much as possible but it's really hard to take those words too seriously with how frequent these types of pieces and interactions happen. I don't blame Garrioch, Simpson or any other media member for releasing to the public information they find out. Not one bit. That's their job!
But the Sens definitely negotiate through the media, Dorion just doesn't reveal information himself with a microphone in his face.
On Player Personalities
Thomas Chabot and Tim Stützle attended the NHL media event in Toronto this past week and it was a refreshing reminder of how gosh darn likeable the new era of Ottawa Senators are.
It was great to see both players interacting with the media, answering questions, playing fun games and, of course, drawing the teams logo from memory. It's a good thing they're both good at hockey so they don't have to try their hands at the starving artist career – they'd be quite hungry, I suspect.
This summer we also got the chance to see a number of players hop on The Wally and Methot Show and get a glimpse into their personalities, as well. From Josh Norris to Brady Tkachuk to Egor Sokolov, we had the pleasure of getting to know these people better, not just the players, and, for me, that felt incredibly relatable.
Many joke on Twitter about Ottawa trying to rebuild their team based on vibes and it seems to be true. Maybe it's because we have more mediums to get to know them better or maybe it's because the dust is settling and the black cloud above the organization appears to be dissipating, but overall I'm really looking forward to the upcoming season and a big part of that is feeling more connected to the people under the uniforms.
On Professional Tryouts
We're getting to the part of the offseason, right before camp, where teams are starting to announce players who will be attending camp on professional tryouts (PTO). Over the past week, we've seen Tobias Rieder heading to Anaheim on a PTO, Artem Anisimov to Colorado, Mark Jankowski and Jimmy Vesey to New Jersey and more.
With the idea that Ottawa was expected to add more to its roster than they have, I'd think we'll see at least a few players invited to the main camp next week on PTOs. As the blueline is relatively busy already, if the Sens are going to bring anyone in, you'd think it'll be up front.
Looking through the list of free agents on CapFriendly, a few names popped for me. The first name was Alex Galchenyuk. I know, I know. Why revisit this? At the end of the day, Galchenyuk is a player you can toss onto your third line and second power play unit and get something done, in a pinch. He's someone who's played up the lineup and down the lineup and while his skillset is a much closer match to a top six role than a bottom six role, bringing him in on a PTO certainly wouldn't hurt.
Another familiar face would be Tyler Ennis. I loved Ennis when he was on the Sens. He was the perfect energy player, rarely out of position and can certainly be trusted with extra responsibility from time to time.
If we're going down the familiar face rabbit hole, neither Bobby Ryan nor Zack Smith have contracts for the upcoming season but… I think those years are behind us.
Joseph Blandisi recently didn't receive a qualifying offer from the Montreal Canadiens. He spent last years shortened AHL season in Laval, where he wore an A and compiled 21 points in 28 games. He's a 27 year old centre with 101 games of NHL experience that I'm sure could either push the kids to compete or, at worst, get a contract and head to Belleville to provide veteran leadership as a player who's cleared the 200 game mark in the AHL as well.
None of these names are fancy or shiny, but PTOs rarely are. Nonetheless, I think we can expect a name or two to surface over the next week and I'd be happy to see any of Galchenyuk, Ennis or Blandisi join the Sens when main camp opens up.
On Logan Brown
I'd like to start this thought of by saying I've always been a fan of Logan Brown – likely more so than the average Sens fan.
There are a lot of knocks on Brown's game and his development. There are claims that he doesn't work hard enough or move his feet but the only thing lazy related to Brown is that narrative. That's not the real problem.
The real problem has been his health. This isn't news, even the most casual of Sens fans knows that Brown hasn't had a full, healthy season since before he was drafted. If you don't know this about Brown, you'd be shocked to learn he hasn't been able to crack the NHL roster yet. After all, he's a 6'6" centre with the softest hands and he's put up 0.84 points per game at the AHL level.
As Development Camp has come and gone and Rookie Camp is kicking off, Brown is nowhere to be found. Without a contract, it's been stated that if Brown can't be moved, he'll be off to Europe until another NHL team is ready to give him a shot.
It saddens me to say, but it's time to cut ties and move Brown for whatever you can. He's not going to play another game in the Senators organization and, even if it's just a mid round pick two years in the future, Pierre Dorion should be looking to get something – anything – for the 2016 11th overall pick.
Black Press Media Weekly Roundup: Top headlines this week – Summerland Review – Summerland Review
Happy Friday! Fall is definitely starting to make its way into the region, so in case you were busy enjoying the cooler weather this week, here's what happened in the news to catch you up before your weekend begins.
False B.C. fur farm ban announcement a 'rollercoaster of emotions': activist
A fake news release was sent out to media outlets on Tuesday (Sept. 14) morning, announcing that the Ministry of Agriculture, Food and Fisheries was banning fur farms, phasing them out over the next five months and providing support for mink farmers.
But that announcement was confirmed to be false when the real agriculture ministry sent out a memo saying that they are not, in fact, banning fur farms.
Kelowna animal rights activist Amy Soranno said it was a rollercoaster of emotions and that finding out the announcement was fake was upsetting.
"There remain a plethora of reasons why a ban should indeed be implemented for environmental, human, and animal concerns," she said.
Princeton man calls 911 after restaurant customer is refused breakfast
A Princeton man called 911 on Monday (Sept. 13) after he saw someone being turned away from a local restaurant as the vaccine card regulations kicked in.
Princeton RCMP's Sgt. Rob Hughes said the caller wanted it known that he was outraged that someone didn't get their breakfast.
Hughes said the man blamed Liberal leader Justin Trudeau for the country "falling apart."
COVID crisis puts strain on Vernon hospital: physician
A record number of patients suffering from COVID-19 is straining resources at Vernon Jubilee Hospital, according to a doctor who works there.
He said that in order to take care of and accommodate COVID patients, they've had to put non-emergent surgeries on hold.
At baseline, VJH only has 10 ICU beds, with nine COVID patients taking up the beds. The hospital is taking care of around 32 COVID-positive patients and has put the hospital at 30 per cent over capacity.
Okanagan offender Curtis Sagmoen allegedly terminated from LNG site in Kitimat
Convicted offender Curtis Sagmoen had been allegedly hired, then let go, by LNG Canada at its Kitimat site after locals brought forward their concerns about the new hire.
LNG Canada released a statement about the situation after Kitimat's City Centre Mall was vandalized with the words "LNG Canada hires serial killers."
Sagmoen has been found guilty of two separate charges involving offences against a sex worker, and he also pleaded guilty to assault in an unrelated incident involving a sex worker in Maple Ridge in 2013.
---
@twilamam
twila.amato@blackpress.ca
Like us on Facebook and follow us on Twitter.
Social media harming people's access to facts: Horgan – Alaska Highway News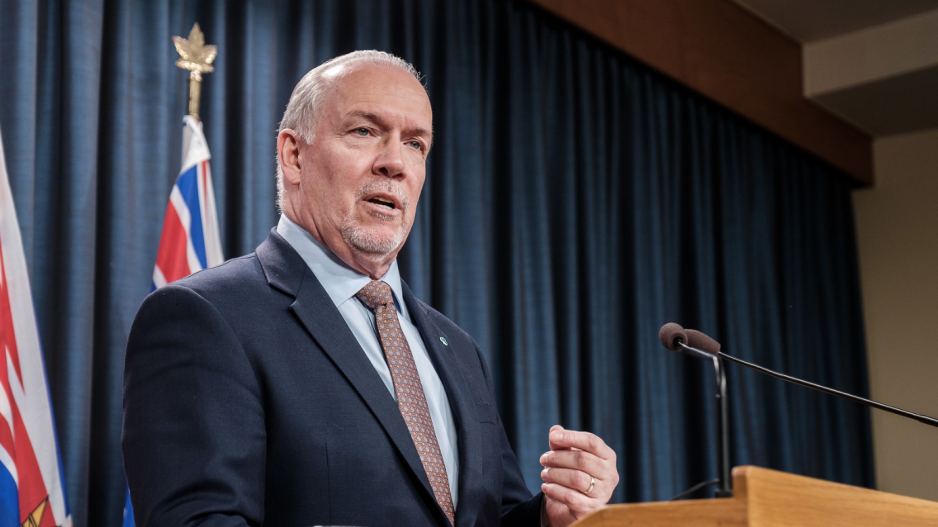 Social media is harming people's ability to get factual information about their communities, the country and the world, Premier John Horgan said Sept. 17.
"That worries me a lot," Horgan told delegates of the Union of BC Municipalities as their annual convention wrapped up Sept. 17.
The premier, who had considered journalism as a career, said unlike news produced by journalists, much of what is found on social media is not fact-checked or verified.
But, he said, as more people turn to questionable sources, news outlets lose advertising and have to lay off journalists — resulting in less verified news coverage.
"I've seen the erosion of local information, credible reliable, verifiable information for the public to better understand the challenges they face locally, provincially, nationally and internationally."
He said he often grumbles to friends who depend on social media for news, and often reminds them none of what they read there is verified or fact-checked.
"It is opinion that is put out into the world and then absorbed by the multiple millions depending on whether or not it starts to trend," he said.
Horgan said citizens need accurate information but asked, "how do we do that without appearing to be the state intervening?"
"We have, I think, a tussle right now between how does the government protect open access to information and how does open access to information protect the public that is consuming that information."
"We just don't know where it's coming from anymore."
Nelson Coun. Keith Page posed the question to Horgan, saying social media has hollowed out the revenue model of traditional media outlets leading to attrition in the ranks of journalists. Further, he said, under-investment in libraries combined with the harms of social media have led to a decline in social knowledge infrastructure in B.C.
"It affects everybody here and it affects everybody out there," said outgoing UBCM president Brian Frenkel.