A new year renews concerns for hospitals grappling with COVID-19, experts warn – BarrieToday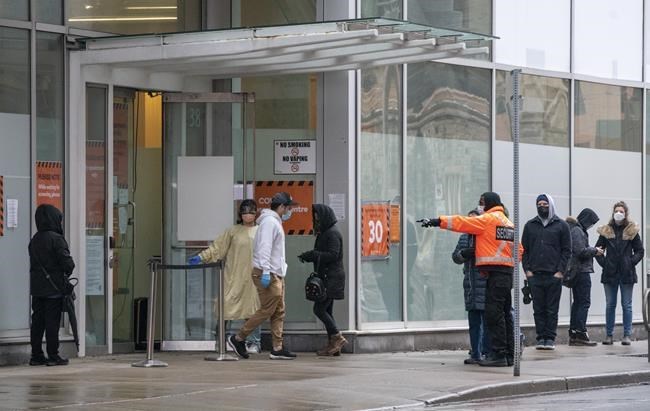 OTTAWA — The fraught, often frightening year of 2020 may be over, but experts warn the dawn of a new one doesn't leave behind the troubles caused by the second wave of the COVID-19 pandemic.
Patients in multiple Canadian hotspots are flooding hospitals at an alarming rate and expected to arrive in even greater numbers in the weeks to come, doctors and health centres said Friday.
"If these rates of increase continue the way they are, the months of January and February are absolutely going to be brutal. It's just a question of how brutal will it be," said Anthony Dale, head of the Ontario Hospital Association.
One-fifth of the province's intensive care capacity is now devoted to COVID-19 patients, with Toronto and the regions of Peel, York, and Windsor-Essex hardest hit.
Dale said 45 of the 149 COVID-19 patients admitted into intensive care in Ontario last week have died.
"We will see accelerating numbers of unnecessary deaths — more people dying. We will see more people suffering in intensive care and in hospitals," he said, calling the situation "totally unsustainable."
The spike could jeopardize elective surgeries and other care. Some hospitals have already started to cancel procedures, adding to the backlog created after 160,000 were nixed in the first wave, he added.
"Even though COVID's going on, people still get cancer, they still get heart disease, they still need organ transplants."
He said the pandemic has prompted staff shortages at numerous hospitals, with some front-line workers redeployed to testing centres, labs and long-term care homes.
Hospitals in the greater Montreal area are on track to exceed capacity within the next three weeks, with almost two-thirds of beds designated for coronavirus patients already occupied, according to a report from INESSS, a government-funded health institute.
"Unfortunately, if the trend continues, this will have to be compensated in particular by the additional shedding of non-COVID treatments in our hospitals," Quebec Health Minister Christian Dubé said Thursday in a Twitter post in French.
However, the projection did not take into account Premier François Legault's shutdown of all non-essential businesses in the province from Dec. 25 to Jan. 11., which could help curb the spread, said Dr. Luc Boileau, who heads the institute.
"The good news behind all of this is the vaccinations coming on," Boileau said. "The impact of this will be manifest on the outbreaks inside health services and of course lowering mortality."
Nearly 500,000 doses of the Pfizer-BioNTech vaccine, which requires ultracold storage, have been distributed across the Canada since Health Canada approved it on Dec. 9.
The Moderna vaccine — green-lighted on Dec. 23 — has also started to roll off tarmacs, beginning to reach remote and First Nations communities over the past week. Its -20 C storage temperatures make for easier delivery compared to the -70 C needed for the Pfizer vaccine.
The country's not in the clear yet.
Individuals need to make sensible choices around social distancing and staying home, said Tim Sly, an epidemiologist and professor emeritus at Ryerson University's School of Public Health.
"We're still seeing knucklehead parties from seven to 14 to 25 people, raving out there with no masks, lots of booze and drinking and hugging and kissing and so on," Sly said. "That's avoidable."
Public officials are not above making dubious travel choices, with several prominent politicians taking heat for holiday travel despite public-health guidelines to stay home.
On Friday evening, the federal NDP released a statement saying that MP Niki Ashton travelled to Greece to see an ill family member, and would consequently be relieved of her shadow cabinet roles, which include transportation.
"While we are sympathetic to Ms. Ashton's situation and understand her need to be with her family, millions of Canadians are following public health guidelines, even when it made it impossible for them to visit sick or aging relatives," the party said.
Earlier, Rod Phillips resigned as Ontario's finance minister after cutting short a Caribbean vacation, while Alberta Municipal Affairs Minister Tracy Allard came under fire for a Hawaiian getaway from Dec. 19 to Dec. 31.
Surgeries typically ramp-up following a winter holiday lull, but more could now be sidelined due to the ripple effects of rule-flouting, said Dr. Zain Chagla, an infectious disease physician at St. Joseph's hospital in Hamilton and an associate professor at McMaster University.
"If there's no beds to put those patients in afterwards, unfortunately those surgeries just get cancelled," he said.
St. Joseph's has opened a satellite site in a revamped hotel, transferring dozens of patients to the renovated facility in order to keep the main health centre's occupancy rate below 90 per cent to handle the expected surge.
"We're filled to the brim," Chagla said.
"I have patients that didn't have COVID but had horrible outcomes because … they weren't able to access care the way they should," he added, recalling the first wave.
"I'm very worried about those individuals again going into the next three to four months, that we're going to see a fallout of people that have missed cancer diagnoses or infections that needed to be treated earlier.
"It's a lot of strain on a system that is already strained," he said.
Canada's two largest provinces reported new record highs of COVID-19 cases on Thursday.
Ontario reported 3,328 new cases and 56 more deaths linked to the virus, matching the highest death toll from the first wave. In Quebec, there were 2,819 new cases and 62 deaths.
The Public Health Agency of Canada said Thursday more than 720 patients hospitalized with the virus are now receiving treatment in ICUs, including 337 in Ontario and 165 in Quebec.
This report by The Canadian Press was first published Jan. 1, 2021.
Christopher Reynolds, The Canadian Press
B.C. not planning on implementing 14-day quarantine period for out of province travellers – CHEK
B.C. will not be requiring non-essential travellers from out of province to quarantine.
During a press conference Wednesday, Premier John Horgan said, unlike Manitoba, which recently introduced measures that require all non-essential out-of-province travellers to quarantine for 14 days, British Columbia will not be doing the same.
"It would be a logistical challenge," he said.
Horgan said the decision was made after examining the "legal and other ramifications" of bringing forward restrictions on domestic non-essential travel and the fact that there are too many ways to get into B.C. compared to Manitoba. However, he said things could change if COVID-19 cases are linked to more people from out of province.
"If we see, through public health, an increase in the number of people from outside of British Columbia is contributing significantly to the increase in community outbreaks, we will take action. We did the legal work, we know what we would be required to do to put in place restrictions on internal travel, but we don't believe its necessary at this time," he said.
"Per capita their case counts are frightening, I can understand why [Manitoba] would want to do that," Horgan said, adding that there were enough challenges implementing the federal government's quarantine requirement.
RELATED: Manitoba requiring travellers from all other provinces to self isolate
Implementing such a measure would need to be effective at reducing the spread of COVID-19, said Horgan.
"We don't want to make symbolic statements, we want to make sure we are suppressing community spread and that means following the orders that are in place," he said.
While British Columbia might not be restricting domestic travel for the time being, the premier had a strong warning for those coming here.
"If you are coming to British Columbia on non-essential travel … you better behave appropriately, you better follow our public health guidelines or we will come down you like a ton of bricks," said Horgan.
"We want to welcome you to British Columbia . . . but not today."
Horgan's remarks came on the one year anniversary since the first case of COVID-19 was identified in the province.
"These have been challenging times in terms of personal behaviour, we have seen extraordinary acts of kindness and we have seen brutal acts of racism and violence against people for no particular beyond the colour of their skin," said Horgan.
The premier's remarks also come just a few days after Dr. Bonnie Henry reminded British Columbians to reduce their non-essential contacts while urging residents to "do more" to limit the spread of COVID-19.
Horgan said the majority of British Columbians have stepped up and done their part and that Henry's comments were directed at a "small group" of people who continue to flaunt the orders.
"The notion that someone with a penthouse condo in Vancouver declaring it a nightclub and not allowing the law enforcement to ensure that they are living up to public health regulations, that is the type behaviour that Dr. Henry was talking about on Monday," said Horgan, referring to a Vancouver man who was fined after he turned his condo into a makeshift nightclub.
"We need people who are not paying attention to give themselves a bit of a shake and get with the rest of us."
RELATED: Many feel they are following COVID restrictions as B.C.'s top doctor asks people to do more
Alta. COVID-19 numbers back to early-Dec. levels, health-care system still under strain: Hinshaw – CTV Edmonton
EDMONTON —
Although more than 11,000 Albertans have been fully immunized for COVID-19 and infection and hospitalization rates are falling, officials are warning the province's health-care system is still stressed.
In total, the province has administered more than 101,000 shots since December, Alberta's chief medical officer of health said Wednesday.
That afternoon, Dr. Deena Hinshaw reported 459 new cases of COVID-19. On Tuesday, labs conducted some 12,800 tests, leaving Alberta with a positivity rate of 3.6 per cent.
Hospitalizations, too, have dropped – but, Hinshaw said, not enough to significantly reduce the strain on Alberta's health care system or justify easing restrictions.
Of news that several more businesses were defying public health orders with support of their local community and leadership, Hinshaw said the action could jeopardize Alberta's recent progress.
"What I would say to those leaders is to think about not just what they see in front of them in their own town but to look at the province, and to recognize that every action that we take as individuals has repercussions and connections to our own communities and to the communities around us. And unfortunately, what we saw in the fall is that when we did take early targeted steps to try to minimize risk but not have businesses close, we continued to see our cases climb," Hinshaw said.
She reminded the public that on Dec. 30, Alberta's COVID-19 hospitalizations peaked at 943 people. Of those, 155 were in ICUs.
On Wednesday, Hinshaw said, 604 Albertans were in hospitals with the disease, 110 of whom were in intensive care units.
But the numbers are only on par with those seen on Dec. 4.
"This is encouraging news, and a signal that we are making meaningful progress," Hinshaw said.
"We saw our health-care system come very close to a tipping point. We want to avoid that and we need to make sure that we are taking slow measured steps."
She added Alberta Health was working on a "framework" that would help Albertans keep track of the metrics that would trigger more reopenings.
VARIANT, VACCINE UPDATE
There are 8,203 active cases of COVID-19 in Alberta.
To date, more than 112,500 Albertans have recovered from the disease.
With the addition of 12 more deaths on Wednesday, the province's death tally rose to 1,599.
Hinshaw had no update on Alberta's so far single, unsourced B.1.1.7 COVID-19 variant case, for which officials have found no transmission outside the person's household.
"The knowledge that this particular variant of concern has been showing up in some other provinces and other countries around the world as a part of community transmission is concerning, and it does need to be factored into our decisions about timing of reopening," Hinshaw told reporters. "Because if we do enable more activities, more opportunities for people to be in close contact with one another, we could potentially see quicker spreads if the variant is here in more locations than we currently are aware of."
According to the latest data, reported at the beginning of the week, Alberta labs have confirmed 25 cases of the B.1.1.7 and 501Y-V2 strains first identified in the U.K. and South Africa. All but the one case have been linked to international travel.
Officials are calling immunization a key component of Alberta's ability to prepare for any spread of two new strains, but say the work is hampered by vaccine supply delays.
Hinshaw said some Albertans who are eligible for a second dose may not yet have been given an appointment because the province is waiting to confirm its supplies arriving in two weeks.
However, she said the goal was to still administer all second shots within the maximum interval tested.
"While I can't say with certainty at this point, what I can say is that everything possible will be done to provide that second dose to all who have had the first dose within that 42-day period."
The top doctor asked for all those waiting to remain patient with the system and province.
B.C.'s COVID-19 updates for Jan. 27 | Columbia Valley, Cranbrook, East Kootenay, Elk Valley, Kimberley, Ktunaxa Nation – E-Know.ca
Dr. Bonnie Henry, B.C.'s provincial health officer, and Adrian Dix, Minister of Health, today (Jan. 27) issued the following joint statement regarding updates on the COVID-19 response in British Columbia.
Today, we are reporting 485 new cases, for a total of 65,719 cases in British Columbia.
There are 4,299 active cases of COVID-19 in the province. There are 303 individuals currently hospitalized with COVID-19, 74 of whom are in intensive care. The remaining people are recovering at home in self-isolation.
Currently, 6,520 people are under active public health monitoring as a result of identified exposure to known cases and a further 58,778 people who tested positive have recovered.
Since we last reported, we have had 115 new cases of COVID-19 in the Vancouver Coastal Health region, 210 new cases in the Fraser Health region, 45 in the Island Health region, 83 in the Interior Health region, 32 in the Northern Health region and no new cases of people who reside outside of Canada.
To date, 124,365 doses of COVID-19 vaccine have been administered in B.C., 4,160 of which are second doses. Immunization data is available on the COVID-19 dashboard at: www.bccdc.ca
There have been four new COVID-19 related deaths, for a total of 1,172 deaths in British Columbia. We offer our condolences to everyone who has lost their loved ones during the COVID-19 pandemic.
We have one new health-care facility outbreak at Glenwood Seniors Community and the outbreak at Villa Cathay is now over. There is also an outbreak at the Fraser Regional Correctional Centre.
We continue to see new community clusters around the province – in the Fernie and Williams Lake regions, and elsewhere. These hot spots show, once again, how easily the virus spreads between us.
One year ago today, the first case of COVID-19 was confirmed in our province. Since that day, the impact has been severe; people have become seriously ill and died, our lives have been disrupted and health-care workers everywhere have faced challenges at a scale never experienced before.
In response, people throughout the province have stepped up to put normal routines and activities aside, doing all they can to protect our communities, elders and loved ones. Thank you.
When we are tired, it is easy to let things slip and let our guard down. Yet this only gives the virus a chance to spread a bit more. In these days – when COVID-19 vaccinations are starting, but for most of us are still weeks or months away – the actions we take may seem small, but will ave a big impact to stop the virus in its tracks.
"If you are in the grocery store, follow the pathways and arrows and be sure to give people space at the check-out. If you are going to work or school, remember to wash your hands often throughout the day and wear your mask.
The more people you see and the more places you go, the higher the risk is to you and those around you, which is why gatherings of any size are on pause right now. If you are invited over to spend time with a friend, choose to go outside for a walk instead. And, just as important, if you are thinking about travelling beyond your community for anything other than what is essential for work or medical care, stay home.
Let's encourage those around us to do the right thing and show kindness and compassion to those who appear not to be.
As we have seen over the past year, one case can turn into thousands. But just as important, the effort we put into keeping ourselves and each other safe can also push our COVID-19 curve back down again.
Lead image: Sanitization station at an entrance to the Prestige Inn and Fire and Oak Restaurant in Cranbrook. Carrie Schafer/e-KNOW photo
e-KNOW
Please enable JavaScript to view the comments powered by Disqus.
---
Article Share
Article Share
---