A pandemic, economic questions and leadership rumblings in Manitoba politics – The Tri-City News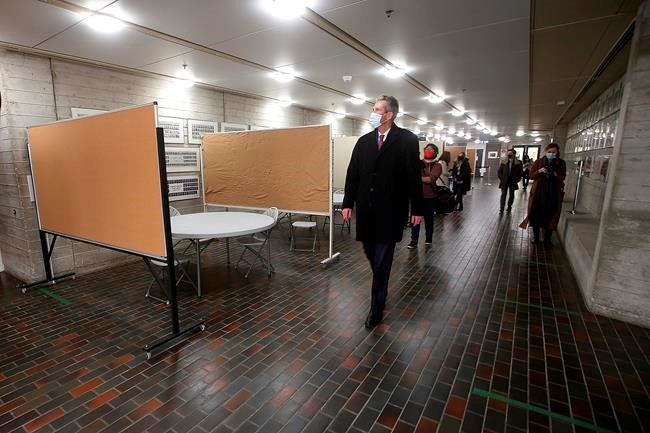 WINNIPEG — The COVID-19 pandemic will shape Manitoba politics in many ways in 2021.
There will be an ongoing attempt to control outbreaks of the novel coronavirus and to keep hospitals from being overwhelmed. Decisions will need to be made about how many strict limits on business openings and public gatherings should remain to slow the spread of infection.
And there will be questions about whether Premier Brian Pallister can bounce back from low polling numbers and widespread criticism of the Progressive Conservative government's response to a spike in cases in the late summer and fall.
"Pallister is well and truly the public face of the government's response. He owns it," Royce Koop, a professor of political studies at the University of Manitoba, said in reference to Pallister's many news conferences on COVID-19.
"So when it hasn't gone well, it's been Pallister that's kind of eaten it, entirely by himself."
For many weeks in the fall, Manitoba led all other provinces in the per-capita rate of new infections. Wait times at testing sites were long and hospitals appeared to be in a scramble to open up more intensive care beds. Outbreaks erupted at personal care homes.
Pallister, in a year-end interview with The Canadian Press, pointed out his government was among the first to bring in low limits on public gatherings. And unlike other provinces in Central Canada and the West, Manitoba instituted mandatory self-isolation for travellers arriving from some other regions.
Still, the virus spread as people continued to mingle. Restaurants, bars and other businesses were open. By the end of October, the daily number of new cases jumped to more than 300 from less than 100.
"We weren't ready for the spike that happened, almost spontaneously, in that early couple of weeks of November", Pallister said.
The government closed bars and restaurants except for takeout and delivery and limited public gatherings even in private homes — first in Winnipeg and then across the province. The number of new daily cases started to drop a few weeks later. But by then Manitoba was already on the way to posting the second-highest per-capita death rate from COVID-19, behind Quebec.
The current set of public health orders, which includes a ban on most social gatherings in private homes and a shutdown of non-essential stores, is to expire Jan. 8. Pallister said the decision to force businesses to close is not an easy one.
"Many times, I notice that people who tell us we should have shut down the economy sooner don't have to face the consequences of losing their job," he said. "It's hard to take a person and tell them they're going to be unemployed for the not easily foreseeable future."
Pallister has also signalled a possible cabinet shuffle soon that would add a second health minister to his inner circle to help share the workload of the pandemic.
There is also a decision to be made about his own future.
In the last election, Pallister promised to serve out a full term until the next provincial vote in October 2023. When asked if he still intends to do that, he would only say he will stay on until the pandemic is dealt with.
Koop said that signal will prompt any Tories with leadership aspirations to start organizing.
"They would have been doing that before (quietly) … but now that he's said this outright, it's much more of a green light to start moving in that direction."
A recent poll by Probe Research suggested support for the Tories has fallen behind that of the NDP for the first time in years, most notably in Winnipeg, where most legislature seats are.
NDP Leader Wab Kinew said his party is focusing on putting forward an alternative vision to the government's.
"There is a lot of anger towards the current government. There is a lot of openness to hear what we're saying," Kinew said.
This report by The Canadian Press was first published Dec. 29, 2020
Steve Lambert, The Canadian Press
Live politics updates: Twitter temporarily suspends account of Rep. Marjorie Taylor Greene – USA TODAY


Rebecca Morin
,
David Jackson
,
Matthew Brown

| USA TODAY
Show Caption
Hide Caption
COVID relief: Biden introduces plan that includes $1,400 stimulus checks
Joe Biden introduced a $1.9 trillion spending package that aims to speed distribution of the coronavirus vaccines and provide economic relief.
Associated Press, USA TODAY
Twitter temporarily suspends account of Rep. Marjorie Taylor Greene
Twitter announced Sunday it had suspended the account of freshman Rep. Marjorie Taylor Greene for 12 hours.
The Georgia Republican's last post to the site was a video in which she continued to allege debunked and unfounded conspiracy theories about widespread voter fraud in Georgia. Twitter flagged the post with a warning and blocked users from liking or commenting on the post.
In another post earlier in the day, Greene attacked Gabriel Sterling, Georgia's voter system implementation manager, spreading a false claim about alleged corruption from Dominion voting machines.
"Morons like you are responsible for losing GA's 2 Republican Senate seats," Greene said. The post was again flagged by Twitter for spreading misinformation.
Greene is a firebrand conspiracy theorist who has claimed the United States is experiencing an "Islamic invasion into our government offices," that the Pentagon was not actually attacked on 9/11, that Black people are "slaves to the Democratic Party" and that billionaire Jewish philanthropist George Soros is a Nazi.
And she has expressed support for the baseless and wide-ranging QAnon conspiracy theory.
"Q is a patriot. We know that for sure," Greene has said.
Twitter's temporary suspension of Greene comes after it suspended 70,000 Twitter accounts connected to the QAnon believers, as well as prominent rightwing pundits and President Donald Trump.
CNN host Jake Tapper was not optimistic that Twitter's brief suspension would change Greene's ways.
"I'm sure the woman who claimed a plane never really flew into the Pentagon on 9/11, an anti-Muslim bigot who has been nonetheless welcomed by @GOPLeader and @SteveScalise into the GOP caucus, will totally be chastised by this 12 hour suspension, examining her life choices," Tapper tweeted with sarcasm.
– Matthew Brown
GOP Sen. Ben Sasse denounces QAnon, conspiracy theories on the right
Sen. Ben Sasse, R-Neb., condemned the popularity of conspiracy theories within the Republican Party and the broader conservative movement in a blistering op-ed for The Atlantic, telling his party it must "reject conspiracy theories or be consumed by them."
Sasse's opinion piece comes after a mob ransacked the U.S. Capitol. President Donald Trump had called on the crowd of his supporters to "march down Pennsylvania Avenue" and "show strength" as Congress voted to certify the Nov. 3 presidential election.
Sasse admonished his fellow Republicans, stating that many had deluded themselves about the threat conspiracy theories posed to the party. Sasse said prominent newly-elected conspiracy theorists like freshman Rep. Marjorie Taylor Greene, R-Ga., whom he called "cuckoo for Cocoa Puffs."
"Until last week, many party leaders and consultants thought they could preach the Constitution while winking at QAnon. They can't," Sasse wrote. "Now is the time to decide what this party is about."
Sasse argues that the rise of right-wing conspiracy theories in the Trump era has occurred for three reasons: the ostensibly poor media diet of Americans, a collapse of trust and engagement with civic institutions, and a loss of national meaning.
"A conspiracy theory offers its devotees a way of inserting themselves into a cosmic battle pitting good against evil. This sense of vocation that makes it dangerous is also precisely what makes it attractive in our era of isolated, alienated consumerism," Sasse writes.
The junior Nebraska senator argued that to win again, Republicans must "repudiate the nonsense that has set our party on fire" and then "offer a genuine answer to the frustrations of the past decade."
Referencing a viral confrontation between Capitol Police officer Eugene Goodman and a QAnon adherent storming the Capitol, Sasse wrote. "In a standoff between the Constitution and madness, both men picked a side. It's the GOP's turn to do the same."
– Matthew Brown
Biden aides: Threats won't stop Joe Biden from taking the oath of office and getting to work
Aides to President-elect Joe Biden said Sunday they are aware of threats nationwide surrounding this week's inauguration, but they won't stop his plans to take the oath of office and get to work.
Incoming White House Chief of Staff Ron Klain, speaking on CNN, said he has confidence that the Secret Service, National Guard, and others can protect Washington, D.C., but "we are concerned, certainly, about these threats in other places."
"We will have a team in place in the White House to monitor these actions going forward starting on 12:00 noon on Jan. 20," Klain said during an interview on CNN's "State of the Union."
Less than two weeks after a mob of Trump supporters attacked the U.S. Capitol, officials in Washington are bracing for the inauguration with street closings, high fences and concrete barriers, and thousands of armed police officers and National Guard troops.
Kate Bedingfield, the incoming White House communications director, told ABC News' "This Week" that "you only have to look at the chatter on social media to see that we are in a volatile time, and so we are making preparations."
That said, she added, it is "our plan and our expectation" to have Biden take the oath of office outside on the west front of the Capitol.
After that, aides said, Biden has an agenda of items to move forward on. They ranged from having the United State rejoin the Paris climate change accord to new plans to fight the COVID-19 pandemic.
"We're inheriting a huge mess here," Klain said, referring in particular to problems with distributing COVID vaccines. "But we have a plan to fix it."
– David Jackson
Trump aide: Members of impeachment legal team (including Giuliani) yet to be determined
While Rudy Giuliani was at the White House on Saturday, an adviser to outgoing President Donald Trump said he has not selected members for his impeachment defense team.
Trump "has not yet made a determination as to which lawyer or law firm will represent him for the disgraceful attack on our Constitution and democracy, known as the 'impeachment hoax,'" spokesman Hogan Gidley tweeted Sunday. "We will keep you informed."
The House impeached Trump last week on charges of inciting the insurrection and attack on the U.S. Capitol on Jan. 6. The Senate is scheduled to try Trump later this year, even though he will be out of office.
Giuliani told ABC News he is working on Trump's defense, though Gidley's statement indicates that is not official – at least not yet.
– David Jackson
Trump approval ratings hold steady after Capitol riot, second impeachment
President Donald Trump will be leaving office with a record low, yet historically stable approval rating, according to recent polls.
An NBC News poll found that Trump's approval rating with voters nationwide stood at 43%, slightly down from the 45% the poll registered before the November election. A similar Washington Post/ABC News poll found Trump held a 38% approval rating, down seven points from when that poll was conducted in October.
The findings come after Trump became the first president in American history to be impeached twice by Congress, a week after he told a large crowd of his supporters to march to the Capitol ahead of a deadly riot in which the mob stormed the building.
The recent polls underscore Trump's tenure as one of the most polarizing figures in American history.
While only 5% of Democrats approved of Trump in the NBC News poll, 87% of Republicans gave the president a positive approval rating. Those numbers show only marginal declines from late October, when Trump had a 6% and 89% approval rating among Democrats and Republicans, respectively. In both reports, independents gave the president a 44% approval rating.
Forty-nine percent of respondents said Trump was "one of the worst" presidents, and an additional 9% said he was "not as good as most," in the NBC News poll. Nineteen percent of respondents, however, believed Trump was "one of the best," and another 21% said he was "better than most."
A new USA TODAY/ Suffolk University poll found Americans are worried about the health of the nation's democracy. Seventy percent of respondents in that poll said American democracy was weaker than it was four years ago. Another 70% called the Capitol rioters "criminals," though one in four felt the rioters "went too far, but they had a point."
A recent CBS News poll found that 54% of Americans believed that the biggest threat to the American way of life was "other people in America," highlighting high levels of distrust within the nation.
Divisions over Trump's conduct and the legitimacy of the presidential election are also evident in the polls.
Sixty-six percent of respondents in the Post/ABC poll said Trump acted irresponsibly in the aftermath of the November election. Sixty-two percent believed that Joe Biden won the presidential election legitimately and that there was no solid evidence of widespread voter fraud in the election.
The Post/ABC poll also found persistent divides over not only the 2020 election, but also Trump's win in 2016. Fifty-seven percent of respondents said Trump's 2016 victory was legitimate versus 42% who said it was not.
It is likely these divides will persist. While 69% of voters overall would like to see the Republican Party chart a new path after Trump, 57% of Republican-leaning voters want Republican leaders to follow Trump's lead, the Post/ABC poll found.
– Matthew Brown
Lindsey Graham to Trump: Don't pardon insurrectionists
South Carolina Sen. Lindsey Graham once criticized President Donald Trump over his demands to overturn his election loss to Joe Biden, but Graham was full of support in an interview broadcast Sunday – though he did warn Trump not to pardon extremist supporters who stormed the U.S. Capitol on Jan. 6.
"To seek a pardon of these people would be wrong … I think it would destroy President Trump," Graham said on the Fox News program "Sunday Morning Futures." "And I hope we don't go down that road."
Graham also praised Trump's accomplishments in office and reaffirmed the president's place as the leader of the GOP.
"Mr. President, your policies will stand the test of time," he said on the Fox program that Trump is known to watch. "You're the most important figure in the Republican Party. You can shape the direction of the party, keep your movement alive."
Demonstrating his fealty to Trump, Graham later released a letter to incoming Senate Majority Leader Charles Schumer, D-N.Y., requesting a dismissal of the impeachment case charging him with inciting the Capitol riot. Holding a Senate trial, he said, would delay "the healing of this great Nation."
Schumer is not expected to grant the request, and several political analysts mocked Graham's call for unity.
"You don't get to whine about 'healing' now after you personally inflicted so many of the wounds," tweeted historian Kevin Kruse.
– David Jackson
House prosecutor: We're developing a trial plan to detail Donald Trump egged on capital rioters
WASHINGTON – The top House impeachment prosecutor said Sunday his team is developing a "trial plan" designed to detail President Donald Trump's role in the Jan. 6 attack on the U.S. Capitol by his supporters.
Rep. Jamie Raskin, D-Md., told CNN the plan would be used during Trump's Senate trial later this year. Raskin said he did not know exactly when the trial might take place, but noted that a conviction would bar Trump from holding future office and end any of his remaining presidential aspirations.
"This was the most serious presidential crime in the history of the United States of America," Raskin said on "State of the Union."
The House impeached Trump on charges of inciting an insurrection designed to intimidate lawmakers into reversing his election loss to Democrat Joe Biden. Ten Republicans voted for the impeachment of Trump as a result of the riot that left five people dead.
Raskin said Trump inspired the insurrection with his constant lies about widespread election fraud after Biden's win, from a series of lawsuits to his fiery speech at a rally right before the invasion of the Capitol building.
House leaders have not delivered the impeachment article to the Senate, which is responsible for trying Trump even though he is out of office. Democrats will take political control of the Senate later this week.
Raskin is leading the House prosecution team in the wake of his son's self-inflicted death.
The Maryland congressman told CNN he is inspired by the memory of his late son, as well as colleagues, aides, and workers who were threatened by the mob at the U.S. Capitol.
"I'm not going to lose my son at the end of 2020, and lose my country and my republic in 2021," Raskin said.
– David Jackson
Biden outlines executive orders planned for first 10 days
President-elect Joe Biden will sign more than a dozen executive orders on his first day in office reversing key Trump Administration policies on issues from immigration to climate change, Biden's transition team announced Saturday.
On Wednesday, the day Biden is inaugurated as president, his executive actions will include:
Asking the Department of Education to extend the pause on student loan payments and interests on federal student loans
Rejoin the Paris Agreement, which focuses on goals to help mitigate climate change
Reverse the travel ban for Muslim-majority countries
He will also enact orders that address the ramifications of the COVID-19 pandemic. As president, he will launch his "100 Day Masking Challenge," which includes a mask mandate on federal property and inter-state travel. He will also extend nationwide restrictions on evictions and foreclosures.
On Biden's second day in office, he will sign more executive actions addressing the pandemic that will "change the course of the COVID-19 crisis and safely re-open schools and businesses," the transition team said. He will take actions that aim to mitigate the spread of the virus by expanding testing, protecting workers and establishing public health standards.
More: A Biden presidency could bring a wave of policy shifts. Here are the ones you likely care about.
On his third day in office, Biden will direct his Cabinet agencies to take immediate action to deliver economic relief to working families, though the transition team did not provide specifics.
Between Jan. 25 and Feb. 1, Biden will sign more executive actions, memoranda and issues additional Cabinet directives, including ones addressing equity and support in communities of color and underserved communities, and criminal justice system reforms.
Biden also plans to sign more executive actions addressing the climate crisis, in addition to taking his first steps to expand access to health care. And he will begin reuniting families separated at the border. As of December, 628 parents who were separated from their children at the border are still missing.
– Rebecca Morin
The Week Ahead – U.S Politics, Monetary Policy, Economic Data, and COVID-19 in Focus – Yahoo Finance
On the Macro
It's a busy week ahead on the economic calendar, with 73 stats in focus in the week ending 22nd January. In the week prior, 46 stats had been in focus.
For the Dollar:
It's a quiet week ahead on the economic data front.
In a shortened week, there are no material stats to consider in the 1st half of the week.
Through Thursday, Philly FED Manufacturing PMI and weekly jobless claims figures are in focus.
With market attention to labor market conditions, expect the jobless claims to have the biggest impact. Another jump in jobless claims would likely weigh on riskier assets.
At the end of the week, prelim private sector PMI figures for January wrap things up.
Housing sector data also due out in the week will likely have a muted impact on the Dollar and risk sentiment.
The Dollar Spot Index ended the week up by 0.75% to 90.772.
For the EUR:
It's a busy week ahead on the economic data front.
On Tuesday, January ZEW Economic Sentiment figures for Germany and the Eurozone kick things off.
Germany's ZEW Economic Sentiment indicator will likely be the key driver.
The focus will then shift to January prelim private sector PMI numbers on Friday. France, Germany, and the Eurozone's private sectors will be in the spotlight on.
Expect Germany's manufacturing and the Eurozone's composite to be the key drivers.
Finalized December inflation figures for member states and the Eurozone, also due out in the week, will likely have a muted impact on the EUR.
On the monetary policy front, the ECB is in action on Thursday. No moves are expected, leaving the press conference as the key driver. Questions on the economic outlook are likely as EU member states extend lockdown periods.
The EUR ended the week down by 1.11% to $1.2082.
For the Pound:
It's a relatively busy week ahead on the economic calendar. Key stats include December inflation and retail sales figures, CBI industrial trend orders, and prelim January private sector PMIs.
Expect the retail sales figures and services PMI, due out on Friday, to have the greatest influence.
Away from the economic calendar, COVID-19 news will also influence. Following the vaccine approvals, the markets will be looking for new COVID-19 cases to begin abating.
On the monetary policy front, BoE Governor is scheduled to speak on Wednesday.
The Pound ended the week up by 0.16% to $1.3590.
For the Loonie:
It's a busy week ahead on the economic calendar.
Key stats include December inflation and November retail sales figures due out on Wednesday and Friday.
Other stats include housing stats, manufacturing and wholesale sales figures. We would expect these stats to have a muted impact on the Loonie, however.
On the monetary policy front, the BoC is in action on Wednesday. With the markets expecting the BoC to hold rates steady, the rate statement and press conference will be the key drivers.
From elsewhere, economic data from China and private sector PMIs from the Eurozone and the U.S will also influence.
Expect COVID-19 news updates and chatter from Capitol Hill to also provide direction.
The Loonie ended the week down by 0.24% to C$1.2732 against the U.S Dollar.
Out of Asia
For the Aussie Dollar:
It's a busier week on the economic data front.
Consumer sentiment figures for January are due out on Wednesday.
With consumer confidence key to fueling a pickup in consumer spending and an economic recovery, expect Aussie Dollar sensitivity to the numbers.
On Thursday, December employment figures will also provide direction ahead of retail sales figures on Friday.
Economic data from China and private sector PMI numbers from the U.S and the Eurozone will also influence.
COVID-19 news updates will remain a key driver in the week. however.
The Aussie Dollar ended the week down by 0.70% to $0.7703.
For the Kiwi Dollar:
It's a quiet week ahead on the economic calendar.
In the 1st half of the week, 4th quarter business confidence and electronic card retail sales figures are in focus on Tuesday.
At the end of the week, Business PMI and 4th quarter inflation figures wrap things up.
Expect business confidence, retail sales, and 4th quarter inflation figures to be the key drivers.
The Kiwi Dollar ended the week down by 1.51% to $0.7133.
For the Japanese Yen:
It is a busy week ahead.
Finalized November industrial production figures get things going on Monday.
On Thursday, December trade figures will draw plenty of attention. With the COVID-19 pandemic continuing to wreak havoc, weak numbers could test market risk appetite.
At the end of the week, December inflation figures and prelim private sector PMIs for January wrap things up. The PMI numbers should have greater influence at the end of the week.
On the monetary policy front, the BoJ is in action on Thursday.
The Japanese Yen ended the week up by 0.09% to ¥103.85 against the U.S Dollar.
Out of China
It's also a busy week ahead.
December industrial production and 4th quarter GDP numbers are due out on Monday. These will be the key stats of the week.
Other stats include fixed asset investment, retail sales, and unemployment figures. Barring dire numbers, however, these stats should have limited impact on market risk sentiment.
On Wednesday, the PBoC is also in action. However, the markets are not expecting any moves.
The Chinese Yuan ended the week down by 0.10% to CNY6.4809 against the U.S Dollar.
Geo-Politics
U.S Politics
It's a busy week on Capitol Hill.
Inauguration Day and Trump's impeachment will draw interest.
COVID-19
Vaccination rates and availability of vaccines will be key areas of interest.
An upward trend in vaccination rates and a downward trend on infection rates would support optimism towards an economic recovery.
Corporate Earnings
A number of big names deliver results in the week ahead.
From the U.S
These include:
Bank of America (Tues)
Goldman Sachs Group (Tues),
Netflix (Tues)
United Airlines (Wed)
Morgan Stanley (Wed)
Intel Corp. (Thurs).
This article was originally posted on FX Empire
More From FXEMPIRE:
Opinion | This is a bad time for attack politics – WellandTribune.ca
Erin O'Toole is no fool — though you would be forgiven for wondering, given his performance in recent days.
Having carefully plotted and executed a shift to the centre, and the beginnings of an appeal to working-class urban voters, he appears to be at risk of backsliding into the tired old Harper attack politics. Canadian conservatives since the Reform Party-era in the '80s have often skated too close to the line on Islamophobia, guns, refugees and Indigenous rights.
O'Toole needs to put a clear red line on the other side of those dangerous dog whistles. Instead he has renewed doubts.
Conservatives are admittedly masters at this American style of incendiary rhetoric, but it has trapped them with the same base — aging, rural and Western — for nearly two decades now. It perhaps signals some uneasiness in O'Toole's caucus and activist base about giving up attack politics that he would do something as borderline racist as saying that no prisoners — or presumably therefore no prison employees — should receive a vaccination until every "other" Canadian has.
Very poor staff work can be blamed for not seeing the perils in that cold-hearted demand, but it was the leader who chose to say it. Federal prisons hold Indigenous prisoners at nearly six times their percentage of the population, according to a 2020 report by Correctional Investigator of Canada Dr. Ivan Zinger. And they have higher pre-existing health issues and a higher fatality rate under COVID.
Is that really the message O'Toole has for Canadians about a more caring, less vitriolic Canadian conservatism? With a single foolish statement, he has gifted the Liberals and the NDP with a powerful weapon against him.
This week he doubled down, with someone in his camp authorizing an email conversation on his behalf with the bilious Ezra Levant and Rebel Media — the same collection of angry adolescents that helped bring down his predecessor. And the capper: a Tory fundraising page on the party's website actually carried the headline, "Justin Trudeau is rigging the next election in his favour." The page came down after the attack on Congress.
It would hard to think of a less appropriate time to be tempted to revive somewhat ominous slogans like "Take Back Canada" — it begs the question from whom and for whom? It should be retired after having been erased from everything with the party name on it. O'Toole did put out a statement last week saying most of the right things about white nationalism and the use of violent political rhetoric. But given the party's record over the past two decades, that will not be good enough.
When John F. Kennedy and Ted Sorenson wrote "Profiles in Courage" they profiled the often breathtaking risks that some American leaders had taken in difficult times to advance their political agenda. From the courage of John Quincy Adams on slavery to Robert Taft's self-immolation in his appalling capitulation to the atavistic wing of the GOP and denouncing the Nuremberg trials, there is a thread that connects their selection. It's that those who pushed their party in a new direction ended up winners. Losers like Taft destroyed themselves when they bowed to their partisans' worst instincts.
Theirs is a meaningful message today, as we watch all the Trump enablers desperately trying to save their reputations and careers through eleventh-hour denunciations of the man they had championed for four awful years. And Kennedy's heroes offer sage counsel to Canadian conservatives.
There is no path to power on the hard right in Canada. The only path to power is the coalition that Diefenbaker and Mulroney assembled. Today that means winning slices of the New Democrats' and Liberals' urban bases. The peelable voters have a visceral disgust with Trumpian messaging, as revealed in poll after poll. It also means shunning those who would pull the party backwards.
Now is the time for O'Toole to denounce some of the party's messaging in recent years on hot button social issues, and set out his stall with a conservatism built on empathy, inclusion and intelligence. Else he will end this likely election year in the same humiliated place as Andrew Scheer.
The combination of COVID, Proud Boys and political violence have changed politics in both Canada and the United States. Rhetoric that was barely permissible previously is now fatal.
Loading…
Loading…Loading…Loading…Loading…Loading…