A roundup of COVID-19 developments for Friday Aug. 28, 2020 – Winnipeg Free Press
At this point in the pandemic, we all know the two-metre rule of socially distancing.
What I didn't know was the origins of what has become the gold standard governing efforts to control the spread of COVID-19. And thanks to a new article from The BMJ (originally the British Medical Journal) published this week, I've learned that so-called golden rule has a bit of tin ring to it.
But that's what happens when a rule is based on outdated science. As in science that predates the Spanish Flu.
In fact, you have to go all the way back to 1897 when studies of droplets from speech, coughing and sneezing led to a proposed safe distance of one to two metres.
The BMJ article outlines how problematic that rule is given more recent research that shows how the aerosols we can't see — those tiny droplets of body fluids believed key to spreading the virus — can travel far further than two metres. For instance, there's the example of a U.S. choir practice in which one asymptomatic person infected at least 32 others despite social distancing.
So what are we to make of this research?
The BMJ recommends social distancing be seen as only one part of the public health approach to containing the pandemic. In other words, the two-metre figure is not a magical number that guarantees safety.
At the same time, the research recommends a more nuanced approach to social distancing. For instance, we need to look at factors such as risk, ventilation and exposure time. We need to recognize the importance of masks and other protective equipment in various settings.
And if we don't want to end up six feet under, we need to keep washing our hands.
— Paul Samyn, Winnipeg Free Press editor
---
THE LATEST NUMBERS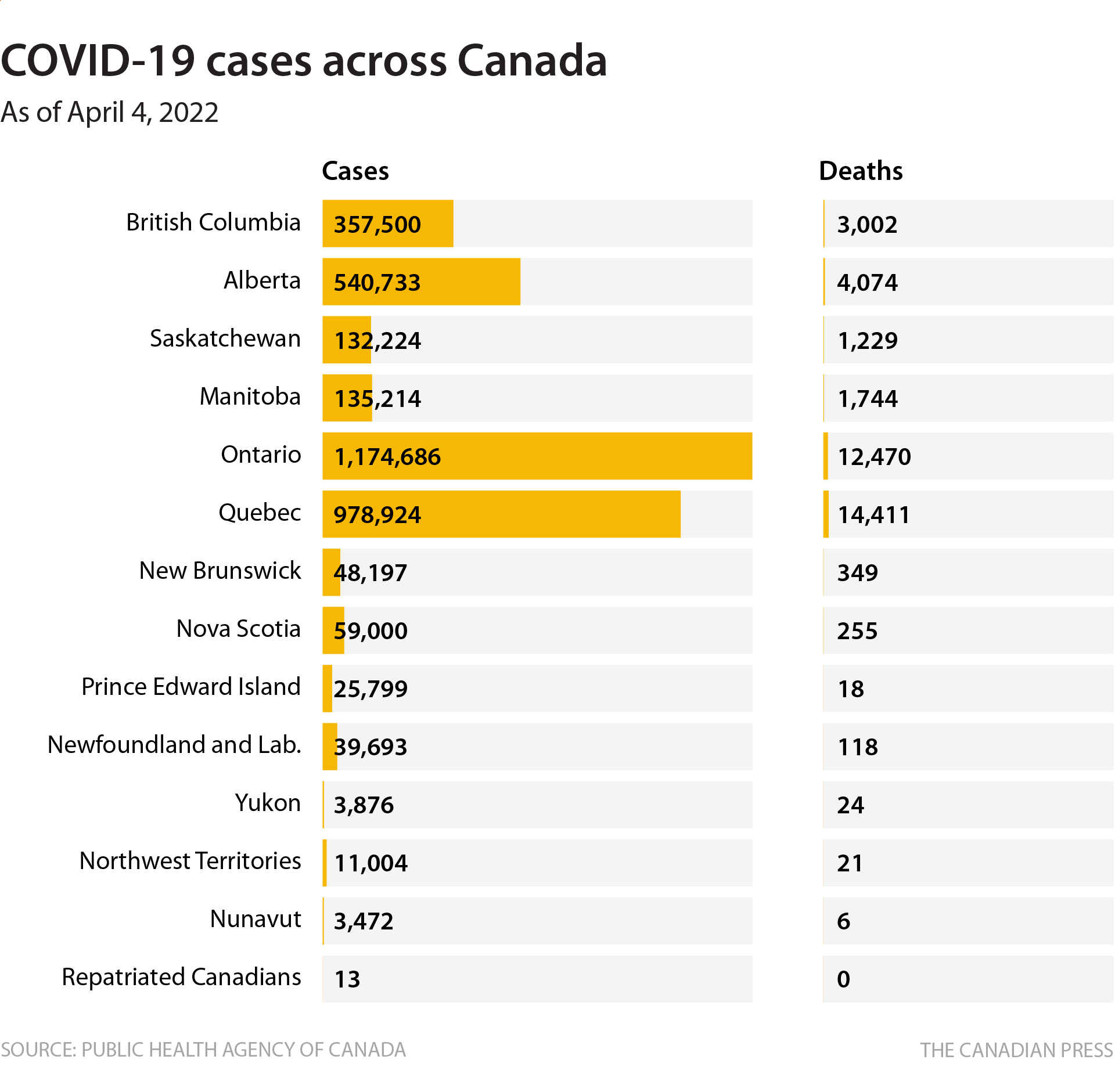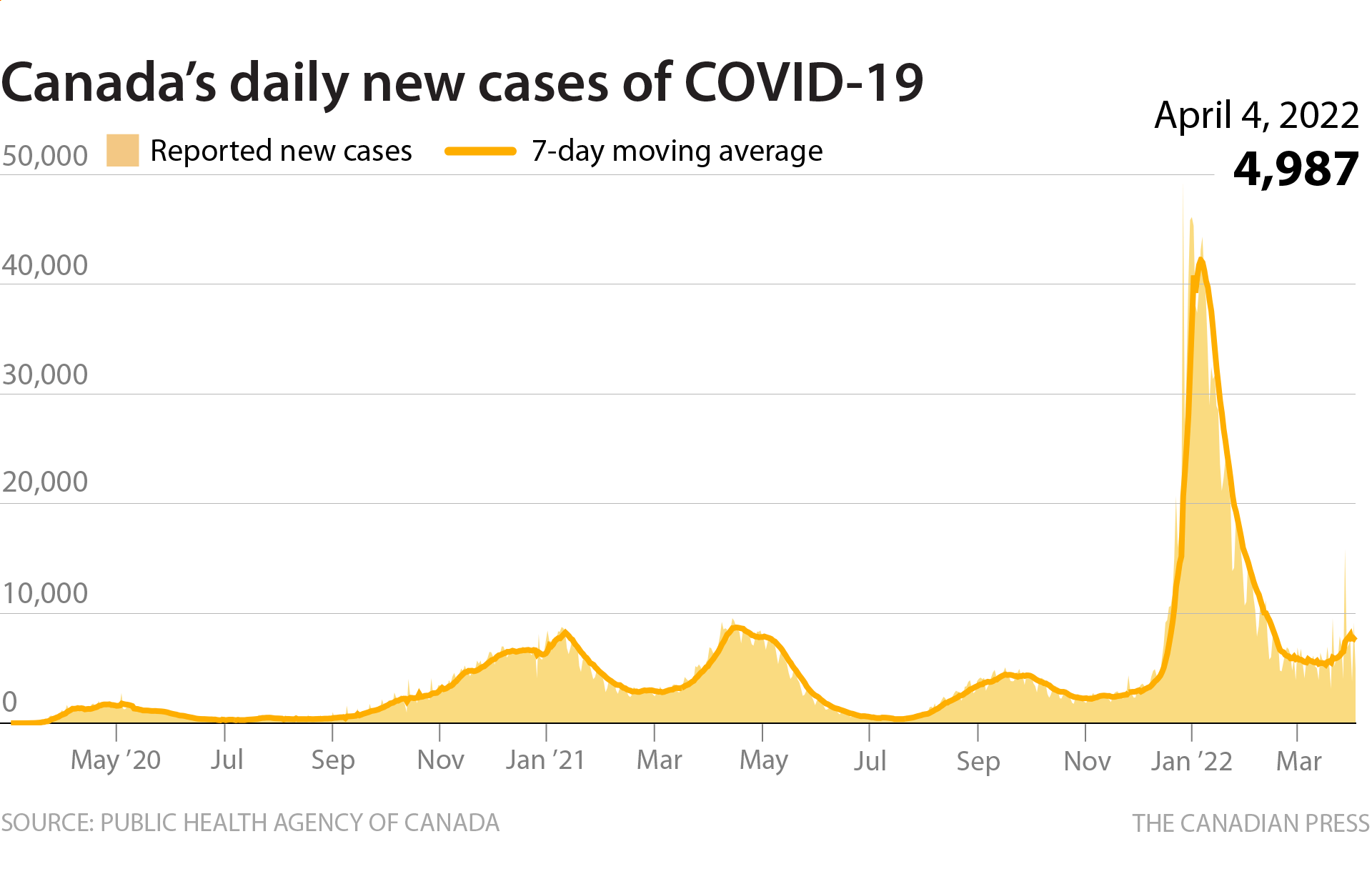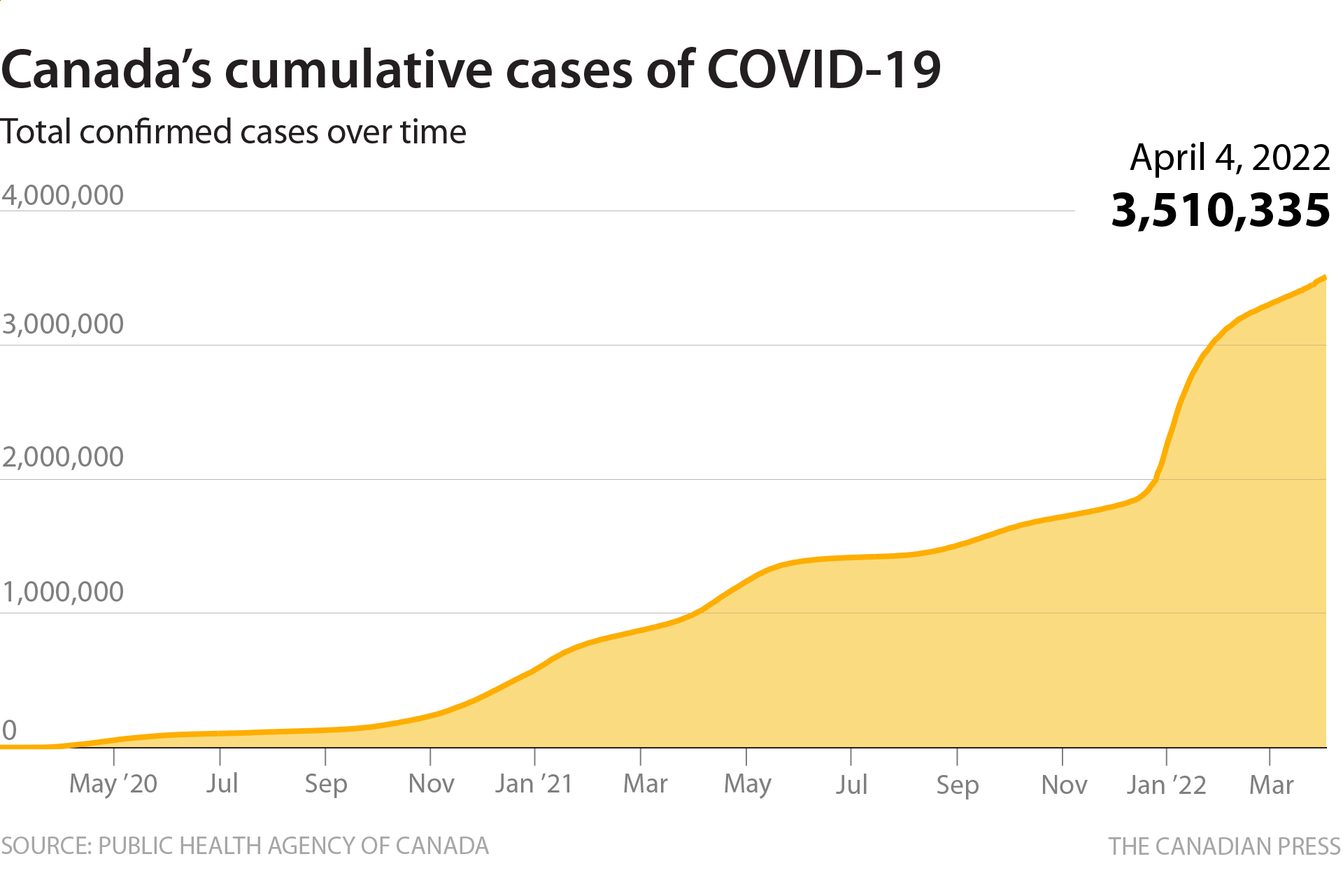 Note: Manitoba and Canada figures may not match due to differences in data sources.
THE LATEST IN MANITOBA
• Health officials reported 32 new cases of COVID-19 in the province on Friday, including seven in the Winnipeg health region. Eighteen of the new cases are located in the hard-hit Prairie Mountain Health region, which includes the city of Brandon. While the number of lab-confirmed cases continues to climb — the total to date is 1,096 with 418 active cases — the number of hospitalizations fell. There are now five people hospitalized with COVID-19 in Manitoba (with one one in ICU), compared with six on Thursday. The current five-day test positivity rate in Manitoba is now at 2.3 per cent compared with three per cent on Thursday. An additional 1,252 laboratory tests were completed on Thursday, bringing the total number of tests completed to 132,085.
• Starting Saturday, anyone visiting a City of Winnipeg facility or boarding a Winnipeg Transit vehicle must wear a non-medical face mask. The requirement will apply to Winnipeg Transit and accessible Winnipeg Transit Plus vehicles, as well as city hall, city-operated recreation facilities, libraries and administrative buildings, according to a press release. Transit riders who fail to comply with the new rule could face a $100 fine.
THE LATEST ELSEWHERE
• Canada's chief public health officer says families should expect to see cases of COVID-19 in schools as children head back to class. It is important that each school have a plan and that everyone knows what to do when there's an outbreak of the novel coronavirus, Dr. Theresa Tam told a news briefing Friday.
• The Canadian economy suffered its worst three-month stretch on record in the second quarter as the economy came to a near halt in April before starting to recover in May and June. Statistics Canada said Friday real gross domestic product contracted at an annualized rate of 38.7 per cent for the quarter, the worst posting for the economy dating back to when comparable data was first recorded in 1961. Almost every single component of the economy used to calculate GDP was at its lowest point during the three-month stretch — driven largely by widespread lockdowns in April meant to slow the spread of COVID-19. However, economic output rebounded in May by 4.8 per cent, and the agency said June saw an increase of 6.5 per cent, a monthly record.
• The federal government is extending travel restrictions by one month to limit the spread of COVID-19. Public Safety Minister Bill Blair said Friday on Twitter that existing restrictions on international travel to Canada would be extended to Sept. 30. Blair says Canadian citizens and permanent residents who are returning home to Canada will continue to be subjected to strict quarantine measures.
• WestJet passengers in Vancouver may soon be taking COVID-19 tests before takeoff. WestJet Airlines Ltd. and Vancouver International Airport announced on Friday plans for a pilot project to test passengers for the coronavirus on some departing flights. The announcement comes alongside a strict new policy at the airline to ensure passengers wear masks on board with potential consequences for non-compliers that include a yearlong travel ban. The airline is also requiring that flyers provide their contact information during check-in to help provincial and federal health agencies with contact tracing if an infected passenger is on the same flight.
• Four people at the Republican National Convention in Charlotte, N.C., have tested positive for the coronavirus, health officials in North Carolina's Mecklenburg County say. The two attendees and two people supporting the convention tested positive among the nearly 800 people tested, according to health officials. County leaders say those four individuals were isolated and any known close contacts were notified and issued quarantine instructions. The Charlotte Observer reports the disclosures come after county health officials raised concerns about a lack of social distancing and mask wearing.
• Nevada officials are reporting what may be the first documented case of coronavirus reinfection in the United States, following similar reports earlier this week from Hong Kong and Europe. A 25-year-old Reno man with mild COVID-19 symptoms initially was found to have the virus in April, recovered and tested negative twice, and then tested positive again in June. He was much sicker the second time, with pneumonia that required hospitalization and oxygen treatment. Genetic tests from each episode showed that viruses were similar in major ways but differed in at least 12 spots that would be highly unlikely from natural evolution of the bug if the man had it continuously rather than being infected a second time, said Mark Pandori, director of the Nevada State Public Health Laboratory. The findings have not yet been published or reviewed by other scientists, but were posted on a research site.
QUOTE, UNQUOTE
"I think that people should not have a massive knee-jerk reaction and just close everything but have local public health examine that situation and provide the advice of what to do in that instance."
— Dr. Theresa Tam, Canada's chief public health officer, urging careful consideration when reacting to a school COVID-19 case
LOCAL NEWS
NATIONAL NEWS
INTERNATIONAL NEWS
COVID-19 BASICS
What you need to know about COVID-19 in Ottawa on Friday, Sept. 18 – CBC.ca
Recent developments:
What's the latest?
Ottawa's medical officer of health, Dr. Vera Etches, said Friday the city is in its second wave of the COVID-19 pandemic.
Ottawa Public Health (OPH) logged 63 more people with COVID-19 in Friday's report. This is the highest five-day average of newly confirmed cases since the start of the pandemic.
In a news conference Friday, Etches defined the second wave as a rising percentage of people testing positive, along with an increasing number of people getting tested.
She said it would be a challenge if the numbers keep going up, and hopes Ottawans will continue to physically distance and wear their masks to curb the spread.
WATCH: Rapid rise in cases triggering second wave:
Ottawa is one of three regions where Ontario's new limits on some gatherings are now in place: 10 people indoors and 25 people outdoors.
Premier Doug Ford said Friday he hopes pharmacies can start administering COVID-19 tests by the end of next week.
Police across Quebec will check more than a thousand bars and restaurants this weekend to make sure health rules are being followed, particularly crowd limits and masks.
This week that province banned sales of food and drink after midnight.
WATCH LIVE | Ontario, Quebec premiers talk to media:
How many cases are there?
Testing has confirmed 3,549 people in Ottawa have had COVID-19.
Of those, 458 are active cases, 2,718 are considered resolved and 273 had died.
Overall, public health officials have reported more than 5,500 people with COVID-19 across eastern Ontario and western Quebec, with more than 4,300 of them considered resolved.
COVID-19 has killed 104 people in the region outside Ottawa: 52 people have died in Leeds, Grenville and Lanark counties, 34 in the Outaouais and 18 in other parts of eastern Ontario.
What's open and closed?
Ontario is in Stage 3 of its reopening plan and in most regions, gatherings can't be larger than 100 people outdoors and 50 people indoors. Ottawa is the only local exception because of its scope of COVID-19 spread.
Test sites in and around Ottawa have been very busy this week and wait times have been very long, with some reaching their daily capacity well before their usual closing time.
Ottawa's test site on Moodie Drive was at capacity by its official opening time of 9 a.m., according to the Queensway Carleton Hospital.
The Heron Road location has more capacity today.
Today the team of the Ottawa East COVID-19 Care Clinic, on Heron Rd, is very happy to welcome the additional capacity created by <a href="https://twitter.com/OntarioHealthOH?ref_src=twsrc%5Etfw">@OntarioHealthOH</a> mobile pop-up testing site. Working together, we can tackle the lineups – and COVID-19! <a href="https://t.co/g5d2V9QGYY">pic.twitter.com/g5d2V9QGYY</a>

&mdash;@hopitalmontfort
Kingston, Ont., has tightened its distancing rules in city parks and increased fines.
Ottawa will resume ticketing drivers who park longer than allowed in unmarked areas on Oct. 1, with warnings starting Monday.
Quebec has similar reopening rules to most of Ontario, with its cap on physically distanced gatherings in public venues now up to 250 people, allowing smaller festivals.
That province has warned some regions are close to having gathering sizes shrunk and losing dine-in service at restaurants.
Every local school board or service centre has now brought students back.
More than 2,000 students in Ottawa's English school boards don't have their usual school bus because of a shortage of bus drivers.
Distancing and isolating
The novel coronavirus primarily spreads through droplets when an infected person coughs, sneezes, breathes or speaks onto someone or something.
People don't need to have symptoms to be contagious.
That means physical distancing measures such as working from home, meeting others outdoors as much as possible and keeping distance from anyone you don't live with or have in your social circle, including when you have a mask on.
WATCH | Prominent COVID-19 benefit ending soon:
Ottawa's medical officer of health is pleading with residents to reduce the number of people they're in close contact with as new cases of COVID-19 continue to surge.
Masks are now mandatory in indoor public settings in all of eastern Ontario and Quebec, including transit services and taxis in some areas.
Quebec has given police the power to fine people ignoring mandatory mask laws.
Masks are also recommended outdoors when you can't stay the proper distance from others.
Anyone who has travelled recently outside Canada must go straight home and stay there for 14 days.
In Ontario, that's the same period of self-isolation for anyone with symptoms. When self-isolating, only leave home or see other people if it's critically important, such as to go see a doctor.
Most people with a confirmed COVID-19 case in Quebec can end their self-isolation after 10 days if they have not had a fever for at least 48 hours and has had no other symptom for at least 24 hours.
Health Canada recommends older adults and people with underlying medical conditions and/or weakened immune systems stay home as much as possible.
What are the symptoms of COVID-19?
COVID-19 can range from a cold-like illness to a severe lung infection, with common symptoms including fever, a cough, vomiting and the loss of taste or smell.
Less common symptoms include chills, headaches and pinkeye. Children can develop a rash.
Getting tested any sooner than five days after potential exposure may not be as useful since it takes about that long for the virus to grow to be detectable by a test, said Ottawa's medical officer of health Vera Etches in early September.
If you have severe symptoms, call 911.
Where to get tested
In eastern Ontario:
In Ottawa any resident can get tested, but record wait times have led Ottawa Public Health (OPH) to ask that testing be limited for now to people with symptoms or who have been referred for a test because of contact tracing.
Testing for the general public happens at one of four sites, with health officials promising more capacity soon.
Inuit in Ottawa can call the Akausivik Inuit Family Health Team at 613-740-0999 for service, including testing, in Inuktitut or English on weekdays.
There is a pop-up clinic at the Wabano Centre in Vanier Monday and Tuesday.
Book now! Wabano will be offering COVID-19 testing on-site for First Nations, Inuit &amp; Métis.<br>Sept. 21 &amp; 22<br>9:30 am to 4:00 pm<br>299 Montreal Rd<br>*By Appointment Only*<br>Call 613-748-0657 ext. 456 to book your appointment.<a href="https://twitter.com/hashtag/Indigenous?src=hash&amp;ref_src=twsrc%5Etfw">#Indigenous</a> <a href="https://twitter.com/hashtag/IndigenousHealth?src=hash&amp;ref_src=twsrc%5Etfw">#IndigenousHealth</a> <a href="https://twitter.com/hashtag/Ottawa?src=hash&amp;ref_src=twsrc%5Etfw">#Ottawa</a> <a href="https://t.co/GMbObapNVN">pic.twitter.com/GMbObapNVN</a>

&mdash;@WabanoHealth
The University of Ottawa has a test site open weekdays by appointment at its Lees campus for students and staff.
There's also a mobile testing van operated by Inner City Health that mostly serves people experiencing homelessness and some tests done in hospitals.
In the Eastern Ontario Health Unit, there is a drive-thru centre in Casselman and walk-up site in Hawkesbury and Winchester that don't require people to call ahead.
Others in Alexandria, Rockland, Cornwall and now Winchester require an appointment.
In Kingston, the Leon's Centre is hosting the city's test site though Gate 2. There's another test site at Queen's University's Mitchell Hall open 5 to 8 p.m. on weekdays.
Napanee's test centre is open daily for people who call ahead.
You can arrange a test in Bancroft, Belleville or Trenton by calling the centre and in Picton by texting or calling. Only Belleville and Trenton run seven days a week.
The Leeds, Grenville and Lanark unit asks you to get tested if you have a symptom or concerns about exposure.
It has a walk-in site in Brockville at the Memorial Centre and testing sites in Smiths Falls and Almonte which require an appointment.
Renfrew County residents should call their family doctor and those without access to a family doctor can call 1-844-727-6404 to register for a test or if they have health questions, COVID-19-related or not.
People can also visit the health unit's website to find out where testing clinics will be taking place each week.
In western Quebec:
Outaouais residents can get a walk-in test in Gatineau seven days a week at 135 blvd. Saint-Raymond.
There are recurring clinics by appointment in communities such as Gracefield, Val-des-Monts and Fort-Coulonge.
They can call 1-877-644-4545 to make an appointment or if they have other questions.
First Nations:
Akwesasne has had 14 confirmed COVID-19 cases, most linked to a gathering on an island in July.
It has a mobile COVID-19 test site available by appointment only. Anyone returning to the community on the Canadian side of the international border who's been farther than 160 kilometres away — or visited Montreal — for non-essential reasons is asked to self-isolate for 14 days.
In early September, it expanded its gathering limit to 50 people, then ended its curfew. Its schools start bringing students back next week.
Anyone in Tyendinaga who's interested in a test can call 613-967-3603 to talk to a nurse.
People in Pikwakanagan can book an appointment for a COVID-19 test by calling 613-625-2259.
For more information
Ottawa in second wave of COVID-19 pandemic: Dr. Etches – Newstalk 1010 (iHeartRadio)
Ottawa's medical officer of health says Ottawa is now in the second wave of the COVID-19 pandemic, after people got a little too relaxed with COVID-19 measures in August.
Dr. Vera Etches announced Ottawa was in the second wave shortly after Ottawa Public Health reported 63 new cases of COVID-19 in the capital on Friday.
Dr. Etches says the current rise in COVID-19 cases is unsustainable, but residents can help flatten the second wave if they increase physical distancing practices and limit contacts.
Speaking with reporters after meeting with Premier Doug Ford, CTV News Ottawa's Christina Succi asked Dr. Etches if Ottawa is in the second wave of the pandemic.
"Yes, we're seeing a rise in cases and it's the speed of the increase that concerns us," said Dr. Etches Friday morning outside the Fairmont Chateau Laurier.
"We can't sustain a rapid rise in cases, we need to be able to keep it to a manageable level."
Ottawa has seen at least 60 new cases of COVID-19 three days this week, including 61 cases on Monday and 63 on Friday.
The medical officer of health says she believes Ottawa residents can help flatten the curve and limit the spread of COVID-19.
"I do believe that people in Ottawa, they've done it before. They did it in the first wave, but they did it in July as well. When we started to see an increase in July it came back down when people increased their distance between each other," said Dr. Etches.
"In August, we got a little too relaxed, we had too many gatherings and we need to do it again."
New social gathering limits are now in effect for Ottawa. Starting today, gatherings are limited to 10 people indoors and 25 people outdoors at homes and private setting.
MORE: I ask "Are we in a 2nd wave" @VeraEtches "Yes. We are seeing a rise in cases and it's the speed of the increase that concerns us, we can't sustain a rapid rise in cases we need to keep it to a manageable level"
"Can we do that?"
WATCH: https://t.co/8zoEsqHwph pic.twitter.com/0Dm8FrnxfQ
— Christina Succi (@CTVChristina)
September 18, 2020
Dr. Vera Etches told reporters there will be "multiple waves" of COVID-19 cases in Ottawa.
"In July, we saw a small wave, now we're seeing another wave. We don't know how big it will get," said Dr. Etches.
"When people talk about the second wave, they're talking about is it going to be crisis again. That's what we want to change. We want to flatten it, keep it a small bump."
Speaking with reporters Friday afternoon, Dr. Etches suggested the actions of residents could help stem the second wave of COVID-19.
"The actions we take today could make that wave flatten, that curve flatten again within the next two-to-three weeks," said Dr. Etches.
"That's what I hope is that this is another peak that will not last longer than the next two weeks and it is up to each of us to make that happen."
The medical officer of health urges people to practice COVID-19 measures, including physical distancing, limiting contacts with others and wearing face masks in public spaces.
Ottawa Public Health blamed private gatherings and parties for a rise in cases in mid-July.
This news should not come as a surprise…and neither should this: you already know what to do. Wear a mask, stay home if you're sick, maintain distancing & wash your hands.
Remember: limiting close contacts = reducing COVID-19 transmission.
This virus is not stronger than us. https://t.co/hCymKt6x53
— Ottawa Public Health (@ottawahealth)
September 18, 2020
This is a developing story. CTV News Ottawa will have the latest as it becomes available
UK study finds effective new Covid-19 rapid test in a box – Times of India
LONDON: A new small-boxed Covid-19 rapid test device, which gives results within 90 minutes, has been found to have a high level of accuracy and produced very few false negatives and no false positives in a UK study.
The Lab-in-Cartridge tests can be performed in cartridges smaller than a mobile phone and do not require a laboratory.
The study, led by Imperial College London scientists and published in 'The Lancet Microbe' this week, involved high-speed tests on 386 National Health Service (NHS) staff and patients and were found to have over 94 per cent sensitivity and 100 per cent specificity.
"These results suggest the test, which can be performed at a patient's bedside without the need to handle any sample material, has comparable accuracy to standard laboratory testing," said Professor Graham Cooke, lead author of the study from the Department of Infectious Disease at Imperial College London.
"Many tests involve a trade-off between speed and accuracy, but this test manages to achieve both. Developing an effective bedside test in under three months has been an incredible collaboration between teams of engineers, clinicians and virologists," he said.
The test is currently being used successfully across eight London hospitals, and due to be rolled out at a national level in the UK as data continues to be gathered from the testing device for continual assessment.
Imperial College London said the UK government recently placed an order for 5.8 million of the testing kits.
To perform the test, a paediatric-sized nose swab from a patient is inserted into the device, which then looks for traces of genetic material belonging to the SARS-CoV-2 or novel coronavirus, which causes the infection.
A result is available within 90 minutes, compared to conventional Covid-19 testing which delivers a result in 24 hours.
According to the research team, the test is now being developed for assessing simultaneously Flu-A, Flu-B, and RSV as well as Covid-19.
The device, produced by Imperial's London-based start-up DnaNudge, was used on 280 NHS staff members with suspected Covid-19, 15 patients in Accidents and Emergency (A&E) with suspected Covid-19, and 91 hospital in-patients — some of who were not displaying Covid-19 symptoms.
The percentage of those found to be positive for Covid-19 during the study at the peak of the pandemic was 18 per cent.
The results showed 67 samples tested positive on the CovidNudge test, compared with 71 positive results against a range of NHS standard laboratory machines, which represents the value of 94 per cent sensitivity.
"The DnaNudge test was developed as a lab-free, on-the-spot consumer service that can be delivered at scale, so we clearly believe it offers very significant potential in terms of mass population testing during the Covid-19 pandemic," said Regius Professor Chris Toumazou, CEO and co-founder of DnaNudge and founder of the Institute of Biomedical Engineering at Imperial College London.
"The platform is well suited to testing in primary care and community settings with potential for use in non-healthcare settings such as care homes, schools, transport hubs, offices, and, to help bring the arts back, in theatres and venues. However, further studies of real-world effectiveness in non-clinical settings would be required prior to widespread deployment," he said.
The research team, which included scientists and clinicians from Imperial and a number of NHS hospital trusts, assessed sensitivity and specificity.
Sensitivity is a measure of how well a test gives a positive result for people who have disease, and is an indication of how likely a test will produce false negative results.
Specificity, on the other hand, is a measure of a test's ability to give a negative result for a people who don't have the disease, and is an indication of the likelihood of false positive results.
"As an organisation we are focused on using research and innovation to continuously drive improvements to care.Getting accurate results back to clinicians and their patients as quickly as possible makes a huge difference to how we safely manage clinical pathways and we are very much looking forward to rolling this out more widely," said Dr Bob Klaber, director of strategy, research and innovation at Imperial College Healthcare NHS Trust.
The device has been approved by the UK Medicines and Healthcare Regulatory Agency and has also obtained a CE mark, enabling its additional use in non-clinical locations. The team explain each device is wi-fi enabled, allowing the test result to be securely sent to a hospital's record system.
Testing for the study took place between April 10 and May 12 at three NHS sites: St Mary's Hospital, Imperial College Healthcare NHS Trust, London; Chelsea & Westminster Hospital NHS Foundation Trust, London and the John Radcliffe Hospital, Oxford University Hospitals NHS Foundation Trust, Oxford.
It was supported by the National Institute for Health Research, Imperial Biomedical Research Centre.