A summer of protest, unemployment and presidential politics – welcome to 1932 – The Conversation US
An election looms. An unpopular president wrestles with historic unemployment rates. Demonstrations erupt in hundreds of locations. The president deploys Army units to suppress peaceful protests in the nation's capital. And most of all he worries about an affable Democratic candidate who is running against him without saying much about a platform or plans.
Welcome to 1932.
I am a historian and director of the Mapping American Social Movements Project, which explores the history of social movements and their interaction with American electoral politics.
The parallels between the summer of 1932 and what is happening in the U.S. currently are striking. While the pandemic and much else is different, the political dynamics are similar enough that they are useful for anyone trying to understand where the U.S. is and where it is going.
Multiracial street protest movement
In 1932, as in 2020, the nation experienced an explosion of civil unrest on the eve of a presidential election.
The Great Depression had deepened through three years by 1932. With 24% of the work force unemployed and the federal government refusing to provide funds to support the jobless and homeless as local governments ran out of money, men and women across the country joined demonstrations demanding relief.
Our mapping project has recorded 389 hunger marches, eviction fights and other protests in 138 cities during 1932.
Although less than the thousands of Black Lives Matter protests, there are similarities.
African Americans participated in these movements, and many of the protests attracted police violence. Indeed, the unemployed people's movement of the early 1930s was the first important multiracial street protest movement of the 20th century, and police violence was especially vicious against black activists.
Atlanta authorities announced in June 1932 that 23,000 families would be cut from the list of those eligible for the meager county relief payments of 60 cents per week per person allocated to whites (less for Blacks). A mixed crowd of nearly 1,000 gathered in front of the Fulton County Courthouse for a peaceful demonstration demanding US$4 per week per family and denouncing racial discrimination.
[Like what you've read? Want more? Sign up for The Conversation's daily newsletter.]
The biracial protest was unprecedented in Atlanta and yielded two results. The eligibility cuts were canceled, and police promptly hunted down one of the organizers, a 19-year-old Black communist named Angelo Herndon. He was charged with "inciting to insurrection," a charge that carried the death penalty. Lawyers spent the next five years winning his freedom.
Protests over unemployment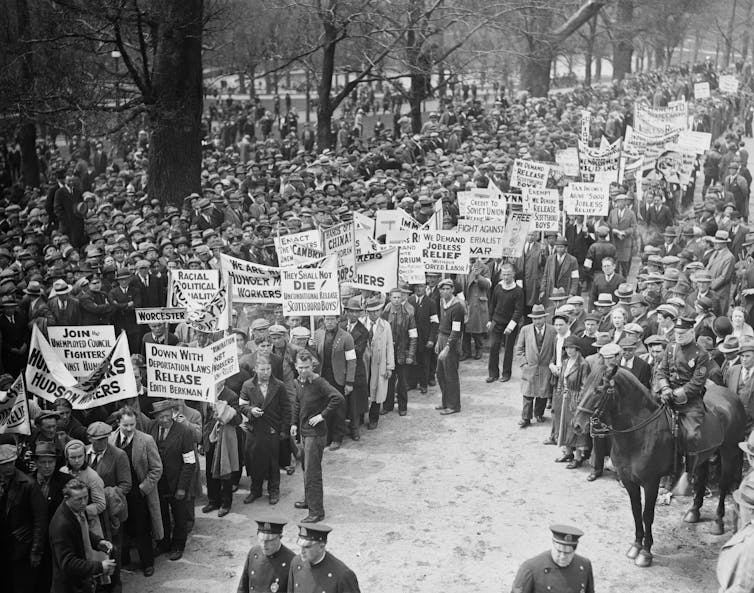 But race was not the key issue of the 1932 protest wave. It was government's failure to rescue the millions in economic distress.
Organizations representing the unemployed – many led by communists or socialists – had been active since 1930, and now in the summer of 1932 protests surged in every state. Here are examples from the Mapping American Social Movement Project timeline from one week in June:
• June 14
Hundreds of Chicago police mobilize to keep unemployed demonstrators at bay at the start of the Republican Party nominating convention.
• June 17
A so-called "hunger march" of 3,000 jobless in Minneapolis ends peacefully, but in Bloomington, Indiana, police use tear gas on 1,000 demonstrators demanding relief, while in Pittsburgh unemployed supporters crowd a courthouse to cheer the not-guilty verdict in an "inciting to riot" case.
• June 20
Police break up a march by 200 unemployed in Argo, Illinois, and a much larger protest by jobless in Rochester, New York. In Lawrence, Massachusetts, 500 protesters successfully demanded an end to evictions of unemployed mill workers; in Pittsburgh, protesters block the eviction of an unemployed widow. The same day in Kansas City, a mostly Black crowd of 2,000 pleads unsuccessfully with the mayor to restore a recently suspended relief program.
Farmers' uprising
The unemployed protests in urban areas of 1932 seem similar to today's protest culture, but that was not true in the farm belt.
Dealing with collapsing prices and escalating farm evictions, farmers in many regions staged near-uprisings. Black farmers in the cotton belt braved vigilante violence when, by the thousands, they joined the Alabama Sharecroppers Union, which advocated debt relief and the right of tenant farmers to market their own crops.
Newspaper headlines focused on the white farmers mobilizing in Iowa, Wisconsin, Nebraska, Minnesota and the Dakotas in the summer of 1932. The Farmer's Holiday Association formed that year pledging to strike ("holiday") to raise farm prices. The strike that began on August 15 involved sometimes heavily armed white farmers blocking roads to stop the shipment of corn, wheat, milk and other products. The strike withered after a few weeks, but farmers had sent a message, and some state legislatures quickly enacted moratoriums on farm foreclosures.
Counties that today are marked as Trump territory distinguished themselves in 1932 as centers of what became known as the "Cornbelt Rebellion."
Unrest helped FDR defeat Hoover
Periods of grassroots protest and civil unrest interact in unpredictable ways with presidential elections. In 1932, unrest helped Franklin Roosevelt defeat incumbent Herbert Hoover. Again, there are similarities between that summer and this one.
Democratic presidential candidate Roosevelt, like today's Democratic candidate, Joe Biden, enjoyed the luxury of running on platitudes instead of programs. Roosevelt used the phrase "new deal" in his nomination acceptance speech, but details were few and it was not until he took office that the phrase acquired real meaning.
Roosevelt could avoid commitments because the political dynamics of 1932 forced the incumbent to play defense, much like today.
Herbert Hoover was no Trump, almost the opposite. Cautious, principled, quiet, a moderate Republican, he had made major errors in the first years of the Depression, and his reputation never recovered. Democrats accused him of inaction (which was not true), while the unemployed movements fixed the label "Hoovervilles" on the homeless encampments and shacktowns that sprang up in cities across the country.
Hoover's credibility was further damaged in the summer of 1932 when more than 15,000 World War I veterans converged on Washington, D.C. under the banner of the Bonus Expeditionary Force, commonly called the Bonus Army. They demanded that Congress immediately pay them the bonuses they were due to get in 1945.
When the Senate rejected the proposal, the Bonus Army settled into a massive encampment across the Anacostia River from Capitol Hill.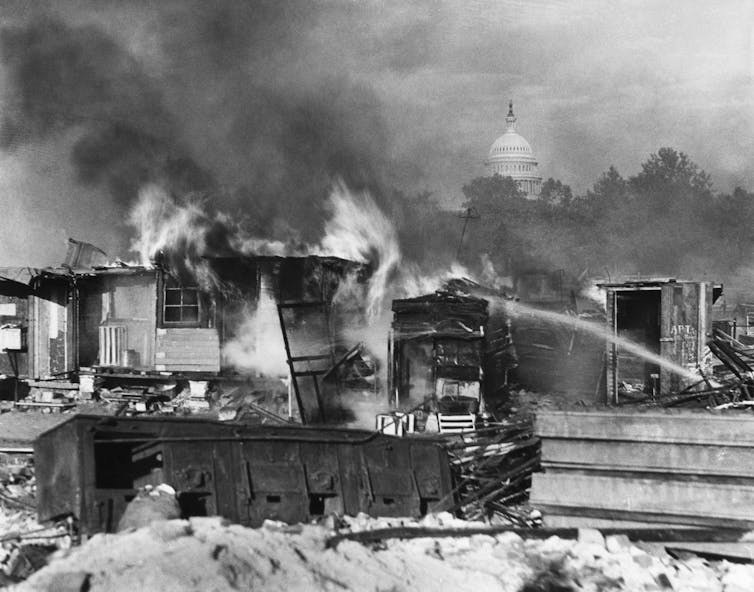 A month later, Hoover called in U.S. Army troops. During a night of violence, the army burned thousands of tents and shacks and sent the Bonus Army marchers fleeing.
For Hoover, the deployment of U.S. Army units played out much as it did for Trump this May, when he had Lafayette Park violently cleared of protesters. Hoover's action deepened his image problems and strengthened the sense that he lacked compassion for those in need, including those who had fought for their country only 14 years earlier.
Hoover tried to mobilize a backlash against the summer of protests, claiming that Communists were behind all of the unrest, including the Bonus Army, which in fact had banned all Communists. It didn't work: Roosevelt won in a landslide.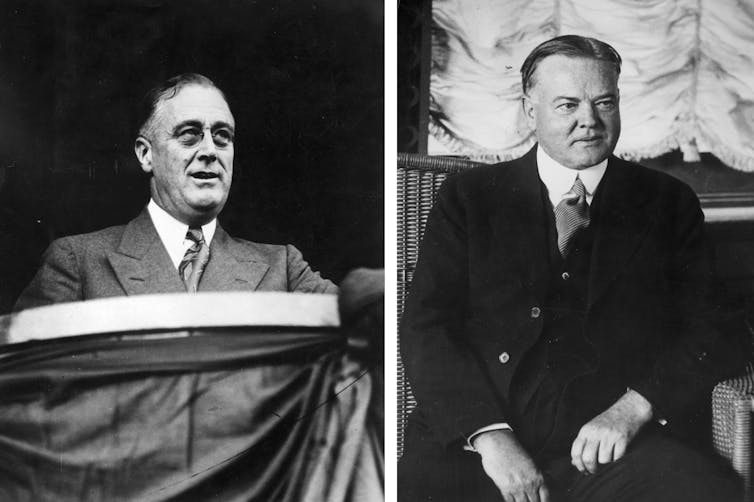 In the end, the protests helped Democrats in the election of 1932. In Congress, Democrats gained 97 House seats and 12 in the Senate, taking control of Congress for the first time since 1918. And equally significant, they helped propel the agenda of the New Dealers, as the new administration prepared to take power and launch the ambitious legislation of the first 100 days.
Three years of grassroots action had forced even reluctant politicians to recognize the urgency of reform. The early New Deal would race to provide debt relief for farmers and homeowners, jobs for the unemployed, and public works projects – part of what demonstrators had been demanding for years.
Global politics from the view of the political-economy trilemma | VOX, CEPR Policy Portal – voxeu.org
Changing paradigm in global politics
In recent years, political landscape has been changing drastically in many countries. In the US, Donald Trump's administration has pushed the 'America-first' agenda and prioritised the nation's interest above all else since coming to power in 2017. Regardless of existing trade or other agreements, the administration has threatened to increase tariffs for trading partners or walk away from negotiations in case the conclusions are not favorable to the country. The administration's anti-globalisation or isolationist stance has been observed in the ongoing COVID-19 pandemic as is evident from the country's departure from the World's Health Organization (WHO).
The UK has also prioritised its national interest and sovereignty by withdrawing from the EU. In many other countries, populist governments have arisen, both on the left and the right, touting similar slogans and advocating for de-globalisation to recover the economic and social benefits which they claim foreigners and immigrants have free ridden so far.
These new political forces are different from those of the recent past.
For example, after WWII, Europe pursued regional political and economic integration through democratic process, although it required each country to sacrifice its own national interest. Given this history, the rise of countries prioritising self-interest and advocating anti-globalisation means a paradigm shift in the postwar order and a challenge against long-lived European unification efforts.
Even in originally rather democratic countries, such rifts between political authorities and the people have led the former to suppress the latter through undemocratic or authoritarian measures. The example includes Hong Kong, Venezuela, and Turkey.
Rodrik's political-economy trilemma
The current changes in political order can be comprehensively viewed through the lens of Dani Rodrik (2000)'s political-economy trilemma.
The word 'trilemma' may remind international economists of the open economy trilemma.
The open economy trilemma, which has become a central theorem in international finance ever since its introduction by Mundell (1960) and Fleming (1961), states that a country may simultaneously choose any two, but not all, of the three goals of monetary policy independence, exchange rate stability, and financial market openness to the full extent (Fig 1–a).1
Figure 1 Open economy trilemma and the political-economy trilemma
a) Open economy trilemma
b) Political-economy trilemma
Dani Rodrik applied this theory to political economy, asserting that among national sovereignty, democracy, and globalisation, only two of these policy goals or forms of governance can be simultaneously achieved to the full extent, but not all three.
For example, the member states of the EU each have democratic institutions of governance and are open to the globalised markets. However, each state cannot pursue its own national interest or assert its sovereignty (more fully than other member states do). In other words, the EU is a good example of a region marching toward global federalism (Fig. 1–b, bottom right corner of triangle).
Reclaiming its sovereignty in order to pursue its own national interest is exactly what the UK has been trying to accomplish by withdrawing from the EU. According to Rodrik's political-economy trilemma, the UK could have gone further toward fuller sovereignty either by restricting democratic policymaking or by limiting openness to the global economy (i.e. going from the bottom right corner of the triangle in Fig. 1–b toward the side of 'national sovereignty'). Considering that Boris Johnson's administration is acting in strict accord with democratic process, sacrificing globalisation would be the only way the UK could withdraw from the EU. Greater pursuit of a nation's national interest requires curtailing its access to international markets.
Other countries try to reap the benefit of globalisation while still fully embracing their own sovereign statehood. These countries align themselves with international rules and standards when making their own, but they do not necessarily follow a fully democratic process for policymaking. Their domestic standards and rules are not based on democratically determined policies, but rather on those of multinational corporations and international organisations, or on treaties and agreements concluded by administrative bodies (i.e. bureaucrats who were not necessarily democratically elected). Thomas Friedman (1999) calls this "the Golden Straitjacket" (Fig. 1–b; top of the triangle), which he describes as a state of affairs where "[a country's] economy grows and its [democratic] politics shrinks."
A country wearing the Golden Straitjacket can free itself by either pursuing a higher level of democracy or becoming less globalised.
It is also possible for a fully democratic nation to strengthen its national statehood and prioritise its national interest. However, such a country cannot reap the benefits of globalisation (Fig. 1–b; bottom left corner of the triangle). The Bretton Woods system, which existed from 1944 to 1971, allowed its member states to impose capital controls and barriers to international trade. From the perspective of the political-economy trilemma, this is a policy mix of full democracy and national sovereignty.
As these examples show, policy makers can simultaneously choose any two of the three policy goals of national sovereignty, democracy, and globalisation, but cannot achieve all three to the full extent.
Empirical validity of the political-economy trilemma
Now, a natural question arises: Can the theorem of the political-economy trilemma be empirically proven with actual data?
In our recent work (Aizenman and Ito 2020), we construct a set of the indexes, each of which measures the extent of attainment of the three political-economic factors: globalisation, national sovereignty, and democracy. The indexes are available for 139 countries between 1975 and 2016. Using these indexes, we test whether the weighted average of the three indexes is constant. If the indexes are to be found linearly correlated, it would mean that the three variables operate within a trilemma relationship, i.e. the trilemma is empirically valid.
The regression analysis shows that for industrialised countries, there is a linear negative association between globalisation and national sovereignty, while the democratisation index is statistically constant during the sample period. That means, for the industrial countries during 1975-2016, the political economy trilemma was mostly a dilemma between globalisation and national sovereignty. For developing countries, a weighted average of the three indexes adds up statistically to a constant with positive and significant weights, indicating they are in a trilemma relationship, as Rodrik claims.
Closely examining the development of the three indexes over the sample period reveals that for industrialised countries, while the level of democracy is stable and high, there is a combination of rising levels of globalisation and declining extent of national sovereignty from the 1980s through the 2000s, mainly reflecting the experience of European industrialised countries. Developing countries, in contrast, experienced convergence of declining sovereignty and rising globalisation and democratisation around the same period. Emerging market economies experienced rising globalisation and democratisation earlier than non-emerging market economies with all the three variables converging around the middle.
Figure 2 Development of political economy trilemma indexes – income groups
The possible impacts of the three policy goals on political and economic stability
Lastly, what kinds of impact could these three policy goals (national sovereignty, democracy, and globalisation) have on actual politics and economics? We perform regression analysis to examine how the three trilemma variables can affect political stability and economic stability.
Our results indicate that (a) more democratic industrialised countries tend to experience more political instability; and (b) developing countries tend to be able to stabilise their politics if they are more democratic. The lower the level of national sovereignty an industrialised country embraces, the more stable its political situation tends to be. Globalisation brings about both political and economic stability for both groups of countries.
Developed countries, particularly the US and the UK, are now asserting their national sovereignty, touting policies that prioritise their national interests and an anti-globalisation stance. If the regression analysis is correct, such policies could increase political instability and the probability of financial crisis. Furthermore, if a developing country takes an anti-democratic or an anti-globalisation stance, it could face more political or economic instability.
Let us see what will happen.
Editor's note: The main research on which this column is based (Aizenman and Ito 2020) first appeared as a Discussion Paper of the Research Institute of Economy, Trade and Industry (RIETI) of Japan
References
Aizenman, J and H Ito (2020), "The Political-Economy Trilemma", Open Economies Review.
Aizenman, J, M D Chinn and H Ito (2013), "The 'Impossible Trinity' Hypothesis in an Era of Global Imbalances: Measurement and Testing", Review of International Economics 21(3): 447–458.
Aizenman, J, M D Chinn and H Ito (2010), "The Emerging Global Financial Architecture: Tracing and Evaluating New Patterns of the Trilemma Configuration", Journal of International Money and Finance 29 (2010): 615–641.
Mundell, R A (1963), "Capital Mobility and Stabilization Policy under Fixed and Flexible Exchange Rates", Canadian Journal of Economic and Political Science 29 (4): 475–85.
Fleming, J M (1962), "Domestic financial policies under fixed and floating exchange rates." IMF Staff Papers 9(3):369–379.
Friedman TL (1999), The Lexus and the olive tree: understanding globalization, Farrar, Straus and Giroux, New York
Obstfeld, M (2015), "Trilemmas and Tradeoffs: Living with Financial Globalization", Central Banking, Analysis, and Economic Policies Book Series. In: Claudio Raddatz & Diego Saravia & Jaume Ventura (ed.), Global Liquidity, Spillovers to Emerging Markets and Policy Responses, edition 1, volume 20, chapter 2, pages 013-078 Central Bank of Chile.
Obstfeld, M, J C Shambaugh and A M Taylor (2005), "The Trilemma in History: Tradeoffs among Exchange Rates, Monetary Policies, and Capital Mobility", Review of Economics and Statistics 87 (August): 423–438.
Rodrik, D (2000), "How Far Will International Economic Integration Go?", Journal of Economic Perspective 14(1 (Winter 2000)):177–186.
Shambaugh, J C (2004), "The Effects of Fixed Exchange Rates on Monetary Policy", Quarterly Journal of Economics 119 (1): 301-52.
Endnotes
1 See more on the open economy trilemma in Aizenman et al. (2010, 2013), Obstfeld (2015), Obstfeld et al. (2005), and Shambaugh (2004).
Nova Scotia Premier Stephen McNeil resigns, says he is leaving politics – National Post
Article content
HALIFAX — Nova Scotia Premier Stephen McNeil unexpectedly announced his departure from politics Thursday, saying he stayed on the job longer than planned because of the onset of the COVID-19 pandemic.
After 17 years in provincial politics it is simply time for a change, the Liberal premier said, adding he is ready for a rest.
"I'm not leaving because I don't like the job," McNeil told astonished reporters who thought they had gathered to cover a cabinet meeting. "I love the job as a matter of fact, and I've had tremendous support."
"Many people are surprised today that I work with, and I'm sure many Nova Scotians are surprised." A change in leadership, he said, is "the right thing for the province."
McNeil, who headed two majority governments following his 2013 and 2017 election wins, said he will stay on until the Liberals choose a new leader. He was first elected in 2003 as the member for the riding of Annapolis.
He said he initially wanted to leave in the spring, but the pandemic postponed those plans.
"I was actually going to make this decision in April and then COVID-19 hit and I re-evaluated," McNeil said. "Then we (Nova Scotia) flattened the curve and there was an opportunity for the party to prepare for a leadership contest and a new leader."
The premier said the past five months had been difficult for the province because of a series of tragedies, including a mass shooting that claimed the lives of 22 people in central and northern Nova Scotia in April, and the crash later that month of a Cyclone helicopter from a Halifax-based navy vessel, which killed six service members.
Nova Scotia Premier Stephen McNeil announces he is leaving politics – Powell River Peak
HALIFAX — Nova Scotia Premier Stephen McNeil is leaving politics, saying he stayed on longer than he'd planned in order to lead the province through the first wave of the COVID-19 pandemic.
The Liberal premier said Thursday that after 17 years in provincial politics, he decided it's time for a change, and he's ready for a rest.
"I'm not leaving because I don't like the job. I love the job as a matter of fact, and I've had tremendous support," he said during a news conference.
"Many people are surprised today that I work with, and I'm sure many Nova Scotians are surprised." He said he concluded that a change in leadership is "the right thing for the province."
McNeil, who was elected premier in 2013 and re-elected in 2017, said he will stay on until the Liberals choose a new leader.
He said he had initially planned to leave in the spring, but the pandemic postponed those plans.
"I was actually going to make this decision in April and then COVID-19 hit and I re-evaluated," he said.
"Then we (Nova Scotia) flattened the curve and there was an opportunity for the party to prepare for a leadership contest and a new leader."
The announcement caught many off guard as the premier had previously said he expected to attempt a third term, and McNeil says he only advised his caucus of the decision this morning.
He says he considers his key accomplishments to include promoting growth of the private sector and keeping a handle on the cost of public sector wages.
"There's lots of people that still tell me we got it wrong, I think we absolutely got it right," he said.
"People would say I've taken a whole lot of things away from unionized employees in the province. It couldn't be further from the truth. I just slowed the growth (of wages) …. It allowed us to invest in other parts of our economy."
This report by The Canadian Press was first published Aug. 6, 2020.