A Tricky First Case for the Man Who Wrote the Rules on Nazi Looted Art – The New York Times
The diplomat and lawyer who helped write the treaty used around the world to guide restitution claims is representing the family of a childhood friend, which has been sued to surrender a painting.
Few people have done more to advance the cause of people seeking to recover property lost to the Nazis in World War II than Stuart E. Eizenstat.
As a diplomat and lawyer, Mr. Eizenstat, 79, has advised five U.S. administrations, including that of President Biden, on Holocaust issues. He has negotiated with European governments and companies, recovering more than $8 billion for Holocaust survivors and families, and helped write the landmark Washington Principles on returning looted art, a treaty now used around the world to "expeditiously" promote "just and fair solutions" to restitution claims.
"No self-respecting government, art dealer, private collector, museum or auction house should trade in or possess art stolen by the Nazis," Mr. Eizenstat said in an essay in 2019.
But, as a lawyer, Mr. Eizenstat had never gotten involved in an individual restitution case. That changed a few months ago when he agreed to help a childhood friend whose family is being sued by the heirs of a Jewish couple whose art collection was seized by the Nazis.
Since 2015, relatives of Ludwig and Margret Kainer have pursued a claim for a painting by Pissarro, the Impressionist master, that was once a part of the Kainers' collection. Last May, the heirs sued the family of Gerald D. Horowitz, and in the ensuing weeks Mr. Eizenstat, a childhood friend of Mr. Horowitz's wife, Pearlann Horowitz, agreed to work on the family's behalf.
"Different claims to artworks that changed hands during World War II have different merits; some are clear cut and some are not," Mr. Eizenstat said in a statement to The New York Times last week. "Our investigation of the historical facts concerning this painting has convinced us that this is less than a clear cut claim that raises complex historical questions and includes contradictory information."
Mr. Eizenstat said Mr. Horowitz, who bought the painting from a New York dealer in 1995, had acted in good faith, without any sense there was a cloud on its title. He said his efforts to reach an amicable settlement were in keeping with his life's work and that both sides had reached an agreement in principle.
"I believed," he said in his statement, "I was particularly qualified to undertake the task of finding a 'just and fair solution' to both sides, as contemplated by the Washington Principles of which I was a principal negotiator."
Though Mr. Eizenstat's clients are themselves Jewish, the optics of his surfacing for the first time in a restitution case, not on the side of claimants, but of defendants, have surprised some experts in the field.
"I think it's unusual that he is showing such limited support for the claimants," said Lynn H. Nicholas, a historian and expert on Nazi looting whose 1994 book, "The Rape of Europa," is credited with drawing attention to the scope of the issue. "But I don't know all the details and he may have good reason."
The painting, "The Anse des Pilotes, Le Havre," an oil on canvas work from 1903, depicts a harbor scene and was part of the Kainers' collection when the couple left Germany in 1932, eventually settling in France, according to court papers. Unable as Jews to safely return after the Nazis grabbed power, the Kainers stayed away, and in their absence, their world-class art collection and other furnishings were seized by the Berlin tax office, according to the suit filed in federal court in Georgia by 15 Kainer heirs.
In 1935, more than 400 Kainer possessions, including the Pissarro and 31 other paintings, were sold at auction in Berlin, the suit says, to pay a Reich flight tax, a financial instrument that was often used to punish Jews who fled the country. In 1963, a German appeals court ruled that the tax levied on the Kainers had been discriminatory, according to James Palmer, founder of Mondex Corporation, a company that pursues restitution claims and is representing the Kainer heirs. In addition, the Kainer heirs have a page from the 1935 auction catalog that references the painting.
The painting's path for the next 60 years is not completely clear, though it was owned for some time, Mr. Palmer says, by a German industrialist who had bought it at the auction.
In 1995, Mr. Horowitz purchased it from Achim Moeller Fine Art in New York, but only after checking with a respected database that tracks looted art. The painting was not listed.
In 2014, the Horowitz family lent the work for display at the High Museum of Art in Atlanta, around which time it was identified by Mondex, which was already working with the Kainer heirs. The Kainers had died in the 1960s without children, and their current heirs claiming the painting are the children and grandchildren of cousins.
The heirs sought restitution of the painting in 2015, and presented the Horowitz family with evidence that, by 2005, the painting had been listed in the Pissarro catalog raisonné as plundered "from L. Kainer," according to the court papers.
But Mr. Palmer said the Horowitzes did not want to move forward with discussions because they were uncertain about who were the rightful heirs. (At the time, a foundation created by Swiss bank officials had been established to serve as the heirs to the Kainers and Margret's father. But in 2015, a German court found that the Kainer relatives, not the foundation, were the couple's true heirs.)
More recently, the Kainer relatives have presented additional evidence to support their claim, according to their court papers, including documents showing the Kainer couple had registered the work as looted with the French Department of Reparations and Restitutions, which published a record of the work, along with a photograph, in 1949.
And auction houses have treated several other paintings from the Kainers' collection that had been sold alongside the Pissarro in 1935 as looted property. In 2009, for example, Christie's sold Edgar Degas's "Danseuses," once owned by the Kainers, for nearly $11 million under the terms of a restitution agreement. (At the time, the agreement recognized the Swiss foundation, not the relatives, as the heirs.)
Mr. Eizenstat began advising the Horowitzes sometime after the Kainer heirs took their claim to court last spring, according to Mr. Palmer, and is helping out the lawyer on the case, Joseph A. Patella.
Mr. Palmer said he was a little intimidated when Mr. Eizenstat joined the negotiations, which are being led by the Kainer heirs' lawyer, Jason Carter, grandson of former President Jimmy Carter.
Mr. Eizenstat worked in the Carter administration as chief domestic policy adviser and served as deputy secretary of the Treasury in the Clinton administration. His numerous awards include France's Legion of Honor. Last year, the United States Holocaust Memorial Museum awarded him its highest honor for working "tirelessly to secure a measure of justice for Holocaust survivors."
"He is dealing with governments and policy and dealing on a much wider macro level," Mr. Palmer said, "so for him to be involved in a very personal level, it was a surprise."
Mr. Eizenstat said in his statement that he joined the effort in part because Mr. Horowitz is suffering from Alzheimer's disease and unable to defend himself.
"The Horowitz family are pillars of the Atlanta Jewish and secular community, with a sterling record of philanthropic support for a wide variety of charitable organizations, including the Atlanta Holocaust Survivor Support Fund," Mr. Eizenstat said in the statement.
One sticking point in the negotiations, Mr. Eizenstat said, had been that Ludwig Kainer "appears to have made knowingly false claims about the circumstances of the alleged confiscation of the Pissarro, and had full knowledge of who possessed it after the war."
He did not say what those false claims were. However, Mr. Palmer acknowledged that Mr. Kainer had misled French authorities around the time he first filed his claim by reporting that the painting had been lost in France. Mr. Palmer defended Mr. Kainer's decision, saying that at the time Mr. Kainer couldn't afford a lawyer to file a claim in Germany, and didn't believe he would receive justice there. He also didn't know the painting's location, which Mr. Palmer said was required to file a claim with German authorities.
Though the negotiations appear to have been successful, there were some bumps in the road. Last week, before an agreement was reached, Mr. Eizenstat had said the settlement talks with Mr. Carter had been "advancing in a productive manner until this shocking breach of trust and improper conduct by Mondex, making sensational allegations to the press about confidential settlement negotiations."
Mr. Eizenstat also took note in his statement that Mondex is a for-profit company, saying, "It is well known that Mondex acts and receives compensation from the Holocaust claims of others."
Mr. Palmer said that some portion of the fees the company collects must go toward covering costs it incurs in pursuing restitution claims, "which we do with passion and pride."
He said that there had been no agreement to maintain any confidentiality about the talks. "Certainly a 'just and fair' solution requires candor and transparency," Mr. Palmer said. But, he said, more important is that the agreement in principle "is a very productive result for all of the parties involved."
Mr. Palmer added that during the negotiations he had told Mr. Eizenstat it was an honor to work with him. "I told him that we would not have been in existence if not for him, so I thanked him," he said. "I am very cognizant of the contribution he has made to the rest of the world."
Memorial University to Unveil Street Art Wall at St. John's Campus – VOCM
Memorial University is unveiling a legal street art wall at their St. John's campus.
The launch for the street wall will take place tomorrow from 1 to 2 p.m.
The wall, located on the east side of the campus near MUN Daycare, is open to all artists of all levels of skill. Between sunrise and sunset, artists can tag and paint the wall any day of the week.
Nature is an Artist explores relationship betwee art and nature – MorinvilleNews.com
Nature is an Artist was released last week and is available wherever books are sold.
by Stephen Dafoe
Sturgeon County's intergovernmental advisor Jennifer Lavallee has published her first children's picture book.
Vancouver's Greystone Books released Nature is an Artist, written by Lavallee and illustrated by Argentinian artist Natalia Colombo, on May 17.
The book looks at the various art forms children can find in the natural world surrounding them and follows a group of children exploring nature and discovering an art show in front of them. They are inspired to create works of art, recreating what they have seen in nature.
Although Nature is an Artist is Lavallee's first published picture book, it is far from her first published work. The author has previously written articles for local newspapers and magazines, including Morinville Online. She has also written for national publications and many of Lavallee's short stories have appeared in anthologies.
"Those have been more adult-focused stories, Lavallee said of her short story work. "This is my first professional publication in the world of children's literature," and that is where I am focusing all my efforts. That's really where my passion is."
Lavallee explained that when she was trying to determine the direction of her writing, it dawned on her that children's writing was a great pairing to where her interests were.
"I'm an adult, but I still read middle-grade books and YA [young adult] and that kind of literature," she said. "So it just kind of clicked – yeah, I should be focusing my attention here."
Lavallee recently spent the day at École Morinville Public School reading her new book to students. Children were surprised to learn that an adult enjoyed books written for children.
"I said absolutely I do because I think there is something so very special about pairing really beautiful illustrations [with words]," Lavallee said. "When you look at illustrations in picture books, you can find some really special artwork. Pairing that with beautiful text; it reminds me of magic, kind of, and it's almost like comfort food."
Lavallee said she has always been someone who loves fairy tales and someone who loves to watch classic children's movies over and over again. Films like the adaptation of William Golden's Princess Bride, Hook and Peter Pan have helped form her current writing path.
"I've always just been in that space," she said of her interests and the types of books she wants to write, paraphrasing author Toni Morrison's quotation – 'If there's a book that you want to read, but it hasn't been written yet, then you must write it.'
But writing a children's book is challenging for the mother of three, balancing full-time employment with Sturgeon County, completing graduate school, and taking care of her family.
From the initial idea in the author's mind, writing the manuscript, then being able to drive to Chapters and take the book off the shelf, was a four-year journey.
"It takes a long time. There are not even 500 words in here," Lavallee said of the new book, adding that just finalizing the text with the publisher is a lengthy process. "It has to be exactly right, and the thing about this book is it's a rhyming book. Not only do you have to find the right words, but the right rhyming words to match the story you are trying to tell. It was about a year to finalize the text."
Working with Buenos Aires-based illustrator Natalia Colombo was also an exciting experience for Lavallee, which also took a year.
"This is her twenty-third book, so that was a neat experience. Most people think I drew the pictures, but I wish I could draw," Lavallee laughed. "The illustrations are what makes picture books pop, and I'm so pleased with how it came out. It's very bright and cheerful."
Great art is significant for Lavallee's book, which is about the artistic beauty found in nature.
"You can go into nature and see things that are like fine works of art," Lavallee said. "A sunset is like a beautiful painting, or a rainbow is like stained glass. The point of it is to inspire young readers to see themselves as artists, but in the context of also having respect for nature, and wanting to get out into the environment and the natural world. It's the pairing of those two."
Lavallee said Nature is an Artist is perfectly aligned to the existing curriculum, lending itself to simple crafts based on the content of the book.
"Some of those things that you need to learn in the younger years about artistic styles are all interwoven into the story," Lavallee explained.
The author worked with the publisher to create some free downloadable companion guides to the book for parents and teachers.
Nature is an Artist is available wherever books are sold, including Chapters and Amazon. It retails for $22.95 per copy.
Lavallee has written a sequel to the new book and hopes to see it published in the future. She is also working on a longer chapter book aimed at middle grades.
The author is also doing workshops at the upcoming St. Albert Children's Festival.
Click here for more local news
Click here to visit author's website
Contest open to young artists; art grads needed more than ever – SooToday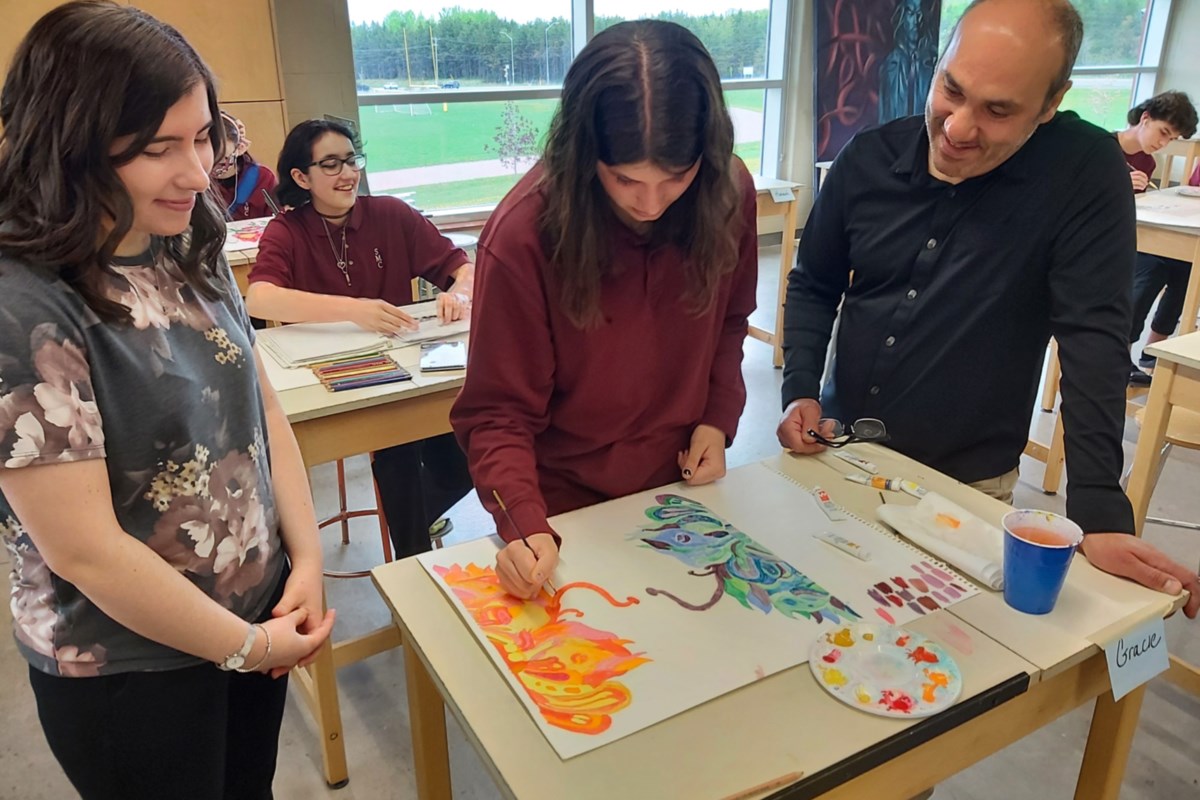 Art students in Grades 6, 7 and 8 are invited to submit samples of their work to be included in a separate exhibition and contest within the annual St. Mary's College art show to be held at the Second Line East high school beginning at 7 p.m. Tuesday, June 14.
Students have until 3 p.m. Thursday, June 9 to submit their drawings, painting or digital art work with their identification and contact information in person at SMC's main office.
While the SMC art show is an annual event – featuring work by artists from Grades 9 to 12 and including not only visual art but also musical and dance performances in one night – this year marks the first show and contest for students in Grades 6 to 8.
The contest is the brainchild of Adriano DiCerbo, SMC art teacher and Samantha Lance, an SMC graduate now pursuing a career as an art show curator in Toronto.
"Adriano approached me with this idea. He wanted to get the ball rolling on this and try to attract kids' attention to this. We came up with the title Spring Back To Life, to get students to think about what inspires you about this new season?" Lance said.
That includes:
What images of spring best represent your personal connection to this season?
What moments of spring do you cherish?
Are there certain aspects of spring (flowers, plants, landscapes, animals) that hold a special place in your heart?
The contest poster has been designed and will be sent out soon to parents and teachers across the H-SCDSB system.
DiCerbo hopes word will get out to art students in Grades 6 to 8 students in other school boards.
Students and parents can contact DiCerbo by email
Lance will judge the Grades 6 to 8 art show.
"I first got immersed in visual arts in Grade 10 with Mr. DiCerbo's class and then I started helping with the arts festivals from Grade 10 to 12 and I realized, while curating the work, that art is what I wanted to do as a career," Lance said.
Lance graduated from SMC in 2017 and went on to study art for four years at Toronto's Ontario College of Art & Design – OCAD University.
There she earned her Bachelor of Fine Arts, specializing in Criticism and Curatorial Practice, learning how to organize art shows at galleries, museums, art shows and festivals.
She plans to attend the University of Toronto in September to begin a Master of Curatorial Studies program.
At OCAD, she was inspired by the work of many artists including Vincent Van Gogh, American photographer Nicolas Bruno and Christian painter Akiane Kramarik.
"After I graduated from high school I came back to help curate the arts festival at SMC. Every year it was nice to see the work and the talent students brought to the table," Lance said.
"I appreciate art history and love looking at the different types of media people bring into their art. When I go for my Masters in Toronto I want to support local, national and international artists by showcasing their art," Lance said, adding she'll always enjoy keeping in touch with the Sault arts scene.
Admission to the June 14 SMC art show is free for kids, $10 for adults.
Proceeds from admission go to Tumaini Afrika, a Sault Ste. Marie-based, non-registered group of volunteers dedicated to working with children and women in Kenya in such spheres as education and nutrition.
"After COVID, everybody needs this art show," Lance said.
Both Lance and her high school art mentor DiCerbo spoke of the importance of art and art education for kids despite the heavy emphasis on science, technology, engineering and math in schools.
"Art speaks when words can't," Lance said.
"Art gives anyone – students, young and old – to speak about their background, their culture and their response to everything that's happening in the world in their own way, it gives them that freedom to do that. That's so critical, to express yourself, and to have that confidence."
As for exposing younger students to art at an early age, Lance smiled "if we nurture this at the beginning in younger students we could be fostering the next Monet or Van Gogh."
"I believe in having a well-rounded education. Yes, science and math, but the arts as well," DiCerbo said.
"That enables students to have creative skills, critical thinking skills and they need those opportunities to be self expressive. It's an incredibly valuable skill for the 21st Century, more than we realize. It helps us to connect with nature and each other. An arts festival is a celebration of when we come together and celebrate creativity."
"There are jobs out there for creative people," DiCerbo said.
"They're just not as visible as the teacher, the doctor, the dentist. There are so many creative people behind the scenes working in traditional and digital media, architectural studies, the business world needs creative thinkers. They're needed."
"Imagine Paris without the Eiffel Tower. What if the Mona Lisa vanished? It's priceless. These are iconic pieces of art that help define who we are. The Group of Seven helps define who we are. Filmmakers, musicians give us a sense of identity and belonging. How can we possibly take that out of our world? We need more of that particularly during these times more than ever before," DiCerbo said.
"Hopefully we get a lot of submissions," Lance said.
"We're not expecting students to donate a huge painting or drawing, but it'll be exciting to see what comes in."
Lance said she hopes it will be an encouragement for kids to start building a portfolio and consider a career in art.
It's late in the school year but kids can submit work they've done earlier in the current school year.
Prizes of $100, $75 and $50 will be awarded to first, second and third place winners in the Grade 6-8 show and competition.