Adding COVID-19 to 'designated diseases' could boost vaccine uptake among children – The Conversation
My research includes the moral and legal aspects and policy implications of childhood vaccination. COVID-19's effects on children has an impact on that research. And these effects appear to be changing, making the need for widespread COVID-19 vaccine uptake among children more urgent.
Early in the pandemic, evidence suggested children generally avoided severe COVID-19 infections. That rosier picture is now fading. Emerging research signals that children's susceptibility to SARS-CoV-2, the virus that causes COVID-19, has increased in "frequency and severity" over the course of the pandemic.
One newly released study of British Columbia's Lower Mainland chronicles the dramatic rise in infections among those under 19. This surge in childhood infection with the Omicron variant is consistent with estimates in other parts of Canada and beyond.
Increased frequency of infections among children will necessarily yield a greater number of cases with severe outcomes, including hospitalizations and deaths. Children with co-morbidities are especially vulnerable to severe COVID-19 outcomes.
Like adults, children can also suffer from long COVID that can damage their lungs, their brains and create a host of other health problems.
---


Read more:
Do kids get long COVID? And how often? A paediatrician looks at the data


---
Low vaccination uptake among minors
A multi-pronged approach to restrict transmission, including masking, is advised over any one single preventive measure. This is likely even more important with new variants on the horizon.
Yet vaccination remains one of the best means to protect against severe outcomes when breakthrough infection occurs. Additionally, vaccination may decrease the likelihood of long COVID. The Ontario government recommends vaccination for those under 18.
That's why it's alarming that vaccine uptake among minors of the primary series of two doses, particularly for those under 12, remains low.
Compared to the provincial average of 90 per cent for those 12 and above, only 41 per cent of Ontario children aged five to 11 have completed their primary series. Uptake among those under five is almost non-existent, with just six per cent receiving their first doses in the two months since Health Canada approved a COVID-19 vaccine for this cohort. Numbers across the country are roughly similar.
Notably, Ontario declined to add COVID-19 to the list of "designated diseases" in its Immunization of School Pupils Act last fall, despite support for this move by some school boards and both the opposition Liberals and NDP.
It's time to revisit that decision.
Adding COVID-19 to the act will not make COVID-19 vaccination mandatory for school entry. Whether childhood vaccines should be mandatory is a separate debate. But it may, nonetheless, help address the COVID-19 vaccine uptake among the province's school-aged children.
Vaccine requirements for school entry
Ontario, New Brunswick and British Columbia are the only Canadian jurisdictions that have vaccination requirements for school entry. But minors aren't required in any of those provinces to be vaccinated to attend day care, elementary or high school.
British Columbia's regulation explicitly makes the duty a reporting one only. Ontario requirements are somewhat different, as the parental duty is to "cause the pupil to complete the prescribed program of immunization." Yet the duty does not apply where the parent "has filed a statement of conscience or religious belief."
This means a parent can refuse to have their child vaccinated against any or all of the designated diseases by signing and having notarized a government-issued form affirming a "sincere belief."
In practical terms, this makes the duty a reporting one in Ontario as well. The situation in New Brunswick is virtually the same.
Where Ontario and New Brunswick differ, however, is that Ontario requires that parents seeking a sincere-belief exemption also attend an "education session." For some, access to this education session is the real benefit of listing COVID-19 among the designated diseases.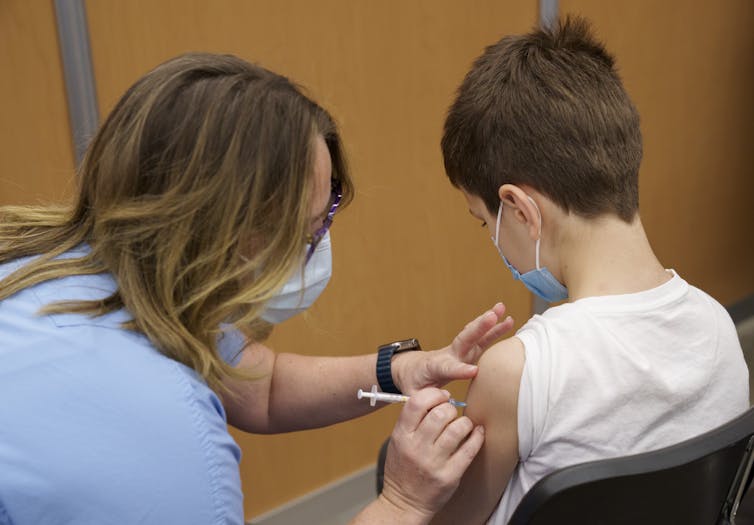 Vaccine hesitancy and COVID-19
Vaccine hesitancy is attributed as the cause for low vaccine uptake when it comes to COVID-19. But it's complicated.
While a small percentage of parents reject all vaccines, many more are selective about vaccines and are generally more cautious about newer ones than older ones. In fact, generally positive parental attitudes about routine childhood vaccines are a poor indicator of their attitudes toward COVID-19 vaccines, both in Canada and elsewhere.
When it came into effect in Ontario in 2017, the requirement to undergo an education session for those seeking a sincere-belief exemption made little difference in attitude because vaccine uptake against the designated diseases, while less than optimal, was still generally high.
And education sessions can be like sermons to that dogged minority whose minds are made up on the topic. Mandatory education can also be counterproductive and cause people to become more entrenched in their opinions.
---


Read more:
Five reasons why young people should get a COVID booster vaccine


---
However, there is a very large gap between low childhood vaccination rates for COVID-19 and the high rates for routine childhood vaccines.
Not anti-vaxxers
This suggests that most parents who have so far refused COVID-19 shots are not hard-core anti-vaxxers. This may provide an opening to sway more parents to have their children vaccinated.
Research about parental attitudes toward COVID-19 vaccination is fast-moving, and understandably there are large gaps. But the general conclusion is that vaccination campaigns targeted to specific demographics can increase uptake.
It's unclear whether adding COVID-19 to the list of "designated diseases" in Ontario or elsewhere in Canada would have the desired effect. And certainly the design and content of education sessions matter.
But it defies logic to have a regulatory scheme already in place committed to increasing "the protection of the health of children" and decide that a pandemic is not a good time to use it.
Aid group with Canadian funding leads mission to deliver medical supplies in Ukraine
POLTAVA, Ukraine — As the Toyota Tundra following a tractor trailer loaded with humanitarian aid heads into dangerous territory in eastern Ukraine, "Promiscuous" by Nelly Furtado and Timbaland plays over the speakers.
The small convoy transporting 20 tonnes of medical supplies is headed for Balakliya in a part of the country that was retaken by the Ukrainian army in September after six months of brutal Russian occupation. Their mission to help the devastated region crosses areas where Russian shelling continues. In Kupiansk, not far from Balakliya, shells continue to rain down.
At the wheel of the Tundra last Friday was Dr. Christian Carrer, a pediatrician from France. With his partner Tetyana Grebenchykova, he runs the Association internationale de coopération médicale, a non-governmental organization that receives support from the Canada-Ukraine Foundation and the Ontario government.
It will take the vehicles, which also include a minivan ahead of the tractor trailer, five hours to travel from a warehouse in Poltava to Balakliya, a distance of barely 200 kilometres. The roads are pockmarked from fallen bombs, and there are frequent stops at military checkpoints on guard against Russian infiltration.
The strapping pediatrician with the face of an old adventurer has been on the ground since 2014, helping people in the Donbas region after it was invaded by the Russians. Last January, he suspected Ukraine's menacing neighbour was planning something.
"There were strange gatherings and constant provocations," Carrer said as he drove. "Everyone knew that clearly, something was going to happen."
His organization started ensuring various supplies, in particular bandages, were positioned ahead of the feared assault. The last hospital received its delivery on Feb. 24, he said, the day the Russians launched their war.
"The people funding us had confidence in us because we sensed the attack," he said.
Canada is the third most generous contributor to his group, which has also drawn donations from French, American and British sources.
The organization is well stocked and knows the terrain, and it focuses its aid in a few administrative regions in the northeast of the country. It has more than 800 items available, general or specialized medicines that hospitals and pharmacies in disaster zones can order.
Even in regions that have officially been liberated, the needs remain desperate.
The road crosses sprawling plains, and in one village after another, homes have been destroyed and gas stations and other businesses are shuttered. Crops remain unharvested in the fields. The tires make a constant purring noise as they drive over asphalt perforated by constant tank traffic.
Signs of the suffering and destruction of war are everywhere, and residents have little left to survive on. The occupiers emptied pharmacies and pillaged hospitals.
The convoy passes Chuhuiv, a municipality where the Association internationale de coopération médicale positioned medical supplies ahead of the war but that was later occupied. "The Russians took everything," says Carrer, who has lived in Ukraine since 2006.
He describes the health condition of those who lived for weeks in shelters as pitiful, looking like "zombies." Some are even losing their teeth, and he said visiting physicians are shocked by what they find.
As a pediatrician, he is especially worried about the state of pregnant women, young mothers and their children: a large part of that day's delivery is destined for them.
Once in Balakliya, a desolated city with some buildings completely gutted, the aid valued at $4 million is unloaded in an old warehouse. It will later be distributed among eight municipalities in the area. A small welcoming committee includes the administrative head of Izyum district to the south, Stepan Maselski.
"This aid is very important because we are still at war," Maselski said in an interview. "The invader destroyed our infrastructures. Just two days ago, we didn't have electricity or water. The occupation was painful — no medicine, no medical supplies, no good food."
A forklift empties pallets from the tractor trailer, containing cases and cases of medicine to treat chronic illnesses, epilepsy and heart problems, anesthetics for surgeries, surgical equipment, bandages, gloves, stethoscopes and diapers, among other items. There is also baby formula because infant malnutrition is widespread, Carrer says.
"Often women who give birth have trouble nursing because of the stress and the situation," he explained. He said Ontario has provided vitamins, and the impact was practically miraculous.
There are also supply kits for those left homeless and even boxes of pet food, which is in short supply.
A special big red bag, which resembles an insulated delivery bag, is handed to Paulina, a medical official who intervenes in the provision of urgent care across the region. It is a kit conceived by doctors in California to treat people in war zones, whether for injuries caused by a landmine or for heart attacks. Paulina says the supplies are of superior quality and they are badly needed.
Suddenly the unloading operation is halted when the forklift breaks down. But the Ukrainians are creative: they tow the old forklift out of the way with a tractor — like their compatriots were often seen doing with Russian tanks on viral videos — and build a wobbly wooden ramp to complete the unloading.
Counting on Ukrainians' ability to adapt, Carrer's group has also delivered large numbers of warm blankets as well as small wood-burning stoves manufactured in the Poltava region for residents who have no way to heat their homes due to power outages.
Carrer says there are complex  reasons why the Ukrainian government is struggling to provide basic services in liberated territories. For one thing, he explains, the budget for health spending was cut by about one fifth to fund the war effort. And the annual provision of equipment and funding for the health system comes in February or March, which was when the Russians invaded. The number of refugees has also drained local resources.
"The needs are enormous in all the hospitals," he says. "And now it's serious. We see hospitals that are at the end of their tether. We used to deliver two boxes, and now we deliver whole pallets, basic supplies like plaster, gloves, cotton."
Night falls quickly, and it is cold. The rig is empty, and it is time to leave so the group can make it through all the checkpoints on the way back to Poltava. Carrer knows his group will likely have to return soon with another load.
"Either a good soul is there to help, or they'll call us back in a month …. We are the first to help, and perhaps the last to help."
This report by The Canadian Press was first published Nov. 28, 2022.
— Patrice Bergeron is a Quebec-based journalist with The Canadian Press. In addition to two decades of political and general news experience, he was a CP war correspondent in Afghanistan in 2009.
Patrice Bergeron, The Canadian Press
COVID-19 Outbreak Declared at Southbridge Roseview
November 28, 2022 – The Thunder Bay District Health Unit (TBDHU) and Southbridge Care Homes confirm that the COVID-19 outbreak previously declared at Southbridge Roseview has been updated to include Cheshire and Renaissance Units only, Primrose Unit has been resolved.
TBDHU has initiated a thorough assessment of the situation. Further measures will be taken as needed to manage this situation.
Prior to the outbreak, significant measures were already in place to reduce likelihood of transmission of the virus within the facility. For additional information about COVID-19 and the TBDHU area, please see the TBDHU Website.
-30-
For more information – Health Unit Media: news@tbdhu.com.
Health Topics
COVID-19
Diseases & Infections
Monkeypox vaccine modelling study provides road map for vaccination
A modelling study to explore optimal allocation of vaccine against monkeypox virus (MPXV) provides a road map for public health to maximize the impact of a limited supply of vaccines.
The article, led by Unity Health Toronto researchers and published in CMAJ (Canadian Medical Association Journal), confirms that prioritizing vaccines to larger networks with more initial infections and greater potential for spread is best.
"We hope that these insights can then be applied by policy makers across diverse and dynamic epidemic contexts across Canada and beyond, to maximize infections averted early in an epidemic with limited vaccine supply," writes Dr. Sharmistha Mishra, MAP Centre for Urban Health Solutions, Unity Health Toronto.
As of November 4, 2022, there were 1,444 cases of MPXV in Canada. Early in the epidemic, a very limited supply of smallpox vaccines was available to vaccinate in populations experiencing disproportionate risks, including gay, bisexual and other men who have sex with men (GBMSM).
Researchers modelled two hypothetical cities as interconnected networks with a combined GBMSM community size of 100,000. The team then varied the characteristics of the two cities across a range of plausible settings, and simulated roll-out of 5,000 vaccine doses shortly after the first detected case of MPXV.
They found that the strongest factors for optimal vaccine allocation between the cities were the relative reproduction number (epidemic potential) in each city, share of initial cases, and city (or network) size. If a larger city had greater epidemic potential and most of the initial cases, it was best to allocate the majority of vaccines to that city. The team varied the reproduction number with a single parameter, but they highlight how many factors could influence local epidemic potential, including the density and characteristics of the sexual network, access to prevention and care, and the underlying social and structural contexts that shape sexual networks and shape access.
"Under our modelling assumptions, we found that vaccines could generally avert more infections when prioritized to a larger network, a network with more initial infections, and a network with greater epidemic potential. Our findings further highlight the importance of global vaccine equity in responding to outbreaks, and also in preventing them in the first place" writes Jesse Knight, lead author and PhD candidate at University of Toronto and MAP Centre for Urban Health Solutions, Unity Health Toronto.
The study emphasizes the interconnectedness of regions and that a population-level perspective is necessary.
"Strategic prioritization of a limited vaccine supply by network-level risk factors can maximize infections averted over short time horizons in the context of an emerging epidemic, such as the current global monkeypox outbreak," conclude the authors.