Africa's NFT Scene Is Booming – International Attention Could Take it to the Next Level – ARTnews
Last November, Art X Lagos, West Africa's biggest art fair, partnered with leading NFT platform SuperRare to host Reloading…, one of the first NFT exhibitions for African artists. Featuring artists from Nigeria, Morocco, South Africa, Senegal, and elsewhere, the show has been described by those in West Africa's scene as a major milestone drawing international attention to what African digital artists are doing.
The show "brings so much liberty and independence to the artists, and really just opens up their options," Tokini Peterside, founder of Art X Lagos, told Reuters at the time.
Meanwhile, in March, the Centre for Contemporary Art Lagos held an introductory digital workshop on NFTs, moderated by Tomiwa Lasebikan, co-founder of Buycoins Africa. A month later, the African Digital Art Network launched the NFT marketplace Nandi to, as co-founder Chinedu Enekwe told Decrypt, "build an ecosystem" that can "help brands and creators to get paid."
The buzz around Reloading … and these other initiatives is reflective of the fact that cryptocurrencies and digital art already have a major presence in Nigeria and across Africa. And it is only getting bigger.
Between July 2020 and June 2021, Africa saw $105.6 billion in cryptocurrency payments, a roughly 1200 percent increase over the previous year, according to a March report by blockchain data platform Chainalysis. Meanwhile, Nigeria, Kenya, and South Africa were all ranked in the top ten countries for crypto use.
But despite this seemingly wide crypto adoption, African digital art still has challenges to overcome.
Early last year, the Nigerian government banned banks and financial institutions from using cryptocurrencies, causing many Nigerians to empty their crypto wallets in a wave of panic. While Nigeria announced new rules earlier this month to ease the restrictions, over a dozen African countries still have full bans – including Algeria, Egypt, Morocco, and Tunisia.
The bans have handicapped the digital art ecosystems in those countries. While more tech-savvy Nigerians were able to get around the ban, Victor Ekwealor, a Nigerian tech journalist, told me, it prevented most from investing in crypto art in the months after.
"Many African artists market to me directly because there are not enough collectors to buy their art," Daliso Ngoma, a South African NFT collector and founder of African Technopreneurs, told me.
Similarly, Rodney Asikhia, the owner of Tribes Art Africa, a contemporary art gallery in Lagos, observed,"The rate of patronage of NFTs by African artists is relatively low when compared to the patronage of works by artists from elsewhere."
This problem arises because most collectors of digital art by African artists are Africans. And Africa simply does not have enough high net-worth investors to collect NFTs at competitive international prices that could sustain the larger ecosystem. More global acceptance and patronage of the works of these artists by international collectors would lead to the greater growth of digital art on the continent.
Another obstacle to the ecosystem is the weak economies of African countries. Minting an NFT could cost anywhere from a few dollars up to several hundred, depending on gas fees – the fluctuating processing fee for crypto transactions – and the platform on which the digital work is minted. However, even just initializing your account will cost approximately $60-70 on most platforms, according to The Verge. In countries such as Nigeria or Kenya, where the minimum wage is approximately $100 – 130 per month, many artists struggle to earn enough to mint their works.
Artists like Osinachi, Young Kev, Kevin Kamau, and others agree that providing artists funds to mint their first NFTs would boost participation in the crypto space. Some artists have even taken it upon themselves to do so on an informal person-to-person basis, playing their part in making this field of blockchain assets expansive and inclusive.
But while artists have provided support to each other, Africa's NFT sector needs infrastructure comparable to the traditional art world. In that self-sustaining ecosystem, artists make work, gallerists and art dealers market and promote it, and collectors buy it. Meanwhile, art institutions exist to support, develop, and sustain artists as well as facilitate the growth and promotion of art. Introducing this high level of organization and functioning to the digital art space would help onboard more interested people, along with the experienced players, to grow and promote digital art across Africa.
Towards this end, Charles Mbata, a digital art collector and curator, and Chuma Anagbado, an artist and entrepreneur, are bringing together artists, enthusiasts, and cultural figures to build a crypto art community in Nigeria.
One of their initiatives is the Nigeria NFT Community, which organizes programs and fosters collaborations between artists in the space to get recognition by a wider, more global audience. Through a collection like Ape of Lagos, the community aimed to spotlight African artists creating NFTs on the Ethereum blockchain. They also organized 3rd Dimension, a virtual reality exhibition for Nigerian digital creators. A similar forthcoming exhibition is Metanoia, which will be held in New York, Nairobi, and Lagos. Other communities like Africa NFT Community, Black NFT Art, and Network of African NFT artists have filled similar roles, helping artists garner more sales, exhibitions and critical engagement. These communities have also facilitated training and information dissemination to artists and other creatives interested in NFTs.
People have often talked about how the NFT craze is driven by money and not the quality of the art. There is some validity to that opinion. It is undeniable that Beeple's $69.3 million NFT sale at Christie's and Osinachi's NFTs achieving prices of $80,000 have created investment interest for collectors and hopes of a goldrush for artists.
But there are African creatives who are interested in doing serious work with NFTs. Nigerian graphic designer Mayowa Alabi, also known as Shutabug, said in an interview earlier this year that he wants his digital art to tell a larger story. Johannesburg-based art director Fahtuwani Mukheli, believes NFTs level the international playing field and give African artists access to audiences they may otherwise not have had access to. In an interview with TRT World, he said that NFTs "make us [African artists] compete completely with everyone at the same time in the world."
This expanded access and reach have convinced many African artists and art world professionals that it is therefore important to pay attention to the kinds of art they put out in the world – art that seriously engages with African reality and identity.
The digital art ecosystem in Africa can yet experience more growth if more is done to overcome the challenges it currently faces.
While there may not be immediate solutions to difficult home economies or unfavorable crypto laws, we can provide education to expand understanding of the space, develop infrastructure to onboard and diversify collectors, and to provide artists training on how to position their work for the ever-evolving market, while improving their artistic vision.
Youth get creative at summer art camp – Lakeland TODAY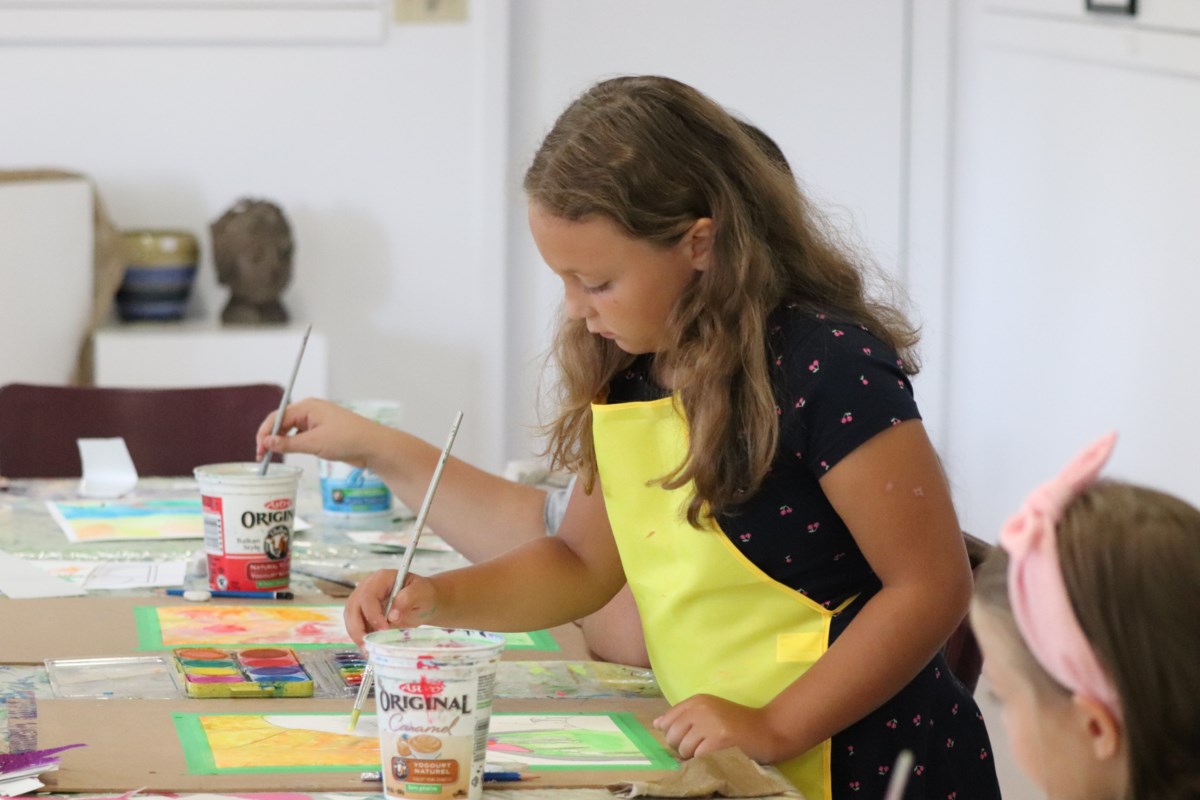 ST. PAUL – A variety of mediums were used to create unique works of art during a week-long Youth Art Camp held at the St. Paul Visual Arts Centre, last week.
Pam Bohn, the art instructor for the art camp, said the camp gives youth the chance to not only do art but form friendships.
"We also go outside to play and go to the park, and so it is also a day where they can make friends."
The art camp included acrylic painting, watercolour painting, mixed media projects, and much more.
"While I facilitate the classes, [the children] are free to create as they please," she said. "That allows those who like to do art that freedom to have different art mediums and try things that they may be unable to do at home."
Bohn said the participating youths have enjoyed the art camps, adding, "They all get excited when they come and take their [art] home to show their parents."
The Hive celebrates three new exhibitions at Art Gallery of Burlington | inHalton – insauga.com
Published August 15, 2022 at 2:41 pm
A special event celebrating three new exhibits is being hosted by the Art Gallery of Burlington.
The Hive is happening Saturday, Aug. 27, from 1 to 4 p.m. This free, all-ages event incorporates the organization, cooperation and energy of a beehive into an afternoon of art, activity, learning and fun.
The Hive will feature a special workshop led by Toronto's Clay and Paper Theatre, live arts and crafts demonstrations, a screen-printing presentation, live performance, food and drink.
The event is being held in celebration of the AGB's three new fall exhibitions:
The Future of Work, an exploration into how the pandemic has affected labour markets and our quality of life

ਨਜਰ ਨਾ ਲੱਗੇ

/Nazar na lage/Knock on wood, a vibrant and meaningful interpretation on the art of rangoli by artist Noni Kaur
Know your Place, an exhibit of cartoon-like clay sculpture that reveal the raw emotional experiences of the artist Sami Tsang
Known for work inspired by oral traditions, folk songs, poems and fables, Clay and Paper Theatre will charm participants and audiences with their original multi-disciplinary performance-based production. Guests who wish to participate with Clay and Paper Theatre should arrive early and be ready to create.
Visitors are invited to an interactive, screen-printing demonstration led by artist Jesse Purcell and are encouraged to bring any used clothing to be transformed into a bunting display to be hung in the gallery by the artist collective Works-in-Progress.
Arts Burlington will be opening its doors to guests with arts demonstrations and the Burlington Handweavers and Spinners Guild will guide guests through a natural plant-based dying demonstration, teaching attendees what they need to know to create from home.
The AGB parking lot will be free for the day. For more information, visit the AGB website.

insauga's Editorial Standards and Policies
Stay the know
Subscribe now to receive our daily email of today's top stories in your city!
advertising
'Miyo Nepin' (Good Summer) art show brings together Indigenous talent – battlefordsNOW
"[Nordstrom] contacted the artists; I contacted some. Then, she [decided] how it would look," Favel said.
"Miyo Nepin," which means Good Summer, is the theme of the show.
"We just came out of the pandemic, [so] it's a celebration of the freedom of movement, the freedom of the summer, and hopefully this freedom can stay in the future," Favel said.
He noted the theme is essentially about the freedom from health concerns, with the hope that everyone can enjoy good health again.
"It's a celebration of life and health," Favel said.
Some of the artists featured in the exhibition include Carl Thunderblanket from Sweetgrass, Meryl McMaster from Red Pheasant, Greg Tootoosis from Poundmaker, Charity Boxell from Poundmaker, and Dana Standinghorn from Sweetgrass.
The curators focused on showing pieces from artists with a substantial body of work.
Favel is particularly impressed with the calibre of the artists' projects in the show.
"We wanted to encourage, shed some light into this area of the talent that exists here," he said. "Hopefully, then, this work can keep going further, and their work can become more well-known provincially."
Favel added the artists are creating pieces of a national and international quality
"If you go to any gallery in Montreal or Toronto, you would see this is the quality of work we have here."
Favel hopes to keep putting the spotlight on many more of the Battlefords area's talented Indigenous artists going forward as well.
"In the future, like in my Performance Arts Festival, we will just keep going, and keep growing, and keep developing. That's our goal," he said.
The Miyo Nepin exhibition that features more than 20 pieces is on now through Sept. 4 at Fort Battleford.
–
Angela.Brown@pattisonmedia.com
On Twitter: @battlefordsNOW