After fleeing civil war as a child, the 'mayor of the rail trail' in Hamilton uses rock art to help him heal – CBC.ca
If it's a nice day in Hamilton, chances are good that Antonio Merino will be sitting at his special spot alongside the Escarpment Rail Trail.
His nook on the Mountain side of the trail, near the foot of the Margate Stairs, can't be missed – it's a solid 15 metres of sculptures and artwork made from painted rocks, fallen branches and other found objects.
A curvy branch juts from a log, evoking the head and body of a swan. Painted rocks are everywhere, bearing messages supporting essential workers or in remembrance of people who have died. There's a row of sticks that have been painted blue to look like a pond, with wooden birds and alligators looking over it and a fish trapped on a line inside.
"It's just a passion for me," said Merino, enjoying his home-away-from-home on a recent, hot-as-an-oven summer day. "It's a way to express without words. I did this all because I like to see a better world."
Tall wooden stakes hold up a tarp with two seats underneath it – one for Merino and one for the litany of guests who stop by for a visit each day. The densely treed area of the Niagara Escarpment provides plenty of canopy shade as well, with the little sun that is able to peek through the trees forming a speckled, cheetah-print of light on the forest floor.
Nearly everyone who walks by says hi to Merino, who has become a central part of the community that has developed among regular trail users. "He's the mayor of the trail," said one passerby.
"It's really great to see somebody utilize the space, utilize found objects and just make it their own," said Laura Heaney, who stopped to visit while walking past with her dog. "My first impressions were that somebody had a creative streak in them and wanted to put it out there in the world."
Sandra France, who hikes past twice a day, says the spot has become a focal point for trail users.
"It's like a little community down here and this is the hub," she says. "Sometimes you've got to take a number if you want to be able to say hello to him because he's very popular and keeps everyone going around here."
'This is helping me to release pain, sorrow'
Merino is 53, with a slight frame and gentle smile. His ever-present dark sunglasses are held on with a cord, and his dark hair is thick and cut short.
He takes pride in the fact that the space he's created brings joy to the people who go by, but he's also made pieces that hint at what is beneath his positive countenance.
"A man from nowhere, just giving hope," reads one. "Lost soul," says another.
"This is helping me to release my pain, my sorrow, and the horror that I lived in the past," he told CBC Hamilton. "When people say, 'The past is gone, yesterday is gone,' it all depends. Yesterday can be gone, but the horror stays. There are two choices: do you live in hell or learn how to live with the hell inside you?"
Merino was born in El Salvador, raised by his grandmother after his mother abandoned him when he was three months old, he says. The brutality and chaos of the civil war took over his life at age 10, its atrocities echoing in his head to this day.
The war would go on to kill more than 75,000 people between 1979 and 1992, and about 8,000 more would disappear, according to the United Nations. Some of those were Merino's family members, neighbours and friends – including his grandmother, which left him on his own at age 11.
The pain brought me here, but that pain made my heart soften.– Rail trail artist Antonio Merino
Later, the threat of being forced to join the army made him flee the country. He moved through Costa Rica and Mexico while waiting for a Canadian visa, finally moving to this country on Aug. 16, 1989.
"The pain brought me here, but that pain made my heart soften and I learned how to be more kindful," says Merino, who lives with post-traumatic stress disorder and receives disability support payments as a result. "All the people I saw get killed, I believe their spirits came to me to protect me."
He lived in Belleville and Cambridge before eventually settling in Hamilton many years ago.
When COVID-19 hit, Merino was in the process of trying to get his high school diploma through an adult education school, which he says shut down with the pandemic. The isolation of that period combined with his existing mental health struggles left him in a dark place, until the day he discovered the rail trail.
"I actually live by the trail, a half a block, and did not know the trail was here," he says, noting he's been in the same Wentworth Street apartment for 16 years.
That first day on the trail, he found a lost photo album, an interesting rock, an emerald, and another rock painted with the words, "you are loved" – which he saw right at the spot where he now sits daily.
"I got this crazy feeling that something was going on," he said. "Then I came back the next day and started collecting rocks."
'2 years ago, I was just a masked man in a ghost town'
Now Merino spends six to 10 hours a day near the spot, sanding, painting and arranging the rocks and other natural items he finds. He attributes almost a mystical power to some of his most special finds.
"I have some rocks I won't sell because I believe I will be cursed if I sell them. I believe Mother Nature brought them to me," he says.
His friends along the trail also bring him rocks sometimes, as well as money – he has a donation box, but says things have dried up lately with the hard times people are facing. Some people ask him to make rock art to honour deceased loved ones. One woman even begged him to let her kiss his hand, after sensing he was a special person.
"It feels very strange," Merino said. "I said to this lady, 'I am a normal person. I am not an angel. I am nobody.'" He let her kiss it anyway.
He also gets plenty of attention from local children; a "blessing," he says.
"I have maybe 50 letters and rocks that kids made for me… Parents come here and lend me the kids and I babysit them. I teach them art.
"Two years ago I was just a masked man in a ghost town. Nobody knew me. [Now] sometimes when I am downtown, police officers put the siren on and say, 'Antonio!' People downtown say, 'Hey, I know you!'"
He says feeling like he's part of something has changed his outlook, and he hopes to provide a piece of that to others.
"I always want to be a humble person and bring positive energy to everyone who goes by here. That's my main goal."
Windsor Public Library wants to show you local art while you ride your bike – CBC.ca
Windsor Public Library wants to showcase the city's downtown art. It plans to have two cycling tours to show it off.
Becky Mayer, a librarian at the Windsor Public Library organized the tours. She said the main reason she wanted to do this is because people think there's nothing to do or see in Windsor.
"I often ride my bike around and I see a lot of cool and weird stuff," said Mayer. "So, I just thought that maybe a few people would want to join me on a weird stuff tour."
Mayer said she'll be bringing Betty the Bookmobile along for the journey. She said the ride will be pretty casual and if someone has a story to tell she's happy to give them space to share.
"I'm fine with talking as well. If you want to have a silent tour, that's also cool. Like, it's very, very casual. Go with the flow. We'll see what happens," Mayer said.
The first tour starts at 6 p.m. August 16, the second tour is on August 20 starting at 10 a.m. The tours last about an hour and starts at the library's Central Branch at the corner of Ouellette Avenue and Pitt Street.
Youth get creative at summer art camp – Lakeland TODAY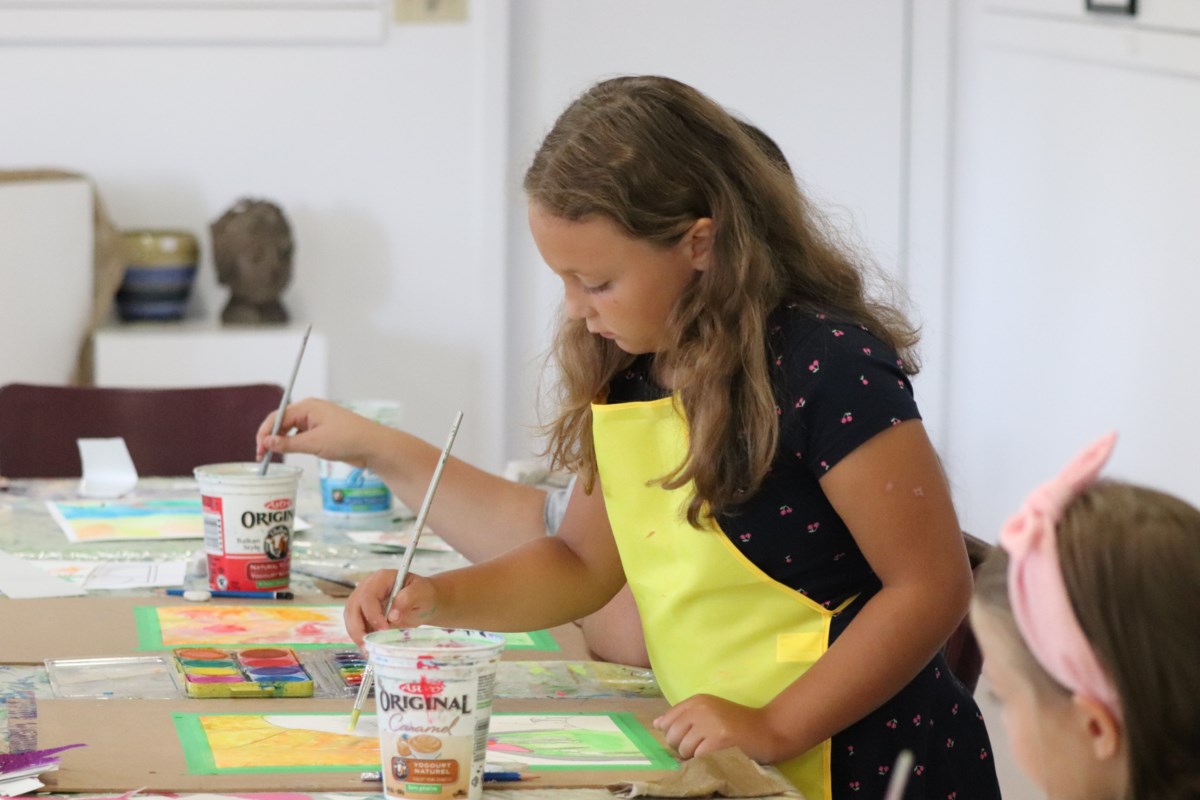 ST. PAUL – A variety of mediums were used to create unique works of art during a week-long Youth Art Camp held at the St. Paul Visual Arts Centre, last week.
Pam Bohn, the art instructor for the art camp, said the camp gives youth the chance to not only do art but form friendships.
"We also go outside to play and go to the park, and so it is also a day where they can make friends."
The art camp included acrylic painting, watercolour painting, mixed media projects, and much more.
"While I facilitate the classes, [the children] are free to create as they please," she said. "That allows those who like to do art that freedom to have different art mediums and try things that they may be unable to do at home."
Bohn said the participating youths have enjoyed the art camps, adding, "They all get excited when they come and take their [art] home to show their parents."
The Hive celebrates three new exhibitions at Art Gallery of Burlington | inHalton – insauga.com
Published August 15, 2022 at 2:41 pm
A special event celebrating three new exhibits is being hosted by the Art Gallery of Burlington.
The Hive is happening Saturday, Aug. 27, from 1 to 4 p.m. This free, all-ages event incorporates the organization, cooperation and energy of a beehive into an afternoon of art, activity, learning and fun.
The Hive will feature a special workshop led by Toronto's Clay and Paper Theatre, live arts and crafts demonstrations, a screen-printing presentation, live performance, food and drink.
The event is being held in celebration of the AGB's three new fall exhibitions:
The Future of Work, an exploration into how the pandemic has affected labour markets and our quality of life

ਨਜਰ ਨਾ ਲੱਗੇ

/Nazar na lage/Knock on wood, a vibrant and meaningful interpretation on the art of rangoli by artist Noni Kaur
Know your Place, an exhibit of cartoon-like clay sculpture that reveal the raw emotional experiences of the artist Sami Tsang
Known for work inspired by oral traditions, folk songs, poems and fables, Clay and Paper Theatre will charm participants and audiences with their original multi-disciplinary performance-based production. Guests who wish to participate with Clay and Paper Theatre should arrive early and be ready to create.
Visitors are invited to an interactive, screen-printing demonstration led by artist Jesse Purcell and are encouraged to bring any used clothing to be transformed into a bunting display to be hung in the gallery by the artist collective Works-in-Progress.
Arts Burlington will be opening its doors to guests with arts demonstrations and the Burlington Handweavers and Spinners Guild will guide guests through a natural plant-based dying demonstration, teaching attendees what they need to know to create from home.
The AGB parking lot will be free for the day. For more information, visit the AGB website.

insauga's Editorial Standards and Policies
Stay the know
Subscribe now to receive our daily email of today's top stories in your city!
advertising