After Quickly Expanding, The Economy Is Expected To Slow – NPR
The U.S. economy likely grew 8% in the April-June quarter from a year prior, a blistering pace of growth. But the economy is expected to slow as the delta variant and other risks like inflation loom.
ARI SHAPIRO, HOST:
Today's discouraging news about the pandemic comes after a spring when the U.S. economy reawakened. Vaccines were widely available, people went out to eat, and they started traveling again. In April, May and June, the U.S. economy grew by a healthy 6.5%. NPR's David Gura joins us with more. Hi, David.
DAVID GURA, BYLINE: Hey, Ari.
SHAPIRO: So what does this 6.5% number actually tell us?
GURA: Well, it tells us the size of the economy is larger than it was before the pandemic, if you adjust for inflation. And that's good news. That means the economy is now expanding. I talked to James Sweeney. He's the chief economist at Credit Suisse. And I asked him how he interprets today's numbers. Sweeney says it wasn't as big as he expected it would be, but he's still happy with it.
JAMES SWEENEY: The economy's growing strongly, and we've got more growth ahead. This is the kind of negative miss (ph) that shouldn't panic anybody.
GURA: And I'll note here, it didn't seem to panic investors on Wall Street. In fact, today the stock market once again hit some new records, Ari.
SHAPIRO: Yeah, what is driving the stock market growth over these last few months?
GURA: Yeah, the growth in the stock market and the economy – it's been consumer spending, which is a huge part of the economy. The other day, I did some anecdotal research, anecdotal reporting – stopped by maybe a dozen small businesses near me just to see how they're doing. And Melissa Ocampo (ph) is the manager of a toy store in Brooklyn. She told me things have gotten much better.
MELISSA OCAMPO: People seem to be back and running around and shopping for the kids and birthday parties and balloons.
GURA: Business has been steady, Ocampo (ph) told me, but she hopes it picks up even more. In the second quarter of this year, this transition happened, Ari. People who had been buying stuff – TVs, computers, yes, toys as well – started spending money at restaurants and on trips as vaccines became more widely available. And today's GDP data reflect that big uptick in spending, which was larger than economists expected.
SHAPIRO: And yet this week there has been such a shift, largely driven by the delta variant – new mask mandates, vaccine mandates. What does the rest of the year look like?
GURA: Yeah, economists I talked to say they expect this growth to continue, but they are seeing potential risks to the recovery. So were small businesses. What worries Melissa Ocampo at my local toy store is the pandemic and the delta variant more specifically. She is afraid of what could happen to the store and to her if sales were to slow down again or if there were another shutdown. After the store closed temporarily last spring, Ari, Ocampo managed to find another job at a supermarket.
OCAMPO: I'm like, am I going to, like – am I not going to be with, like, a job towards the end of the year, or are we in, like, what's just – it's just uncertain and scary for sure.
GURA: Now, economists don't think we'll see the kind of shutdowns we saw at the beginning of the pandemic. For one thing, almost half the population now in the U.S. is fully vaccinated.
SHAPIRO: What else is keeping small-business owners up at night?
GURA: Well, inflation for one, how prices have gone up, problems with supply chains as well – that's another issue. It's gotten harder to get the products people want because of demand, and manufacturers are having trouble getting new materials. The supply chain issues show up in today's GDP data. It was a big drag on growth in the second quarter. And one other worry among small-business owners is the jobs market.
SHAPIRO: Yeah, tell us more about that specifically.
GURA: Well, employers say it's gotten harder for them to find workers. Some of them are worried about getting sick. Then there's the lack of reliable child care. That's a big issue. Ralph Elia owns a frame shop called KC Arts. He's been in the business for about four decades. And he told me he's had trouble hiring workers, which is something he blames on expanded unemployment benefits.
RALPH ELIA: I agree with it in the beginning, if you really needed it. But at some point, they should have slowed it down or cut it off, I'm sorry to say, because we need to hire people. People need to get out and work.
GURA: And that argument is what led about two dozen states to end those expanded benefits early, Ari. They'll expire for all the remaining states in just a couple months.
SHAPIRO: NPR's David Gura, thanks for the update.
GURA: Thank you.
NPR transcripts are created on a rush deadline by Verb8tm, Inc., an NPR contractor, and produced using a proprietary transcription process developed with NPR. This text may not be in its final form and may be updated or revised in the future. Accuracy and availability may vary. The authoritative record of NPR's programming is the audio record.
What does a low carbon economy mean for US workers? – Wake Forest News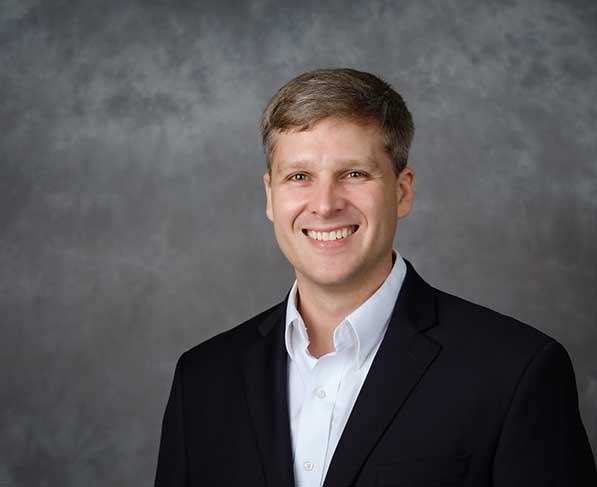 The United Nations General Assembly will be debating issues of global concern this week. At the top of the list is climate change. Along with companies, cities and financial institutions, more than 130 countries have now set, or are considering a target date for, achieving a balance between the greenhouse gases put into the atmosphere and those taken out (net zero) by mid-century.
Arguments for and against will hinge in part on the potential economic effects of such a commitment. Wake Forest economics professor Mark Curtis researches the balance between green jobs and lost jobs – looking at the implications for U.S. workers in a low carbon economy. He recently received a grant from the Washington Center for Equitable Growth.
What do Americans fear most about carbon emissions goals?
Confronting climate change will require a dramatic shift in large portions of the U.S. economy. Manufacturing and mining, two carbon-intensive sectors, have long been good, middle-class jobs in communities nationwide. In order to meet a net-zero goal for carbon emissions, these jobs will shrink. Fears among workers and the communities that rely on these jobs are not unjustified.
Is this kind of job loss in large sectors of the economy cause for concern?
Reductions in carbon-intensive industries are only one side of the coin in addressing climate change. While many industries may shrink, investment in green and renewable industries may create new opportunities for workers throughout the country.
Taking this global concern to the local level, what do you see ahead for North Carolina?
North Carolina has been a leader in renewable energy but needs a continued focus on creating a business environment that encourages entrepreneurship and investment in a wide range of green industries. Industries reliant on fossil fuels will need to transition, and North Carolina should ensure that workers can benefit as this transition occurs.
What is your next step as a researcher?
There is almost no economic research exploring whether and how green jobs will benefit workers and their communities. Leveraging job-posting data will estimate the long-run benefits that workers accrue as a result of green technology investments. It can also tell us which types of workers benefit and which do not. The funding from the Washington Center for Equitable Growth will help support research to estimate the effects of an increase in green jobs on local economic outcomes such as the employment rate, poverty rate and average incomes.
US economy continues to strengthen despite Delta, says Fed – BBC News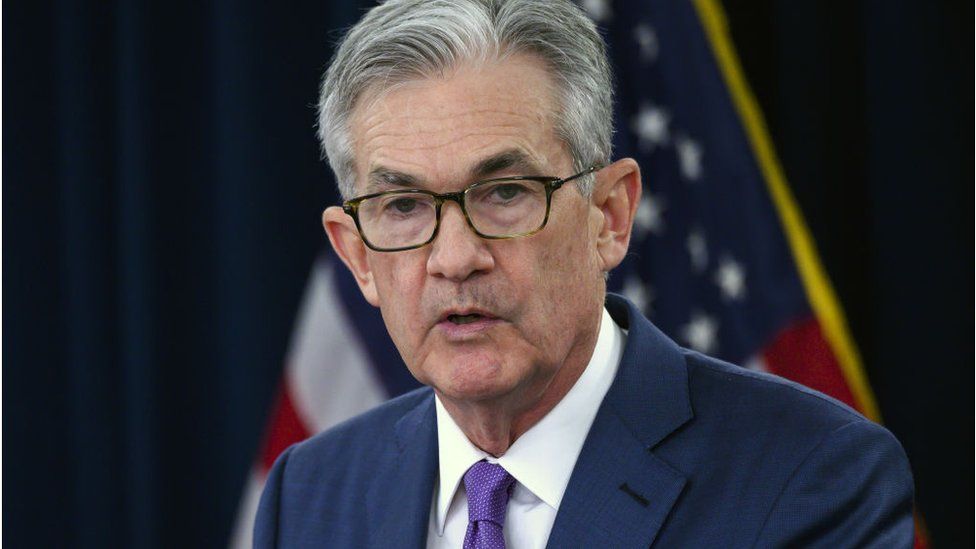 The US economy continues to strengthen, albeit at a slower rate because of the Delta variant of Covid, the US Federal Reserve has said.
The central bank said the jobs market was improving and that currently high rates of inflation remained transitory.
It said it may start reducing its emergency support for the economy "soon", but did not say when.
Half of its policymakers also projected interest rates will need to rise in 2022 from current rock-bottom levels.
The US economy has rebounded strongly this year from its pandemic lows, but there are fears Delta will derail the recovery.
The country added fewer jobs than expected in August as rising infections hit spending on travel, tourism and hospitality.
Inflation, which measures the increase in the cost of living over time, is running at 5.3% – the highest in nearly 13 years. It comes amid surging consumer demand, rising energy prices, and supply chain-related shortages.
"The sectors most adversely affected by the pandemic have improved in recent months, but the rise in Covid-19 cases has slowed their recovery," it said.
"Inflation is elevated, largely reflecting transitory factors. Overall financial conditions remain accommodative, in part reflecting policy measures to support the economy and the flow of credit to US households and businesses."
'Broadly as expected'
The FOMC said the path of the economy still depended "on the course of the virus". And it expects to keep monetary policy loose until more progress is made on stabilising unemployment – which stands at 5.2% – and consumer prices.
However, it said if progress continues "broadly as expected", it may soon pare back its $120bn-a-month bond-buying programme which has helped keep borrowing rates low.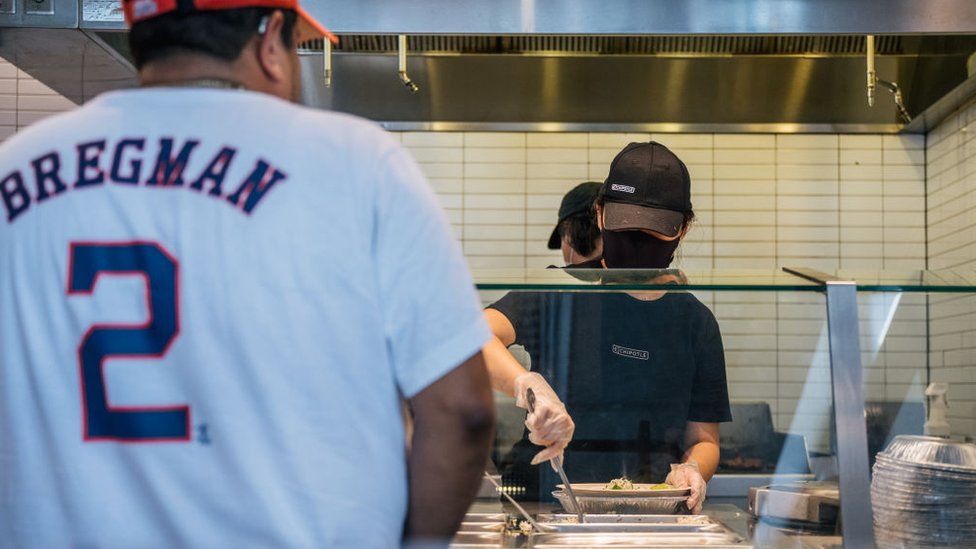 Analysts said the bank was taking a cautious approach, noting no formal date was set for pulling back support.
"While the Federal Reserve has laid the groundwork for an eventual taper [of asset purchases] later this year, the Fed erred on the side of caution given that the macroeconomic landscape has deteriorated somewhat over the last few months," said Candice Bangsund, a portfolio manager at Fiera Capital.
"Preconditions for a formal taper announcement will largely depend on economic conditions over the coming months, with an emphasis on data dependence."
Gurpreet Gill, a macro strategist at Goldman Sachs, said ongoing supply chain disruption, the spread of Delta and higher inflation still weighed on the minds of Fed committee members.
"Given uncertainty around the health of labour market and inflationary pressures, we would not be surprised if the 'dot plot' changes again in the coming months as the pace of the recovery and underlying inflation dynamics become clearer."
The Fed has two goals. It aims to keep US inflation at about 2% and to achieve maximum employment, whereby everyone who needs a job has one.
During the pandemic it has supported the economy by slashing interest rates to historic lows and pumping billions of dollars into the financial system by buying government and corporate bonds.
Low Vaccination Rates are Hurting Southeast Asia's Economy: ADB – The Diplomat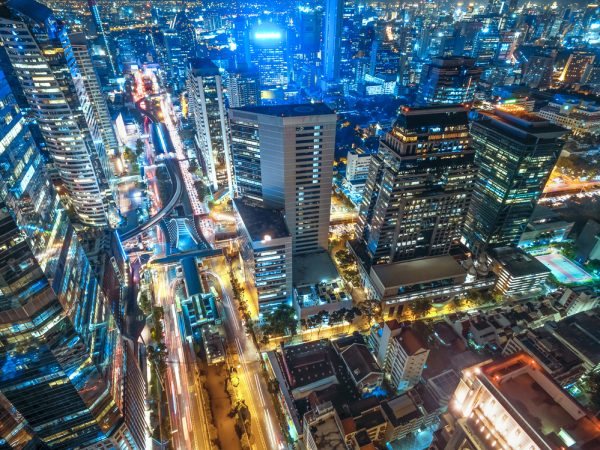 Economic growth in Southeast Asia is beginning to fall behind other parts of the region due to the region's continued struggles with outbreaks of the disease and the sluggish rollout of COVID-19 vaccines, the Asian Development Bank said today.
In an update to its Asian Development Outlook report, the Manila-based multilateral bank stated that growth in the 46 nations of what it terms "developing Asia" is projected to reach 7.1 percent this year, down slightly from its 7.3 percent forecast in April. Despite this small downgrade, this year's growth estimate is a marked improvement over the 0.1 percent contraction that the region saw last year.
Within the region, however, "growth paths are diverging, with economies that have successfully contained the pandemic or are making good progress on vaccination programs forging ahead," the report stated.
Among the problem regions is Southeast Asia, where the ADB has cut its growth projections due to the region's struggle to contain outbreaks of COVID-19, continued lockdowns and restrictions, and slow vaccine rollouts.
Southeast Asia's regional growth projections for 2021 and 2022 have been lowered to 3.1 percent and 5.0 percent, respectively, from forecasts of 4.4 percent and 5.1 percent in April. The region has also seen the largest gap – 8.6 percent – between economic forecasts for 2021 and pre-pandemic projections.
"Southeast Asia will recover at a much slower pace than earlier projected," the report stated, resulting in weaker than expected growth rates in nine out of the subregion's 11 economies. It added that the region's recovery "continues to be curtailed by recurring spikes of COVID-19 cases, resulting in the reimposition of stringent containment measures in some economies, including the Philippines."
The downgrade is more significant in the case of certain major economies in the region, including Thailand (0.8 percent down from 3 percent in April), Indonesia (3.5 percent down from 5 percent), and Malaysia (4.7 percent down from 6 percent).
Vietnam, which had the distinction of being the only Southeast Asian nation to register positive growth in 2020, has seen its outlook for 2021 slashed from 6.7 percent in April to 3.8 percent now.
Myanmar, in the throes of a severe political crisis, will see its GDP contract by an astounding 18.4 percent this year, down from what now seems like an optimistic projection of a 9 percent contraction in April.
The one Southeast Asian nation to see an upgrade in its economic outlook was Singapore, where high vaccination coverage – the country has fully vaccinated more than three-quarters of its population – will "continue allowing the economy to benefit from the rise in global demand."
While much of Southeast Asia managed to avoid the worst of the pandemic in 2020, the Delta variant of the virus has scythed its way through many countries in the region in recent months. This has exposed governments' complacency in sourcing vaccines, with just three of the region's 11 nations – Singapore, Cambodia, and Malaysia – having fully vaccinated a greater proportion of their populations than the United States (51.8 percent of the population) and the European Union (58 percent). Six have fully vaccinated less than a third.
According to the ADB report, "the uneven progress of vaccinations is contributing to the divergence of growth paths in developing Asia," as economies like China, Singapore, and Taiwan that have vaccinated larger proportions of their populations experience a quicker recovery from the pandemic slump. In its report, the ADB raised its forecast for "developing" East Asia, a region that includes China and South Korea, by 0.2 percentage points to 7.6 percent.
The development suggests that the impacts of Southeast Asia's sluggish reaction to the latest outbreaks of COVID-19, including both the avoidable delays in beginning vaccine distribution and the unavoidable challenges of gaining access to adequate supplies, will continue to have long-term economic effects.
Even then, the region will remain vulnerable to a host of challenges, "including the emergence of new variants, waning vaccine effectiveness, geopolitical tensions, and the resulting disruptions to global supply chains.