AGO appoints Guggenheim associate curator Xiaoyu Weng to contemporary art porfolio – The Globe and Mail
The Art Gallery of Ontario continued its internationalist push Thursday as it appointed a Chinese curator with American experience to the key portfolio of modern and contemporary art. Born and raised in Shanghai, Xiaoyu Weng currently works as an associate curator at the Guggenheim Museum in New York. This summer, she will take up the role of modern and contemporary curator at the AGO in Toronto, a city she has never visited.
Her appointment is sure to raise questions for the local and national visual-art community, where the AGO's contemporary curator wields considerable power as the person who decides which living Canadian artists might be added to one of the leading public collections in the country. Weng, who has specialized in expanding the contemporary canon to all corners of the globe, has only followed Canadian art from a distance. She's an admirer of Janet Cardiff, whose work she has seen internationally, and such prominent Vancouver artists as Ken Lum, Ron Terada and Stan Douglas, first encountered in a grad school project she did about North American artists on the West Coast. She was also impressed by the achievements of the inaugural Toronto Biennial of Art in 2019, having herself curated the Ural Industrial Biennial of Contemporary Art in Yekaterinburg, Russia that year.
"I'm not an expert in Canadian art, but there are artists I am following closely … I'm more interested in focusing on individual practices and the perspectives these artists are bringing than in trying to label them or put them in a box, calling them Canadian art or Canadian artists," she said in an interview. She added that she doesn't think nationality is the first characteristic with which artists define their identity. "I'd take the same position on artists from China or anywhere else."
Her international outlook may serve the AGO well. In announcing the appointment, chief curator Julian Cox said Weng would "help us further our goals of leading global conversations from Toronto. She will also help us put Canadian artists on the global stage and shape the presentation of our collection in dynamic new ways." Her expansionary approaches fit with the AGO's attempts to redefine its narrow focus on the Western canon; last November, the gallery promoted Julie Crooks into a new role curating the art of global Africa and the African diaspora.
"How do we look at issues with a perspective that isn't limited to a Eurocentric view?" Weng asked.
Apparently not by filling the AGO's galleries with the work of China's global art stars – even though her Guggenheim gig involved a Chinese art initiative that brought new artists into the gallery to question audience assumptions about the region.
"I am very critical of the so-called rise of contemporary Chinese art. It's very much compelled by the market … capital pouring in," she said. She added it's important to view Chinese art in its social and political setting and to consider the art of China's neighbours in Southeast Asia.
Despite her postcolonial outlook, her appointment confirms suspicions that any ambitious Canadian art curator better get some international experience, preferably American, if they want to rise in the ranks at a big Canadian museum. The two most recent art museum directorships to come open here both went to Canadian art historians with significant American credentials. Last fall, the Montreal Museum of Fine Arts repatriated Stéphane Aquin from the Hirshhorn Museum and Sculpture Garden in Washington, while Sasha Suda, director at the National Gallery of Canada since 2019, worked at New York's mighty Metropolitan Museum before she was appointed curator of European art at the AGO.
It was because Suda lured her AGO colleague Kitty Scott to Ottawa as chief curator that the contemporary curator job in Toronto became vacant. Weng considers Scott a close colleague, but Canadian artists may be looking for more proof of such a connection with the national scene. Scott is known as a strong advocate of Canadian artists – witness her blockbuster 2019 exhibition devoted to the work of B.C. Indigenous artist Brian Jungen.
Weng's appointment means that three top jobs at the AGO are held by professionals who came to Canada from the U.S. AGO director Stephan Jost is an American who previously worked as director at the Honolulu Museum of Art and several smaller U.S. institutions, while Cox is a Briton who worked at museums in San Francisco, Atlanta and Los Angeles before arriving in Toronto.
Weng's position is that the visual arts are particularly useful for discussing cross-cultural issues and, when it comes to acquiring Canadian art, she hopes to focus on marginalized artists that have not been previously collected. "How can I be an active agent in connecting the dots?" she asked. "I really see myself as bringing some new perspectives and fresh eyes, looking not only at international artists but also local artists."
However they define themselves, Canadian artists will wait and see.
Sign up for The Globe's arts and lifestyle newsletters for more news, columns and advice in your inbox.
White House on defensive over Hunter Biden art sales – FRANCE 24
Issued on: 24/07/2021 – 01:08
Washington (AFP)
The White House assured Friday that necessary ethical precautions would be taken around any exhibitions and sale of artwork by President Joe Biden's son, whose personal life and professional career have been peppered with controversy.
Asked by reporters about upcoming exhibitions of Hunter Biden's artwork in New York's Georges Berges Gallery, White House Press Secretary Jen Psaki said the president's son would be "attending gallery events."
The discussions about sales "will be happening with the gallerist" and not Hunter Biden, she said.
"That is different than meeting with prospective buyers."
Psaki had announced July 9 that a system had been established allowing Hunter Biden to practice his profession "within appropriate safeguards," including the confidentiality of any transactions and no contact with buyers.
At exhibits of Hunter's work, "the selling of his art will all happen through the gallerist and the names and individuals will be kept confidential," she said.
When pressed that a buyer could simply tell the artist that he or she is purchasing his work, Psaki stressed that a strict rules structure will be in place.
"He will not know, we will not know who purchases his art," she said.
Contacted by AFP, the gallery did not immediately provide any comment or details.
The Biden administration, which seeks to present itself as ethically unblemished, has been repeatedly questioned about the artistic career of the 51-year-old lawyer and businessman-turned-painter.
US media point out the obvious risks of businessmen or others purchasing the artwork with the sole aim of winning access to or influence with the White House.
Press reports have said the paintings by Biden, who has had no formal training, could sell for up to half a million dollars.
Hunter Biden is one of former president Donald Trump's favorite targets.
During the 2020 presidential campaign Trump and his supporters regularly criticized Hunter Biden for his economic interests in Ukraine and China when his father was vice president under Barack Obama.
Hunter is also the target of a federal investigation into possible tax crimes.
In a memoir published earlier this year, the president's youngest son recounted his struggle with addiction to cocaine and alcohol.
© 2021 AFP
Art exhibits return to Callander's Alex Dufresne gallery – BayToday.ca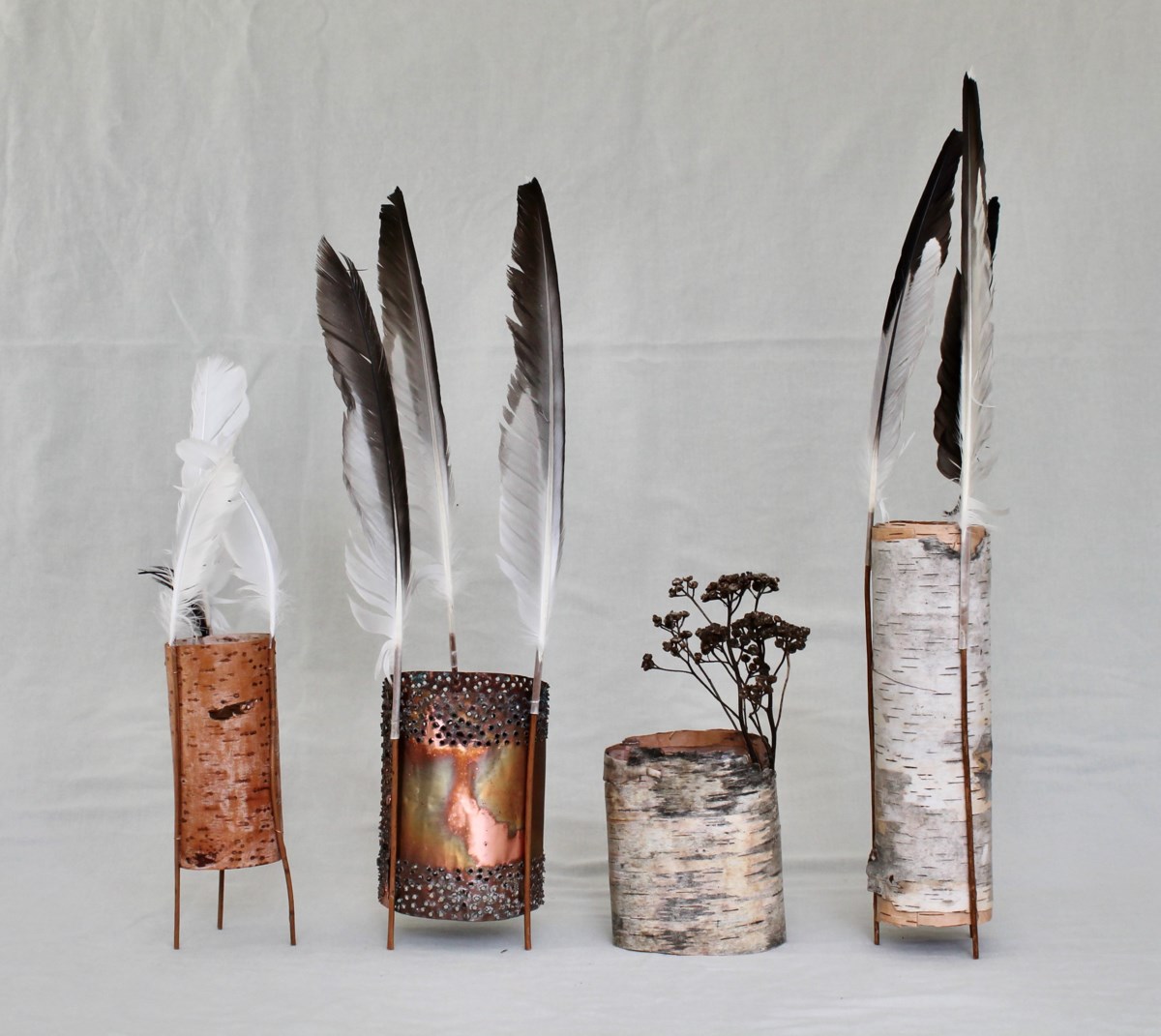 After a long hiatus, art shows are returning to the Alex Dufresne Gallery at the Callander Bay Heritage Museum this Saturday.
The works of Carole Davidson and Sara Carlin-Ball are highlighted in an exhibit entitled "Journeys to a Conversation with Nature."
In a release promoting the show, Davidson and Carlin-Ball explain the "works display a felt presence of our natural environment in unexpected materials and surprising subjects."
Their goal in selecting the pieces for the exhibit is to capture "the luscious spectacular that is Nature, Muse, Essence," and emphasize how these "inspire the audience to revision their place – their gratitude and responsibility – on this Earth."
See: Callander museum reopens from COVID with new art show
"It feels absolutely wonderful to have art back on the walls," said Natasha Wiatr, the gallery's curator.
The last show was this past April but did not last long before Covid regulations closed the event. Since then, "the walls have been empty."
"We haven't consistently had shows in what feels like so long," she said, and is pleased to launch what will hopefully be a long stretch of exhibits.
Currently, the gallery is booked until 2023, "and we've added two more shows per year," Wiatr explained.
"We see ourselves as a community-based gallery," she said, and as such, strive to present as many local artists as possible.
See: White Water Gallery has a new executive director
The Museum and Art Gallery are open Tuesday to Saturday from 10:00 – 5:00 p.m.
The gallery can hold 14 people at once, and walk-ins are welcome. Appointments can also be booked ahead of time at www.mycallander.ca/gallery.
Staff remind to you please wear a mask when you visit and maintain social distance.
Admission to the museum is $5 for seniors and students, $4.50 for kids 6-12, free for children under 6 and adults pay $5.50. Family rate for 4 is $15. Entrance to the gallery is by donation.
See: Mattawa museum celebrates reopening with Community exhibit
Callander museum reopens with art show – The North Bay Nugget
Article content
The art show Journeys to a Conversation with Nature will reopen the Callander Museum and Alex Dufresne Gallery Saturday.
Article content
The works of Carole Davidson and Sarah Carlin-Ball will remain on display to Aug. 20.
"There is an essential longing for life that erupts in a luscious spectacular that we call Nature," the artists said in a statement.
"The human animal is a part of this longing for life that some might call a Muse – a Muse for artists of every passion and discipline. Artists are at the mercy of their muse and transcribe whatever is whispered to them about life, people, and the compelling natural environment they belong to.
"One may be a studied artist haphazardly trained while another may be an experimental soul, interpreting the ever-changing environment around her."
Influenced by the gifts of their lives and the natural offerings around them, each artist interprets what touches her soul. Each piece of art tells a portion of her journey, calling to the viewer to look more closely at what life has to teach us.
Carlin-Ball's muse slumbered as she was raising her children and working. As soon as she could make time, there was an explosion of experimentation driven by her mantra 'What would happen if…?'
Mistakes happily romped with successes. Now, her careful, unique presentations interpret life and nature, and challenge one's imagination.
As she learned of the melting of the muskeg and the possibility that Canada will soon lose that habitat and vibrant spring bloom, Carlin-Bell felt the compulsion to replicate that vital image with unexpected media: patinated and fired copper was punched and threaded through with fibre knotted to create the blooms and surface stems.
Article content
Eventually, the vibrant muskeg spring emerged.
For Davidson, nature was a refuge she quietly celebrated with natural and cultivated talent for art and writing. A busy and brief career in graphic design took over until disabling MS symptoms forced (or allowed) her to slow down.
She began a meditation practice to cope with symptoms and immediately began painting again.
Her creative work parallels her spiritual path and the subjects of her study get smaller and smaller as she has the opportunity to stop and notice. She finds joy in a yellow spider on a sunflower or a nest full of baby robins.
Together, their works display a felt presence of our natural environment in unexpected materials and surprising subjects.
The Museum and Art Gallery are open Tuesday to Saturday from 10 a.m. to 5 p.m. Appointments can be booked ahead of time at www.mycallander.ca/gallery and the museum and gallery also welcome same-day walk-ins.
Those visiting are asked to wear a mask and social distance.
The museum and art gallery are located at 107 Lansdowne St. E., Callander.