Airlines cancel flights due to COVID staffing shortages – CP24 Toronto's Breaking News
David Mchugh And Tali Arbel, The Associated Press

Published Friday, December 24, 2021 5:47PM EST


Last Updated Friday, December 24, 2021 5:47PM EST

NEW YORK (AP) – Airlines canceled hundreds of flights as the omicron variant jumbled schedules and drew down staffing levels at some carriers during the busy holiday travel season.
Delta Air Lines and United Airlines said they canceled flights because of staff shortages tied to the omicron variant. Delta canceled 145 flights on Friday and 111 for Christmas Day, according to FlightAware. (Other factors, such as weather, are also causing cancellations.) United called off 175 flights on Friday and 69 on Saturday.
Not all airlines said COVID was disrupting their travel schedules. American Airlines said it had "nothing to report," while Southwest Airlines said "things are running smoothly." JetBlue did not respond to a request for comment.
Flight delays and cancellations tied to staffing shortages have been a regular problem for the U.S. airline industry this year. Airlines encouraged workers to quit in 2020, when air travel collapsed, and were caught short-staffed this year as travel recovered.
"The nationwide spike in omicron cases this week has had a direct impact on our flight crews and the people who run our operation," United said in a statement. "As a result, we've unfortunately had to cancel some flights and are notifying impacted customers in advance of them coming to the airport."
Delta said it canceled flights Friday because of the impact of omicron and possibility of bad weather after it had "exhausted all options and resources – including rerouting and substitutions of aircraft and crews to cover scheduled flying."
The airlines both said they were trying to rebook passengers.
While some travelers canceled holiday plans because of rising case numbers, many others kept to their vacations during some of the year's busiest travel days. The Transportation Security Administration said it expects to screen nearly 30 million people from Dec. 20 through Jan. 3, compared with nearly 44 million during the last holiday season before the pandemic.
Germany-based Lufthansa said Friday that it was canceling a dozen long-haul transatlantic flights over the Christmas holiday period because of a "massive rise" in sick leave among pilots. The cancellations on flights to Houston, Boston and Washington come despite a "large buffer" of additional staff for the period. The airline says it couldn't speculate on whether COVID-19 infections or quarantines were responsible because it was not informed about the sort of illness. Passengers were booked on other flights.
According to FlightAware, there are nearly 3,400 canceled flights on Friday and Saturday, with at least half of the cancellations by Chinese airlines. About 20% of affected flights – 745 – were to, from or within the U.S. This is a small fraction of global flights. FlightAware says it has tracked more than 120,000 arrivals in the past 24 hours.
Coronavirus infections fueled by the new variant have also squeezed staffing at hospitals, police departments, supermarkets and other critical operations that have struggled to maintain a full contingent of front-line workers.
To ease staffing shortages, countries including Spain and the U.K. have reduced the length of COVID-19 quarantines by letting people return to work sooner after testing positive or being exposed to the virus.
Delta CEO Ed Bastian was among those who have called on the Biden administration to take similar steps or risk further disruptions in air travel. On Thursday, the U.S. shortened COVID-19 isolation rules for health care workers only.
McHugh reported from Frankfurt, Germany.
'I'm out of gas:' Leadership burnout on the rise as pandemic takes mental health toll – CTV News
Workers turn to them for support, clients rely on them for answers, companies lean on them in times of crisis.
Yet as the pandemic stretches inexorably on, experts say the never-ending demands on business leaders are pushing some to the brink of burnout.
Stress, uncertainty and long hours are causing malaise among many managers. It's a condition that — if left unchecked long enough — can manifest as exhaustion, disengagement, depression and burnout, they say.
"Leaders are under tremendous strain," says Paula Allen, global leader and senior vice-president of research and total well-being at LifeWorks.
"When the pandemic first started, we saw the adrenalin kick in, decisions were made fast and work got done," she says. "But it's been relentless. Leaders are exhausted."
It's not just people in charge hitting a wall 22 months, five waves and multiple variants into the COVID-19 pandemic.
New research has found an extreme level of exhaustion among many Canadian workers from the bottom to the top. Many say they're more stressed now than during initial lockdowns.
Essential front-line workers from nurses to grocery store clerks have faced innumerable risks of infection. Others face precarious employment without sick days or benefits. Some have lost their jobs altogether and struggle to pay rent and buy food.
In comparison to these hardships, some might be quick to dismiss the challenges of leaders.
Yet many have reported an increase in exhaustion and mental health concerns since the start of the pandemic.
Supervisors, low-level managers, small business owners and senior executives are grappling with increasing demands and surging work volumes.
Many are putting in extra hours to keep things running while also providing support and encouragement to workers.
"Business leaders are supposed to be cheerleaders," says Mike Johnston, president and CEO of Halifax software company Redspace.
"But we've been trying to hustle and pivot and get through this for so long now. I'm out of gas."
For some managers, the inability to offer more certainty and support to workers is what keeps them up at night.
"When you're the leader of a group of people you want to have all the answers," says Barry Taylor, director of operations for The Ballroom, a large entertainment venue in downtown Toronto.
"But you don't and you just feel helpless and burnt out."
Experts say late-stage pandemic fatigue is taking a toll on many managers, with some veering towards burnout.
The symptoms can include emotional exhaustion, detachment, loss of motivation and reduced efficiency — all of which can have a ripple effect throughout an entire workplace, they say.
"It's exhausted leaders leading exhausted teams," says Jennifer Moss, a Waterloo, Ont.-based workplace consultant and author of The Burnout Epidemic: The Rise of Chronic Stress and How We Can Fix It.
"Managers are trying to be stoic and demonstrate strength and certainty for their employees when many don't feel that themselves."
Pandemic burnout isn't unique to leaders, but she says there are particular stressors facing those in charge.
"It can be more isolating at the top," Moss says. "Senior leaders and managers can sometimes feel very alone."
There's also a perception that because people in management positions "earn the big bucks" they should be prepared to cope with the additional responsibility and stress, she says.
"We sometimes forget there's a human behind that role and regardless of how much they're being paid, how much they earn, it doesn't fix the grief and the pain and the stress that they're dealing with," Moss says.
The perception that managers should demonstrate unwavering leadership and steadfast support of their workers can increase fears of seeking help, experts say.
"There's a definite stigma," says Chantal Hervieux, associate professor of strategy at Saint Mary's University's Sobey School of Business and director of the school's MBA program and Centre for Leadership Excellence.
"There's less acceptance for leaders to talk about mental health issues."
Leaders are expected to be in control, have the answers and be supportive of their team members, she says.
Despite the near constant uncertainty and upheaval of the pandemic, those expectations have remained the same — or increased, Hervieux says.
"Canadian business leaders are working hard to keep things going but some are suffering," she says. "They're paying a mental health price and we need to talk about it."
The challenge of trying to lead during the pandemic is backed up by research.
A survey by LifeWorks and Deloitte Canada released last summer found 82 per cent of senior leaders reported feeling exhausted.
The poll found the top two stressors were an increase in work volume compared to pre-pandemic levels, and the desire to provide adequate support for the well-being of staff.
More than half of those polled said they were considering leaving their roles.
"I've been chatting with other CEOs and there seems to be a shift," Johnston with Redspace says. "There's a number of founders looking to get out, to exit. The fun of the chase isn't balanced against the stress of it."
Still, despite some of the unique pressures facing leaders, burnout appears to be impacting all workers.
A new Bromwich+Smith poll conducted by Angus Reid found more than 70 per cent of people surveyed are worried about their physical and mental health, including sleep issues, fear of COVID-19 and burnout.
Another study by Canada Life found a high level of burnout among Canadian workers. The survey conducted by Mental Health Research Canada found more than a third of all working Canadians are feeling burned out.
This report by The Canadian Press was first published Jan. 17, 2022.
Health Canada approves Pfizer anti-viral pill for treatment of COVID-19 – National Post
Provinces will receive shipments on a per-capita basis and will decide who gets priority for the pills while in short supply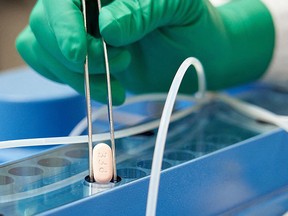 Article content
OTTAWA – Health Canada has approved Pfizer's drug Paxlovid as the first take-home treatment for COVID-19.
Article content
The drug, which is a treatment involving a total of six pills taken daily for five days, has been shown to reduce the risk of hospitalization by almost 90 per cent. The course of treatment includes two pills of nirmatrelvir taken twice a day and one pill of ​​ritonavir taken twice a day.
The drug prevents the virus from replicating, which helps people recover faster. It can't be taken by people under 18 years of age. There are also several drugs that can't be taken alongside Paxlovid, including drugs for cancer, high blood pressure and some anti-anxiety and depression medications.
To be effective, the drug requires people to start treatment within five days of having symptoms and while they can take it at home, it must be prescribed to them and they must have a positive COVID-19 test to begin treatment.
Article content
As the Omicron wave has driven cases skyrocketing, testing centres have been overwhelmed and most provinces now limit who can get a PCR test. Even people who can receive tests are often waiting several days for results.
Dr. Theresa Tam, Canada's chief public health officer, said in the interim, physicians can use rapid antigen tests to prescribe the pills.
She admitted in the short term it will have a limited benefit, but said it will help some people and could be an important tool in the future.
"For the Omicron wave itself, it may contribute, but it won't be a key contributor to the current wave," she said. "We think everybody really just needs to give it a good try because it will be, I think, an important tool going forward."
Article content
Provinces will receive shipments on a per-capita basis and will be the ultimate arbitrators of who gets the medication while it is in short supply.
The public health agency is recommending immunocompromised people are the top priority for the medication, followed by unvaccinated or partially vaccinated people over 80 years old, people in their 60s and people in rural and remote communities where access to hospital care could be difficult.
Tam said the unvaccinated are high on the priority list, because they are more likely to end up in hospital with severe illness.
"As health-care providers, you don't pick and choose which patients you have coming into the hospital and getting treated. And so I think this approach ensures that we are prioritizing treatments to those most in need," she said.
Article content
She stressed however the treatments are no substitute for vaccination.
"This is another tool in the toolkit to fight the pandemic. It is important that everyone gets fully vaccinated and receive a booster, as soon as they are eligible."
Alexandra Hilkene, a spokesperson for Ontario Health Minister Christine Elliott, said the province is expecting it will get 10,000 courses of the drugs in January and has worked out plans to distribute them.
"We have worked with our hospital partners and are prepared for distribution of antivirals at 15 sites across the province as soon we receive them. Courses will initially be prioritized for adults with the highest risk of severe outcomes including immunocompromised patients, and could help keep thousands of people out of our hospitals," she said in an email.
Article content
Hilkene said the pills could help the province return to normal and ease restrictions.
"The arrival of these pills gives us increased confidence as we continue to review key indicators and data to determine when we can begin safely and gradually lifting public health measures."
A first shipment of the pills arrived in Canada over the weekend, with just over 30,000 courses of treatment arriving.
Procurement Minister Filomena Tassi, said Canada expects another 120,000 courses to arrive before the end of February as part of the initial order for a million treatments, with more to come after that.
The government also has an option for 500,000 more courses of treatment after that. The U.S. government bought 10 million courses for US$5.29 billion, a cost of roughly US$529 per course of treatment.
Article content
Tassi would not say what Canada paid for the pills, but said the government was committed to doing whatever is necessary to help Canadians dealing with the virus.
"In order to protect the commercially sensitive pricing information, we can't disclose those details," she said. "The health and safety of Canadians has been our top priority from a procurement perspective whether it's vaccines, PPE, medical supplies. We've done everything that we can possibly do with the priority of keeping Canadians safe."
The government has also refused to disclose on a per dose basis what it paid for COVID-19 vaccines.
Twitter:
Email: rtumilty@postmedia.com
House hunters in Canada face tightest market on record – Aljazeera.com
There are so few homes for sale in Canada that people are starting to call it a housing crisis.
By Ari AltstedterBloomberg
Published On 17 Jan 202217 Jan 2022
An unprecedented real-estate frenzy has left Canada with the fewest houses for sale in at least a quarter century.
The country had about 86,000 houses left for sale at the end of December on a seasonally-adjusted basis, according to data from the Canadian Real Estate Association. That's all that was left after buyers purchased a record 667,000 homes over the course of 2021, about 20% more than the previous annual record.
With supply depleted, benchmark home prices rose 2.5% in December from the previous month, and were up a record 26.6% from the year before.
"There are currently fewer properties listed for sale in Canada than at any point on record," Shaun Cathcart, the real estate board's senior economist, said in a press release accompanying the data."So unfortunately, the housing affordability problem facing the country is likely to get worse before it gets better."
The national numbers follow trends seen earlier this month in Canada's most expensive housing markets, Toronto and Vancouver, where available housing stock has fallen to unprecedented low levels. That has reinforced views that a national shortage is underpinning price increases that have sent the cost of housing spiraling out of reach for many working Canadians in the largest cities, regardless of whether they buy or rent.
What's increasingly being called a housing crisis is starting to prompt politicians to start to look for answers. The benchmark home price in Canada is now C$811,700 (about $648,000)
"Policy makers are starting to say the right things, but now they have to act to change this course we're on," said the real estate board's Cathcart. "An aggressive national push to build more homes is what will address the issue, but it will probably have to be a greater amount of building than anything we've ever undertaken. A touch over the status quo won't cut it."
In the meantime, with so little left to buy across Canada, the pace of sales is slowing down. The number of monthly transactions was little changed in December compared with November, though that was still enough for the second highest number of sales on record for that final month of the year.