Airlines cancel some flights after reduced 5G rollout in U.S. – CP24 Toronto's Breaking News
Jon Gambrell And David Koenig, The Associated Press

Published Wednesday, January 19, 2022 11:20AM EST


Last Updated Wednesday, January 19, 2022 6:00PM EST

DALLAS (AP) – Some flights to and from the U.S. were canceled on Wednesday even after AT&T and Verizon scaled back the rollout of high-speed wireless service that could interfere with aircraft technology that measures altitude.
International carriers that rely heavily on the wide-body Boeing 777, and other Boeing aircraft, canceled flights or switched to different planes following warnings from the Federal Aviation Administration and the Chicago-based plane maker.
Airlines that fly only or mostly Airbus jets, including Air France and Ireland's Aer Lingus, seemed relatively unaffected by the new 5G service.
Airlines had canceled more than 250 flights by midafternoon Wednesday, or 3% of the U.S. total, according to FlightAware. That was far less disruptive than during the Christmas and New Year's travel season, when a peak of 3,200, or 13%, of flights were canceled on Jan. 3 due to winter storms and workers out sick with COVID-19.
A trade group for the industry, Airlines for America, said cancellations weren't as bad as feared because telecom providers agreed to temporarily reduce the rollout of 5G near dozens of airports while industry and the government work out a longer-term solution.
At O'Hare International Airport in Chicago, Sudeep Bhabad said his father-in-law's flight to India was cancelled.
"They have to resolve this problem," Bhabad said. "It would have been a lot better if they had resolved it way before and we knew this in advance, instead of, like, finding out when we are here at the airport."
Similar mobile networks have been deployed in more than three dozen countries, but there are key differences in how the U.S. networks are designed that raised concern of potential problems for airlines.
The Verizon and AT&T networks use a segment of the radio spectrum that is close to the one used by radio altimeters, devices that measure the height of aircraft above the ground to help pilots land in low visibility. The telecoms and the U.S. Federal Communications Commission, which set a buffer between the frequencies used by 5G and altimeters, said the wireless service posed no risk to aviation.
But FAA officials saw a potential problem, and the telecom companies agreed to delay their rollout near more than 80 airports while the agency assesses which aircraft are safe to fly in proximity of 5G, and which will need new altimeters.
At the moment, close to 40% of the U.S. airline fleet lacks FAA approval to land in low-visibility near 5G signals. The FAA said it recently cleared five more models of altimeters, including three on Wednesday.
"I assume whatever process they are using could be used to clear the rest," said Randall Berry, a professor of electrical engineering at Northwestern University.
The Boeing 777 isn't the only aircraft using altimeters awaiting approval from the FAA, and not all 777s have altimeters that are incompatible with 5G, according to the FAA.
The FAA says there are several reasons why the 5G rollout has been more of a challenge for airlines in the U.S. than in other countries: American cellular towers use a more powerful signal strength than those elsewhere; the 5G network operates on a frequency closer to the one many altimeters use, and cell tower antennae point up at a higher angle.
Some experts say poor coordination and cooperation among federal agencies is as much to blame as any technical issues.
"The fights around this from federal agencies have just gotten more and more intense," said Harold Feld, an expert on telecom policy at the advocacy group Public Knowledge.
The European Union Aviation Safety Agency said it wasn't aware of any problems on the continent caused by 5G interference. To mitigate airline interference, French telecom providers reduce the strength of their high-speed networks near airports.
Boeing Co. said in a statement it would work with airlines, the FAA and others to ensure that all planes can fly safely as 5G is rolled out.
In the meantime, airlines scrambled to adjust to the new reality.
Emirates, which relies heavily on the 777, halted flights to several American cities on Wednesday, but maintained service to Los Angeles, New York and Washington.
"We are working closely with aircraft manufacturers and the relevant authorities to alleviate operational concerns, and we hope to resume our U.S. services as soon as possible," the state-owned airline said.
Tim Clark, president of Emirates, pulled no punches when discussing the issue. He told CNN it was "one of the most delinquent, utterly irresponsible" situations he'd ever seen as it involved a failure by government, science and industry.
Japan's All Nippon Airways canceled 20 flights to cities such as Chicago, Los Angeles and New York, while Japan Airlines said it will stop using the 777 in the continental U.S. for now. Eight of its flights were affected Wednesday.
Air India announced on Twitter it would cancel flights to Chicago, Newark, New York and San Francisco because of the 5G issue. But it also said it would try to use other aircraft on U.S. routes – a course several other airlines took.
Korean Air, Hong Kong's Cathay Pacific and Austrian Airlines said they substituted different planes for flights that were scheduled to use 777s. Germany's Lufthansa swapped out one kind of 747 for another on some U.S.-bound flights.
Choi Jong-yun, a spokeswoman of Asiana Airlines, said the company hasn't been affected so far because it uses Airbus planes for passenger flights to the U.S.
However, Choi said airlines have also been instructed by the FAA to avoid autopilot landings at affected U.S. airports during bad weather conditions, regardless of plane type. Asiana will redirect its planes to nearby airports during those conditions, she said.
FCC Chairwoman Jessica Rosenworcel said in a statement that the 5G "deployment can safely co-exist with aviation technologies in the United States, just as it does in other countries around the world." However, she urged the FAA to conduct its safety checks with "both care and speed."
Gambrell reported from Dubai. Associated Press video journalist Teresa Crawford in Chicago and AP writers Kim Tong-hyung in Seoul, South Korea, Yuri Kageyama in Tokyo, Ken Moritsugu in Beijing, David McHugh in Frankfurt, Germany, Frank Jordans in Berlin, Angela Charlton in Paris, Kelvin Chan in London and Isabel DeBre in Dubai contributed to this report.
US stocks rally as Fed minutes meet expectations – Al Jazeera English
Investors fear that overly aggressive interest rate hikes by the Fed could tip the economy into recession.
Wall Street closed higher Wednesday, boosted after minutes from the Federal Reserve's latest monetary policy meeting showed policymakers unanimously felt the United States economy was very strong as they grappled with reining in inflation without triggering a recession.
The minutes from the Federal Open Market Committee's May meeting, which culminated in a 50-basis-point rise in the Fed funds target rate – the biggest jump in 22 years – showed most of the committee's members judged that further such rate hikes would "likely be appropriate" at its upcoming June and July meetings.
"The uniformity of opinion is a good thing," said Ross Mayfield, investment strategy analyst at Baird in Louisville, Kentucky. "There's a lack of uncertainty of what needs to be done in the near term."
"By the time [the Fed] gets to September, they will have plenty of economic data to make their move from there, so they continue to maintain optionality," Mayfield added.
All three major US stock indexes gyrated earlier in the day amid increasing jitters stemming from business and consumer surveys, economic data and corporate earnings reports suggesting a cooling American economy – even as the Fed prepares to toss a bucket of cold water on it to tackle decades-high inflation.
Fears that overly aggressive interest rate hikes by the Fed could tip the economy into recession despite evidence that inflation peaked in March has driven those concerns.
"There's some credence to the idea that inflation is doing [the Fed's] job for them," Mayfield said. "There's already a cooling occurring, and financial conditions have tightened over the last month because of dollar strength and equity market weakness."
On Thursday, the Department of Commerce is due to release its second take on first-quarter GDP, which analysts are expected to show a slightly shallower contraction than the 1.4 percent quarterly annualised drop originally reported.
The Personal Consumption Expenditures report will follow on Friday, which will provide further clues regarding consumer spending and whether inflation peaked in March, as other indicators have suggested.
The Dow Jones Industrial Average rose 191.66 points, or 0.6 percent, to 32,120.28, the S&P 500 gained 37.25 points, or 0.95 percent, to 3,978.73 and the Nasdaq Composite added 170.29 points, or 1.51 percent, to 11,434.74.
Nine of the 11 major sectors in the S&P 500 rose, with consumer discretionary stocks leading the pack with a gain of 2.8 percent.
Amazon.com Inc and Tesla Inc provided the strongest lift to the S&P 500 and the Nasdaq, rising 2.6 percent and 4.9 percent, respectively.
Department store operator Nordstrom Inc surged 14.0 percent on the heels of its upbeat annual profit and revenue forecasts.
Fast-food chain Wendy's Co jumped 9.8 percent after a regulatory filing revealed that shareholder Nelson Peltz was considering a potential takeover bid for the company.
Shares of Nvidia Corp fell more than 8 percent in after-hours trading after the company's second-quarter revenue forecast missed expectations.
Gas Up Nearly 4 Cents; Price Freeze Lifts in Labrador – VOCM
Despite predictions to the contrary, the regulated price of gas is up in most parts of the province.
Gasoline is up by 3.9 cents a litre, except along the coast of Labrador. Diesel on the island is up by 1.3 cents while diesel in Labrador has dropped by 11.6 cents a litre. Furnace oil costs over a cent a litre more on the island while stove oil on the island up by the same amount. Stove oil in Labrador is down by 23.70 cents a litre.
Propane meanwhile is down by just under 2 cents.
The suspension of maximum price adjustments on the coast of Labrador lifts as of today as fuel deliveries resume for the season—that means significant increases, in some cases by about a dollar a litre, for some fuels.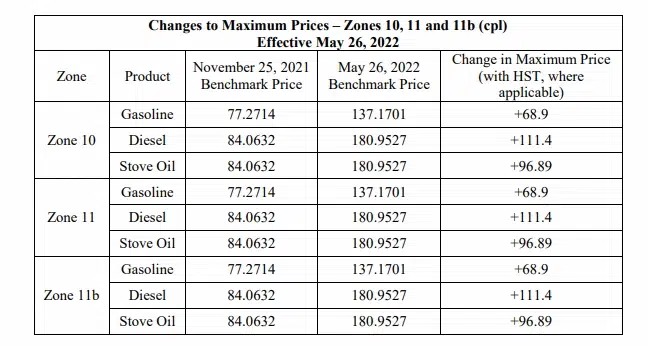 Cheese not on the table in Canada-U.K. trade talks as Britain seeks market access
OTTAWA — The British foreign secretary has often been mocked for her preoccupation with cheese. It started eight years ago when Liz Truss expressed outrage in a speech to her party's annual conference.
"We import two thirds of our cheese," she raged. "That is a disgrace."
Now Truss is facing another battle over cheese, this time with Canada.
Britain wants greater access to Canadian markets for more than 700 varieties of cheese including Stilton, Cheshire, and Wensleydale, a crumbly variety originating from Yorkshire.
But Ottawa has made it clear it does not want to see more British cheddar, let alone artisan varieties such as stinking bishop, renegade monk and Hereford hop, on Canadian fridge shelves.
During the first round of negotiations of the U.K.-Canada trade deal, Canada told Britain that a larger quota for British cheese is not on the negotiating table.
When it was a European Union member, Britain was part of the Comprehensive Economic and Trade Agreement with Canada, giving it some access to Canada's cheese market.
After the U.K. left the EU, a "continuity agreement" with Canada was swiftly put in place to maintain the CETA arrangement until a bilateral trade deal could be struck.
Ralph Goodale, Canada's high commissioner to the U.K., said if Britain wants more access to Canadian markets for its cheese as part of a bilateral free-trade agreement, it will have to knock on Brussels' door and get its part of the dairy quota back.
"The point is we have already provided that volume in the EU deal and the British left it there without taking it with them," he said in an interview. "That's an issue they need to resolve with the Europeans because the Europeans have their quota."
Goodale said the U.K.'s request for extra access for British cheese — on top of the access given to the EU — is "what the Canadian negotiators consider to be pretty much a dead end."
"You are talking about a double concession — one we have already made to the EU and the request is being made by the U.K. for yet another one on top of that," he said.
The high commissioner said Canada values its trading relationship with the U.K., adding that he is confident that a mutually-beneficial trade deal will be reached.
But if Canada allows the British to export more of their cheese it would involve "a major commitment of compensation to dairy producers" in Canada to make up for lost incomes.
In 2018, after the United States-Mexico-Canada Agreement gave the U.S. fresh access to the Canadian dairy market, Prime Minister Justin Trudeau said he would compensate Canadian dairy farmers.
Canada's dairy industry was worth over $7 billion in 2020, according to the Canadian Dairy Commission's annual report.
There are over 10,000 dairy farms in Canada — most of them in Quebec and Ontario — with an average of 92 cows per farm, it said.
Until at least the end of next year, Britain will be able to keep exporting its cheese to Canada under the trade continuity agreement, the U.K.'s trade department said.
This allows U.K. cheese exporters to access the Canadian market tariff-free under the EU portion of Canada's World Trade Organization cheese tariff rate quota.
As part of the 1995 WTO agreement on agriculture, Canada established tariff rate quotas for cheese and other dairy products. The quotas set out quantities of dairy that could enter Canada with little or no duty.
For Britain, a fully fledged free trade deal with Canada is crucial after Brexit left it looking for fresh tariff-free markets.
"We want to negotiate an ambitious and comprehensive new agreement with Canada that will strengthen our close and historic bilateral trade relationship," said a U.K. government trade spokesman in a statement, adding the relationship was worth about $34.5 billion in 2021.
In March, U.K. Trade Secretary Anne-Marie Trevelyan flew to Canada to announce with Canada's Trade Minister Mary Ng that bilateral negotiations had officially begun.
In a speech in the House of Lords in London earlier this month, Goodale reported on progress in the talks, saying that "both sides are optimistic that, as good as CETA and the continuity agreement were, we can do better still when Canada and the U.K. negotiate a deal face-to-face, directly with each other."
Like Goodale, Ng said Canada is confident a free-trade deal with Britain will be reached, enhancing co-operation in a number of areas, including on renewables, sustainability and the digital economy.
"Canada values the relationship with the United Kingdom. They are … an important trading partner and a trade agreement with the U.K. will be very good for Canadian businesses," she said in a phone interview from Thailand last weekend.
But she was also firm about the need to protect Canada's dairy producers, and that means keeping more British cheese out.
"I have been very clear, our government has been very clear, that we will not provide access to our supply-managed sector," she said. "We have been clear about that from the get-go."
The Canadian dairy sector now produces 1,450 varieties of cheese, including ewe, goat and buffalo varieties, as well as the cheese curds used in the Québécois dish poutine.
At least half of Canada's cheese is made in Quebec, which is home to a number of artisan varieties including bleu l'ermite, or blue hermit, and Oka, a popular semi-soft rind cheese.
Pierre Lampron, president of the Dairy Farmers of Canada, has made it clear he will fiercely protect Canadian cheese from British interlopers.
Lampron said he had "validated that the issue of access to the Canadian dairy market was not on the agenda of these trade talks."
Canada's protectionist stance toward its dairy industry may have pleased farmers. But it has caused some tension with close allies.
Earlier this month, New Zealand launched a formal trade dispute against Canada, accusing the federal government of breaking promises to give access for dairy imports under the Trans-Pacific Partnership agreement.
The Biden administration also recently said it was asking for a second dispute settlement panel under the U.S.-Mexico-Canada Agreement to review a trade dispute with Canada over dairy import quotas.
This report by The Canadian Press was first published May 26, 2022.
Marie Woolf, The Canadian Press