AirPods Max Smart Case makes little difference to battery life, says Apple – 9to5Mac
The AirPods Max Smart Case has almost received more attention than the headphones themselves. While Apple says that the design is with good reason, reviewers have almost universally hated it – made worse by the fact that it appeared necessary to fully switch off the headphones.
But an updated Apple support document reveals that, in fact, using the case makes very little difference to battery life …
The bottom-line is that the headphones have three power modes:
In use
Low power
Ultra-low power
Whether or not you put them into the case, they go into low power mode pretty much as soon as you stop using them. Also whether or not you use the case, they only drop into ultra-low power mode a very long time later.
If you set your AirPods Max down and leave them stationary for 5 minutes, they go into a low power mode to preserve battery charge. After 72 stationary hours out of the Smart Case, your AirPods Max go into a lower power mode that turns off Bluetooth and Find My to preserve battery charge further.

If you put your AirPods Max in the Smart Case when you're not using them, they go into a low power mode immediately to preserve battery charge. After 18 hours in the Smart Case, your AirPods Max go into an ultralow power mode that turns off Bluetooth and Find My and maximizes battery life.
Or, in more digestible form:
| | | |
| --- | --- | --- |
| | In Smart Case | Not in Smart Case |
| Low power | Immediate | 5 minutes |
| Ultra-low power | 18 hours | 72 hours |
So the only time using the case will make any significant difference is when you are putting them aside for more than 18 hours – for example, overnight. Even then, we still don't know the difference in current draw between 'low' and 'ultra-low' modes.
A bigger unanswered question is what happens when you have the headphones slung around your neck or carried in a bag. The 'stationary' clause wouldn't apply, so how much power do they use then?
Apple tends to prefer to avoid getting into full technical specifications with its products. For example, it states how many hours use you can expect from its products rather than revealing the battery capacity in milliamp hours. Mostly that makes sense for Apple's primary target of non-tech users, but it can be frustrating for techies when you're trying to fill in the blanks.
Apple could end a lot of discussion by simply revealing the typical power draw in each situation:
In use at say 70% volume
When being carried around but not in use
In low power mode
In ultra-low power mode
Independent testing is likely to reveal the answers in time, but it appears we can at least say there's no need to routinely carry the case around with you: the only time it makes a difference is overnight. So use them at home, and in your hotel room when away, but not during the day.
FTC: We use income earning auto affiliate links. More.
Check out 9to5Mac on YouTube for more Apple news:
[embedded content]
The Best Samsung Galaxy S21 Pre-Order Deals Could Save You Hundreds – Forbes
Unlike some other recent product launches—like the chronically sold out PlayStation 5 and Xbox Series X—it looks like you'll actually be able to buy a Samsung Galaxy S21 when it starts to ship on January 29. Samsung's flagship phone debuted on Thursday, January 13 and you can preorder one right now. Let's get you a quick refresher before going over the best carriers and retail stores to buy the Samsung Galaxy S21, including loads of lucrative deals for trade-ins, in-store credit for switching wireless providers and freebies.
The Galaxy S21 family is comprised of three models: the base Galaxy S21 along with the Galaxy S21+ and top-of-the-line Galaxy S21 Ultra. They all feature fast Qualcomm Snapdragon 888 processors and 120Hz Dynamic AMOLED displays, though your pocket will notice the difference between the models. The S21 has a 6.2-inch display, while the Plus steps up to 6.7 inches and the Ultra has a pocket-popping 6.8 inch screen. There are other significant differences among the models, like camera configuration and the presence of ultrawideband (UWB) wireless tech in the more premium phones.
Thinking about upgrading? Because the Galaxy S21 is the hot phone of the season, virtually every carrier and retailer is offering it for presale. But all offers aren't the same, so we rounded up the best deals you can get right now and you will find them below.
One note about these deals: There are a lot of variables when choosing a phone, including memory, cellular carrier, and whether you're trading in your existing phone. Remember that trade-in values are generally described as "up to" because the discount depends on the specific model you are trading in and its aesthetic and functional condition. And to keep this simple, all the prices below assume the base memory for each model (128GB) and monthly payments assume a 24-month payment period. Keep in mind that the final price may differ if you opt for more memory or a different payment schedule.
Samsung
If you buy directly from Samsung, you can get up to $700 in trade-ins, a $100 credit to spend on accessories and a Galaxy SmartTag.
---
Best Buy
Best Buy is offering trade-ins of up to $800 when you sign up for a qualified activation with one of the retailer's cellular partners (Verizon, AT&T or T-Mobile). In addition, you get a $200 Samsung credit and a free Galaxy SmartTag.
---
AT&T
Get up to $800 off by trading in an existing phone at AT&T and choosing an unlimited plan.
---
T-Mobile
T-Mobile has two major deals in play right now. First, you can save up to $800 when you trade in your phone and pay the balance over 24 months. T-Mobile is also offering a buy-one-get-one-free deal: Activate two lines and buy two new Galaxy S21s (or a handful of other qualifying models) and get a credit for up to $800 spread over 24 monthly payments.
---
Verizon
You can save the most money at Verizon if you're switching from another carrier—you'll get a $250 Verizon credit and Verizon Stream TV when you switch. That's on top of the option to trade in an existing phone and get an unlimited plan to save up to $750. In addition to that $1000, Verizon is also including a $100 Samsung credit and free Galaxy SmartTag. Verizon has its usual array of other deals in play as well. In particular, the buy-one-get-one-free offer can grant you up to $1000 off a second phone.
---
Amazon
Amazon's trade-ins are not remarkable. Compared to $750 and $800 discounts offered elsewhere, Amazon trade-ins top out around $311 for the Galaxy S20 FE or $455 for the iPhone 11 Pro. That said, Amazon's phones are unlocked and carrier-free, so you can sign up for any plan anywhere, which can save you a lot of money in the long term.
---
Walmart
When you purchase your phone on Walmart's 24-month installment plan, you get a discount of up to $200 (that's $100, $150 or $200 off, depending on which phone you choose). Likewise, you get up to a $200 Samsung credit (again, $100, $150 or $200 depending upon model) and a Samsung SmartTag.
Report: New MacBook Pro models will arrive this year with MagSafe, M1 successor [Updated] – Ars Technica
According to a report in Bloomberg, Apple plans to launch new versions of its MacBook Pro laptops "around the middle of the year," and these machines will feature speed and display enhancements, as well as a return of the MagSafe charging design seen in MacBook computers several generations ago.
Citing "a person with knowledge of the plans," the Bloomberg story claims that Apple's 13-inch MacBook Pro will get a 14-inch successor, just as the 15-inch MacBook Pro became a 16-inch model when the screen bezel was reduced to allow more screen real estate in a similarly sized chassis.
Both the 14-inch and 16-inch MacBook Pro are slated for the middle of the year and will incorporate Apple's custom silicon. The company first introduced its own silicon with the M1 chip included in November refreshes of the low-end 13-inch MacBook Pro, MacBook Air, and Mac mini. The new machines described today would have a successor to Apple's M1 chip with more CPU cores and "enhanced graphics."
While the overall design of the laptops is not expected to be significantly different from current models (beyond the screen size in the smaller MacBook Pro), there is one major design change that may please fans of Macs prior to the Touch Bar and USB-C redesign introduced a few years ago: the return of the MagSafe charger.
Mac laptops once had charging cables that slotted easily into their ports, thanks to magnets, and were intended to gracefully disconnect without tugging on the laptop if someone pulled the cord or tripped on it. Over the past few years, the company purged this feature from its lineup, but it introduced a related tech using the same name in its iPhone 12 lineup last year.
According to the report, the MagSafe connector in the new MacBook Pro models will have a similar shape to that of MagSafe connectors in Macs of old. It will also allow the laptops to charge faster than before. The report does note that the computers will still have multiple USB-C ports as well, though.
The new MacBook Pros are also said to have brighter displays with better contrast. This report doesn't explain how Apple will achieve this exactly, but recent supply-chain rumors and analysts have been predicting that Apple will incorporate Mini LED displays in its upcoming machines, which would likely produce that result.
Bloomberg's source also says that Apple has been testing versions of the laptops without the Touch Bar, which was introduced to the lineup a few years back. The Touch Bar is a strip-shaped touch screen at the top of the keyboard that replaces the function keys with either virtual versions of those keys or other, app-specific functions.
While many apps support the Touch Bar, some power users have complained that the Touch Bar is not always as convenient as physical keys.
Finally, the report ends with a footnote that Apple plans to also update the MacBook Air with a new design but that it won't arrive as soon as the MacBook Pro updates. It doesn't outline any details about the MacBook Air redesign.
Update: Bloomberg ran an additional report today claiming that both iMac sizes are also due for a major update. They would include Apple Silicon chips, reduced bezels, and an elimination of the metal chin below the display. They would also sport flat chassis, in contrast to the curved design of the current iMac. The report also repeats prior claims that the Mac Pro will see a smaller, Apple Silicon successor that will live alongside the Intel model in Apple's lineup, and vaguely alludes to a cheaper, consumer-oriented alternative to Apple's expensive ProDisplay XDR monitor.
'Touch Bar' Trending on Twitter Following Rumors It'll Be Removed on 2021 MacBook Pro – MacRumors
First introduced in 2016, the controversial Touch Bar may be on its way out this year, with reputable Apple sources Ming-Chi Kuo and Mark Gurman indicating that Apple plans to remove the feature on new 14-inch and 16-inch MacBook Pro models in 2021.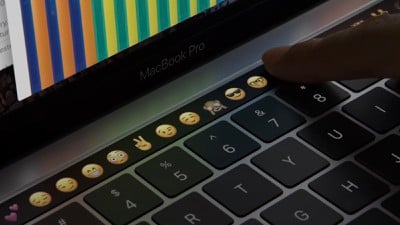 In a research note with TF International Securities, obtained by MacRumors, Kuo said that the Touch Bar will be replaced with a row of physical function keys, in line with previous-generation MacBook Pro models and the current MacBook Air. Gurman weighed in on the matter in a report with Bloomberg, claiming that Apple has tested new MacBook Pro models without a Touch Bar, and he was more decisive in a follow-up tweet.
Following these reports, "Touch Bar" is now trending on Twitter, with many users reacting enthusiastically about its potential removal and others expressing hope that the Touch Bar will remain on at least some MacBook Pro models.
MacBook Pros abandoning the touch bar and going back to mag safe charging!? The smallest but sweetest of victories in these days when it's hard to get a win!
— Erik Hinton (@erikhinton) January 15, 2021
I really, really hated the Touch Bar. Sorry for the harsh words, Tim Apple. Please do not take away my iCloud storage.
— Washington Post TikTok Guy At Sea 🏴‍☠️ (@davejorgenson) January 15, 2021
The Touch Bar is one of the best features ever brought to MacBooks and should be available on Magic Keyboards. Touch Bar haters are cowards and deserve to go the way of the headphone jack.
— Joby Baxter Nelson (@jb_nelson_) January 15, 2021
Apple described the Touch Bar as "revolutionary" and "groundbreaking" when it was first introduced on the 2016 MacBook Pro. The touchscreen strip is positioned above the keyboard, providing users with customizable controls, ranging from traditional function keys to app-specific shortcuts and features. A popular example is the Touch Bar displaying a row of emoji when composing a message in the Messages app.
"The Touch Bar places controls right at the user's fingertips and adapts when using the system or apps like Mail, Finder, Calendar, Numbers, GarageBand, Final Cut Pro X and many more, including third-party apps," Apple said in 2016. "For example, the Touch Bar can show Tabs and Favorites in Safari, enable easy access to emoji in Messages, provide a simple way to edit images or scrub through videos in Photos and so much more."
Apple already made a slight concession by introducing a physical Esc key on the latest 13-inch and 16-inch MacBook Pro models after users complained about the virtual Esc key in the Touch Bar on previous models.
Kuo expects the new 14-inch and 16-inch MacBook Pro models to launch in the third quarter of 2021, which begins in late June.