Alberta committee to review auto insurance, with eye to balancing costs and coverage – CBC.ca
The Alberta government has launched a review of auto insurance in the province, saying it wants to ensure the industry can remain viable and that drivers can get affordable coverage.
Albertans pay some of the highest rates in Canada but have trouble getting critical protection, such as coverage for comprehensive or collision, Finance Minister Travis Toews said Wednesday.
But a five-per-cent annual cap on rate increases, introduced by the former NDP government and since abandoned by the United Conservative Party, is not coming back, he said.
"The rate cap simply put a Band-Aid on a wound that was festering," Toews said at the legislature Wednesday. "In the intermediate and long term it was no solution, and even in the short term it made a bad situation worse."
Auto insurance rates in Alberta have been rising sharply over the last five years. The trend prompted the NDP government to cap overall rate increases at five per cent annually for each insurer, starting in 2017.
The UCP government did not renew the cap in August, and some drivers have since reported getting notices of steep increases of 12 per cent or more.
Insurers have said that under the cap they were losing money in Alberta, given more payouts for car theft, injury claims, repairs and catastrophes such as the 2016 Fort McMurray wildfire.
Toews said the cap forced insurers to seek savings at the expense of drivers by, in some cases, refusing to offer critical protections.
In other cases, some clients were still hit with steep increases as long as the overall hike by the insurer to all Alberta clients remained at five per cent.
"Under the cap, we had insurers getting squeezed … so Albertans were finding themselves with fewer and fewer insurance options," said Toews.
"We ultimately need to deal with the challenges that are leading to increased premiums … and present a reformed insurance system in this province that can serve Albertans well."
A three-member committee has been asked to find solutions that work for all parties within the existing privately delivered system, Toews said.
In an interview with CBC News, Premier Jason Kenney said the government will use the "next six months to address out-of-control increases on personal injury awards." Those payouts contribute to driving up costs, which are then paid by customers through their premiums, he said.
Asked about a cap, Kenney said former premier Ralph Klein put one in place in 2004.
"We're going to look at how to have a more effective control," Kenney said. "Something like a no-fault insurance system, which maintains a reasonable control on the awards."
In 2004, the Klein government put a $4,000 cap on soft-tissue injuries. In the four years that followed, auto insurance premiums dropped by about 18 per cent.
Back then, Alberta's auto insurance system was the envy of all the systems in Canada, said Celyeste Power, western vice-president of the Insurance Bureau of Canada.
Court challenges in 2012 and 2015 found some "vulnerabilities" in the definition of minor injury, she said.
"What we've seen from that is a huge increase in legal representation and lawsuits around that to kind of push things outside of the cap," Power said. "Fifty-three per cent of the costs that have increased over the past five years have been associated with that."
As a result, there are injuries considered minor in other jurisdictions that are not in Alberta. A common example of that is TMJ (temporomandibular joint) disorders, which affect the jaw muscle, she said.
'We need to get this system fixed'
While fixing the definition of minor injury is important, Power said, there also needs to be adequate care in place to treat people who are injured in automobile collisions.
"Even if the minor injury cap is meant to capture more of these injuries, if it is a serious injury … if you have chronic pain for six months plus, and that's considered serious, then of course you would be able to get the care and support you need," Power said.
Clarifying the definition would likely offer stability to premium rates, she said.
"We need to get this system fixed for the three million drivers who count on it," Power said. Drivers are "sick of increases in their auto insurance" and want more control over what they're paying for and what they're buying.
The committee will consult with consumers, industry stakeholders, medical experts and the legal profession.
The committee includes chair Chris Daniel, who is in his second term as the consumer representative on the Automobile Insurance Rate Board; Shelley Miller, a lawyer with expertise in auto insurance reform; and Dr. Larry Ohlhauser, who has served as medical adviser to the superintendent of insurance for the past 12 years.
The committee will report back to government in the spring 2020 legislative session.
NDP's Service Alberta critic weighs in
Jon Carson, the NDP's Service Alberta critic, wants to see what comes of the panel but said he is worried that Albertans will continue to pay more for auto insurance in the meantime.
"The fact is, we're already several months past when this government said they were going to take action, and nothing has been done up to this point," Carson said.
"So, we're very concerned that now we have to wait several more months before any decision comes forward, whether it's actually protecting Albertans in their pocketbooks or not."
Carson said he disagreed with the finance minister's assessment that the five-per-cent rate increase cap introduced by the previous NDP government "made a bad situation worse."
"What we would have liked to see is that cap to stay in place, and then we can move forward with this committee discussion," Carson said. "But to preemptively get rid of that cap and then say we're going to come up with a solution. They've made a committee now to cover up the fact that they are the ones who've affected consumers so negatively at this point."
With files from Canadian Press
Proposed Sugary Drink Tax "Regressive," says Opposition Finance Critic – VOCM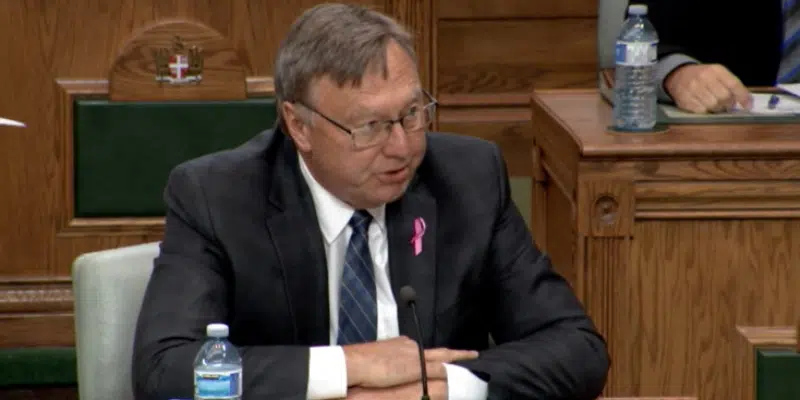 The provincial government's tax on sugary drinks comes into effect next September, and the minister responsible is pointing to data suggesting that the tax will work in changing people's habits.
Siobhan Coady points to a study that was done by a British medical journal called The BMJ. She says the study, which focuses on a similar tax in the UK, found that overall sales of soft drinks did not change, nor did share prices and domestic turnover. But what did change was the sugar purchased in those drinks, which Coady says decreased by almost 10 per cent.
PC MHA Tony Wakeham asserts that such taxes do nothing to affect health outcomes, and counters that the study Cody references is completely different from what's being proposed in this province.
In the UK, he says they were taxing producers to lower the amount of sugar in their products, and not taxing those using the product.
Wakeham says the proposed tax is negative and regressive. He says if Premier Andrew Furey is looking to modify behaviours to create healthy lifestyle changes, it should be based on positive things, not a negative tax.
Sleep Country Canada buys controlling stake in Hush Blankets – CBC.ca
Sleep Country Canada Holdings Inc. has signed a deal to buy Hush Blankets, a direct-to-consumer seller of weighted blankets, pillows, sheets and bed-in-a-box mattresses.
Under the deal, Sleep Country will acquire a 52 per cent stake in Hush for $25 million.
The company has also agreed to buy the other 48 per cent in annual 16 percentage point stake increments starting March 31, 2023, at a price based on the business's financial performance.
Hush was founded in 2017 by Lior Ohayon and Aaron Spivak and launched a weighted blanket in Canada in 2018.
Sleep Country says Hush will continue to operate as an independent business led by Ohayon and Spivak and a board including senior management from Sleep Country and Hush.
These countries are vaccinating children against COVID-19 – CTV News
Pfizer Inc and BioNTech SE have asked U.S. regulators to authorize their COVID-19 vaccine for emergency use in children aged 5-11, with an expert panel to the Food and Drug Administration scheduled to meet later this month to review data.
But with many parts of the world still awaiting doses for more vulnerable people, the World Health Organization has urged countries and companies that control the global supply of the vaccines to prioritize supply to COVAX.
The following is a list of some countries that have approved or are considering vaccinating children:
EU COUNTRIES
In June, Denmark said it would offer COVID-19 shots to children aged 12-15 to boost its overall immunity against the virus.
France has started vaccinating those from 12 years upwards, provided they have parental consent.
Germany in August agreed to make vaccination available to all children aged 12-17.
Austria has started vaccinating children aged 12-15.
Estonia could start vaccinating teenagers by the autumn, public broadcaster ERR reported, citing the head of the government's COVID-19 council.
Hungary started vaccinating 16 to 18-year-olds in mid-May, according to Xinhua news agency.
Italy on May 31 approved extending the use of Pfizer's vaccine to 12-15 year olds.
Lithuania's prime minister said the country could start vaccinating children from age 12 in June, news site Delfi reported.
Spain begun vaccinating children between 12 and 17 years old around two weeks before the academic year in September, the health minister said.
Swedish PM says children aged 12-15 will be offered COVID vaccine later this autumn.
Greece in July said children aged 12-15 could be vaccinated against COVID-19 with Pfizer/BioNTech and Moderna shots.
Finland's capital Helsinki in June said it will begin giving COVID-19 vaccines to children aged 12 to 15 who are at risk of contracting a severe coronavirus infection.
EUROPE (NON-EU)
Britain's top medical advisers in September recommended that 12 to 15-year-olds receive a first dose of a COVID-19 vaccine.
Switzerland approved on June 4 vaccinating 12 to 15-year-olds with Pfizer's shot, while Moderna's shot was approved in August for the age group.
In September, Norway started to offer one dose of Pfizer and BioNTech COVID-19 vaccine to children aged 12 to 15
San Marino has opened vaccinations for children aged 12-15, reported San Marino RTV, citing its Institute for Social Security.
MIDDLE EAST
In August, Israel on Sunday began offering a COVID-19 booster to children as young as 12.
The United Arab Emirates said in August rolled out China's Sinopharm COVID-19 vaccine to children aged 3-17.
ASIA-PACIFIC
Indonesia on June 28 recommended China's Sinovac vaccine for children aged 12-17.
An advisory committee to the Indian regulator recommended emergency use of Bharat Biotech's COVID-19 shot in the 2 to 18 age-group. The regulator's nod is awaited.
New Zealand's medicines regulator has provisionally approved use of Pfizer's vaccine for 12-15 year olds, Prime Minister Jacinda Ardern said on June 21.
Australia said on Sept. 12 it will expand its COVID-19 vaccination drive to include around one million children aged 12-15.
China on June 5 approved emergency use of Sinovac's vaccine for those between three and 17.
Hong Kong said on June 3 it would open its vaccine scheme to children over the age of 12.
Singapore opened up its vaccination program to adolescents aged 12-18 from June 1.
Japan on May 28 approved the use of Pfizer's vaccine for those aged 12 and above.
The Philippines on May 26 decided to allow the Pfizer-BioNTech's vaccine for emergency use in children aged 12-15.
Jordan in July begun vaccinating children aged 12 years and older against COVID-19.
AMERICAS
The COVID-19 vaccine by Pfizer-BioNTech will be the only one used in Mexico for at-risk children aged 12-17.
Brazil on June 11 approved use of Pfizer's vaccine for children over 12.
Chile has approved use of Pfizer's vaccine for 12 to 16-year-olds.
Pfizer and BioNTech have asked U.S. regulators to authorize emergency use of their COVID-19 vaccine for children ages 5 to 11. An advisory committee to the FDA will meet later this month to review the data.
Canada in early May approved use of Pfizer's vaccine for use in children aged 12-15. The country has fully vaccinated more that 80% of its eligible population ages 12 and over.
Cuba's vaccination campaign includes children as young as two.
AFRICA
South Africa will start vaccinating children between the ages of 12 and 17 next week using the Pfizer vaccine