Alberta, Quebec, and the politics of equalization – Policy Options
On Oct. 18, 2021, Alberta is holding two referendums along with municipal and Senate elections. One focuses on the federal equalization program. Albertans will be asked: "Should Section 36(2) of the Constitution Act, 1982 – Parliament and the Government of Canada's commitment to the principle of making equalization payments ­– be removed from the Constitution?" Created in 1957, the federal equalization program transfers a total of almost $21 billion to five provinces whose fiscal capacity (calculated as the revenue that each province could generate at a given and hypothetical rate of taxation) falls below the national average. Currently, these provinces are Manitoba, Quebec, New Brunswick, Nova Scotia and Prince Edward Island.
This has been an issue of longstanding resentment in some nonrecipient provinces, but it's one that could be ameliorated in part by reforming the governance structure of the equalization program to depoliticize it. Removing decisions about equalization from executive discretion – in other words, away from the internal workings of the governing party in Ottawa – may diminish the potential for political conflict inherent to the program.
The federal government's commitment to making equalization payments has been enshrined in the Constitution since 1982, and the program has been controversial since its inception. This is particularly evident in Alberta, a nonrecipient province since the early 1960s because of its oil wealth. Following the dramatic drop in oil prices in 2014 and the subsequent deterioration of the province's economic and fiscal situation, along with the victories of Justin Trudeau's Liberals in 2015, 2019 and 2021 ─ the formation of a United Conservative Party (UCP) government led by Jason Kenney in 2019 has once again made equalization a major political target in Alberta.
The argument against equalization is that it serves to redistribute Alberta's riches ─ even at a time when the province's economy is reeling ─ to other provinces, some of which oppose the further development of pipelines (which the Alberta government deems crucial to the economic development of the province).
Figure 1 below shows that, while more than 80 per cent of Canadians support the equalization program, the recent politicization of the program in Alberta (and in Saskatchewan) has been associated with a decline of support for equalization in the last decade or so. Outside of these two provinces, opposition and support for equalization has remained quite stable since 2001, even in nonrecipient provinces such as Ontario and British Columbia.
In this context, the Alberta referendum is being presented as a political weapon against the federal government, but also against Quebec. The UCP argues that Quebec benefits most from equalization and Alberta taxpayers' money while standing in the way of pipeline projects deemed crucial to Alberta. Quebec is also seen as a model of provincial autonomy that Alberta should emulate, but is nevertheless a prime political target for Kenney's attacks on equalization. This situation can be easily explained when one looks at recent public opinion data in Canada.
In a newly published French-language paper published by the Centre of Excellence on the Canadian Federation at the Institute for Research on Public Policy, we show that opposition to the equalization program is mostly driven by resentment of Quebec. Moreover, the federal government and the Liberal Party of Canada are perceived as political entities that serve Quebec's (and Ontario's) interests and do not understand the concerns of the western provinces. It is this combination of resentment toward Quebec and alienation from the Trudeau government's policies that seems to explain opposition to equalization in Alberta and Saskatchewan, while the program remains very popular elsewhere in the country.
In contrast with common wisdom, we show that western alienation, which we measure as perceptions of economic exploitation and unfair representation, does not alone decrease support for equalization. Only when it is combined with the perception that Quebec is favoured in the federation does western alienation lower support for equalization, revealing what is known as place-based resentment.
To create place-based resentment, a sense of identity must be tied to a place, and resentment must be directed at political elites perceived to cater to the needs of another territorially based community whose members have a different sense of identity. If residents of Alberta or Saskatchewan feel that the federal government treats their province unfairly and perceive that the federal government favours another province with a distinct identity (such as Quebec), place-based resentment occurs.
Our study also shows that personal identification matters a great deal for explaining preferences for equalization. We show that when people predominantly identify with Canada, that fosters a sense of solidarity with the whole country and increases support for equalization redistributing resources to the poorer provinces. In contrast, people identifying predominantly with a province are less likely to support redistribution toward another province, as their community of solidarity coincides primarily with their province.
As such, political conflicts around equalization are less about the economic positions of recipient and nonrecipient provinces than about people's sense of identity and perceptions of Quebec. In other nonrecipient provinces, such as Ontario and B.C., resentment of Quebec and one's sense of identity also influence support for equalization.
The Alberta referendum on equalization will not lead to the elimination of the program, in part because Alberta has no direct power over the program and in part because support for equalization remains strong across the country. Equalization in Alberta is a symbol of the most recent wave of regional alienation over oil pipelines, together with the idea that the province is treated unfairly within the Canadian federation.
As well, by focusing on this symbol, Kenney is seeking to deflect attention from his policy decisions, now unpopular among many supporters of his own political party, and to blame the federal government and other provinces ─ particularly Quebec ─ for Alberta's economic woes and difficulties in dealing with the pandemic. In fact, more than 80 per cent of Albertans are dissatisfied with his management of the pandemic, and his party is trailing the NDP by at least 13 percentage points in vote intentions.
It is more profitable for politicians like Kenney to maintain the perception that Alberta's current economic and fiscal problems are caused by the federal government and/or Quebec than it is to convince Albertans to enact the reforms necessary to fix them. Quebec finances its low university tuition fees, subsidizes its child care program and offers drug coverage primarily through higher provincial taxes, including a 9.975 per cent sales tax. Alberta could put its fiscal house in order by ceasing to be the only jurisdiction in Canada that does not impose a provincial sales tax. In a federal system, it is always tempting for some politicians to blame other jurisdictions for their province's ills.
Reform of the governance structure of the program may be warranted to reduce the politicization of equalization. In Canada, the governance of equalization rests on the principle of executive discretion, meaning that all decisions related to the program are taken by the federal executive.
Because elected politicians are responsible for the management of the program, there are potential perceptions that politics may guide decision-making on equalization. Provincial leaders know they can extract concessions from the federal government by encouraging resentment about the program. By contrast, arm's-length management of equalization through an independent commission (such as one like Australia's Commonwealth Grants Commission) would reduce the potential for place-based resentment, because to some extent it would depoliticize the decision-making process.
The more serious place-based resentment of equalization in Canada, when it is compared to the experience in Australia, owes much to the countries' different governance structures. Revising the equalization formula to adapt it to changing economic and fiscal circumstances is essential, but changing the governance process through which this is done should also be on the agenda in Canada.
Do you have something to say about the article you just read? Be part of the Policy Options discussion, and send in your own submission, or a letter to the editor.
How green politics are changing Europe – BBC News
An ocean of conservative blue blankets the electoral map in Germany's southern state of Bavaria.
And yet the conservative vote actually fell across Germany in last month's federal vote, while the Greens achieved their biggest success yet,.
In an election dominated by climate change, a speck of green has made a ripple in Bavaria. For the first time a Greens candidate was directly elected to represent Bavaria in the federal parliament.
It is symbolic of the creeping rise in support for European green parties, from Hungary to Finland.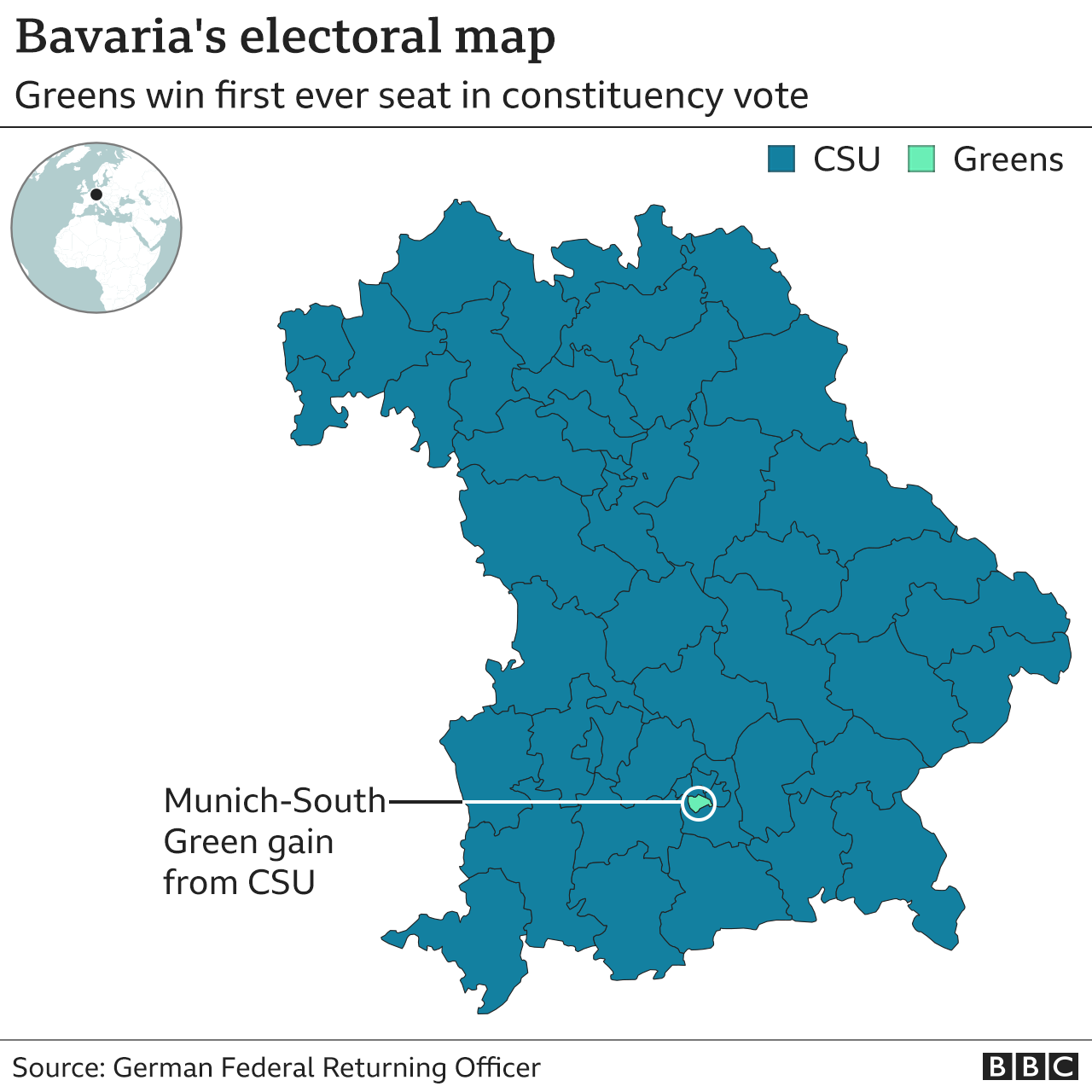 The new MP, Jamila Schäfer, beamed with satisfaction when she recalled her surprise victory in Munich-South, by a wafer-thin margin of 0.8%. Only once before had the CSU lost the constituency since 1976.
"This is a major sign of change," Ms Schäfer told the BBC.
A campaign 'close to the people'
The Greens won 14.8% of the vote nationwide, appealing beyond their eco-protest roots with Annalena Baerbock standing as candidate for chancellor. Now they are in talks to share power as part of a three-way coalition.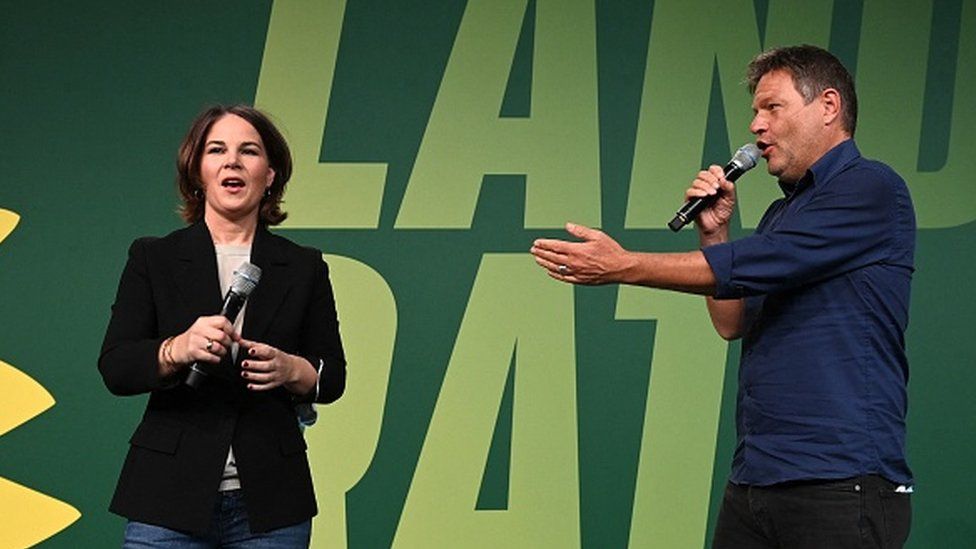 Ms Schäfer, 28, is the Greens' deputy federal chairwoman and typifies a party that has undergone a national makeover after years of power-sharing in several German states (Länder).
She rose through the ranks of Green Youth, taking part in school strikes against education reforms, long before Swedish activist Greta Thunberg made her name by skipping classes for climate protests.
Climate change was consistently ranked as the most serious facing Germany in opinion polls ahead of the election.
Even so, Ms Schäfer targeted her "close-to-the-people" campaign in Munich-South on housing, pensions and taxes.
Green shoots of success
Once ridiculed by many as idealistic hippies, Green parties increased their vote share in 13 European countries at the most recent national elections. In six of those countries – Austria, Belgium, Finland, Ireland, Luxembourg and Sweden – green parties have a share of power in coalition governments.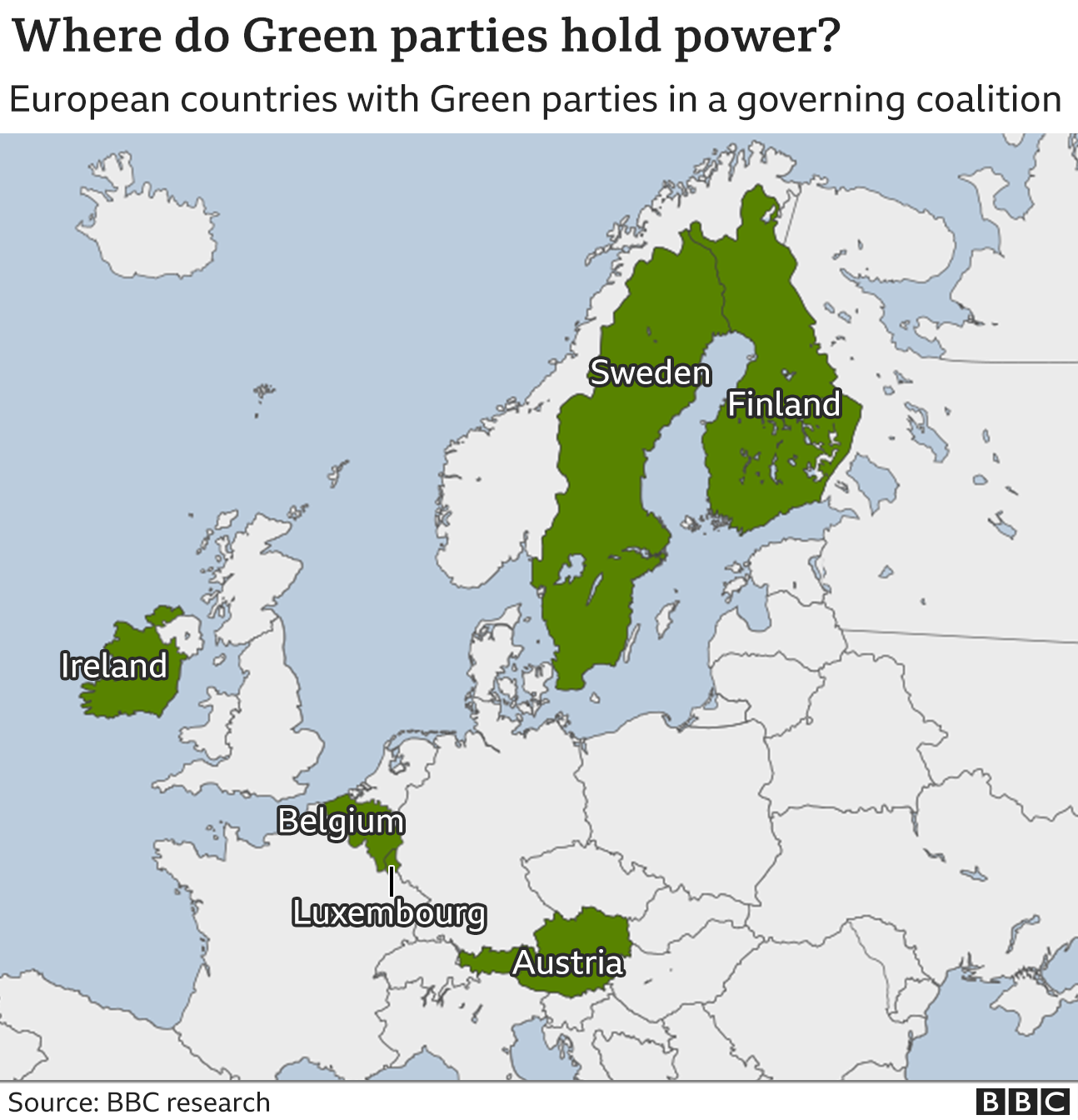 In all those cases, the Greens are pressing their partners to adopt more ambitious targets for lowering carbon emissions. Elsewhere, the green mayors of Amsterdam and Budapest are aiming for carbon neutrality by 2050 and 2030 respectively – to balance the greenhouse gases emitted and absorbed by their cities.
Despite last month's election success for the German Greens, even co-leader Ms Baerbock admitted they had failed to live up to early opinion poll ratings: "We wanted more. We didn't achieve that."
Given the urgency of curbing emissions, what's holding the Greens back?
Trust and fear of change
One explanation is that mainstream parties across Europe have elevated climate change to the top of their agendas.
"If you're concerned about the climate, it doesn't follow that you're going to vote green," Adam Fagan, a political scientist at King's College, London, said. "It means you're going to scrutinise the manifestos of the main parties for their green credentials."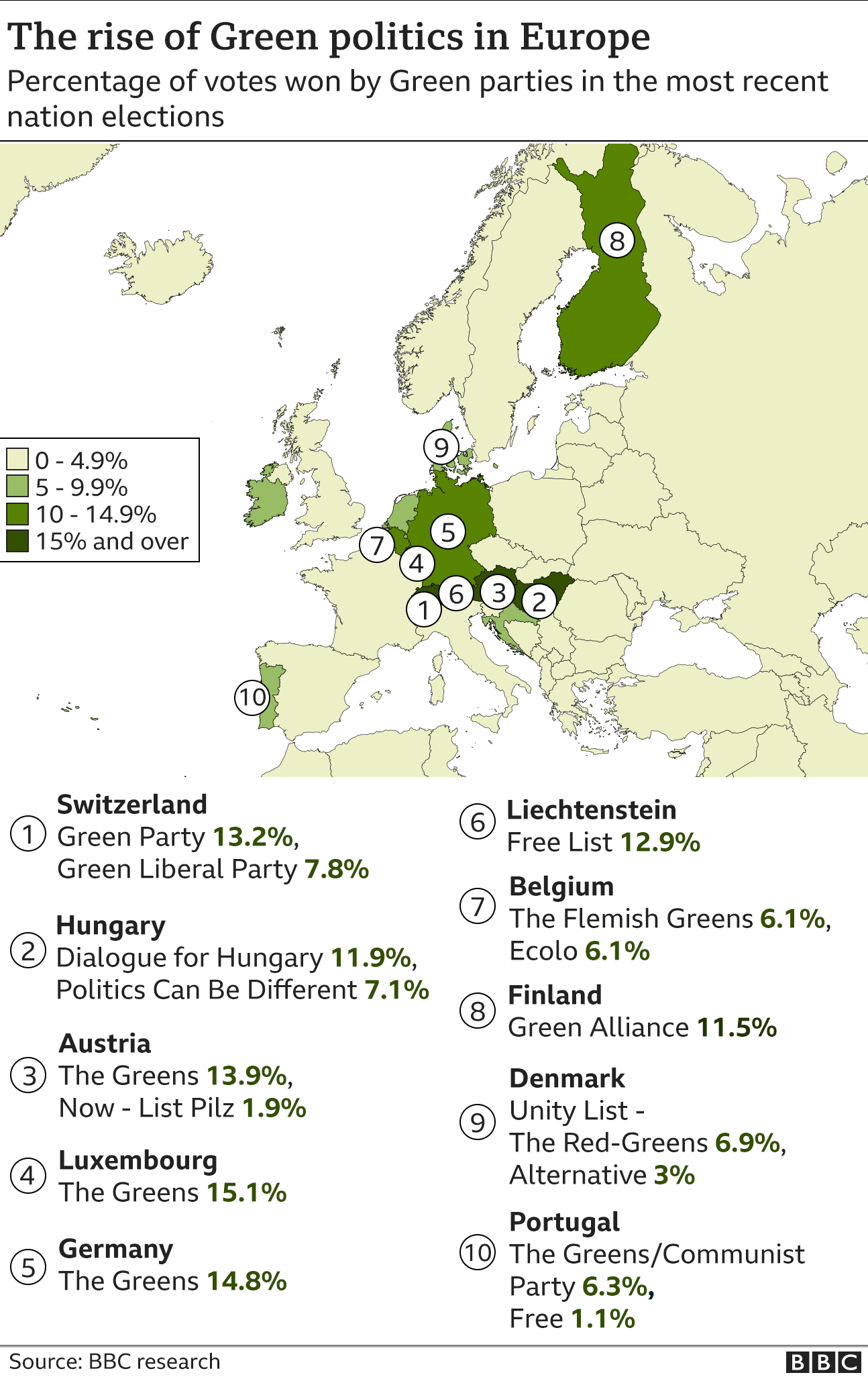 Green parties tend to do better in countries with more proportional systems, as used by the European Union for its parliamentary elections. For example, the Greens/EFA bloc gained 25 seats with 10.8% of the vote in the 2019 election to the European Parliament.
"People think putting the Greens in power [in the EU] is less dangerous," said Philippe Lamberts, co-president of the Greens/EFA.
"From the right and the left, there's always a question hanging over us: can you really trust the Greens with the economy?"
National election results suggest the answer is no.
To reduce emissions, the Greens say big structural changes to the economy are needed. While those reforms are necessary, they scare people and put them off voting green, Ms Schäfer said.
"They're worried they'll be the losers of big transformation," the MP said. "It's a lack of control that people are afraid of. But we need to convince people that our politics is not about giving up control."
'Killing the planet'
It's even more difficult in Southern and Eastern European countries, where support for green parties is fragmented or non-existent. Surveys show that climate change is far from a top priority in post-communist countries such as Poland, the Czech Republic and Lithuania.
Voters and political parties there are generally more concerned about economic development or migration, leaving environmental issues to civil society groups.
Mr Lamberts believes voters find the message that their country's model is "killing the planet" unpalatable.
Unlike in many of the other former Soviet-bloc states, green parties have made inroads in Hungary.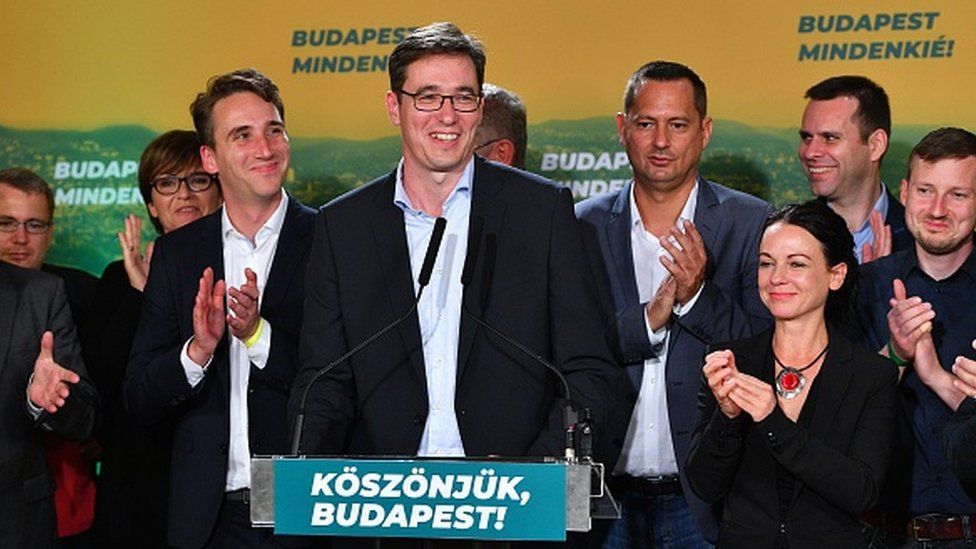 The green LMP party has won seats in three consecutive national elections since 2010, while Dialogue received 11.9% of the vote in an alliance with the Hungarian Socialists in 2018.
Dialogue's success came under the leadership of Gergely Karacsony, who was elected mayor of Budapest in 2019.
He defeated the nationalist incumbent by rallying opposition parties behind his liberal platform, and promising solutions not only to environmental issues, but economic and social ones too.
"In Hungary today, there are three different crises. A democratic crisis, a social crisis and an environmental crisis," Budapest's mayor told the BBC. "The advantage of the green movement is that we have proposals for all three."
He linked green policies such as urban foresting and carbon-free public transport to Hungary's poor record on air quality and other environmental problems.
Particularly in post-Soviet countries, the mayor said, social justice must go hand in hand with the green transition.
"We cannot put the costs of sustainability on disadvantaged segments of society."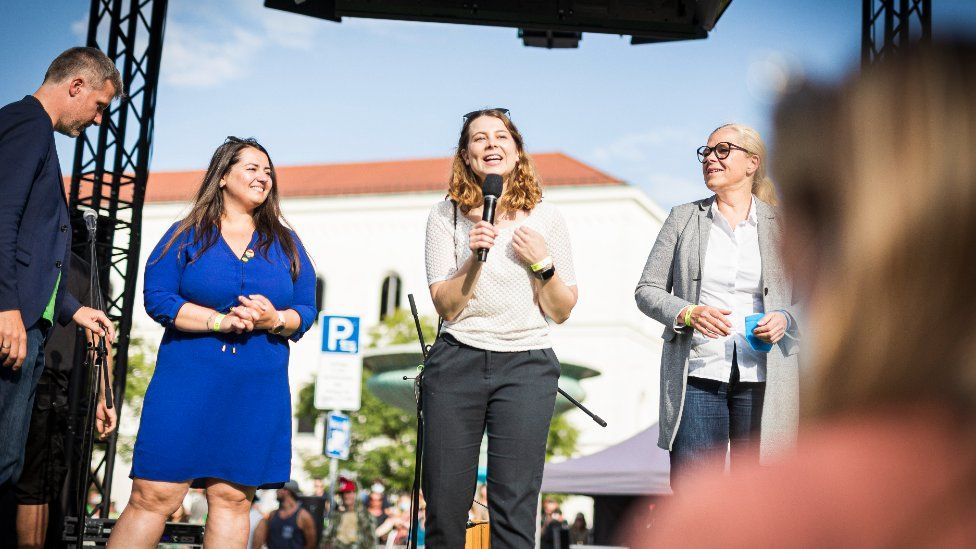 What worked in Budapest may not necessarily follow elsewhere, but green candidates have achieved electoral success where they have channelled voter discontent, united the opposition and diversified their offer beyond the environment.
If the Greens can build on these gains, there is a future for them in coalitions, Professor Fagan said.
"Green politics in Europe is getting bigger and stronger, and I'm sure it will grow in the coming years," Ms Schäfer said.
Biden says he's concerned about Chinese hypersonic missiles
U.S. President Joe Biden said on Wednesday he is concerned about Chinese hypersonic  missiles, days after a media report that Beijing had tested a nuclear-capable hypersonic glide weapon.
Asked by reporters as he was boarding Air Force One for a trip to Pennsylvania whether he was concerned about Chinese hypersonic missiles, Biden said, "Yes."
The Financial Times said at the weekend that China had tested a weapon in August that flew through space and circled the globe before cruising down toward a target that it missed. China's foreign ministry denied the report.
(Reporting by Nandita Bose; Writing by Mohammad Zargham; Editing by Leslie Adler)
Ethiopia conducts two air strikes on Tigray within hours, war escalates
The  Ethiopian government carried out a second air strike within hours on the Tigray region on Wednesday, significantly escalating a campaign to weaken rebellious Tigrayan forces in an almost one-year-old war.
The second strike was in Agbe in the Temben region some 80 km (50 miles) west of the regional capital Mekelle, targeting a military training centre and heavy artillery depot, government spokesperson Legesse Tulu said.
That came after a morning air strike in Mekelle, the third this week. Tigrai Television said the attack targeted the centre of the city while the Addis Ababa government said it targeted buildings where Tigrayan forces were repairing armaments.
The Tigray People's Liberation Front (TPLF) has "been adept at hiding munitions and heavy artillery in places of worship and using ordinary Tigrayans as a human shield", Legesse said.
Two witnesses and a humanitarian source in Mekelle told Reuters that the morning strike appeared to have targeted Mesfin Industrial Engineering PLC, a factory complex which the government believes supports the TPLF.
TPLF leader Debretsion Gebremichael, referring to government forces, said: "They are desperate on the war front. My interpretation is they are bombing us because they are losing on the ground and it's their reprisal. The fact that they are bombing shows they don't care about Tigrayan civilians."
Speaking to Reuters by satellite phone from an undisclosed location, Gebremichael said the strike did not hit the engineering complex, rather another private company compound, but he had no further details.
Nine civilians, including a five-year-old child, were being treated at Ayder Referral Hospital for injuries sustained in the strike, according to TPLF-run Tigrai Television.
The blast shattered the windows of Mekelle General Hospital, about one kilometre away from Mesfin Industrial, and damaged nearby homes, said a doctor at the hospital. It had received five wounded people, he said.
"Four of them were factory employees and the fifth one is a lady whose lives near the factory. Her house was destroyed by the air strike," the doctor said.
Tigrai Television posted photographs of what appeared to be plumes of billowing smoke. Reuters geolocated the images to Mekelle.
The two sides have been fighting for almost a year in a conflict that has killed thousands of people and displaced more than two million amid a power struggle between the TPLF, which controls the northern region, and the central government of Prime Minister Abiy Ahmed in Addis Ababa.
The TPLF dominated the Horn of Africa country's ruling party for decades before Abiy, who is not a Tigrayan, took office in 2018.
CONTROL OF THE SKIES
Mesfin Industrial Engineering is an equipment manufacturer and car and truck assembly plant that was part of EFFORT, a TPLF-owned conglomerate.
After war broke out last November, the government froze the company's bank accounts, saying there was evidence that it was supporting the TPLF. The company could not be reached for comment. Most communications in Mekelle are down.
Mekelle was also hit by two air strikes on Monday https://www.reuters.com/world/africa/mekelle-capital-ethiopias-tigray-hit-by-air-strikes-regional-tv-2021-10-18. The TPLF accused the government of launching the attacks. A government official initially denied the accusation but state media later reported the air force had conducted a strike.
The attacks follow intensified fighting in two other northern regions where the military is trying to recover territory taken by the TPLF, which recaptured Mekelle and most of the rest of Tigray several months ago.
In July, the TPLF pushed into the two other regions, Amhara and Afar, and several hundred thousand more people fled their homes, according to the United Nations.
Last week, after the TPLF said the military had started an offensive in Amhara, the military said that the TPLF had "opened war on all fronts", and that government forces were inflicting heavy casualties.
"The federal air strikes on Mekelle appear to be part of efforts to weaken Tigray's armed resistance, which has recently made further gains in eastern Amhara region, with fighting ongoing in some areas," said Will Davison, a senior analyst on Ethiopia at the International Crisis Group think-tank.
"Along with superior manpower, control of the skies is one of the few remaining areas of military advantage for the federal government," Davison said.
(Reporting by Addis Ababa newsroom with additional reporting by George Sargent in London and Nairobi newsroom; writing by Maggie Fick; editing by Nick Macfie, Angus MacSwan and Mark Heinrich)