Alberta's political culture and history played a part in Jason Kenney's downfall – theconversation.com
Jason Kenney's imminent resignation as Alberta premier shows that even leaders with track records of success can fall victim to unpredictable crises, poor leadership choices and the unspoken norms of provincial politics.
Kenney failed because he didn't fully understand Alberta's populist and leader-centric culture and its role in creating expectations about how the province should be governed. But even though he faced a challenging set of problems, the final outcome is Kenney's own responsibility.
What makes Kenney's poor showing in the recent leadership review so striking is the fact that he played a key role in the Stephen Harper government's electoral success and the creation of its policy agenda.
He represented something that some contemporary Canadian conservatives struggle with: a coherent, consistent and electorally viable conservative approach to governing.
---


Read more:
Ontario election: 4 ways Doug Ford has changed the province's politics


---
In addition to his roots as the director of the Canadian Taxpayers Federation, Kenney was also seen as the key architect of the Conservative Party of Canada's success in appealing to suburban immigrant communities through the careful articulation of shared social conservative values.
That's why Kenney was able to establish himself as the heir apparent to Alberta's conservative movement in 2017. In doing so, he managed to unite two bitterly divided parties, the Progressive Conservatives and Wildrose, into the United Conservative Party (UCP) and delivered a big majority win in the 2018 provincial election.
Started on a high as premier
As premier, Kenney not only had the support of his large caucus, but he also had the majority of the province behind him to pursue his promises to expand the energy sector and take a more confrontational stance against what some Albertans believe is an increasingly hostile federal government.
Unlike the centrism pursued by some of his fellow Conservative premiers, Kenney continued to run Canada's most consistently conservative government throughout his tenure, introducing corporate tax cuts, reduced spending, strong deregulation and overhauls to the school curriculum.
Nevertheless, before finishing his first term, Kenney's premiership is now effectively over following his poor showing (51.4 per cent) in the UCP's leadership review.
What went wrong? Some observers have pointed to the UCP's ultra-conservative faction that's punished Kenney for his occasional support of COVID-19 restrictions. Others also cite Kenney's autocratic leadership style.
These are both only partially true. A full understanding of what occurred requires a broader look at Alberta's general political culture and history.
Alberta is anti-establishment
Although historically supportive of conservative governments, Alberta's conservatism is consistently overstated. In addition to being the home of notable leftist movements, polls have consistently shown that Albertans are in line with the rest of Canada in supporting high levels of government spending and interventions to address issues related to poverty, the environment and discrimination.
Alberta is better understood by examining how it's been shaped by the anti-establishment, grassroots and populist sentiments that are a feature of both left and right.
This is largely the product of history, because Alberta's role as a frontier society fostered the belief that prosperity and well-being would come through self-reliance, fairness and the wisdom of ordinary people, rather than tradition, authority or hierarchy. This has come to be romanticized as the prototype of the contrarian, free-thinking Albertan "maverick."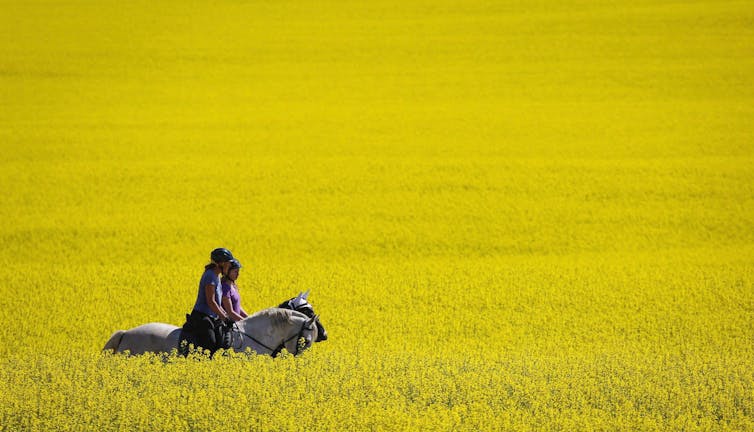 The province's ongoing reliance on oil and gas exports has historically united Albertans, while also placing the federal government in the role of the villain for its perceived hostile interventions in Alberta's energy sector.
This populist culture is evident in direct democracy initiatives at the local level that has allowed citizens to have a more immediate role in decision-making through practices like referendums and the ability to recall elected politicians.
But it's also created a leader-centric provincial dynamic. Through the common practice of attacking the federal government or other supposedly hostile forces, several leaders have found success in positioning themselves as the authentic voice of Alberta.
---


Read more:
Jason Kenney won by portraying himself as the Guardian of Alberta


---
When combined with Albertans' general lack of partisan attachment and a majoritarian electoral system, this has allowed these leaders to create an illusion of unanimity through substantial electoral wins, despite the fact that a large portion of Albertans may oppose them.
It's a tricky dynamic: despite having significant power, leaders are also pressured to be effective, fair, democratic and anti-elitist towards the public and their own caucus. Alberta has had popular, larger-than-life leaders, but it's also had a number of premiers who — due to economic downturns, personal scandals or inadequate caucus management — can be regarded as failures.
Uneasy alliance
What puts Kenney in the second category is the fact that enough of his party lacked confidence in his leadership. Wildrose party members, who Kenney had successfully merged into the UCP coalition, initially liked his contrarian tradition of opposing what they viewed to be the elitist, self-interested and out-of-touch power brokers in the mainstream PC party. To them, Kenney had simply returned to the old form.
The trends were there before the pandemic. The race between Kenney and Brian Jean, the former leader of Wildrose, for control of the UCP left a bitter aftertaste due to allegations of criminal identity fraud that is the subject of an ongoing RCMP probe.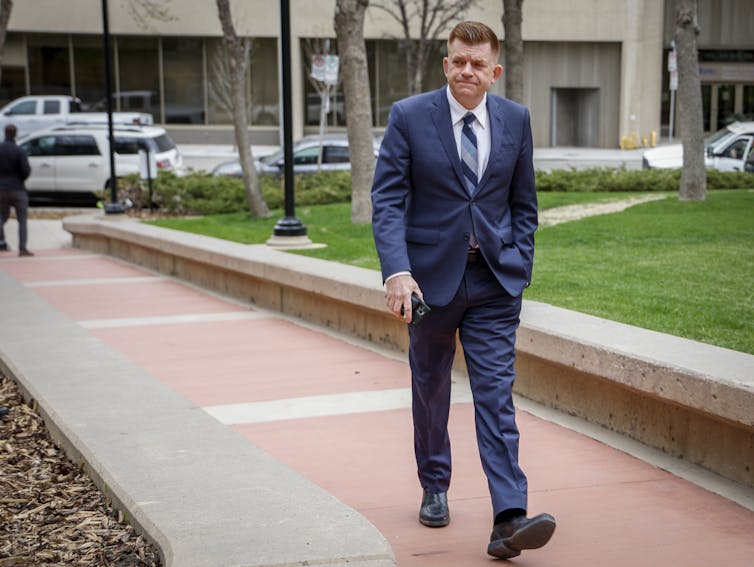 Former Kenney staffers also alleged a toxic environment of long hours, sexual harassment and alcoholism. Discontented caucus members also complained of a premier's office that was insular and failed to consult with caucus which, in their view, contributed to many of the government's mistakes.
The province's handling of the COVID-19 pandemic entrenched this opposition. The response itself was inconsistent as Kenney manoeuvred between a public that supported restrictions and a more skeptical caucus.
His promise to totally reopen in the summer of 2021 was his biggest mistake because a subsequent outbreak forced Kenney to backtrack and simultaneously disappoint both sides. Kenney's own personal integrity was also compromised, as both he and cabinet ministers were caught violating their own restrictions.
Kenney's failure, therefore, is largely the immediate consequences of his own leadership choices. But there's a broader context. The premier not only faced an unprecedented crisis, but dealt with a profoundly contrarian wing of the Albertan conservative movement. Kenney, to his credit, made an effort to consult and accommodate these voices once dissent began to congeal.
But Alberta provincial politics is a gamble. Although leaders have the potential to become era-defining personalities — think Ralph Klein or Peter Lougheed — they can also be quickly cast aside. Kenney's fall from grace is a vivid illustration of the volatility of the province's political landscape.
Funding and politics hit N.Ireland abortion services – FRANCE 24 English
Issued on: 04/07/2022 – 07:36Modified: 04/07/2022 – 07:35
London (AFP) – Campaigners in Northern Ireland are closely watching US moves to restrict abortion, particularly concerns that women will now have to travel across states for terminations.
Abortion was only decriminalised in the British province in 2019 — 42 years after terminations were made legal up to 24 weeks in most circumstances in the rest of the UK.
But despite legislation, lack of government funding and political wrangling have meant women are still having to travel to the British mainland for abortions.
Currently, there are still no surgical abortion services available in Northern Ireland and no options for abortion after 10 weeks of pregnancy.
Last year, 161 women crossed the Irish Sea to England and Wales for an abortion, according to UK government statistics published last month.
"The fact that 161 people travelled last year is totally unacceptable, even one should be a scandal," Dani Anderson from the Abortion Support Network told AFP.
The recent US Supreme Court decision to overturn the 1973 Roe v Wade ruling which enshrined the right to abortion prompted some states to introduce a ban.
That has raised fears women from low-income, rural and black and minority ethnic backgrounds will be hit hardest if they have to travel.
Barriers
In Northern Ireland, campaigners say this is already a reality.
Grainne Teggart, deputy programme director for Amnesty International in Northern Ireland, said travelling for an abortion had not been "safe or viable" for many during the pandemic.
From a healthcare perspective, "later trimester abortions are more complex, so it is the women who should be travelling the least who are being made to travel", added Naomi Connor, co-convener at the grassroots campaign group Alliance for Choice.
She said they have seen cases where women facing domestic violence or in coercive relationships were reluctant to make long journeys because they were "really anxious about anyone finding out".
As in neighbouring Ireland, where an abortion ban was overturned in a 2018 referendum, religious conservatism is strong in Northern Ireland, both among Catholics and Protestants. This also led to a delay in legalising same-sex marriage.
In rural communities particularly, women have been hesitant to explicitly seek terminations because of stigma.
One refugee in Belfast, who fled her home country after a forced marriage, was told she would have to travel to receive an abortion.
But with limited knowledge of English and other restrictions, she was unable to make the journey, said Connor.
She was eventually helped, but there have been times when case workers have had to say nothing can be done.
"It's heartbreaking," said Connor.
Politics
Healthcare is a devolved issue for the Northern Ireland Assembly in Belfast.
But the main pro-UK party is currently refusing to join the power-sharing executive between unionists and nationalists in a row over post-Brexit trade.
Northern Ireland's health minister Robin Swann claims he is unable to commission full abortion services without a functioning executive.
Individual health trusts that have stepped in are struggling due to limited funding.
"Since April 2020, when services were supposed to be commissioned, different individual health trusts have had to withdraw services due to a lack of resources," said Connor.
Last year, one trust had to temporarily suspend its early medical abortion services for a year, redirecting patients elsewhere in Northern Ireland.
Campaigners also complain of a lack of public information about options for women before they are past their first 10 weeks of pregnancy.
Still, there is renewed hope that abortion services may finally be commissioned, despite the current political paralysis.
MPs in the UK parliament in London recently voted to implement access to services in Northern Ireland, passing the Abortion (Northern Ireland) Regulations 2022.
They allow the UK's Northern Ireland Secretary Brandon Lewis to step in, controversially overriding the authority of the devolved administration in Belfast.
Teggart welcomed the regulations as a "very necessary move".
"For the health minister (Swann) it is a damning indictment on his failure to prioritise the health of women and girls," she said.
Lewis wants services to be "delivered and available to all across Northern Ireland as soon as possible".
Swann was "currently awaiting legal advice" on the implications of the new regulations, his department said.
© 2022 AFP
ROTHENBURGER: Council proves absurdity of politics on parking, code of conduct – CFJC Today Kamloops
Why? Because, claimed Mayor Ken Christian, Coun. Dieter Dudy and others, it's just fine that it's flawed. If it's not any good, it can be changed later. It's the good intention that counts.
As Singh and Walsh challenged clause after clause in the proposed Code, the answer from corporate officer Natalie Garbay to most of their questions was that the wording came from a provincial working group template, or from other cities. Not exactly an explanation.
So, the Code went through as presented, almost unscathed. Not so with Singh's parking proposal. According to Singh, reducing parking-space requirements would help both affordable housing and the fight against climate change.
This time, though, Christian, Dudy and others supported sending it to a committee because it's vague and needs further discussion. According to Dudy, there was too much "ambiguity" in Singh's motion. Christian noted that the idea hasn't gotten much traction in the community and isn't a priority.
Singh's motion does, indeed, require further discussion, and I suspect Singh and the rest of council will back off of it entirely as public opposition grows.
But the Code of Conduct also needed further examination because it's very poorly written and, in some respects, too restrictive. Yet that one, according to the majority, needed to get passed right now.
Sometimes, politics is simply absurd.
I'm Mel Rothenburger, the Armchair Mayor.
Mel Rothenburger is a former mayor of Kamloops and a retired newspaper editor. He is a regular contributor to CFJC, publishes the ArmchairMayor.ca opinion website, and is a director on the Thompson-Nicola Regional District board. He can be reached at mrothenburger@armchairmayor.ca.
—
Editor's Note: This opinion piece reflects the views of its author, and does not necessarily represent the views of CFJC Today or Pattison Media.
New York's Primaries Were Decided by Politics As Usual – New York Magazine
Governor Kathy Hochul greets people during a campaign stop on a corner of Second Avenue and 86th Street on June 28.
Photo: Lev Radin/Pacific Press/LightRocket via Getty Images
Even with earthshaking news sweeping the nation — notably, the recent Supreme Court rulings overturning decades-long laws governing abortion, environmental protection, and the carrying of concealed firearms — New Yorkers held decidedly ordinary primaries for most state offices last week. Politics is how democracies process change, and the basic rules apply to all kinds of change, be it commonplace or cataclysmic.
Rule one: Incumbency and the support of the political Establishment is often decisive. Governor Kathy Hochul, whose ten months in office were preceded by years of crisscrossing the state by car as lieutenant governor, has been making friends, cutting ribbons, and collecting IOUs for years. Since taking office last August, she'd had an incumbent's power to hand out tax breaks, regulatory rulings, and cash grants, and could call in favors from Montauk to her hometown of Buffalo.
"She dominated what I like to call the iron triangle of New York Democratic primaries," Democratic consultant Bruce Gyory told me. "It's the minority vote at the base. It's highly educated, professional women along one side, and white ethnics along the other. And she was able to win all three."
On the Republican side, Representative Lee Zeldin was backed by nearly all of the state's county-level party organizations, winning 85 percent of delegate votes at the GOP state convention in March. As the only elected official in the race, he gained the visibility that comes with the power to steer federal funding to different projects on Long Island, where he racked up huge majorities that powered him to victory.
While progressive candidates didn't fare as well as they'd hoped, it's worth noting that parts of New York have a left-leaning Establishment — and like their more mainstream counterparts, these mini-machines dutifully turned out their supporters and performed well in the Assembly primaries. In Manhattan, where Dick Gottfried is retiring after 52 years as the longest-serving Assembly member in state history, his handpicked successor, Tony Simone, was backed by nearly every incumbent on the west side, including Representative Jerry Nadler, State Senator Brad Hoylman, and City Councilman Erik Bottcher.
In Queens, the Democratic Socialists of America claimed a decisive victory for the Assembly seat left vacant by the retirement of Cathy Nolan. Juan Ardila won over 43 percent of the vote in a crowded field, thanks in part to the support of Alexandria Ocasio-Cortez, State Senator Jessica Ramos, and Councilmembers Tiffany Cabán, Shekar Krishnan, and Jennifer Gutiérrez. And Brooklyn's DSA-backed incumbent, Phara Souffrant Forrest, won re-election with over 67 percent of the vote, as did self-identified socialist Emily Gallagher with about 80 percent.
In short, this was an ordinary primary in many respects, even coming just days after the repeal of New York's concealed-carry law and the striking down of Roe v. Wade. People did not surge to the polls — but they didn't stay away, either. Despite a lot of hand-wringing reporting about low-voter turnout — the Daily News called it "torpid" — Gyory says it's "a bit of an optical illusion" that some journalists have misinterpreted by not taking into account an explosion of new voter registration over the last 30 years, thanks in part to registration drives and motor-voter laws that make it easy to sign up while renewing driver's licenses.
"Historically, it's not a low turnout. It's actually going to probably hit 900,000. It's going to wind up being the third-highest gubernatorial turnout since we started having these primaries," Gyory told me. "The highest turnout ever was just shy of 1.6 [million], four years ago. The previous high was 1.2 million, the famous Koch-Cuomo gubernatorial primary of 1982."
The state Board of Elections website records over 864,000 votes cast in the Democratic primaries, with another 446,000 among Republicans for a total of over 1.3 million.
As we gear up for congressional primaries in August and the general election in November, it remains to be seen whether big national questions — including responses to the Supreme Court rulings, and the ongoing, explosive revelations from the investigation of the January 6 insurrection — will dominate local contests.
"I believe that come September, October, that the top two issues of this campaign will be the same as the top two issues of this campaign today, and that's crime and public safety and the economy," Zeldin told me. "They are as personal as it gets for a broad range of New Yorkers who are seriously thinking about fleeing."
As an anti-abortion candidate who celebrated the repeal of Roe v. Wade and would not say publicly whether he thinks Donald Trump actually won the 2020 presidential election, Zeldin is out of step with most New Yorkers, who polls say support abortion rights and gun control. His path to victory depends on New Yorkers focusing on local issues like inflation and rising crime rates.
Zeldin has his work cut out for him — but he's not wrong to assume that, even at a time of major upheavals, New Yorkers will focus on pocketbook issues and the need to walk the streets in safety. We should expect him and Hochul to spend the rest of the year making promises, raising money, doling out government funds, calling in favors, lining up local political clubs, and generally doing what wins elections: politics as usual.