All the Essentials for Visiting Tulum, a Town of Culture and Art – We Heart
Luxurious eco-friendly resorts and great restaurants. Galleries and Mayan ruins. Crystal-water beaches and ancient heritage. Just a few of the elements you can find when visiting Tulum. Located just over an hour from Cancún, Tulum has deep cultural deeps that had made it exploded in popularity. But as much as the natural connection, Tulum offers a great art scene. The Mexican town has a huge flow of artists and art galleries through the city.
Likewise, fans of the design and architecture can feel in their element. There's hundreds of resorts and residences created by Mexican firms that project the natural boho style of the city. Tulum is also the host of well-known festivals. Like Art with Me or the Festival Arte Tinasah that connect electronic music, art and cultural experiences; they're hugely popular. In fact, these events receive thousands of visitors.
Tulum is pretty close to Cancun, so the transfer is not a problem with the plenty of options that you can find. Either car rentals, Cancun airport transportation, or public transportation, which you can use to go and back easily.
Give your curiosity and adventure side the opportunity to experience all the cultural attractions and breathtaking nature surrounded by exponential art. Tulum offers such diversity in every corner.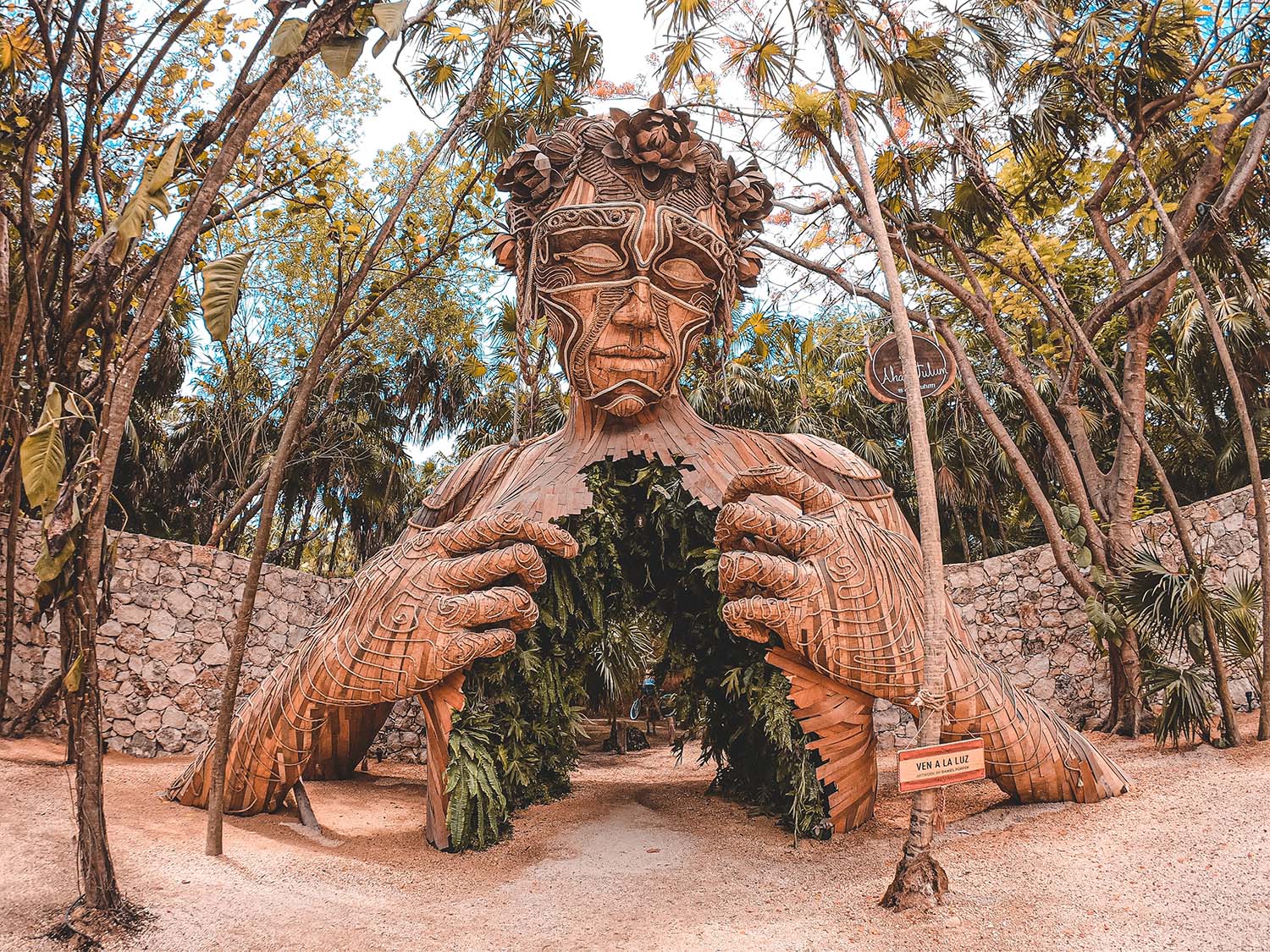 Daniel Popper's Come Into the Light
All the richness in culture, art, music and exceptional nightlife made the city the perfect scenario for the first Art With Me event in 2018. It's where the town's most famous sculpture literally came into the light. Ven a la luz (or Come into the Light as it's called in English) is the name of this huge 32-feet piece that symbolises the deep connection with nature. Made by Daniel Popper, the South African artist goes around the world creating pieces that interact with the environment in an organic way. Using local materials and lighting effects.
The sculpture was made with wood, steel, rope and is located at the entry of Ahau Tulum hotel, Raw Love restaurant. However, don't worry about the fact it is located in the hotel zone. Regular folk visiting Tulum can stop by and take a photo on their way, and there are different companies like eTransfers that offer private transportation services and local advice to reach this famous sculpture.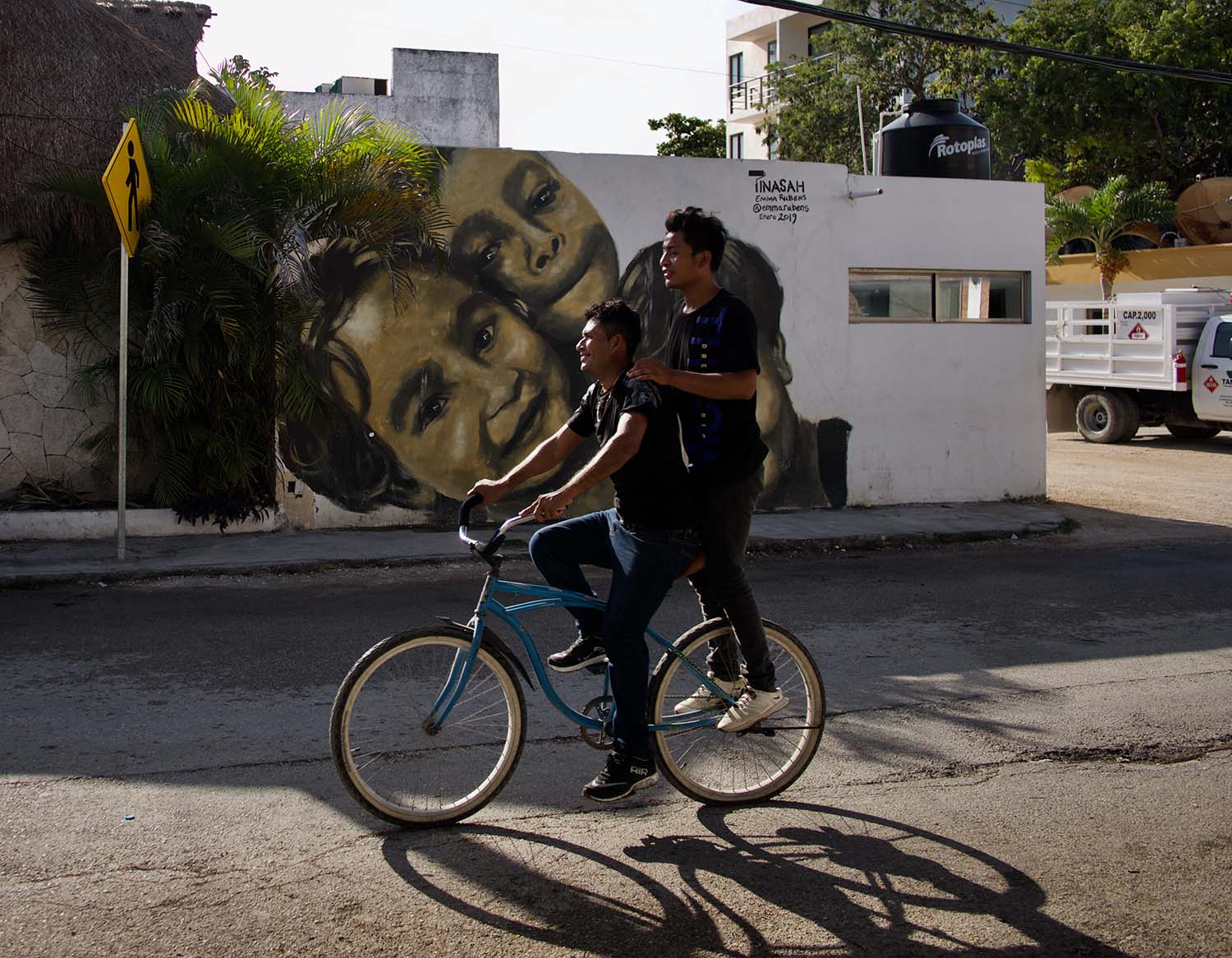 One of a kind Tulum street art
Along with ancient Mayan heritage, the culture of street art is very present in Tulum. Several murals have been painted by renowned street artists. Some of them during the FAT Tulum Art Festival, and others by locals among the years as a way of expression. It can be hard work to know where to find street art in Tulum, but Instagram helps. In addition, local bars and restaurants are happy to help.
There are so many murals in Tulum. So many that exploring its street art culture has gained great popularity. You can also get a tour or go by yourself on an open service that Cancun shuttle transportation services offer to tourists. Undoubtedly, the best option is to rent a bicycle. This way you can really appreciate the work and understand the story behind every piece. It is also the best way to feel the real spirit of the city town.
If street art is what you are looking for when visiting Tulum, Calle Sol Oriente is a pretty street famous among visitors. It's a good way to start. Full of painted walls, it connects with Coba Rd, another street with pretty murals. Lastly, you can also find art pieces in the local cemetery walls, representing the death in the Mayan culture.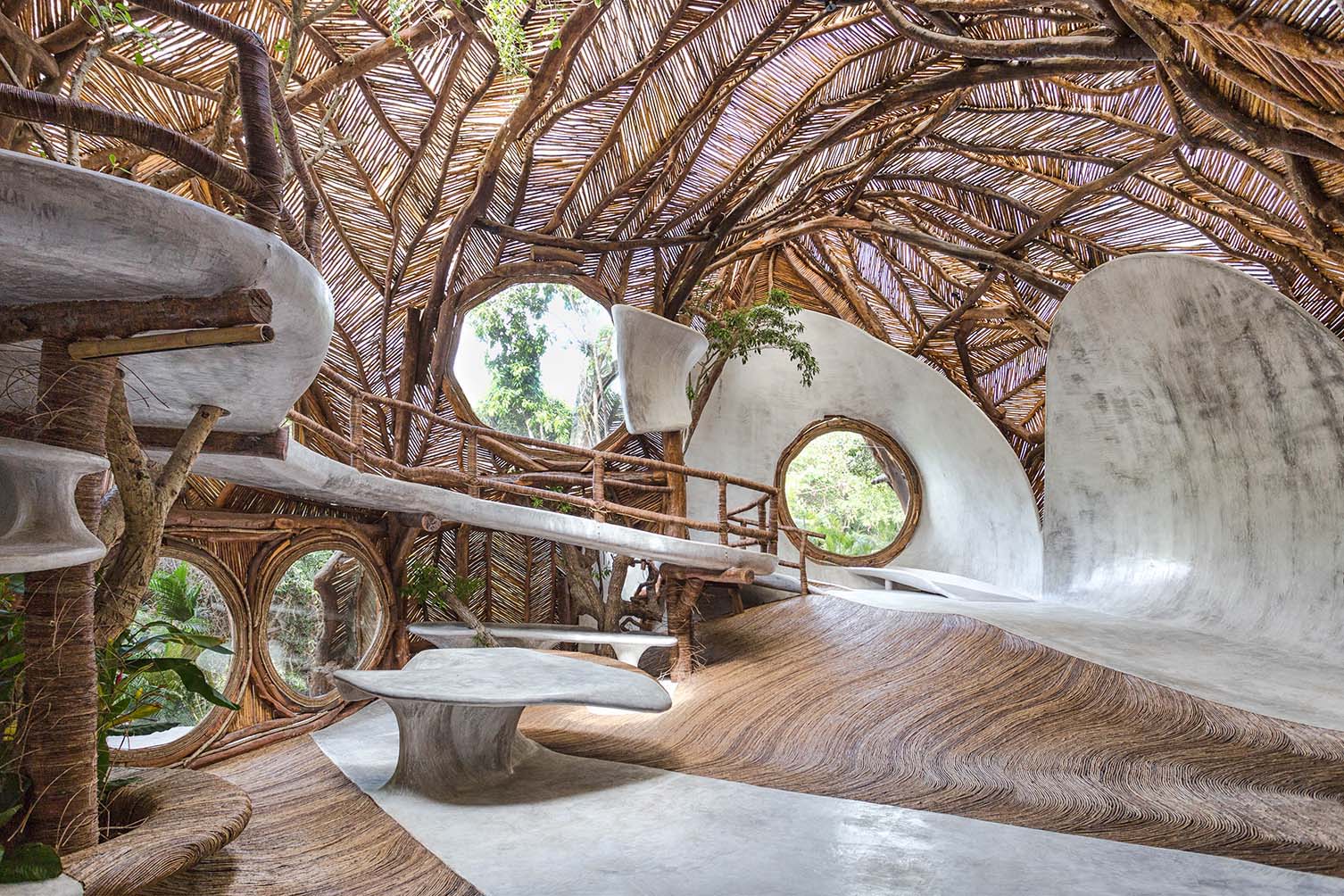 The paradise of art galleries in Tulum
You can say there are as many galleries as street art, you just need quick google research to find plenty of options. Tulum is a base for many national and international artists. The different galleries and art shops offer invaluable art inspiration with handmade pieces using different materials and techniques, always looking to add new artists to their collections.
Those looking for local art must visit Balam Art on Feathers. It is one of Tulum's most famous galleries. Located between the beach and downtown, it is specialised in a Mayan technic that uses feathers of different birds as a canvas. Furthermore, you may have heard about IK LAB Gallery? Located in Azulik resort, it's an eco-friendly space that currently hosts an exhibition of three great artists focused on the human journey through physical and metaphysical realms.
200,000-year-old handprints may be the world's oldest artwork, scientists say – CBC.ca
A group of fossilized handprints and footprints found in Tibet, dating back roughly 200,000 years, could be the earliest examples of human art. And they were made by children.
Every parent knows that children love to get their hands and feet into mud. Such seems to be the case long ago at what used to be a hot spring at Quesang, high on the Tibetan Plateau at an altitude of 4,269 metres (14,000 feet) above sea level.
A report in the journal Science Bulletin suggests these impressions were intentionally placed, not just the result of wandering in the area. The foot and hand prints fit exactly within a space, arranged close together like a mosaic. Their size indicates they were made by two children, one the size of a 7-year-old, and the other the size of a 12-year-old.
During that time, travertine, which is a type of limestone formed by hot mineral springs, formed a pasty mud which was perfect for making handprints. Later, when the hot spring dried up, the mud hardened into stone, preserving the prints over time.
The rocks have been dated to between 169,000 and 226,000 years ago. It is not known exactly who the people were that lived on the Tibetan Plateau at that time, but one possibility is the Denisovans, a branch of our early ancestors who lived in Asia and resembled modern humans. Tibetans living today still carry Denisovan genes.
Whether the imprints can be considered art or just kids playing in the mud is up for interpretation, although the authors of the paper told Live Science it may be art in the same way that parents hang scribbles from children on their refrigerators and call it art. The authors describe the medium the prints are in as intentionally altered, which they suggest could have been a kind of performance to show like, "Hey, look at me, I've made my handprints over these footprints."
Or perhaps these impressions represent the human desire to leave marks behind on the landscape that say, "I was here." It's a tradition that continues today with graffiti on walls in back alleys and famous actors and actresses who leave impressions of their hands and feet in cement along Hollywood Boulevard.
Little did these prehistoric kids know their handiwork would be preserved for hundreds of thousands of years.
If the carefully made prints are considered art, it pushes the history of rock art back more than 100,000 years. The oldest stencil-type handprints, where a hand is placed on a wall and coloured powder is blown around it to make an outline, have been found along with other cave paintings in Sulawesi, Indonesia and El Castillo, Spain dating back between 40,000 to 45,000 years ago. This is known as parietal art because it is not meant to be moved, unlike paintings or statues that can be displayed anywhere and traded. And the oldest statues also only go back to about the same time period.
The children of ancient Tibet could be considered among the world's first artists, or maybe they were just playing in the mud like all kids do. But the question of whether the impressions are art or not is almost moot because handprints and footprints from the deep past provide valuable scientific information.
Archeology usually deals with fragments from past cultures, such as pieces of pottery, building foundations, monuments and bones. It is up to the scientists to infer, to fill in the gaps and try to determine what the people were actually like. But handprints are the direct signature of a person.
Tourists on Hollywood Boulevard squat down to place their hands in the prints of their favourite actors to get a sense of what it might be like to shake their hand, sort of a virtual handshake. Imagine a handshake that reaches across millennia into an actual moment in time, to a couple of kids who were just messing in the mud.
New App Aims to Promote Province's Thriving Art Community – VOCM
A new app aims to get people outside and appreciating art in public places all over the province.
The Explore Art NL app leads users to more than 100 existing works of art in communities from St. John's to Makkovik, inviting people to spend more time in those locations, while possibly meeting others with mutual appreciation.
The works thus far include everything from sculptures to memorials and murals, but anyone can upload their own creations to the growing list.
Business and Arts NL executive director Amy Henderson says they modelled their app on a smaller version in Manitoba.
She says they were inspired by the app used by the Winnipeg Arts Council, but needed to expand it on a larger scale for the entire province.
Vanessa Iddon came up with the design for their so-called 'Art Car', a Genesis GV80 which will be touring the region to promote the new app.
The overall initiative is also supported by the federal government, City of St. John's and Tract Consulting.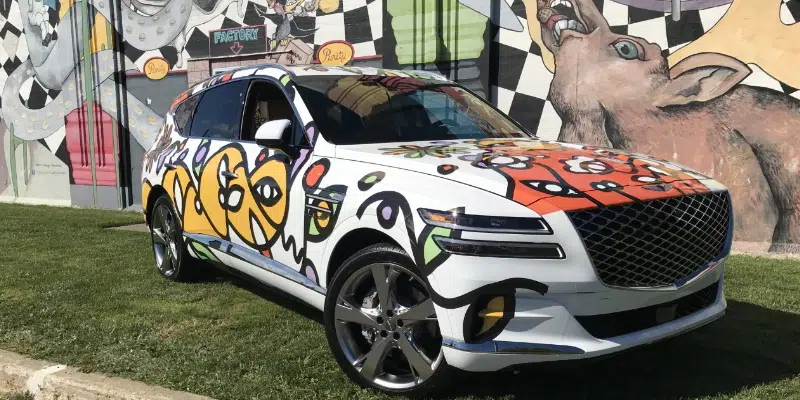 Art Crawl bounces back for 2021 – Coast Reporter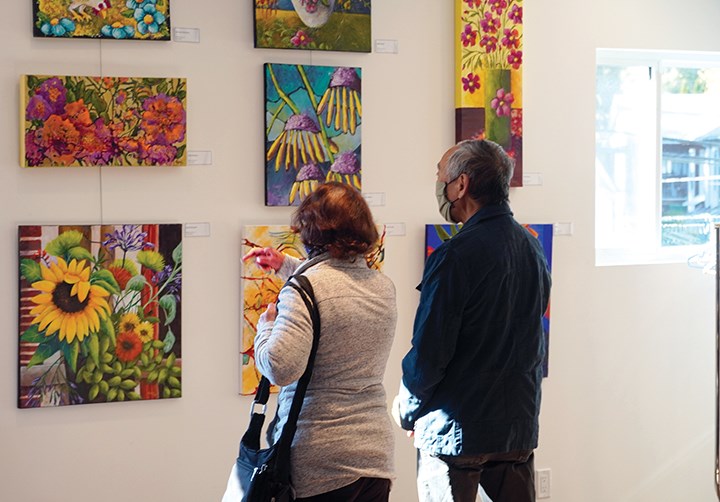 The 2021 Sunshine Coast Art Crawl, from Oct. 20 to 24, will feature more venues, more artists, and fewer pandemic-related changes than were in place in 2020, unless new health orders are issued before then by the provincial government.
"Because there are so many individual venues, there's no way we can do any kind of [COVID-related] recommendations overall, other than that the venues follow the provincial guidelines," Coast Cultural Alliance (CCA) board member and spokesperson Linda Williams told Coast Reporter.
In 2020, the Art Crawl dropped to 97 venues, down by nearly half from the record high of 186 locations in those heady pre-COVID days of October 2019.
This year, the number of venues has jumped back up, to 164, with more than 250 artists participating.
The 2020 version also tried to accommodate health concerns by offering vendors some options, as on online-only venue, or taking in visitors only by appointment. Those choices aren't on the table for 2021, but the overarching guideline is still safety-first.
"We are following all the health regulations, period," Williams said.
At press time, the only restriction on indoor events where participants are not seated is that masks be worn at all times by those over the age of 12. Requiring proof of vaccination is optional for venues where the number of visitors is kept under 50. Some smaller Art Crawl venues might ask for vaccination cards, but for now that's at their discretion.
"We were just going to have to take responsibility as individuals, as artists and as visitors," said Williams.
Sign-in sheets will be required for all venues, not for pandemic contact purposes, but in order that the CCA can collect a few statistics.
Art crawlers can also answer a quick online survey to be eligible for prizes of a two-night stay at Painted Boat Resort Spa & Marina, or ferry travel vouchers. Winners will be named in a draw to be held on Oct. 31.
Williams noted there are 46 new venues this year. Also, there are more in the Pender Harbour area than ever – 15. And for some reason, there's been a blossoming of new Art Crawl locations at the west end of Beach Avenue in Roberts Creek.
"There are eight of them that are on Beach Avenue close to Henderson (Road) this year," she said. "And I think seven of them are new."
The Art Crawl is also welcoming a new major sponsor this year, Longman Developments.
"They've come in because their core values are similar to ours, in community-building," said Williams. Sunshine Coast Credit Union is also back as a major sponsor, Williams noted, as it has been since 2010.
Art Crawl does receive modest grant support from local governments but is not eligible for provincial or federal funding, so is otherwise dependent on local business sponsorships and $135 venue fees to make the event possible.
The Art Crawl generated close to $600,000 in sales and commissions in 2019.