All the Essentials for Visiting Tulum, a Town of Culture and Art – We Heart
Luxurious eco-friendly resorts and great restaurants. Galleries and Mayan ruins. Crystal-water beaches and ancient heritage. Just a few of the elements you can find when visiting Tulum. Located just over an hour from Cancún, Tulum has deep cultural deeps that had made it exploded in popularity. But as much as the natural connection, Tulum offers a great art scene. The Mexican town has a huge flow of artists and art galleries through the city.
Likewise, fans of the design and architecture can feel in their element. There's hundreds of resorts and residences created by Mexican firms that project the natural boho style of the city. Tulum is also the host of well-known festivals. Like Art with Me or the Festival Arte Tinasah that connect electronic music, art and cultural experiences; they're hugely popular. In fact, these events receive thousands of visitors.
Tulum is pretty close to Cancun, so the transfer is not a problem with the plenty of options that you can find. Either car rentals, Cancun airport transportation, or public transportation, which you can use to go and back easily.
Give your curiosity and adventure side the opportunity to experience all the cultural attractions and breathtaking nature surrounded by exponential art. Tulum offers such diversity in every corner.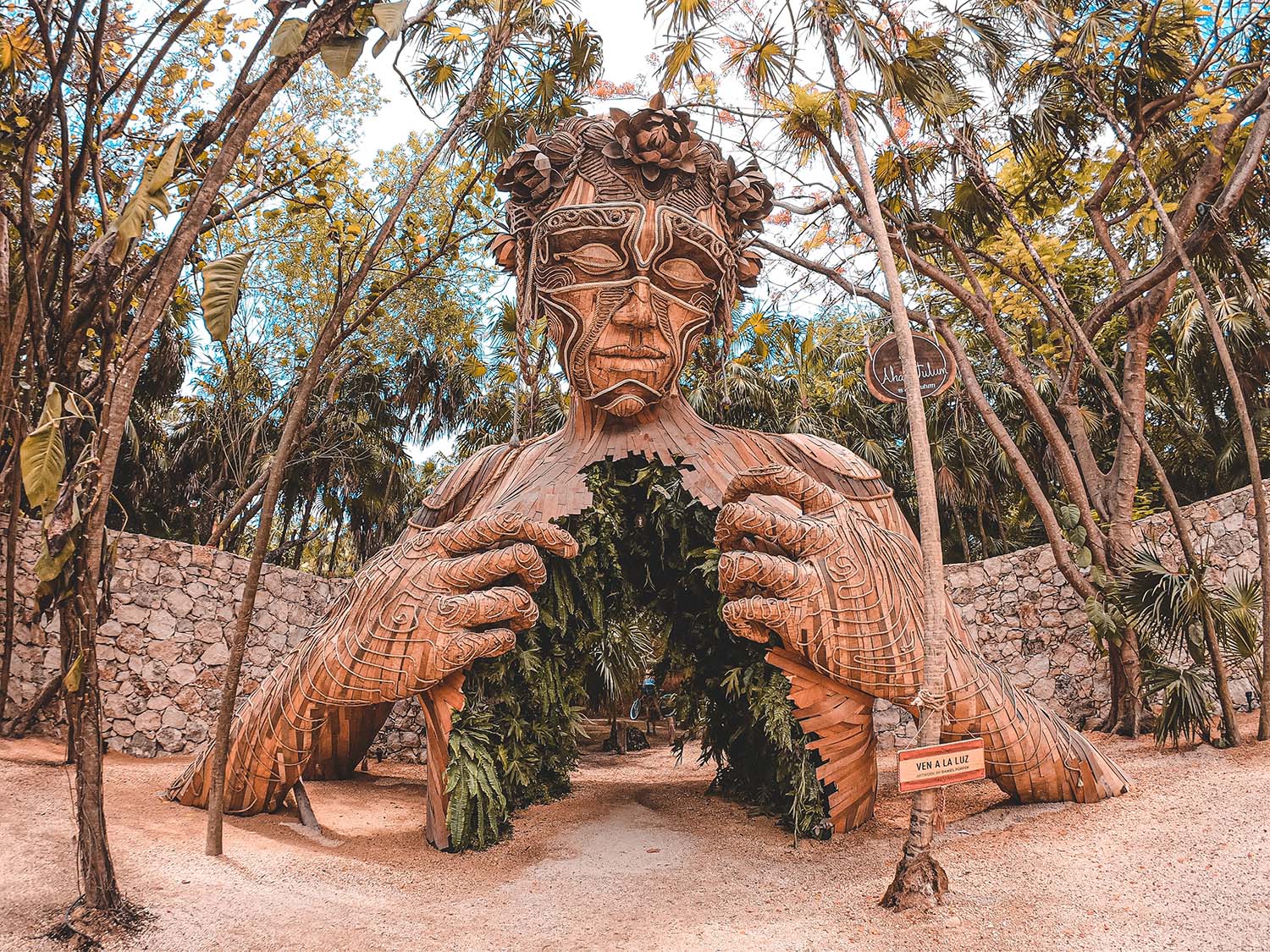 Daniel Popper's Come Into the Light
All the richness in culture, art, music and exceptional nightlife made the city the perfect scenario for the first Art With Me event in 2018. It's where the town's most famous sculpture literally came into the light. Ven a la luz (or Come into the Light as it's called in English) is the name of this huge 32-feet piece that symbolises the deep connection with nature. Made by Daniel Popper, the South African artist goes around the world creating pieces that interact with the environment in an organic way. Using local materials and lighting effects.
The sculpture was made with wood, steel, rope and is located at the entry of Ahau Tulum hotel, Raw Love restaurant. However, don't worry about the fact it is located in the hotel zone. Regular folk visiting Tulum can stop by and take a photo on their way, and there are different companies like eTransfers that offer private transportation services and local advice to reach this famous sculpture.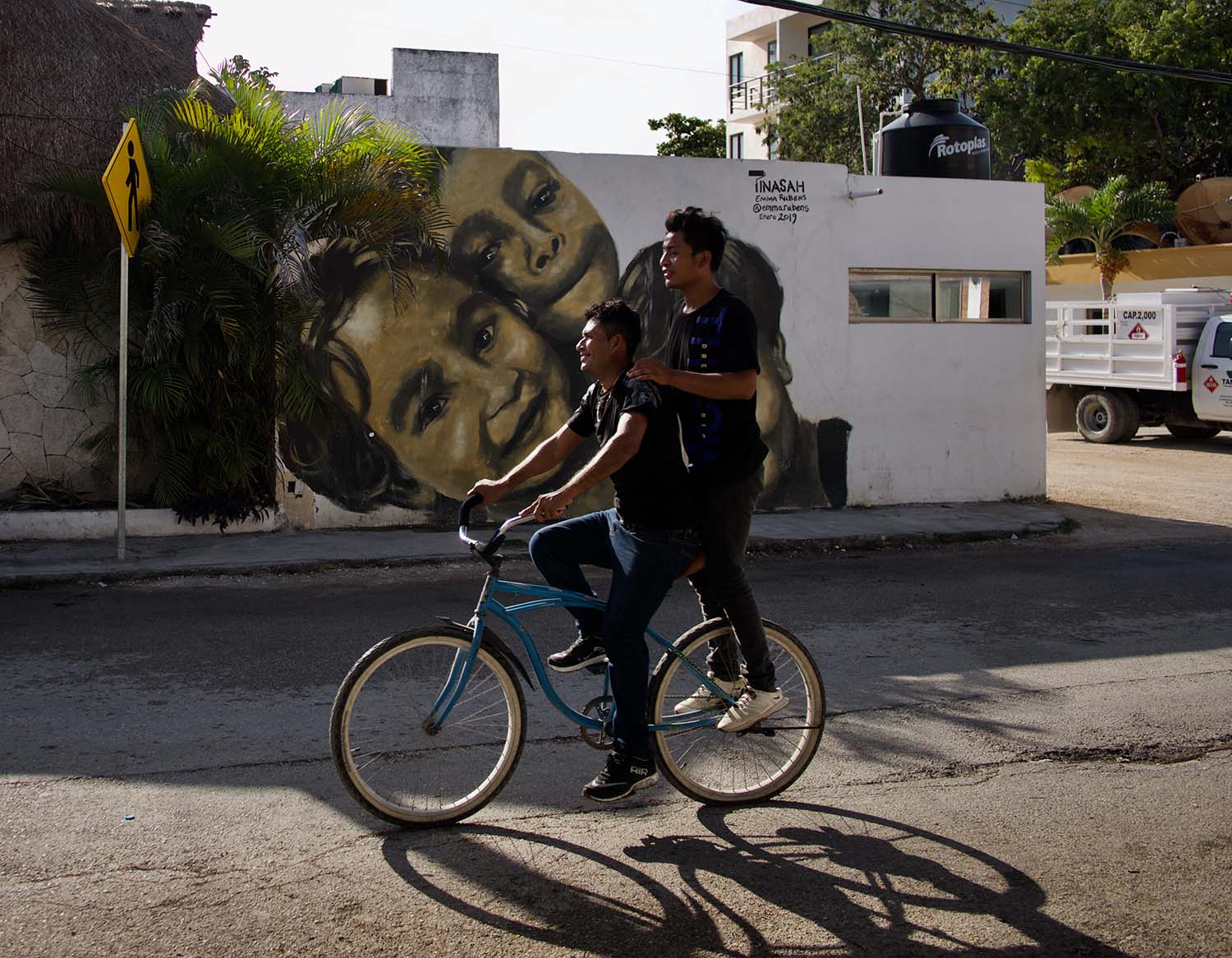 One of a kind Tulum street art
Along with ancient Mayan heritage, the culture of street art is very present in Tulum. Several murals have been painted by renowned street artists. Some of them during the FAT Tulum Art Festival, and others by locals among the years as a way of expression. It can be hard work to know where to find street art in Tulum, but Instagram helps. In addition, local bars and restaurants are happy to help.
There are so many murals in Tulum. So many that exploring its street art culture has gained great popularity. You can also get a tour or go by yourself on an open service that Cancun shuttle transportation services offer to tourists. Undoubtedly, the best option is to rent a bicycle. This way you can really appreciate the work and understand the story behind every piece. It is also the best way to feel the real spirit of the city town.
If street art is what you are looking for when visiting Tulum, Calle Sol Oriente is a pretty street famous among visitors. It's a good way to start. Full of painted walls, it connects with Coba Rd, another street with pretty murals. Lastly, you can also find art pieces in the local cemetery walls, representing the death in the Mayan culture.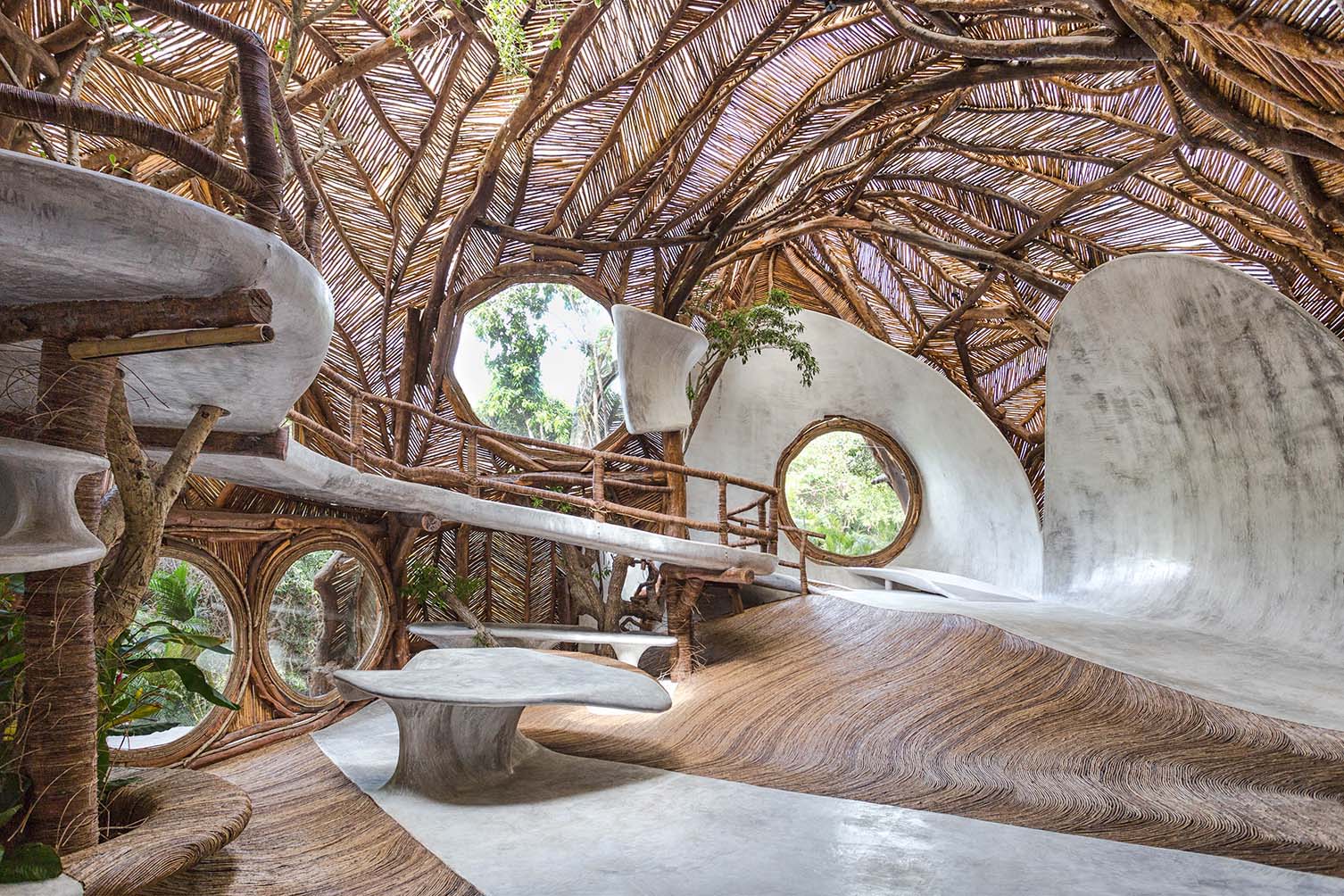 The paradise of art galleries in Tulum
You can say there are as many galleries as street art, you just need quick google research to find plenty of options. Tulum is a base for many national and international artists. The different galleries and art shops offer invaluable art inspiration with handmade pieces using different materials and techniques, always looking to add new artists to their collections.
Those looking for local art must visit Balam Art on Feathers. It is one of Tulum's most famous galleries. Located between the beach and downtown, it is specialised in a Mayan technic that uses feathers of different birds as a canvas. Furthermore, you may have heard about IK LAB Gallery? Located in Azulik resort, it's an eco-friendly space that currently hosts an exhibition of three great artists focused on the human journey through physical and metaphysical realms.
Toronto Biennial of Art Appoints Curators
The Toronto Biennial of Art has appointed Montreal curator Dominique Fontaine and Peruvian curator Miguel A. López as co-curators of its 2024 edition.
Fontaine, who was born in Haiti, is a founding director of aposteriori, a non-profit curatorial platform that produces diverse and innovative contemporary art. Her projects include curating Between the earth and the sky, the possibility of everything for Scotiabank Nuit Blanche in Toronto in 2014, and co-curating the survey exhibition Here, We Are Here: Black Canadian Contemporary, which showed at the Royal Ontario Museum and the Montreal Museum of Fine Arts in 2018.
López worked as chief curator, and later as co-director, of TEOR/éTica in San José, Costa Rica, from 2015 to 2020. In 2019, he curated the retrospective exhibition Cecilia Vicuña: Seehearing the Enlightened Failure at the Witte de With (now Kunstinstituut Melly) in Rotterdam. The exhibition travelled to Mexico City, Madrid and Bogota.
Patrizia Libralato, the biennial's executive director, said the two curators will contribute scholarship, innovation and inspiration to deepen the event's connections to both local communities and global conversations.
"Together, we aim to create an event as uniquely diverse, responsive, challenging and engaging as the city itself," she said.
The biennial, which will run from Sept. 21 to Dec. 1, 2024, attracted more then 450,000 visitors to its first two editions, which featured free programming across the city.
It has featured work by artists such as AA Bronson, Judy Chicago, Brian Jungen, Tanya Lukin Linklater, Kapwani Kiwanga, Caroline Monnet, Denyse Thomasos and Camille Turner.
---
Source: Toronto Biennial of Art
Football and art come together in the first NFT exhibition of its kind
–  The King Abdulaziz Center for World Culture's From Strike to Stroke exhibit features 64 FIFA World Cup match results in a unique man-machine collaboration
DHAHRAN, Saudi Arabia, Dec. 6, 2022 /CNW/ — The King Abdulaziz Center for World Culture (Ithra) celebrates the art of the beautiful game in a unique exhibition at the 2022 FIFA World Cup in Qatar. From Strike to Stroke features 64 NFTs by 32 artists from the competing nations, while Artificial Intelligence (AI) fuses the pieces from the contending two countries in each of the 64 matches into a unique piece based on the match outcome. The result will be a singular collection of one-of-a-kind NFTs created through a collaboration of man and machine. Strike to Stroke runs at the Msheireb Galleria Doha, Qatar until December 23.
Ithra, a cultural bridge between Saudi Arabia and the rest of the world, channels the world's passion for football into its infatuation with the arts as the world comes together for the World Cup. The exhibition melds the man-made with the machine-made, and combines art, sport and technology in an innovative fashion.
It features the work of 32 emerging and established artists, each tasked with creating a piece representing their country and using their respective team's jersey colors. After each match, the AI-powered algorithm combines the artists' creations with match statistics to generate unique pieces that represent each game. The collection will be a unique set of pieces presented as NFTs – non-fungible tokens. These cryptographic assets are based on blockchain technology, and created in a process similar to cryptocurrencies.
From Strike to Stroke includes artists who have never created NFTs and NFT artists who had not worked within traditional fine art.
"The passion shared by football fans for the love of the beautiful game can be tangential to the passion shared by art aesthetes," said Dr. Shurooq Amin in her curator's brief to the exhibition. "By connecting 32 artists from both the traditional and digital arenas, Ithra not only bridges the gap between Web2 to Web3, and between football and art, but furthermore between human and machine, as the artists collaborate with AI generation technology to create unique NFTs that combine art, football and technology."
Visit www.striketostroke.com.
Images and exhibition catalogue can be found here.
For more information on Ithra and its programs, visit www.ithra.com.
Photo – https://mma.prnewswire.com/media/1961775/Ithra_World_Cup_NFTs.jpg
SOURCE King Abdul Aziz Center for World Culture (Ithra)
For further information: Media contacts: Nour Aldajani, [email protected], +966-583268120, Nora Al Harthi, [email protected], Domia Abdi, [email protected], Hadeel Eisa, [email protected]
Richard Serra's art installation hard to miss in Qatar desert, once you get there
Art stands tall in the desert some 75 kilometres northwest of Doha.
You need a rugged vehicle and no small resolve to find it, given signage is almost non-existent. The last few kilometres take time as you cross the desert on a slightly flattened but irregular path well away from the closest blacktop. Proceed with caution.
But East-West/West-East by American sculptor Richard Serra is worth the effort.
Completed in 2014, the installation comprises four giant steel plates – the outer two stand 16.7 metres high and the inner two 14.7 metres – and span more than a kilometre. Slightly different in height, to compensate for the difference in ground level, they line up like enormous fence posts in the barren desert flanked by gypsum plateaus at some points.
If not the middle of nowhere, it's well on the way.
Possibly the last place on earth you'd expect to see "one of the most significant artists of his generation," as Serra is dubbed by the Gagosian Gallery which has showcased his work in both New York and France.
"Taking art to the people," is how Qatar Museums, the country's arts and culture arm, explains it.
Depending on the direction you approach, you see only part of the art. As you get closer, the dark plates get bigger and bigger and you get to see all four.
"After the perceptual bombardment of Doha, with its architecture dominated by idiosyncratic shapes and kitschy facades, the sensuous experience prompted by the rigorous abstraction of the (desert) sculpture is at once bracing and sensitizing," wrote Artforum magazine.
"Serra reminds the viewer, like 19th-century German Romantic artists such as Caspar David Friedrich, of man's frailty in the face of nature's omnipotence," added Numero magazine.
For non art-critics, imagine the monolith in 2001: A Space Odyssey on steroids and times four in the desert. Stand next to one and you feel like an ant – a very hot ant under the blazing Qatari sun.
You'll also likely be alone, albeit under review from what seemed like security in a nearby pickup truck.
The 84-year-old Serra, who worked in steel mills during college, is known for his large-scale abstract steel sculptures.
There is another in Doha itself. A sculpture called 7 – the number seven has spiritual significance in Islamic culture – was commissioned by Qatar Museums.
Built out of seven steel plates, it faces the sea at MIA Park, adjacent to the Museum of Islamic Art.
Like a billionaire stocking his mansion with objets d'art, the government of Qatar has dug deep into its oil-filled coffers to decorate the country with world-class art.
There are big-ticket art works all over.
In 2013, Qatar Museums Authority head Sheikha al-Mayassa al-Thani, the daughter of the emir of Qatar, was listed atop ArtReview magazine's annual Power 100 list "on account of her organization's vast purchasing power and willingness to spend at a rate estimated to be US$1-billion a year – in order to get top works of art for its Doha museums," ArtReview said.
Le Pouce, a giant golden thumb by French artist Cesar Baldaccini, is front and centre in Doha's Souq Waqif market. French-American artist Louise Bourgeois' Maman, a giant spider that can also be found outside Ottawa's National Gallery of Canada, stands inside the Qatar National Convention Center (QNCC), which doubles as the World Cup's main press centre.
Another edition of Maman, one of seven, was sold for US$32-million by Christie's in 2019.
"The Miraculous Journey" by English artist Damien Hirst is hard to miss outside Sidra Medicine centre just down the street from the QNCC. The 14 monumental bronze sculptures chronicle the gestation of a fetus inside a uterus, from conception to birth – ending with a statue of a 14-metre-tall anatomically correct baby boy.
–-
Follow @NeilMDavidson on Twitter
This report by The Canadian Press was first published Dec. 5, 2022