All vaccinated Ontarians can now download enhanced, scannable certificates – Sudbury.com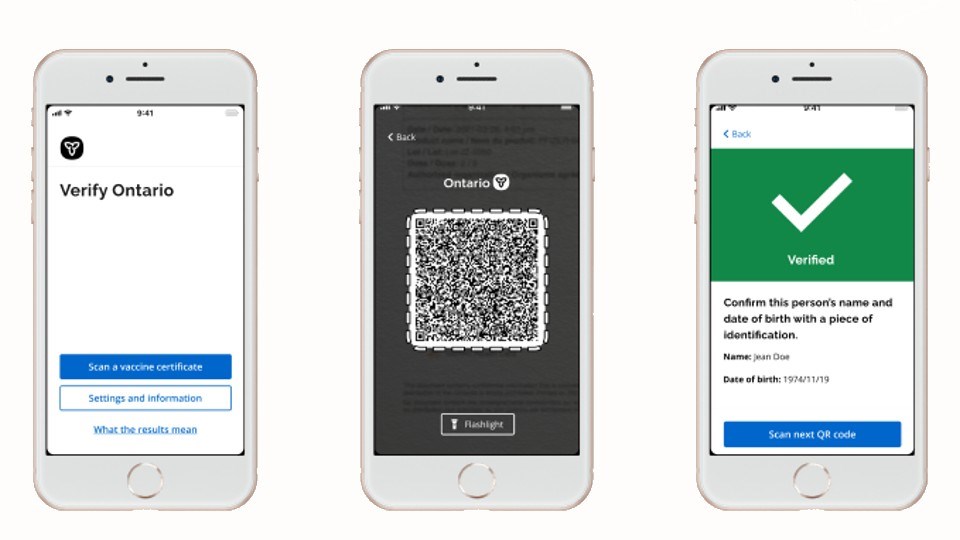 TORONTO — All Ontarians vaccinated against COVID-19 can now download their enhanced certificates, which include a QR code.
The provincial government has said the scannable documents will allow for faster entry into settings that require proof of vaccination.
The enhanced system officially takes effect on Friday, but Ontarians can get their new vaccine certificates before then, and businesses can start using a new app to verify those codes.
Residents whose birthdays fall between January and April were able to download the enhanced vaccination certificate through the province's COVID-19 website on Friday, and further cohorts got access over the weekend.
Under Ontario's vaccine certificate program, only those who have been fully vaccinated against COVID-19 — or have a valid medical exemption from a doctor — can access certain settings.
They include theatres, gyms, nightclubs and restaurant dining rooms.
This report by The Canadian Press was first published Oct. 18, 2021.
The Canadian Press
China Evergrande shares plunge as it teeters on brink of default – CNBC
China Evergrande Group started returning a small portion of the money owed to buyers of its investment products, weeks after people protested against missed payments at its Shenzhen headquarters, pictured here on Sept. 30, 2021.
Gilles Sabrie | Bloomberg | Getty Images
After lurching from deadline to deadline, China Evergrande Group is again on the brink of default, with its pessimistic comments condemning its stock to a record low just as direct state involvement raises hope of a managed debt restructuring.
Having made three 11th-hour coupon payments in the past two months, Evergrande again faces the end of a 30-day grace period on Monday, with dues totaling $82.5 million.
But a statement on Friday saying creditors had demanded $260 million and that it could not guarantee funds for coupon repayment prompted authorities to summon its chairman — and wiped a fifth off its stock's value on Monday.
Evergrande, once China's top-selling developer, is grappling with over $300 billion in liabilities, meaning a disorderly collapse could ripple through the property sector and beyond.
Its Friday statement was followed by one from authorities in its home province of Guangdong, saying they would send a team at Evergrande's request to oversee risk management, strengthen internal control and maintain operations — the state's first public move to intervene directly to manage any fallout.
The central bank, banking and insurance regulator and securities regulator also released statements, saying risk to the property sector could be contained.
Analysts said authorities' concerted effort signaled Evergrande has likely already entered a managed debt-asset restructuring process.
Morgan Stanley said such a process would involve coordination between authorities to maintain operations of property projects, and negotiation with onshore creditors to ensure financing for project completion.
Regulators would also likely facilitate debt restructuring discussion with offshore creditors after operations stabilize, the U.S. investment bank said in a report.
After the flurry of statements, Evergrande's stock nose-dived 20% on Monday to close at an all-time low of HK$1.82.
Its November 2022 bond — one of two bonds that could go into default upon Monday non-payment — was trading at the distressed price of 18.560 U.S. cents on the dollar, compared with 20.083 cents at Friday's close.
Liquidity squeeze
Evergrande has been struggling to raise capital through asset disposal, and the government has asked Chairman Hui Ka Yan to use his wealth to repay company debt.
The firm is just one of a number of developers starved of liquidity due to regulatory curbs on borrowing, prompting offshore debt defaults, credit-rating downgrades and sell-offs in developers' shares and bonds.
To stem turmoil, regulators since October have urged banks to relax lending for developers' normal financing needs and allowed more real estate firms to sell domestic bonds.
To free up funds, Premier Li Keqiang on Friday said China will cut the bank reserve requirement ratio "in a timely way."
Still, the government may have to significantly step up policy-easing measures in the spring to prevent a sharp downturn in the property sector as repayment pressure intensifies, Japanese investment bank Nomura said in a report on Sunday.
Quarterly dollar bond repayments will almost double to $19.8 billion in the first quarter and $18.5 billion in the second.
Yet easing measures such as the ability to sell domestic bonds are unlikely to help Evergrande refinance as there would be no demand for its notes, CGS-CIMB Securities said on Monday.
Evergrande's inability to sell projects — with almost zero November sales — also makes short-term debt payments "highly unlikely," the brokerage said.
Contagion
On Monday, smaller developer Sunshine 100 China Holdings Ltd said it had defaulted on a $170 million dollar bond due Dec. 5 "owing to liquidity issues arising from the adverse impact of a number of factors including the macroeconomic environment and the real estate industry."
The delinquency will trigger cross-default provisions under certain other debt instruments, it said.
Last week, Kaisa Group Holdings Ltd — China's largest offshore debtor among developers after Evergrande — said bondholders had rejected an offer to exchange its 6.5% offshore bonds due Dec. 7 , leaving it at risk of default.
The developer has begun talks with some of the bondholders to extend the deadline for the $400 million debt repayment, sources have told Reuters.
Smaller rival China Aoyuan Property Group Ltd last week also said creditors have demanded repayment of $651.2 million due to a slew of credit-rating downgrades, and that it may be unable to pay due to a lack of liquidity.
Aoyuan Chairman Guo Zi Wen on Friday told executives at an internal meeting to have a "wartime mindset" to ensure operation and project delivery and to fund repayment, a person with direct knowledge of the matter told Reuters.
Such tasks will be priorities for the developer, which will leave bond repayment negotiation to professional institutions in Hong Kong, said the person, declining to be identified as the matter is private.
Aoyuan did not respond to a request for comment.
The developer's share price fell nearly 8% on Monday. Kaisa lost 3.8% whereas Sunshine 100 plunged 14%.
China Evergrande Debt Restructuring Looms – Bloomberg Markets and Finance
Toshiba walked away from potential buyout talks and Brookfield offer -sources
Japan's Toshiba Corp walked away from potential private equity buyout offers at a substantial premium, as well as advanced talks for a minority stake from Canada's Brookfield, according to three people familiar with the matter.
Toshiba's decision to not pursue either course – some details of which have not been previously reported – and instead focus on a plan to split itself in three, has widened the gulf between the conglomerate and a number of its hedge fund investors, according to the people, all of whom declined to be identified because of the sensitivity of the issue.
At least one private equity firm told the Toshiba committee tasked with its strategic review that a deal to take it private could be done at 6,000 yen a share or more, according to two people briefed on the review process.
Another private equity firm told the committee a deal could get done at around 5,000 yen a share, according to one of the people briefed on the review and another person.
A price of 6,000 yen would value Toshiba at around 2.6 trillion yen ($23 billion) and represent a 32% premium to its average price over the past 200 days, according to Refinitiv data.
"We are communicating with shareholders explaining the separation plan we announced on Nov. 12 as well as listening to their opinions," Toshiba said in a statement to Reuters. "We will continue our communications with various stakeholders."
Some shareholders have also taken issue with Toshiba's decision not to pursue talks with Canada's Brookfield Asset Management, one of the private equity firms, on a potential minority investment, according to several sources.
That could have seen Brookfield, which successfully turned around the conglomerate's bankrupt nuclear power business Westinghouse, take a minority stake and help overhaul the business, sources said.
Brookfield did not immediate respond to a request for comment.
(Reporting by Makiko Yamazaki; Editing by David Dolan and Lincoln Feast.)