Amazon looks to self-driving future by acquiring tech company Zoox – CBC.ca
Amazon said Friday that it is buying U.S. self-driving technology company Zoox, which is developing an autonomous vehicle for a ride-hailing service that people would request on their phones.
Seattle-based Amazon did not disclose how much it is paying for Zoox, which was founded six years ago in Foster City, California. Analysts pegged the purchase price at over $1 billion US.
The online retailing giant said Zoox will keep running as a separate business and continue to develop its own autonomous vehicle.
"We're excited to help the talented Zoox team to bring their vision to reality in the years ahead," said Amazon's Jeff Wilke, who runs the company's retail business.
We are delighted to announce that Zoox is teaming up with <a href="https://twitter.com/amazon?ref_src=twsrc%5Etfw">@amazon</a>. We have made great strides in creating autonomous mobility from the ground up, and are excited to continue working with our exceptionally talented team to realize that vision. <a href="https://t.co/TdQKaebKW7″>https://t.co/TdQKaebKW7</a>

&mdash;@zoox
Amazon entering a new industry?
The deal could drive Amazon into an entirely new business: transporting people from one place to another. But some industry analysts think Amazon's ultimate goal is to repurpose the Zoox vehicle for its core business, delivering packages to shoppers.
"My guess would be in the near term that Amazon is probably more interested in taking that platform and adapting it as an alternative or complement to its existing fleet of delivery vans," said Sam Abuelsamid, principal analyst for Guidehouse Insights, who follows autonomous vehicle developments.
Abuelsamid said Zoox has a good autonomous system and was planning to deploy a ride-hailing service next year. It's also building its own vehicle that can travel in two directions — both ends can be the front and the back — making it ideal for urban deliveries. He sees Amazon converting the small vehicles into mobile lockers that would stop at delivery sites for people to pick up packages.
Amazon didn't directly answer a question about whether autonomous package delivery is its goal, but said Zoox would "continue working toward their mission to transform mobility as a service by developing a fully autonomous, purpose built vehicle."
Self-driving vehicles far down the road
The company cautioned that widespread use of autonomous vehicles is still years away and will require a substantial capital investment in a crowded field. The deal puts Amazon, which has grown rapidly from its start as an online bookseller 25 years ago, in competition with Google's self-driving technology spinoff called Waymo, and General Motors' Cruise autonomous vehicle unit.
Autonomous delivery would fit with Amazon's plans to deliver more of its packages on its own and rely less on UPS and the U.S. Postal Service. In recent years it has expanded its fleet of planes, built package sorting hubs at airports and launched a program that lets people start businesses that deliver packages in vans stamped with the Amazon logo.
The investment could complement the $700 million US that Amazon put into electric vehicle startup Rivian in 2019. Rivian, with operations in suburban Detroit and California, has a contract to make 100,000 electric delivery vans for Amazon. The company also has a factory in Normal, Illinois, with extra capacity that could be used to build the Zoox vehicles for Amazon, Abuelsamid said.
Amazon's acquisition changes the landscape in the autonomous vehicle business by bringing in a deep-pocketed competitor, Abuelsamid said. It increases pressure on smaller companies that are building delivery vehicles, he said.
Amazon's past autonomous tech ventures
The Zoox acquisition isn't Amazon's first foray into autonomous vehicles. Early in 2019, it joined other investors in a $530 million US stake in Aurora Innovation. Aurora recently has focused on a self-driving system for heavy trucks.
Amazon has used autonomous technology to get orders to shoppers: self-driving robots shuffle products around its warehouses and a cooler-sized robot with six wheels has delivered orders in a Seattle suburb. It's also working on self-piloted drones that fly small goods to customers' homes.
The deal comes at a time when the power of Amazon and other technology stalwarts such as Google, Facebook and Apple have drawn increasing scrutiny from U.S. lawmakers and antitrust regulators. The pandemic-stricken economy is making it more difficult for startups to raise money to continue work, creating opportunities for the industry's still-thriving giants to make acquisitions at bargain prices.
Privately held Zoox received $990 million US in funding from investors, according to Crunchbase, which tracks investments in startups.
$40 Could Be Magic Number for Some Oil Players – Rigzone News
The $40 per barrel level for West Texas Intermediate crude oil could trigger an uptick in activity among some oil market players, an informed market-watcher told Rigzone. Keep reading to learn about what specific activity could be on the rise, along with other developments to watch for this week in the oil market.
Tom Seng, Director – School of Energy Economics, Policy and Commerce, University of Tulsa's Collins College of Business: Large U.S. oil producers, such as ConocoPhillips, have announced that they will begin to bring back oil production that was shut-in due to lower prices. Look for mergers and acquisitions activity to start to increase if prices can stabilize at or above the $40 level. The "bottom-feeders" who have waited to buy really "cheap" assets will have to contend with higher valuations now.
Tom Curran, Senior Energy Services and Equipment Analyst in Equity Research, B. Riley FBR, Inc.: Come 1 p.m. Eastern time on each of the next two Fridays, our attention will be fixated on the Baker Hughes rig count site. The weekly U.S. active frac spread count troughed at 45 in mid-May, pivoted into an uptrend, surging by 33 units to 78 as of June 19, 2020, and has vacillated in the 70s since, according to Primary Vision. Given our industry recovery thesis – which is that operators would first restart shut-in production and increase DUC (drilled but uncompleted) well executions, then pick up new well drilling, which should see a slower rise than completion activity – we believe a definitive floor is imminent for the weekly Baker Hughes U.S. land drilling rig count. In fact, a bottoming process may already be underway. The count's downtrend has significantly decelerated since early June. For the last three weekly measures, Baker has reported 255, 254 and 251.
Barani Krishnan, Senior Commodities Analyst at Investing.com: Expect all eyes to be on virus stats for the coming week or two. Regardless of what the Trump administration says or wants us to think, the pandemic will decide the course of oil demand and the economy – not the other way around.
To contact the author, email mveazey@rigzone.com.
Corbeil man wins big money through Encore – BayToday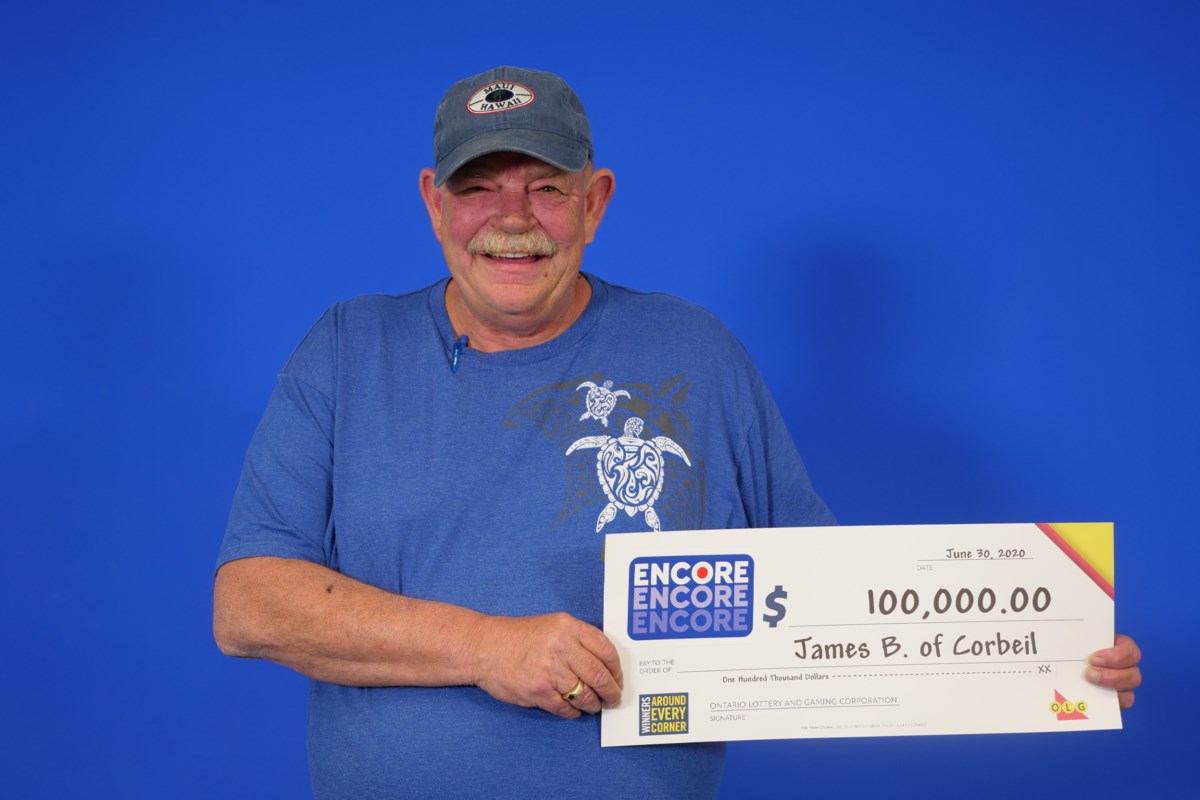 Saying "yes" to ENCORE paid off for James Braund of Corbeil. Jim matched the last six of seven ENCORE numbers in exact order in the April 14, 2020 LOTTO MAX draw to win $100,000.
Jim, a 67-year old father and grandfather says he plays the same numbers regularly.
"I was at the gas station where I purchased my tickets and the terminal froze when the retailer scanned my ticket," he shared, while at the OLG Prize Centre in Toronto to pick up his cheque.
"When I realized I won $100,000, I was so excited," he smiled.
The retired public servant plans to take a family vacation with his kids and grandkids when the time is right. "My wife spent some time shopping today while I was here at OLG collecting my prize," he remarked.
"This was amazing. You wake up in the morning to know you have an additional $100,000 in your bank account. It's surreal," he concluded.
The OLG Prize Centre in Toronto has resumed in-person prize claims for winning-ticket holders of $50,000 or more by-appointment only.
The winning ticket was purchased at MacEwan on Highway 94 in Corbeil.
COVID-19 slams businesses and consumer sentiment: Bank of Canada – Yahoo Canada Finance
Even as economies across Canada gradually reopen, Canadian consumers and businesses worry about the effects of COVID-19.
<p class="canvas-atom canvas-text Mb(1.0em) Mb(0)–sm Mt(0.8em)–sm" type="text" content="The Bank of Canada's Canadian Survey of Consumer Expectations (CSCE) was conducted between May 11 to June 1 and asked for views on inflation, the labour market, and household finances." data-reactid="24″>The Bank of Canada's Canadian Survey of Consumer Expectations (CSCE) was conducted between May 11 to June 1 and asked for views on inflation, the labour market, and household finances.
"The perceived probability of losing one's job rose to its highest level in the CSCE, and respondents anticipated having greater difficulty finding new employment if they were to lose their current job." said the Bank of Canada in a release.
Barring a second wave, restrictions have eased since the survey was conducted. So the outlook could be getting more optimistic.
"Although most provinces were reopening during this time period, we would hope that the further removal of social distancing measures following the survey period would provide at least modestly better results for job prospects if it were conducted today," said CIBC economists Andrew Grantham and Katherine Judge, in a note.
Compared to the previous CSCE in April for the first quarter, expectations for wage growth and household income growth eased. Plans for spending tumbled, with households focusing on essential products and services.
Survey respondents also said they excepted a pause for real estate prices for the next 12 months.
"Overall, consumer expectations for house price growth in Canada dropped to zero. The decline was widespread across provinces. Expectations in Alberta, Saskatchewan and British Columbia were negative," said the Bank of Canada.
Respondents said they expect inflation to remain near the Bank of Canada's target range of between 1 and 3 per cent.
<h2 class="canvas-atom canvas-text Mb(1.0em) Mb(0)–sm Mt(0.8em)–sm" type="text" content="Sour business outlook" data-reactid="32″>Sour business outlook
<p class="canvas-atom canvas-text Mb(1.0em) Mb(0)–sm Mt(0.8em)–sm" type="text" content="The Bank of Canada also released its Business Outlook Survey, which found business sentiment is negative in all regions and all sectors due to COVID-19." data-reactid="33″>The Bank of Canada also released its Business Outlook Survey, which found business sentiment is negative in all regions and all sectors due to COVID-19.
"Businesses in most regions and sectors intend to significantly cut their investment spending. Hiring plans are muted, although a quarter of firms plan to refill some positions after recent layoffs," said the Bank of Canada.
The Business Outlook Survey found labour shortages are easing. But credit conditions are tightening, although government measures have helped offset the situation.
The survey was conducted from mid-May to early June.
"The composite indicator fell to -7 in Q2, from -0.5 in the prior quarter, and a level close to the lowest reading seen during the 2008/09 financial crisis," said CIBC's Grantham and Judge.
"The headline reading probably could have been even worse if the survey had been conducted a month earlier, as the mid-May to early June survey period coincided with provincial governments reopening their economies but came before we had seen the spike in Covid-19 case counts in the US."
Nearly a third of businesses said the Canada Emergency Wage Subsidy (CEWS) helped avoid layoffs.
Respondents said the labour pool was vast enough to hire workers if they had to ramp up.
"However, a few businesses noted that the Canadian Emergency Response Benefit has made it difficult to retain current workers or hire new staff."
<p class="canvas-atom canvas-text Mb(1.0em) Mb(0)–sm Mt(0.8em)–sm" type="text" content="Jessy Bains is a senior reporter at Yahoo Finance Canada. Follow him on Twitter&nbsp;@jessysbains." data-reactid="42″>Jessy Bains is a senior reporter at Yahoo Finance Canada. Follow him on Twitter @jessysbains.
<p class="canvas-atom canvas-text Mb(1.0em) Mb(0)–sm Mt(0.8em)–sm" type="text" content="Download the Yahoo Finance app, available for&nbsp;Apple&nbsp;and&nbsp;Android." data-reactid="43″>Download the Yahoo Finance app, available for Apple and Android.