Amazon's Ring Always Home surveillance drone is unsettling – Vox.com
Amazon has announced a new way for consumers to surveil their own homes: a camera-equipped drone that connects to Ring security systems. Ring, which Amazon owns, has a history of enabling controversial levels of surveillance in homes and neighborhoods. So the addition of a flying camera that can venture into new nooks and crannies is, at best, unsettling.
The Ring Always Home Cam is designed to fly around different areas of someone's home every so often, capturing footage before landing back in its dock. The device is meant to stay indoors and fly autonomously based on pre-programmed flight paths that navigate between the walls of a house, a Ring spokesperson told Recode. The announcement comes after Amazon last year won a patent for a home surveillance drone; it's also worth mentioning that the Federal Communications Commission (FCC) has not yet authorized the sale of this device.
Amazon says its new Ring surveillance drone is scheduled to go on sale in 2021 for $249 (once FCC authorization is obtained), and the company says it built in the product with "privacy in mind." In a live blog of the virtual announcement event, Amazon said the Always Home Cam "only records when in flight; when it's not in use it sits in a dock and the camera is physically blocked." The company added that the drone is "loud enough so you hear when it's in motion." This is illustrated in a promotional video from Ring that shows a hypothetical robbery in which a burglar breaks into a man's bedroom while the man is not home. The drone then chases off the burglar while the man anxiously watches the action through a smartphone app.
On its face, the new Ring drone might seem neat and futuristic, but it also serves as a reminder of the company's checkered history with privacy and surveillance. Ring has long faced intense criticism over its existing security products, and those concerns only grew after Amazon acquired the company for $1 billion in 2018. One particularly sensitive issue is Ring's vast and somewhat secretive network of police partnerships, which allow law enforcement to request footage collected by Ring cameras. Ring's Neighbors app has also been accused of exacerbating racism and capitalizing on fear of crime. Meanwhile, many, including some members of Congress, are worried that the company will soon incorporate facial recognition into the Ring platform.
"The introduction of a roving drone security camera inside your own home potentially upends the idea of the very idea of home as a private place," Matthew Guariglia, a policy analyst at the Electronic Frontier Foundation, told Recode in email. "Amazon's new products certainly have the potential to extend what was already an invasive surveillance system into the realm of the absurd."
While a Ring spokesperson told Recode that the Always Home camera footage cannot be requested by police, Amazon has not made a formal commitment not to allow police to request this footage in the future.
The announcement of the Ring drone arrives at a time when Amazon is also attempting to expand its products' functionality in private and public spaces with an update to its Sidewalk project. As Amazon explains on its website, Sidewalk aims to create a shared network that could connect a suite of Amazon's connected products for the home, like some of its Ring devices and Echo voice assistants. The effort is also meant to operate at a larger scale, potentially connecting devices throughout a neighborhood. For example, Amazon says that Sidewalk would enable certain Ring products to continue sending certain alerts even in the absence of a wifi connection. Eventually, the platform will promote "smart security" and even help find pets and valuables, the company said in a blog post on Monday.
"The Sidewalk Project has the potential to extend what is supposed to be home surveillance into community and neighborhood surveillance," Guariglia said. "With all of these technologies, the individuals who purchase this equipment often are not asking how their neighbors feel about technology that could potentially extend the reach of networked smart devices, including those created for the purpose of recording and tracking well outside of their own property and into public spaces."
So despite the advertised benefits of Amazon's growing network of gadgets, the company is also setting itself up for more criticism over how these products also seem invasive or even Orwellian, especially as lawmakers face more pressure to regulate surveillance products and limit the technological capabilities of law enforcement.
Basically, it seems as though Amazon wants to be everywhere, and it's working hard to get there. So even while every Ring product might seem useful — even cool — on its own, considered in the aggregate, Amazon is producing a constellation of connected products that could be repurposed to record and surveil us, whether through its microphone- and camera-equipped devices, like the Echo and the Echo Show, or the new Ring cameras for cars Amazon also announced on Thursday. And with each new device, Amazon seems to hold more of the cards, collecting not only data about what's happening in our homes but in our neighborhoods, too. That may not be the future we want.
Open Sourced is made possible by Omidyar Network. All Open Sourced content is editorially independent and produced by our journalists.
---
Millions turn to Vox each month to understand what's happening in the news, from the coronavirus crisis to a racial reckoning to what is, quite possibly, the most consequential presidential election of our lifetimes. Our mission has never been more vital than it is in this moment: to empower you through understanding. But our distinctive brand of explanatory journalism takes resources. Even when the economy and the news advertising market recovers, your support will be a critical part of sustaining our resource-intensive work. If you have already contributed, thank you. If you haven't, please consider helping everyone make sense of an increasingly chaotic world: Contribute today from as little as $3.
iPhone 12 Lineup Enables Personal Hotspot Over Faster 5GHz Wi-Fi – MacRumors
As noted by MacRumors contributor Steve Moser, and confirmed by Aaron Zollo, the iPhone 12 lineup introduces support for Personal Hotspot tethering over faster 5GHz Wi-Fi, compared to 2.4GHz Wi-Fi on previous iPhones.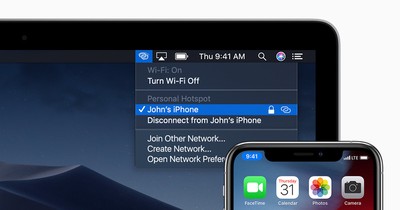 Personal Hotspot over 5GHz Wi-Fi is enabled by default on all iPhone 12 models. In the Settings > Personal Hotspot menu on these devices, there is a new "Maximize Compatibility" toggle that reverts Personal Hotspot to 2.4GHz Wi-Fi when enabled, with Apple noting that this may reduce internet performance on devices that are connected to the hotspot.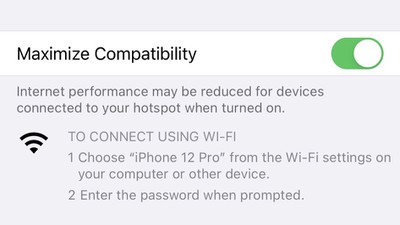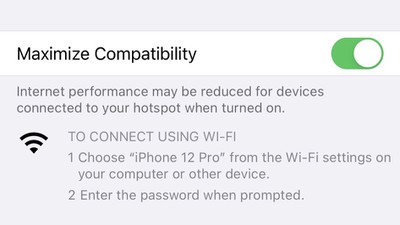 The combination of iPhone 12 models supporting higher-speed 5G networks and 5GHz Wi-Fi's higher maximum throughput paves the way for faster Personal Hotspot, but testing will have to be done to confirm the exact speed improvements. Keep in mind that while 5GHz Wi-Fi is faster than 2.4GHz Wi-Fi, it has shorter range, so Personal Hotspot speeds will vary based on the distance of a tethered device to the iPhone.
MagSafe 15W fast charging restricted to Apple 20W adapter – AppleInsider
New testing shows Apple's MagSafe charging puck does peak at 15W with iPhone 12, but only when paired with the company's 20W adapter.
The apparent restriction was discovered by Aaron Zollo of YouTube channel Zollotech. In a comprehensive evaluation of Apple's MagSafe device posted on Monday, Zollo found two Apple adapters — a new standalone 20W USB-C device and the 18W unit that came with iPhone 11 Pro handsets — achieved high rates of charge.
Measuring energy throughput with an inline digital meter revealed MagSafe hits the advertised 15W peak charging rate (up to 16W in the video) when paired with Apple's branded 20W adapter. Speeds drop to about 13W with the 18W adapter, and Zollo notes the system takes some time to ramp up to that level.
Older adapters and third-party models with high output ratings do not fare well in the test. Apple's own 96W MacBook Pro USB-C adapter eked out 10W with MagSafe, matching a high seen by Anker's PowerPort Atom PD1. Likewise, charging rates hovered between 6W and 9W when attached to Aukey's 65W adapter, Google's Pixel adapter and Samsung's Note 20 Ultra adapter.
It appears third-party devices will need to adopt a MagSafe-compatible power delivery (PD) profile to ensure fast, stable energy delivery when connected to iPhone 12 series devices.
As can be expected with any charging solution, temperature plays a significant role in potential throughput. Zollo found MagSafe significantly throttles speeds as temperatures rise, meaning actual rates are not a constant 15W even when using the 20W adapter. When heat rises, energy output decreases to protect sensitive hardware components and the battery itself. In some cases, this could prompt users to remove their iPhone from its case — including Apple-branded MagSafe models — to achieve maximum thermal efficiency.
Zollo also confirms older Qi-compatible iPhone models, like iPhone 8 Plus and iPhone 11 Pro Max, charge at about 5W with MagSafe. Apple previously said Qi devices would charge at 7.5W.
Hollywood North: B.C. film production recovers to top pre-pandemic levels – Vancouver Sun
Article content continued
Visual effects and animation divisions also moved to remote work setups early on and were able to continue working through the shutdown, keeping the lights on B.C.'s film sector.
While B.C.'s film industry was never subject to an official order to close by health officials, studio heads, local health authorities and unions were in communication throughout the shutdown to ensure a return to filming could be done safely.
"As a collaborative, agile and adaptable business sector, we are in the fortunate position to help restore the productivity and optimism that characterizes our region, as we navigate recovery from an extraordinary global crisis together," said Peter Leitch, chairperson of the Motion Picture Production Industry Association of B.C. and president of North Shore Studios.
Prior to 2020's unpredictable storyline, research conducted by the Vancouver Economic Commission also notes that B.C.'s film industry had set a new record last year, with more than $4.1 billion spent in the province (all figures in Canadian dollars).
Of that total, $3.1 billion was on physical production alone, with the remaining $1 billion on post-production and animation, much of which also takes place in Vancouver.
The $4.1 billion figure nearly triples 2012's $1.6 billion. In the period between 2012 and 2019, film activity has translated into $22.7 billion for the provincial economy in the areas of hospitality, tourism, material suppliers, transportation and construction, including $12.5 billion alone in wages for British Columbians. It's estimated that the film industry supports more than 70,000 jobs across B.C.