AMD Radeon RX 7900 XTX and AMD Radeon RX 7900 XT Review: High-end RDNA 3 GPUs for 4K gaming that don't break the bank
The new Navi 31 GPUs — the Radeon RX 7900 XTX and the Radeon RX 7900 XT — are based on AMD's latest RDNA 3 architecture. The Radeon RX 7900 XTX uses the full graphics Navi 31 chip configuration, which results in a total of 6,144 stream processors (SPs). The smaller RX 7900 XT is no slouch with 5,376 SPs under the hood.
Compared to RDNA 2, the RDNA 3 architecture has undergone a complete revision. The new multi-chip module (MCM) package now combines six memory cache dies (MCDs) and a graphics compute die (GCD) in the RX 7900 XTX. The manufacturing process has now shifted to a smaller node compared to RDNA 2, but this does not result in any significant changes in the clock rates.
In addition to the revamped ray tracing units, which now include up to 96 ray accelerators, there are also 192 AI units. However, these do not yet match up to the raw performance afforded by Nvidia's tensor cores. AMD is very generous when it comes to VRAM capacities and equips the top model with 24 GB of GDDR6 memory. This is mostly on par with the Nvidia GeForce RTX 4090. The RX 7900 XT makes do with 20 GB GDDR6 but is at a slight advantage compared to the Nvidia GeForce RTX 4080, as the second-fastest Ada GPU only offers 16 GB of VRAM.
The media engine has also been revised and AV1 is supported on the hardware side for both encoding and decoding. AMD embraces the latest DisplayPort 2.1 connectivity standard, which Nvidia has omitted from its RTX 4000 models. In total, up to four displays can be operated simultaneously on the Radeon RX 7900 XTX and the Radeon RX 7900 XT.
The test samples here are reference models from AMD. Both the cards are equipped with a 2.5-slot cooler, which uses three axial fans. However, unlike the RTX 4090 and RTX 4080 Founders Edition cards, the cooling unit differs between the two RDNA 3 cards.
The new graphics cards are also significantly smaller than the RTX 4090, so there should be fewer problems accommodating them in compact PCs. Many users will probably breathe a sigh of relief when it comes to power supply connections — AMD sticks to the tried and tested 6+2 pin connectors on both models.
An AMD Ryzen 9 7950X platform based on the Gigabyte X670E Aorus Master serves as our test system for this review. The CPU is ably cooled by the Alphacool Eisbear Aurora 360 AiO cooler. The 32 GB DDR5-6000 RAM comes from G.Skill and is operated with the appropriate EXPO profile. We used the Gigabyte M32U as the monitor of choice.
The complete system specs include:
Lian-Li O11 Dynamic case
AMD Ryzen 9 7950X
Gigabyte X670E Aorus Master, BIOS: F8a
Alphacool Eisbear 360 AiO cooler
Corsair RM 1000x PSU
G.Skill Trident Z5 Neo DDR5-6000 2x 16 GB, EXPO (DDR5-6000 CL30-38-38-96)
Corsair MP600 2 TB
Crucial MX500 2 TB
Microsoft Windows 11 Professional 64-Bit (Version 22H2)
A beta Adrenalin Edition driver version 22.40.00.57 was made available to us for testing the AMD Radeon RX 7900 XTX and the RX 7900 XT. All gaming tests were performed in the native resolution. Upscaling features like FSR were not used.
In synthetic tests, the Radeon RX 7900 XTX places itself just ahead of the RTX 4080, but Nvidia's flagship RTX 4090 remains unmatched with a 21% lead. Compared to the AMD Radeon RX 6950 XT, we see a 35% increase in cumulative performance. AMD's second-fastest model is at a respectable 10% distance behind the RTX 4080. The performance gain relative to the previous top-end model from Team Red is still significant at 16%.
We do notice discrepancies with the Radeon 7000 LuxMark scores. This could be due to a compute unit scaling limitation with the benchmark. Either that, or there could be an issue with the beta Adrenalin drivers not playing well here.
AMD cards have traditionally offered more performance in SPECviewperf tests compared to Nvidia's consumer offerings. The new RDNA 3 graphics cards take things a notch higher, by leaving behind even the driver-optimized Nvidia RTX A6000 and Titan RTX cards, and definitely the newer Ada GPUs.
That being said, it helps to evaluate the card's performance for your required workload. For instance, the RTX 4090 does have an edge over the RX 7900 XTX in 3D workflows such as Maya, Showcase, and 3Ds Max. Of course, those into CUDA-dependent workflows have no option but to choose Nvidia's offerings over AMD's.
Let's be upfront here. AMD cannot beat Nvidia's flagship GPU when it comes to pure raster gaming performance. Depending on the game, resolution, and quality settings, the performance differences between the Ada and RDNA 3 flagships can vary significantly. But there's more to the equation.
Although Nvidia does have leads at 4K, 2K, and 1080p Ultra settings, both AMD RX 7900 cards are perfectly suitable for 4K 100 fps gaming in many titles. As a note, it should also be mentioned that the manufacturer has only provided a beta driver for the preliminary tests so far. AMD has repeatedly proven with past graphics cards that driver updates can afford perceivable performance gains down the line.
AMD's FSR 2 upscaling technology is also finding increasing acceptance among game developers, and we will also get to see FSR 3 incorporating frame generation tech in just a few months from now.
We observe ray tracing performance increases significantly by up to 50% compared to RDNA 2 with RDNA 3's second generation ray tracing accelerators.
That being said, AMD still lags behind compared to Nvidia in this aspect overall. We will update this review with more ray tracing benchmarks shortly for a more holistic comparison.
The AMD Radeon RX 7900 series is able to convince with a clearly noticeable increase in performance. The TBPs of 355 W and 315 W for the RX 7900 XTX and the RX 7900 XT, respectively, are only slightly higher than their RDNA 2 predecessors. The total system power consumption is about 8% less compared to a Radeon RX 6950 XT-based PC.
Having said that, the RX 7900 XTX is comparable to the GeForce RTX 4090's energy consumption when gaming. The likely reason could be that the CPU can quickly bottleneck and slow down the high-performing RTX 4090, particularly at 1080p, which isn't the case with the RX 7900 XTX.
The tables turn during FurMark stress test with the Radeon RX 7900 XTX-based system consuming 15% less power than the one with an RTX 4090. We measured a high energy requirement with the RX 7900 XT even though specifications indicate a maximum of 315 W TBP for the graphics card.
The cooling design of the Radeon RX 7900 graphics cards is visually reminiscent of the 6000 series. AMD continues to rely on vapor chamber cooling with three axial fans. In practice, both the cards have tolerable emissions even under full load with the temperatures remaining under critical regions.
We see a maximum of 86 °C as the GPU hotspot value for the XTX model. The GPU throttles only above 110 °C, which can result in performance loss. Meanwhile, the VRAM gets a bit warmer reaching 94 °C in the stress test. In the XT model, we see similarly high temperatures with the VRAM, although the GPU performs works consistently cooler than its bigger cousin.
It is possible to increase the power target by up to 15% on both models. However, due to the specifications and the already high power consumption, we advise against operating these graphics cards outside their specifications.
Nvidia scored a home run by setting a high bar with its latest Ada Lovelace-based GPUs, such as the GeForce RTX 4090 and RTX 4080. AMD's RDNA 3 announcement was awaited with bated breath by the press and gamers alike to see how Team Red would respond in terms of performance. Now, we are able to finally evaluate flagship RDNA 3 cards of the likes of the Radeon RX 7900 XTX and the Radeon RX 7900 XT and see for ourselves how the latest GPUs stack up to each other.
Our findings show that AMD has substantially improved performance vis-à-vis RDNA 2, even though it's the absolute best we've seen yet. The new cards are able competitors to the RTX 4080, with Nvidia's second best Ada card at times getting sandwiched between the RX 7900 XT and the RX 7900 XTX. While the RX 7900 XTX does fare well against the RTX 4080, the RX 7900 XT takes on the RTX 3080 Ti.
With the Radeon RX 7900 XTX and RX 7900 XT, AMD has significantly upped the ante with its high-end GPUs without raising the TGP to absurd levels. These RDNA 3 GPUs now present an incredibly exciting prospect thanks to their good performance and significantly more attractive pricing.
With an MSRP of US$999 (~€1,149) and US$899 (~€1,049) for the RX 7900 XTX and the RX 7900 XT, respectively, AMD veers away from Nvidia's habit of ridiculously high launch MSRPs. The Nvidia GeForce RTX 4080 and 4090 Founders Edition cards still retail for US$1,199 and US$1,599, respectively, so they are clearly in for some much-needed price cuts. AMD definitely has an edge in this regard, since the higher-end RX 7900 XTX is still less expensive while also being faster overall.
But what good is a worthwhile graphics card when it is out of stock? Poor availability has already been a problem since the launch of the GeForce RTX 4090. Time will tell whether AMD's attempts to fill up the shelves of retailers before the impending launch tomorrow is successful. On a similar note, it will be interesting to see how Nvidia reacts to the pricing, performance, and performance-per-dollar salvo from the new  RDNA 3 GPUs.
With many innovations and much-improved overall feature set, the AMD Radeon RX 7900 XTX and RX 7900 XT are great products for playing all kinds of modern AAA games. Furthermore, the potential increase in performance in the form of better drivers that was often observed in the past gives us hope that this trend will also continue with the current GPU lineup. In addition, upscaling technologies such as FSR 2.0 will become increasingly important in the future with more and more game developers looking to implementing this feature in their games.
In times of energy consumption, we welcome the fact that AMD doesn't pump up to 450 W into the graphics card like Nvidia does. Compared to the AMD Radeon RX 6950 XT, however, the efficiency has been increased significantly. Nevertheless, we are still critical of the general trend of increasing power consumption in modern graphics cards, given the fact that higher TBP values can be seen again and again from generation to generation.
Over the next few days, we will expand this review with additional benchmarks. This primarily includes additional gaming and ray tracing benchmarks along with noise emission data.
Do let us know if you have any suggestions, and we will try our best to include them if possible.
Report: Microsoft, Sony & Nintendo All Skipping E3 2023 – Kotaku
This was supposed to be the year, after industry setbacks and a global pandemic, that E3—once the brightest centre of the video game universe—came back "recognizably epic" as a live show for the first time since 2019. Reports today indicate, however, that it will be doing so without any of the console industry's power players.
A story on IGN this evening says "all three of gaming's first-party console manufacturers appear poised to skip E3's big return", meaning that for the first time in the live show's history not a single one of them will be at an event that was traditionally their highlight of the whole damn year.
While this is a definitive final straw for E3, this has been coming for a while. Nintendo stopped holding big E3 press conferences ten years ago (though the company had a showroom floor presence at the last live show in 2019), and Microsoft and Bethesda recently pivoted to holding their own showcases alongside the E3 festivities. Sony also began passing on E3 stuff a few years back.
While Microsoft won't be at any official E3 events, boss Phil Spencer says that, as they've done the last few years, Xbox will in 2023 be doing stuff alongside E3 so that any press and industry folks in town for that show will be around for theirs as well. It's not known what Nintendo and Sony will be doing in E3's stead, if anything, though Geoff Keighley's rival Summer Games Fest will be taking place at roughly the same time.
It's important to note here that this isn't the same E3 as the olden days. Events specialists ReedPop took over planning of the show last year, and said:
For years, we've listened, heard, and studied the global gaming community's feedback. E3 2023 will be recognizably epic—a return to form that honors what's always worked—while reshaping what didn't and setting a new benchmark for video game expos in 2023 and beyond.
G/O Media may get a commission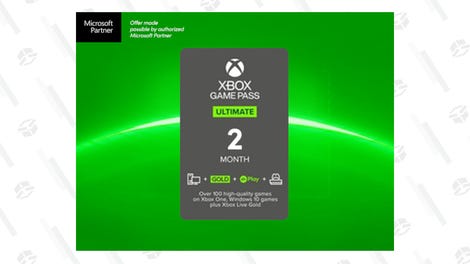 Xbox Game Pass Ultimate Two-Month Subscription
Gaming time
Grants two months of access to Xbox Game Pass Ultimate, which gives you access to Game Pass on your Xbox, PC, and Phone, lets you play online, and even adds an EA Play subscription too, for even more games at under $10.
How they're going to be "recognizably epic" without any major platform holder in attendance is anyone's guess, though ReedPop did say in a statement to IGN that:
As we spent much of 2022 refining how E3 2023 would take shape, reflecting on the feedback we solicited, we did not send a single contract to an exhibitor until the start of this month. We have received a tremendous amount of interest and verbal commitments from many of the biggest companies in the industry, and when we are ready to announce the exhibitors we are confident it will be a lineup that will make the trip to Los Angeles well worth it for the industry and consumers alike.
Sources: Nintendo and PlayStation will not attend E3 2023 | VGC – Video Games Chronicle
Nintendo [3,362 articles]" href="https://www.videogameschronicle.com/platforms/nintendo/">Nintendo and PlayStation [6,843 articles]" href="https://www.videogameschronicle.com/platforms/playstation/">PlayStation will not have a presence at this year's revamped E3 show, according to an IGN report and VGC sources.
E3 2023 will officially run from Tuesday, June 13, until Friday, June 16, according to organiser ReedPop, which has taken over the running of the flagship industry event from the Entertainment Software Association [90 articles]" href="https://www.videogameschronicle.com/companies/entertainment-software-association/">Entertainment Software Association.
According to VGC's publishing sources with knowledge of Nintendo's plans, the company has decided to skip E3 2023 – the event's first physical show in four years – because it feels it has fewer major releases than usual ready to show and which would justify significant event space.
Nintendo has traditionally been one of E3's biggest supporters and was present on the show floor at the last physical event in 2019, when PlayStation and Xbox [6,335 articles]" href="https://www.videogameschronicle.com/platforms/xbox/">Xbox were not.
Sony Interactive Entertainment [2,796 articles]" href="https://www.videogameschronicle.com/companies/sony/">Sony Interactive Entertainment's absence this year is less surprising since it skipped the last E3 show in 2019 entirely, and announced it wasn't planning to attend the 2020 event either, before it was cancelled due to the pandemic.
Forza Motorsport – Developer_Direct, presented by Xbox & Bethesda
Meanwhile, Xbox Game Studios (Microsoft) [2,425 articles]" href="https://www.videogameschronicle.com/companies/microsoft/">Microsoft will have some form of presence in Los Angeles this year with an already-announced summer showcase. However, according to IGN, the Xbox firm will not have a show floor presence at the Los Angeles Convention Center itself.
VGC's own sources claimed discussions were ongoing with Microsoft, however, and that it could yet have a business and media presence similar to last year's Gamescom [195 articles]" href="https://www.videogameschronicle.com/events/gamescom/">Gamescom, if not a traditional booth.
Microsoft traditionally holds its E3 live event away from the LACC, and in 2019 it didn't have its booth there either, instead opting for the neighbouring Microsoft theatre. So unlike Sony and Nintendo, there should still be plenty of Xbox news around the event.
Microsoft's plans are understood to be complicated by the backdrop of recent significant job cuts across the company, in addition to cuts to its marketing budgets which would traditionally cover shows like E3.
Losing all three platform holders would represent a blow to the revamped E3, but sources suggested there should still be a significant presence from major game companies at the event.
New E3 organiser ReedPop told VGC that it had received "a tremendous amount of interest" from many of "the biggest companies in the industry" and that it was confident the line-up would be worth the trip.
"Since ReedPop took on the contract to run E3 six months ago, we've worked diligently with ESA members, using their feedback to create a new type of E3 that supports their goals and needs," a spokesperson said.
"This process takes time and we are working to balance getting it right, and being inclusive, with getting it done quickly. E3 is a deeply significant event for the game industry and being entrusted with an important cultural touchstone is not a responsibility ReedPop takes lightly.
"We continue to work tirelessly to create a show that brings together the global gaming industry. We believe we've created a new format for the event that serves the needs of both the industry and its fans, and are committed to building and growing it in the coming years.
"We have received a tremendous amount of interest from many of the biggest companies in the industry, and when we are ready to announce the exhibitors we are confident it will be a lineup that will make the trip to Los Angeles well worth it for the industry and consumers alike."
When the games industry's other flagship expo, Gamescom, returned from its pandemic hiatus last August, over 500 companies attended, including 2K Games [383 articles]" href="https://www.videogameschronicle.com/companies/take-two-interactive/2k-games/">2K, Bandai Namco Entertainment [669 articles]" href="https://www.videogameschronicle.com/companies/bandai-namco-entertainment/">Bandai Namco, Sega [583 articles]" href="https://www.videogameschronicle.com/companies/sega/">Sega, Ubisoft [837 articles]" href="https://www.videogameschronicle.com/companies/ubisoft/">Ubisoft, Warner Games and Plaion.
VGC has requested comments from Nintendo, Sony and Xbox, and will update this article upon their response.
Details of E3's revamped 2023 format, which will see separate business and consumer events split between four days in June, were revealed late last year.

Under the revamped format, the first two days of E3 2023 (June 13-14) will be reserved exclusively for business. The third day (June 15) will welcome both business and consumer visitors, while the final day (June 16) will be dedicated to consumers.
As well as running high-profile events in the US and Europe, ReedPop is the owner of Gamer Network, which runs websites such as Eurogamer, GamesIndustry.biz, VG247 and Rock Paper Shotgun, and is the network partner of VGC.
Days before the revamped E3 returns, Summer Game Fest [92 articles]" href="https://www.videogameschronicle.com/events/summer-game-fest/">Summer Game Fest, the digital showcase helmed by journalist Geoff Keighley [153 articles]" href="https://www.videogameschronicle.com/people/geoff-keighley/">Geoff Keighley, will hold a live show at the YouTube Theater at Hollywood Park in Inglewood, California.
.cls-1fill:url(#linear-gradient).cls-2fill:#fff
Hacker finds bug that allowed anyone to bypass Facebook 2FA – TechCrunch
A bug in a new centralized system that Meta created for users to manage their logins for Facebook and Instagram could have allowed malicious hackers to switch off an account's two-factor protections just by knowing their phone number.
Gtm Mänôz, a security researcher from Nepal, realized that Meta did not set up a limit of attempts when a user entered the two-factor code used to log into their accounts on the new Meta Accounts Center, which helps users link all their Meta accounts, such as Facebook and Instagram.
With a victim's phone number, an attacker would go to the centralized accounts center, enter the phone number of the victim, link that number to their own Facebook account, and then brute force the two-factor SMS code. This was the key step, because there was no upper limit to the amount of attempts someone could make.
Once the attacker got the code right, the victim's phone number became linked to the attacker's Facebook account. A successful attack would still result in Meta sending a message to the victim, saying their two-factor was disabled as their phone number got linked to someone else's account.
"Basically the highest impact here was revoking anyone's SMS-based 2FA just knowing the phone number," Mänôz told TechCrunch.
At this point, theoretically, an attacker could try to take over the victim's Facebook account just by phishing for the password, given that the target didn't have two-factor enabled anymore.
Mänôz found the bug in the Meta Accounts Center last year, and reported it to the company in mid-September. Meta fixed the bug a few days later, and paid Mänôz $27,200 for reporting the bug.
Meta spokesperson Gabby Curtis told TechCrunch that at the time of the bug the login system was still at the stage of a small public test. Curtis also said that Meta's investigation after the bug was reported found that there was no evidence of exploitation in the wild, and that Meta saw no spike in usage of that particular feature, which would signal the fact that no one was abusing it.
January 30: Headline updated to reflect that only Facebook accounts were vulnerable to the bug; this was due to an editing error. ZW.
Updated with comment from Meta.