America is exceptional in the nature of its political divide – Pew Research Center
In his first speech as president-elect, Joe Biden made clear his intention to bridge the deep and bitter divisions in American society. He pledged to look beyond red and blue and to discard the harsh rhetoric that characterizes our political debates.
It will be a difficult struggle. Americans have rarely been as polarized as they are today.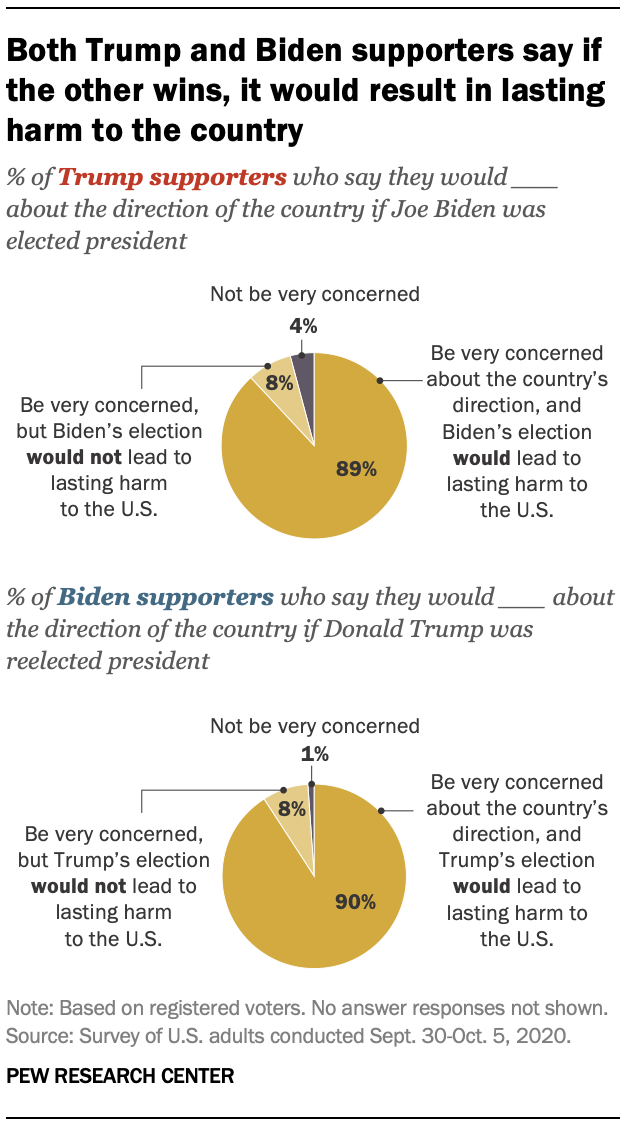 The studies we've conducted at Pew Research Center over the past few years illustrate the increasingly stark disagreement between Democrats and Republicans on the economy, racial justice, climate change, law enforcement, international engagement and a long list of other issues. The 2020 presidential election further highlighted these deep-seated divides. Supporters of Biden and Donald Trump believe the differences between them are about more than just politics and policies. A month before the election, roughly eight-in-ten registered voters in both camps said their differences with the other side were about core American values, and roughly nine-in-ten – again in both camps – worried that a victory by the other would lead to "lasting harm" to the United States.
The U.S. is hardly the only country wrestling with deepening political fissures. Brexit has polarized British politics, the rise of populist parties has disrupted party systems across Europe, and cultural conflict and economic anxieties have intensified old cleavages and created new ones in many advanced democracies. America and other advanced economies face many common strains over how opportunity is distributed in a global economy and how our culture adapts to growing diversity in an interconnected world.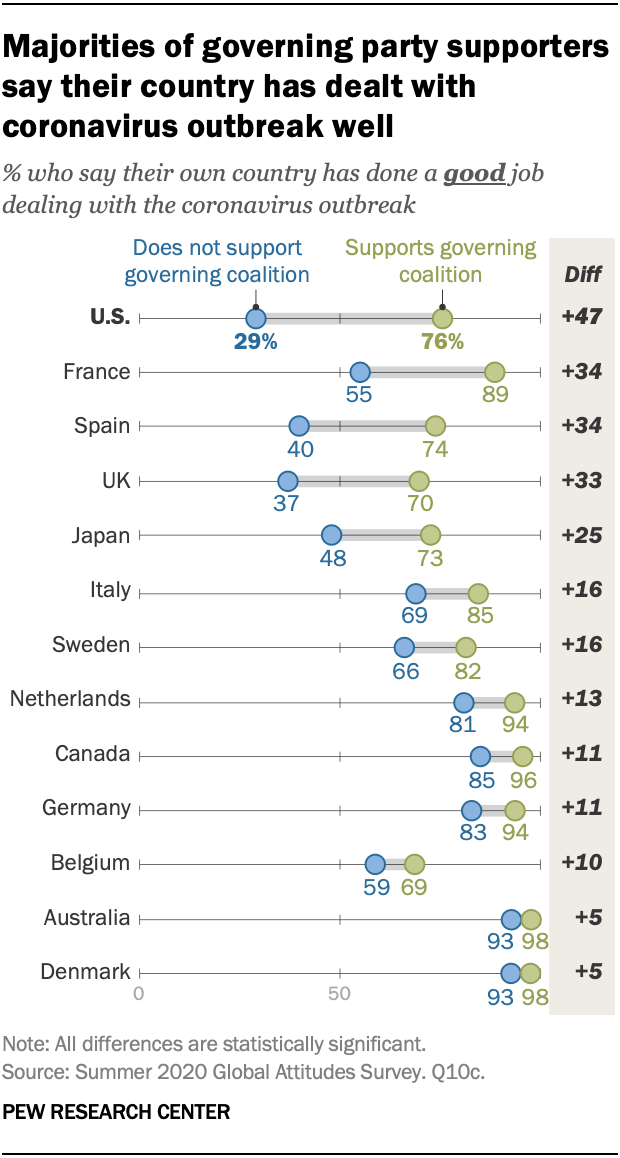 But the 2020 pandemic has revealed how pervasive the divide in American politics is relative to other nations. Over the summer, 76% of Republicans (including independents who lean to the party) felt the U.S. had done a good job dealing with the coronavirus outbreak, compared with just 29% of those who do not identify with the Republican Party. This 47 percentage point gap was the largest gap found between those who support the governing party and those who do not across 14 nations surveyed. Moreover, 77% of Americans said the country was now more divided than before the outbreak, as compared with a median of 47% in the 13 other nations surveyed.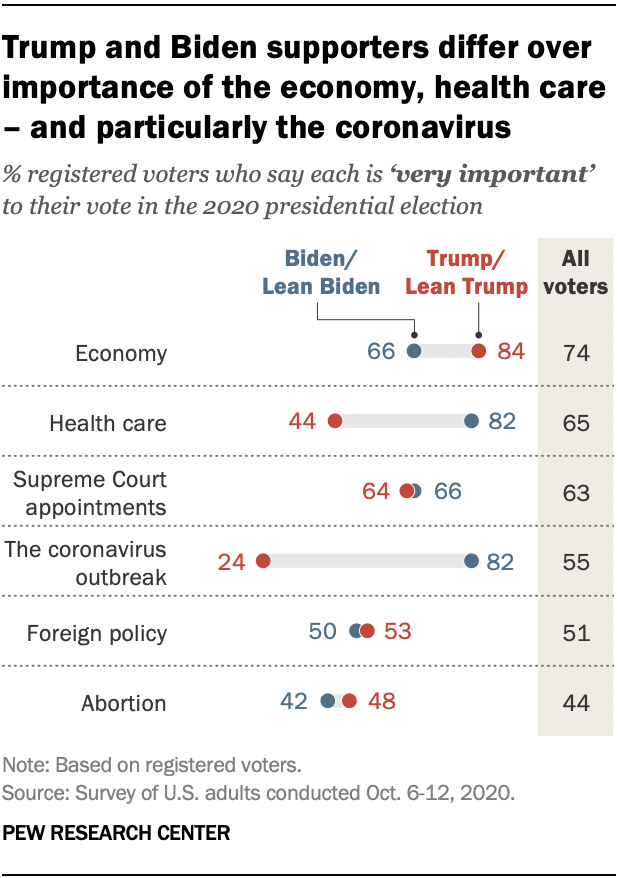 Much of this American exceptionalism preceded the coronavirus: In a Pew Research Center study conducted before the pandemic, Americans were more ideologically divided than any of the 19 other publics surveyed when asked how much trust they have in scientists and whether scientists make decisions solely based on facts. These fissures have pervaded nearly every aspect of the public and policy response to the crisis over the course of the year. Democrats and Republicans differ over mask wearing, contact tracing, how well public health officials are dealing with the crisis, whether to get a vaccine once one is available, and whether life will remain changed in a major way after the pandemic. For Biden supporters, the coronavirus outbreak was a central issue in the election – in an October poll, 82% said it was very important to their vote. Among Trump supporters, it was easily the least significant among six issues tested on the survey: Just 24% said it was very important.
Why is America cleaved in this way? Once again, looking across other nations gives us some indication. The polarizing pressures of partisan media, social media, and even deeply rooted cultural, historical and regional divides are hardly unique to America. By comparison, America's relatively rigid, two-party electoral system stands apart by collapsing a wide range of legitimate social and political debates into a singular battle line that can make our differences appear even larger than they may actually be. And when the balance of support for these political parties is close enough for either to gain near-term electoral advantage – as it has in the U.S. for more than a quarter century – the competition becomes cutthroat and politics begins to feel zero-sum, where one side's gain is inherently the other's loss. Finding common cause – even to fight a common enemy in the public health and economic threat posed by the coronavirus – has eluded us.
Over time, these battles result in nearly all societal tensions becoming consolidated into two competing camps. As Ezra Klein and other writers have noted, divisions between the two parties have intensified over time as various types of identities have become "stacked" on top of people's partisan identities. Race, religion and ideology now align with partisan identity in ways that they often didn't in eras when the two parties were relatively heterogenous coalitions. In their study of polarization across nations, Thomas Carothers and Andrew O'Donohue argue that polarization runs particularly deep in the U.S. in part because American polarization is "especially multifaceted." According to Carothers and O'Donohue, a "powerful alignment of ideology, race, and religion renders America's divisions unusually encompassing and profound. It is hard to find another example of polarization in the world," they write, "that fuses all three major types of identity divisions in a similar way."
Of course, there's nothing wrong with disagreement in politics, and before we get nostalgic for a less polarized past it's important to remember that eras of relatively muted partisan conflict, such as the late 1950s, were also characterized by structural injustice that kept many voices – particularly those of non-White Americans – out of the political arena. Similarly, previous eras of deep division, such as the late 1960s, were far less partisan but hardly less violent or destabilizing. Overall, it's not at all clear that Americans are further apart from each other than we've been in the past, or even that we are more ideologically or affectively divided – that is, exhibiting hostility to those of the other party – than citizens of other democracies. What's unique about this moment – and particularly acute in America – is that these divisions have collapsed onto a singular axis where we find no toehold for common cause or collective national identity.
Americans both see this problem and want to address it. Overwhelming majorities of both Trump (86%) and Biden (89%) supporters surveyed this fall said that their preferred candidate, if elected, should focus on addressing the needs of all Americans, "even if it means disappointing some of his supporters."
In his speech, President-elect Biden vowed to "work as hard for those who didn't vote for me as those who did" and called on "this grim era of demonization in America" to come to an end. That's a sentiment that resonates with Americans on both sides of the fence. But good intentions on the part of our leaders and ourselves face serious headwinds in a political system that reinforces a two-party political battleground at nearly every level.
America's Covid politics, historical revisionism and why Cold War conformity isn't the answer – NBC News
Americans are losing their jobs, getting sick and dying because of inaction by the federal government and by their governors and because of resistance — sometimes violent resistance — to the few public health measures that are in effect.
How did we end up with a new member of Congress, Marjorie Taylor Greene of Georgia, who used her first moments in Washington to criticize masks? Why has the federal government given up on a national response to the Covid-19 pandemic? Why are people threatening violence against governors who propose even modestly restrictive public health measures?
Why are we being so reckless about something so important?
The short answer is that public health has become politicized, and political conflict makes us stupid.
The short answer is that public health has become politicized, and political conflict makes us stupid. Most people know almost nothing about public policy, and when we make political arguments, we reason in ways that would be embarrassing in other contexts. Being smart offers little protection, and it can even make us more vulnerable to distorted political reasoning.
In 2013, Yale researcher Dan Kahan worried that politics could quickly pollute the science communication environment about vaccines. Even though beliefs about vaccine science and immunization policy were not then strongly associated with political identities, he was concerned that this could change quickly. Something similar had happened before: In the 1990s, beliefs about climate change were not significantly politically polarized; that consensus evaporated in the first decade of the 2000s.
In 2020, it has become clear that Kahan was right to be worried. Americans' willingness to accept vaccines and their feelings about vaccine laws are increasingly split along party lines. The same is true for views about Covid-19 lockdowns, mask mandates and social distancing. The new Covid-19 vaccine could be political dynamite.
A common explanation for some people's resistance to public health measures is that previous generations were more virtuous than we are. You might point to the example of the school-age Polio Pioneers who participated in vaccine testing and to Jonas Salk's (supposedly) altruistic refusal to patent the polio vaccine.
But it is a self-congratulatory fiction to attribute the public health compliance of earlier generations to a now-lost commitment to fairness and solidarity. A truer story would focus on the fact that earlier Americans had more in common and were more obedient to authority figures.
Consider that, until the 1970s and the 1980s, patients rarely provided informed consent to medical procedures. While the medical abuses of the Holocaust illustrated that patients and research subjects should have the right to make their own decisions, American doctors largely rejected the 1947 Nuremberg Code's call for informed consent and continued to practice more paternalistic medicine — they would continue to treat patients over their objections or otherwise disregard patient preferences — until the law forced their hand.
America also used to be a more collectivist place, at least in much of the post-World War II era. Most people were bound by a shared civil religion of patriotism (including a Cold War hatred of communism), and their private religious beliefs were more often connected to churches that occupied centrist positions in political life. Among white Americans, there was greater economic equality, more optimism about improving standards of living and greater trust in social institutions (including government, medicine and science). Racism and, more importantly, the influence of white supremacy — in education, housing and the workplace, among other things — shaped a shared experience for white Americans and imposed a similarly common oppressive way of life on nonwhite Americans.
Cold War conformity and Jim Crow terrorism are not good models for contemporary social cooperation. We applaud the accomplishments of the civil rights and patients' rights movements. We are glad to live in more pluralistic and diverse communities.
However, the loss of common identities and shared political aspirations has led directly to rising levels of political polarization around policies that used to be less controversial.
Common enemies often generate a sense of shared purpose. Perhaps the Covid-19 pandemic will become so severe that our mutual vulnerability will cultivate recommitment to public health measures. For example, some Republican governors have recently reversed themselves and embraced mask mandates. But even if this trend continues, it is not likely to be a stable basis for an ongoing public health consensus after the pandemic.
It seems more likely that opposition to a foreign enemy — say, China — could cultivate longer-lasting common political commitments in a diverse America. Political leaders of both parties support America's imperial projects, and most citizens seem open to bipartisanship in the name of resisting (supposed) existential threats to the country. This kind of shared political identity could be more stable, but only if the struggle lasted a long time and only if it did not result in catastrophic wars. But this is a dangerous and unethical basis for political consensus.
We hope, instead, that Democrats and Republicans can find common cause in conceptions of freedom that express our shared values. We all ought to be free from restrictions on what we say and believe, and we have good reasons to protect valued spheres of civic life from the corrupting influence of politics and the unwelcome oversight of government. We all also ought to be free to live in healthy and peaceful communities, participate in well-functioning economic systems and have access to targeted social welfare programs. Whether America can re-create stable public health governance depends on whether Americans can promote these kinds of freedoms in our ongoing work of living together.
All Santa Wants for Christmas Is to Stay Out of Politics – The New York Times
All Santa Wants for Christmas Is to Stay Out of Politics
After a brush with the U.S. Department of Health and Human Services, professional Santa Clauses are just trying to get through this holiday season safely.
Dec. 4, 2020,

5:00 a.m. ET
Ric Erwin is one of thousands of men for whom Santa Claus is both a sacred idea and a seasonal occupation. Earlier this year, he was looking forward to donning his red velvet suit and hat this December, just as he has each winter for the last decade.
But the pandemic has thrown a wrench in the usual Christmas shows and shopping mall photo ops. And Mr. Erwin, 62, who is the chairman of the board of the Fraternal Order of Real Bearded Santas — a national association for men who grow and maintain their own beards to play Santa Claus at holiday events — has found himself advocating for 500 professionals to safely support their work while virus cases are surging.
In September, Mr. Erwin, who lives in Hemet, Calif., testified virtually before the Centers for Disease Control's Advisory Committee on Immunization Practices. He noted that the production and distribution of an H1N1 vaccine in 2009 allowed Santa Claus performers to save Christmas that year. He hoped the C.D.C. could similarly expedite a vaccine in time for this holiday season.
After his testimony, Mr. Erwin received several phone calls, voicemails and emails from Michael R. Caputo, the assistant secretary for public affairs at the Department of Health and Human Services, who hoped to broker a deal with the Santas. Mr. Erwin recalled Mr. Caputo telling him that the White House was interested in having Santas participate in a 35-city rollout campaign for Operation Warp Speed, the federal effort to develop a coronavirus vaccine. In exchange, he promised the Santas access to a vaccine by mid-October.
"That sounded like a great deal to us," Mr. Erwin said. "Within 24 hours we had over 100 volunteers. The response was overwhelming."
Mr. Caputo told Mr. Erwin he couldn't wait to tell President Trump that the Santas were onboard with the plan. Then, Mr. Erwin said, Mr. Caputo, the C.D.C. and the H.H.S. ghosted him.
Mr. Erwin realized Mr. Caputo was never going to call him back when The Wall Street Journal published an article in late October stating that the campaign, which was meant to include not only Santa players but also celebrities, had been scrapped. (In a statement to The New York Times, an H.H.S. spokeswoman reiterated: "This collaboration will not be happening.")
"We saw the handwriting on the wall and we knew there was not going to be a collaboration at that point, so if we were going to save Christmas this year it was just going to be the Clauses," Mr. Erwin said.
In addition to stoking some false hope, his negotiations with the federal government drew attention to the myriad societies Santa Claus performers belong to today (though the word "performers" is scorned by those who take a method approach to the role). There are regional groups (like the Lone Star Santas and the New England Santa Society), as well as national and international ones.
For the most part, these organizations try to stay out of politics, activism and other kinds of campaigning. So some Santas were annoyed.
"First of all, Santa lives in the North Pole — he doesn't live in the United States," said Stephen Arnold, 70, a Memphis resident and president of the International Brotherhood of Real Bearded Santas (I.B.R.B.S.), a trade group with more than 2,000 members. "He might have an interest in seeing that the United States is a calm and safe place for him to visit and deliver Christmas presents, but as a Santa Claus, you shouldn't have a political posture."
Mr. Arnold added that his understanding was that only four or five people would end up eligible for an early shot of the vaccine according to the offer Mr. Caputo made to Mr. Erwin.
To be fair, Mr. Arnold and Mr. Erwin have some history. The Fraternal Order of Real Bearded Santas (F.O.R.B.S.) emerged out of the dissolution more than a decade ago of the Amalgamated Order of Real Bearded Santas (A.O.R.B.S.), which was wrapped in scandal at the time. ("If you Google 'Santa Wars,' you'll find articles on it," Mr. Arnold said.) Today, F.O.R.B.S. is much smaller than I.B.R.B.S., which also includes Mrs. Clauses, and there are members of each group who will not forget the Santa tension of years past.
Personal matters aside, Mr. Arnold said his resistance to take part in the government campaign revolved largely around a desire to remain apolitical.
"Most of our members were reluctant to consider being first in line because they felt that the whole thing on vaccines was being politically manipulated," he said. "We work very hard on not being political. We do not allow any political posts or anything on our Facebook group pages."
"If somebody posts something that's even slightly interpreted as a political statement, it's gone instantly," he continued. "It's just deleted."
Should a member like to make a statement out-of-character, that's fine, Mr. Arnold said. "We encourage all of our Santas who want to make political posts to create a separate page where they don't wear any red, and don't indicate they're Santa Claus or have Santa in their names," he said.
At this point, according to C.D.C. recommendations, Santa players shouldn't expect to be vaccinated before Christmas. So, what does that mean for this holiday season?
"Generally speaking, within the Santa community, we are being as cautious as possible," Mr. Arnold said. "There's a small contingency of people who have laughed it off and said 'I'm going to go on normally, I won't be performing with a mask.'" Most members of Santa organizations, however, are considered high-risk coronavirus candidates: They are retirees in their 70s and 80s and many have underlying health conditions, Mr. Erwin said.
"There isn't a group of people that are more compromised than the Christmas Committee," Mr. Arnold said. "A lot of us are old and have diabetes. Most of us have a heart problem, most of us are obese. We check every box."
While many Santa-related innovations have come out of 2020 — holiday-themed masks, plexiglass and acrylic walls that can be made to look invisible in photos, video calls, drive-through greetings — Mr. Erwin is most enticed by the idea of placing Santa in a vinyl dome.
The dome provides physical separation, but it can also be explained with a clever story for the children to understand, Mr. Erwin said.
"If parents don't want to explain virus transmission, they can say Santa got trapped in a snow globe by an elf magician and you have to come visit him at the globe," he said.
But Mr. Erwin won't be scheduling any in-person visits this year. His father-in-law suffered a stroke in April and was hospitalized for 30 days before he died; none of his family members were able to visit because of the pandemic. Mr. Erwin told his wife and his mother-in-law, who makes Santa costumes and goes by Mother Claus, that he would not take any chances with the virus.
"I don't even care about giving up my season," Mr. Erwin said. "I'm thinking about the 150,000 plus people that did not have to die." He blames the rising toll on the current administration and plans to deliver fitting gifts to its members this Christmas.
"As a Santa, I am neutral and love everybody, but as a citizen I have to say something," Mr. Erwin said, adding that he would not be giving politicians coal. "They are getting dryer lint, at best."
Can Rajinikanth's entry into politics diminish the hold of Dravidian parties in Tamil Nadu? – Yahoo Canada Sports
CBC
It all began with Lizanne Murphy. The Montrealer was pondering her basketball future in the wake of the 2012 London Olympics. In the years prior, she'd bounced around pro leagues in Eastern Europe and suffered a major knee injury that wasn't managed properly, perhaps due to language barriers. On the brink of retirement, Murphy, fluent in English and French, was urged by her agent to consider playing in France. She would be the only Canadian woman in the league, and had played 12 French league games the previous season. "I signed a contract to play in Aix-en-Provence, which is like the beach on the Mediterranean Sea. It was incredible. … And then I just said to all my teammates, like, 'Guys, you have to come here. This is amazing," Murphy said. For Murphy, the beach location was a big draw — if your basketball career is going to come to an end away from the rest of your national team, there might as well be good weather. But she wasn't alone for long. Murphy's team needed a point guard, so she called up Hamilton, Ont., native Shona Thorburn, who quickly joined the coastal squad. The two soon learned why the French league now doubles as a Canadian pipeline: intense competition, smart coaching and high-IQ players, guaranteed contracts and French language and culture. Team Canada veteran Kim Gaucher joined Murphy and Thorburn in France soon after, with Gaucher crediting Murphy as a trailblazer for Canadians in the country. "We worked really hard because Canadians work really hard. So all of a sudden Canadian players had this amazing reputation and then every time they recruited more Canadians. The next year there was like two more Canadians and then they played really well," Murphy said. "So this is like this untapped talent in France that were great teammates, great people, and really the best players in the league." Today, 14 Canadians play across three leagues in France, including five in the top Ligue Féminine de Basketball. Team-oriented basketball The steady increase over the last decade isn't just a sign of Canadians wanting to play together, either. In France, just two non-European and two non-French European players are permitted per team. Bridget Carleton, a playoff starter for the WNBA's Minnesota Lynx, recently began her first season in France. She said it was her top option after choosing not to return to Australia for her second overseas campaign. "I was mostly drawn to France just because of the history that Canadians have in this league, in the country. And obviously, talking with my national team teammates Kim, Murph, Shona, Nayo [Raincock-Ekunwe]. … They've been here for so long, they've continued careers here, played here for multiple years, so it shows how much they do appreciate it and enjoy it here," Carleton said. The 24-year-old now starts for Landerneau Bretagne, where she's earning more responsibility on the court than she had as a fifth option, at best, for the Lynx. The collection of talent in France comes with more legitimate basketball than you might see in other European leagues. Coaches instill structured on-court systems that mimic international play. In the past, it would be similar to Canada's disciplined style of play; now, Canada prefers run-and-gun transition basketball. Still, both systems demand quick, smart decision-making from players. "Canadians are really talented offensive players, really talented individual players, but are also great teammates. And you don't always see that with everyone and I think that's why the French League, the French citizens love the Canadian players," Murphy said. Canadians, like Carleton, are unlikely to dominate the ball and consistently lead their team in shot attempts. Guaranteed contracts But Gaucher said that style of play is sometimes the only way to survive outside of France in Europe. "There are some countries where if you're an import, if you're an American, if you don't score 30 points a night — and that can be on 35 shots — they don't really care. And then you're going to get cut, whereas [in France] there's a lot of movement, there's a lot of screening. They want complete players." It's easier to prioritize team over individual when your contract is legitimately guaranteed. While "guarantee" language is the norm across Europe, it's common for players not to be paid on time or at all, or cut at a moment's notice outside of France. Gaucher, who plays for Ligue B Mondeville, says she was still paid after the league stopped due to the pandemic in March. To contrast, fellow Canadians Ruth Hamblin, Miah-Marie Langlois and Jamie Scott were told by their Russian club in March they'd be breaking contract if they went back to Canada — even after the prime minister mandated a return. Murphy also spent time in Argentina, Poland, Lithuania and Slovakia before France. "In North America, a contract really matters. But in Eastern Europe, your money is always late. Sometimes you're not paid. It's not always guaranteed. And that happened to me a lot. But in France, being a professional athlete is treated like a career, you have the same rights and respect in terms of the government protection as a teacher [or] a lawyer," she said. Canadian camaraderie Beyond basketball and money, Canadian camaraderie was quickly established and grows with each additional national team player that arrives. Carleton got her first taste when she faced off against Canadians Michelle Plouffe and Raincock-Ekunwe, who play for Lyon, in November. Murphy, now retired, would spend the night with her fellow Canadians after travelling for a game before taking the train home the following day. There was even talk of holding a Canadian training camp in France last month before the pandemic scuttled potential plans. Murphy said she's proud to have played her part in fostering Canadian talent and growing the game. Without a pro league at home, France has become the next best thing. And when the European season typically demands lots of lonely nights in foreign countries, it's nice to know there's a support system nearby. "It's not the same desperation and overwhelmed fatigue [as it is outside of France]. You have a good balance there and you feel like you have a taste of home. … That family connection, I think, is almost the competitive advantage."