Americans grow pessimistic on the economy as high inflation lingers – CNN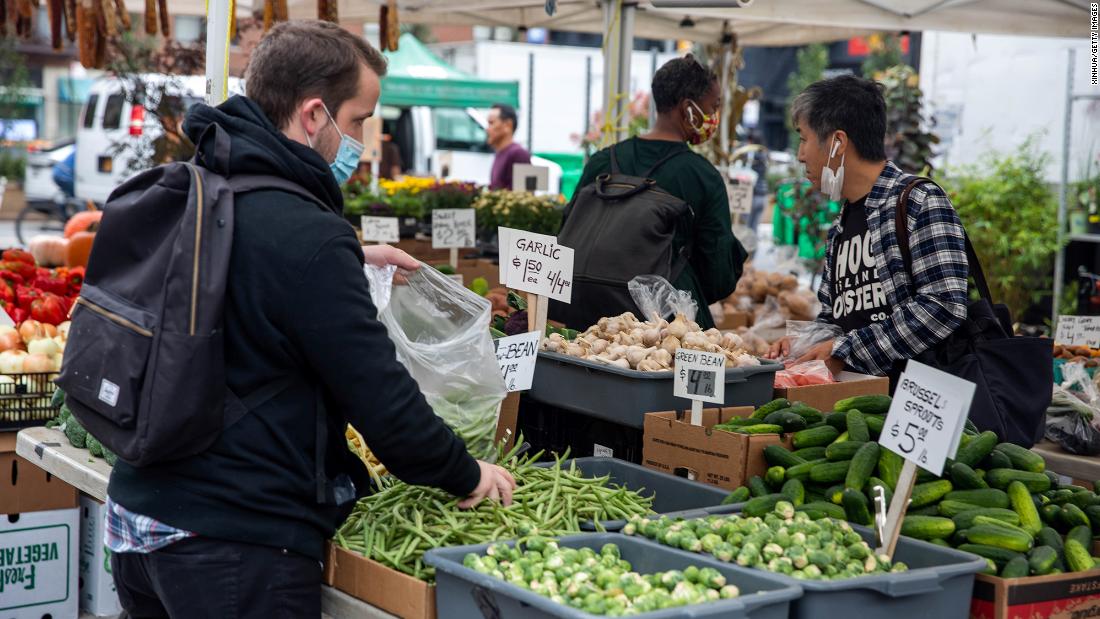 New York (CNN Business)Nearly two-thirds of Americans describe the economy as poor in a new poll that comes amid high inflation and supply chain turmoil.
The poll,
released Monday
by The Associated Press-NORC Center for Public Affairs Research, found just 35% of Americans now call the national economy good. That's down from 45% in September and similar to the views in January and February, before most vaccines were widely available to most Americans.
Sixty-five percent of Americans in the poll said the economy is in poor shape.
In another sign of pessimism, nearly half of Americans (47%) now expect the economy to get worse in the next year, compared with 30% who say it will get better, the AP poll found. That's a reversal from February and March when 44% in the same poll expected the economy to get better and 32% said it would get worse.
Just 51% of Democrats in the AP poll expect the economy to get better, down from 70% earlier this year. Nearly three-quarters (74%) of Republicans expect the economy to get worse, up from 59% earlier in the year.
The findings come as inflation has emerged as a more persistent problem than economists, the Federal Reserve or the White House anticipated.
Nearly six in 10 Americans in the AP poll — 58% — disapprove of President Joe Biden's handling of the economy and 41% say they approve.
Despite those findings, workers are feeling good about the jobs market.
The poll found 36% of Americans are very or extremely confident they could find a good job if they wanted to, up from 25% in March 2020. Another 35% say they are at least somewhat confident in finding a good job.
Exclusive-Trudeau to limit new spending in fiscal update – source
Canadian Prime Minister Justin Trudeau's government will outline limited new spending in a fiscal update expected later this month, a source said on Thursday, as inflation soars and some business groups and opposition politicians call for restraint.
Fresh investments in the so-called fall fiscal update will be "limited in scope", a source familiar with the drafting of the document told Reuters.
This fiscal update will be similar to those released following the 2015 and 2019 elections, the source said. Other years when elections were not held, the fiscal update has been more substantial, like a mini-budget.
After COVID-19 supports for businesses and individuals produced the highest deficit since World War Two last year, Trudeau during his campaign pledged C$78 billion ($60.9 billion)in new spending over five years to foster Canada's economic rebound.
"This will be an update on where the nation's finances are right now," the source said of the document. "We certainly have an ambitious plan that we will continue to move forward on. That's why you have a budget."
The government is expected to release its 2022-23 fiscal-year budget during the first part of next year. Inflation is at an 18-year high and is being driven mainly by supply chain problems and energy price gains, but some fear more government spending will make it worse.
This year's budget included C$101 billion investments over three years.
"There's a major concern that people have about the level of government spending, and whether or not it is fueling inflation and fueling demand," said Perrin Beatty, president and CEO of the Canadian Chamber of Commerce.
The prospect of rising interest rates next year, as signaled by the Bank of Canada, will increase the servicing costs on the country's debt, Beatty said.
'JUSTIN-FLATION'
Pierre Poilievre, the finance critic for the opposition Conservative Party, blames Trudeau for stoking inflation, which he calls "Justin-flation", with excessive government spending.
"We're going to be prudent," a second source familiar with the government's plans said.
"The prudent thing is to wait and just see how the next couple of months unfold and you always reserve the option in the winter budget to do more," said Rebekah Young, director, fiscal and provincial economics at Scotiabank. "It's harder to roll back than it is to roll out more programs in the winter."
Already in October, Finance Minister Chrystia Freeland indicated Canada would significantly scale back spending on pandemic support programs now that more than 85% of the eligible population was vaccinated against COVID-19.
Fitch Ratings was the only ratings agency to strip Canada of a triple-A credit rating during the pandemic.
"A combination of strong revenue recovery and fiscal restraint would put the federal debt and broader general government debt each on a faster reduction course," Kelli Bissett-Tom, Fitch's director of Americas sovereign ratings, said on Thursday.
In April, Freeland said debt as a percentage of output would progressively decline, providing a fiscal anchor going forward. In the budget, debt was forecast to be 51.2% of gross domestic product this fiscal year, falling to 50.7% the following year.
Revenues were up C$47.0 billion, or 36.5%, in the April-September period, according to the Department of Finance.
There was no immediate comment from the prime minister's office. The finance ministry declined to comment.
($1 = 1.2811 Canadian dollars)
(Reporting by Steve Scherer in Ottawa and Fergal Smith in Toronto,; Editing by Chizu Nomiyama and Alistair Bell)
B.C. economy poised to slow after 'unsustainable' 2021 – Business in Vancouver
B.C. construction workers | Chung Chow, BIV
B.C.'s economy is set to ride the wave of consumer savings and increases in immigration next year despite this fall's catastrophic flooding.
And while growth is the forecast, economists at the Royal Bank of Canada (TSX:RY) predict economic expansion won't be hitting the heights 2021's "unsustainable" 5.6% growth.
Instead, Robert Hogue and Carrie Freestone are forecasting growth to reach 4.2%, according to an outlook published Thursday. That's slightly lower than the 4.3% growth they project for the national economy.
"B.C. consumers still have a lot of savings fire power to deploy on goods and services purchases. The resumption of immigration will further stimulate consumption and investment," the pair said in the report, referring to Ottawa's plans to bring 1.2 million newcomers into the country over the next three years to help stimulate the economy.
The outlook also concludes the wider reopening of the border with the U.S. will spur the tourism sector, while work on major projects such as the Trans Mountain pipeline, the Site C dam, LNG Canada's facility in Kitimat and the Coastal Gaslink pipeline will also keep the economy moving.
The forecast does not take into account the potential for restrictions brought on by the emergence of the new COVID-19 variant known as Omicron.
Much uncertainty still remains over the severity of this variant, but the federal government has spent the past week deploying new travel restrictions in an effort to clamp down on its transmission. Cases have already been reported in Canada after Omicron was initially identified in southern Africa.
"To be sure, November's massive floods pose significant near-term challenges for transportation, agriculture, forest products and many other industries. We expect disruptions to the broader provincial economy to ease fairly quickly as repair work [restores] key transportation corridors – though some communities face a much more difficult recovery," the RBC report said.
"In fact, repair work will add to provincial economic growth, whereas the destruction of property and infrastructure will largely go unaccounted for in GDP numbers."
B.C. Construction Association president Chris Atchison and Brynn Bourke, executive director of the B.C. Building Trades union organization, both told BIV this week the industry is still assessing the full extent of the repair work needed.
Business Council of B.C. CEO Greg D'Avignon said last month that while some parts of the economy will benefit from the rebuild effort, he's concerned it will come at the cost of government revenue at the same time revenue is being constrained amid a dip in economic activity.
He said the BCBC would be cutting its 2021 forecast for the provincial economy – originally pegged at 5.8% back in August – in the wake of the floods.
Economists at the Bank of Montreal (TSX:BMO) last week downgraded this year's outlook, dropping it from 5.3% growth to 3.8% growth.
How Omicron Could Knock Economic Recovery Off Track – The New York Times