Americans haven't felt this bad about the economy in a decade – CNN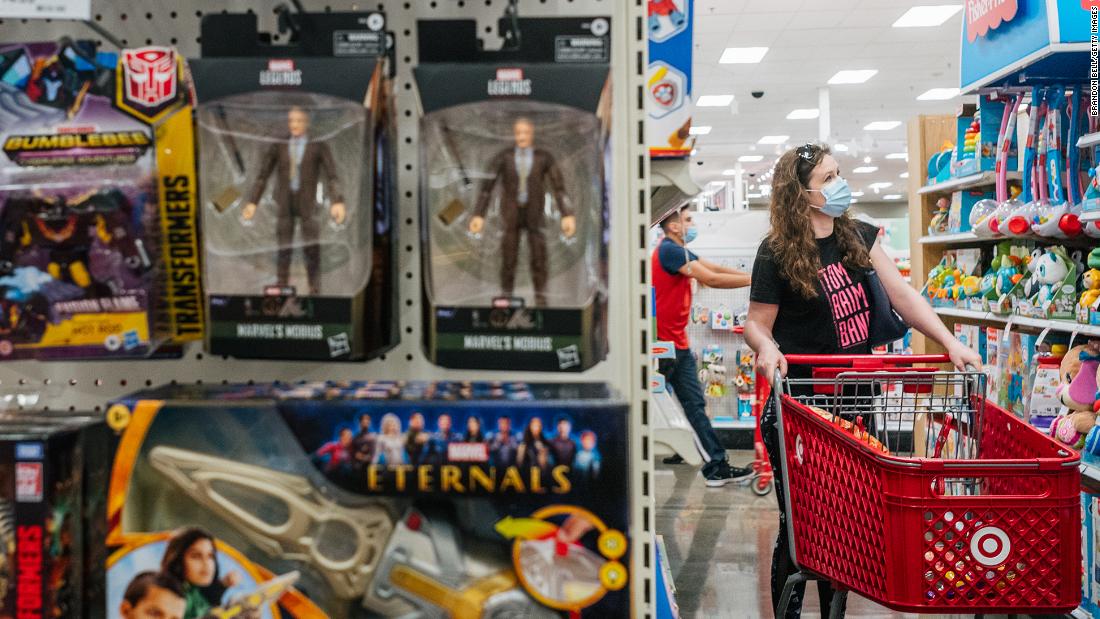 The consumer sentiment index
fell to a decade low
in early November data collected by the University of Michigan. The culprit: pandemic-era inflation woes and worry that no policies are in place to rein it in. Consumers had also expected the supply chain crisis and labor shortage crunch to be resolved by now.
With the holidays coming our way, Americans are bracing for higher prices as well as longer wait times for their orders. So far, rising wages, a steady labor market recovery and shored-up savings have kept people spending and the US economy going.
But the negative sentiment about the challenges to the economy outweighed many of the positive factors, including the surging job growth and growing paychecks.
"Sentiment has been shaken in recent months amid the more recent outbreak of Covid and dwindling stimulus, but the November fallout has inflation's name written all over it," said economists at Wells Fargo in a note.
One in four people surveyed said inflation has worsened their living standards. Despite higher paychecks, half of respondents said they expect inflation to wipe out whatever wage gains they were given over the past year.
Consumers complained about rising prices for homes, cars and other durable goods like appliances more than any point in more than 50 years, according to Richard Curtin, the University of Michigan's Surveys of Consumers chief economist.
"Until supply and demand are able to find middle ground, the economy is in a bit of a waiting game for when the pandemic-driven price increases will finally start to ease," the Wells Fargo economists said.
The explanation that the current price hikes are "transient" and won't last forever — language the Federal Reserve and the Biden administration have used — suggests the American people should just sit tight and wait even though Washington's policies have yet to resolve the problem, Curtin said.
On top of that, political affiliations affect how people are processing information about the economy.
"Partisans aligned with the President's party have adopted very positive moods, and those in the opposing camp very negative moods," Curtin said.
India's economy grows by 8.4% amid signs of recovery – Yahoo Canada Finance
NEW DELHI (AP) — India's economy grew at an 8.4% annual pace in the July-September quarter in the latest sign of an economic recovery in Asia's third-largest economy, the government reported Tuesday.
India suffered one of the biggest setbacks of any major economy in the last fiscal year.
In the same quarter a year before, the economy contracted by 7.4%, badly hit by rising COVID-19 cases and a stringent nationwide lockdown, with restrictions lasting months that dealt a huge blow to economic activity.
After a devastating surge in virus cases stoked by the delta variant earlier this year, the situation has improved in recent months. Daily cases have sunk to about 10,000 after breaching 400,000 in May. The pace of vaccinations has picked up, instilling confidence in reopening businesses and industries. Streets and markets across the country are now abuzz with activity.
Sectors like agriculture and mining performed well and helped lead the growth seen in the July-September quarter, experts said.
The economy expanded at a 20.1% pace in the April-June quarter, the fastest growth since India began publishing GDP figures in 1996. But economists cautioned that the rise was calculated from 2020's smaller base, when the economy shrank by 24.4% in April-June, pulling the country into a recession.
A country enters a technical recession if its economy contracts for two successive quarters.
In 2020-21, India's growth contracted by 7.3%, worsening from a slowdown that slashed growth to 4% from 8% in the two years before the pandemic hit.
The Associated Press
Analysis-Japan keen to speed up digital yen launch as China adds geopolitical twist
Japan's new political leadership is calling on the country's financial bureaucrats to ramp up efforts toward issuing a digital currency, pointing to China's far quicker progress as a potential challenge to the global economic order.
The government has increased staff looking into legal and technical aspects of issuing a central bank digital currency (CBDC), which are digital forms of existing currencies.
While the political attention has yet to translate into any other direct investment, it is also likely to keep the Bank of Japan (BOJ) under pressure to shift away from its cautious, baby-step approach toward issuing a digital yen, analysts say.
"We must think about what could happen to Japan's national security if other countries move ahead on CBDC," said Takayuki Kobayashi, a minister overseeing economic security – a new role created under Prime Minister Fumio Kishida's administration.
"Japan must speed things up so it's ready to issue a digital yen any time," he said.
A global front-runner, China has already run tests in major cities for a possible launch of a digital yuan next year. Japan, along with other G7 advanced nations, have moved much slower.
The BOJ only started the first phase of its experiment in April, and says it has no immediate plans to issue a digital yen. Pilot programmes, if any, won't take place until 2023 at the earliest.
That lukewarm stance may be put to test as Kishida has made economic security a policy priority, and framed questions around CBDC beyond finance into one of national security.
While G7 central banks generally agree on the need to counter China on issues around privacy, the case is particularly strong for Japan as lawmakers worry about the growing economic might of its assertive neighbour.
Some influential ruling party lawmakers see China's advances on CBDC as a potential threat to the dollar's status as a global reserve currency, and the financial dominance of Washington – Japan's biggest ally.
A close aide to Kishida told Reuters Japan must "work closely with the United States to counter any attempt that threatens the dollar's reserve-currency status," adding the BOJ was coordinating with the finance ministry to ensure speedy progress for issuing a digital yen.
Opposition parties have also called in their election campaign platforms for speeding up CBDC plans.
BOJ officials say China's plan won't directly affect the timeframe for their CBDC experiments as the key purpose of issuing a digital yen is to provide convenient, efficient payment and settlement means to the public.
What could affect the BOJ more than China's plan would be how quickly its European and U.S. counterparts announce plans for issuing CBDCs, say sources familiar with its thinking.
Debate over issuing a digital yen may intensify next year as Kishida's administration lays out details of its economic security plans, and as China is seen promoting its digital yuan at the Beijing Winter Olympic Games in February.
"It's clear Kishida's administration and his ruling party are keen on issuing a digital yen," said former BOJ board member Takahide Kiuchi, who is currently an economist at Japan's Nomura Research Institute.
"If China launches a digital yuan next year and Europe's central bank announces plans to issue a digital euro, that will have a huge impact on Japan and pile pressure on the BOJ."
(Reporting by Leika Kihara; Additional reporting by Kaori Kaneko and Tetsushi Kajimoto; Editing by Kim Coghill)
Global economy rebounds, but for how long? – FRANCE 24
Issued on: 01/12/2021 – 04:12Modified: 01/12/2021 – 04:10
Paris (AFP) – The world economy woke up from its pandemic-induced coma in 2021, but soaring inflation, global supply chain bottlenecks and a resurgent coronavirus have taken the shine off the comeback.
Now growth is at risk of weakening next year.
Here is a look at the state of the global economy:
Uneven recovery
Countries have posted impressive growth figures as they clawed their way out of the depths of the 2020 Covid-induced recession, but some are faring better than others as wealthier countries have had better access to vaccines.
The United States has overcome its worst downturn since the Great Depression while the eurozone's economy could return to pre-pandemic levels by the end of the year.
But a resurgence of the coronavirus could scupper the recovery, with the emergence of the Omicron variant raising new concerns.
"Covid-19 will remain a public health threat, particularly in countries where vaccination rates remain low," said analysts at Moody's credit ratings agency.
With a 2.5 percent vaccination rate, the economy of sub-Saharan Africa is growing at a slower click, according to the International Monetary Fund.
Most emerging and developing countries should remain far behind their pre-pandemic forecasts by 2024, the IMF says.
Central banks in Brazil, Russia and South Korea have raised interest rates to combat rising inflation, a move that could rein in growth.
China, the world's second biggest economy and a driver of global growth, is facing a slew of risks: New coronavirus cases, an energy crunch and fears over the debt crisis at real estate giant Evergrande.
Inflation soars
Inflation has accelerated to multi-year highs around the world, as consumers returned with a vengeance and industries faced shortages.
Prices have soared across the board, with oil, natural gas and raw materials such as wood, copper and steel going through the roof.
"The biggest surprise of 2021 has been the goods-led inflation surge," Goldman Sachs analysts wrote in a 2022 outlook.
Central banks insist the inflationary pressure is a temporary consequence of economic activity returning to normal this year after it came to a halt when the pandemic erupted in 2020.
Stock markets have hit new record highs this year, but investors are concerned that central banks will withdraw their stimulus programmes and raise interest rates earlier than expected to tame inflation.
"The question is whether we really are in the end of the crisis," said Roel Beetsma professor of macroeconomics at the University of Amsterdam.
Widespread shortages
Industries have struggled to keep up with a surge in demand from consumers.
Global trade has been disrupted by insufficient shipping containers, congestion at ports and labour shortages.
One key component that is hard to come by these days is semiconductors, chips used in everything from phones to video game consoles to the electronic systems of cars.
The shortage has been so bad that several automakers have had to temporarily halt production at some factories.
Labour shortages have added to the problem as truck drivers, port workers and cashiers have not returned to work following lockdowns.
Despite the difficulties, the IMF expects the world economy to grow by a healthy 4.9 percent next year.
Climate change
In addition to the pandemic, economies had to come to grips with another life-threatening event this year: climate change.
The conflict between economic growth and saving the planet came to the fore at the COP26 climate summit in Glasgow, Scotland, this month.
Nearly 200 nations signed a deal to try to halt runaway global warming after two weeks of painful negotiations, but fell short of what scientists say is needed to contain dangerous rises.
Droughts and other climate catastrophes threaten to further drive up food prices, which jumped to a 10-year high in October, according to the Food and Agriculture Organization.
Wheat has soared by 40 percent in the past year while dairy products are up 15 percent and vegetable oils reach new records.
"It's pretty obvious. Everything has gone up," said Nabiha Abid, a resident of Tunisia's capital, noting that the price of meat has doubled.
© 2021 AFP